There's lots of ways to cook brains, but Moroccan brains with tomato and harissa are definitely one of the most famous. If you like dishes of spicy tomato-y business like shakshuka or eggs in purgatory, you'll love it. Seriously.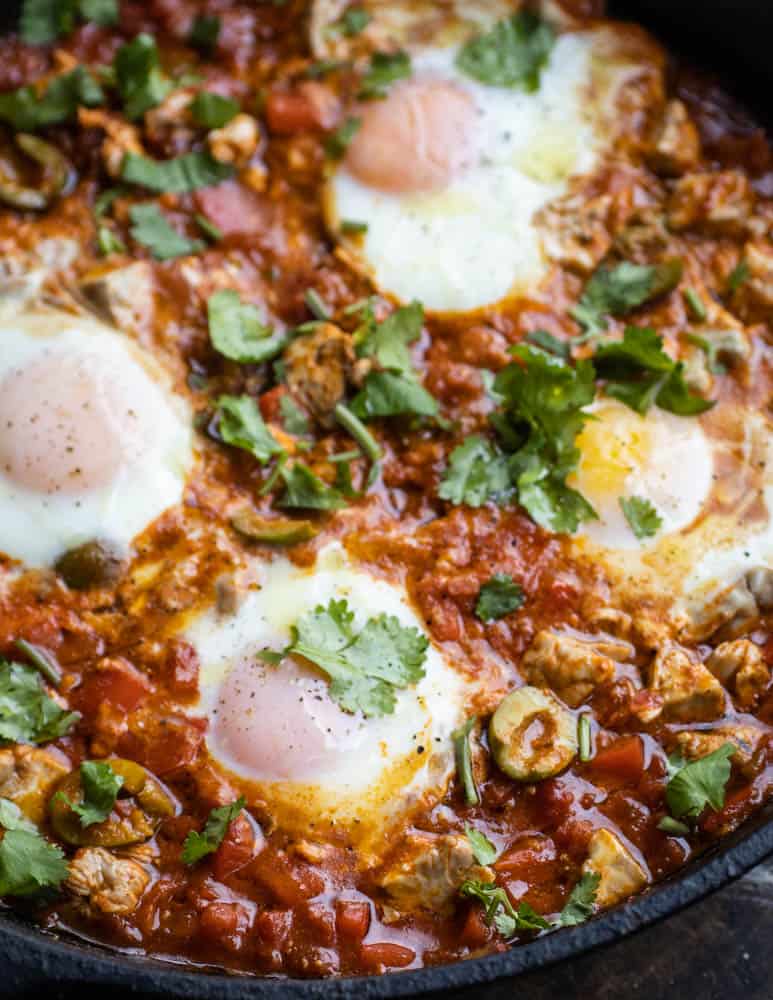 I've been doing lots of research on craniaphagy (if that's a word) and reaching out to people I know in different food communities, and hands-down, this is the preparation for brains that, at least for me, has been mentioned more than any other.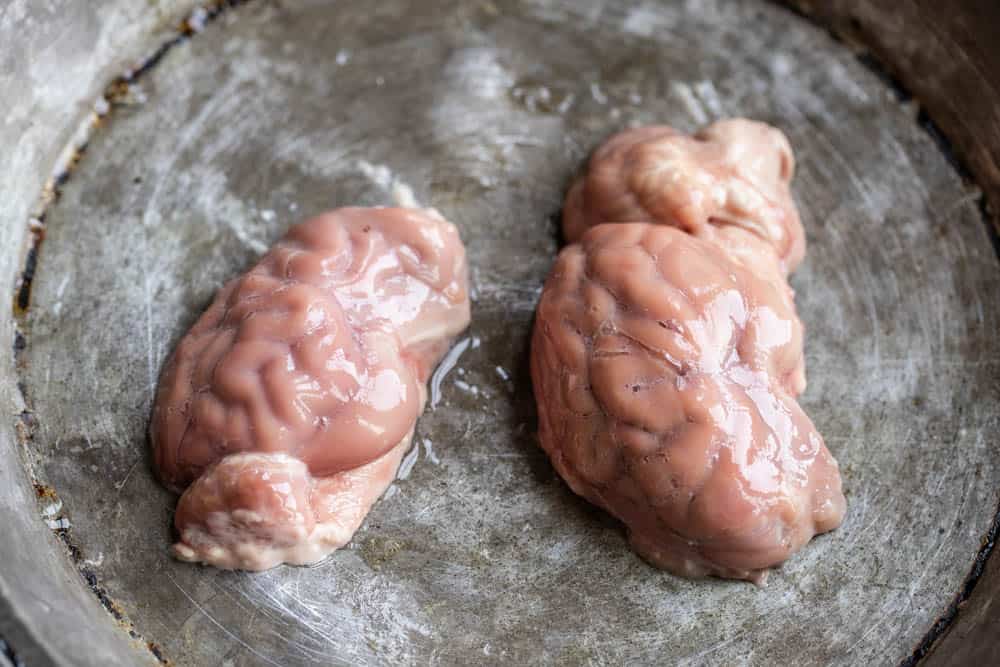 Just so happens that I know a guy from Morocco, a big body builder type named Fayssal who mostly got his protein in the form of shakes. He's a hardcore Morrocan though, and when he was a server in one of my restaurants he would never shut up about the place.
"No, Chef, in Morroco, we do it this way" "In Morrocco, we do it that way" "You don't even know man, the girls in Morrocco". And on and on. I called him up out of the blue just to ask him if Moroccan brains with eggs was as big a cultural thing as I'd been lead to believe, and, sure enough, I got my answer: "Are you keeding?" "Of course! Eez delicious" "We eat eet all zhee thime".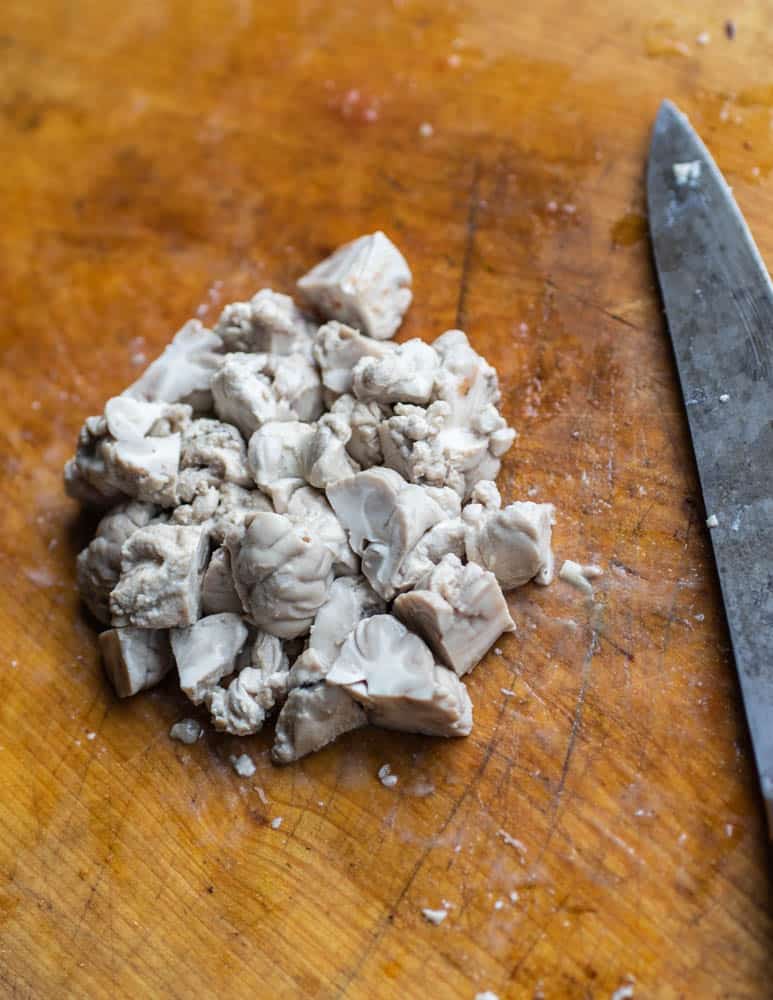 Believe it or not, after eating it myself a few times, I'll tell you it's also something I'd serve to people who don't know they like brains, well, that and my brain fritters, since everyone likes fried cheese.
The brains, after cooking and mingling with the spicy tomato and harissa sauce, end up tasting reminiscent of firm ricotta, or another mild cheese, they blend nicely into the background and make a good, hardcore breakfast for the carnivore and offal officionado.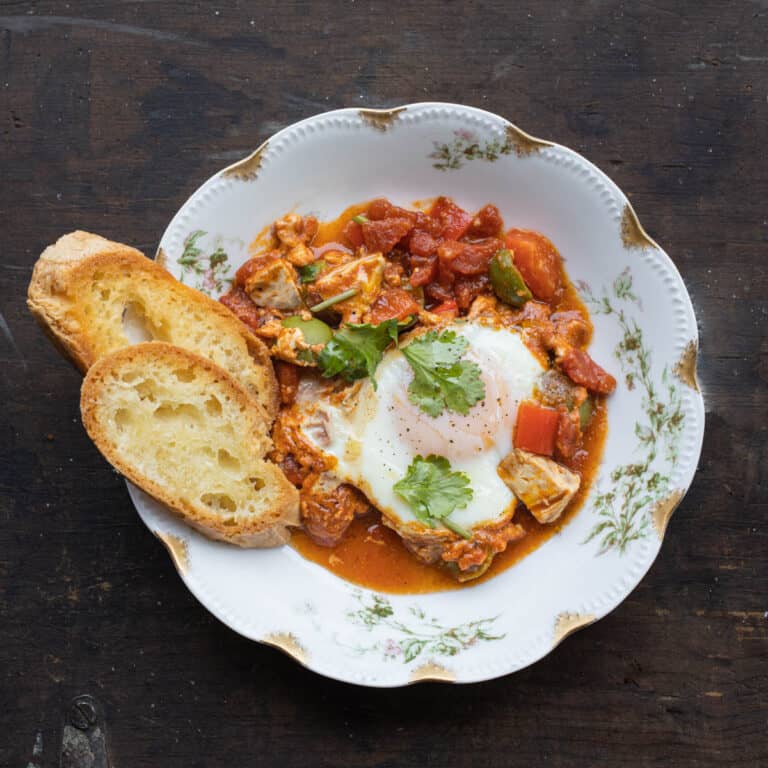 Print Recipe
Moroccan Brains with Eggs, Tomato and Harissa
Brains stewed with tomatoes, peppers and harissa paste with eggs are a very traditional Moroccan dish. Serves 2-4
Equipment
1 10 inch saute pan or similar
Ingredients
Brains
4

oz

fresh brains

about 2 whole lamb brains

1

lemon

1

bay leaf

1

tablespoon

salt

4

cups

water
Spicy Egg Mix
4

large eggs

1

large clove garlic

½

teaspoon

caraway

1 15

oz

can peeled tomatoes or 1 large tomato

1

cup

water

2

tablespoons

harissa paste or to taste if you're sensitive to heat

1

large bell pepper seeded

ribs removed and diced ½ inch

1.5

oz

small handful green Castelvetrano olives

halved

Fresh chopped cilantro to garnish

2

Tablespoons

Extra virgin olive oil plus more to garnish

Kosher salt and fresh ground black pepper
Instructions
Brains
Soak the brains overnight in water, making sure to change it a couple times during the process, until the water runs clear. This helps the brains keep a light color.

The next day, bring the remaining ingredients for the brains to a simmer in a non-reactive pan, cover and cook for 20 minutes, then cool in the liquid.
Eggs
Squeeze the seeds from the tomatoes, coarsely chop and reserve them with their juice. Stir the harissa paste with the water to dissolve.

Heat an oven to 350F. Crush the caraway in a mortar and pestle, then add the garlic and mash it to a coarse paste.

Heat the oil in a 12 inch cast iron or similar skillet, add the garlic paste, mix, stir for a minute cooking until aromatic, then add the peppers and sweat for a minute.

Add the tomatoes and juice, along with the brains and harissa liquid, bring to a simmer, then reveal for spaces where you will crack the eggs.

Crack the eggs in the pan, then bake for 15-20 minutes, or until the yolks are set but still a bit runny. Serve with toasted slices of baguette, fresh chopped cilantro, and generous drizzles of extra olive oil.
Notes
Sweetbreads can be used instead of brains for the recipe and cooked exactly the same way. 
Nutrition
Serving:
5
oz
|
Calories:
261
kcal
|
Carbohydrates:
18
g
|
Protein:
25
g
|
Fat:
11
g
|
Saturated Fat:
4
g
|
Polyunsaturated Fat:
2
g
|
Monounsaturated Fat:
4
g
|
Trans Fat:
0.1
g
|
Cholesterol:
483
mg
|
Sodium:
4008
mg
|
Potassium:
814
mg
|
Fiber:
4
g
|
Sugar:
7
g
|
Vitamin A:
10338
IU
|
Vitamin C:
51
mg
|
Calcium:
163
mg
|
Iron:
7
mg