Blood Sausage Cake is one of the more appetizing names I've typed into this website. All jokes aside, I can guarantee you that if you have access to fresh animal blood, and enjoy offal, it's definitely for you. It tastes great, too, and if you have ancestors from Scandinavia, like I do, they'll applaud you for making it.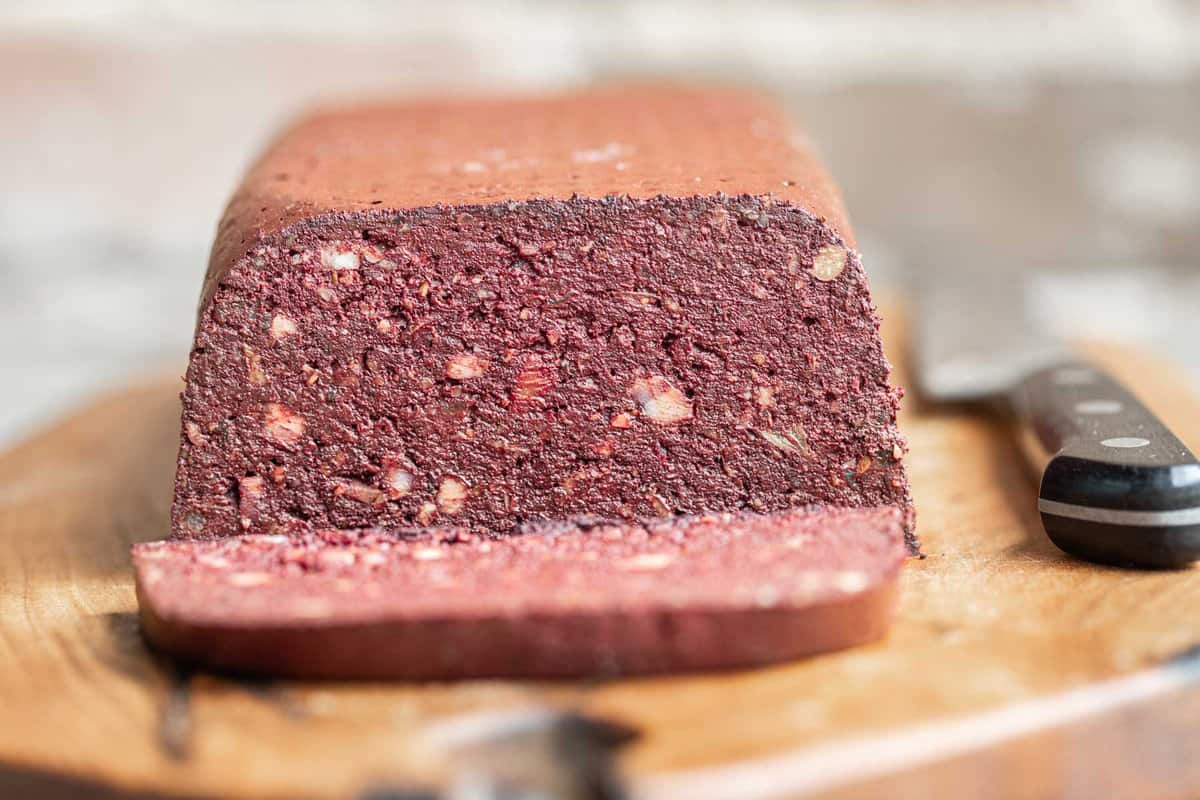 Basically, blood cake, or loaf as the case may be, is just another version of blood sausage, but instead of being cased or packed into casings, it's baked in a bread tin. It also contains no other meat besides blood, which, if you're someone who harvests their own animals, you'll appreciate since you're going to have a lot of blood to cook with. (If you want a more regular blood sausage that contains meat, try my chicken blood sausage, or wild rice blood sausage).
As blood is liquid, and can be a little tricky to stuff into casings if you're not experienced with sausages and charcuterie, but also firms up a bit after cooking, it's a great, easy way to use the literal, visceral, first part of the harvest.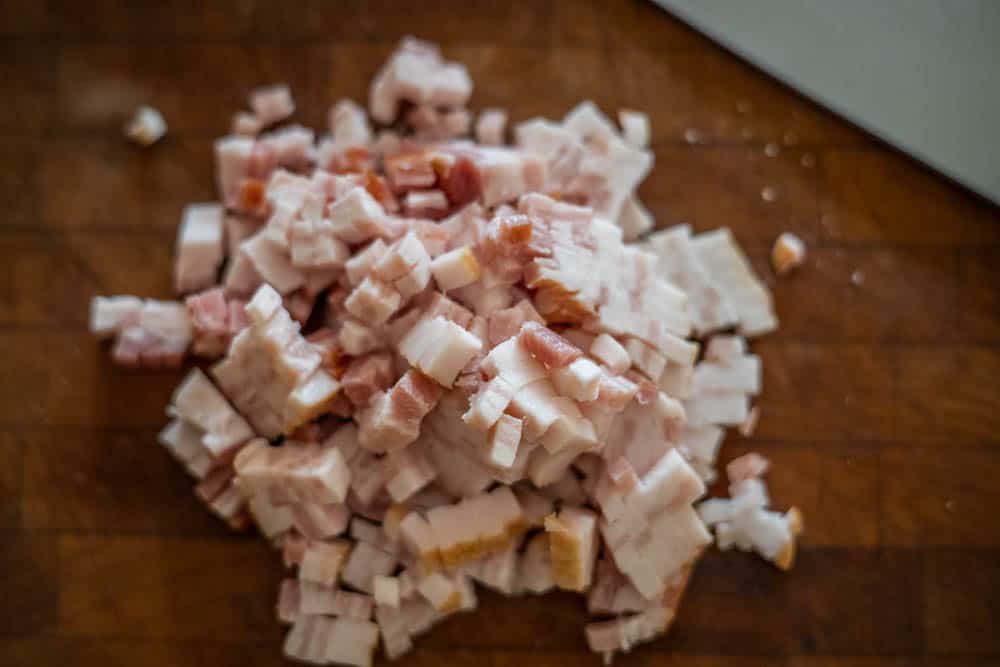 The original recipe is one that I modified from a fantastic tome of offal cookery anyone who eats organ meats needs to have: Fergus Henderson's The Whole Beast: Nose to Tail Cooking.
The recipe is pretty simple, although it could be difficult to parse for people in the United States, or people that haven't worked that much with blood, since there's a preliminary cooking on the stove that could cause problem in the finished product if you aren't careful.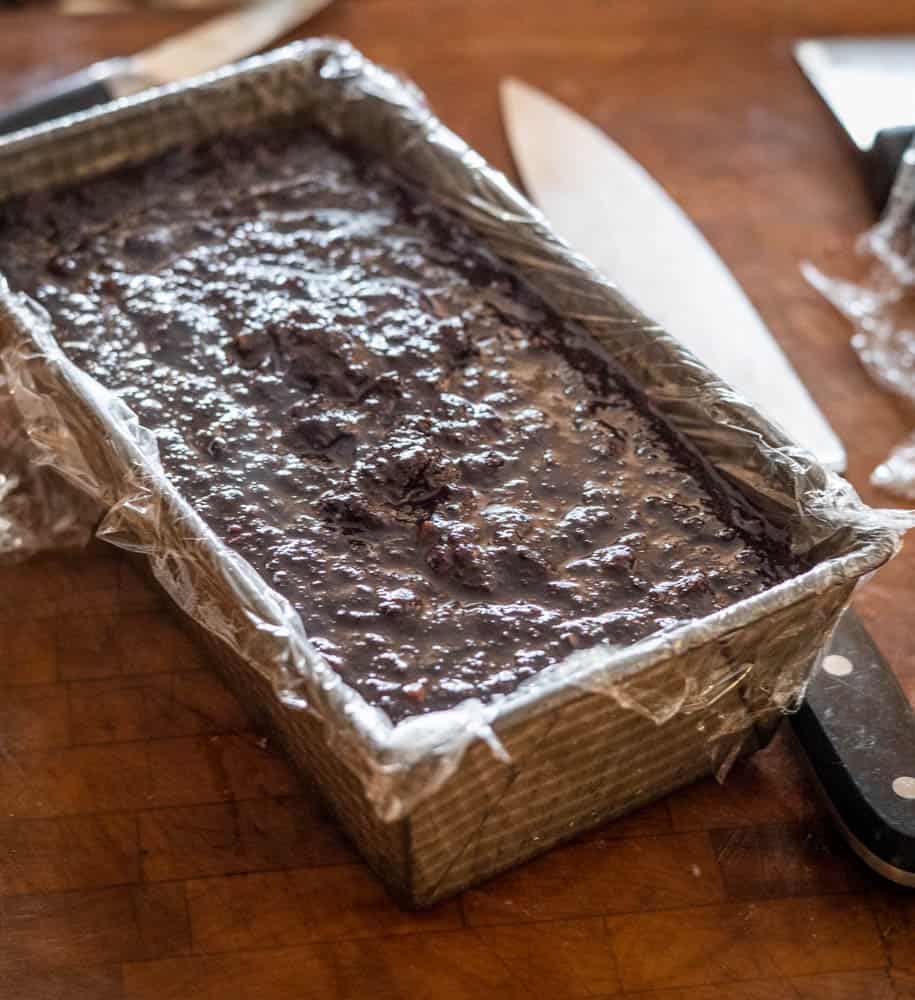 You take sweat some onions and garlic, add the blood and seasonings, along with the binder (Henderson calls for cornmeal but you could use all kinds of things) bring the heat up just enough so that the binder starts to visibly tighten, then you stir in a garnish. For the garnish, Henderson uses diced back fat or lardo, but you can easily get by with some bacon diced or cut up into small pieces, which is what I suggest here.
After that, you pour the mixture into a loaf pan lined with clingfilm bake it until the starches are cooked and the mixture is firm, then chill, slice, and fry it up.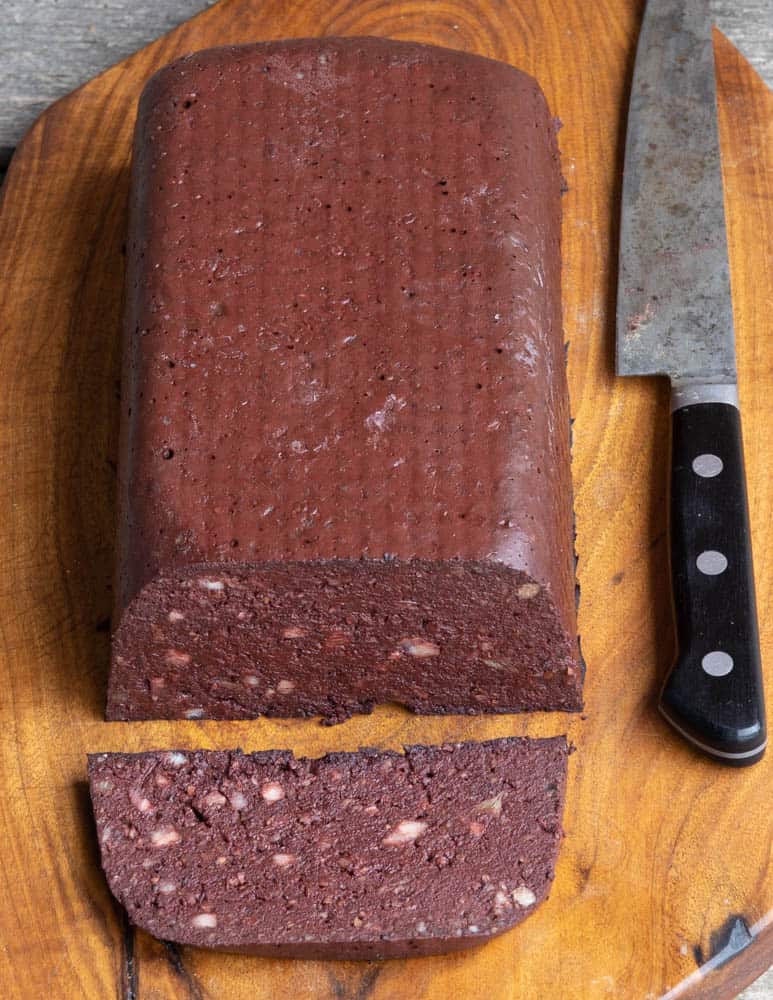 Spices and Seasonings
The original recipe was seasoned with warm spices, which I like sometimes in my blood products, but don't always use. For this version, I channeled another traditional cuisine that makes use of blood: Creole cooking.
My wild rice blood sausage uses the same basic flavor profile as I use here, and it's a good one, especially since blood cake is something you usually have for breakfast with eggs. Instead of the mace or nutmeg and cloves, I use a blend of spices and herbs: paprika, pepper, spicy cayenne, dried thyme and marjoram or oregano. It's spicy, meaty, and pairs perfectly with a plate of eggs.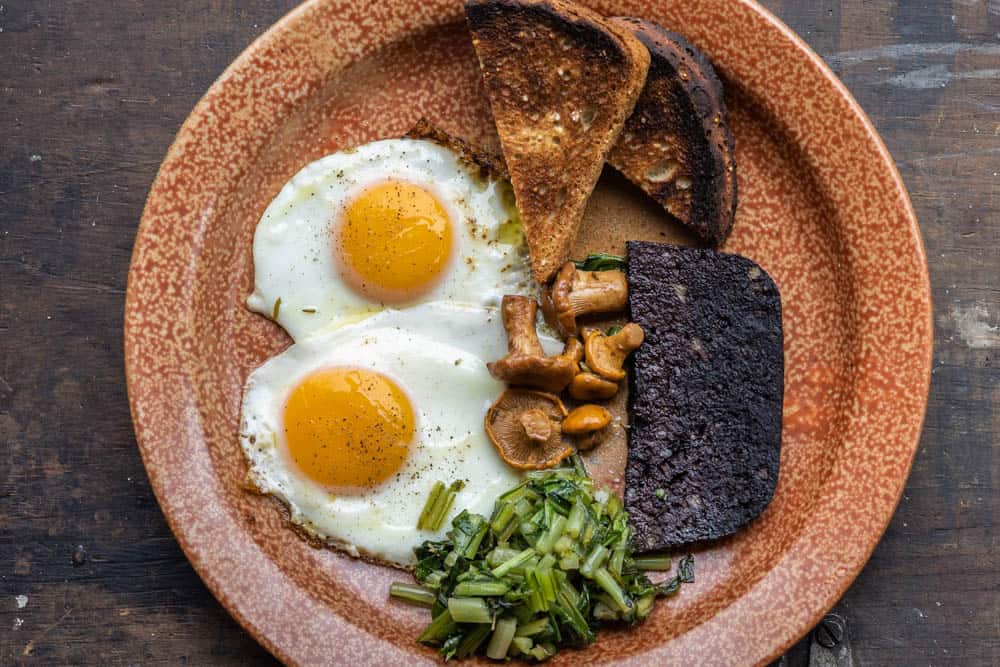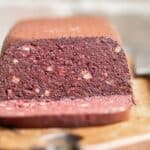 Print Recipe
Creole Blood Sausage Cake
A spicy, rich cake made from lamb or pork blood in the style of creole blood sausage, typically eaten with eggs for breakfast. Serves 8 with leftovers
Ingredients
Cake Base
24

oz

fresh or frozen pork blood

or lamb, goat, or chicken blood

½

cup

plus 1 tablespoon fine cornmeal or another grain or starch

such as oats or buckwheat

10

oz

1 large yellow onion

1.5

oz

garlic

roughly 8-10 cloves

2

tablespoons

duck fat

or another animal fat

4

oz

bacon

diced ¼ inch
Seasonings and Spices
¾

teaspoon

kosher salt

plus more to taste

3

Tablespoons

Sweet (not spicy) Paprika

(feel free to use 1 Tablespoon of smoked paprika if you have some)

½

teaspoon

fresh ground white pepper

use black in a pinch

½

teaspoon

cayenne

start with ¼ teaspoon if you're sensitive to heat

1

teaspoon

dried thyme

1

teaspoon

dried marjoram or ½ teaspoon dried oregano
Instructions
Prep
Mix the blood with the cornmeal or other starch and reserve. Mince the onions and garlic or buzz in a food processor.

Preheat an oven to 300F.
Par-cooking the blood cake
Sweat the onions and garlic in the duck fat for a few minutes until translucent, then add the seasonings and spices and cook for a minute more. Stir the blood-cornmeal mix, then pour into the pot. Cook the mixture slowly, stirring constantly until it just barely starts to thicken, this should be at about 120F if you're using a thermometer.
Adjust the seasoning
When you can see it just barely start to tighten, remove it from the heat and stir it well, then taste it and gauge the seasoning. If tasting half-cooked blood weirds you out, grow a pair and taste it anyway, you're cooking with blood for crying out loud, and you've come this far.

Adjust the seasoning as needed, it should be a bit salty, along the lines of sausage, since that's how it will be served.
Baking
Pour the mixture into a loaf pan lined with clingfilm, then put the loaf pan into a large pan, put it in the oven and pour hot water into the pan to come up at least ½ of the way up the sides of the loaf pan. Bake the black mass of goo for 45 minutes to one hour, or until set, then chill completely.
Serving
To serve, cut nice ½ inch or so slices of blood cake and fry them up for breakfast with eggs, toast and whatever else you like. A green salad can add a nice balance. Finally, pat yourself on the back, since you're going to eat a hardcore breakfast that would make a viking smile.
Notes
How to serve 
The best part of this is frying up slices. It's a great addition to a full English breakfast, served with bacon and eggs, or even on a sandwich. 
Nutrition
Serving:
3
oz
|
Calories:
211
kcal
|
Carbohydrates:
13
g
|
Protein:
17
g
|
Fat:
10
g
|
Saturated Fat:
3
g
|
Polyunsaturated Fat:
2
g
|
Monounsaturated Fat:
4
g
|
Trans Fat:
0.1
g
|
Cholesterol:
197
mg
|
Sodium:
299
mg
|
Potassium:
322
mg
|
Fiber:
1
g
|
Sugar:
1
g
|
Vitamin A:
11548
IU
|
Vitamin C:
4
mg
|
Calcium:
21
mg
|
Iron:
4
mg