Black pudding, mutura, kaszanka, boudin rouge, zungenwurst, blutvurst, biroldo, morcilla, sanguinaccio. Across cultures, historical preparations for blood sausage will be found just about anywhere animals are harvested. And those are just sausage, don't even get me started on the legion of other sanguine-devoted cultural specialties.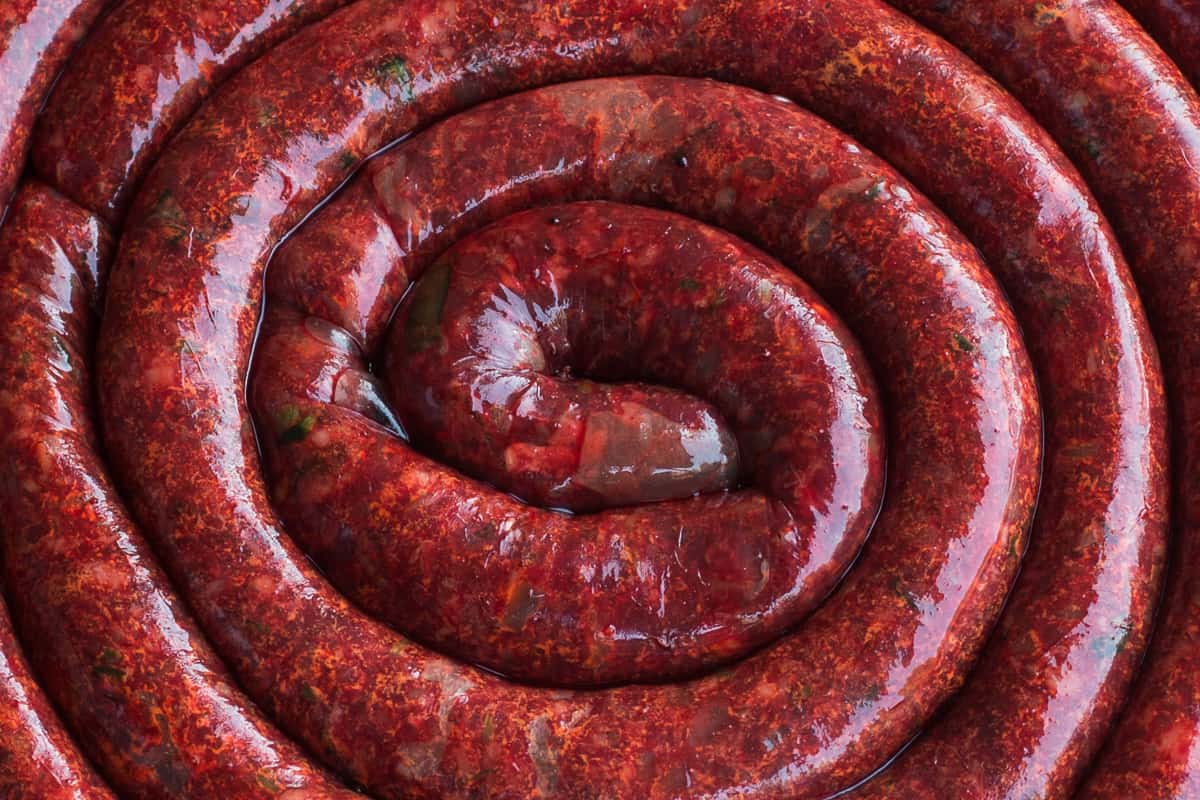 Like most meat eaters, I love homemade sausage, and, once you get a meat grinder and stuffer, the rest is pretty simple: grind it up, season, let it rest for the myosin to work it's binding magic, pack into casings and cook.
Blood sausage though, blood sausage is an art, and a quickly disappearing one. It's easy to understand why, as the intimate process of harvesting your own animals is a rarity.
But, that doesn't make wasting blood any less of a crying shame. For me, when I harvest sheep, and for many people, especially those down south that still practice pork-centric boucherie, or communal butchery, blood and organs are the literal, visceral first harvest, and the only food you'll get from the animal if you hang the meat to dry out a bit and improve in flavor, a good practice for most creatures sans aquatic ones.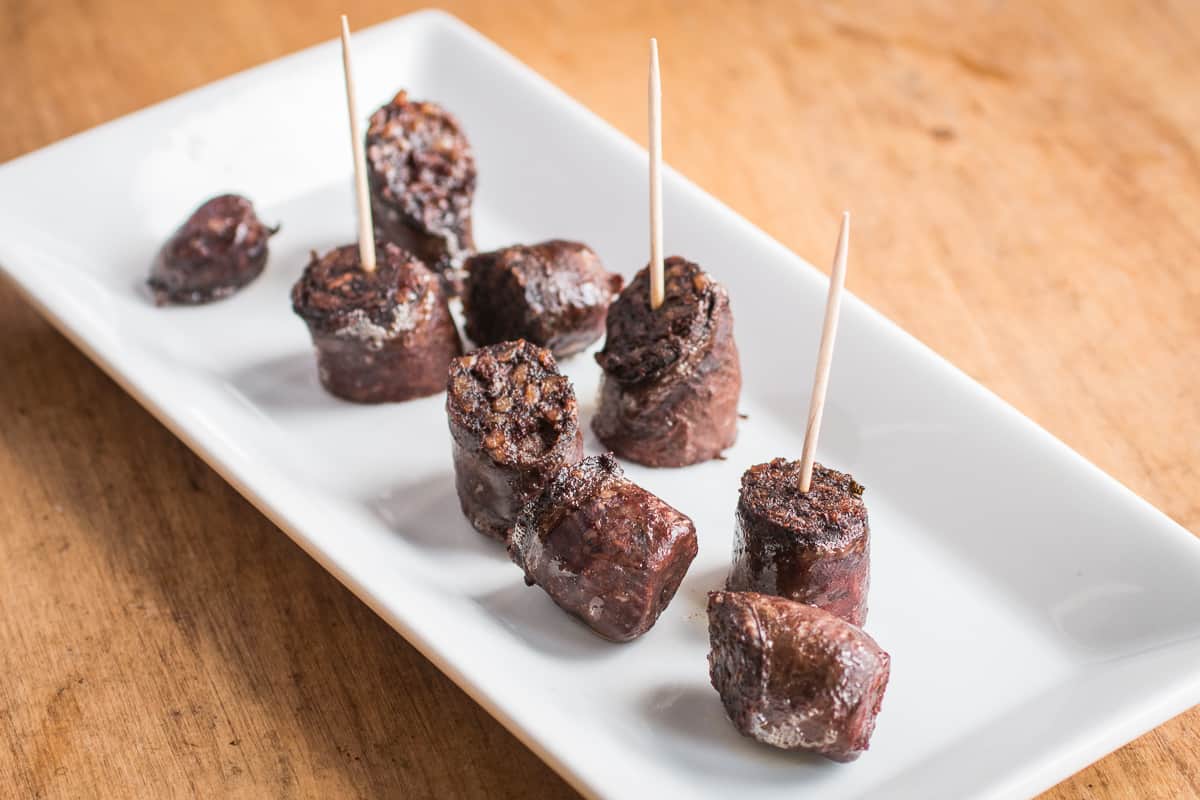 To make a good blood sausage though, you're going to need some blood. Any blood will do, but it might not be easy to find. In order to get some red gold, you need to either know a farmer, or, now days, get in touch with a well-stocked supplier who sells it frozen, but that's usually only available to chefs.
Harvesting an animal is the best way to get good, fresh blood though, so if you can finagle your way into helping in harvesting and butchery, take it. Here's what I do with sheep.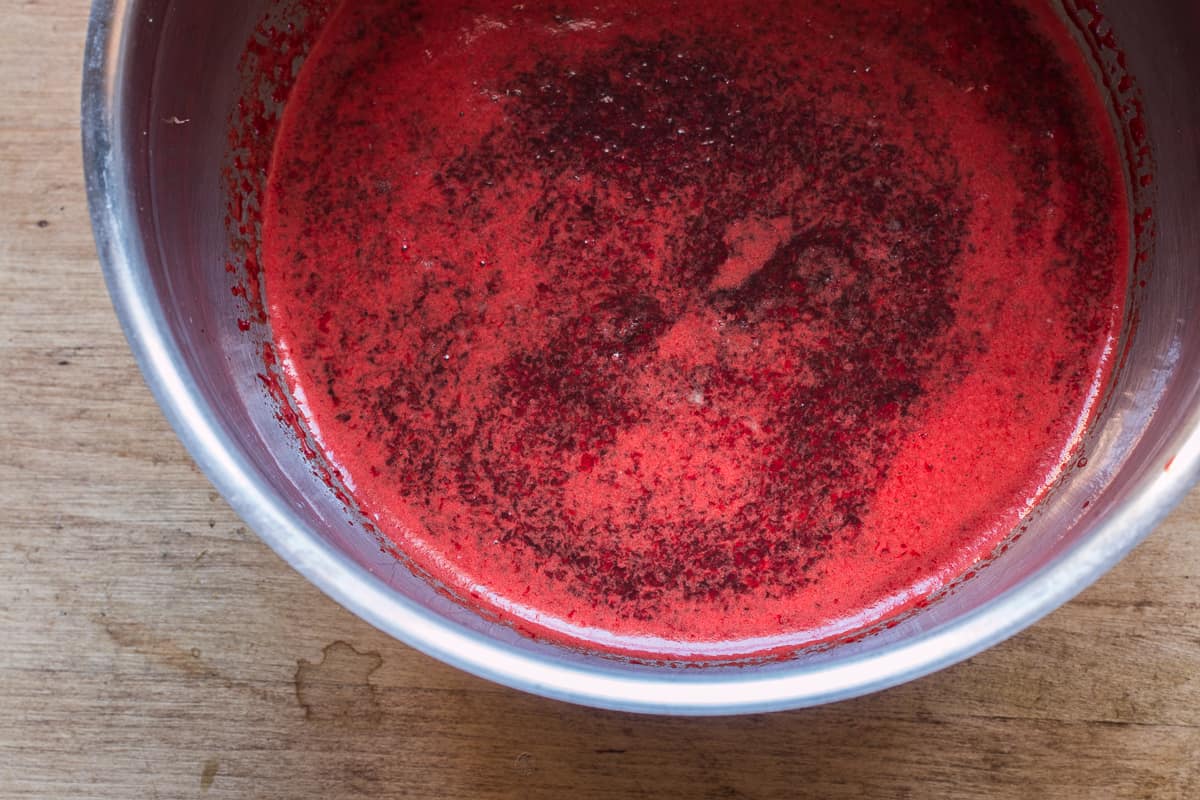 Harvesting Blood
You'll need two-three people dressing in work clothes, a large metal bowl, and a very sharp, long knife. For the sake of being humane, too, we're not talking about the sharpest knife you have laying around, you need to do the deed quickly, so take the sharpest, longest knife you have, and sharpen it again, better yet, plan ahead and take it to a professional.
Have your helpers hold the animal firmly. I prefer one of my friends to straddle the animal while they're on the ground to secure them, since, if you don't cut true, beasts with a will to live can buck and run around, spraying the special ingredient all over the place.
Put the bowl under the animals head, preferably with a large person straddling the animal holding down its front legs with their knees. Hold the knife in your dominant hand. With your off hand, grasp the back of the animals head firmly, pulling their head back to expose the neck. Put the knife up to their neck directly under the jaw, planning your stroke, and, pressing firm and true, cut completely across the neck, severing both the carotid artery and jugular vein in unison. You may cut through the windpipe, if you do, it's fine, and better to go down farther than not far enough. You can also make an incision at the entrance to the chest, but I haven't done it. See this diagram here for more.
Hold the animal firmly, aiming the blood in the bowl as best you can. It will get easier. When the blood is collected, set it aside while you gut the animal. If you see any visible debris (fur) in the blood, take it out If you can. It will be messy. The blood will coagulate quickly into a mass—don't worry, it's still good, it just needs to be relaxed. Next, call your wife or partner to make sure they aren't at home, or devise a plan so you can sneak into the kitchen, then, take the blood, and, first making sure the blender is on low speed, very carefully stir, and then purée, then pour through a strainer to catch any fur or foreign particles. From here you can freeze the blood and it will stay good for months, making sure it's clearly labeled so your partner doesn't mistake it for fruit juice for her morning smoothie, or store the blood in the fridge and use within 2-3 days.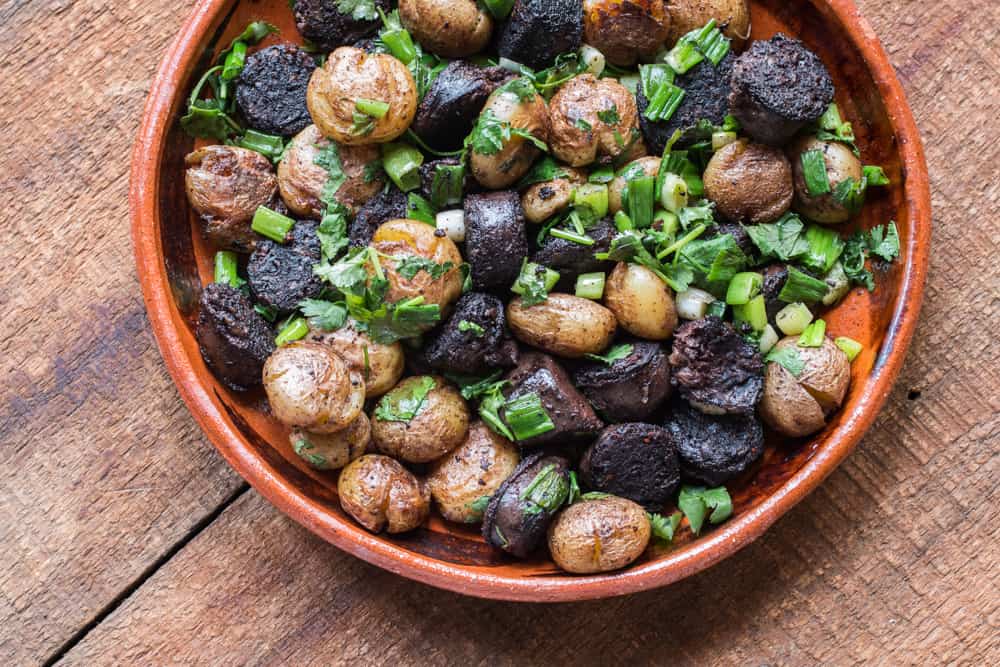 Pick a flavor
Now, the fun part: choosing a recipe. Looking at different cultural examples will quickly show you a common denominator: blood sausage typically includes starch of some kind. In Scandinavia and Britain, oatmeal and buckwheat might be used. In Spain's morcilla, you might see rice, and the same goes for creole blood sausage. There are blood sausages made without added starch, but I've never tried them, since, although cooked blood will coagulate, it will never be firm like traditional sausage without some kind of starch, and, at least for me and mine, it's better to have a more firm sausage, unless I want to eat it all alone.
My recipe is a Creole-Midwest hybrid. It's mildly spicy, flecked with onions, a bit of meat for structure, and uses that Minnesota calling card wild rice as the binder instead of the traditional white rice. I developed it a long time ago, and spent a lot of time and money in the process. If you make the recipe as is, you'll love it, if you want to use it as a template, shoot me a message and I'll help you trouble shoot as best I can. You're in for a bloody good time.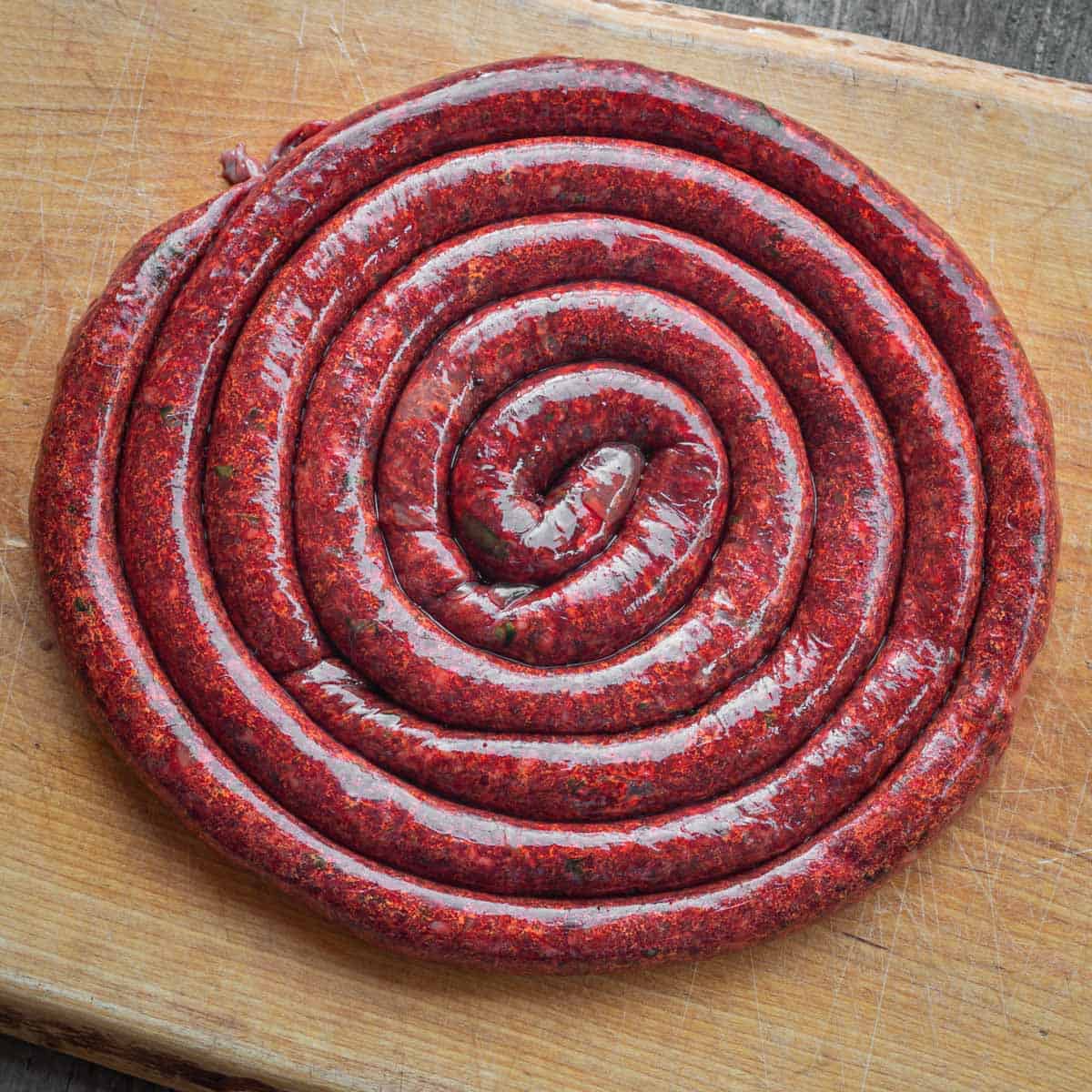 Par-cooking and portioning
FYI, I typically par-cook my sausage before freezing by poaching or sous vide. Typically freezing post-cooking is a no-no with charcuterie (with the exception of hams and cured whole muscles) but, since blood sausage has a different composition and doesn't rely on the same protein-bound structure as typical sausage, it's fine to freeze it cooked, it's also less messy. Sous-vide blood sausage is probably the cleanest, easiest way to poach them. To cook the sausages, cut them into coins like in my blood sausage hash, and fry them crisp on all sides.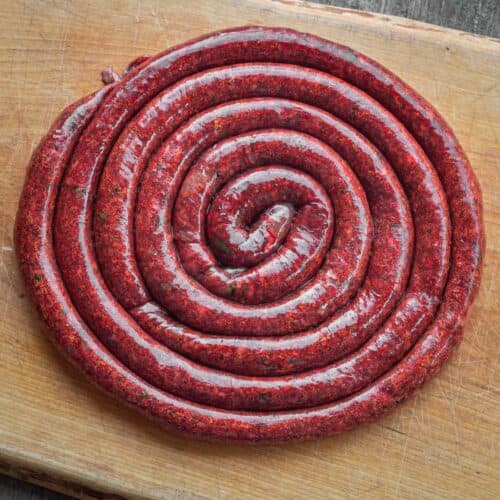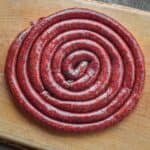 Print Recipe
Wild Rice Blood Sausage
A spicy creole-inspired blood sausage made with wild rice, onions, herbs and spices.
Equipment
Sausage stuffer

Meat Grinder

Sheet trays or cookie sheets

Large mixing bowls with 2-3 gallon capacity
Ingredients
4

lbs

ground meat

from the same animal as the blood

1

lb

(4 cups) finely diced yellow onion

1

lb

(4 cups) sliced green onion

¼

cup

minced garlic

40

grams

(1.5 tablespoons) kosher salt

plus more to taste (see note)

natural hog casing

37 mm size

6

cups

cooked wild rice

drained well, preferably day old

1

cup

finely chopped fresh Italian parsley or cilantro

roughly 2 bunches

5

cups

blood

from lamb, chicken or pork

3

tablespoons

smoked paprika

1.5

Tablespoons

cayenne pepper

or to taste

½

cup

very fine wild rice flour

see note
Instructions
Wild rice
Cook the wild or other rice the night before, it's better if it's dried out a bit.
Onion mixture
Saute the yellow onions and garlic lightly in the oil with the paprika and cayenne and cook in the lard for 15 minutes on medium-low, until the onions are completely cooked. Stir in the green onions off the heat and allow them to wilt.

Cool the onions and reserve.
Blend the sausage and adjust the seasoning
Combine the onion mixture with the ground meat, and remaining ingredients.

Cook a little of the mixture to double check the seasoning and adjust as needed, then pack into casings. Chill overnight to hydrate the flour and make it easier to case (optional).

I like to keep the blood sausages around 2 feet, so they can fit easily into a pot of simmering water.
Poach, portion and store
Poach the sausages in simmering, lightly salted water until hot throughout, and firm, about 10-15 minutes, then dry, portion, vacuum seal and freeze.

To serve the sausages, cut them into thick coins and fry crisp. Nothing could be better with eggs.
Notes
On Salt
For the salt, I suggest 50 grams as a starting point to make it easy since blood sausage can be messy, but the most trustworthy way to season sausage is by weight. Typically use 1-1.5 % weight of salt. To do that, measure the complete sausage mix in grams, then multiply that by .01, then add that many grams of salt. Mix and cook a small piece to taste the seasoning (it should be well seasoned) and continue adjusting until it tastes good to you. Wild rice and wild rice flour
I use wild rice, but you could easily substitute the same quantity of white rice, just try to let it be day old so it's dried out a bit.
The wild rice flour is optional, but makes the mixture easier to handle. To make wild rice flour, grind wild rice in a spice grinder until as fine as possible, then sift it. Warm spices and herbs
Fresh or dried marjoram is traditional here, but fresh oregano is a good substitute, consider adding some.
If it's fall and I don't have access to fresh herbs, I may add warm spices, especially quatre epice (equal parts cinamon, clove, nutmeg and black pepper)  just a tiny amount--1-2 teaspoons for this entire batch would be fine.