Blood sausage is a delicious piece of charcuterie with a rich tradition. In this post, I'm sharing my favorite blood sausage recipe I've worked on for years. My recipe is a Creole hybrid. It's mildly spicy, flecked with onions and a bit of meat for structure. It goes without saying you're in for a bloody good time.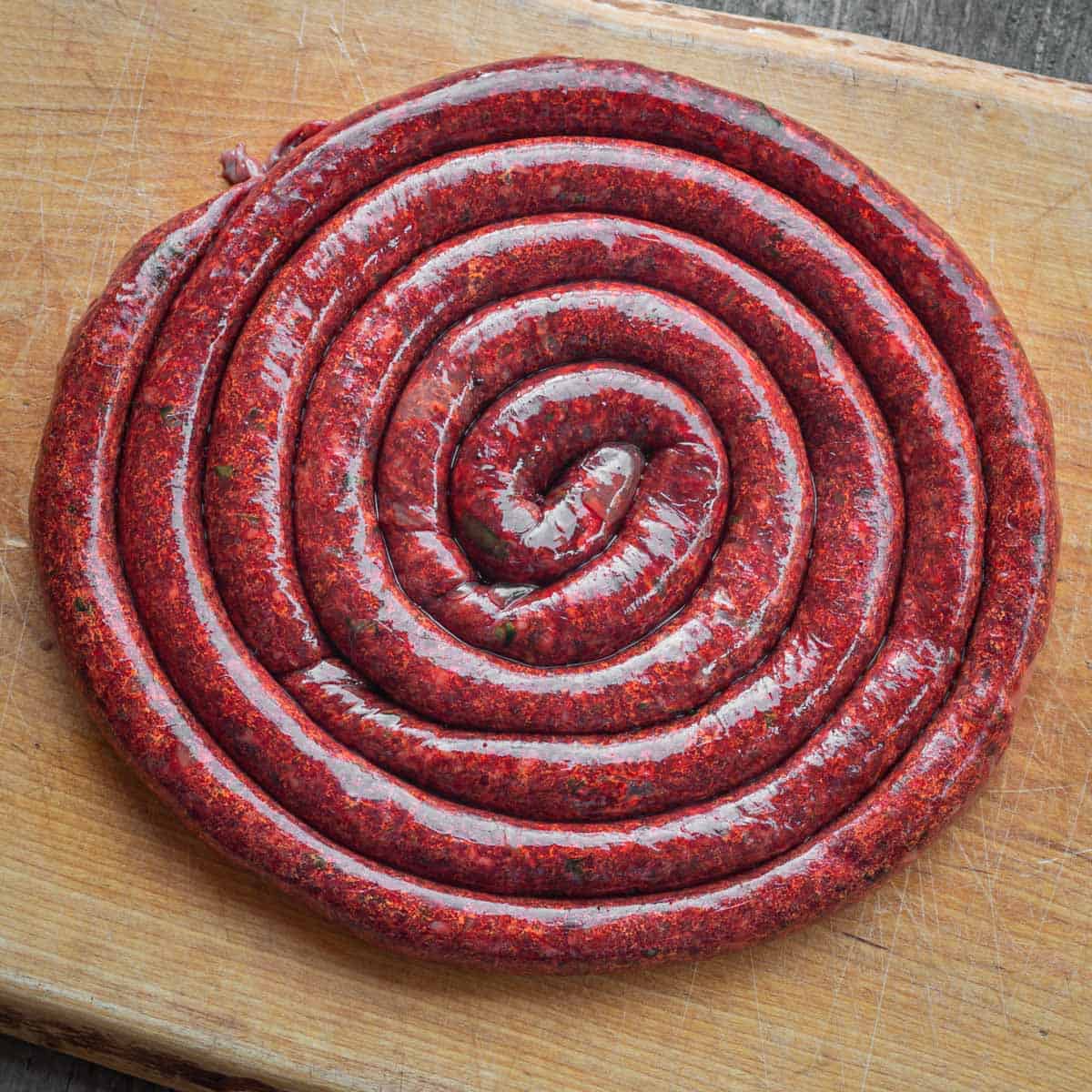 What is blood sausage?
Also known as black pudding, blood pudding, mutura, kaszanka, boudin noir, zungenwurst, blutvurst, biroldo, morcilla, sanguinaccio. Blood sausage is a sausage made from blood, or blood and meat, mixed with rice, oats, barley or another starch, herbs and seasonings.
There's many different traditions of making blood sausage around the world: some use mostly blood, some, like this recipe, use a combination of blood and meat. Any type of blood can be used, and I've used goat, lamb, pork and chicken in the past.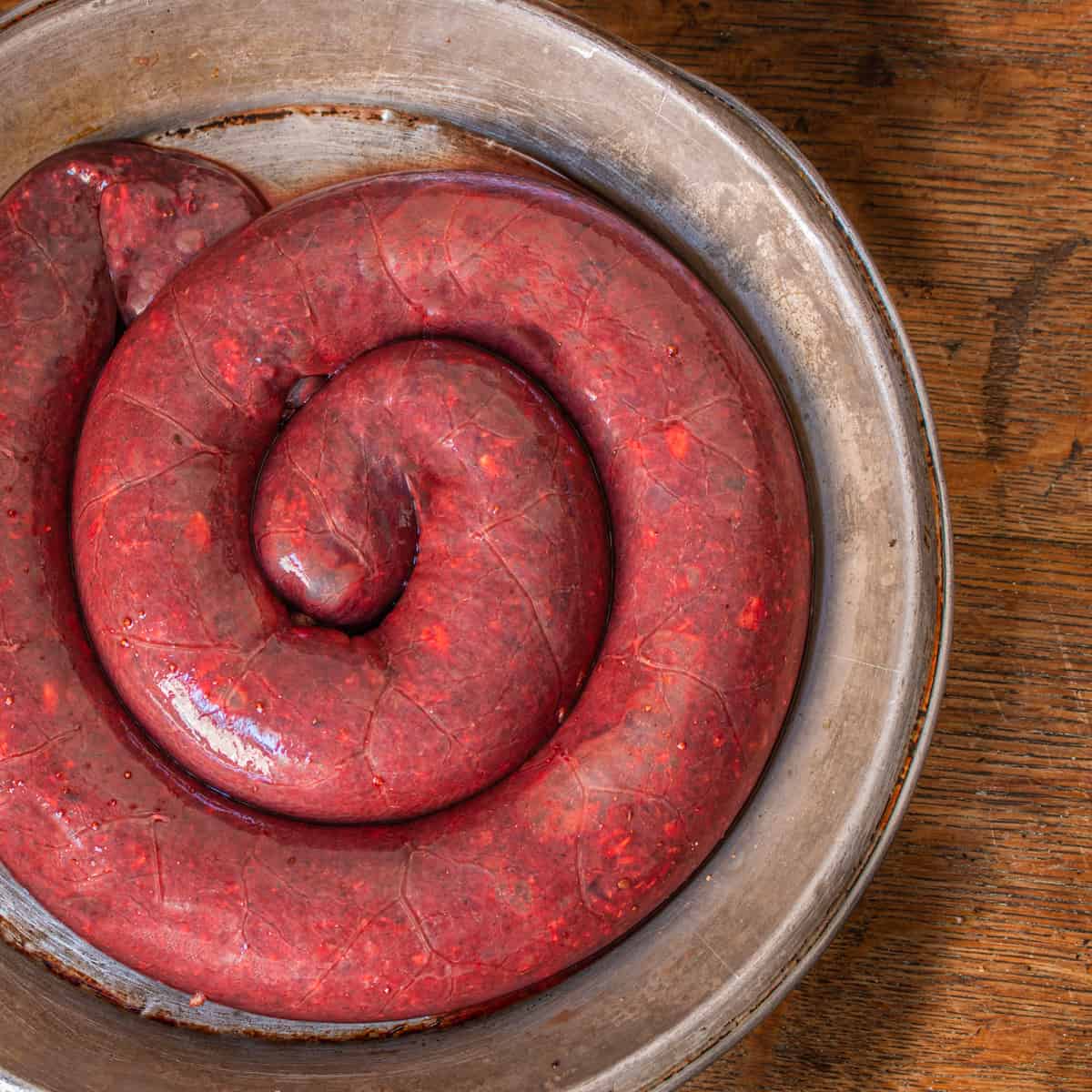 Most traditional recipes include a grain or starch to help give body to the sausage. I like to use rice or wild rice. Scandinavian recipes call for oatmeal, barley or other grains while others use breadcrumbs. French, Spanish and Italian recipes usually call for rice. My recipe also includes meat to make it easier to handle.
What does blood sausage taste like?
Black sausage isn't gamey or strong tasting. Blood has a mild, lightly salty flavor and is very different from sausage made from liver or kidneys. In short, blood sausage tastes like mild meat sausage, just tell people what it is after they enjoy it. The particular flavor of the sausage will depend on the culinary tradition used to make it, and your personal preference for seasonings. I like mine spicy, with lots of herbs, onions and garlic.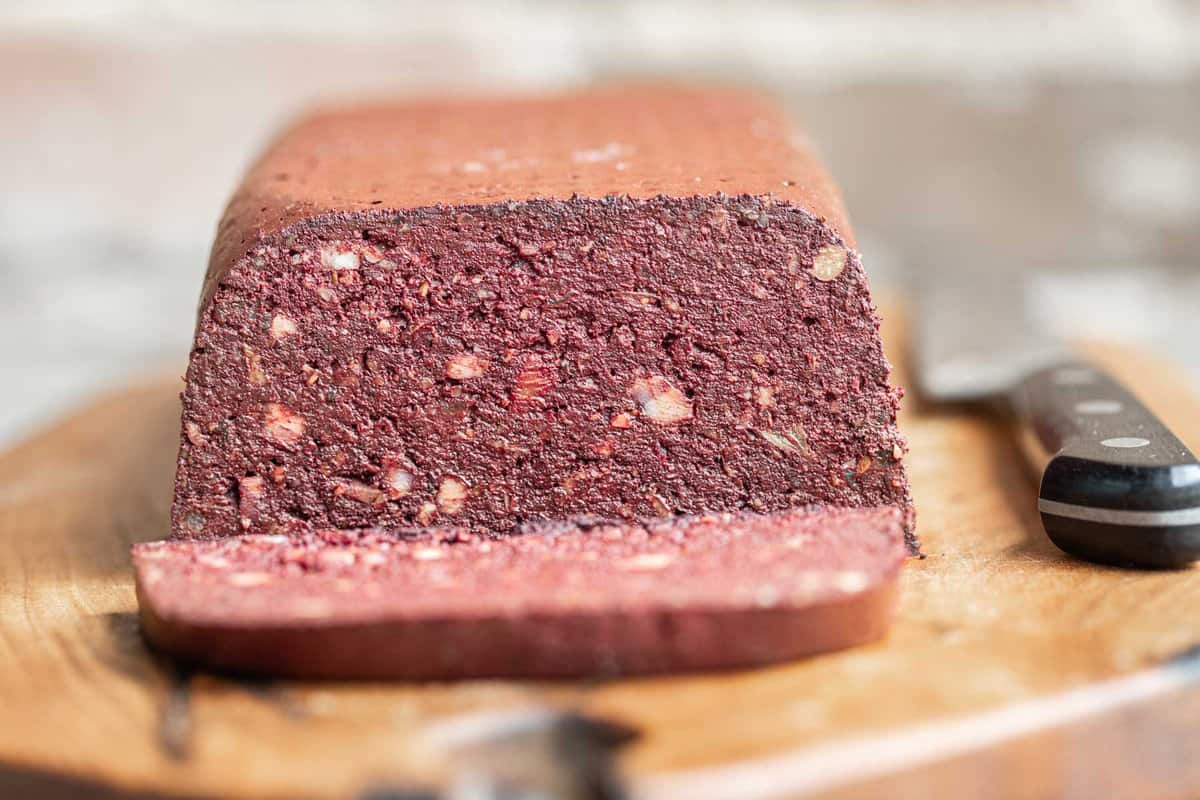 How to Make Blood Sausage
This sausage comes together easily, but there's a few components and it's definitely a project. First you cut up lots of parsley or other herbs, onions, garlic and scallions. The onions are cooked before adding to the sausage.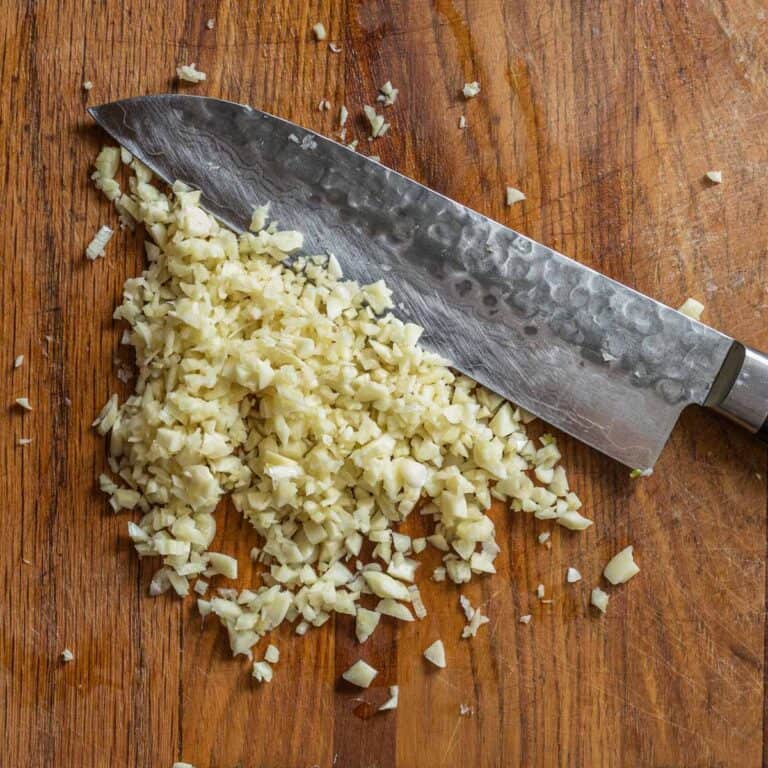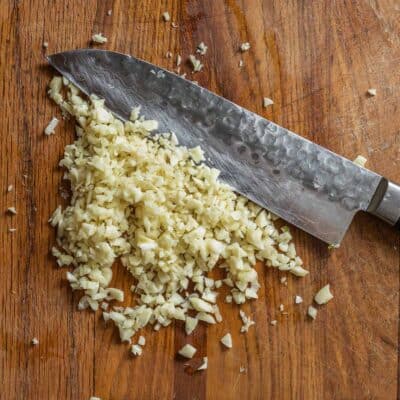 In this recipe fresh or frozen blood, rice, herbs and cooked onions and garlic are mixed together. If your blood is frozen, you'll want to puree it before using. You'll also want to use gloves to do this.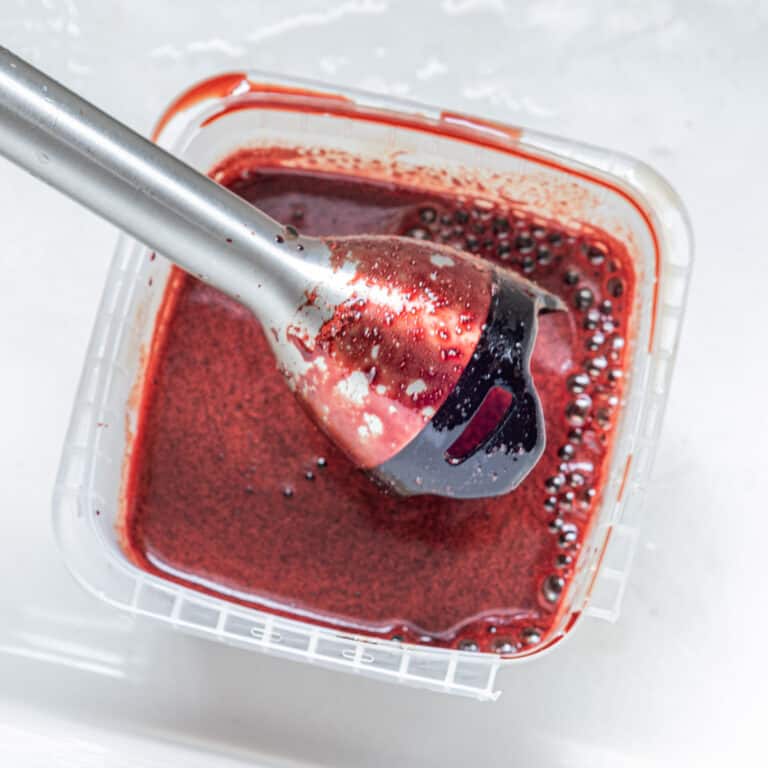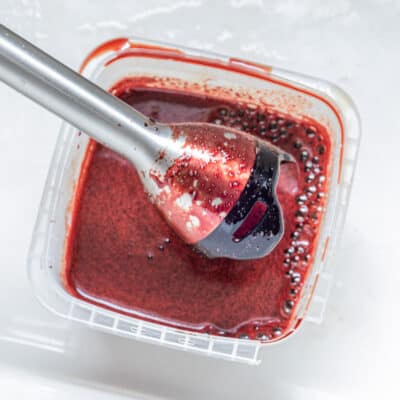 Once the sausage mixture is combined, you'll want to cook test batches to double check the seasoning. Adjust the seasoning until the mixture tastes good to you, then pack the sausage into casings.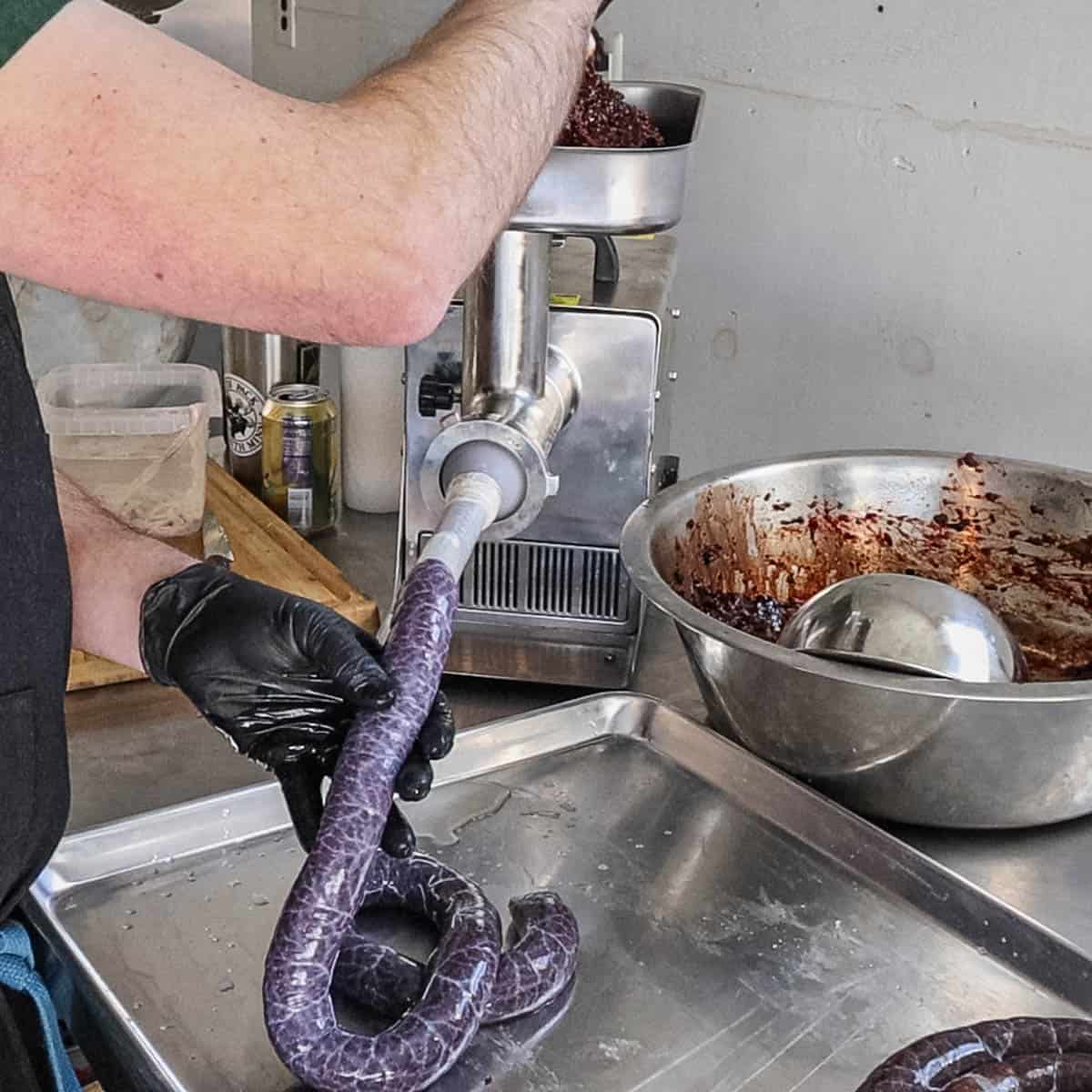 After the sausage is packed into casings, it can be vacuum sealed and frozen, or cooked as-is. It is usually par-cooked to hold its shape, then cut into pieces and fried.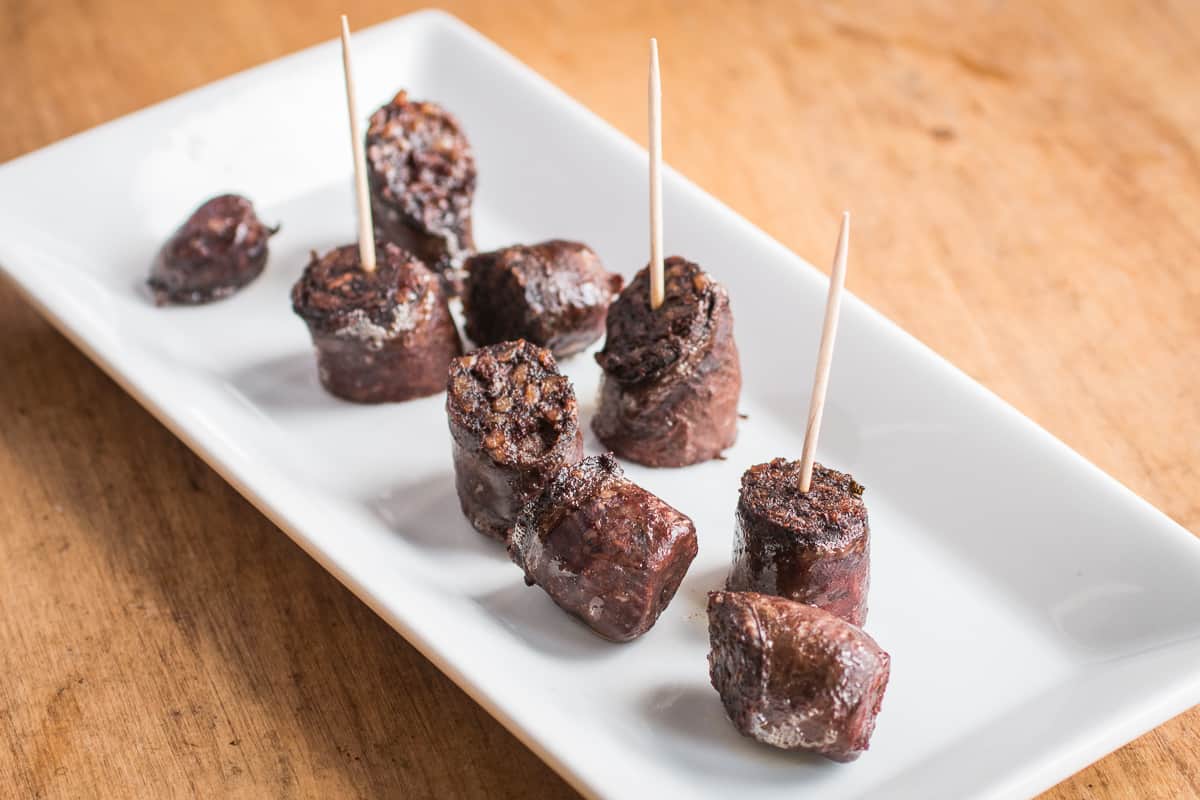 How to cook blood sausage
Traditionally blood sausage is par cooked by simmering in water. Do not cook blood sausage in a pan like a regular sausage or it may break open. After par-cooking the sausages are cut into pieces and fried cut side down. You can also sous-vide your sausage and that works very well.
Above: sous vide blood sausage to par cook it before cutting into pieces and frying.
Different cultures may serve blood sausage in different ways. In the U.K. black pudding is part of a full English breakfast. In Scandinavia, blood pancakes (palt) may be served with sauteed apples.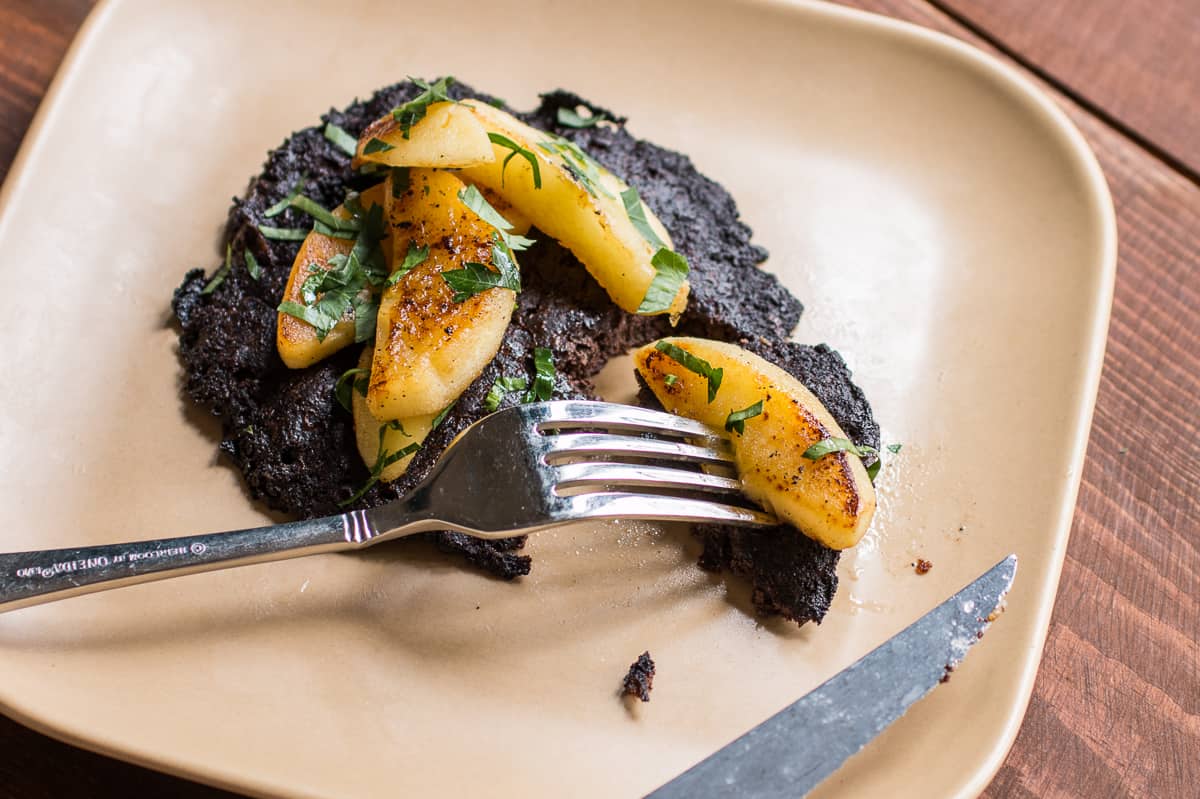 I like to fry the sausages up for breakfast myself.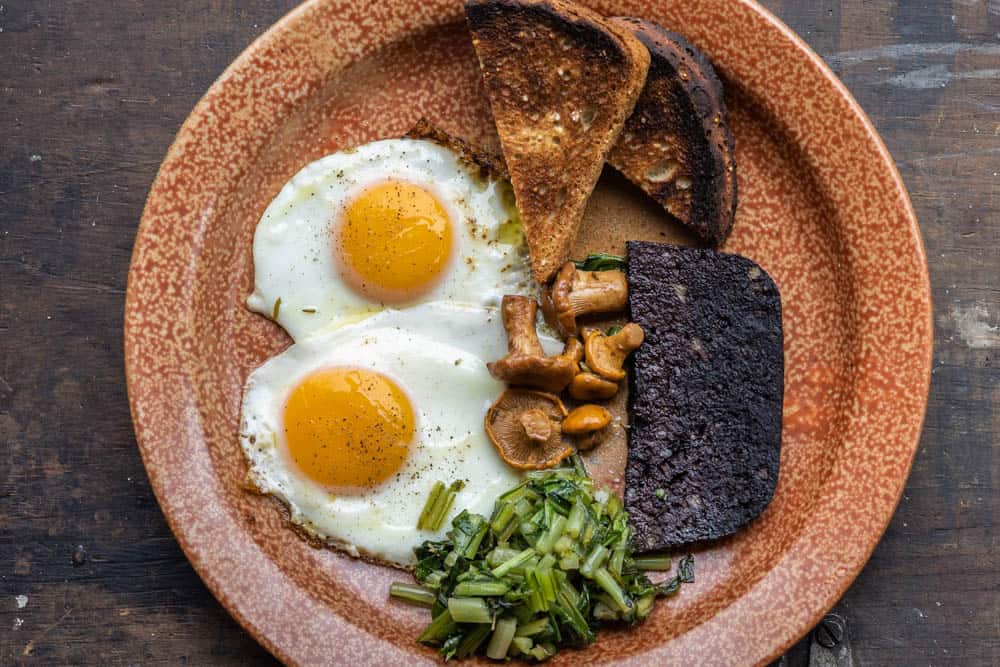 If you make the recipe as is, you'll love it. If you want to use it as a template, shoot me a message and I'll help you trouble shoot as best I can.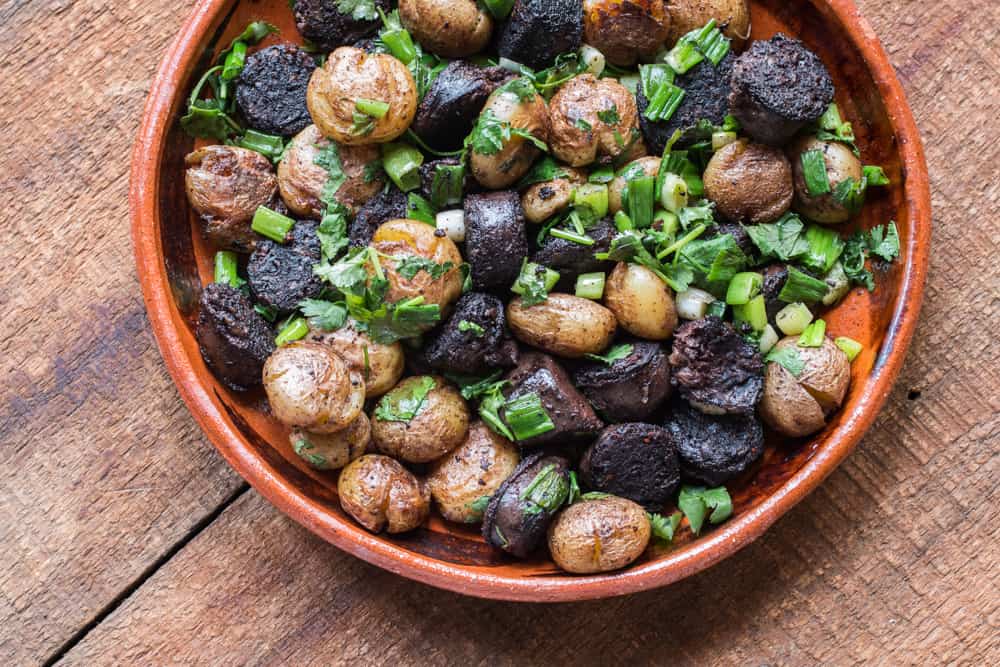 Other Recipes Using Blood
I have a few other recipes that use blood you might like. Creole Blood Cake is fantastic. Chicken Boudin Noir is similar to this one but with Scandinavian flavors. Scandinavian Blood Bread is the most interesting, and probably the oldest recipe I have.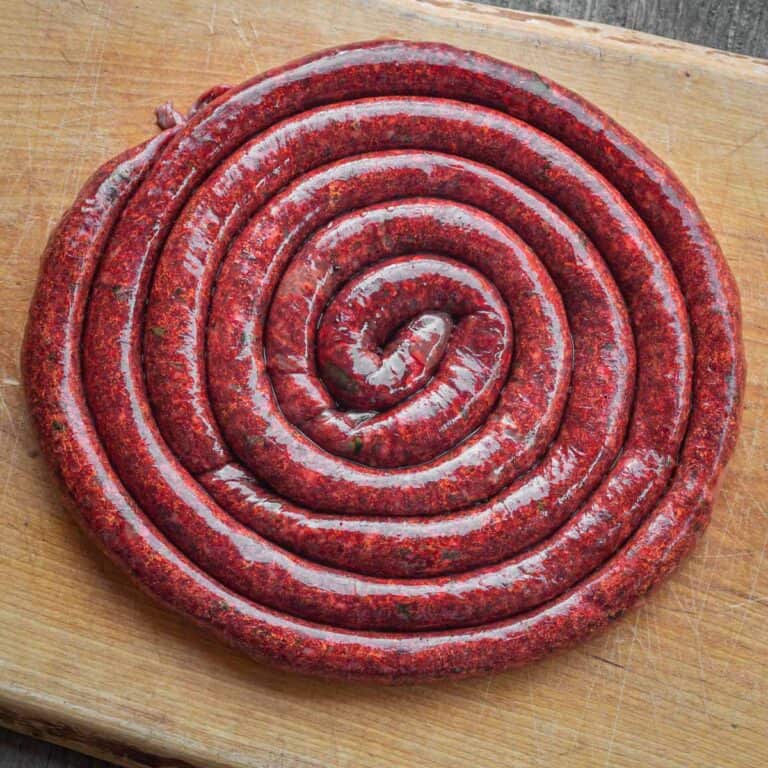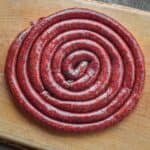 Print Recipe
Blood Sausage
A spicy creole-inspired blood sausage made with rice, onions, herbs and spices.
Equipment
Sausage stuffer

Meat Grinder

Sheet trays or cookie sheets

Large mixing bowls with 2-3 gallon capacity
Ingredients
4

lbs

ground pork

lamb or chicken

2.5

lbs

(5 cups) blood

lamb or chicken

1

lb

(4 cups) finely diced yellow onion

1

lb

(4 cups) sliced green onion

¼

cup

minced garlic

40

grams

(1.5 tablespoons) kosher salt

plus more to taste (see note)

natural hog casings, as needed

37 mm size

6

cups

cooked rice

drained and preferably day old

1

cup

finely chopped fresh Italian parsley

roughly 2 bunches

3

tablespoons

smoked paprika

1

Tablespoon

cayenne pepper

or to taste

½

cup

rice flour

*see note
Instructions
Wild rice
Cook the rice the night before, it's better if it's dried out a bit.
Onion mixture
Saute the yellow onions and garlic lightly in the oil with the paprika and cayenne and cook in the lard for 15 minutes on medium-low, until the onions are completely cooked. Stir in the green onions off the heat and allow them to wilt.

Cool the onions and reserve.
Blend the sausage and adjust the seasoning
Combine the onion mixture with the ground pork, blood, and remaining ingredients.

Cook a little of the mixture to double check the seasoning and adjust as needed, then pack into casings. Chill overnight to hydrate the flour and make it easier to case (optional).

I like to keep the blood sausages around 2 feet, so they can fit easily into a pot of simmering water.
Poach, portion and store
Poach the sausages in simmering, lightly salted water until hot throughout, and firm, about 10-15 minutes, then dry, portion, vacuum seal and freeze.

To serve the sausages, saute or roast them until browned, then cut into thick coins and fry crisp. Nothing could be better with eggs.
Notes
Salt
I suggest 40 grams as a starting point, which is just under 1% of the weight of the meat in salt. It's very important to taste the sausage before you pack it into casings. Adjust the seasoning until it tastes good to you, but remember that blood is saltier than typical meat. 
Rice Flour
This is not exactly traditional, but it works well. To make rice flour, grind rice in a spice grinder until fine, then sift. 
Spices and Herbs
Fresh or dried marjoram is traditional here, but fresh oregano is a good substitute. 
If I don't have access to fresh herbs, I may add warm spices, especially quatre epice (equal parts cinamon, clove, nutmeg and black pepper)  just a tiny amount--1-2 teaspoons for this entire batch would be fine.
Nutrition
Serving:
8
oz
|
Calories:
406
kcal
|
Carbohydrates:
21
g
|
Protein:
30
g
|
Fat:
21
g
|
Saturated Fat:
8
g
|
Polyunsaturated Fat:
1
g
|
Monounsaturated Fat:
9
g
|
Trans Fat:
1
g
|
Cholesterol:
100
mg
|
Sodium:
882
mg
|
Potassium:
603
mg
|
Fiber:
2
g
|
Sugar:
2
g
|
Vitamin A:
1100
IU
|
Vitamin C:
10
mg
|
Calcium:
58
mg
|
Iron:
4
mg
Where to buy blood
Some butchers can order frozen blood and it will work just fine. It's legal to sell in the United States.