Blood bread is a great example of historical harvest preserving and something my Scandinavian ancestors might have made. It's also spooky sounding and perfect for Halloween.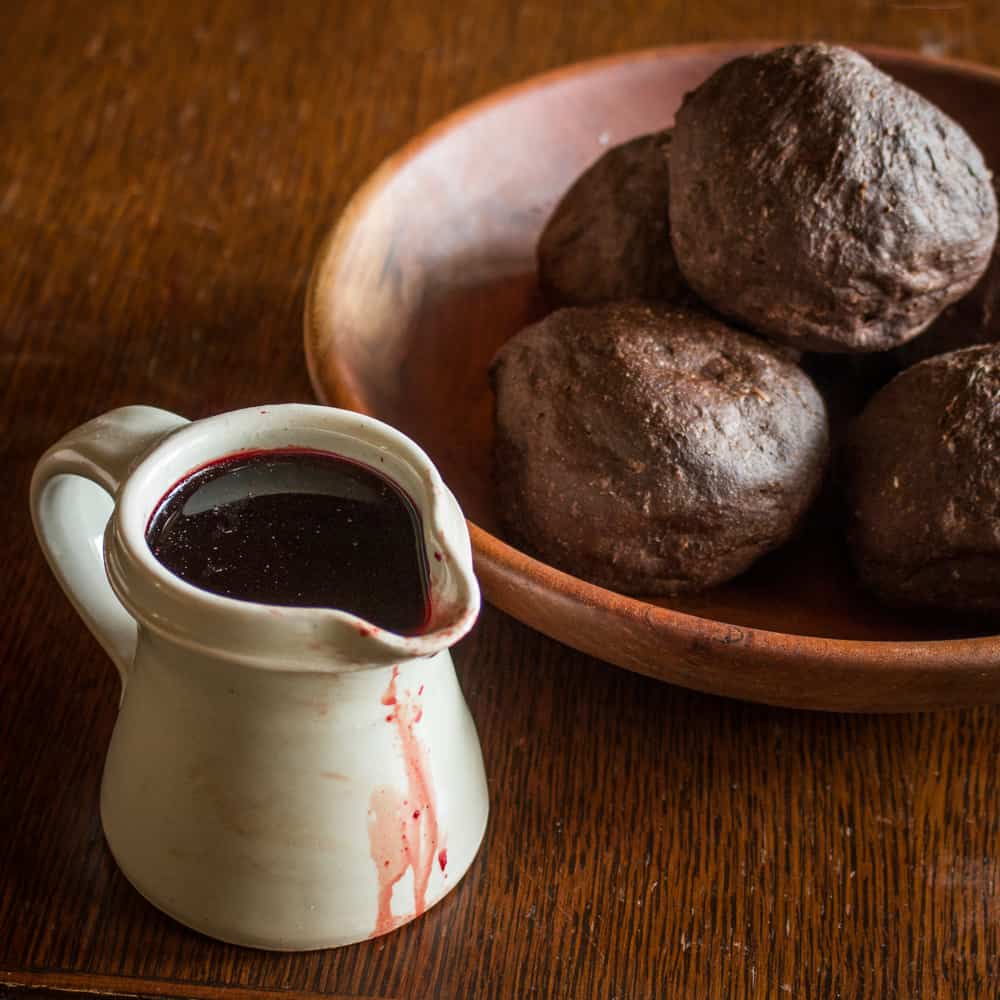 It's all about being resourceful. When an animal is harvested, the very first things you can collect are blood, and offal, in that literal, visceral, order.
These things have a short shelf life and need to be processed quickly, but were historically valued, presumably as they're more nutrient-dense than other parts of the animal.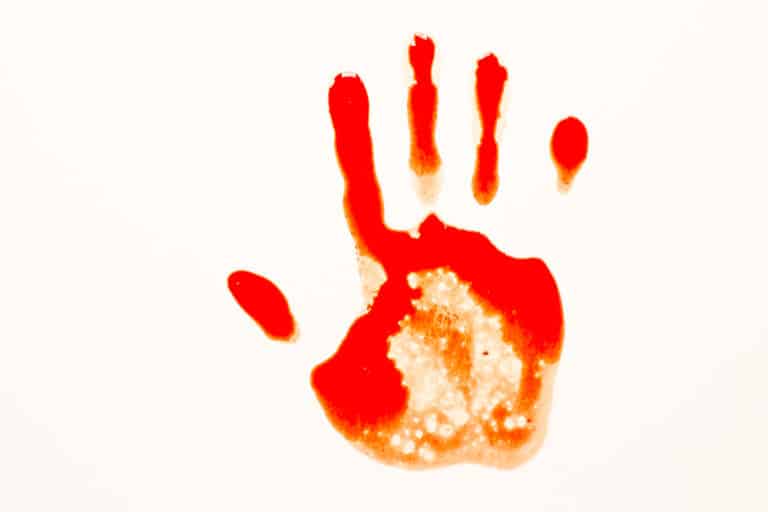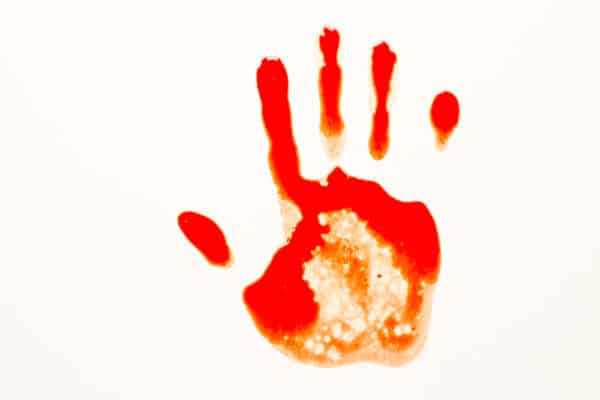 Blood itself is well known for what we might call the Blood sausage family: Italian sanguinaccio, Spanish morcilla, British black pudding and German blutwurst-all sausages incorporating blood.
Black sausages are some of the best known culinary uses for blood (and some of my favorite to eat). But, when I read about the Scandinavian tradition of making buns with blood, and then dehydrating for winter cooking, in Magnus Nilsson's tome "The Nordic Cookbook" I had to try them too.
Besides needing a smaller amount of blood than sausage, little blood buns are shelf stable, and portable. Really, they're an ideal snack for those times you're far away from the natural soil of your homeland or casket and get a blood craving, but don't want to make a scene.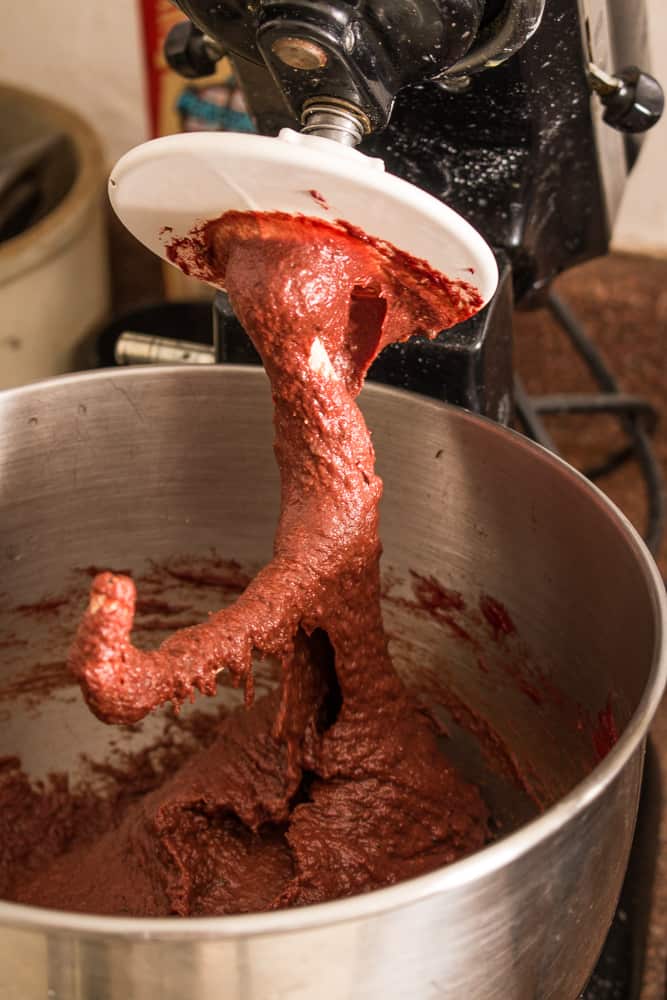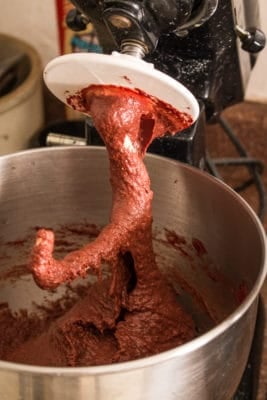 What the heck do you do with dehydrated blood buns? Besides the obvious use as nosferatu currency, Nilson says they're broken into large pieces and cooked in broth like dumplings. With the spices in the dough, my first couple batches tasted a bit like savory gingerbread dumplings.
Nilson says these are generally served with bechamel, or cooked potatoes. As he recommended, I cooked mine in seasoned meat broth.
I've gotten in the habit of rubbing bones with bacon cure, leaving them for 24 hours, and smoking them to make soups and stocks with, and it was just the ticket for some good smokey, ham-y stock to rehydrate my blood buns.
Wanting less ginger and more earthy-ness, I eventually used less spices in my batches, like the final formula I chose below. My version here is lightly spiced, and, cooked in ham or smoked meat broth, they're quite good, a bit like lazy dumplings.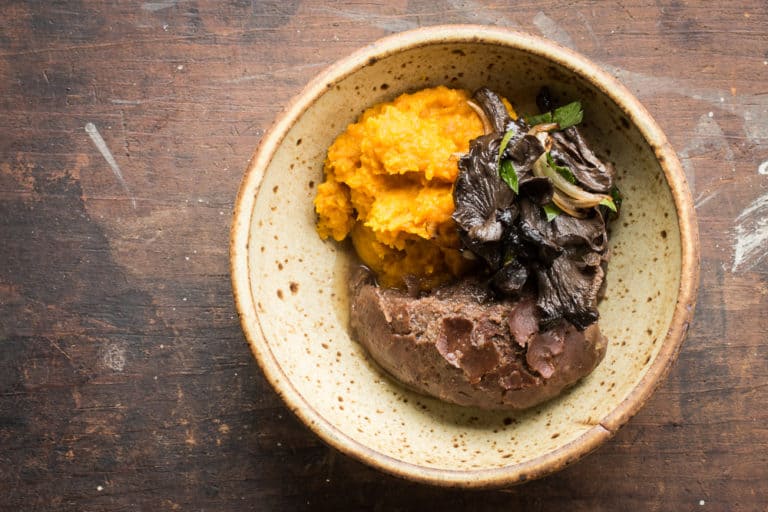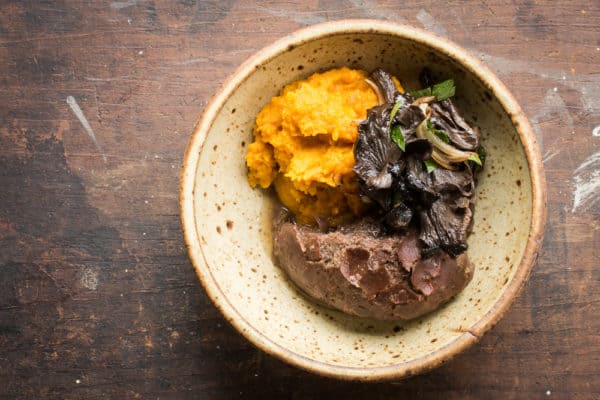 Most of all, over the month or so I worked on variations of this, I found it fascinating to think about the utility something like this would have had in pre-refrigeration times, which, when you think about it, is most of human history.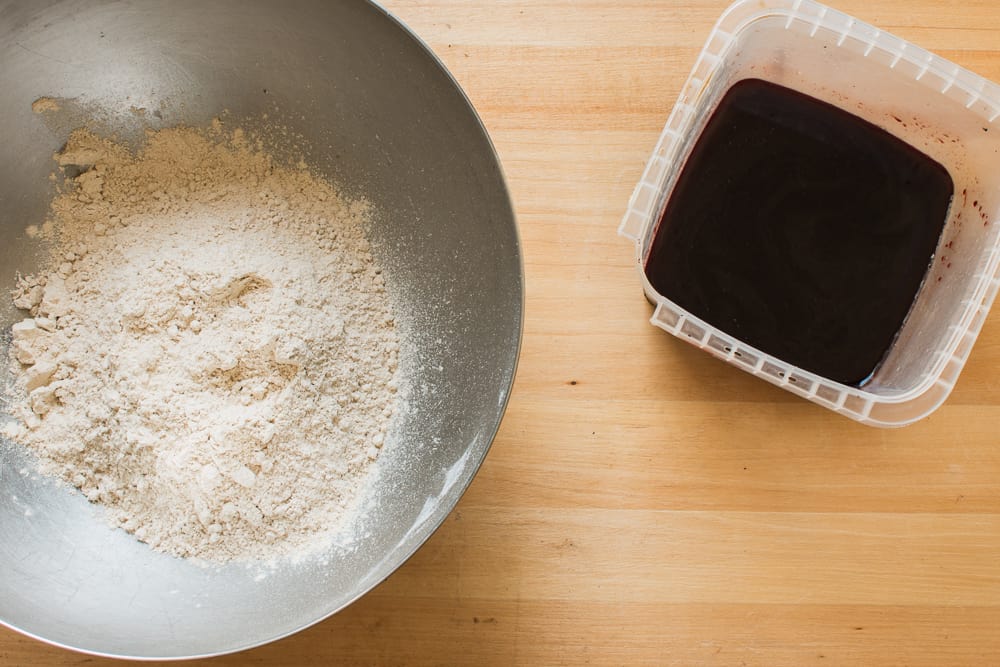 The buns are technically bread, sure, but in a deeper way they're more of a blood preservation method, which, sans sausage, you don't see very often. So far they've been a great way to incorporate the amount of grass-fed ram's blood in my diet the doctor recommends.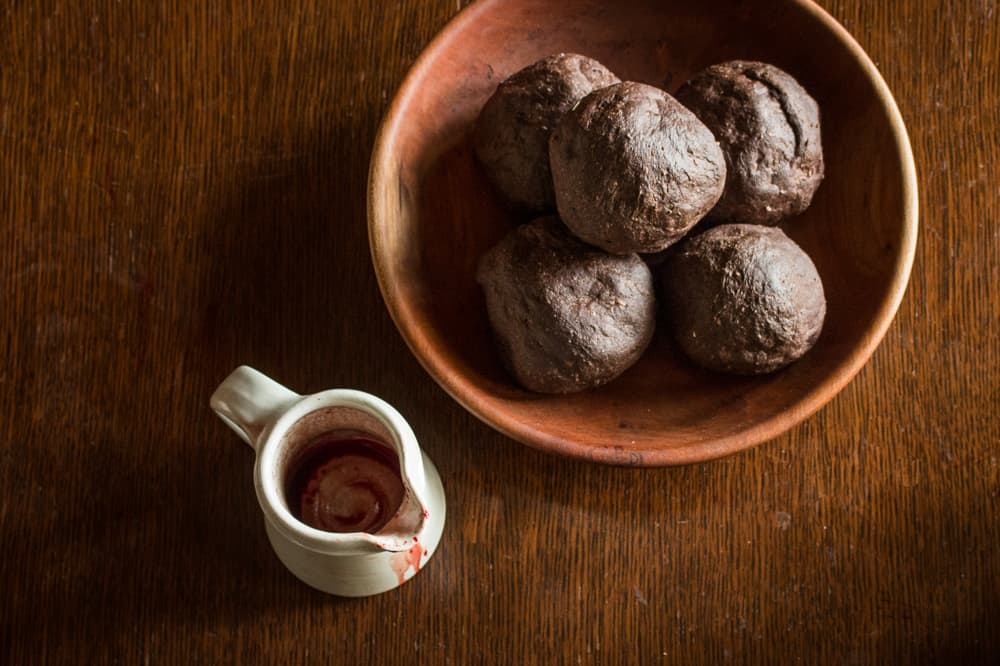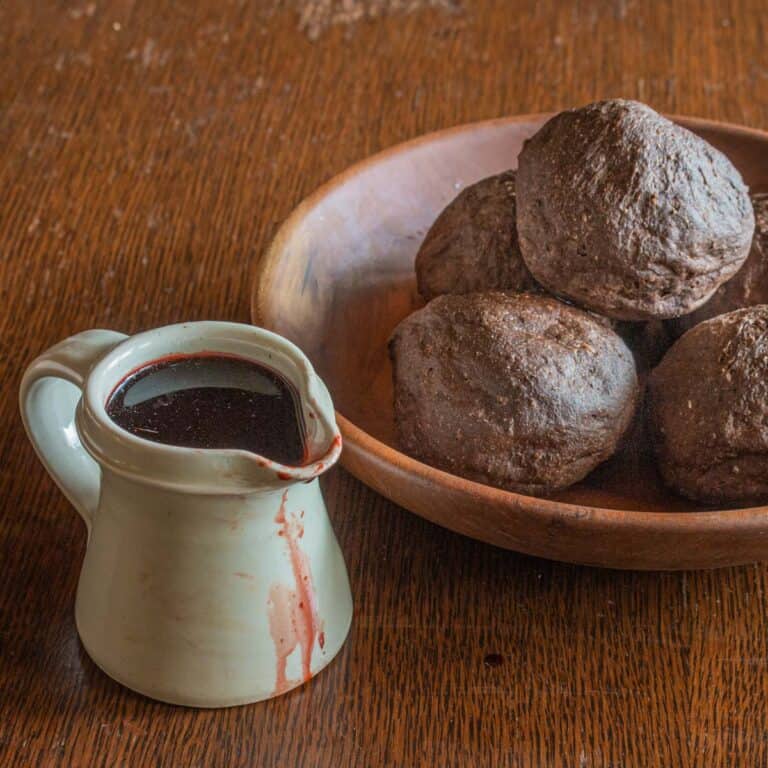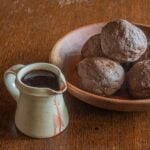 Print Recipe
Scandinavian Blood Bread
Traditional Scandinavian bread baked with blood.
Ingredients
For the preferment
112

grams

bubbly sourdough starter

recently fed, not too sour

⅓

cup

maple syrup

¼

cup

lard

2

oz

dark beer or water

300

grams

high-gluten bread flour
For the final dough
8

ounces

/ 1 cup sheep

pork, chicken or beef blood

244

grams

kernza

rye, or buckwheat

2

teaspoons

kosher salt

2

teaspoons

powdered ginger

1

Tablespoon

ground dried bergamot /wild oregano or dried marjoram

1

Tablespoon

toasted ground fennel seed

½

teaspoon

instant yeast
Instructions
The night before baking, combine the preferment ingredients, mix, cover, and allow to ferment overnight.

The next day, mix the preferment with the final dough ingredients except the salt and yeast and allow to autolyse (rest) covered at room temperature for 30 minutes.

Knead the salt and yeast into the dough, cover and allow to double in size.

From here the dough can be refrigerated for 2-3 days, or frozen.

To cook, portion the dough into 2 ounce balls, then cover with a towel and proof in a warm place until puffed, and an indent in the dough doesn't spring back immediately, about 45 minutes depending on how warm your kitchen is.

Bake the buns at 300 for 20 minutes, or until cooked through, then cool and allow to dry at room room temperature or preferably in a dehydrator until completely dessicated and dried. Store the dried buns in a cool dark place, I used a 2 gallon mason jar.

Re-hydrating and serving

To make four servings, take a paring knife, and put the tip into the top of two of the blood rolls, tap down on the knife handle like a chisel to break the rolls in two, then warm 4 cups of seasoned meat stock until hot, but not boiling.

Add the bread chunks and allow to sit for 15 minutes.

When the bread is fully hydrated, warm it back up to your liking.

Here's my Halloween suggestion: put a ½ cup of mashed winter squash in each bowl, then spoon a hunk of bread over the squash, garnish with some of the juice, and scatter over some sautéed black trumpet mushrooms before serving.
Notes
I tweaked things to suit my tastes. Instead of purely commercial yeast, this dough is a hybrid using sourdough starter for character, and a little conventional yeast for extra lift and worry-free baking.
The dough is traditionally made with rye. In the place of rye, I used Kernza, a perennial grain being developed by the land institute. You could substitute another gluten-lite, or gluten free grain in the place of any of these, but for the buns to have some good depth, I would use a heavy-strong tasting flour: buckwheat, acorn, rye, or wild rice flour would all be good.

 

I adjusted down the spices, as it's obviously supposed to be a spiced bread. This recipe gives a less-aggressive, spicy bun, and more of a subtle dumpling flavor when heated in broth.
The blood was increased to the max I felt the dough would allow. If the buns are made without using sourdough starter, you could sneak in another ¼ cup of blood in place of the water.