A simple white risotto topped with a rich ragu of wild cauliflower mushrooms is a great way to put your wild food first. Read on and I'll explain the finer points.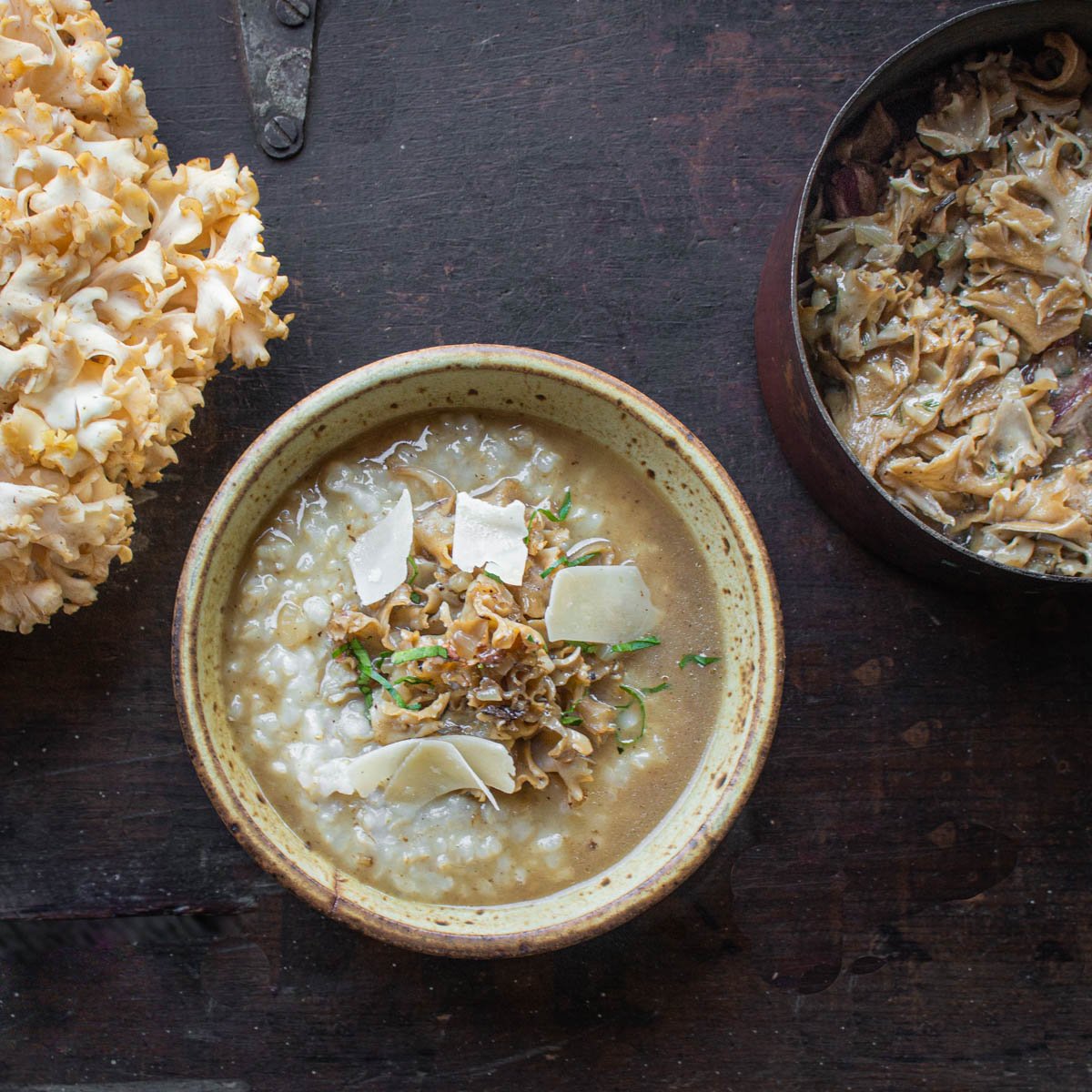 I love cauliflower mushrooms / Sparassis, I think I like the texture more than the flavor. Don't get me wrong, they taste excellent, but, it's hard to find another mushroom with a similar texture. They're just so unique. With that in mind, when I have access to some fresh cauliflower fungus, I cook them all by themselves.
A great way to enjoy, and more importantly, spread a smaller amount of mushrooms around, is by serving them with some risotto, or "rizzo" as it's referred to in kitchen parlance, in reference to the Wu-tang Clan.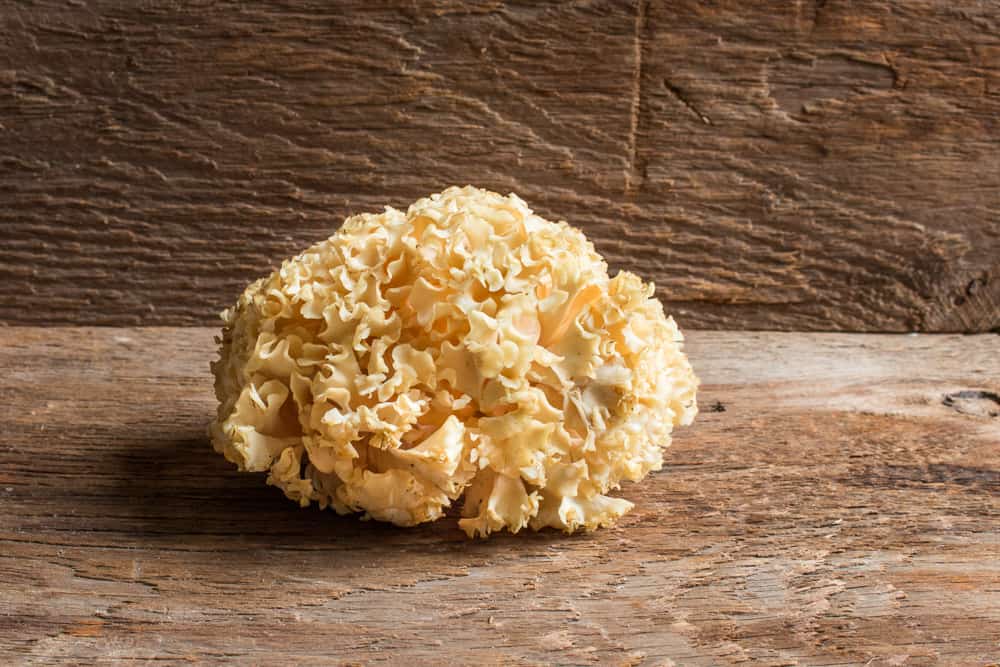 You could sure stew cauliflower mushrooms or other wild mushrooms together in the rice, which would be traditional, but this preparation is for really showcasing and spreading a small amount of precious something around, and having a slightly different look than your traditional flat risotto (yes risotto should be flat, and juicy and wet).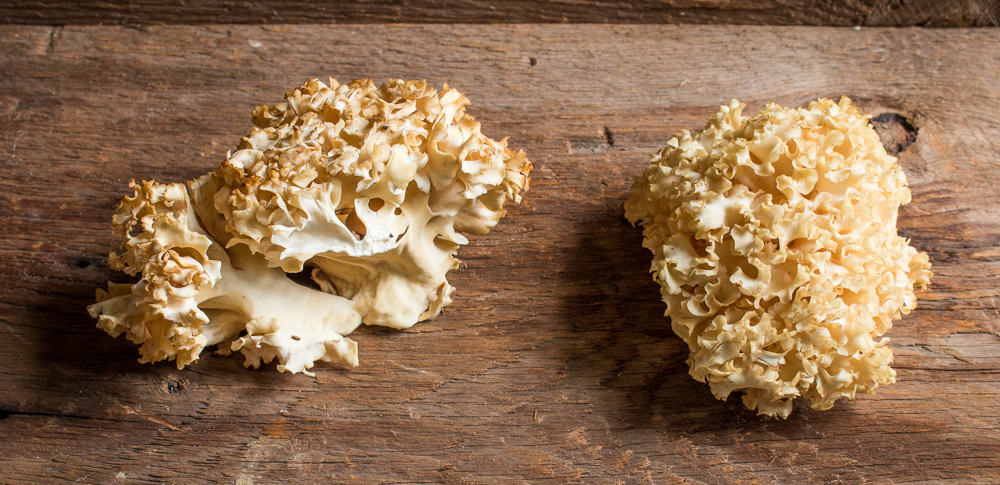 Cheesy Risotto with Mushrooms on Top
This is a plain cheese risotto with some stewed mushrooms on top, and, it can be a blank canvas for lots of things. It's a good, relatively simple cauliflower mushroom recipe. One of my favorite versions is a spicy stew of fish spooned on top of white risotto-with or without cheese, depending on the fish (I use cheese with crustaceans, but not vertebrate fish like salmon, panfish, tuna, or walleye, etc).
The white rizzo is a blank slate, a vehicle, and an ingredient extender. Rice, stock, butter and salt is all you need. It's all about the cauliflower mushrooms here, or whatever mushrooms you want to showcase in your ragu. Use your imagination, but keep that white risotto white! Well, young peas would be ok, or few leaves of spinach.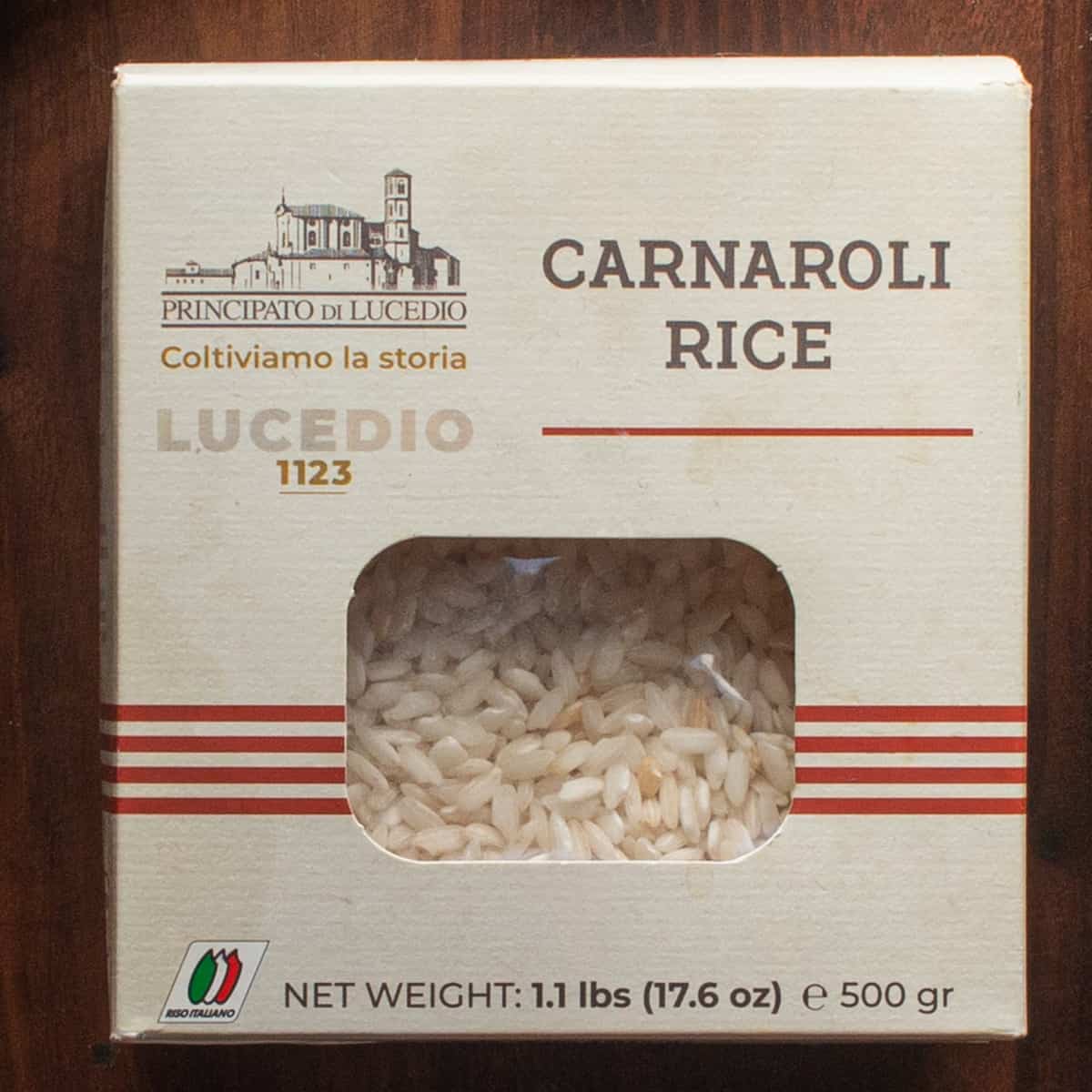 Using different types of rice for risotto
Purists can go pick rocks. I understand, and regularly use a number of species of risotto rice, but I don't always use risotto rice. I may use barley, oats, couscous, or a combination of rice, but, I typically use light colored grains, since they look clean (wild rice is ok but only as an addition/sprinkle to another starchy rice).
Par cooking risotto
This is optional, but a fun chef trick. The secret to how restaurants serve risotto so quickly is that it's par-cooked. This is a great time saver if you want to make a batch and have it ready to serve quickly. See more in How to Pre-Cook Risotto Like a Restaurant.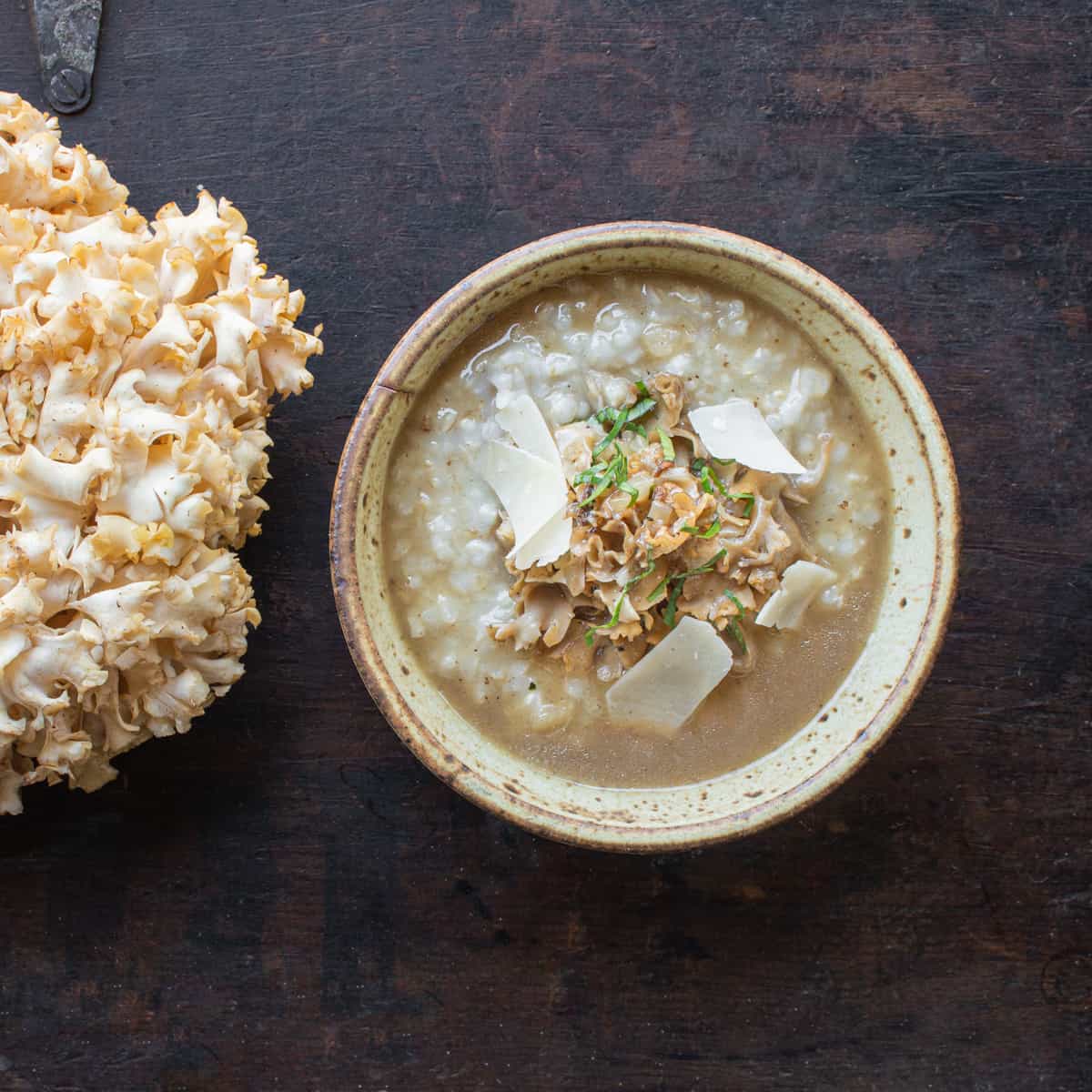 More
Cauliflower Mushrooms: The Noodle Fungus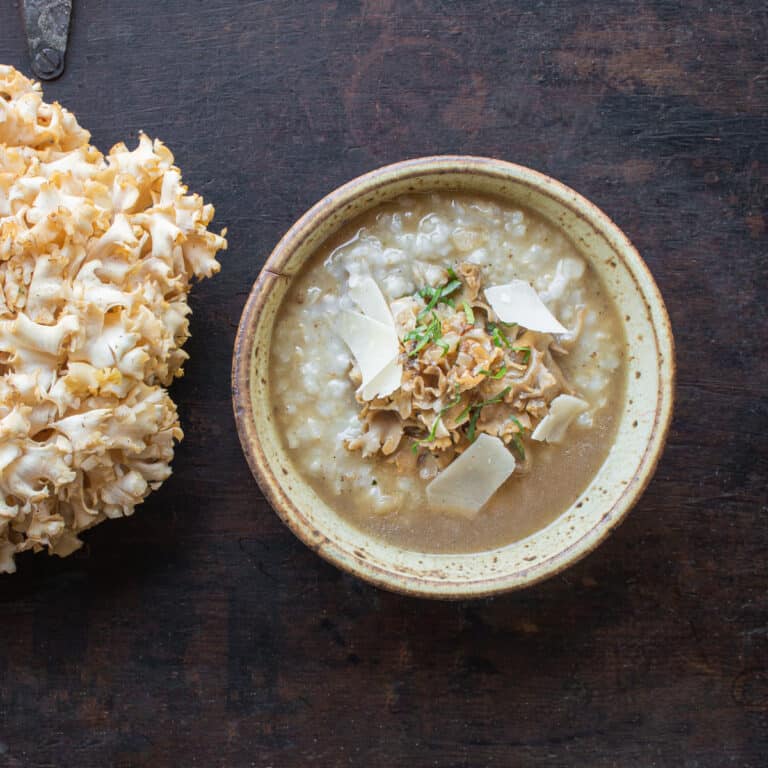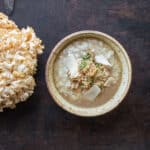 Print Recipe
White Risotto with Cauliflower Mushroom Ragu
White butter and cheese risotto with wild cauliflower mushroom ragu
Equipment
1 2 quart sauce pot

1 1 quart sauce pot
Ingredients
For the risotto
1

cup

Arborio, carnaroli, or vialone nano rice

½

a medium-sized onion

5

cups

hot meat stock

like chicken, preferably homemade

½

cup

grated high quality parmesan

like grana Padano

6

tablespoons

unsalted butter

¼

cup

dry white wine
For the cauliflower mushroom ragu
1.5

cups

light meat stock

such as chicken

½

a medium-sized onion

6-8

oz

fresh cleaned cauliflower mushrooms

cut into clusters

Splash of dry white wine

optional

1

tablespoon

unsalted butter

1

tablespoon

all purpose flour or equivalent

optional

Fresh chopped thyme about ½ teaspoon

optional

1

tablespoon

chopped Italian parsley

optional
Instructions
First, make the ragu. Mince the onion by hand or pulse in a food processor, then sweat in the tablespoon of butter in a 1 qt saucepan, season with a pinch of salt and cook until the onions are translucent, then add the flour, stir and cook for a minute.

Deglaze with the wine, then add the mushrooms, stock and thyme. Bring the mixture to a simmer, season to taste with a pinch of salt, and allow to cook for another 15 minutes, then set aside until the risotto is done. From here the ragu can be made ahead of time up to 24 hours.

For the risotto, in the larger sauce pan, take the rest of the minced onion and sweat in another tablespoon of the butter until translucent. Add the rice and cook for 2-3 minutes, stirring constantly.

Season the rice with a pinch of salt. Add the wine and cook until evaporated, then gradually add the hot stock, ½ cup at a time, reducing the heat to medium, cooking until the rice is just tender.

Remove the rice from the heat, vigorously stir in the remaining butter and parmesan, and a ladle of stock to adjust the consistency (it should be wet) then return to the heat for just a moment if the rice feels cool from adding the butter and parm, but don't boil it or the cheese will curdle.

When the rice is hot and tastes good to you, divide it equally between 4 small pasta bowls, ladle over some of the cauliflower mushroom ragu, mixing some chopped parsley into the ragu if using, and serve immediately with additional grated parmesan on the side.
Notes
Mushroom Substitutions 
You can use lots of different mushrooms for this. Hen of the woods or maitake mushrooms are great too, as are chicken of the woods, and just about any type you'd like to use that likes cheese. 
Vegetarian 
Substitute chicken stock for vegetable stock and this is a great vegetarian mushroom entree. 
Nutrition
Serving:
6
oz
|
Calories:
800
kcal
|
Carbohydrates:
54
g
|
Protein:
17
g
|
Fat:
20
g
|
Saturated Fat:
30
g
|
Polyunsaturated Fat:
18
g
|
Monounsaturated Fat:
20
g
|
Trans Fat:
1
g
|
Cholesterol:
136
mg
|
Sodium:
335
mg
|
Potassium:
574
mg
|
Fiber:
2
g
|
Sugar:
7
g
|
Vitamin A:
719
IU
|
Vitamin C:
4
mg
|
Calcium:
185
mg
|
Iron:
2
mg