This is my all-time favorite ruffed grouse recipe: a one pot dish cooked with wild rice, onions, herbs and mushrooms. It's a bit like a loose casserole, and once you try it, you may never make your grouse another way, especially if you prefer your meat fully cooked.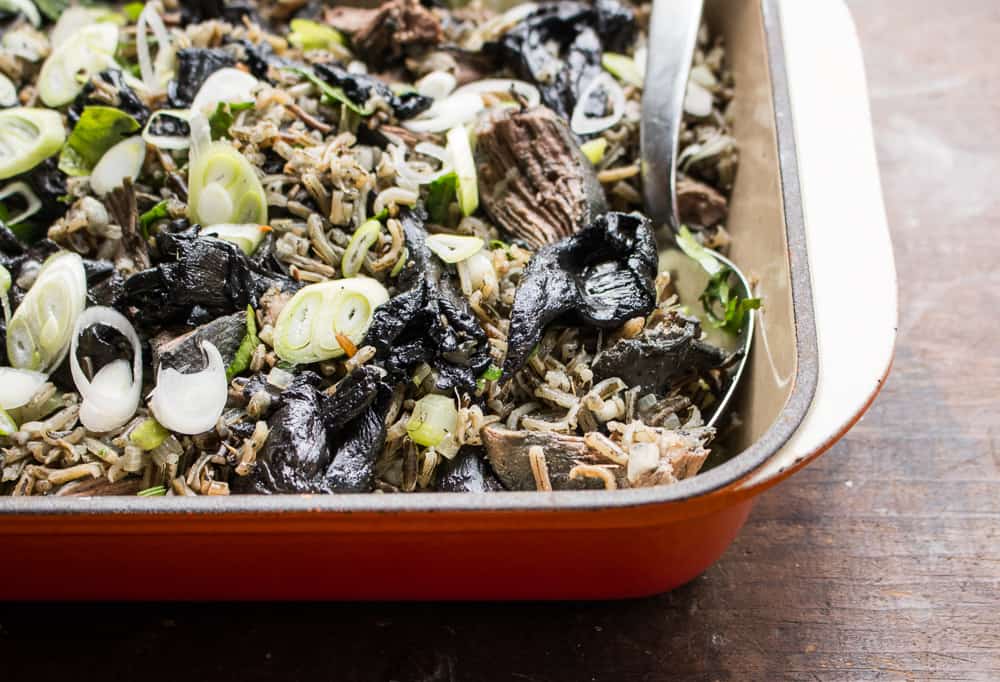 While I was up north hunting matsutake last week, I completely forgot that I was going to be hunting at the same time as grouse season opener. As I walked on the trails I'd charted, it seemed like every 30 minutes or so I'd inadvertently flush a few birds.
After two birds made me jump and squeal like a pig (I was on the lookout for bears) I remembered I had a few sealed sharp-tailed grouse breasts at home I needed to work with, a hand me down from one of my hunting friends last season when he needed to make room for a couple deer I helped him clean.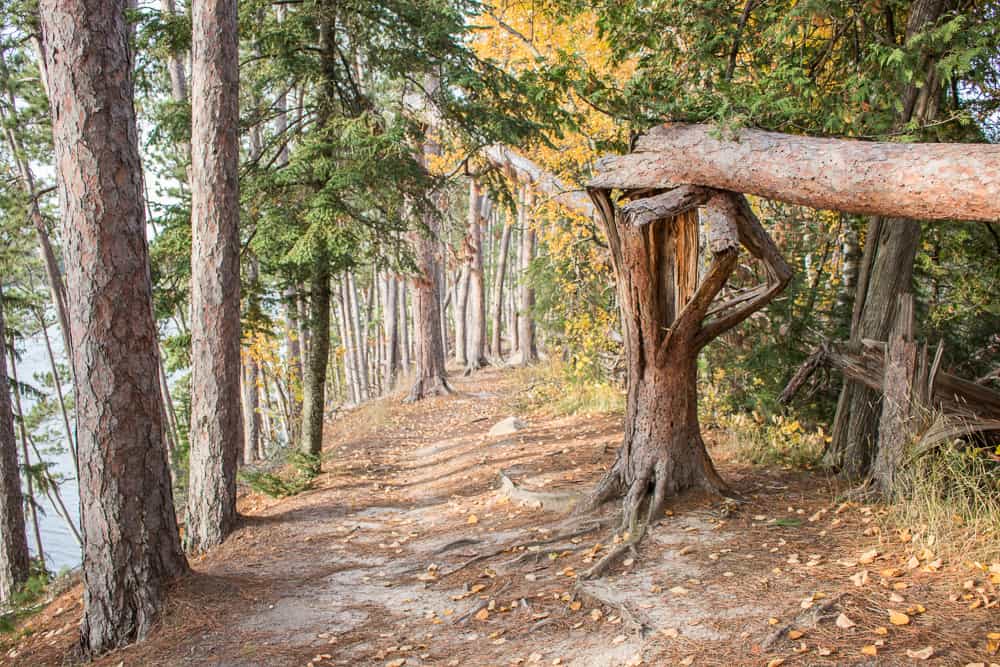 Vacuum sealing is an amazing for preserving your harvests, meat and otherwise, and I was happy to see when I thawed and opened them up that they were perfectly fine, nearly a year later. Unfortunately they were just breasted out, but beggars can't be choosers, in fact, I already knew what I wanted to make, and, skinless breasts would be perfect.
The dish is a sort of hunters casserole, the kind bake-ware, or even crock-pot-friendly home cooking that happens a lot when wild game shows up in Midwestern freezers. That's not a knock though, oh no, this is a genius piece of comfort food, and I'd wager there's probably a couple hunters around here that ask for grouse wild rice as a yearly post-hunt tradition.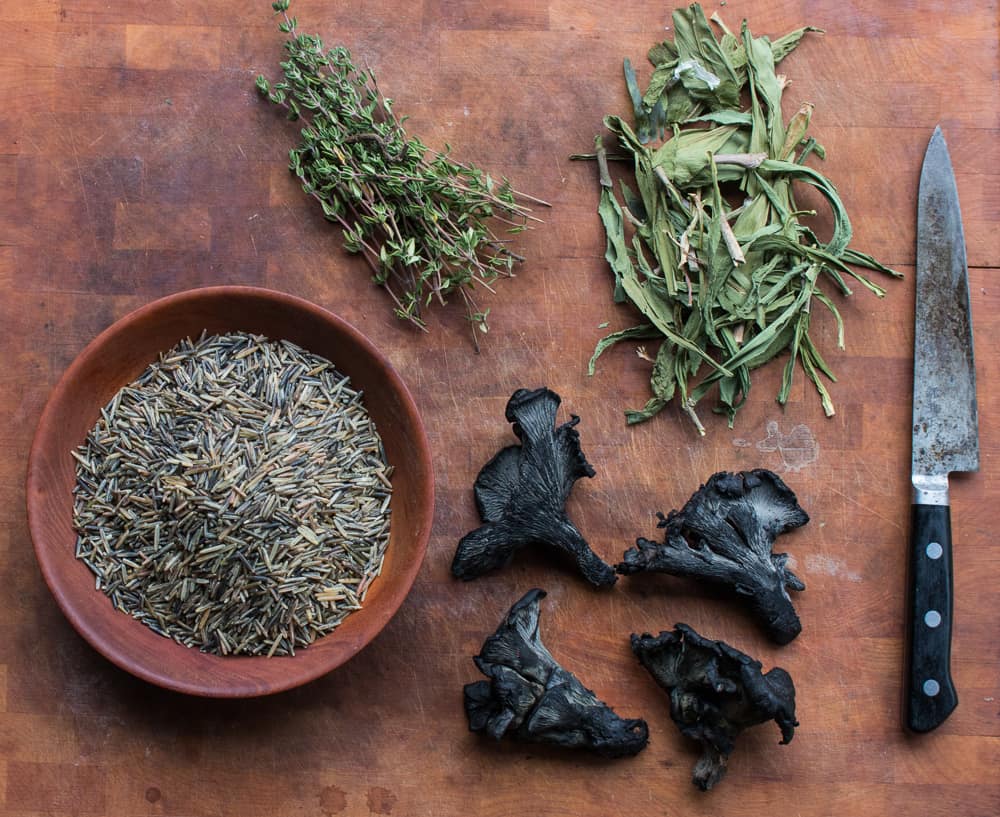 How to make it
Here's the skinny: take skinned grouse breasts, or any another game bird like pheasant, cover them with water, a bay leaf, a few veggie scraps if you have, and simmer slowly to make a broth until the meat's fork tender, then cool it, shred the meat, and cook parched wild rice in the grouse stock and make a sort of sauce-less wild rice bake. Wild rice cooked in grouse stock wouldn't be bad by itself, but a couple wild mushrooms makes a sing.
For the mushrooms I used some clustering blue chanterelles (Polyozellus multiplex), but I also picked a bunch of conifer-associate black trumpet mushrooms and chanterelles at the same time, and either one (or both) of those would be great too, but especially the trumpets.
The Polyozellus were really interesting here, kind of like if a black trumpet and a hen of the woods had a baby, and that baby tasted like woodsmoke-I'm not kidding here.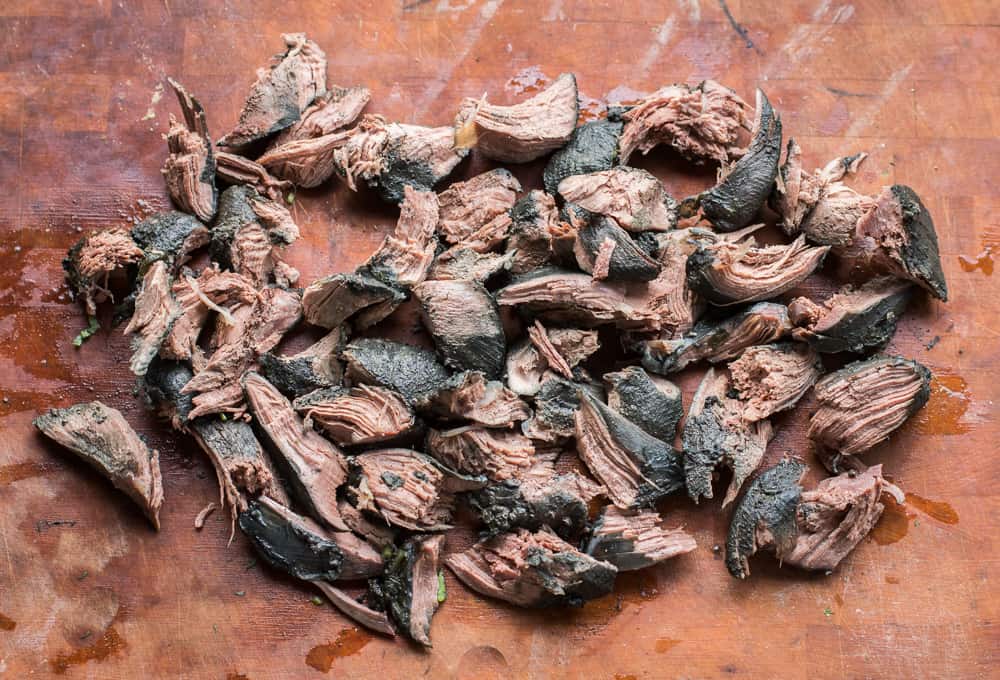 The Polyozellus perfumed the whole dish, and although I'm not putting it in the recipe here, using stock from the blue-black chanterelles to cook the grouse breasts painted them black on the outside like black trumpets would, kind of fitting alongside the rest of the muted grays and blacks in the dish.
A few green onions or herbs on the top to finish is all the color it needs, although some pieces of roasted pumpkin or winter squash tossed in would be good too.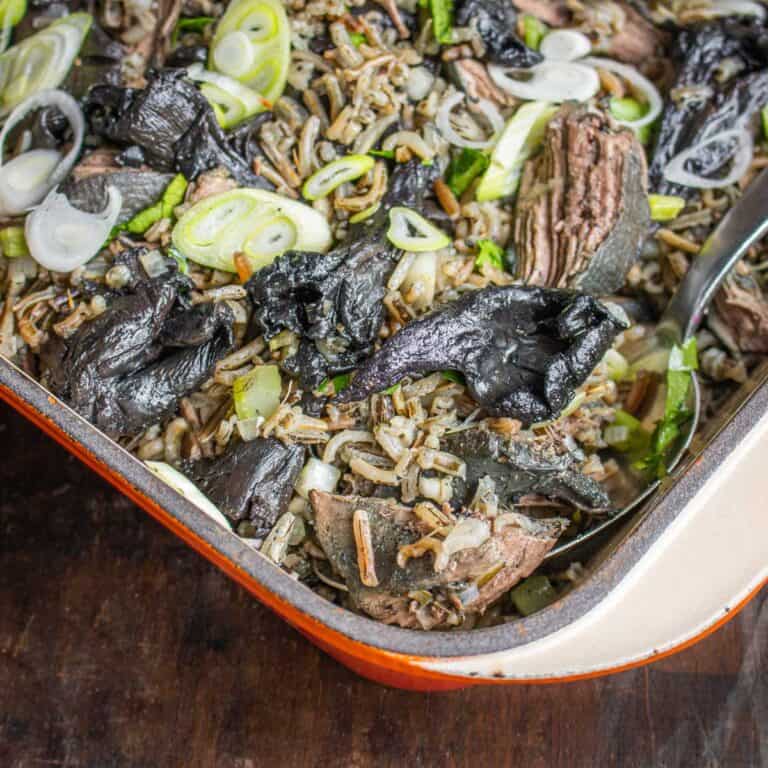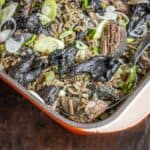 Print Recipe
Grouse Wild Rice with Mushrooms 
Wild rice casserole cooked in grouse stock with wild mushrooms. Feeds a crowd and reheats well.
Equipment
1 11 x 9 inch casserole pan

or similar
Ingredients
1

lb

skinless grouse or pheasant breasts

this was 4 breasts for me

1

cup

parched wild rice

6-8

oz

or more wild mushrooms

depending on availability

6

cups

mushroom stock or water

⅓

cup

finely diced celery

1 stalk

⅓

cup

finely diced shallot or onion

½ a small onion

2

Tablespoons

crushed wild leek or ramp leaves

optional

4

tablespoons

unsalted butter

duck fat, or flavorful cooking oil

2

dried bay leaves

optional
Instructions
Bring the grouse breasts to a simmer with the stock and wild onion leaves, season lightly, and cook for 1.5 hours or until the meat can be pulled with a fork. Cool the breasts in the liquid and reserve.

Pour the wild rice into the cooking liquid, you should have about 4.5 cups left add the vegetables. Bring the stock, wild rice, celery and onions or shallots to a boil, then turn the heat down to low, cover, and cook for 20-25 minutes, or until the wild rice is tender but not over cooked.

Drain the liquid from the wild rice and reserve, then cover the rice and allow to steam with the residual heat. Pull the grouse meat into bite-sized pieces, then combine with the cooked rice and vegetables.

Heat the butter or oil, gently brown and season the mushrooms, then toss with the rice and grouse, double check the seasoning and adjust to taste with salt, and additional butter if the mixture tastes dry.

Pack the mixture loosely into a baking dish or cast iron skillet, cover and reheat, in a 300 oven for 30 minutes or until hot throughout, then serve, garnished with the parsley and green onions.
Nutrition
Calories:
298
kcal
|
Carbohydrates:
24
g
|
Protein:
20
g
|
Fat:
14
g
|
Saturated Fat:
7
g
|
Polyunsaturated Fat:
1
g
|
Monounsaturated Fat:
5
g
|
Trans Fat:
0.3
g
|
Cholesterol:
66
mg
|
Sodium:
970
mg
|
Potassium:
364
mg
|
Fiber:
2
g
|
Sugar:
3
g
|
Vitamin A:
856
IU
|
Vitamin C:
4
mg
|
Calcium:
17
mg
|
Iron:
1
mg