It's inspired by pemmican, venison jerky mixed with wild serviceberries is a flavor combination you won't believe until you try it. Read on and I'll tell you how to make it.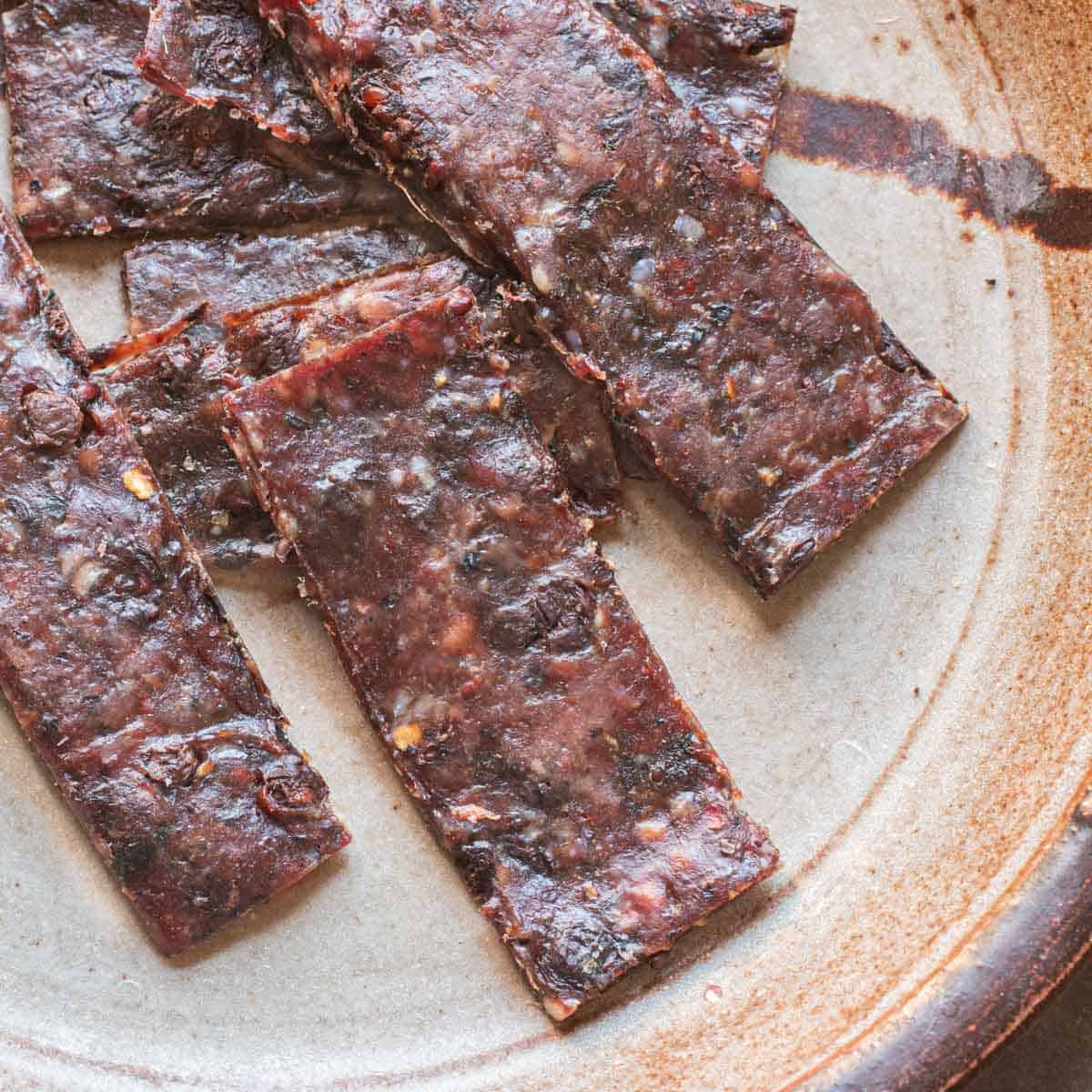 I loved eating beef jerky as a kid, and I always liked the Pemmican brand, it was simple, and good. But, when I found out years later that pemmican was actually a sort of mashed up paste of dried meat and lard, I was a little confused as to why people would have eaten it. I mean seriously, dried meat mixed with lard?
Now I know that pemmican was basically a survival food, and a way to preserve a harvest of meat for months (or years) to come. When I read more about pemmican as I got older, specifically after I started foraging, I noticed that wild berries would be added to the mix-specifically serviceberries.
I love serviceberries and their almond flavor, but for a long time I had trouble finding a good, dependable spot for picking. My friend, Native American Ethnobotanist and her husband also told me that chokecherries or other fruits were used in the same manner.
Venison jerky and serviceberries=a natural pairing
Once I got a good patch of serviceberries, I made sure to try my hand at a couple types of cured meat-serviceberry concoctions. As for the meat, fresh out of bison, I grabbed a couple pounds of venison shoulder I had and went to work, since there is nothing wrong with ground deer jerky.
Flavor-wise, traditionally pemmican isn't seasoned, and, if the berries were traditionally dried, they wouldn't be sweet at all, but more of a nutritional addition, since naturally dried berries are cracker dry.
Only berries that have been soaked in sugar syrup, and then half-dried are what you usually find on the shelves at a store, since the syrup helps them keep a soft texture.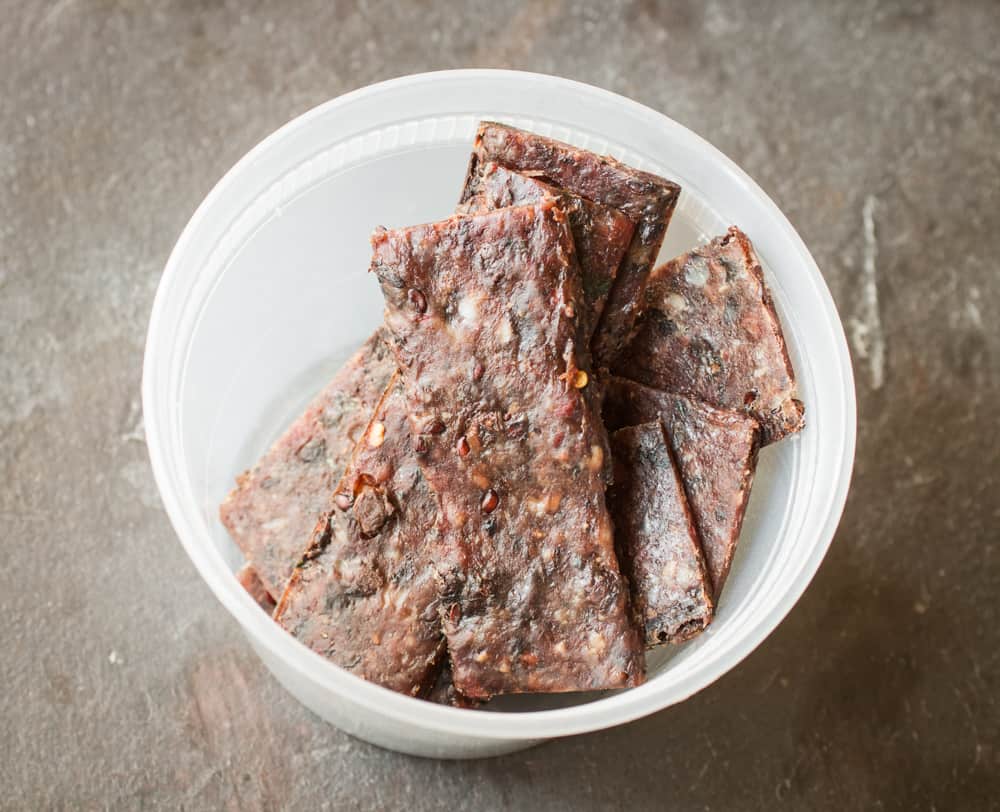 From what I've read, the berries would usually be a small proportion of the total weight of the meat and fat, (one account I read stated it might be around 5%). I wanted to use a bunch of berries in mine though, so that meant using a meat grinder, and doing two batches to see if I liked the berries unseasoned, or slightly sweetened. I preffered them slightly sweet.
Tanka vs. Epic
These end up tasting a bit like Epic bars, or Tanka bars, but, I'd be lying if I said I didn't prefer mine, since I have control over all of the seasonings from the ground-up, and because serviceberries are a luxury good. Also for the record, don't buy Epic products.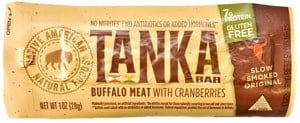 It's not that they don't taste good, but Epic is crowding the market. Tanka, the eldest of the two companies, and the original creators of the bison meat bar, is made right next door to me on the Pine Ridge Reservation in North Dakota. Lets just say Tanka is a worthy cause if there ever was one. Here's a video about them from their website.
Sausage stuffer ground jerky hack
I can hear a couple people say: "Do you have to use a jerky gun?" No, you don't, but it sure helps. If you don't have a jerky gun, you can get away with using a rolling pin and putting the meat between two sheets of plastic and rolling to ½ inch thick, or if you don't mind a round jerky, put the jerky mix through sausage stuffer tube, and just catch the meat logs as they come out of the stuffer, then dehydrate per usual.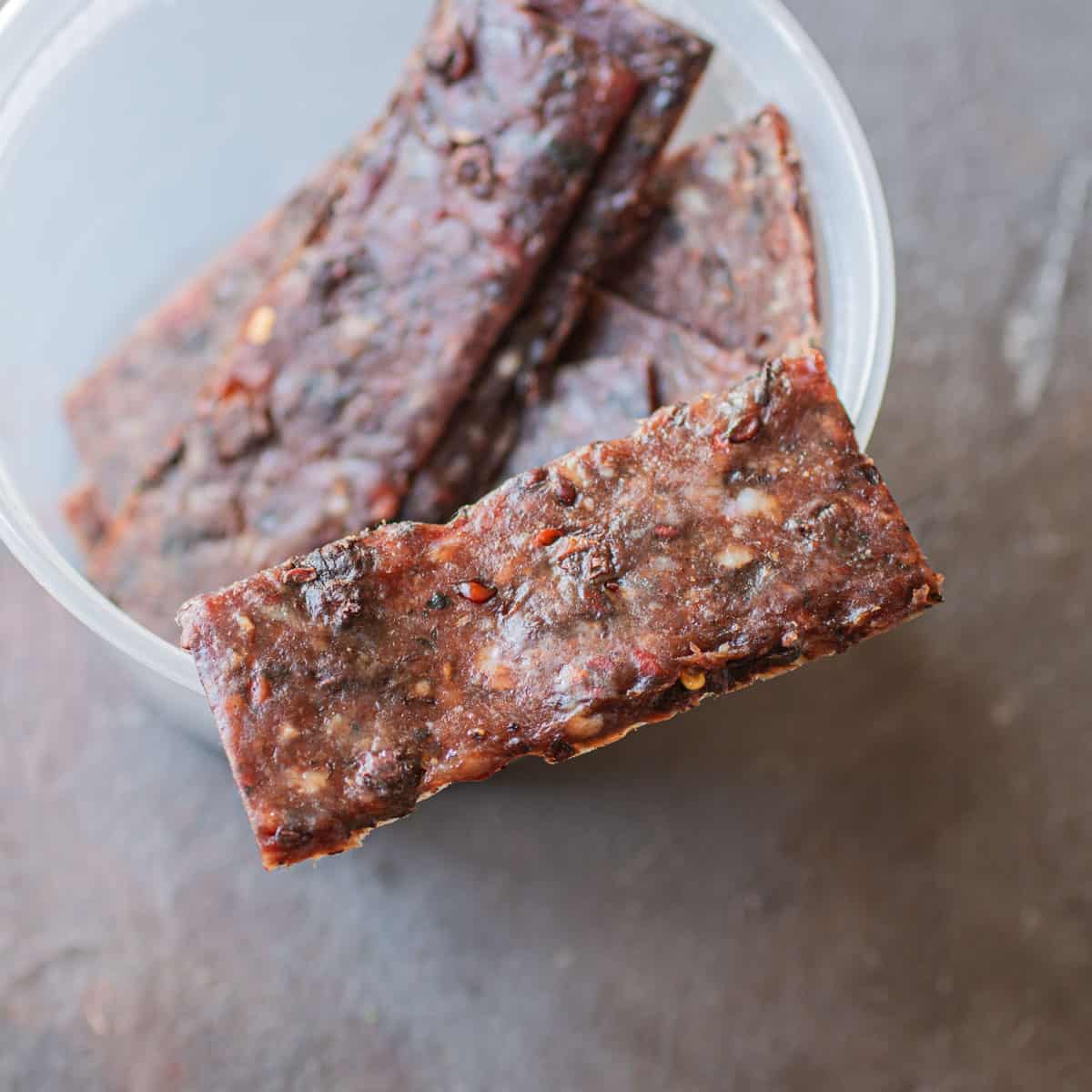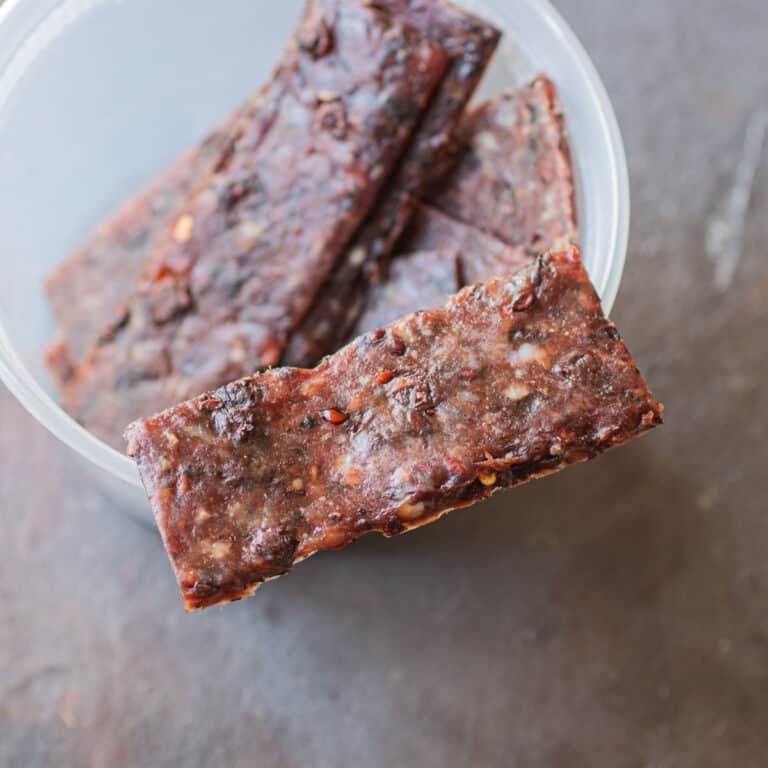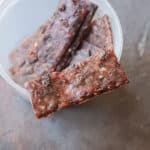 Print Recipe
Ground Venison Jerky with Serviceberries
Venison jerky with serviceberries, inspired by the Native American tradition of pemmican
Equipment
Sausage stuffer or jerky gun, dehydrator
Ingredients
1.75

lbs

venison

.25 lbs pork belly or bacon

5

grams

kosher salt

or 2% salt by wieght

¼

teaspoon

pink salt

instacure no1/sodium nitrite

300

grams

fresh serviceberries

or 2 cups (if you substitute dried berries, use 1 cup)

¼

cup

maple syrup

omit if you use dried berries

1

teaspoon

fresh ground black pepper

left a bit coarse

2

teaspoons

ground ramp leaves or bulbs

or onion powder
Instructions
The night before you want to make the jerky, grind the venison (or use pre-ground) then combine with the salt, pepper, pink salt and ramp leaves.

Meanwhile, cook the serviceberries with the maple syrup on medium heat, until the pan is nearly dry, breaking up the berries a bit with a spoon to help them cook down.

When the pan is nearly dry, about 10 minutes, remove the serviceberries and cool completely. Combine the venison mixture with the serviceberries, I like to do this in a stand mixer, you want to make sure it's really worked together.

Allow the mixture to sit overnight, then pack into a jerky gun and spread out on dehydrator trays lined with parchment. Dehydrate on the meat setting, or roughly 145-150F. Use your intuition here as far as doneness, the jerky should still be a bit chewy, but should be noticeably dried, for me it was taking about 5 hours.

The venison jerky will keep for a few weeks in the fridge, kept in a tightly sealed bag, or better yet, vacuum sealed. It can also be frozen.
Notes
How long do you dehydrate? 
I found I liked mine after about 5-6 hours, depending on the thickness, and if I was using a jerky gun (I prefer one). Remember you can always dry it more, and you can over-dry ground jerky.
This jerky isn't meant to keep as long as others, with the fat, serviceberries and maple syrup in it. The "bend test" is also useful, meaning that if you can bend the meat without it breaking it's good to go. In all reality though, if it tastes like jerky to you, and looks like jerky to you, you're good.
Nutrition
Serving:
2
oz
|
Calories:
340
kcal
|
Carbohydrates:
26
g
|
Protein:
46
g
|
Fat:
5
g
|
Saturated Fat:
2
g
|
Polyunsaturated Fat:
1
g
|
Monounsaturated Fat:
1
g
|
Cholesterol:
169
mg
|
Sodium:
733
mg
|
Potassium:
843
mg
|
Fiber:
2
g
|
Sugar:
22
g
|
Vitamin A:
48
IU
|
Vitamin C:
5
mg
|
Calcium:
42
mg
|
Iron:
7
mg