When spring arrives, greens are on my mind, and there are tons for cooking: nettles, waterleaf, violets, wood nettles, but sometimes I want some raw.
Two of the best wild greens for eating raw are sochan and watercress. Watercress is widely known as an edible, but sochan, or Rudbeckia laciniata, the Cherokee rite of spring, can be great for eating raw too, but it needs to be the very young shoots, as once the plant starts to form it's yearly flower stalk, it will get tougher, and needs to be cooked.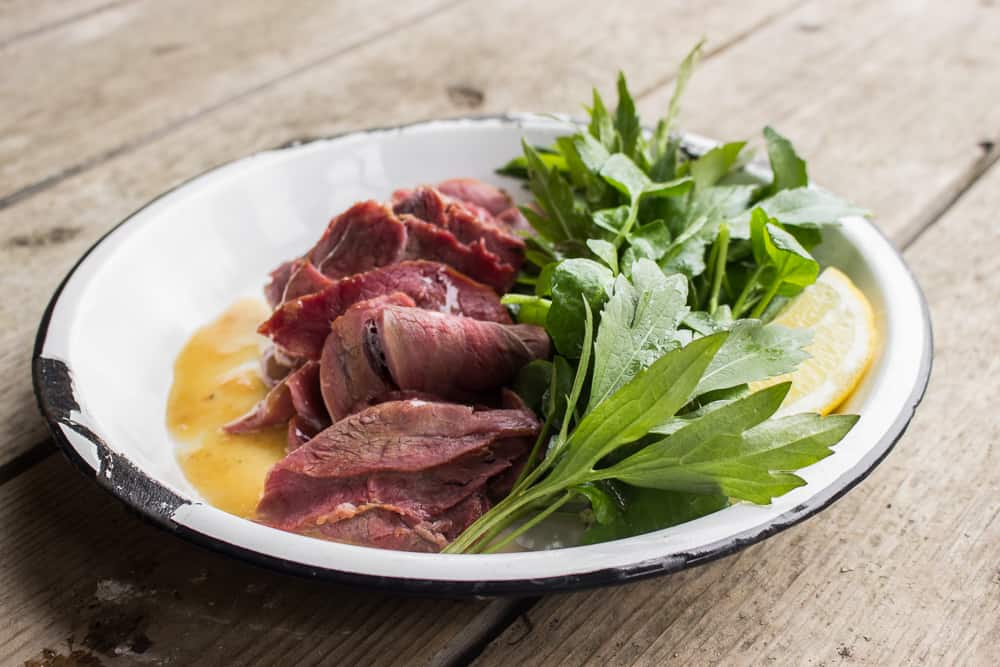 Watercress and ham is traditional in Europe, the spicy cress cutting through the richness of the smoked meat, so that's where I started with this, but the sochan was so young, tender and perfect I couldn't resist adding some.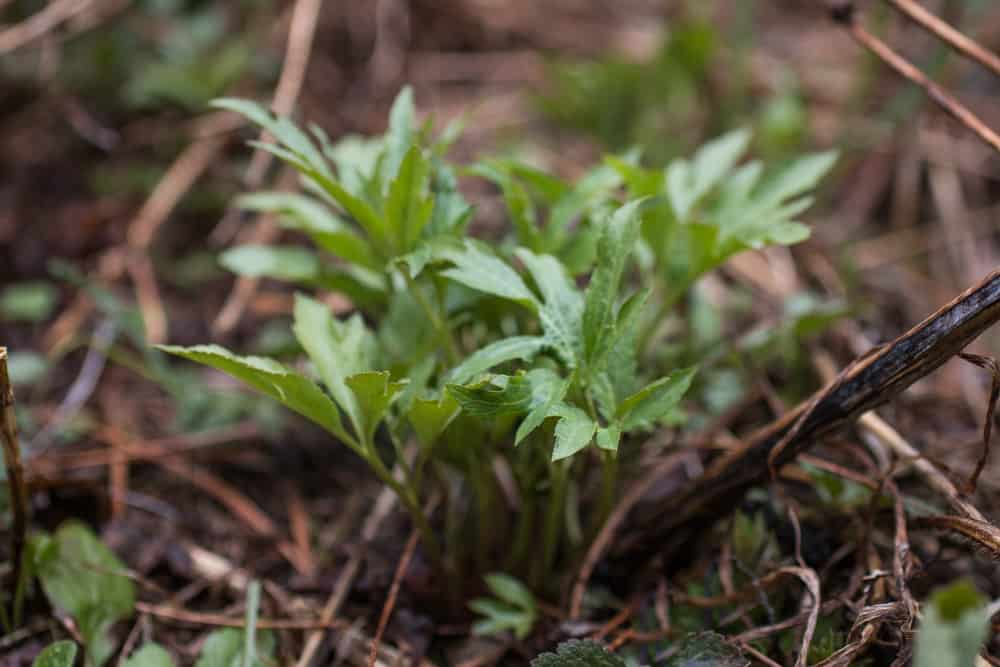 The venison ham is straightforward, just a simple ham brine (I typically riff off of the one in Charcuterie by Brian Polcyn). Typically, if you flay out deer, you'll have individual muscles, and they're perfect for making ham.
There's a certain magic letting game meat sit in a brine and then smoking it, no matter the muscle, no matter the creature, it will come out tender, as long as you slice it against the grain. Goose, bear, deer, duck-all will take to the ham method really well.
Most people won't even know it's game meat anymore either, since the brine has a way of cloaking any sort of rich tastes people associate with game meat.
The method is really simple here, warm up the ham gently in a good amount of butter and a splash of stock, don't re-cook it really, just warm it up to infuse the butter, then put the hot meat on a hot plate, along with the fresh greens.
Douse the butter and meat juices with a dash of lemon or vinegar for acid, and spoon them over the top. Easy, especially if you have a couple deer hams laying in the freezer, as brined, smoked meat also wards off freezer burn, unlike other par-cooked meat.
Obviously the ham is the most intensive thing here, so I'm just going to outline a method for composing the dish afterwards, it's simple food, really, and just think of all the ways you can use butter infused with meat juices. The key to keeping the butter creamy is to adjust the liquid as needed, and not to boil it, or it will separate and get oily.
Keep an eye on the ham and butter, and give it a splash of stock or water as needed, a whisk helps too, after the ham is removed and you're reducing the sauce gently to pour over all the crunchy, tender fresh cress and sochan.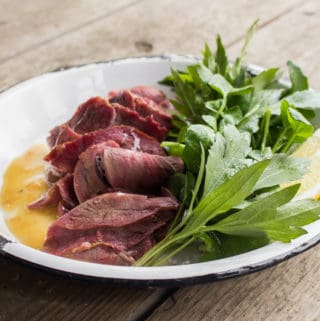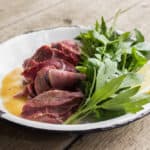 Print Recipe
Spring Sochan and Watercress with Venison Ham
A spring salad of warm venison ham, sochan and watercress
Ingredients
4

ounces

venison

or other high quality ham, sliced as thin as possible

1.5

ounces

fresh watercress and sochan

a few good handfuls washed and dried

Kosher salt and fresh ground black pepper

3

tablespoons

unsalted butter

¼

cup

meat stock or water

Dash of fresh lemon juice or white wine vinegar

to taste
Instructions
Warm the ham, butter and stock gently, swirling the pan to help the juices emulsify. When the ham is warm remove it to a warm plate, along with the greens.

Meanwhile, swirl the juices in the pan and reduce a bit over medium heat. The pan sauce should be creamy-ish, definitely not oily and broken.

If the sauce has reduced too much, add a little water, heat and whisk it back to a nice consistency that can coat a spoon. Drizzle the sauce over the sochan, watercress and venison ham and eat.
More