Ever wonder how restuarants serve risotto so fast? The secret is that the rice is pre-cooked. I've made risotto in restaurants for over 15 years working under 3 different chefs from Italy, so I know a thing or two I can share with you.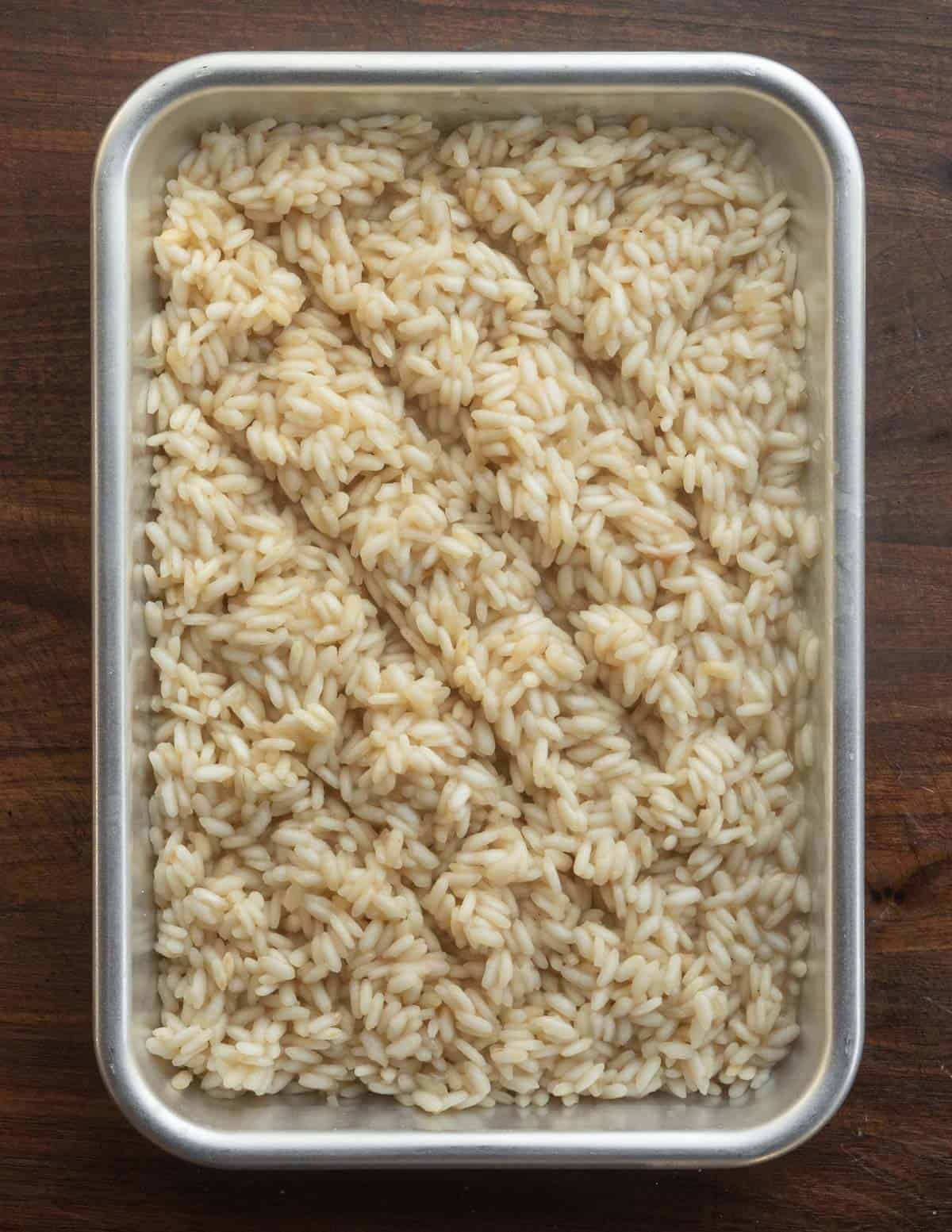 Risotto for me is a mixed bag of emotions. On one hand, I love risotto and view it as a wonderful vehicle for leftovers and as a way to showcase particular ingredients and relive classic dishes, like Risotto Sbiraglia and Risotto Milanese.
More often than not though in restaurants it serves as a sort of garbage disposal for whatever vegetables they are ordering to compliment their meat entrees and feel like using up in some sort of fashion.
That is perfectly fine, but one needs to remember that the art of risotto is quite difficult to master and that it contains many intricacies and nuances. This is especially true if the restaurant is pre-cooking and cooling their risotto before service, as 99% of them do.
Risotto rice takes time to cook. When an order comes in that a server forgot to ring in, and he or she expects it to come out at the same time as a pork chop that has been cooking for 5 minutes, you're in a world of hurt. You need the risotto fast. If you're working in a fancy Italian restaurant, you also need it to be delicious, perfectly seasoned, and the most important part: the rice must be done to perfection and neither over or undercooked.
At every restaurant I've worked at that serves risotto, we would do this by pre cooking your risotto rice with a bit of onion, wine, water or stock and pinch of salt, and I do it now in my restaurant.
For at home this can mean the difference between standing in front of the stove stirring and sweating, and relaxing and chatting with guests or your family. When the risotto rice is par cooked, it's effortless to put together-a chef's trick you can keep to yourself.
Another trick is making sure you have the correct type of rice, only one of the following 5 should be used to make risotto.
Types of rice for a true Italian-style risotto
Superfino Arbori
Vialone Nao
Carnaroli
Baldo
Sant'Andrea
How to tell when the rice is done
Just take a single grain or two out of the pan via spoon and taste them. How do they taste? Are they crunchy? if so, cook it for a moment longer. Are they mushy and soft like baby food? Then you should start over, put the failed risotto on a plate in the fridge, cool, then mix some cheese, sausage and herbs into it, form into balls, bread and fry-a classic way to use leftover risotto called arancini.
When risotto is precooked to the perfect doneness, you get more control over the texture of the rice, it will have a few minutes of cooking time left in it when reheated.
Technically, to me means that the rice is more than half way cooked, but still remains a bit raw in the middle. The outer portion of the rice kernel will be softened, but the inside will still have raw, bright white, when cut in half by a knife. Here is how I do it at the restaurant.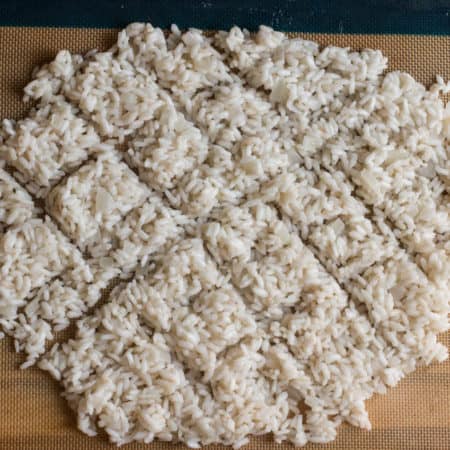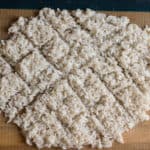 Print Recipe
Precooked Risotto Rice
To serve 4 people as an entree
Ingredients
1

cup

rice type of your choice for true risotto

Choose from one of the above types

2

tablespoon

butter or oil

Pinch

of salt

¼

cup

white or yellow onion

diced small

½

cup

dry white wine

Stock as needed

about 2 cups, preferably homemade
Instructions
Sweat the butter and onion together with a pinch of salt until the onion is translucent, then add the rice, and stir to coat the grains with fat, cooking until they are a bit translucent on the outside, about 2-3 minutes, then add the wine and cook until it has almost all evaporated.

Now, add a ½ cup of water to the pan at a time, and continue to cook and stir until it is incorporated, then add a new ladle of water to prevent the pan from scorching. Keep doing this until the rice is soft on the outside, but still raw and very chewy in the middle, about ten minutes.

When the rice is precooked to your liking, immediately spread it out on a wide surface, then score with a wooden spoon in a cross-hatch pattern it to help it cool even faster.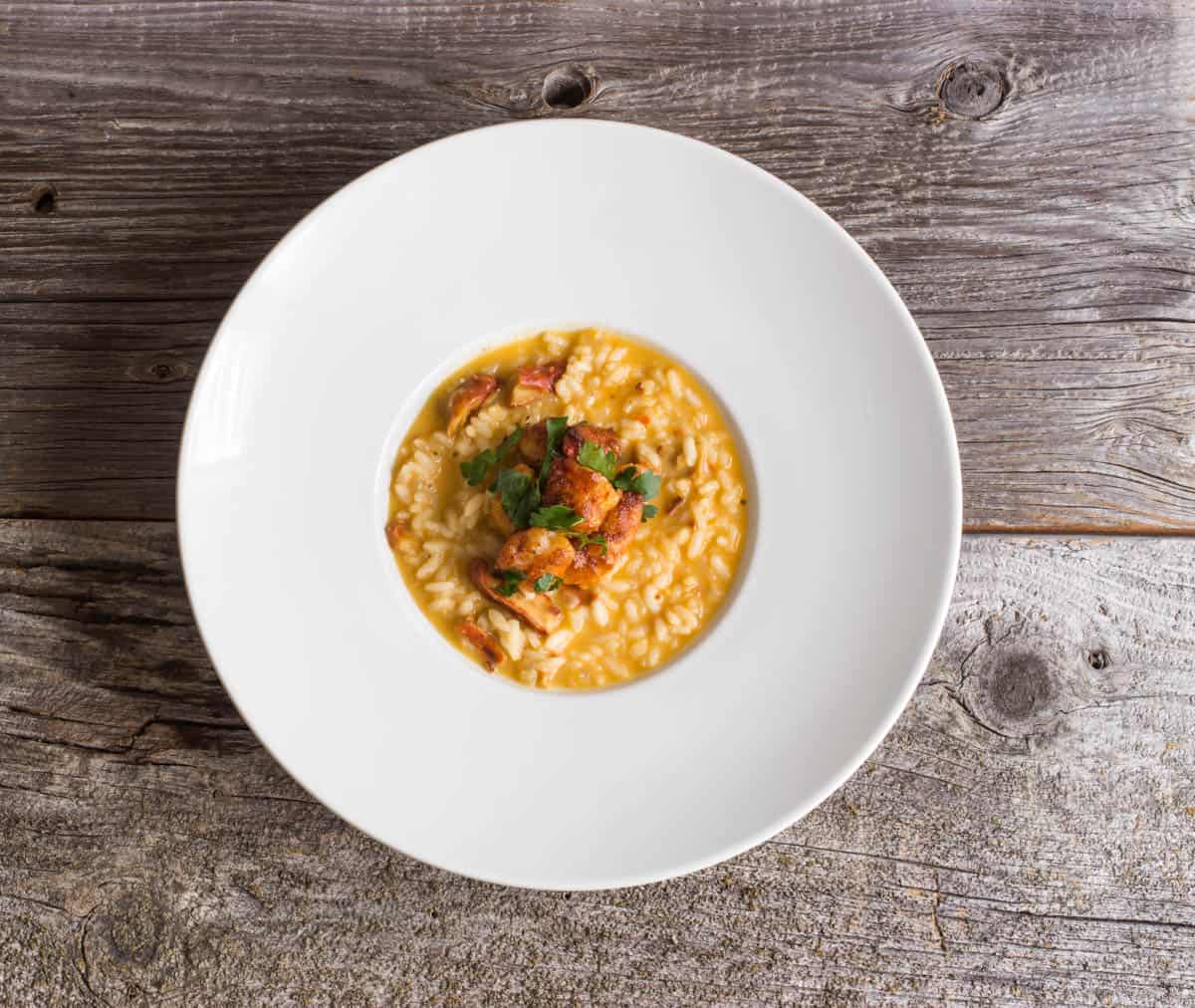 Finishing Risotto
Heat your pre-cooked rice in a pan with a tablespoon of water so the rice doesn't stick to the bottom of the pan. Continue to cook, adding liquid or stock as necessary until the rice is very hot, and tender, but not mushy, about 5 minutes depending on how far you take your risotto rice in the previous method.
Stir in 2 tablespoon of butter and ½ cup of grated Grana Padano or Parmigiano Reggiano cheese, or another grated, high quality parmesan. Note that sub-par parmesans may curdle combined with hot rice.
Vigorously incorporate the cheese and butter by stirring with a wooden spoon. Imagine that you are making whip cream by hand with a whisk: the more air you can fluff into this emulsion of rice starch, water and fat, the creamier and more velvety it will become.
I used to whip my risotto so hard at an Italian restaurant I worked at that my coworkers described it as "Alan's risotto seizure".
When properly made risotto is a really special dish, with infinite permutations and flavors. Since it's pure white it also takes colors very well, you can make it neon green with pureed beans or peas or greens, purple with beets, yellow with saffron, red with tomatoes or orange with pumpkin, the choice is yours, have fun.