A simple risotto made with dried mushrooms is a great way to start using up your dried mushroom stash. Read on and I'll explain the particulars. I'm picky about my risotto.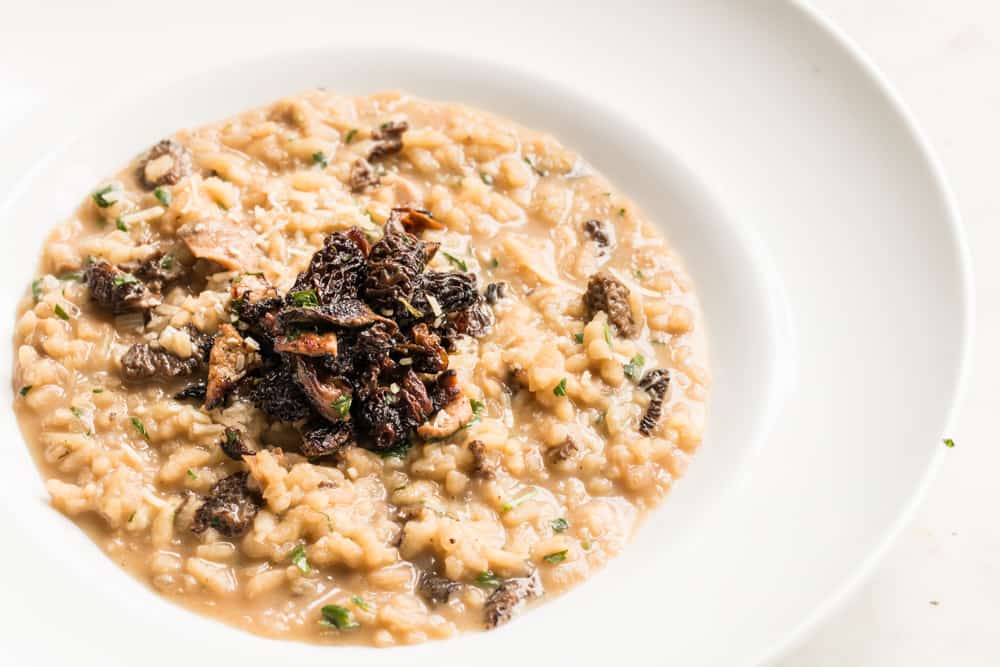 The off-season is the time to use up your dehydrated fungi stash, and one of the most tried and true crowd-pleasers is a risotto with dried wild mushrooms, or "rizzo" (after the Wu-tang artist Rza) as it's been affectionately called in a number of kitchens I worked in over the years.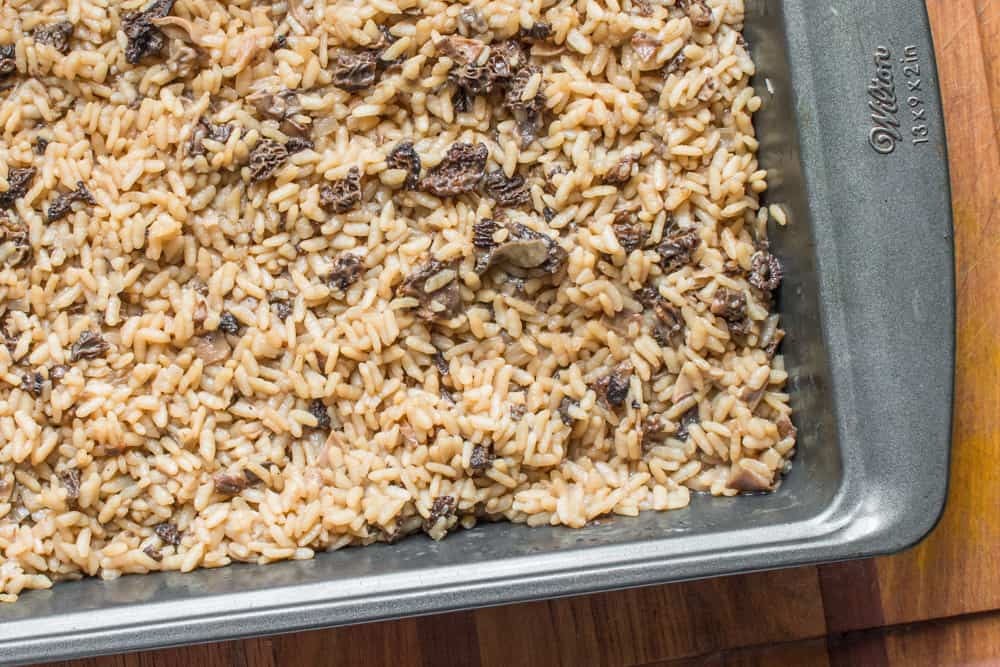 Risotto is one of the best places for your dried mushrooms to go, and each mushroom species will add a different character to the finished product. But, before you go getting super creative and throwing all kinds of types in together, know that some mushrooms will overtake the flavor of others. Depending on what you're going for, this can be good or a let-down.
For example, adding even a small amount of strongly aromatic dried boletes like anything from the Suillaceae (slippery jacks) or European porcini, will take over and it will be hard to pick out individual species from the blend. Sometimes I like to have a blend, especially with stronger dried boletes, or if I'm trying to use up small amounts of various species, sometimes I don't--it's really up to you. But, if you want to have a risotto that features a single mushroom, using only dried mushrooms of the same species will give you the purest flavor.
This recipe is really simple and dressed down, so think of it as a blank slate for riffing on. If I'm serving it as an entree, I'll add some chopped leftover meat, a little sausage, or I might ladle a ragu of something over the top. I've put a few ideas and variations in the recipe notes for you. You can make just the bare bones version though, and it will be great, and especially good if you reserve some of the dried mushrooms to fry in butter and spoon on top when it's done, as I have pictured.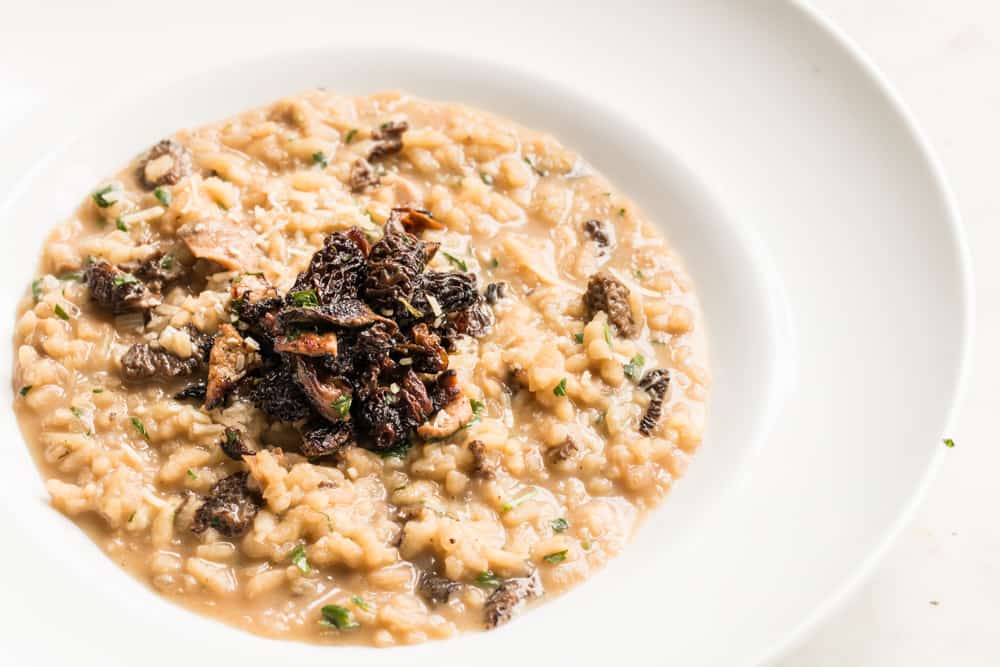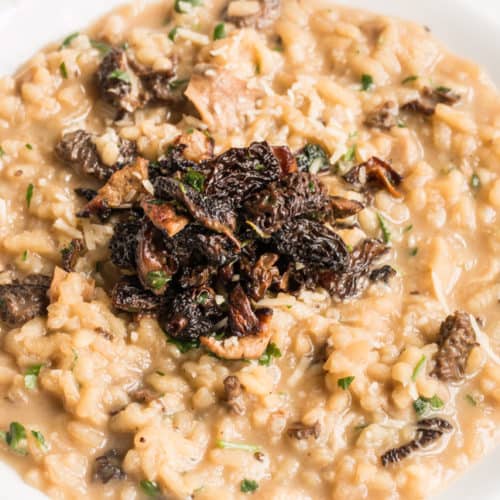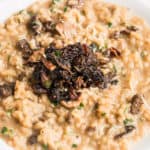 Print Recipe
Dried Mushroom Risotto
Classic risotto made with dried wild mushrooms. Serves 4-6
Equipment
Wooden spoon or spatula

10 inch saucepot or similar
Ingredients
40

grams

dehydrated wild mushrooms

roughly 2 cups of dried mushroom slices

¾

teaspoon

kosher salt

5

cups

stock

highest quality possible, preferably homemade

¼

cup

shallot

diced small

1.5

cups

risotto rice

like carnaroli, arborio, baldo, etc

½

cup

dry white wine

Splash of cooking oil
Finishing
5

Tablespoons

unsalted butter

¾

cup

grated parmesan

plus more for serving

Fresh chopped Italian parsley

to garnish, optional
Instructions
Add the mushrooms to the stock and rehydrated for 30 minutes, then agitate to remove grit and swish them a few times, remove the mushrooms, strain the liquid and reserve both separately, keeping a handful for a finishing garnish if you like.

Coarsely chop the mushrooms, aiming for sizes that will fit on a spoon. In a wide pan, say 10-12 inches diameter, sweat shallot on medium-high heat in the oil until translucent, then add the rice, stir to coat with oil and cook a few minutes more. Don't allow the bottom of the pan to color.

Add the wine, mushrooms and salt, and cook until the pan is nearly dry, then begin ladling in the stock gradually in ½ - ¾ cup increments, waiting until the stock is absorbed before adding the next lade.

When the rice is just barely cooked through, add 4 tablespoons of the butter, the parmesan and parsley, stir vigorously until incorporated, taste and adjust the seasoning for salt if needed, and adjust the consistency with a little extra stock. You may have extra stock leftover--that's ok.

The flavor should be mushroomy, cheesy, and delicious, and the risotto itself should be thick and creamy, but also flowing and loose. Portion the risotto into soup bowls. Jiggle the sides of each bowl after plating so that each bowl of risotto is flat. Serve. Pass some grated parmesan at the table.
Notes
To make the risotto with the garnish as pictured, spoon a few of the dried mushrooms you reserved gently sautéed with the remaining butter and parsley onto the middle of each bowl just before serving.
Good Additions and Variations 
Spinach
Scallions and chives
Cooked pearl onions
Caramelized onions
Peas
Ground meat or sausage 
Leftover cooked meat, especially chicken or turkey
Pecorino instead of parmesan
Nutrition
Calories:
552
kcal
|
Carbohydrates:
76
g
|
Protein:
12
g
|
Fat:
20
g
|
Saturated Fat:
12
g
|
Polyunsaturated Fat:
1
g
|
Monounsaturated Fat:
5
g
|
Trans Fat:
1
g
|
Cholesterol:
54
mg
|
Sodium:
1946
mg
|
Potassium:
320
mg
|
Fiber:
4
g
|
Sugar:
4
g
|
Vitamin A:
1226
IU
|
Vitamin C:
2
mg
|
Calcium:
182
mg
|
Iron:
4
mg