A sourdough brioche, flavored with herbs is one of my favorite ways to use herbs from my garden and that I harvest. Without a doubt, this is one of the best breads I've ever made.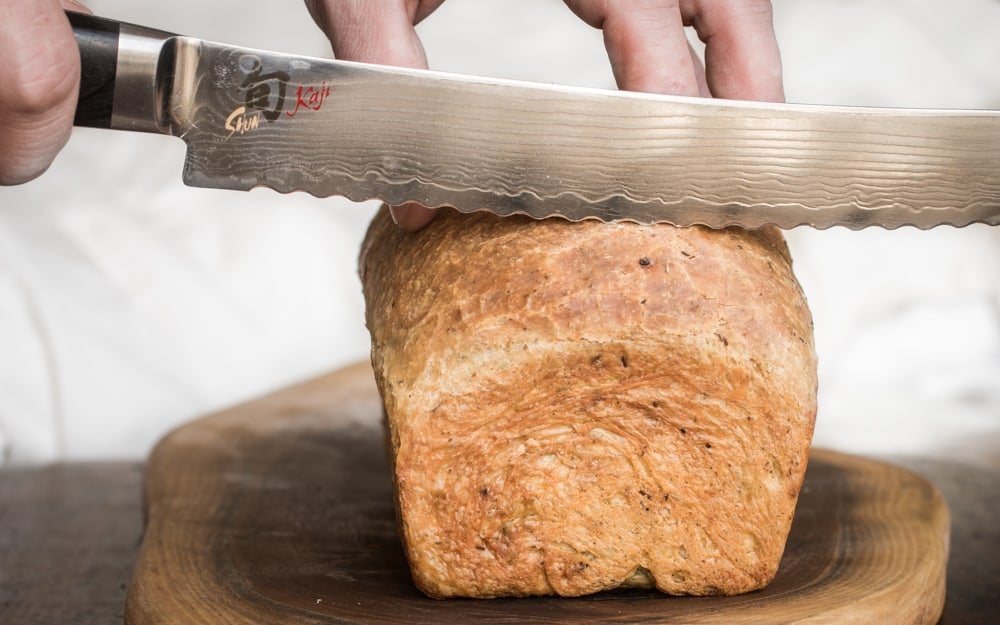 Herbs mixes, herb salt, teas, all of them strike a chord with us that looks back to history: for thousands of years, humans have preserved nice smelling herbs because we like to cook with them. For a dinner I did last year, I wanted to make a bread flavored with herbs I gather, and after a couple weeks of testing, I came up with one I liked.
I could call this brioche with ramp leaves and bergamot, but there's just something about the two words "wild herbs" that's intriguing to people and makes it an easy sell. It evokes exotic, unknown flavors, but is still grounded in familiarity since we use blends of herbs all the time.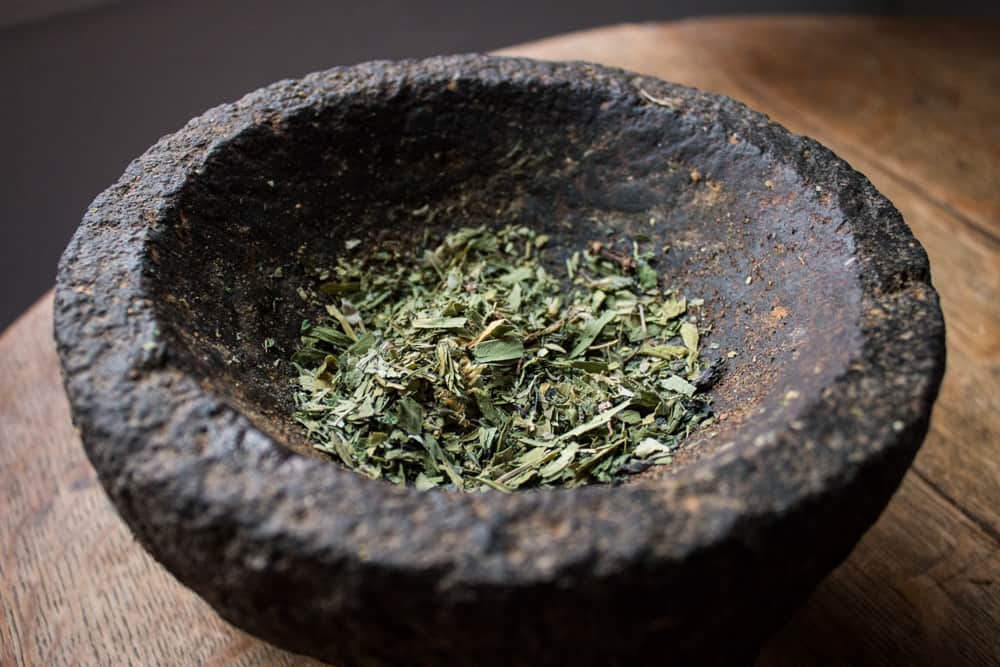 My workhorse wild herbs: ramp leaves and bergamot/Monarda fistulosa
When I think of wild herbs, there are two big ones: wild bee balm and ramp leaves. It's not that they're the only two wild herbs I cook with, but they're the best combination of abundant, easy-to-find wild herbs for general cooking that I've come across.
Their flavors are both strong, and come through really well in a lot of different, savory cooking applications. Bergamot tastes a bit like oregano crossed with thyme, and ramp leaves taste of forest-y garlic, so it's a great match. For another example, these two herbs work great with tomatoes in this simple tomato sauce.
Dried Nettles
I use dried nettles sometimes in this recipe, but they're optional, since they function more as a color agent. If you've worked with fresh nettles, especially if you've blanched or pureed them, you know that they could be used as green coloring with their strong concentration of chlorophyll. The same thing is going on here, since the flavor of dried nettles becomes submissive in the company of more powerful things like ramps and bergamot.
Basically, if I want the loaf to look like it's made with weeds, I'll add the nettles, finely ground. If I want a more rustic look, I'll add the herbs mashed in a mortar and pestle, which will keep some of the yellow color the egg yolks add to the dough, with the herbs appearing as flecks here and there.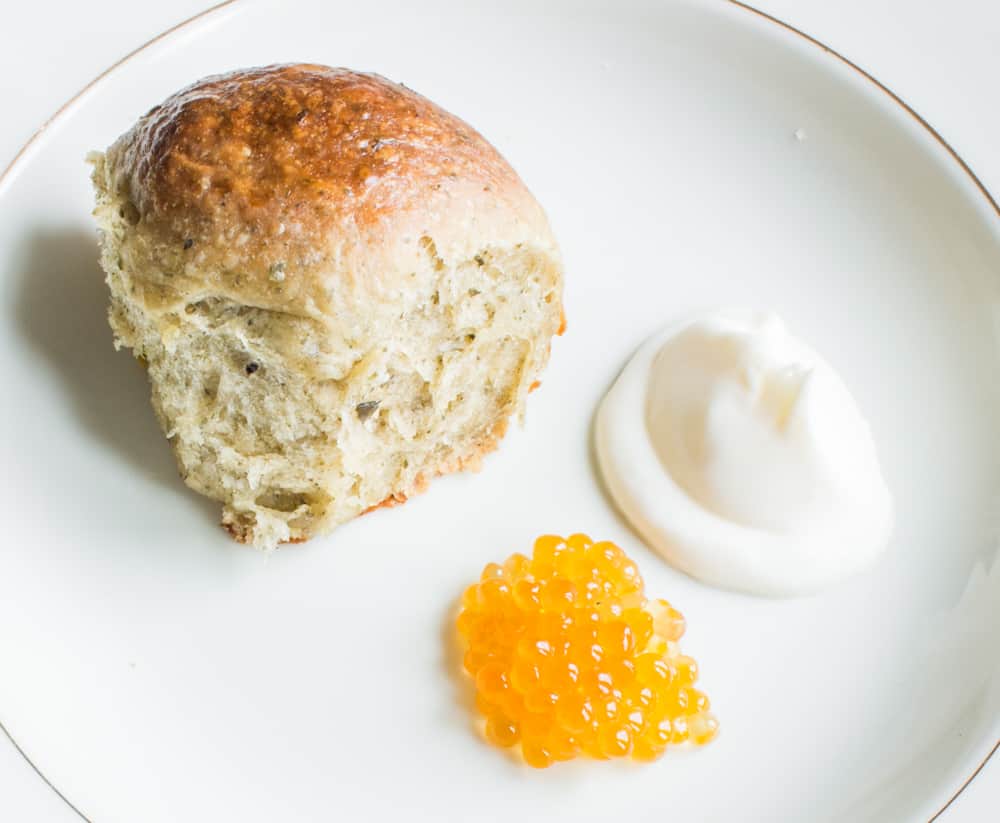 This hybrid, brioche-y dough has become a calling card for special dinners I do, and people just can't believe you can extract such good flavor from wild plants. The end result tastes a bit like garlic breadsticks, and is killer made into small individual buns, or as a whole loaf.
To make without sourdough starter
It's easy to convert this to a simple dough. Since the starter is 50/50 water and flour, you just divide it in half, then add the amount of water and flour from the preferment to the rest of the ingredients. For example, you would add and an extra 130 grams flour and 100 grams water or milk to the dough if you don't want to use the starter/pre-ferment.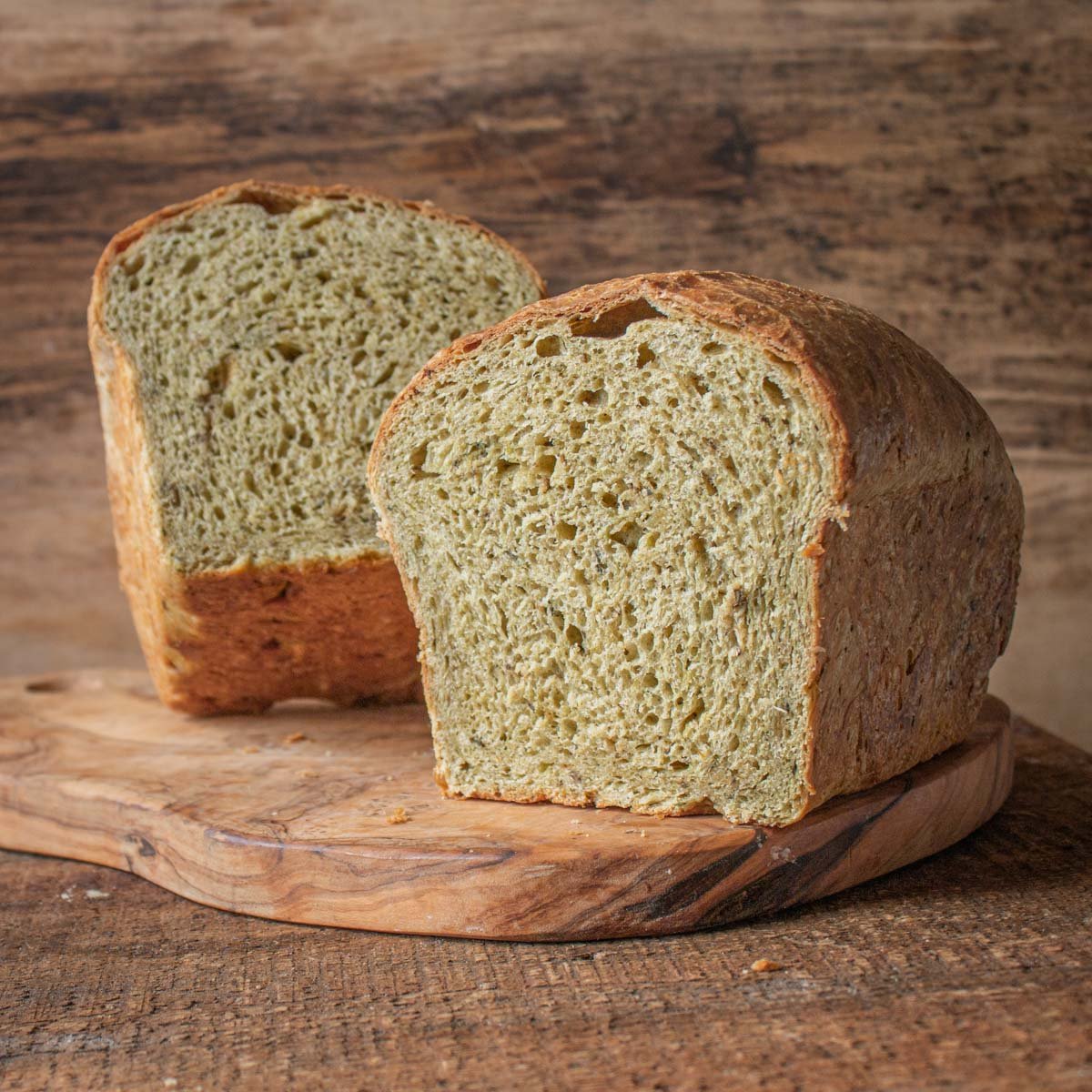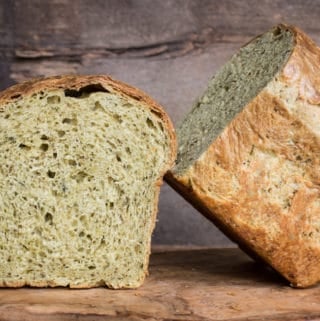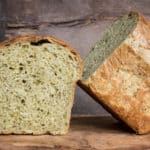 Print Recipe
Wild Herb Brioche
Yield: one roughly 25 oz or 1.5 lb loaf, or 16 1.5 oz buns 
Equipment
1 Loaf pan

1 stand mixer or mixing bowls
Ingredients
Pre-ferment

60

grams

1:1 starter

100

grams

flour

70

grams

H20

Final Dough

1

egg+ 3 yolks

8

grams

fine salt

or ground kosher salt ~2.5 teaspoons

½

teaspoon

instant yeast

300

grams

all purpose flour

10

grams

sugar

6

tablespoons

unsalted butter

at room temperature

170

grams

whole milk

warmed

Dried Wild Herbs:

1

tablespoon

crushed dried bergamot leaves

2

tablespoons

crushed dried ramp leaves

2

tablespoons

crushed or ground dried nettle leaves

optional
Instructions
Combine the ingredients for the pre-ferment, mix well and allow to double in size overnight. Refrigerate the preferment. To assemble the final dough, allow the preferment to come to room temperature, then combine with all the ingredients in a stand mixer except the salt and butter.

Allow the mixture to sit, covered, for 30 minutes before working in the stand mixer. Knead the dough with the hook attachment, adding the salt for 5 minutes to develop, then working in the cold butter a tablespoon at a time until incorporated.

Transfer to an oiled bowl, cover, and allow to rise until 2.5 times it's size. Gently shape the dough into a loaf form, then put in an oiled loaf pan, cover, and allow to rest over night, refrigerated.

The next day, preheat the oven to 350, brush the loaf with egg wash and cook until a thermometer reads 200 F. Remove the bread from the loaf pan to a cooling rack, then allow to cool to room temperature before slicing.
Notes
Variation with Amaranth Flour, or other Indigenous Flours 
You can add various flours here, but I wouldn't add more than 100-150 grams to the final dough. I also don't add them to the preferment since they can develop acetic acid more rapidly than other flours from my experience, which can make an overly sour dough.
Originally I wanted this to be a "weed" bread, so I incorporated the amaranth flour. It worked just fine, but it helps if you like the taste, since the flavor is both a flour, and a seasoning. To the uninitiated, Amaranth flour's rich, grassy taste can come off as swampy, so I've saved that one for tasting with fellow plant nerds.
Nutrition
Serving:
1
slice
|
Calories:
190
kcal
|
Carbohydrates:
27
g
|
Protein:
5
g
|
Fat:
7
g
|
Saturated Fat:
4
g
|
Polyunsaturated Fat:
0.4
g
|
Monounsaturated Fat:
2
g
|
Trans Fat:
0.2
g
|
Cholesterol:
30
mg
|
Sodium:
271
mg
|
Potassium:
69
mg
|
Fiber:
1
g
|
Sugar:
2
g
|
Vitamin A:
218
IU
|
Vitamin C:
0.002
mg
|
Calcium:
26
mg
|
Iron:
2
mg
More