A simple san marzano tomato sauce recipe flavored with dried or fresh herbs is a great addition to your repertoire. It's based on the recipe given to me by my old chef from Rome.
The Tomatoes
At the first Italian restaurant I worked at we used only quality ingredients like Italian tomatoes for our sauces.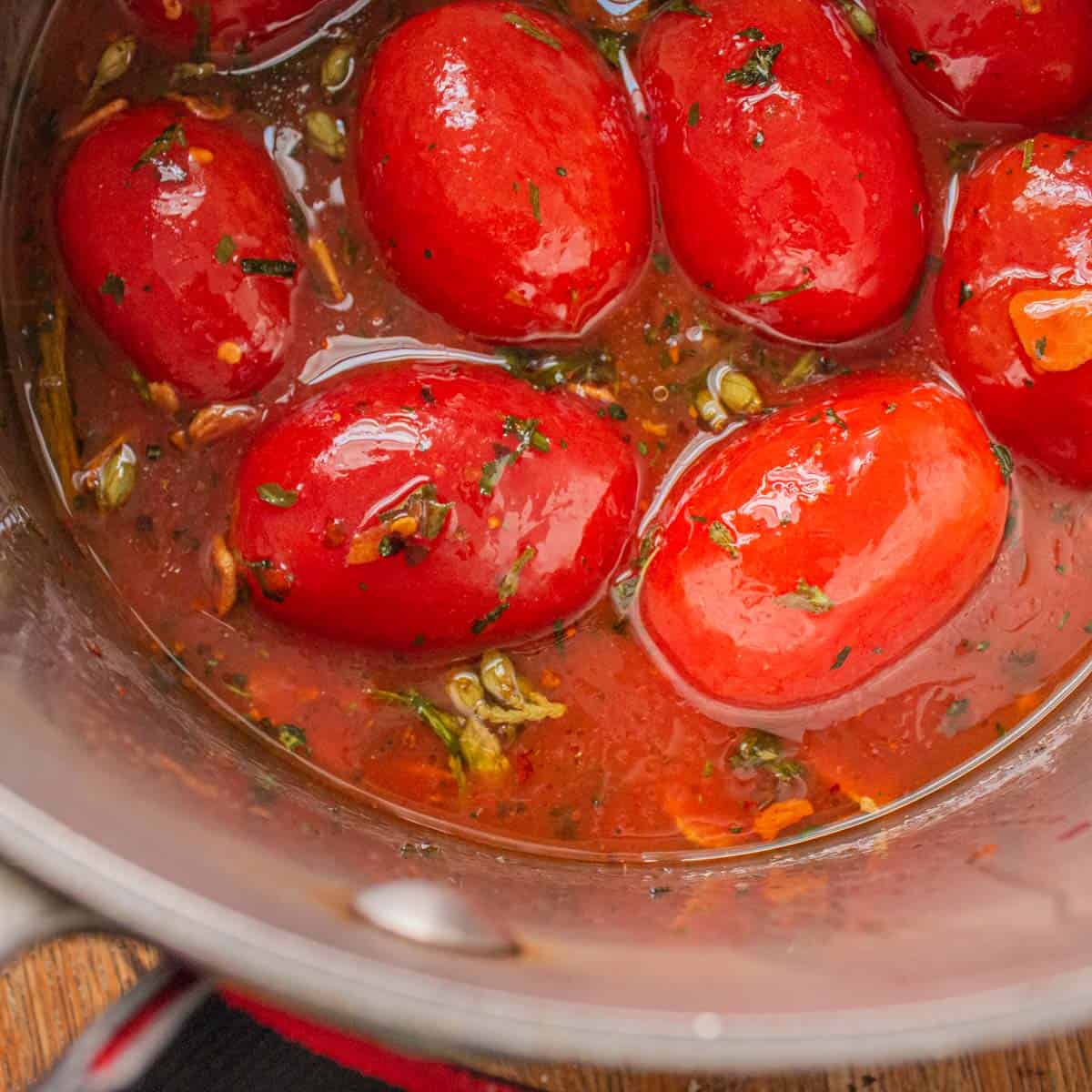 San Marzano plum tomatoes are from San Marzano sul Sarno, which is in the Campania region of Italy where the rich volcanic soils produce tomatoes of the highest quality.
They're prized for their higher proportion of meat to juice compared to regular tomatoes, along with their sweet flavor. The tomatoes also have a different appearance, and usually appear as a pear-shaped tomato. They're easy to find, and can be purchased in 32 oz cans in many grocery stores under different brand names.
Herbs
It's totally fine to make this sauce with a pinch of dried oregano and a couple leaves of fresh basil. But, if you're a forager, and many of the people on this website are,
The wild herbs I usually have the most of are usually dried bee balm leaves, and ramp leaves. They're a wonderful addition to this simple sauce if you have some.
Both of these herbs can be used by themselves. But, they can be used together to compliment each other. The garlicky flavor of ramps pairs well with the oregano taste of the bergamot.
The herbs should be in the background, adding interest and body. Their flavor should be barely noticeable.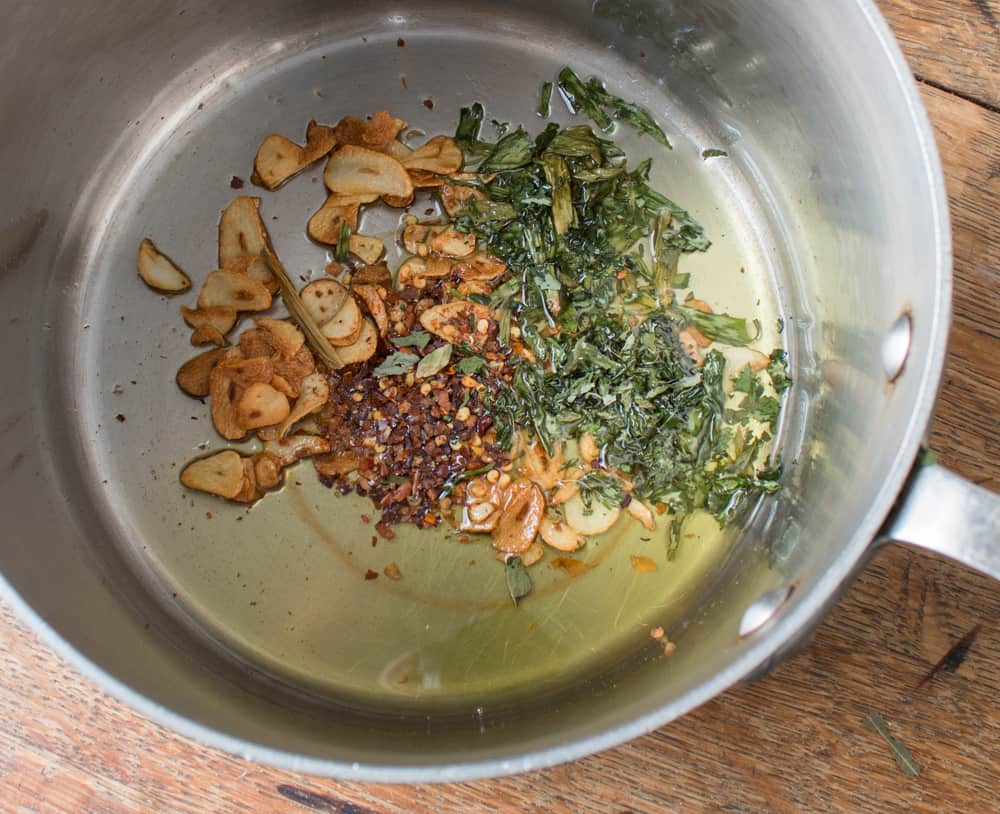 This is a spicy sauce. It's different from the sweeter, more mild tomato sauce I was taught to make by my chef Angelo, who owned his own restaurant in Rome.
To make a mild sauce
If you want to make a non-spicy sauce, omit the chili flakes, wine and garlic. In place of the wine and garlic, you can sweat no more than ½ cup of chopped carrot onion and celery before adding the wine and tomatoes to the pan. Vegetables round out the flavor of the sauce very well.
How to use
This makes a great pizza sauce or pasta sauce. If you add vegetables like my suggestion above, you can even call it marinara. For reference, marinara sauce contains vegetables in some form, where simple tomato sauce or salsa pomodoro, does not. Of course, it also loves parmesan cheese.
Although it's not traditional, you can also use this as a substitute for arrabiata sauce. but, technically arrabiata should include fresh sage leaves.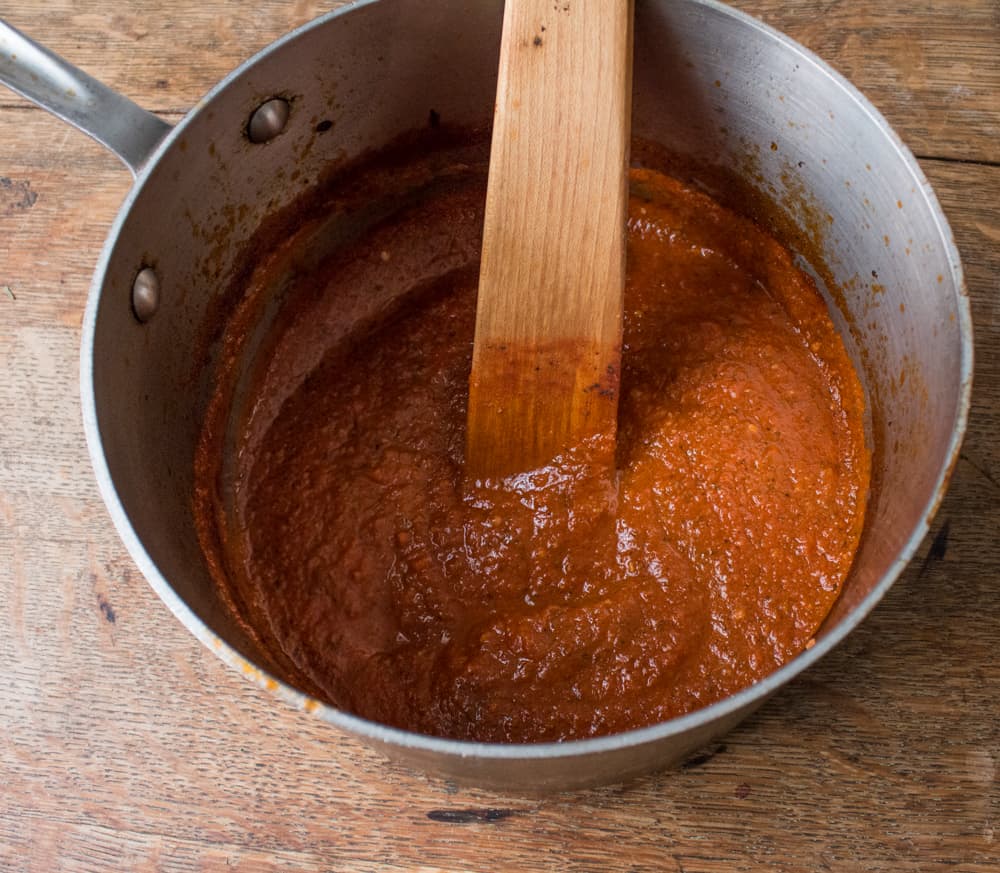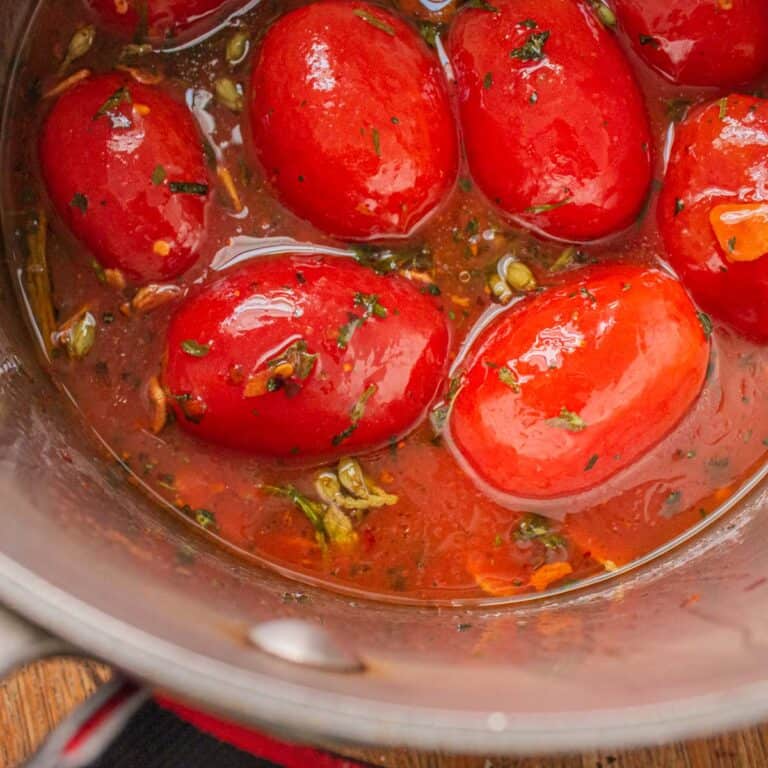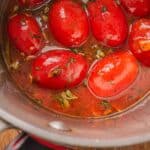 Print Recipe
Spicy San Marzano Sauce with Dried Herbs
Yield: about 2 cups, enough for an entree for two-4 people
Equipment
1 blender or food processor

1 non-reactive cooking pot

such as stainless steel
Ingredients
1 32

oz

can whole

peeled san marzano tomatoes

3

large cloves of garlic

sliced as thin as possible

2

tablespoon

extra virgin olive oil

2

tbsp

flavorless cooking oil

½

teaspoon

crushed red pepper flakes

¼

cup

dry white wine

Kosher salt

to taste about ¾ teaspoon
Herbs (optional) You can substitute 1 teaspoon dried oregano for both of the herbs.
½

tablespoon

dried ramp leaves

crumbled

½

tablespoon

dried bergamot leaves

crumbled, any large stems removed
Instructions
Puree the tomatoes in a blender or food processor, then strain the seeds out through a food mill (optional, but reccomended).

Sweat the garlic in the oils slowly until nicely browned and aromatic (refer to picture above). When the garlic is perfectly browned, and the dried chili, ramp leaves and bergamot and stir, off the heat for a minute. Add the wine to the pan and cook for 2 minutes.

Add the tomatoes, puree the mixture with a hand blender, cover the pan and simmer on medium heat for 15-20 minutes or until the sauce is nicely reduced and thickened.

Cool the sauce, then transfer to a labeled, dated container and refrigerate until needed.
Notes
This is more than a pasta sauce, sometimes I like to cook it down as use it as a simple dip or topping for crispy things, fried polenta, roasted potatoes, croquettes and all sorts of things.
The consistency can be a matter of personal taste. In
restaurant settings I generally make a thinner tomato sauce to account for additional cooking by the line cooks.
Nutrition
Serving:
5
oz
|
Calories:
179
kcal
|
Carbohydrates:
10
g
|
Protein:
2
g
|
Fat:
14
g
|
Saturated Fat:
2
g
|
Polyunsaturated Fat:
3
g
|
Monounsaturated Fat:
10
g
|
Trans Fat:
0.03
g
|
Sodium:
336
mg
|
Potassium:
459
mg
|
Fiber:
2
g
|
Sugar:
6
g
|
Vitamin A:
274
IU
|
Vitamin C:
22
mg
|
Calcium:
78
mg
|
Iron:
2
mg
More