A simple sweet-tart syrup you can make from a number of different fruits like elderberry or chokeberries. Use it on pancakes, as a glaze, or added to drinks.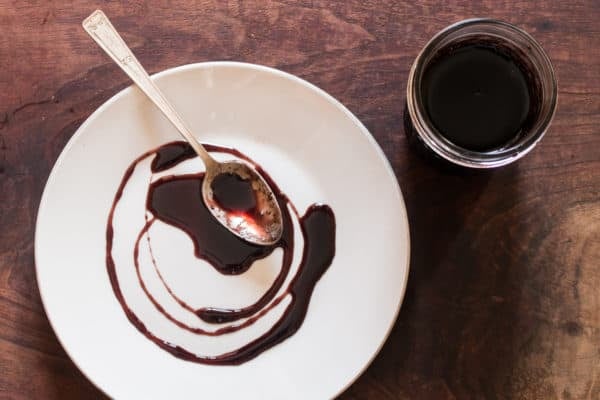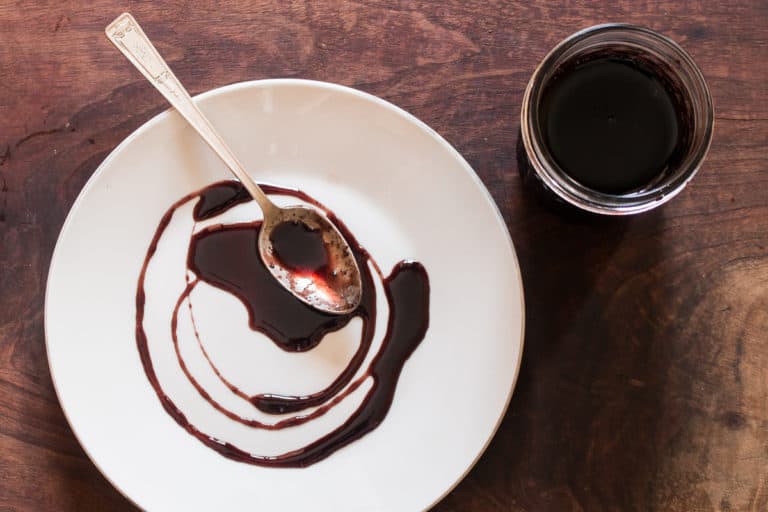 Lately the chokeberries / aronia berries have been floating around the brunch menu, but I often like to have my pastry chef use them on different desserts, they might be mixed together with other fruits like apples, other berries, really whatever we have on hand that will make a good partner.
The berries are great since they don't have seeds, but they do have tough skins, so I mostly juice them by cooking them in water, mashing a bit, and straining it off--the same way that conventional aronia or chokeberry juice you'll see in the store is made.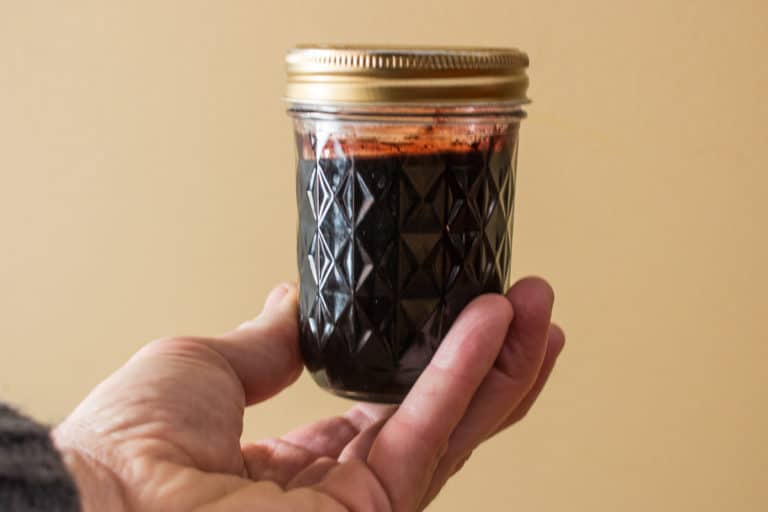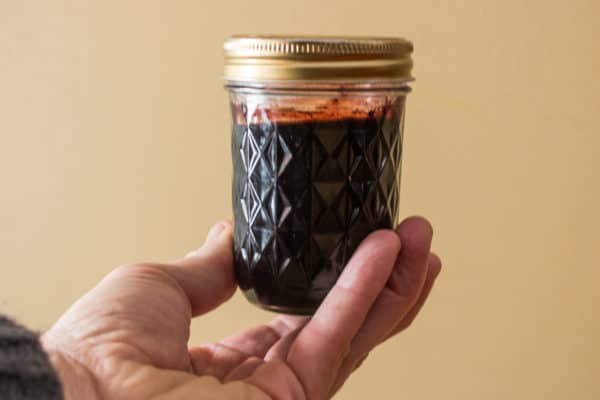 One of the simplest things I've been making is just a sweet and sour syrup with the berries. Some berries, raspberries and all their allies for example, are naturally tart are fine simmered with sugar and pinch of lemon. Aronia berries, as well as elderberries are similar in that they have a sort of one-note flavor (the berries can be used interchangeably in this recipe). They're not one-note in a bad way, but they don't have natural tartness, so making syrup with them made only with sugar and juice, while it looks fantastic, will taste dull and cloyingly sweet, and just generally don't like things made from pure sugar.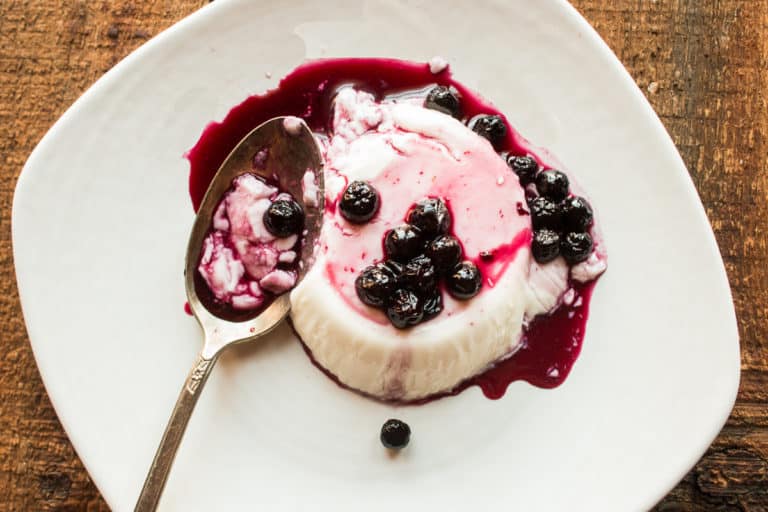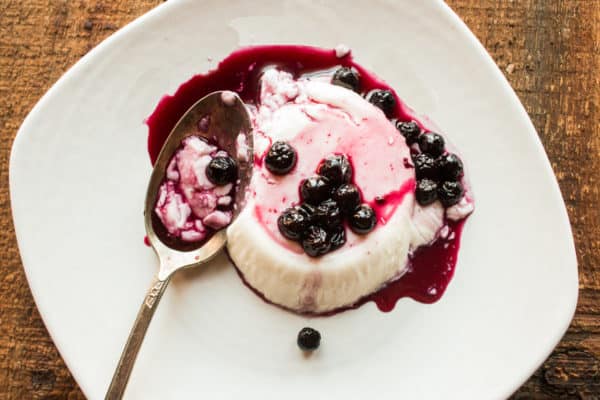 To add balance to the syrup, as well as bolster it's shelf-stability, I employ one of my favorite techniques for working with dark fruit: vinegar. Vinegar adds needed tartness to cut the sugar, lowers the pH for stability, but most importantly, is the perfect compliment for the berry flavor, and using something like my berry infused vinegar, or fruit scrap vinegar are really good flavor building blocks to consider too.
Use Ideas
Pancakes, etc
While I've been running it on my brunch menu, it's been a staple on crepes made with wild rice flour, as well as deserts like panna cotta pictured above. It's also good as a flavoring for ice cream and other custards, but is just as good simply drizzled on all the above.
Using the syrup to cook other fruits
One of my favorites, is using syrups like this to cook other fruit, especially things like apples. Take a few baking apple, peel and core it and cut it into two halves, then put into a plastic bag with ½ cup or so of the syrup, or enough so that they'll be coated. Take that bag, seal it, and then vacuum seal in another bag. Finally cook in a sous vide water bath at 145 F for 2 hours, then chill and allow to sit for a day or two to infuse. Remove the fruit and reheat with a knob of butter and their sauce and spoon hot over ice cream, yogurt, etc. --a dish I brought on the road once to serve vegan models at a remote photo shoot. You could also simply bake the cut apples with the syrup and bit of water baked in a slow oven until tender, basting occasionally with the syrup, and making sure the pan doesn't dry out.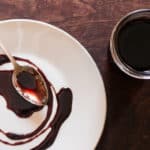 Print Recipe
Sweet and Sour Chokeberry or Elderberry Syrup
This is a simple, trusty berry syrup ratio for a home batch scaled from a gallon restaurant batch, it can be scaled up as you like.  Yield: about 2 cups
Equipment
1 Pint mason jar

1 2 quart sauce pot
Ingredients
2

cups

frozen or fresh chokeberries

picked over for stems and washed to remove grit if using fresh

1.5

cups

sugar

¾

cups

highest quality red wine vinegar

I like Beaufort

¾

cups

water

¼

teaspoon

chopped ginger

¼

of a fresh vanilla bean

scraped, or a dash of extract (optional)
Instructions
Bring all the ingredients to a simmer in a non-reactive sauce pot, about 2 qt size.

Mash the berries around with a potato masher or pulse very gently with a handblender to activate the deep color, but don't puree it completely.

Save the scrap for making berry scrap vinegar if you like. Simmer gently until the liquid is reduced by about 25%, being careful not to over-reduce the liquid or caramelize the berries in any way, which will destroy the flavor. When the syrup lightly coats the back of a spoon, turn the heat off.

Strain the liquid through a fine strainer, then reserve until needed. Remember the syrup will tighten up a bit as it cools too, so resist the urge to over reduce it--you can always cook it a bit more.

Transfer the syrup to jar or similar container. The syrup will keep near indefinitely in a tightly sealed container in the fridge and could also be water bath canned.
Notes
If you're like me and wonder what you can do with the spent fruit scrap that's leftover you're in luck. If you want, instead of throwing it away you can use it to make fruit scrap vinegar. 
Nutrition
Serving:
2
Tablespoons
|
Calories:
341
kcal
|
Carbohydrates:
76
g
|
Protein:
2
g
|
Fat:
0.1
g
|
Sodium:
3
mg
|
Potassium:
10
mg
|
Fiber:
4
g
|
Sugar:
54
g
|
Vitamin C:
10
mg
|
Calcium:
2
mg
|
Iron:
2
mg