An delicious French-style aubergine gratin baked with tomato sauce, cheese and herbs is one of my favorite gratin recipes. If you or your family aren't fond of eggplant, you have to try this. Over the years it's changed more than a few people's perspective on the big purple vegetables.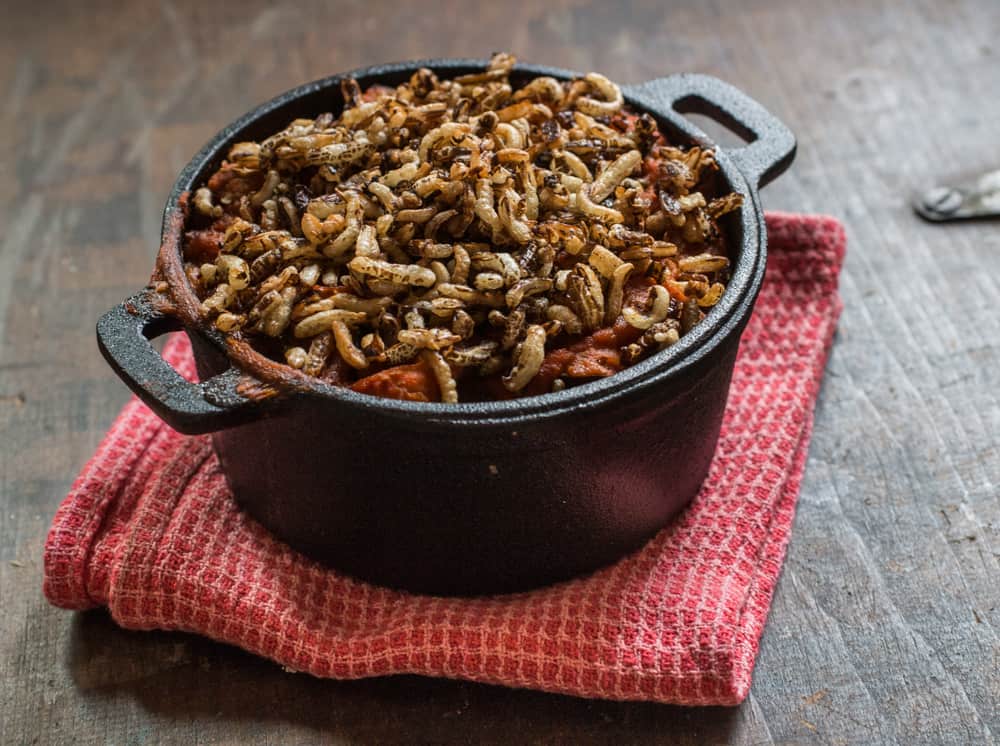 Blanching eggplant: a chef secret
There's a trick I like to use while cooking with eggplant. Raw, eggplants are full of moisture, and can be bitter with a strange texture. When I cook eggplant, most of the time It undergoes some sort of preliminary cooking to denature it before the final cooking.
The preliminary cooking most people will be familiar with is frying eggplant slices in oil, but I find it soaks up too much and can make a greasy dish.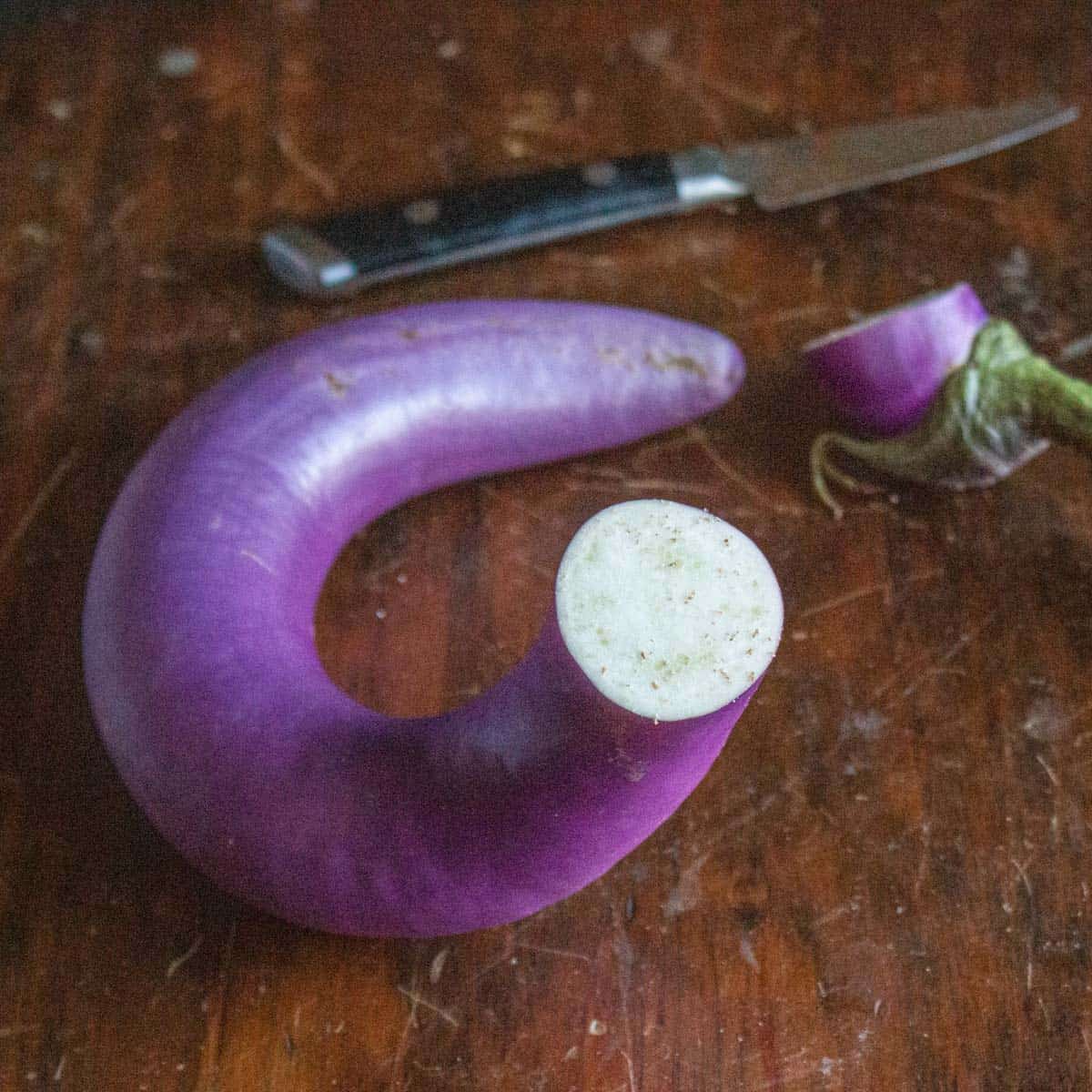 Grilling can work, but the eggplant has to be sliced. Baking eggplant can result in an overcooked, mushy mess-good if you're making a dip, but not for a gratin.
The best way to cook aubergines is to blanch them in salted water, then cool, before adding to your recipe.
Cutting the eggplant into cubes and blanching in boiling water for a few moments changes the structure and the mouthfeel of the eggplant, tenderizing it and making it soft, as well as seasoning it if you added salt to the water, which I always do.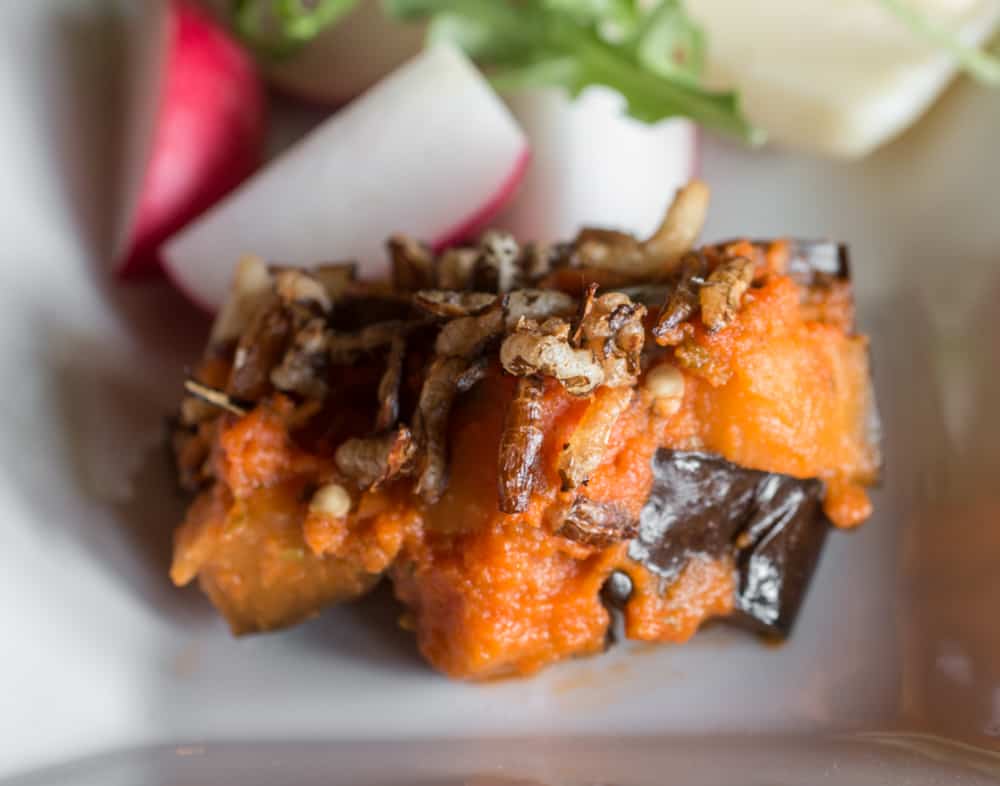 From there, the chunks of eggplant can be added to a dish as-is, or be the start of another recipe like my favorite marinated eggplant, where blanched cubes are tossed with hot chilis, oil, salt, vinegar and herbs and allowed to mature for a while.
Breadcrumb topping
You might be wondering what the crispy looking things on top of the eggplant are. The meal I was planning to use this in had to be gluten free, so I needed a topping for the eggplant that would be crispy, delicious, local, and, not breadcrumbs. Feel free to use breadcrumbs, crackers, or whatever you have on hand.
Puffed wild rice is a great alternative to breadcrumbs, although it takes some time to make. A description of the process is in the recipe notes here.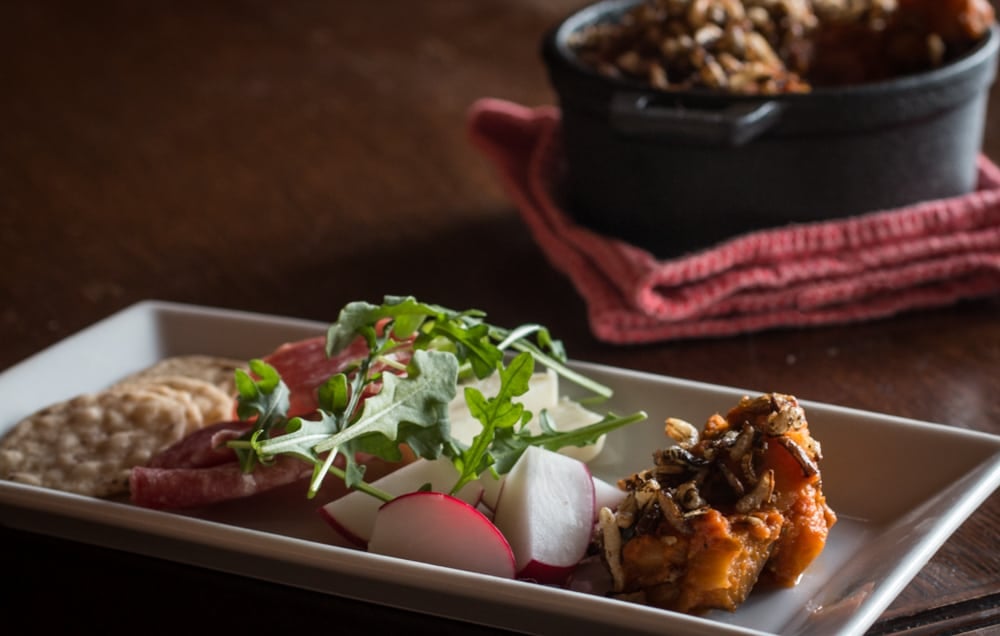 Eggplant varieties to use
There's a number of types of different aubergines you can use here, and they can be confusing. Japanese eggplant are my favorite since they have few seeds and are easy to slice and layer in things like this. Thai eggplant are too small for this recipe. Big Italian eggplants will work, but they have more seeds than Japanese eggplant.
The Herbs
I use two wild herbs (dried bee balm and dried ramp leaves) to flavor this, but you can skip them, or just add a few torn basil or mint leaves to your eggplant gratin.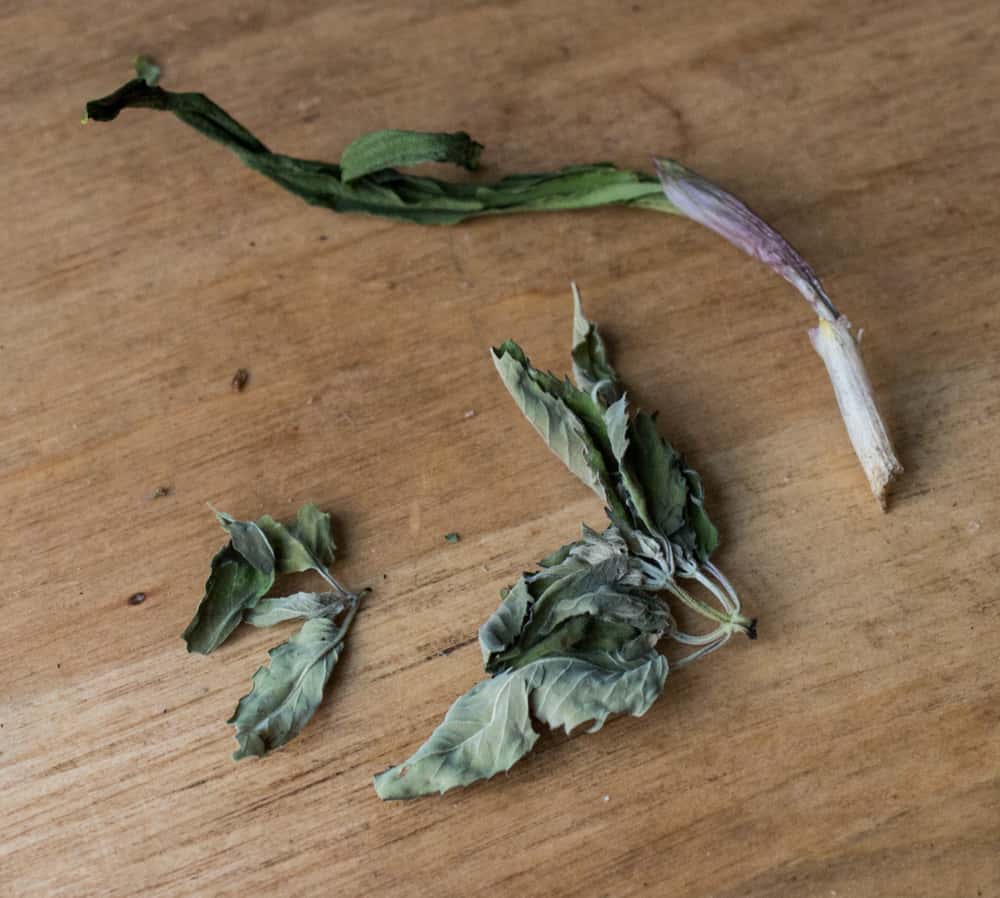 How to serve
Typically I serve it hot, as you would a typical side dish. It's great alongside pork and chicken.
This is also good served at room temp as part of an appetizer platter, and I have a fond memory of eating similar things in Provence.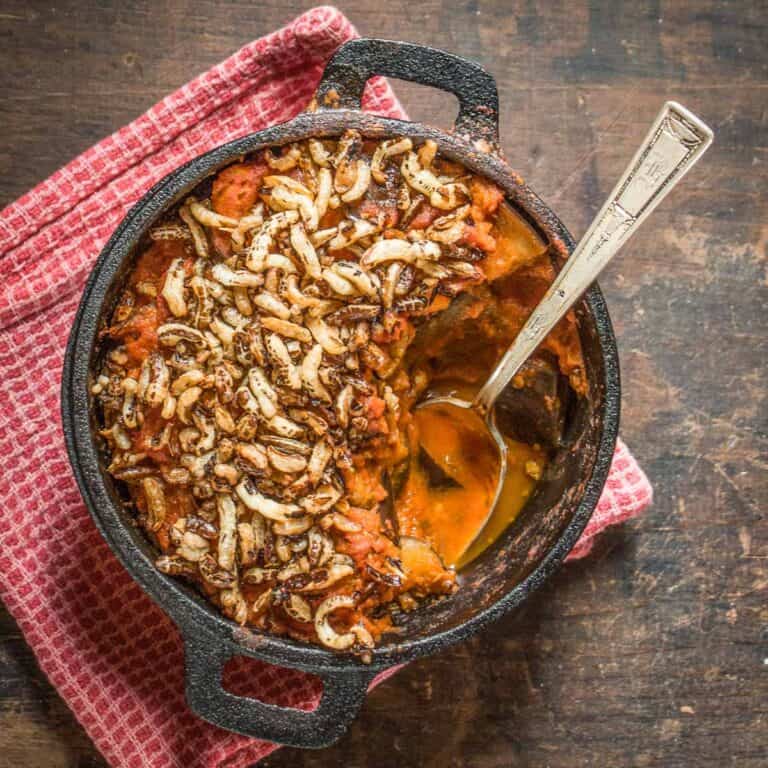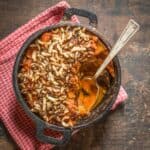 Print Recipe
Aubergine Gratin with Tomato, Herbs and Parmesan
Eggplant baked with tomato, dried bergamot and ramp leaves. Serve warm, hot, or at room temperature. This is a great addition to an appetizer spread
Ingredients
1

lb

(1 medium sized eggplant)

skin on, washed

1 14

oz

can whole peeled tomatoes

Kosher salt and fresh ground black pepper

to taste

Pinch

of chili flakes

2

tablespoons

unsalted butter

1

large clove of garlic

about a tablespoon roughly chopped

½

cup

carrot onion and celery

roughly chopped

1

tablespoon

crushed

dried bergamot, stems removed

Toasted panko breadcrumbs

as needed, about ¼ cup (or puffed wild rice, pictured)

¼

cup

dry white wine

½

cup

grated parmesan cheese

preferably an Italian reggiano or grana
Instructions
Dice the eggplant into ½ inch cubes.

Bring a 2 qts of lightly salted water to a boil, then add the eggplant, return the mixture to a boil and cook for 2 minutes, until the eggplant turns translucent.

Remove the eggplant, cool, and gently squeeze out the water in a towel.

Reserve the eggplant. Sweat the carrot, onion, celery and garlic in 1 tablespoon of the butter for a few minutes until the onion is translucent.

Deglaze the pan with the wine then add the tomatoes and cook for 10 minutes on medium heat, until the vegetables are tender.

Transfer the mixture to the bowl of a highspeed blender and puree until very fine, then combine with the eggplant, season the mixture to taste with salt, pepper, parmesan, herbs and the chili flakes, then pack the mixture into a casserole dish, top with the breadcrumbs, dot with the remaining tablespoon of butter, then bake at 375 until hot throughout, browned and bubbly, about 30 minutes.

Allow to cool for 5 minutes, then serve immediately, warm, or at room temperature.
Notes
*The meal I was making here had to be gluten free, so, instead of baking the dish with breadcrumbs on top like I would normally do, I used puffed wild rice. To make puffed wild rice, cook wild rice per usual, then dehydrate it. After the rice is dried, fry it in a thin layer of oil as you would popcorn. The puffed rice will keep and stay crisp for 24 hours.
Nutrition
Serving:
4
oz
|
Calories:
93
kcal
|
Carbohydrates:
5
g
|
Protein:
3
g
|
Fat:
6
g
|
Saturated Fat:
4
g
|
Polyunsaturated Fat:
0.3
g
|
Monounsaturated Fat:
2
g
|
Trans Fat:
0.2
g
|
Cholesterol:
17
mg
|
Sodium:
256
mg
|
Potassium:
191
mg
|
Fiber:
1
g
|
Sugar:
2
g
|
Vitamin A:
2054
IU
|
Vitamin C:
7
mg
|
Calcium:
101
mg
|
Iron:
1
mg
More