Lobster mushroom rolls are a solid way to enjoy your harvest, and one of my favorite vegetarian mushroom recipes.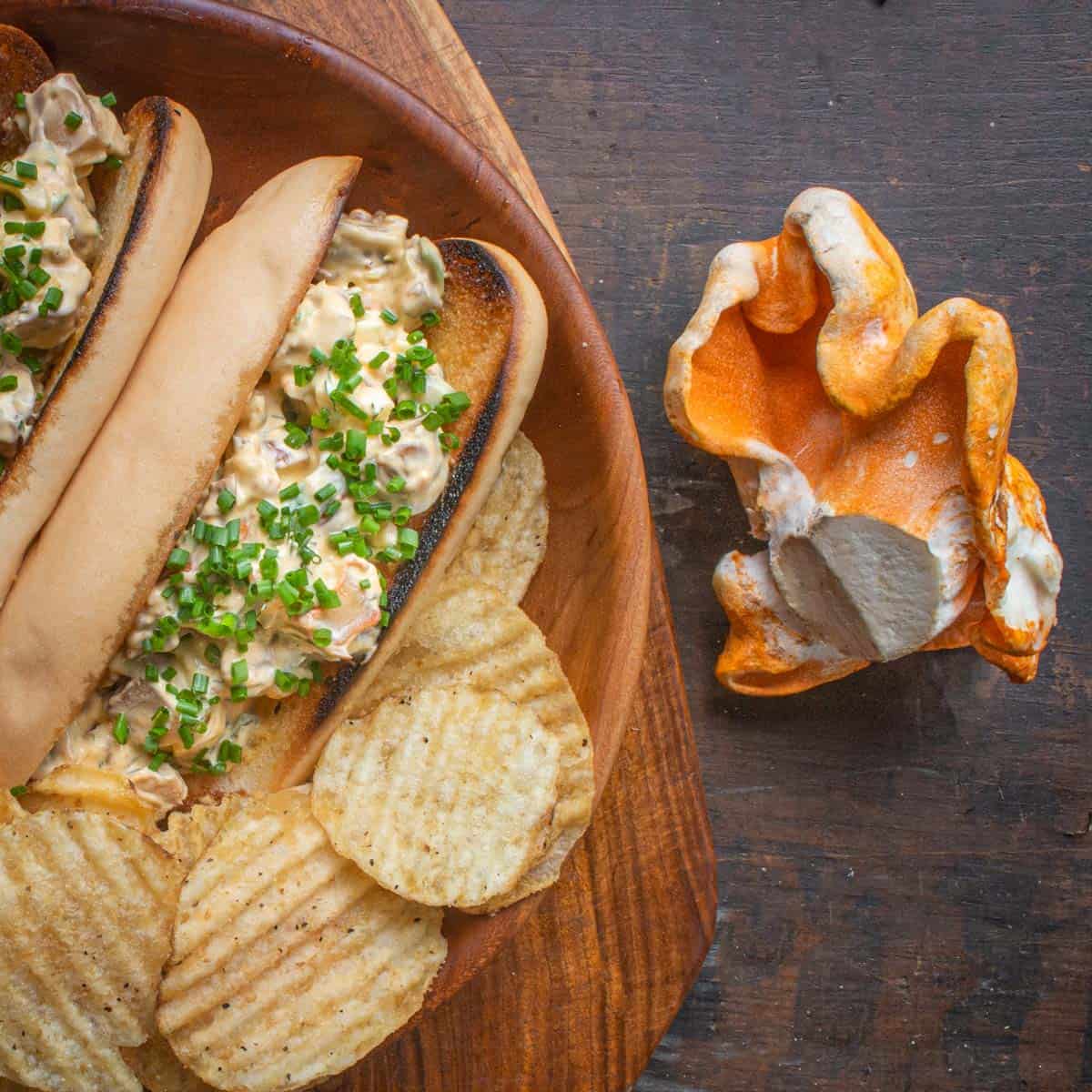 Lobster rolls are usually a pretty simple thing: really fresh lobster, mayonnaise, and maybe some chives or celery, since it's all about the lobster. But lobster mushroom rolls, if they're going to taste like anything, need some extra attention, lobster mushrooms having a much lighter flavor than true lobster.
To make lobster mushroom rolls, I cook some diced lobster mushrooms in a good amount of oil, cool, then mix the mushrooms and the resulting colored and flavored oil with a healthy amount of chopped fresh herbs, mayonnaise and or sour cream, lemon, a dash of hot sauce, and a bit of celery for texture.
Then I stuff it in a toasted bun--that's the whole recipe. For the record, in my world, if someone tells you it's fine to not toast your buns, that person is not your friend. Buns are almost always toasted or griddled in my world, with few exceptions.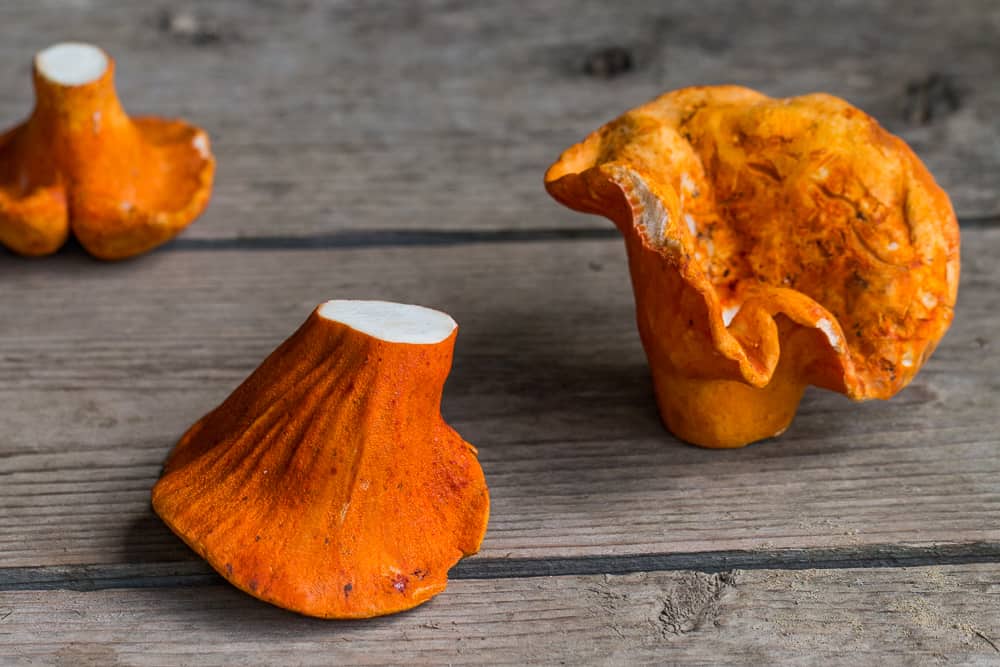 The end result will look a bit like curried mushroom salad, the color coming from the lobster mushrooms colorful reaction that stains the oil yellow, a bit like paprika. They're deliciously rich, and the perfect sort of thing for a warm summer evening after a day of hunting.
As lobsters have a relatively short shelf life, make sure to eat the salad within a few days.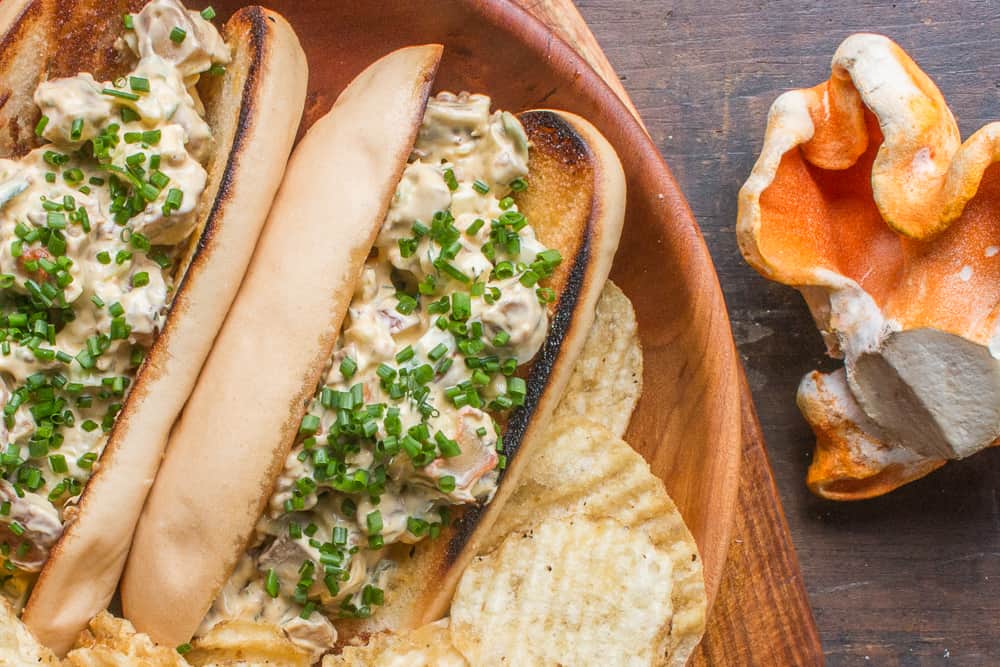 Other mushrooms you can use
Lobsters are my first choice here, but there's a number of different wild mushrooms you could use. Stick to firm, meaty mushrooms without gills. Here's a few ideas:
Chanterelles, preferably small, whole buttons
Albatrellus
Adapting the recipe
This is a really basic lobster mushroom recipe-one of the simplest I've made. Depending on what you have on hand and the flavor profile you want, you can switch things up in a number of ways. Here's a few ideas.
Adding some curry powder to the mushroom salad works really well.
Sometimes I make it extra spicy by adding hot sauce.
Change up the herbs: tarragon, mint, lemon balm or rau ram are all great choices.
More
Vegetarian or Vegan Mushroom Recipes
The Lobster Mushroom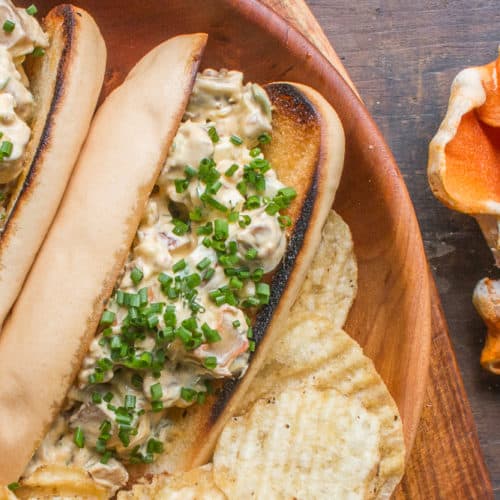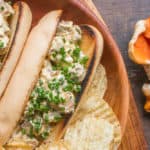 Print Recipe
Lobster Mushroom Rolls
Lobster mushroom rolls, in the style of classic lobster rolls. Makes 4 generous rolls. Cut the rolls in half to feed 8.
Ingredients
1

lb

lobster mushrooms diced ½ inch

¼

teaspoon

smoked paprika

¼

cup

cooking oil

1

teaspoon

minced garlic

¼

teaspoon

salt
Lobster mushroom salad
½

cup

mayonaise or half mayo and half sour cream

or use vegan mayonnaise

Fresh lemon zest

to taste—a few good scrapes

Fresh lemon juice

a few dashes to taste

2

tablespoons

of your favorite herbs

chopped

1

tablespoon

chives

to garnish

2

tablespoons

¼ inch diced celery

¼

cup

¼ inch diced green onion

½

teaspoon

sriracha or other hot sauce
For serving
Potato chips

for serving

Your favorite hot dog buns

for serving

Cooking oil or soft butter

as needed for toasting the buns
Instructions
Sweat the lobster mushrooms with the oil and salt on medium high heat for 10-15 minutes, or until they've released their water and are staring to brown. Add the garlic and smoked paprika to the pan, stir for a minute, then transfer the contents of the pan to a bowl, scraping to harvest the residual oil. Cool the mushrooms.

When the mushrooms are cool, mix them with the lobster salad ingredients, then serve on the hot dog buns that you've spread generously with butter and griddled/toasted, with potato chips on the side.

Just before serving generously season the lobster salad with cut chives.