One of the best wild plum recipes I've made so far is tkelapi, a sort of fruit leather made in the Caucuses. It's very tart, so you most people won't be eating it as a dried fruit snack. It's traditionally used to thicken soups.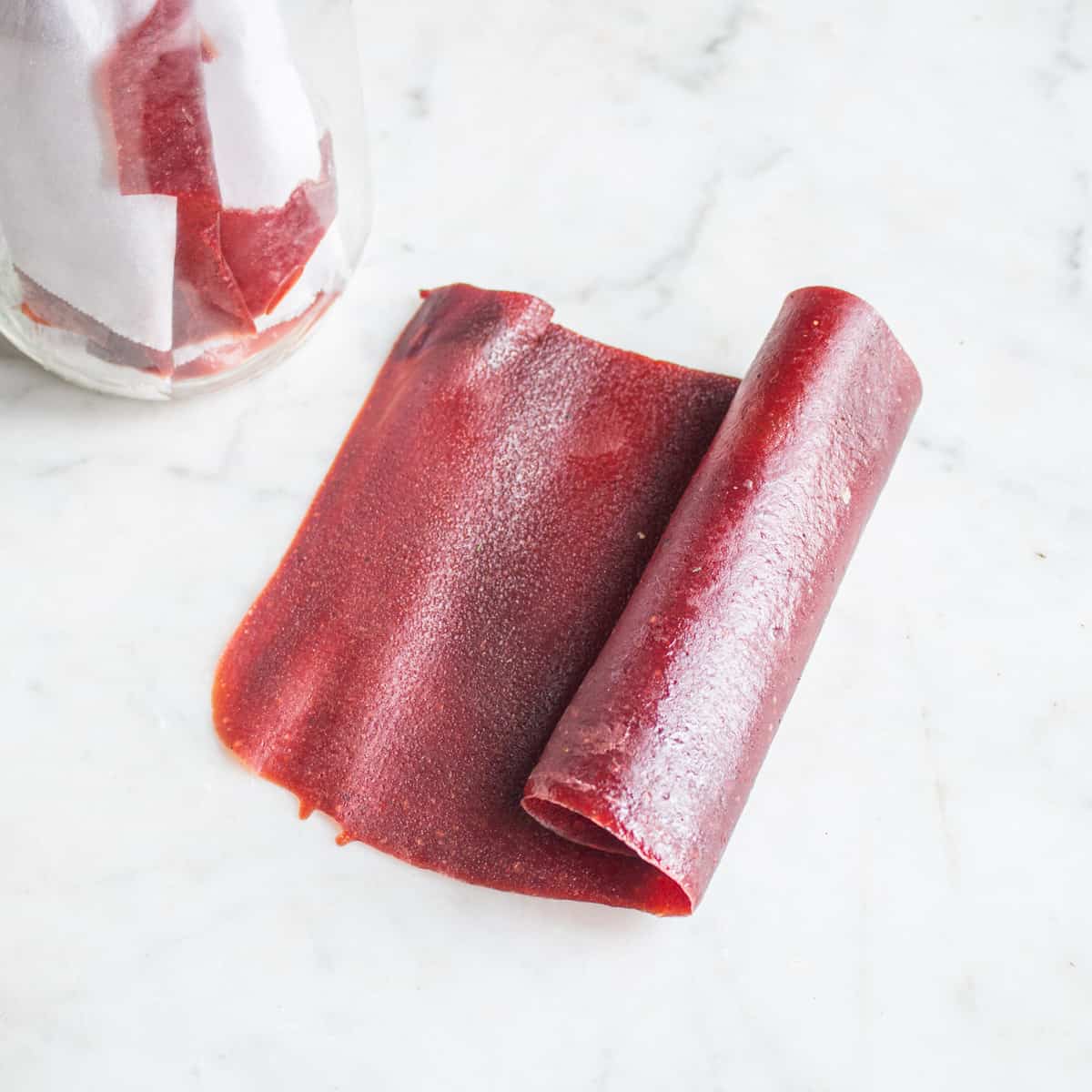 Wild plums (Prunus americana) are a puzzle. The flesh is rich and sweet, the perfume so deeply floral it will make your toes curl, but the skins, the skins are tough, and tannic enough to make you feel like you drank a few cups of chianti straight.
Not a snack like other fruit leathers
Plum leather is, of course a thing, but it's not what you might think. Technically, what I'm referring to is Tklapi, and it hails from Georgia. Not peach Georgia in America, but the Georgia of Eastern Europe.
I'd never heard of Georgia the country until my early twenties, when I lived in a dorm with a duo of flamboyant Georgianites named Yosef and Irakli and their friend who, after a drink or two, loved to regale me with tales of Goergian cuisine, as well as how stealing cars in countries across the border was easy, as once the vehicle was in Georgia, it was legally yours (for the record I can't speak to that legality).
Besides drinking cognac together, we really didn't interact much, but I always remembered through them that Georgia was a place, not a state. Not one for stealing cars, I kept the food tidbits around, and Tklapi was one I remembered being mentioned in passing, along with the kachapuri cheese bread many people know of.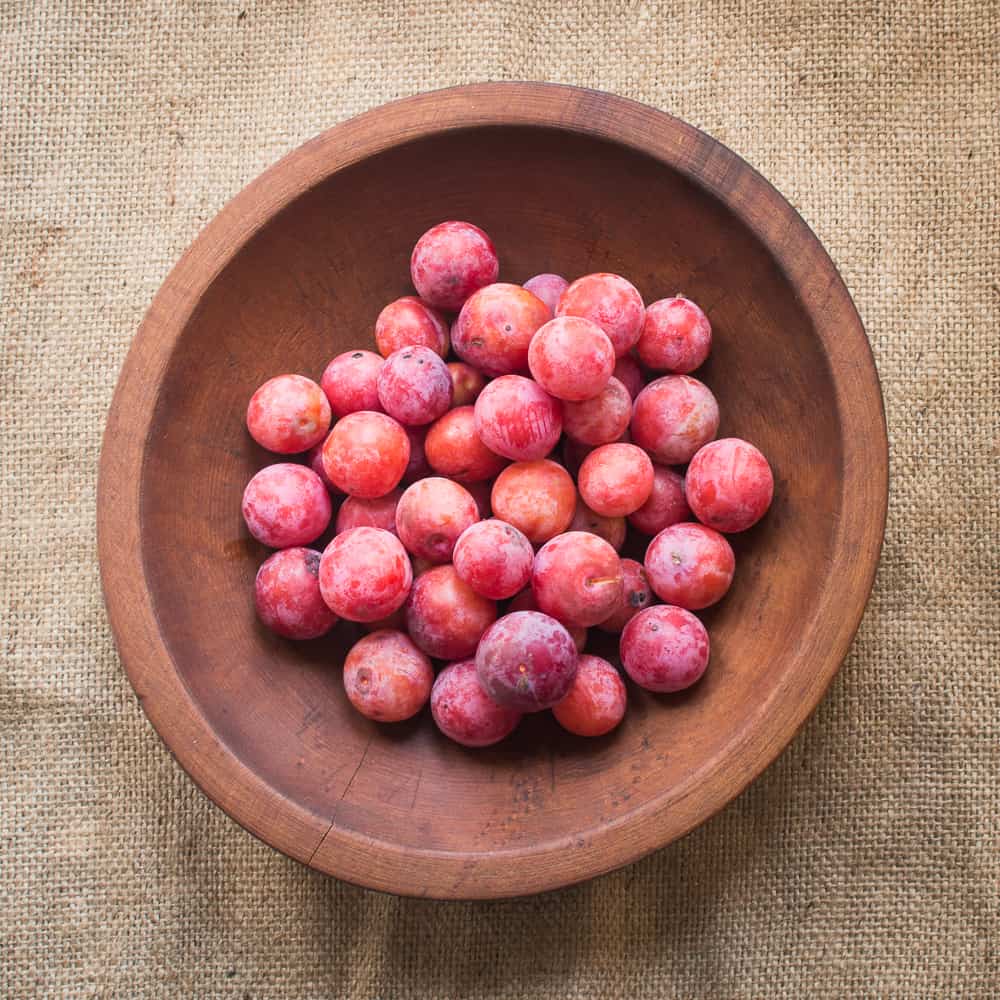 Traditional tklapi is nothing more than plums, cooked, pureed and dried into leather, and a quick google will show you plenty of examples in varying colors due to the stage of ripeness the plums are harvested at.
The plum leather isn't used like you might generally assume fruit leather to be used though, as the Tkmali plum is tart, and is used to lend a sour, tart, fruity flavor to dishes, especially soups like the famous Kharcho.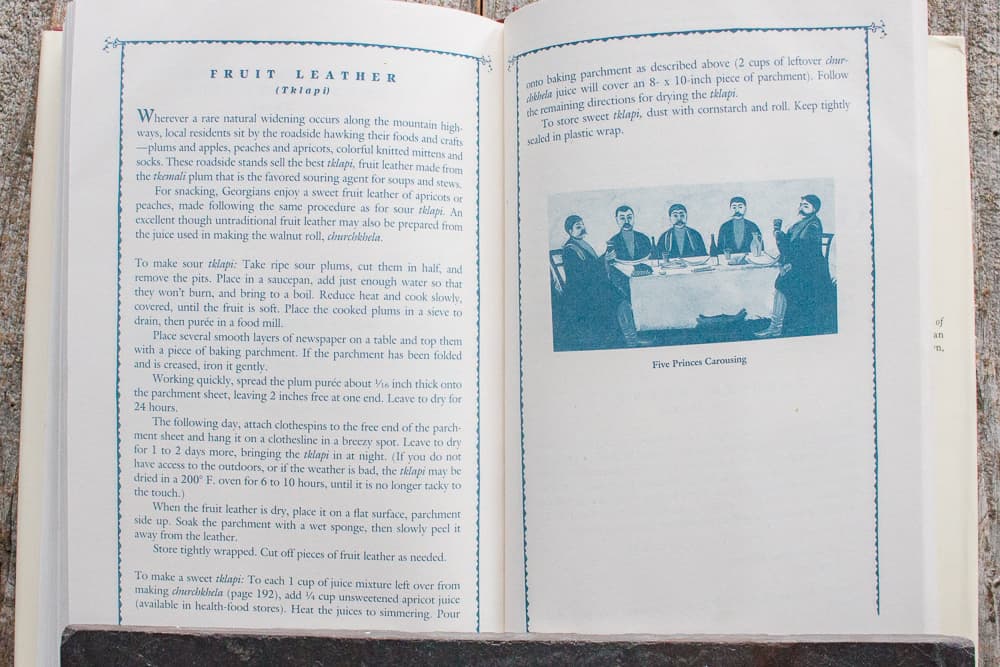 Wait, what? Putting fruit leather in meat soup? Yes. Georgian cuisine is a big blend of things, but one of the dominant themes, as far as I can tell, is a strong hand with spices, herbs, hot chili, and flavors like tangy and sour.
If you look up Kharcho, you'll find a bunch of recipes for beef soup with tomato now, but the original version was made with sour plum leather, and from here, you probably know where I'm headed with this.
My experiments using American wild plums as an analogy for the Tkmali plum had plenty of hits and misses, but the Tklapi style plum leather is one that I found to be interesting, and tasty enough to share. Tkmali I've about given up on.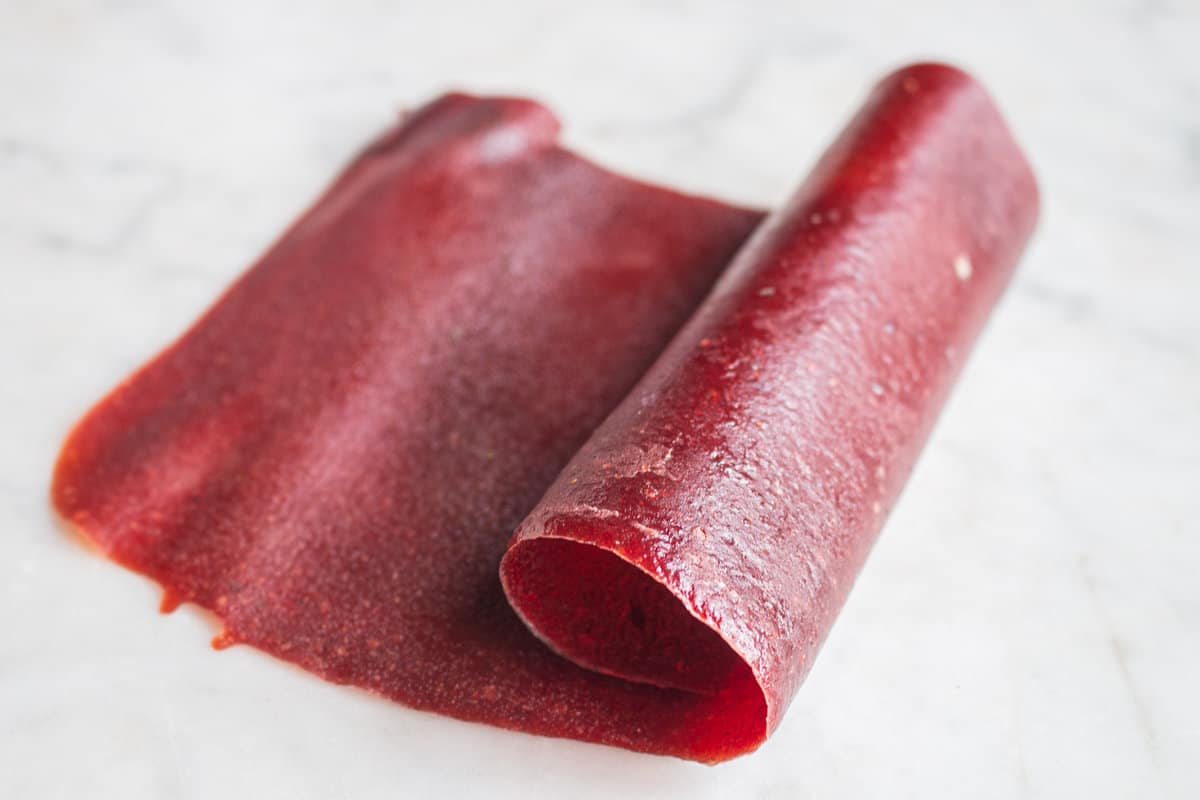 The method is easy: stone and cook some wild plums with just a bit of liquid, puree them in a blender, spread the puree onto a silpat, and dry it--that's it.
The leather is very tart, but there's something about dehydrating that seems to soften the tannins a bit, too, and the same goes for stoning plums and drying them in the sun like North American Indigenous poeple like the Lakota and other tribes did (another good trick to try).
If you wanted, you could add sugar to the plum puree to add some sweetness, which will make a very tart, slightly sweet leather, but you won't be adding that to a stew with meat. For the record, wild plum leather that's been sweetened is ok, but just ok, and if I wanted to eat it for pleasure as a snack, I'd still probably cut it with some other fruit to add balance, and I might pass the skins through a mill first, too.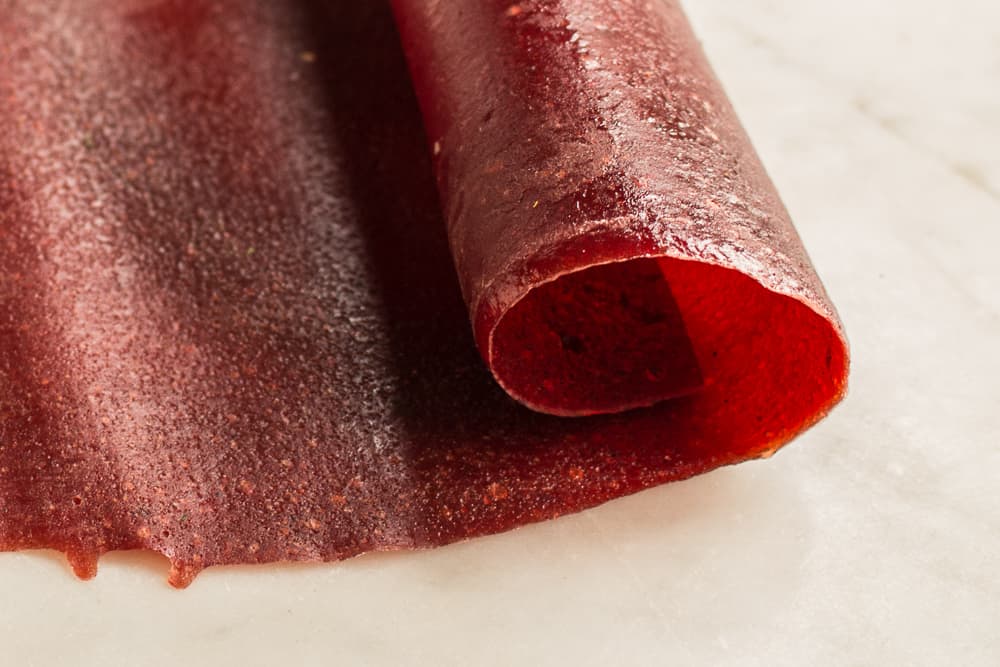 Back to the leather as a condiment. I wasn't sure what to expect at first, but after making a few batches of stew with Georgian flavors, I started to get some results I liked.
As strong as the flavor of Prunus americana is, if you want to use it to flavor soup, you actually have to add alot more than you'd think. What ends up happening, is that the broth starts to get a subtle tartness from the leather, as well as a gentle viscosity that might remind you of weak cornstarch. It's subtle, but pleasant, and in the right place, it can be pretty darn good, reminiscent of broth rich in collagen.
Just about any sort of sweet and sour soup I could think of might benefit from a bit, especially Eastern European soups that contain submissive cabbage but also beets, onions, and rich things like smoked meat, bacon, ham shanks, etc. Think of it as a secret addition for sweet and sour soup.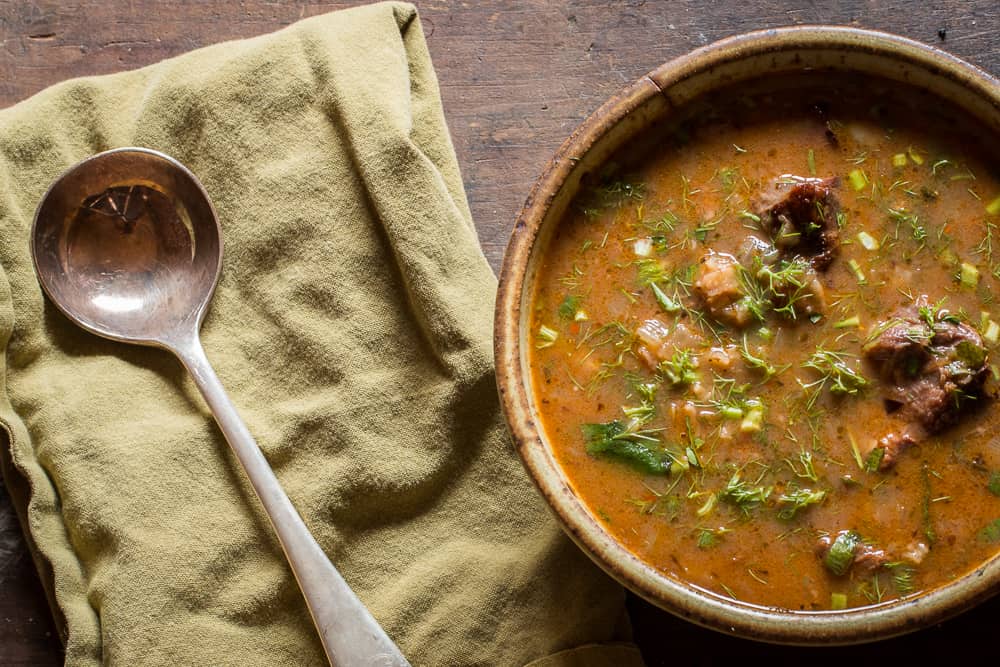 Use Ideas
The possibilities don't end there though. The leather can also be re-hydrated and made back into a puree for things like a simple sweet and sour plum sauce for game--just add some meat stock, heat, whisk, season it up, preferably with some dill and hot pepper, cook until it coats the back of a spoon, and, voila.
Or, keep going to the east and use the leather, rehydrated with water, some sugar, and something like 5 spice powder to make a riff on Chinese plum sauce for duck. It won't be traditional, but it'll be fun, and you'll be shocked it came from American wild plums.
Here's a template for making leather, and my favorite version of Kharcho so far, which, while it's not exactly traditional, is pretty darn good if you like sweet and sour-type soups (pass the cold beer and sour cream).
If nothing else, it's a pretty fascinating way to remove the tannins of American wild plums, while still using the whole fruit: pulp, skin, and all. Oh, and for the record, I wouldn't use cultivated plums here, since they would be too sweet, the gentle tartness from the skins is part of what makes this versatile enough for savory foods.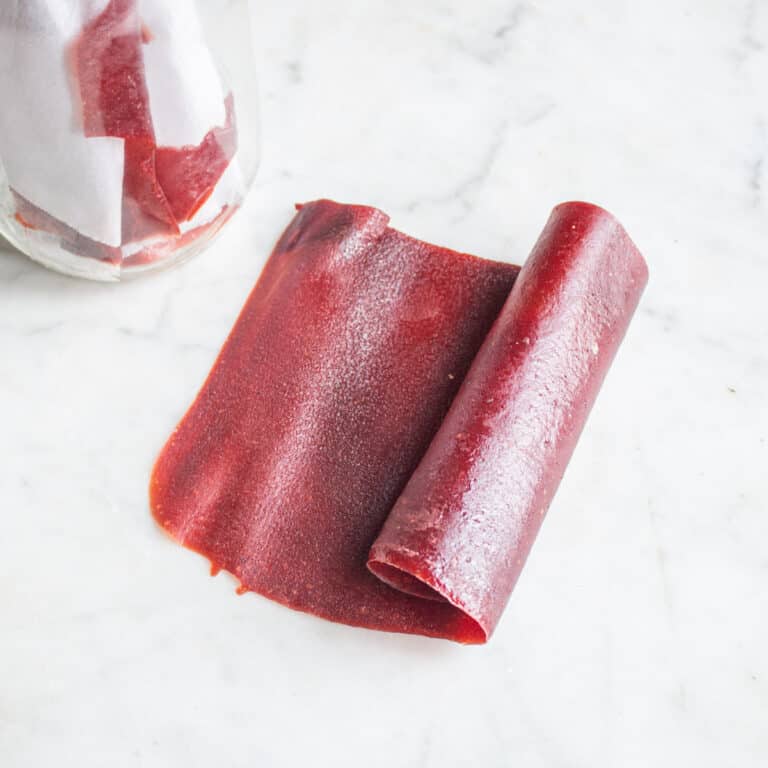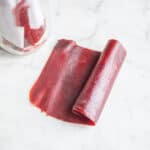 Print Recipe
American Wild Plum Leather (Tkelapi)
A tart, sour leather made from dried American wild plums. Use it to make Kharcho soup. Makes enough for a couple batches of soup.
Ingredients
4

lbs

Wild plums, as needed

scale the recipe as needed
Instructions
Stone the wild plums and add to a large pot, you'll want at least a few pounds. Add a fingers width of water to the pot, cover, bring to a simmer, and cook until the plums have softened and given up their juice, about 20 minutes.

Puree the mixture in a blender until very smooth, then spread 16/th of an inch thick on silicone mats and dry in a warm oven, or a dehydrator at 135 F or on the fruit setting, until no longer tacky, flipping the sheets half way through to speed up the process, about 7-8 hours.

The finished leather can be stored in jars at room temperature, frozen, or refrigerated.
Notes
You can also dry the leather on parchment like Goldstein suggests, stringing up sheets of it on clothesline in the sun, but you'll need to soften the back of the parchment with a warm damp cloth to allow the leather to release.
Nutrition
Calories:
209
kcal
|
Carbohydrates:
52
g
|
Protein:
3
g
|
Fat:
1
g
|
Saturated Fat:
0.1
g
|
Polyunsaturated Fat:
0.2
g
|
Monounsaturated Fat:
1
g
|
Potassium:
712
mg
|
Fiber:
6
g
|
Sugar:
45
g
|
Vitamin A:
1565
IU
|
Vitamin C:
43
mg
|
Calcium:
27
mg
|
Iron:
1
mg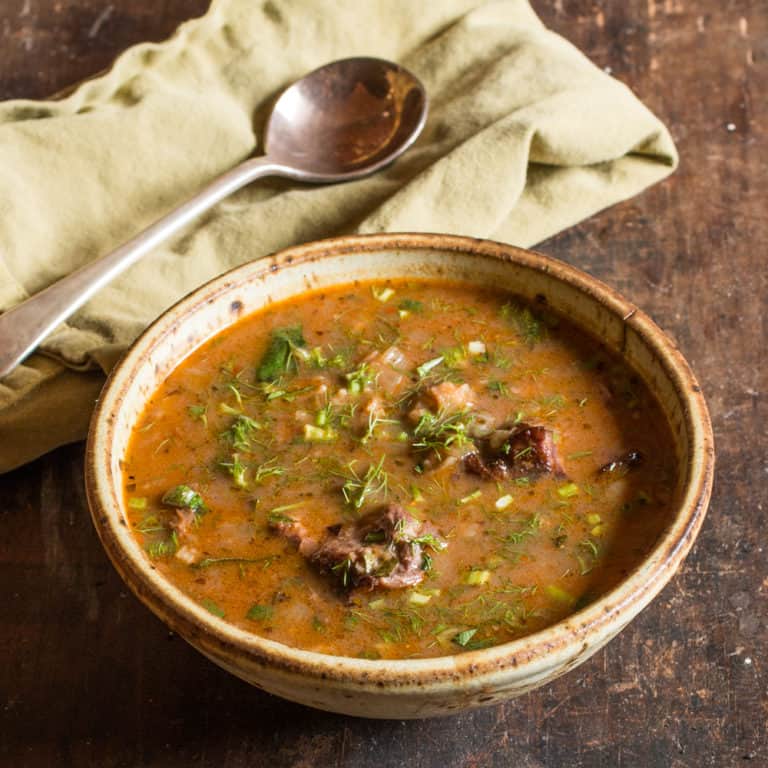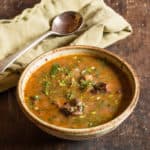 Print Recipe
Sweet and Sour Venison Stew (Kharcho)
A sweet and sour, spiced venison stew flavored with dried wild plum leather, inspired by Georgian Tkelapi. Serves 4-6
Ingredients
Stew
8

cups

water or meat stock

2

lbs

diced venison shoulder or neck

or other fatty stew meat, like beef chuck

1

tablespoon

kosher salt

plus more to taste

¼

cup

cooking oil or lard

2

tablespoons

apple cider vinegar

2

ounces

tklapi plum leather

½

cup

chopped cilantro

or more, to taste

2

tablespoons

chopped fresh dill

optional

½

cup

long grain rice

1

large yellow onion (8oz)

diced ¼ inch or finely chopped

2

rib of celery (4 oz)

diced ¼ inch or finely chopped

2

large cloves of garlic

finely chopped

Thick yogurt

like Greek, for serving, optional
Spice mixture
1

tablespoon

sweet paprika

1

teaspoon

ground coriander

¼

teaspoon

ground 1fenugreek

½

teaspoon

crushed red pepper flakes

or to taste

½

teaspoon

dried basil or oregano

Tiny pinch of saffon

optional
Instructions
Season the meat with the tablespoon of salt and allow to dry out in the fridge for a few hours, uncovered. Brown the meat deeply, pour off any spent oil, then then add the onion, garlic and celery, and additional oil if needed.

Sweat the vegetables for a few minutes, then add the paprika and cook for a minute more.

Add the stock or water, bring the mixture to a brisk simmer, add the plum leather and the rest of the spice mixture and reduce the heat to low and cook for 1.5 hours, or until the meat is tender.

Add the rice and cook for 20 minutes more, then finish by adding the fresh herbs, and vinegar. Taste and adjust the seasoning, and serve. It should be just barely have a sweet note, be strongly herbaceous, and slightly spicy. Yogurt makes a nice garnish. The flavor will improve the next day.