Ratatouille with mushrooms is my take on the classic French vegetable stew. It's one of the best summer dishes I know, and one of my favorite vegan mushroom recipes.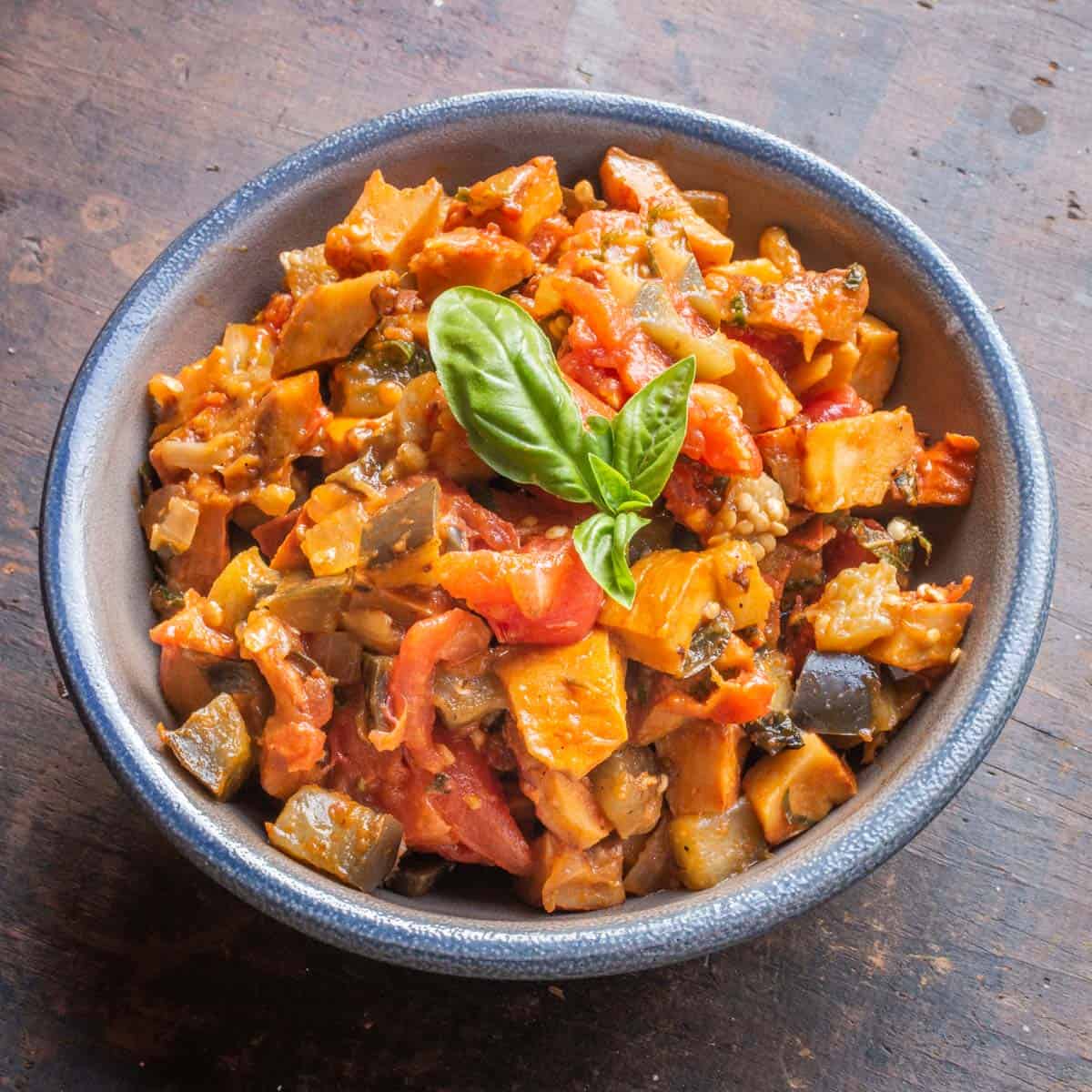 Here I substitute the zucchini with lobster mushrooms since they can be cut into cubes. Lobsters are mild-tasting, but cooked in a tomato sauce with garlic and herbs helps them absorb seasoning.
If you don't have lobster mushrooms, you can use whole baby bellas or diced king oyster mushrooms.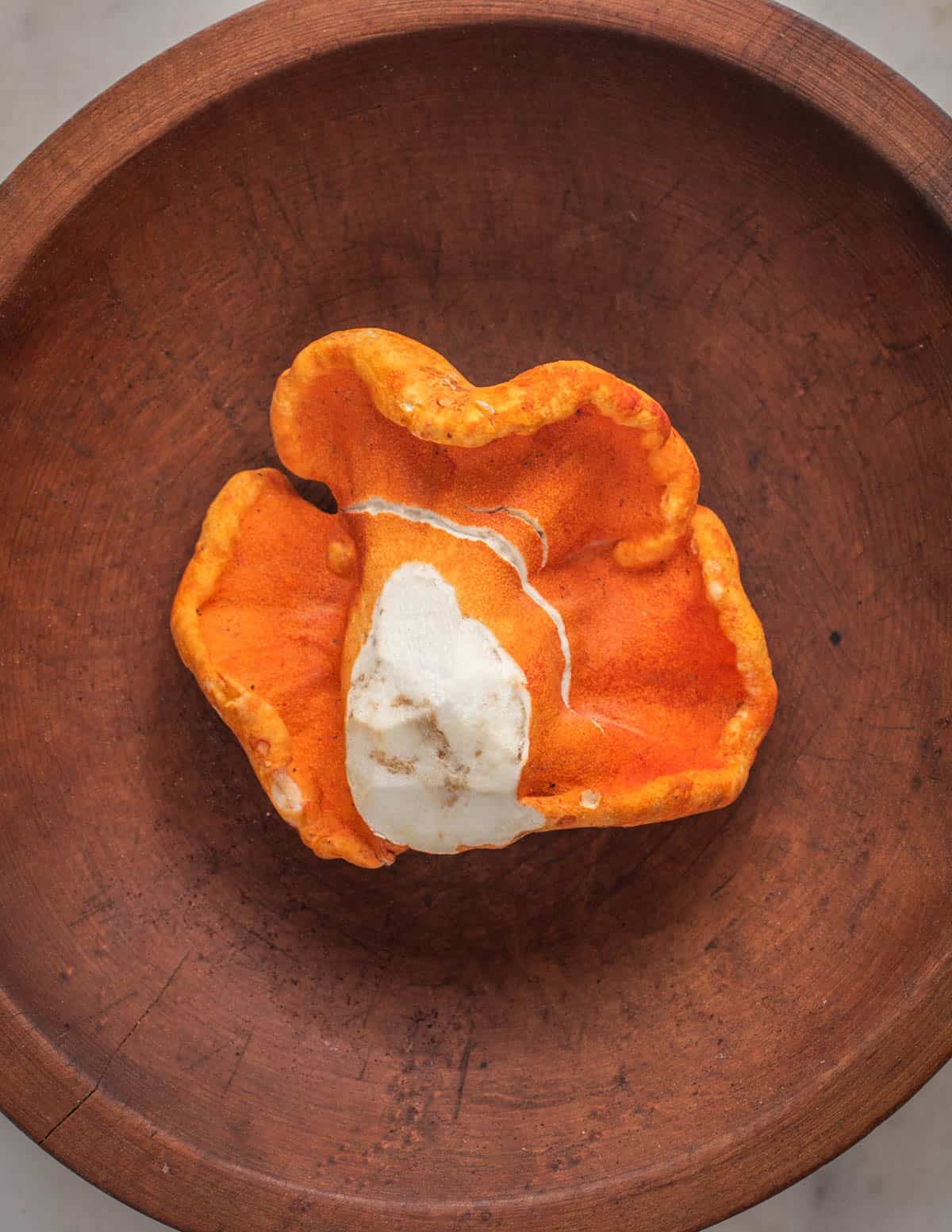 Chef's Tips
I've made ratatouille in restaurants for many years. I doubt I've ever made it the same way twice, but I am picky about my ingredients. Here's a few examples of the ingredients I use, and most importantly, why.
Substitute eggplant or zucchini with mushrooms
Some recipes might take a and put a few mushrooms in it. I prefer to use equal parts by weight of zucchini, mushrooms, eggplant and bell peppers for the recipe. This way the mushrooms are larger component instead of an accent.
Don't overcook the vegetables
A chef secret for Ratatouille is that each vegetable has a different cooking time. If cooked too long, eggplants and zucchini getting mushy, and bell pepper skin can get stuck in your teeth.
When it's properly cooked, the best ratatouille should taste like cooked, tender, vegetables lightly coated with tomato sauce and herbs.
No green bell peppers
Green bell peppers are just underripe red bell peppers. Unfortunately, they're not sweet like their cousins, and the green color isn't as attractive here. Bright-colored orange, yellow, or red sweet peppers are what you want.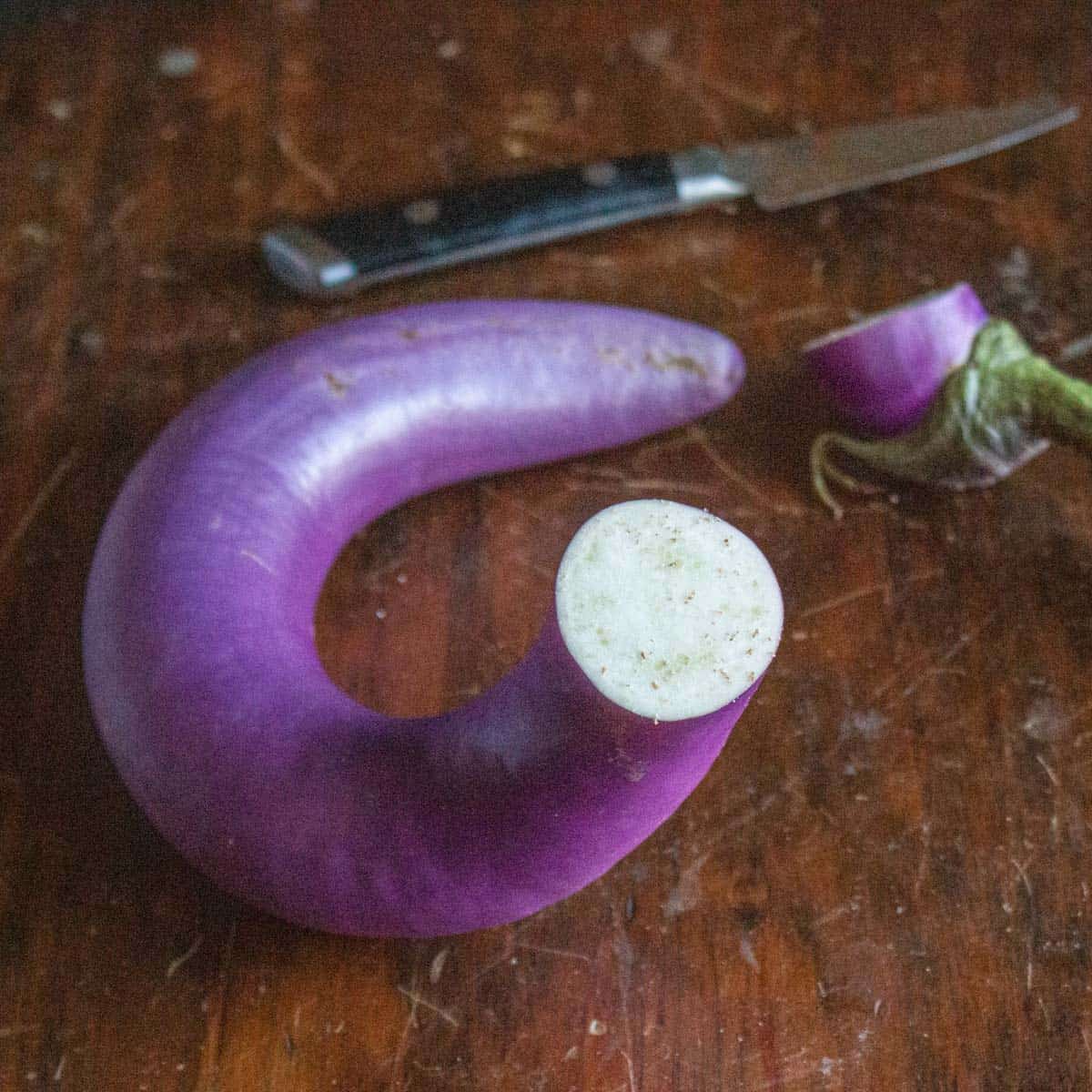 Japanese Eggplant vs Italian
If all you can find are Italian eggplants it's ok, but if you can get the long, slender Japanese variety, get some. Japanese eggplants have less seeds and are harder to overcook than the Italian variety.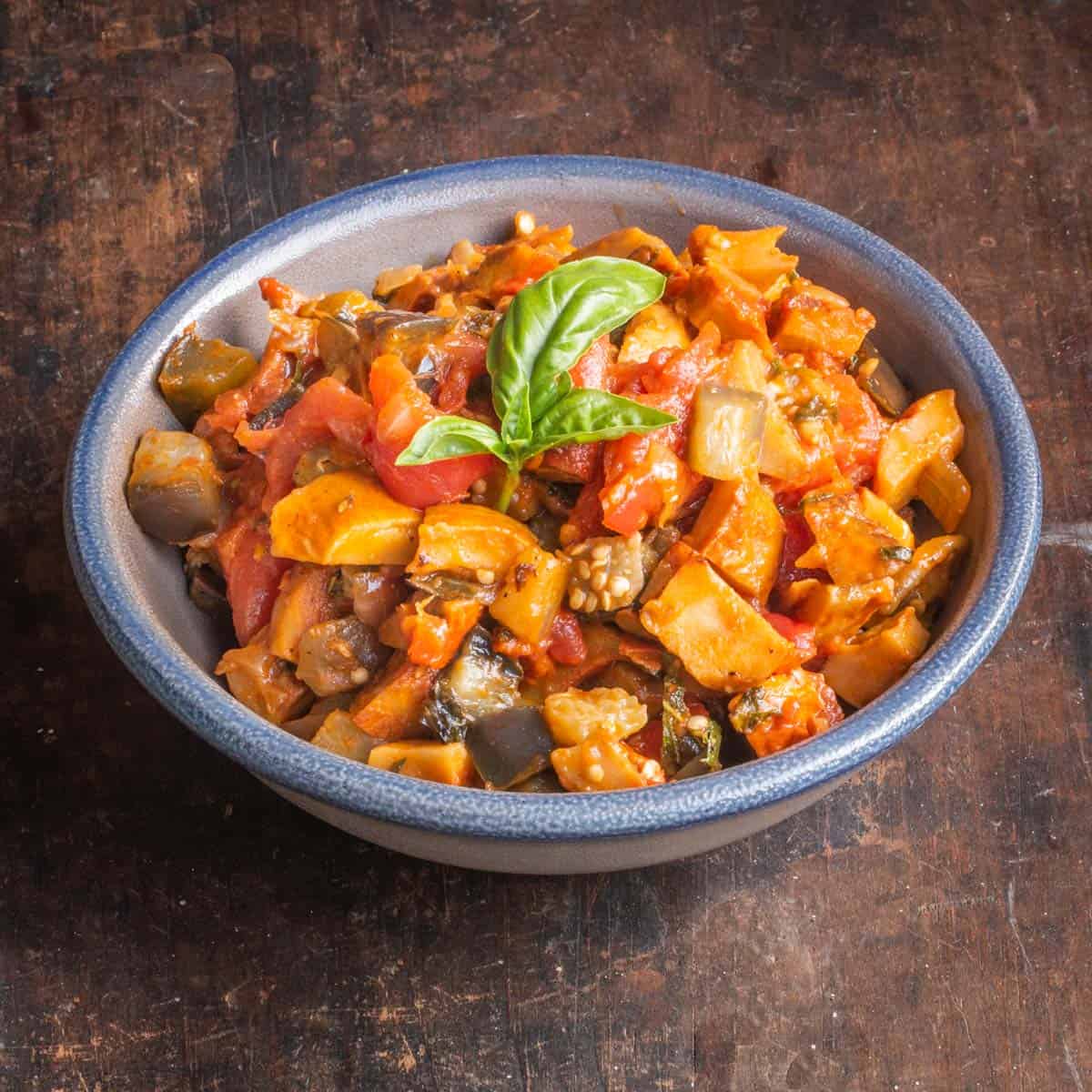 More
The Lobster Mushroom (Hypomyces lactiflourum)
Vegetarian or Vegan Mushroom Recipes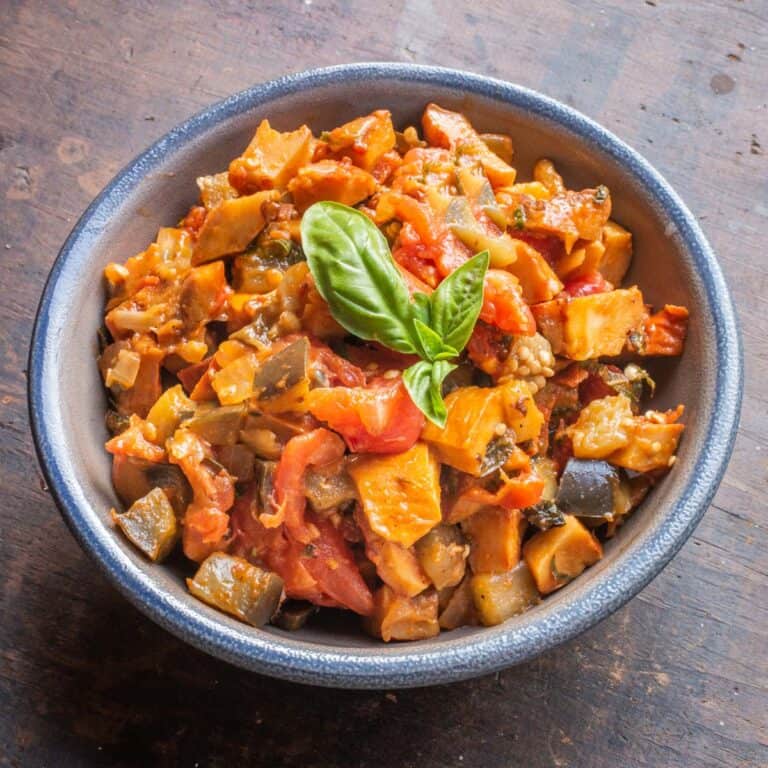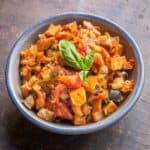 Print Recipe
Ratatouille with Mushrooms
Classic ratatouille made with lobster mushrooms instead of zucchini. Serves 4 as a side dish, vegetarian or vegan main course entrée.
Ingredients
8

oz

lobster mushrooms

or king oyster mushrooms

8

oz

roma tomatoes

or canned tomatoes *see note

8

oz

eggplant

half a medium eggplant or 1 Japanese eggplant

8

oz

zucchini or yellow sqaush

1

large clove garlic

1

small

4 oz yellow onion, diced ½ inch

4

tablespoons

extra virgin olive oil

Chopped fresh herbs, to taste

such as thyme, basil or spearmint

Kosher salt and fresh ground black pepper

to taste

Dried hot chili

to taste (optional)
Instructions
Read the recipe before proceeding.
Mushrooms
Cut the mushrooms into ½ inch cubes. If you use baby bella mushrooms, trim the stems and cut them in half, or leave them whole if small. They should be bite-sized.
Peel the tomatoes
Bring a pot of water to a boil barely large enough to hold your tomatoes.

Scoring the bottom of each tomato with an X, then cut out the cores with a paring knife and discard.

Lower the tomatoes into boiling water for a few seconds until you can see the skin peeling back, then remove to a bowl to cool. Remove the skin, squeeze the seeds out into a strainer over a bowl, and chop the flesh into pieces. Combine the chopped tomatoes and their juice and reserve.

Bring the tomato water back to a boil, add the eggplant, turn the heat to medium and simmer for 1-2 minutes. Drain the eggplant and reserve.
Cooking the dish
Heat the oil in a large skillet over medium heat. It's better if the sides are at least a couple inches high to prevent tomato juice from spattering.

Add the mushrooms, increase the heat to medium-high and saute for 5 minutes, or until they've wilted. Add the onion and garlic, decrease the temperature to medium and cook a few minutes more. Add the zucchini.

Add the chopped peeled tomatoes and their juice, along with the thyme and bring the mixture to a simmer over medium heat. Season to taste with a pinch of salt and fresh ground black pepper.
Add the eggplant at the end
Cook the mushroom mixture until most of the liquid is evaporated and the vegetables are tender and completely cooked through. Add the eggplant, stir and heat through or cook more until you like the texture. If you want to use fresh basil or mint, stir them in now.

Double check the seasoning and adjust for salt, pepper and thyme until it tastes good to you, and serve. You can also serve the ratatouille at room temperature.
Notes
Using Canned Tomatoes 
To use canned tomatoes, take one 15.5 oz can of whole peeled tomatoes and squeeze the seeds out, then chop and proceed according to the instructions. 
Nutrition
Serving:
6
oz
|
Calories:
179
kcal
|
Carbohydrates:
11
g
|
Protein:
4
g
|
Fat:
15
g
|
Saturated Fat:
2
g
|
Polyunsaturated Fat:
2
g
|
Monounsaturated Fat:
10
g
|
Sodium:
10
mg
|
Potassium:
578
mg
|
Fiber:
4
g
|
Sugar:
6
g
|
Vitamin A:
486
IU
|
Vitamin C:
13
mg
|
Calcium:
21
mg
|
Iron:
1
mg