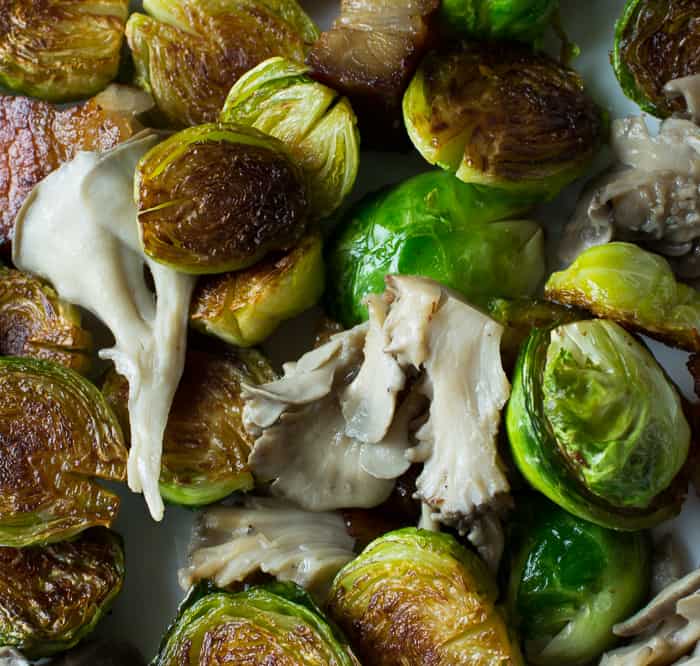 Brussels sprouts have come a long way. When I was growing up they were sort of a mystery. I remember eating them only once as a child and I didn't like them one bit. I can still recall people talking about eating them like they were some form of torture.
Slimy, soft, and stinky are adjectives that come to mind. When overcooked, they can be all of these things. If you've been to a farmer's market and seen the grandeur that is an entire stalk of Brussels still attached to the stem though you may have a different opinion, I sure do.
I think a big reason for the paradigm shift people have had about Brussels is due to how they're prepared. It used to be that you might heat them in some butter until they are falling apart, which tends to make vegetables in the cabbage family stinky. Now when they're served in restaurants, chefs know that when sliced in half, cooked from raw, and caramelized in some fat, they become delicious, nutty and irresistible.
With our cool climate in Minnesota, we get Brussels after the snow falls for a bit. When they're around and we have enough of them, one of my favorite ways to serve them is as a side dish. They're very popular, especially if you throw a little pork in the mix.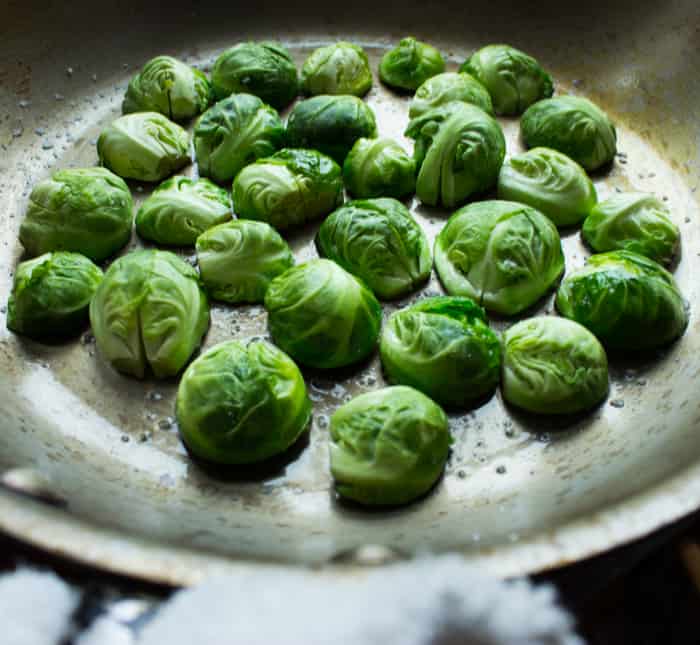 With all the richness of cabbage cooked in fat and tossed with bacon, you need something to lighten the Brussels and make them easier to eat. This is where a little acid makes the dish come alive. Just a shot of apple cider vinegar will do the trick, but If I'm feeling creative I might reach for some fun pickles to add. Any kind of pickled vegetable like onions or fiddlehead ferns could work really, but some mushrooms are a shoe in with flavors like cabbage and pork. You could choose any variety of pickled mushroom you like, but hen of the woods have an awesome texture so It's fun to showcase them here.
More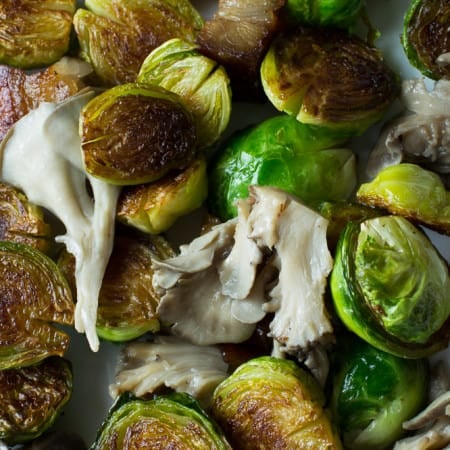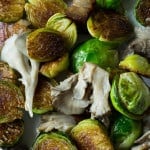 Print Recipe
Brussels Sprouts with Pickled Hen of the Woods
Ingredients
4

cups

Brussels Sprouts

roots trimmed and scored with an X, then halved

3

tablespoon

bacon fat

reserved from the cooked bacon

½

cup

pickled hen of the woods

chopped, plus 2 tablespoon of their pickling liquid (basic recipe for pickled hens here)

Kosher salt and fresh ground pepper

1

tablespoon

unsalted butter

optional

8

oz

slab bacon

diced into half inch cubes
Instructions
In a saute pan large enough to accommodate the Brussels sprouts, render the bacon on medium heat until it has released it's fat and is crisp. Remove the bacon from the pan and reserve.  Place the Brussels sprouts cut side down in the pan with the fat and season lightly with salt and pepper. Cook the Brussels sprouts until golden brown and caramelized and tender about 5 minutes, depending on size.

The Brussels will soak up a lot of the fat. If the pan looks like it's getting dry and the sprouts are in danger of burning, add the unsalted butter to cool the pan and flavor them. (This is optional, but a treat)

Add the hen of the woods to the pan with the Brussels and heat through along with a tablespoon or so of their pickling liquid to taste, just to make it sparkle a bit. Serve immediately.
Notes
A little trick to cooking Brussels sprouts is to score the bottom of them with a knife creating an X; it helps them to cook quickly, and evenly. After they are scored on the bottom, cut them in half.  See a video of this technique here.