Any mushroom hunter worth their salt should have a fried morel mushrooms recipe. People will argue until the end of time as to what method is the best: some swear by saltines, some use just flour, some like egg batter.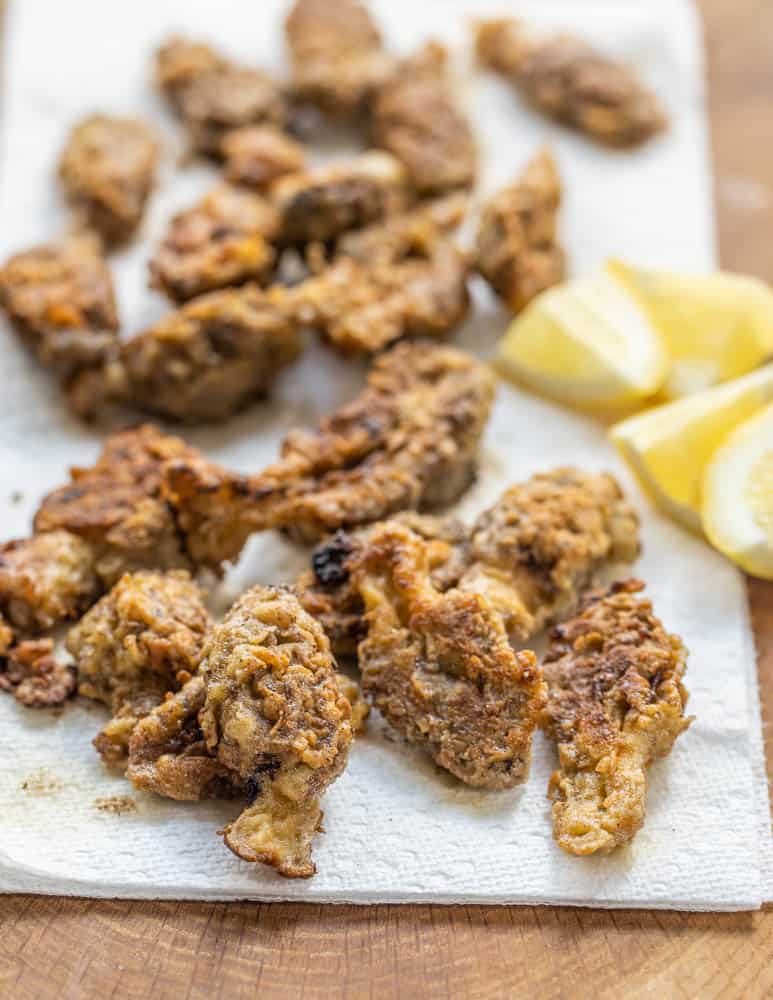 For me, there's only one way, the way my Grandmother made them, and the way my friends ask me to make them every year after our first successful hunt of everyone's favorite springtime mushrooms: a basic egg batter.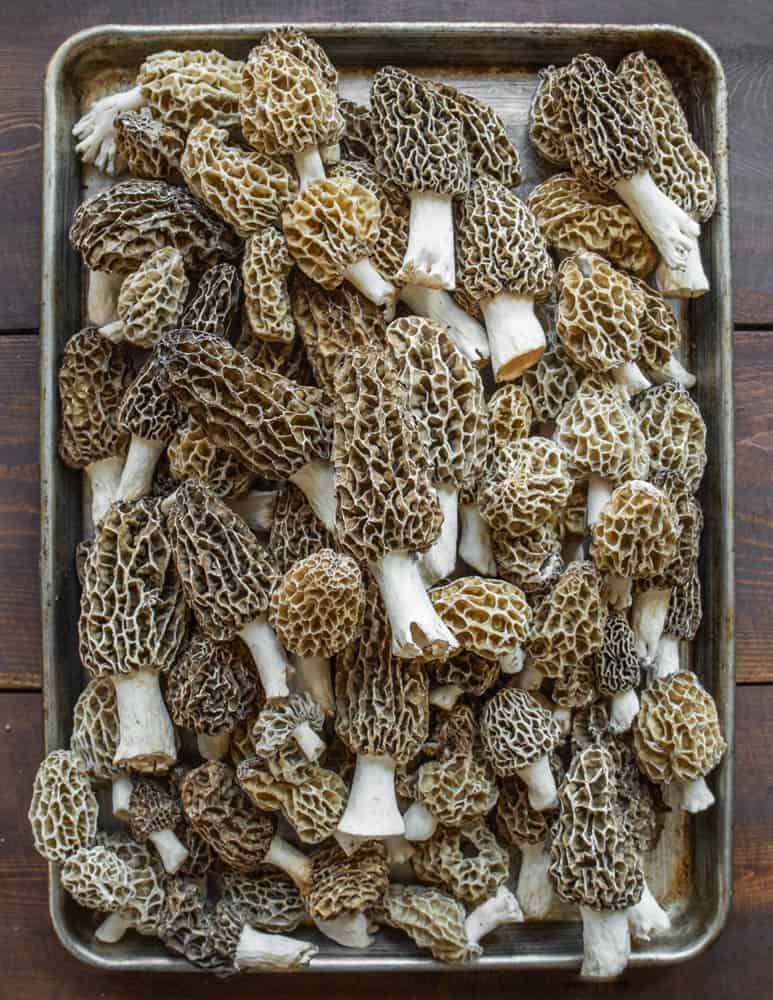 You'll find morels can be too large to fry. Medium-sized mushrooms are the best here.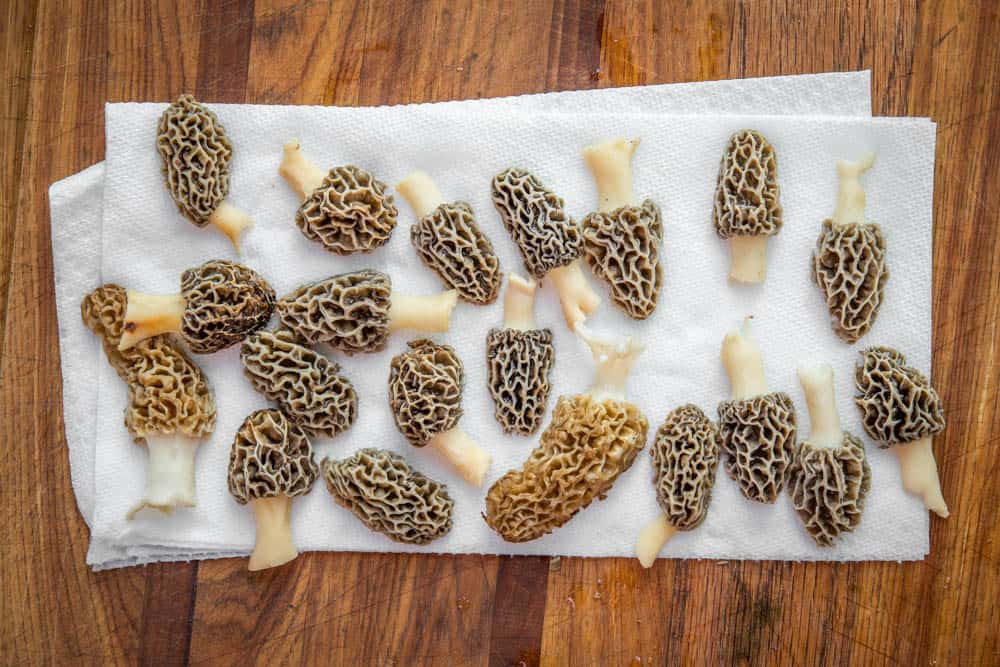 Freshly cleaned mushrooms.
Why it Works
The reason breaded and fried morels taste so good isn't just because they're covered in a golden-brown, crispy coating.
The thin outer layer of breading keeps the mushrooms from getting crunchy or overcooked when it exposed to high heat, and also allows the mushrooms to steam-cook in their own juices, flavoring the breading.
Mushrooms, are mostly water, coating them in a batter or dredge keeps their natural water in and cooks them in their own juice.
That's why everyone raves about battered morels, and so and so's grandma's recipe, even though they might not be able to really say why, except that "they are so good"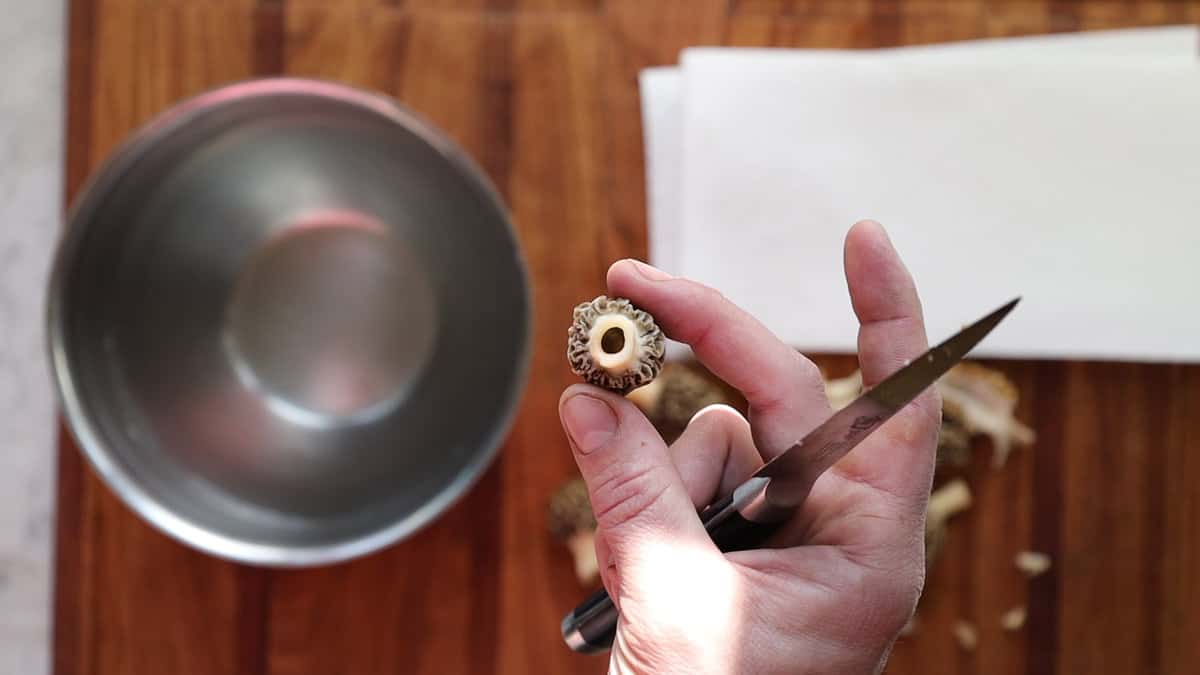 Cleaning. Small mushrooms can be left whole if they're clean inside.
No Raw Morels
Morels are toxic raw, and if they're undercooked, they could make you sick. If you want to cook a small batch, remember to cook them thoroughly. I've never had any problems, and this is a classic way to have morels, but it's possible.
I've never had a problem cooking and eating morels like this, but I usually make large pans of them, and they take a while to cook, at least 10 minutes.
Soaking Morels in Salt Water
Some people claim that you should soak morels in salt water to remove bugs, but I don't recommend this. If your morels are very large or buggy, dehydrate them and use them in a different recipe.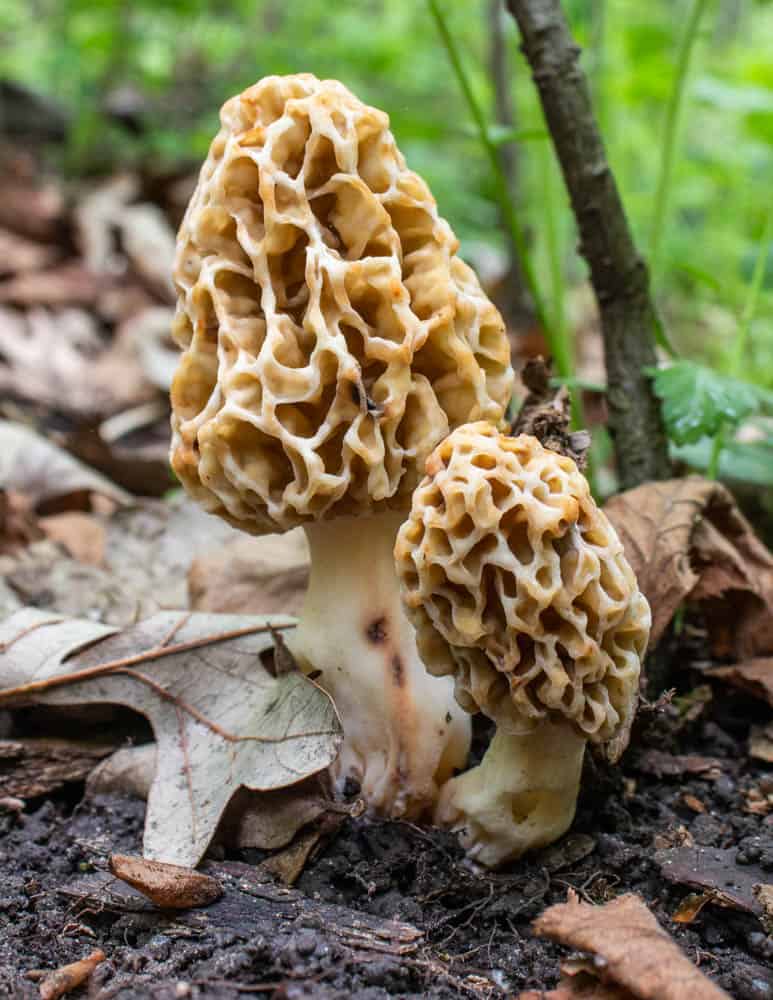 A decent size for frying.
How To Make It
The best mushrooms for this are young and medium-sized. Large mushrooms become too heavy cooked like this.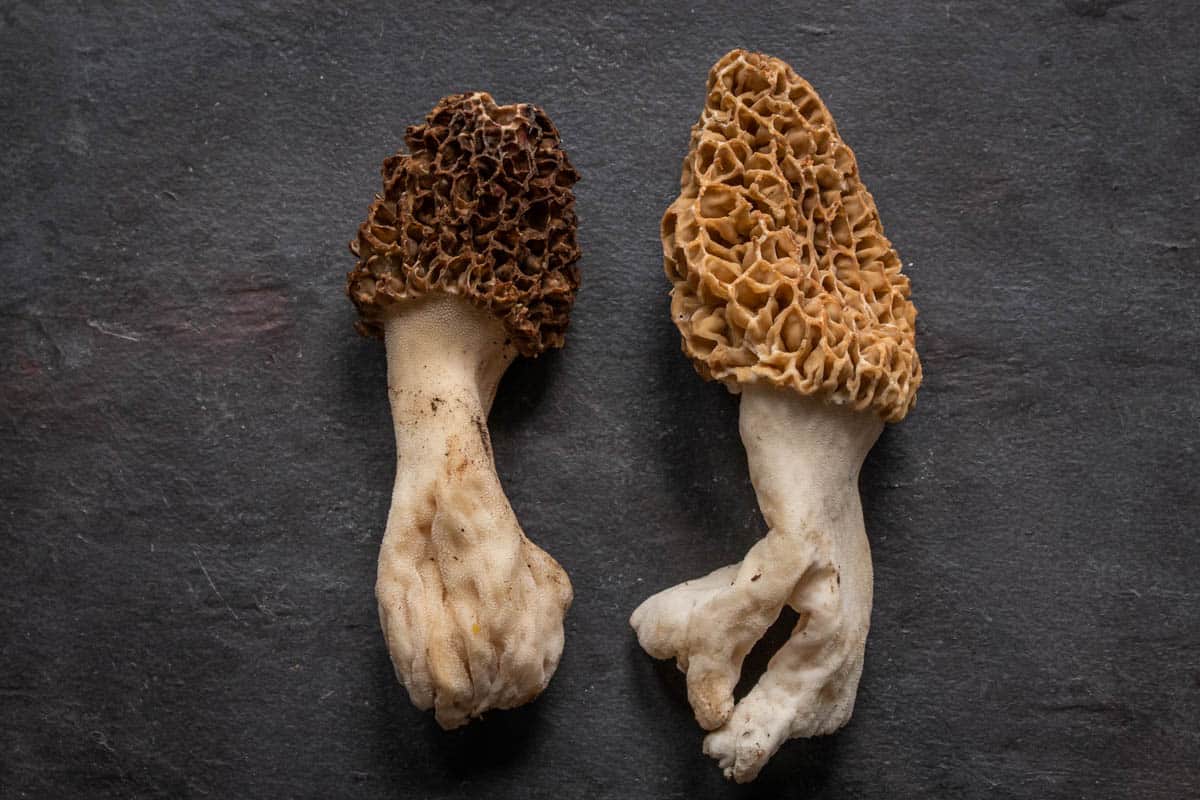 Older, large morels aren't the ones you want to bread and fry.
First the mushrooms need to be inspected and cleaned. Morels grow in sand and dirt, so it's important to clean them thoroughly to avoid grit. I clean morel mushrooms by swishing in a sink of cool water.
Once the morels are cleaned you dip them in egg wash, then seasoned flour and pan fry golden brown. I use the egg-flour method that Grandma used. Some of my friends prefer an extra crispy crust, as pictured in the video.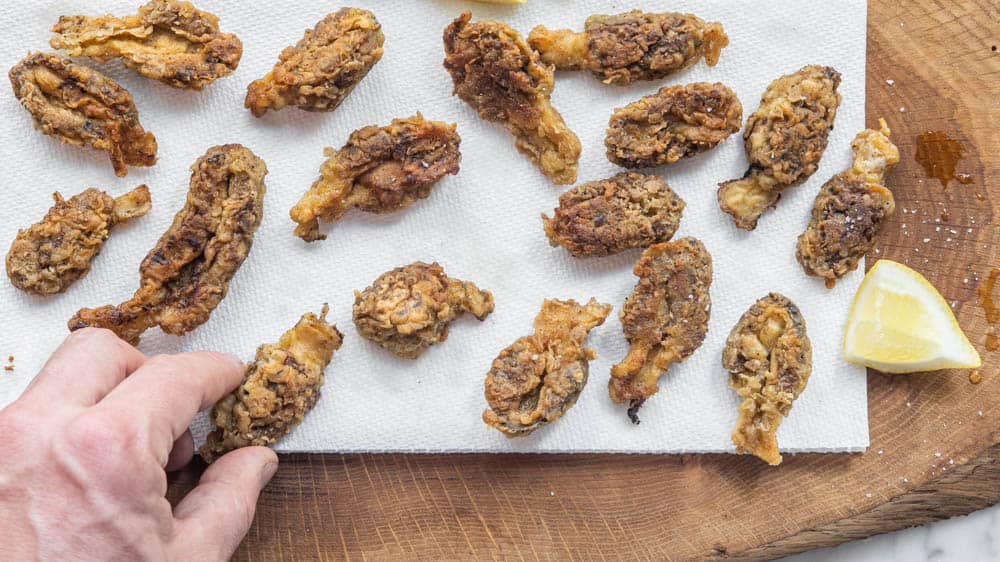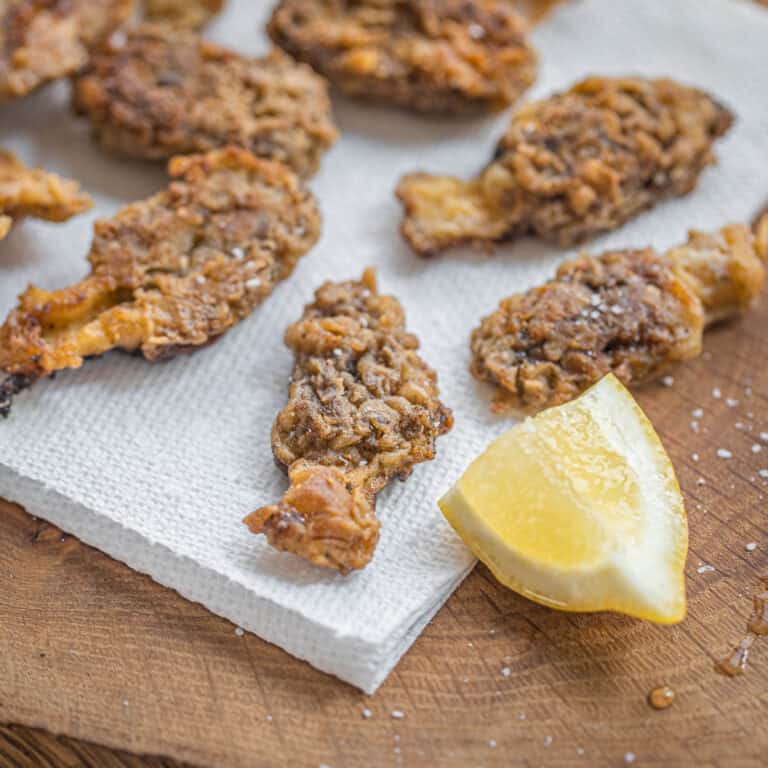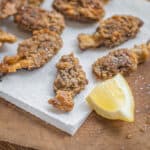 Print Recipe
Classic Fried Or Breaded Morels
Simple fried morels dipped in egg batter the way my grandmother used to make them.
Ingredients
1.5

cups

All Purpose Flour

1

teaspoon

fresh ground black pepper

1

Tablespoon

onion powder

(optional)

1

teaspoon

garlic powder

(optional)

2

teaspoons

fine salt

or grind kosher salt in a spice grinder

4

large

Eggs

2

Tablespoons

heavy cream, or half and half

milk is ok in a pinch

4

oz

Fresh Morel Mushrooms

small to medium sized. Large morels should be dehydrated or cooked as-is

¼ cup

cooking oil

I use a 50/50 blend of oil like grapeseed or canola and salted butter since using only butter can burn.
Instructions
Clean the morels
Wash the morels quickly or swish them in cold water to clean, then allow to drain on towels until needed. Very clean morels may not need to be washed.

Beat the eggs and cream in a bowl big enough to accommodate the morels. Add the morels to the egg mixture and toss to coat. Allow them to sit in the egg mixture while you prepare the flour and get ready to cook.

Mix the flour, garlic powder, onion powder, pepper, and salt in a large bowl big enough that you can toss the morels around.
Cooking
Meanwhile, heat the oil in a pan

Put the morels in the flour and toss them around really well until coated. Remove them one by one, tapping gently to remove excess flour, then put them into the frying pan.

Cook on medium high-heat until the morels are golden brown and crisp on both sides. If the coating soaks up to much oil and the pan gets dry, put some more oil in.
Cook thoroughly
Make sure to thoroughly cook your morels. They should take a good 8-10 minutes for a batch this size. Take your time and don't burn them.

When the morels are golden brown, remove them from the pan and drain on a paper towel lined tray. Season with a pinch of salt.

Allow the mushrooms to cool for a couple minutes, then eat. Some people like lemon wedges with them. Keep the cold beer handy.
Notes
Extra crispy crust 
If you want a thicker crispier crust, put the morels in the seasoned flour, then the egg, then flour again before frying. 
Nutrition
Serving:
3
oz
|
Calories:
265
kcal
|
Carbohydrates:
39
g
|
Protein:
12
g
|
Fat:
6
g
|
Saturated Fat:
2
g
|
Polyunsaturated Fat:
1
g
|
Monounsaturated Fat:
2
g
|
Trans Fat:
0.02
g
|
Cholesterol:
189
mg
|
Sodium:
1246
mg
|
Potassium:
256
mg
|
Fiber:
2
g
|
Sugar:
1
g
|
Vitamin A:
297
IU
|
Vitamin C:
0.3
mg
|
Calcium:
60
mg
|
Iron:
7
mg
More
Forager's Guide to Morel Mushrooms