Stuffed morels filled with crab meat napped with melted butter, a dusting of breadcrumbs and baked to a golden brown are a classic, and make for a great appetizer made with both fresh or dried mushrooms.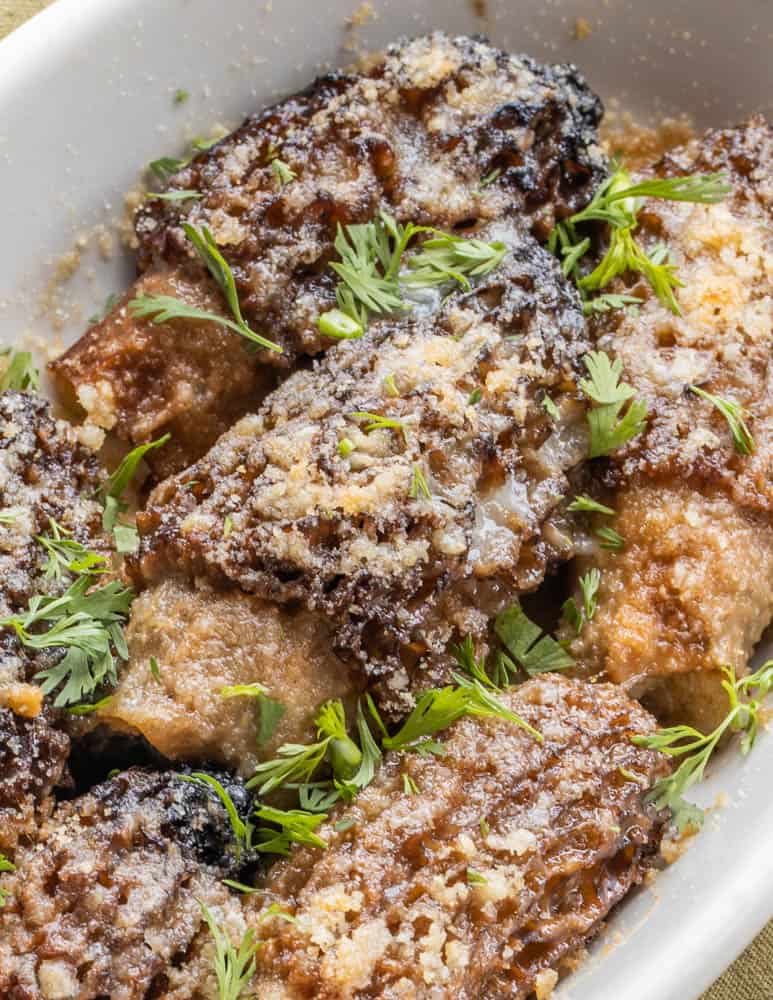 With the end of winter coming, I thought it was about time I start really using up the previous year's stash of dried Molly Moochers. I mean really, is there a better mushroom for stuffing, especially one that works so well dried, and fresh?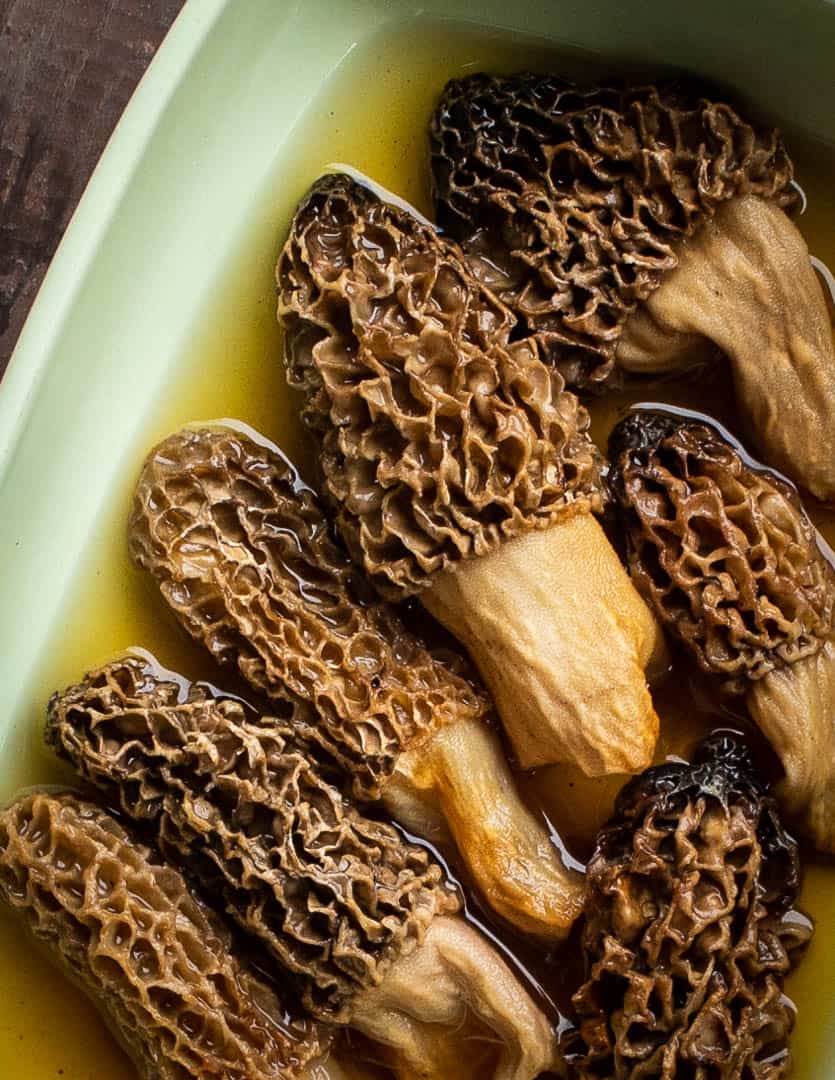 Of course, I have a few tips here for making some attractive stuffed morels, not the least of which is that I like to see them whole. Sure, you can cut them in half, but it's not as good. Halving them is easier, but it's not as pretty, and then you're likely going to be eating more stuffing that mushroom, and were all here for the morels, aren't we?
Only real crab will do
You don't need to go out and buy a whole Dungeness crab, steam and pick the meat, but you do want some decent canned crab. You don't need a lot, so you can spring for smaller vacuum sealed or frozen pouches of crab if they're available.
I usually get the cans of blue swimming crab you're likely to find in the fish sections refrigerated selection—a pound will run you about 18-25$, which means you'll have 8 oz leftover to make a herbed crab omelet in the next day or two.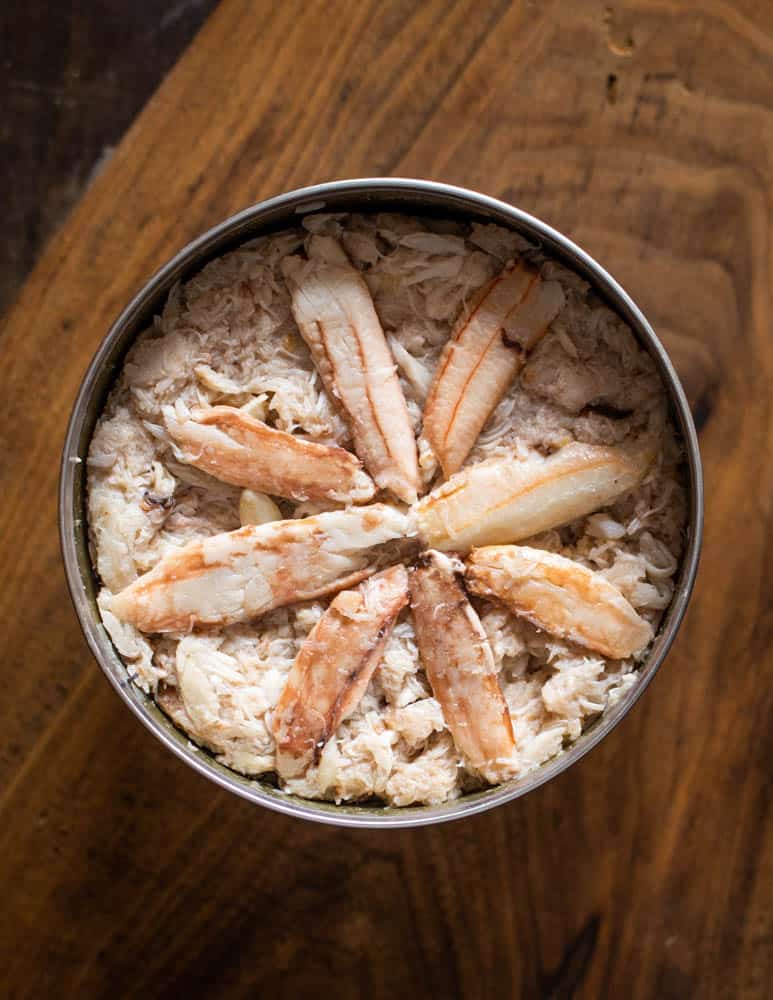 What's heretical to use, whether or not morels are involved, in any dish, is mock crab. Mock crab, as the name implies, is definitely not crab, it's an oddly sweet, ultra-processed seafood abomination made from white fish, egg whites, sugar and starch formed and squirted from a tube. I'd rather stuff mushrooms with gravel and larvae.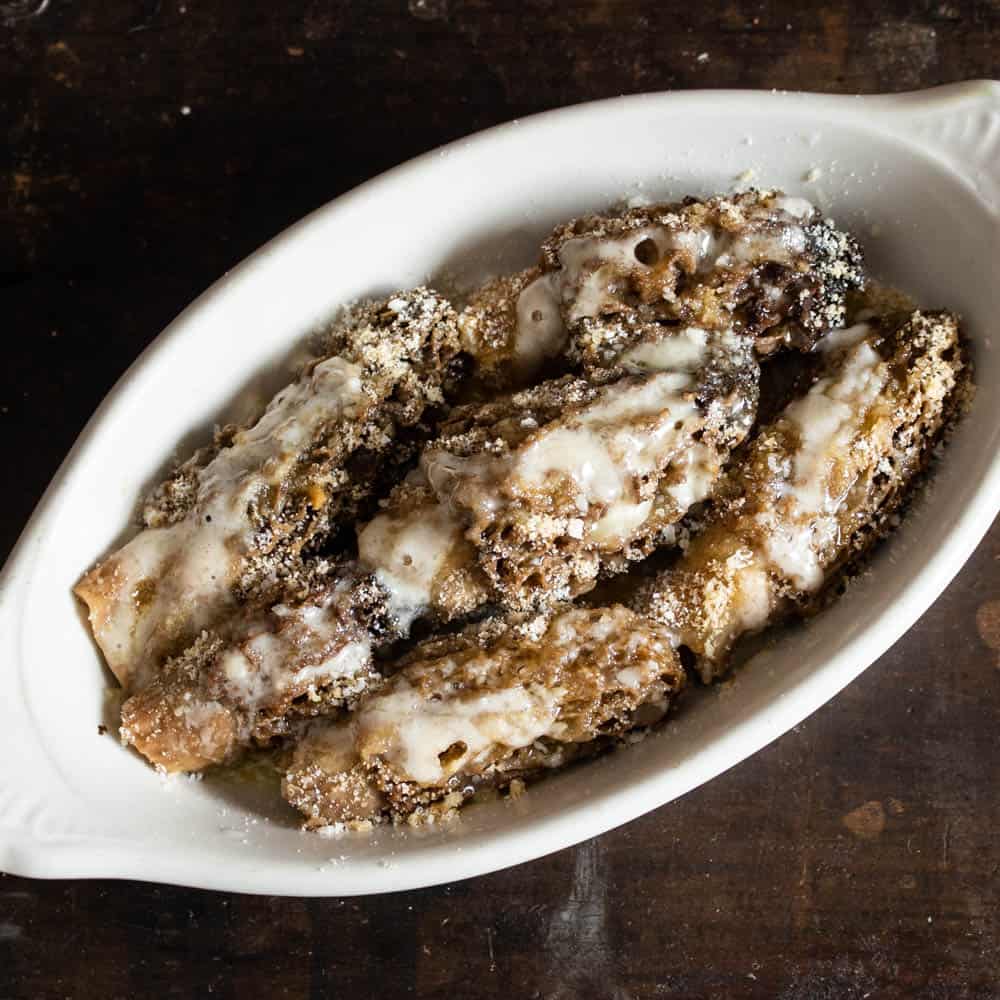 The only other thing I feel is worth mentioning is that this is a great time to break out some kitchen shears or just a pair of scissors to keep the morels whole.
Trying to stuff morels without a filling that can go into a pastry bag is clumsy and awkward, so I use a scissors to cut open the side of each mushroom, which I stuff with filling, and fold over to have them resemble complete mushrooms.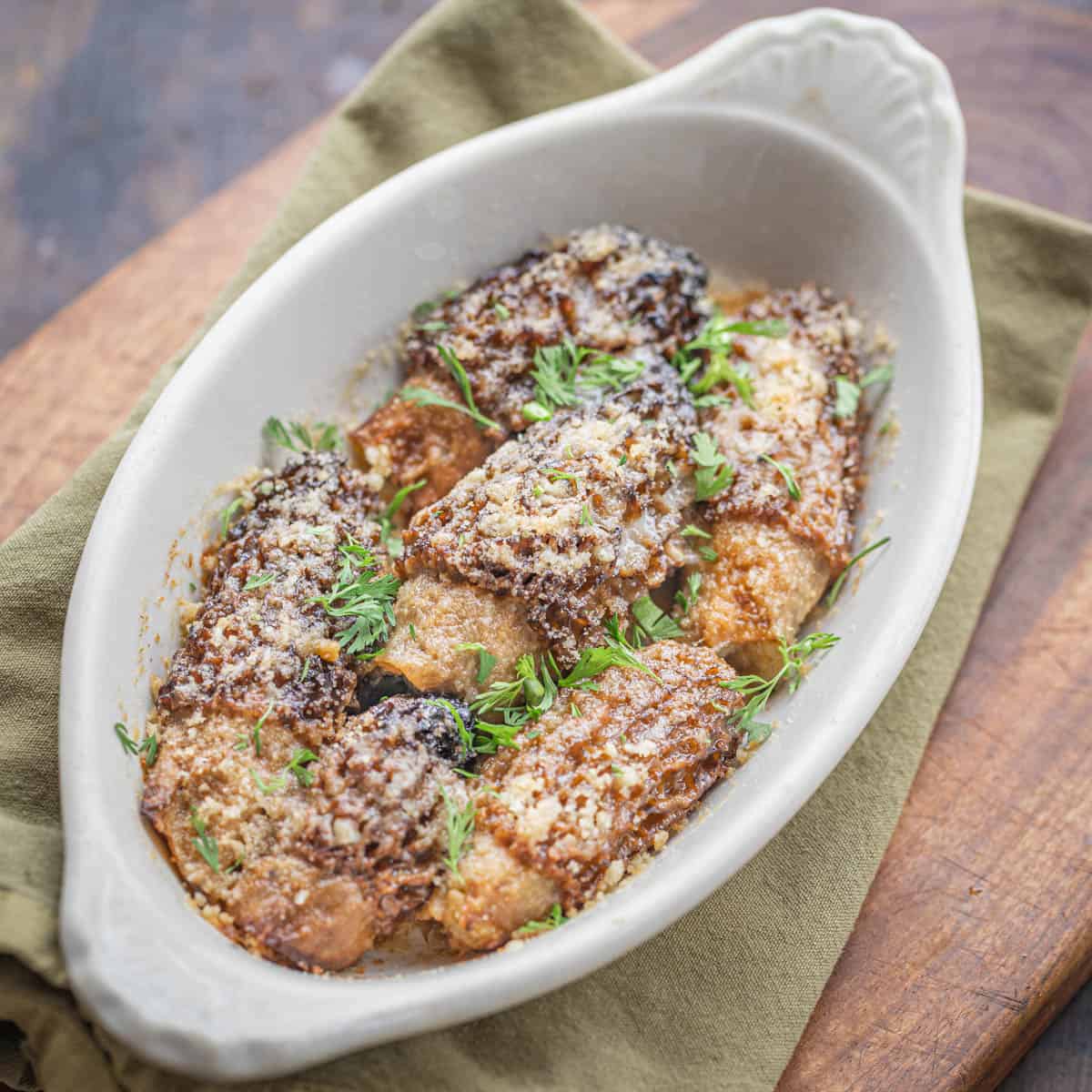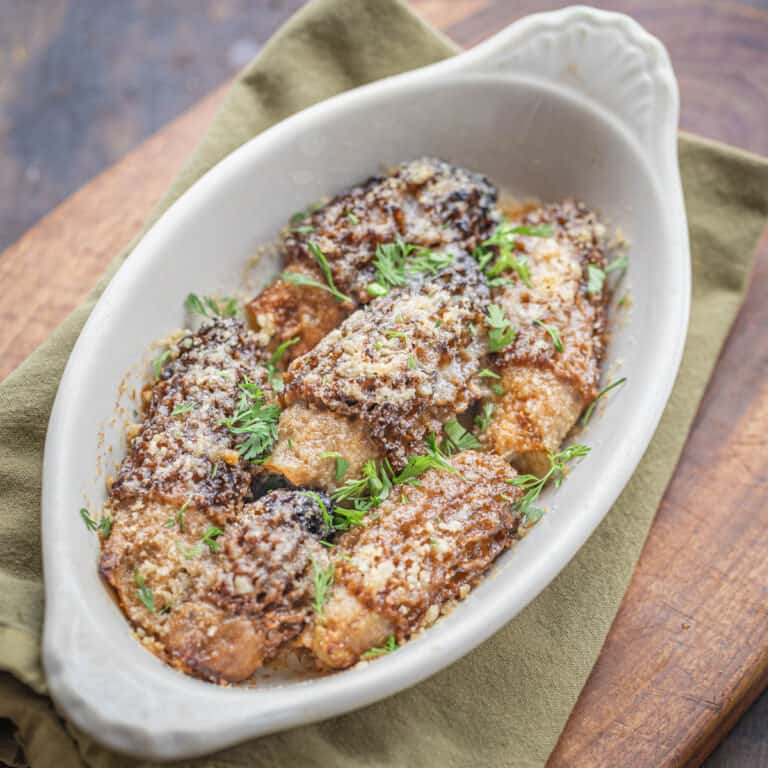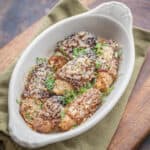 Print Recipe
Crab Stuffed Morel Mushrooms
Fresh or dried morels stuffed with crabmeat, baked under a dust of buttered breadcrumbs is a classic appetizer, and a great way to use dried morels in the off-season. Makes about 15 medium to large morels (giant morels are another story). Feel free to scale the recipe to your needs.
Equipment
1 small baking or gratin dish
Ingredients
Dried or fresh morels

about 15-20 medium to large size
Crab stuffing
8

oz

lump crab meat

4

tablespoons

breadcrumbs

such as panko

¼

cup

mayonnaise

¼

cup

high quality grated parmesan cheese

2

Tablespoons

chopped fresh herbs

like parsley or cilantro, or a combination of parsley, chives and tarragon

½

teaspoon

Old Bay seasoning

optional, substitute a pinch of cayenne and an extra pinch of salt and pepper and celery seed if you don't have any, or skip.

¼

cup

finely chopped scallions

Kosher salt and fresh ground black pepper

to taste

1

medium clove garlic

grated on a microplane grater

Fresh grated lemon zest

if you can find a meyer lemon, use it to taste
For baking
5

tablespoons

melted butter

1

tablespoon

breadcrumbs

1

tablespoon

grated high quality parmesan cheese
Instructions
Dried morels
If you're using fresh morels, skip to cutting the morels with a scissors.Soak the dried morels (fresh morels never need soaking, no matter what Grandpaddy said) in room temperature water to cover.

You want to use clean mushrooms here. If, for any reason you suspect your morels are especially sandy, rehydrate them in a larger volume of water so that you can swish them vigorously to remove grit.

When the dried morels are hydrated, squeeze them dry, save the liquid for making a pan sauce or adding to a soup. You can also reduce the liquid to a syrup, and then add the butter to it, just make sure there's no grit.

Trim the ends of the mushrooms to clean them up a bit and make for a pretty presentation (optional).
Cutting the mushrooms
Using a scissors, cut open one side of each morel. Large morels that will be easy to stuff can be left whole, but I prefer to cut them to make stuffing easier. Reserve the cut morels.
Crab stuffing
For the crab filling, combine all the filling ingredients gently, trying to keep some of the crab pieces intact, then taste a spoonful. Adjust the seasoning as needed for salt, lemon zest and herbs until it tastes good to you. Lemon zest is important here as this is a heavy dish--the citrus acts as the high note of a song, lifting it up and lightening it.

Mix the breadcrumbs and parmesan.

Preheat the oven to 450

Take a tablespoon or so of the filling and stuff each morel, then fold them closed. Put the morels, cut side down in a baking dish that will fit them snugly, then press them down a bit to flatten the surface. Note that if the morels aren't fitted snugly in a dish, the breadcrumbs may fall off.

Sprinkle the mushrooms with the breadcrumbs and parmesan, drizzle over the butter and bake for 15-20 minutes or until golden and puffed, then serve. They're great by themselves, alongside a steak or as a lunch with a green salad.
Notes
Using dried or fresh morels 
You can use dried or fresh morels for this recipe. To use fresh mushrooms, saute them quickly until they're wilted to make sure they're cooked thoroughly. Dried mushrooms do not have to be par cooked. 
Nutrition
Serving:
2
oz
|
Calories:
230
kcal
|
Carbohydrates:
7
g
|
Protein:
10
g
|
Fat:
18
g
|
Saturated Fat:
8
g
|
Polyunsaturated Fat:
5
g
|
Monounsaturated Fat:
4
g
|
Trans Fat:
0.4
g
|
Cholesterol:
48
mg
|
Sodium:
579
mg
|
Potassium:
115
mg
|
Fiber:
1
g
|
Sugar:
1
g
|
Vitamin A:
385
IU
|
Vitamin C:
3
mg
|
Calcium:
90
mg
|
Iron:
1
mg
More