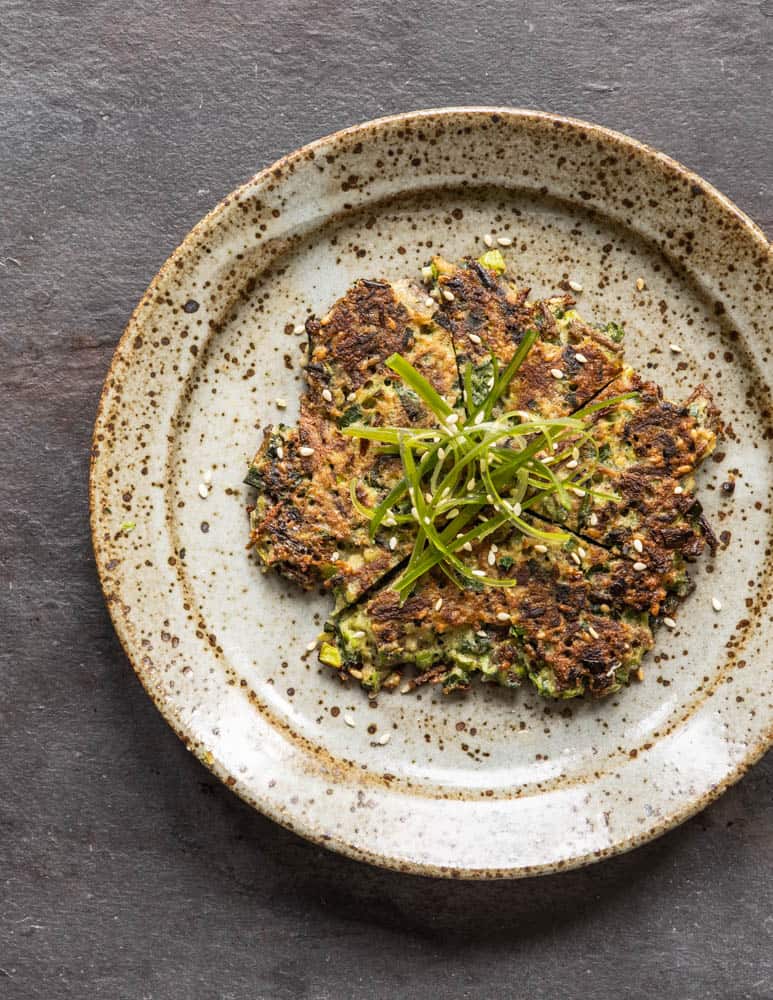 As most of you know, I will make cakes and fritters out of just about anything. Wild enoki and sesame pancakes (cultivated are fine too) are a great variation on that theme, but they're also a good example of how you can steer lots of dishes in different directions by carefully choosing your ingredients.
Here's the jist. My lobster mushroom cakes are one of the most popular recipes on this website, those are made with simple seasonings: some herbs, green onions, salt, and pepper, more or less. They have a mild, mushroomy flavor, and are American/French in inspiration.
Another variation on the same theme are the equally popular Hericium Crabcakes. Those taste like crabcakes, because, well, Hericium have a texture that's reminiscent of crab, but the ingredients also steer the recipe in the direction of crabcake land, since they include Old Bay, mayonnaise, and other things you'd expect in a crab cake. If you're a mushroom hunter who hasn't had those yet, or have trouble finding Hericium, search out some cultivated lions mane and do yourself a favor.
Enoki mushrooms (a.k.a. Flammulina velutipes and velvet shank), with their long stems, and lower water content, are a very different creature from the aforementioned mushrooms. Sure I could mix them up into the crabcake mix, but since they're so beloved in Asian cuisine, I felt that wouldn't be doing justice to them. So, I turn to the ingredients and flavorings to steer the dish in the direction I want. With the flavors of Japanese cuisine on my mind, here's the big takeaways I think are helpful to consider.
Important flavor factors
Lightly toasted sesame is added along with flour as the binder, which adds a gentle bitter note, and a good pop of sesame flavor anyone familiar with toasted sesame oil will know and love.
The added ingredients are minimal—absolutely no breadcrumbs, which would make them more of a firm cake. Think of these as a delicate pancake of mushroomy-ness.
Instead of finely shredding or chopping the mushrooms into pieces, the enoki, more specifically the stems, are left in longer pieces, about 1 inch, which helps you remember that you're eating enoki, and not just another mushroom, like, say, a honey mushroom stem.
A dash of fish sauce in addition to salt helps to add umami base notes.
Chinese chives (garlic chives) are cheap and widely available at Asian markets, they're a nice addition if you can get some.
If you have access to Vietnamese coriander, cilantro, or culantro, it makes a good addition or complimentary note alongside, in say a salad of shaved daikon radishes or cucumbers.
The finished cakes are dipped in my version of ponzu--the final coup de grâce that puts this in Asiatic flavor town.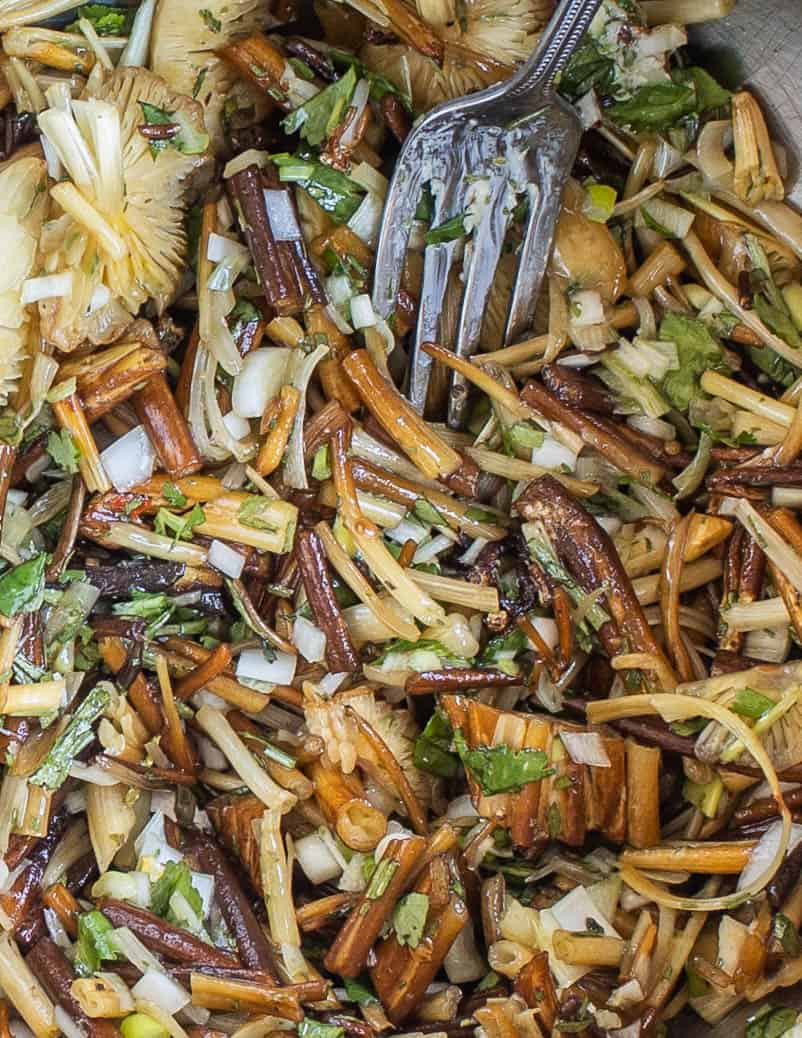 Removing water isn't necessary
Real quick, one big difference between all of these mushroom cakes is that the first two with lobster mushroom and Hericium are cooked or macerated to remove water first. Enoki hold far less water than both of those mushrooms, so that isn't necessary here. All you need to do is cut up the mushrooms, season them up, and let them do their thing. As the mushrooms macerate, you'll notice the enoki exude a bit of slippery mucilage, a characteristic they share with mushrooms like Armillaria and some Lactarius I've cooked, to name two. The mucilage isn't unpleasant.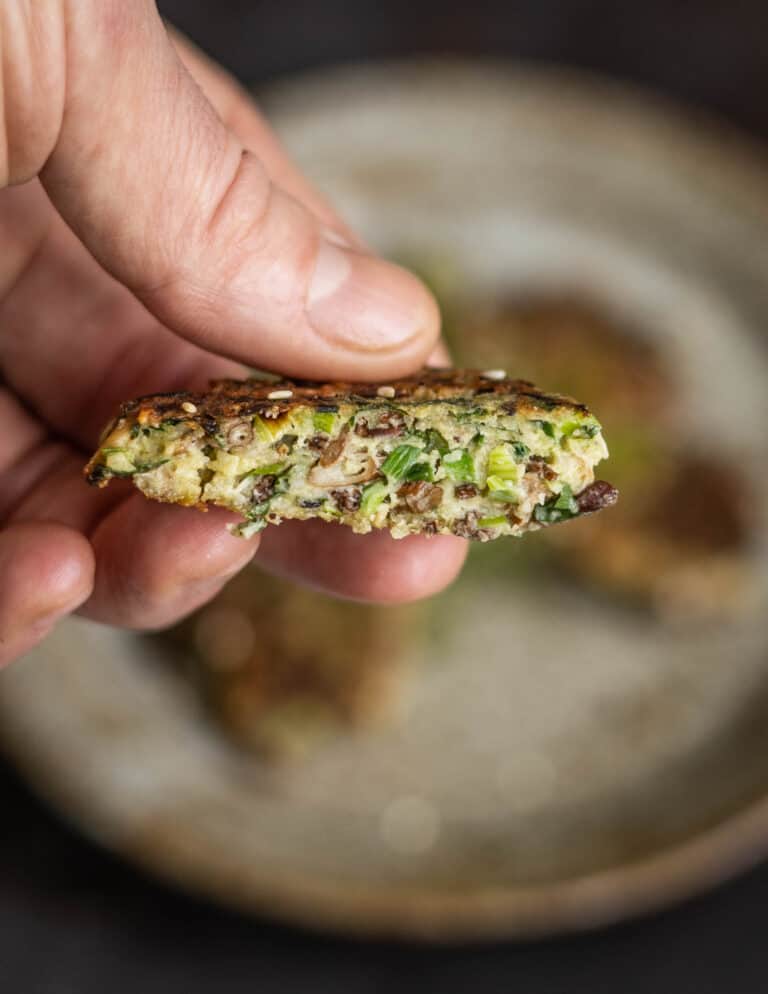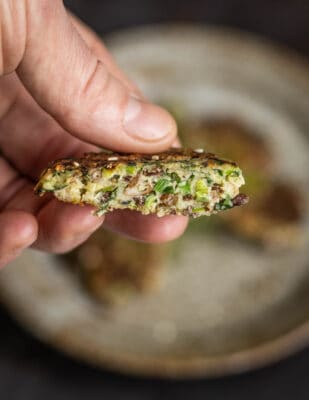 Pancake vs Cakes
Making large pancakes instead of smaller ones can be fun, and make for easier dipping into sauces and handling with chopsticks.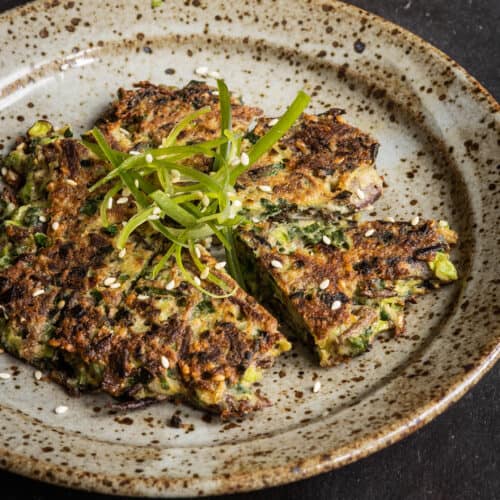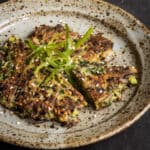 Print Recipe
Sesame-Enoki Mushroom Pancakes
Delicate pancakes made from enoki mushrooms, ground sesame, herbs and scallions dipped in ponzu sauce make a great appetizer. Makes about 8 small or 4 larger-sized cakes.
Ingredients
Enoki Pancakes
6

oz

enoki mushrooms

2

large eggs

2

tablespoons

all purpose flour

4

tablespoons

toasted sesame seeds

divided, plus a few extra for sprinkling

¼

cup

leftover cooked rice

1

tablespoon

fish sauce

¼

cup

chopped cilantro

2

oz

minced green onions

1

oz

garlic chives or chives

thinly sliced

Flavorless oil

for cooking

Ponzu Sauce

See recipe here
Instructions
Make the batter
Grind half of the sesame seeds to a powder in a spice grinder.

Line up the enoki and cut into 1 inch pieces, then add to a mixing bowl with the egg mix, and remaining ingredients. Allow the mixture to rest for 30 minutes to help it set.
Testing and adjusting the flavor
Heat a nonstick pan with a film of oil until hot. Drop a teaspoon of the mixture into the pan and cook, then taste and adjust the seasoning for herbs, or a pinch of salt. Be careful not to over season them with salt if you'll be serving them with the optional sauce, since it also contains salt.
Cook the cakes
Drop ¼ cups of the mixture into the hot pan, for individual cakes, or ⅓-½ cups for larger cakes you can cut into wedges, pressing them down into a rustic form.

Cook on medium-high to high heat until browned without disturbing them, then flip and cook the other side. If you find the cakes are delicate and difficult for you to work with, consider preheating the oven to 350, then popping the pan in the oven after a minute or two of cooking on the stove, which will help them set.

When both sides of the cakes are browned, remove them and keep warm while you cook the rest, then cut into wedges you can pick up with chopsticks.

Arrange the cut cakes on warmed plates, top with curls of finely julienned scallions soaked in ice water, sprigs of fresh herbs, a sprinkle of sesame, and the ponzu on the side. They're an excellent starter before a meal of fish.