A good, simple chowder made with wild mushrooms has been a reader request for a while here that I finally got around to posting. It comes together in just under an hour, and is a good way to use some fresh or dried wild mushrooms if you need a bowl of comfort food.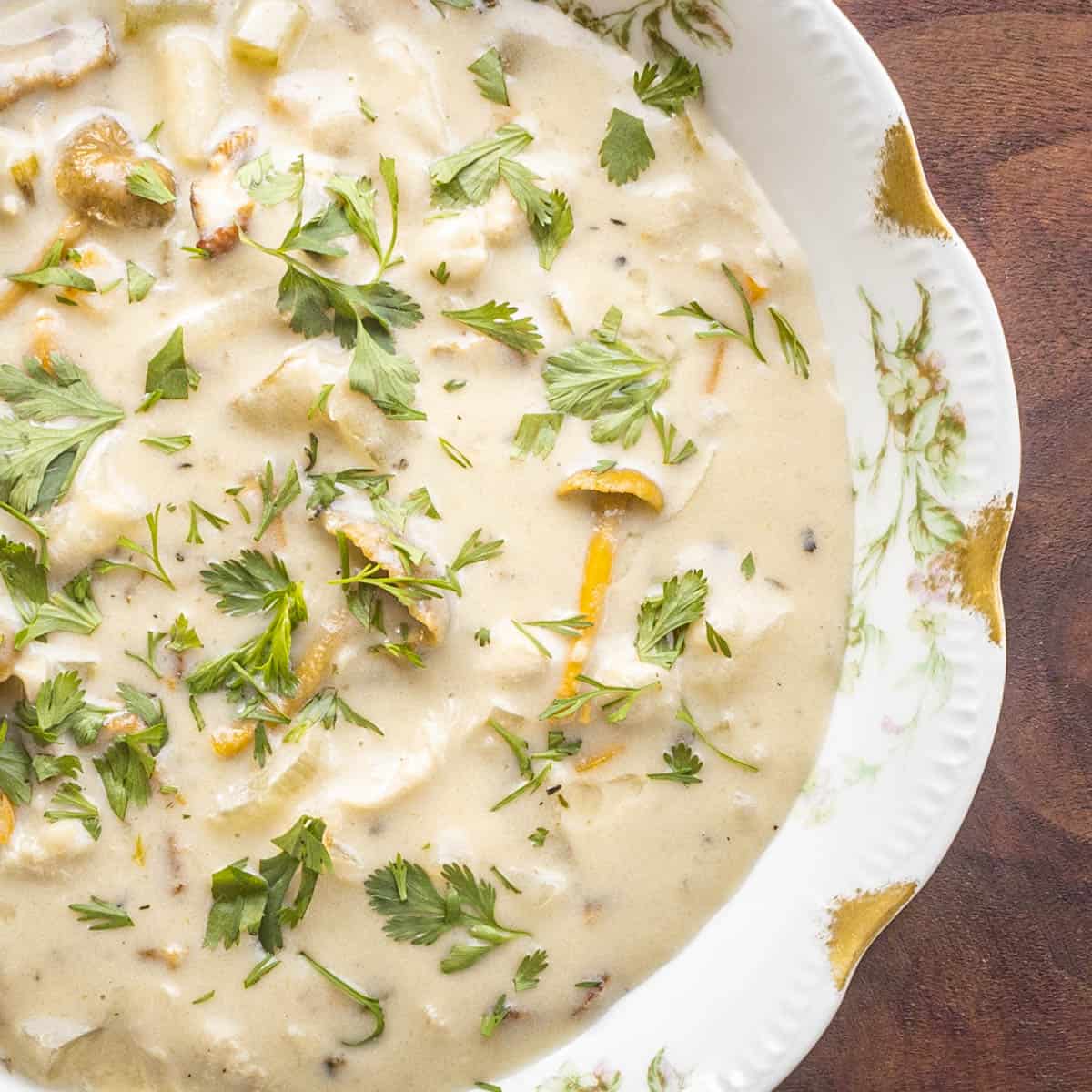 A soup for light-colored mushrooms
Of course, you can make this with just about any mushroom, but there's something really special about making it with light-colored mushrooms, or those that don't produce a dark juice.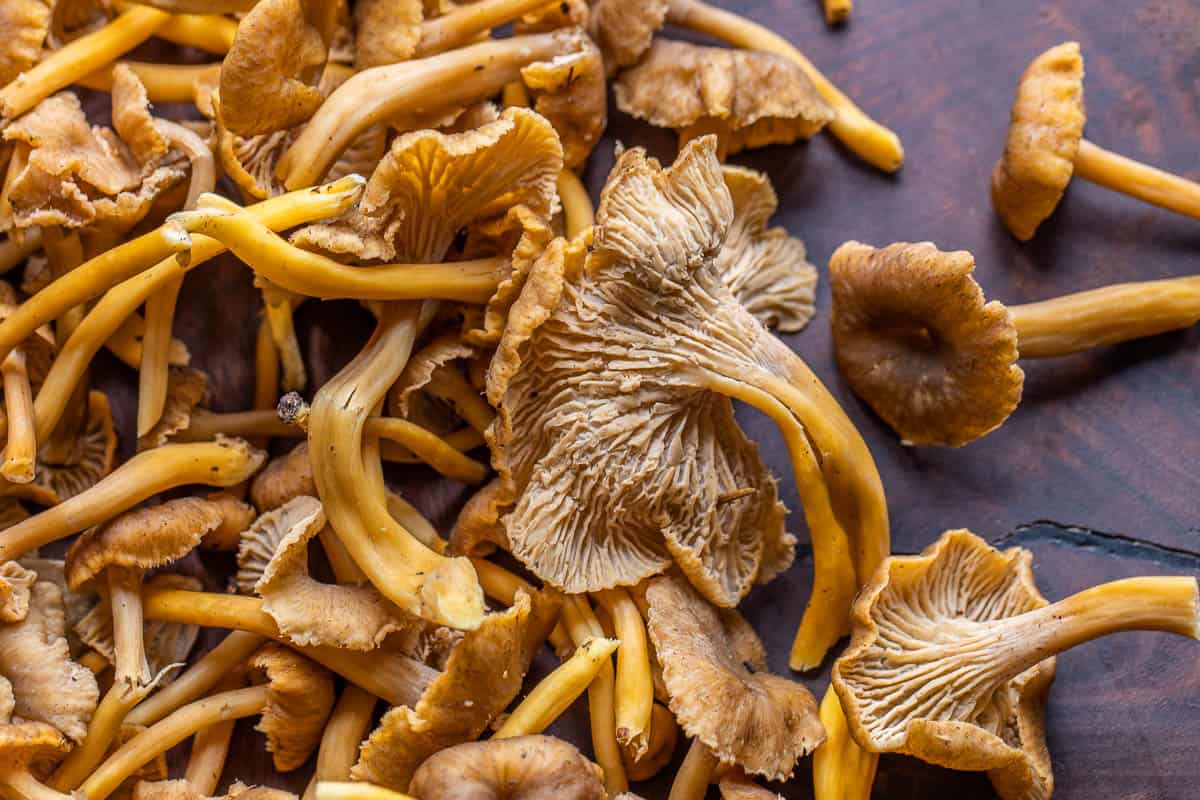 This can highlight the light color of a few particular mushrooms, and is a great way to show them off, because lets be honest here: there's about 1 billion recipes for chowder out there, but none, other than this one (at least at the time of writing) for is a dedicated wild mushroom chowder recipe. Here's some species that you should consider using if you come upon some:
Recommended Species
Chicken of the woods will make a beautiful yellow-hued chowder.
Golden chanterelles will lend a subtle orange color, along with their tell-tale aroma.
Yellowfoot chanterelles love simple soups like this, and it's a great way to show them off.
Lobsters mushrooms will make the most intensely colored mushroom chowder of all, with a rich orange color.
Hericium are a good cultivated or wild option, although the wild ones will add more flavor. Cultivated ones are best used in combination with other mushrooms. (Real quick, before you put these in chowder though, you should try my Lions Mane Crabcakes first)
King Oyster
Another good cultivated option, if you use these I would add some crumbled dried mushrooms (chanterelles) too.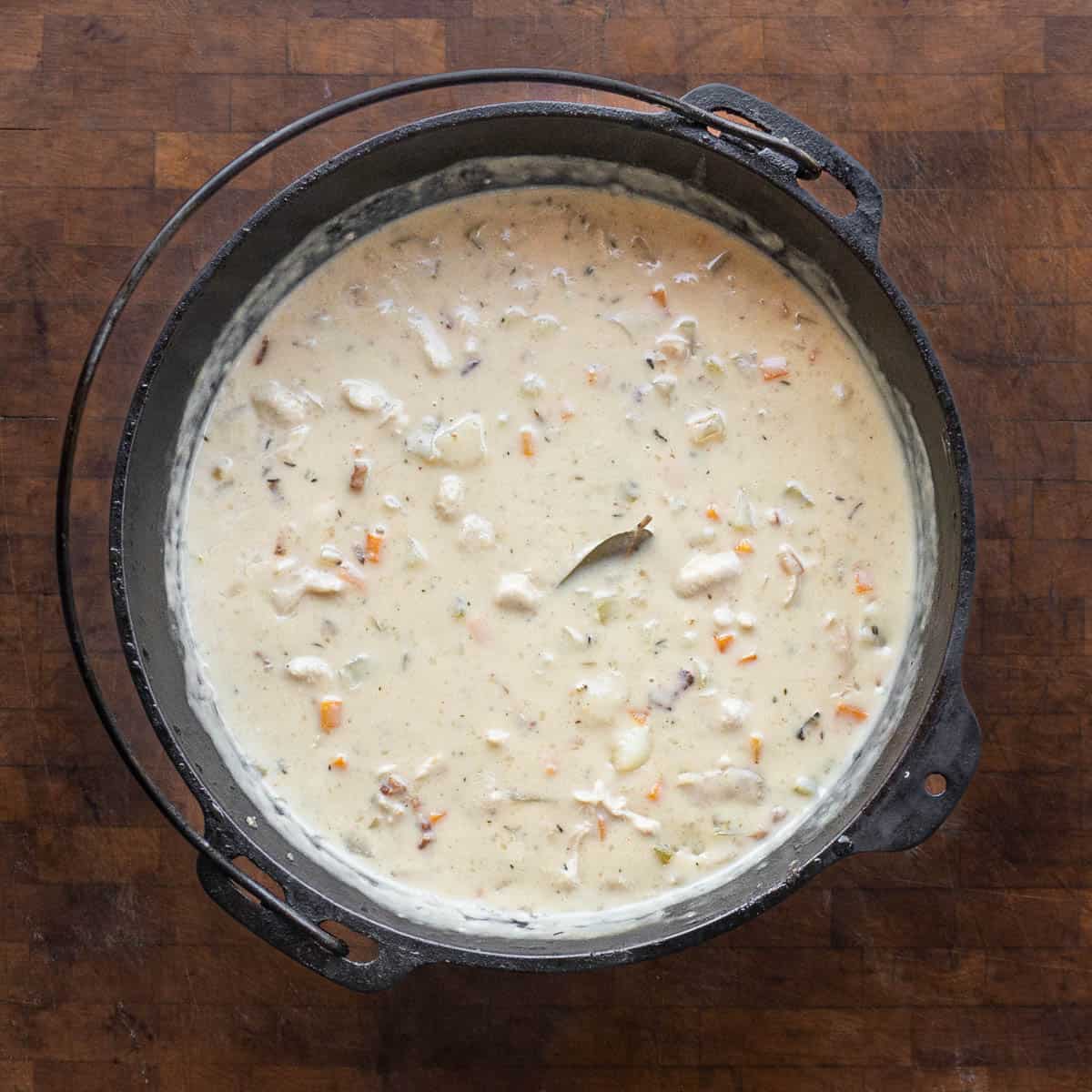 To make a vegetarian version
I know some of you that requested this are vegetarians. It's easy to adapt this recipe to not include meat, but you may want to add some additional mushrooms to pump up the umami. Here's how I'd do that:
Substitute butter or oil for the bacon fat, and obviously skip the bacon and use mushroom stock instead of the chicken or vegetable stock. Add some dried mushrooms rehydrated in the stock along with the fresh mushrooms to boost the umami.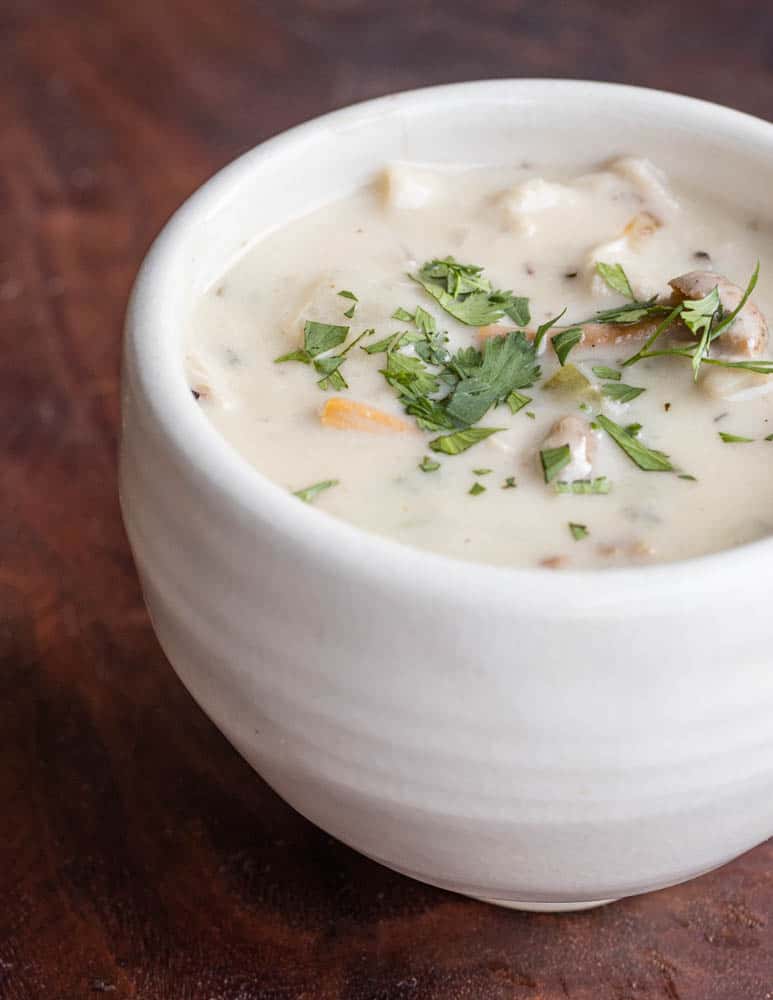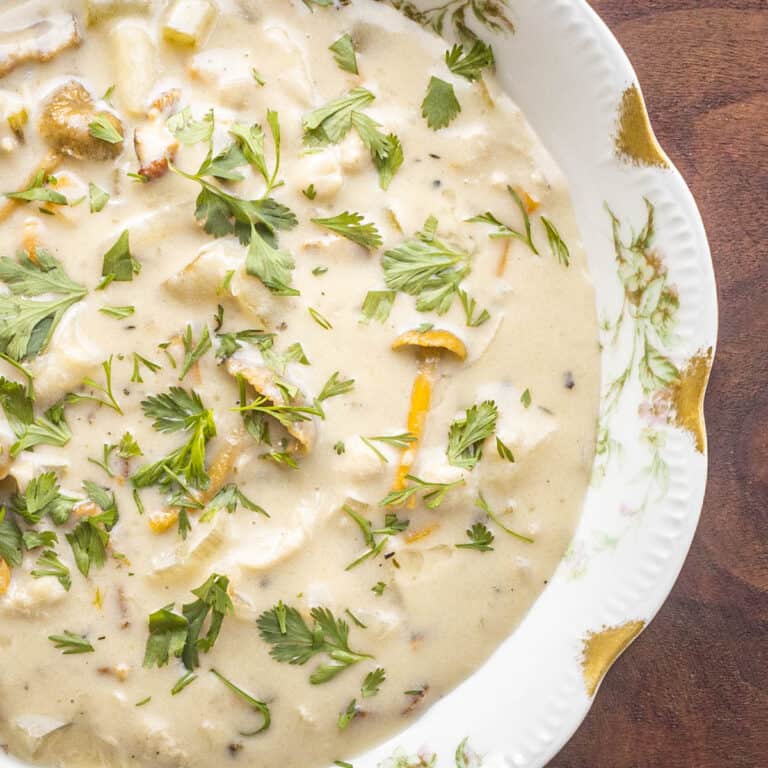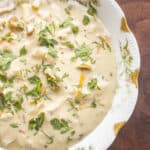 Print Recipe
Wild Mushroom Chowder
A simple mushroom chowder made with your choice of fresh or dried mushrooms.
Ingredients
Liaison
6

oz

bacon

(optional) sliced into ½ inch strips

½

cup

all purpose flour
Soup
12

oz

fresh wild or cultivated mushrooms

*see note

8

oz

russet potatoes

diced ½ inch (2 cups)

3

oz

¾ cup diced carrot

4

oz

1 small finely chopped onion

4

oz

2 ribs celery, trimmed and diced ½ inch

½

cup

dry white wine

1

teaspoon

dried thyme

2

dried bay leaves

5

cups

light colored chicken or vegetable stock

1

cup

heavy cream

2

Tablespoons

crumbled dried mushrooms, such as porcini

(optional-*see note below)
For serving
Fresh chopped herbs

especially chives, dill, or tarragon

Wedges of fresh lemon

oyster crackers

optional
Instructions
Soak the dried mushrooms in the stock if using for 20 minutes, stirring them occasionally. Remove the mushrooms and chop fine. Srain the stock, leaving any dirt at the bottom and reserve, adding the chopped mushrooms to it.

Render the bacon on medium heat in the soup pot you will cook the chowder in. While the bacon renders, chop the vegetables and mushrooms.

When the bacon has given up most of it's fat, drain off the fat into a small mixing bowl and reserve. Cool the fat for a few minutes, then stir in the flour and reserve, it should make a loose paste.

Add all the soup ingredients except the cream to the pot with the bacon, cover, bring to a simmer, turn the heat to low and cook for 20 minutes, or until the vegetables are tender.

When the vegetables are tender, scrape the flour paste into the soup, whisk briskly, and simmer until thickened and you can see the flour has activated. Thickening soup this way is called using a "beurre manie".

Add the cream to the chowder, mix to combine and heat through. Do not boil it.

Finally, double check the seasoning one last time, adjust as needed until it tastes good to you, and serve, garnished with the herbs and lemon wedges on the side.
Notes
Fresh Mushrooms 
I usually use light colored mushrooms here for a mellow flavor, but you can use what you like. Chanterelles are very good.
*Using Dried Mushrooms 
1 oz of dried mushrooms can be substituted for the fresh mushrooms, or you could use a combination. If you use dried mushrooms, rehydrate them in some of the chicken stock for 15 minutes, judge their shape and size, chopping coarsely if needed, making sure to agitate them around to remove grit that you will strain out or make sure not to add to the chowder.
Nutrition
Serving:
8
oz
|
Calories:
545
kcal
|
Carbohydrates:
35
g
|
Protein:
11
g
|
Fat:
39
g
|
Saturated Fat:
19
g
|
Polyunsaturated Fat:
4
g
|
Monounsaturated Fat:
13
g
|
Trans Fat:
0.1
g
|
Cholesterol:
95
mg
|
Sodium:
1516
mg
|
Potassium:
601
mg
|
Fiber:
3
g
|
Sugar:
8
g
|
Vitamin A:
5209
IU
|
Vitamin C:
8
mg
|
Calcium:
84
mg
|
Iron:
2
mg