Crispy fried, irresistible Winter chanterelles. If you live in a place where your Winter chanterelles grow large, like the Pacific Northwest, this is a recipe you have to try.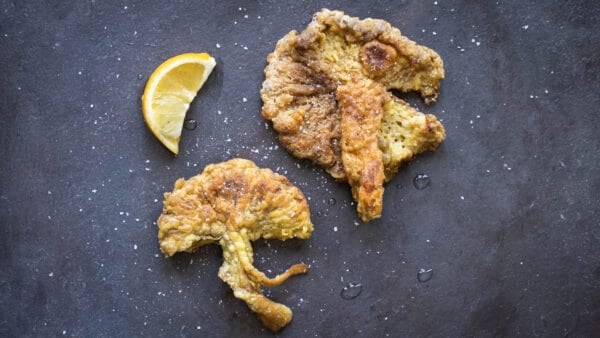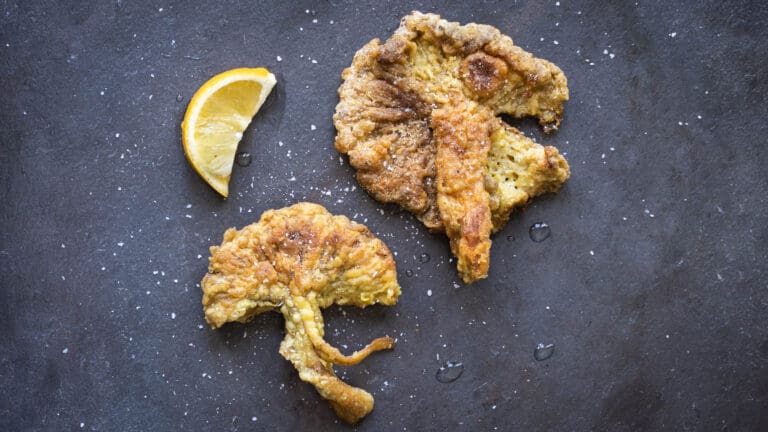 I made these fried yellowfeet using the same method I use to make my Chicken-Fried Chicken of the Woods, and it's a great way to use the larger yellowfeet mushrooms you might find, as well as being a pretty versatile wild mushroom recipe in general.
Yellowfoot chanterelles are a great, underused cousin compared to golden chanterelles and black trumpet mushrooms, and while many of them are small, sometimes the ones sold out of the Pacific Northwest can be just as large, if not larger than some of the golden chanterelles and black trumpets I harvest in the Midwest.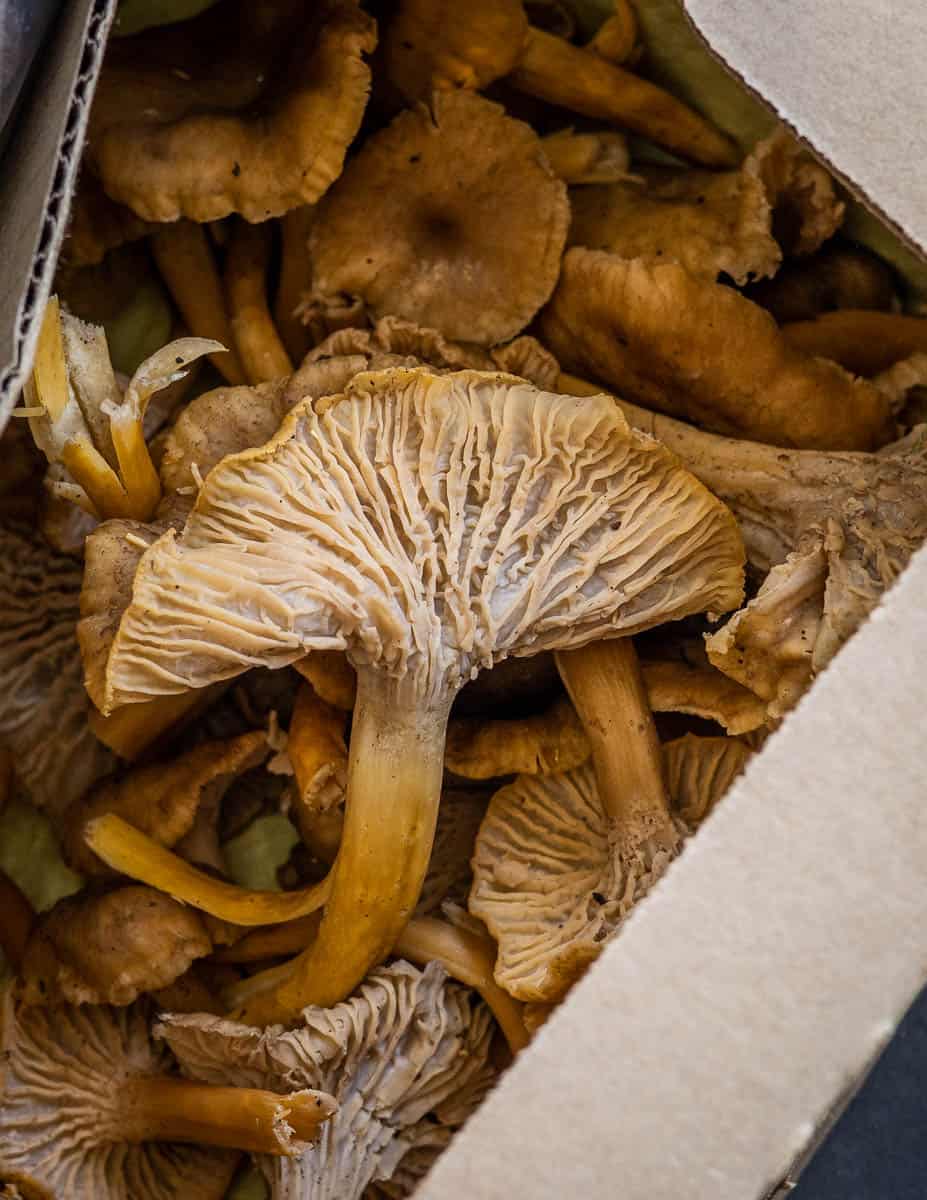 After a quick dip in flour-egg-flour, larger yellowfoot chanterelles get meaty enough that they could be substituted for meat in a vegetarian entree, or just served as a hearty appetizer with crunchy salt and lemon wedges. It's a great way to treat these mushrooms, and plenty of other ones.
On the seasonings
Really all you need here is some flour, your favorite spice mix, salt, egg, and cooking oil. There's countless ways you could flavor the flour, but in the video here I chose one that's a good, all-purpose seasoning for plenty of things: curry powder.
In Europe, specifically France, curry powder is often used as a seasoning, as opposed to the backbone of a curry. It's a great compliment to the mushrooms here, and gives the finished product an attractive golden color. If you don't have any curry powder, a good pinch of paprika can be just fine too.
When you want a recipe that's a little lighter, make sure to try Winter Chanterelle Broth with Pasta, too. It's one of my favorites.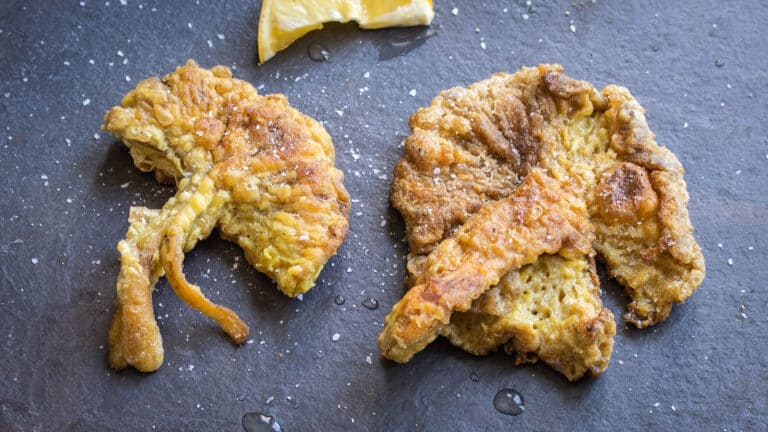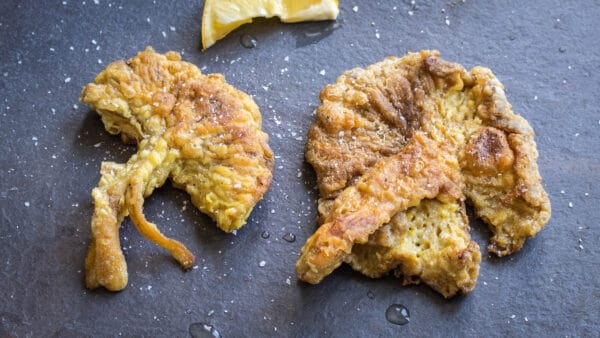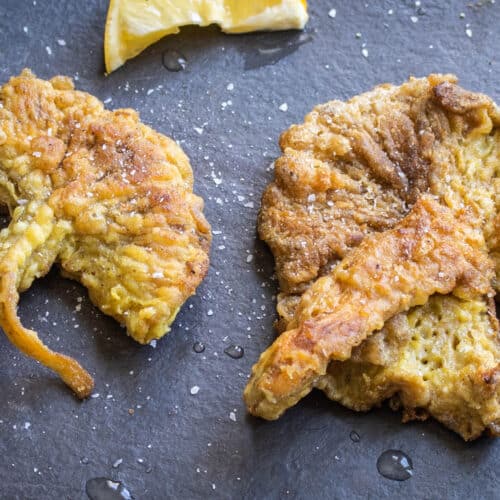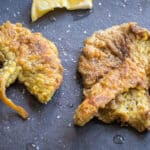 Print Recipe
Fried Yellowfoot Chanterelles
Yellowfoot chanterelles deep or shallow fried with a crisp coating turns them into something you can make a meal around, or just serve as an appetizer.
Equipment
Heavy saute of frying pan, like cast iron
Ingredients
4 oz

Fresh yellowfoot chanterelles

All purpose flour, as needed for breading, roughly 1 cup

kosher salt and fresh ground black pepper

to taste

1

tablespoon

Sweet or hot curry powder

2

large eggs, beaten

Lemon wedges for serving

Extra salt, preferably a crunchy finishing salt like Maldon

optional

Cooking oil, as needed

Clarified butter or ghee is great here
Instructions
Inspect the mushrooms for dirt and debris, and rinse or swish them quickly in cold water if needed, then allow to dry on towels for a few minutes.

Mix the flour, curry or other seasonings, salt and pepper. Toss the mushrooms first in flour tapping off excess, then in egg, then in flour again.

Meanwhile, heat a pan or cast iron skillet with a few tablespoons of oil until flour sizzles when you sprinkle in a tiny pinch. Add the mushrooms and cook until browned, then flip and brown the other side. If the pan gets dry, add a little more oil.

If you have very large mushrooms where the caps fold over on themselves, open the caps up and brown the inside (see video) to prevent having any soggy flour spots. Serve hot with lemon and extra salt on the side.