Filled with herbs and spring onions, a classic fried blood sausage and potatoes should be one of the first things you make after you've made your own black sausage.
Blood sausage doesn't get a ton of play as far as charcuterie goes, let alone the greater culinary world, although I do know some specialty purveyors that will harvest pork blood and sell it to chefs.
The lack of blood in cooking is understandable, but unfortunate, especially because blood doesn't taste gamey at all. Seriously, you'd expect something so rich and full of iron to resemble liver or the stronger funk associated with kidneys, but it doesn't.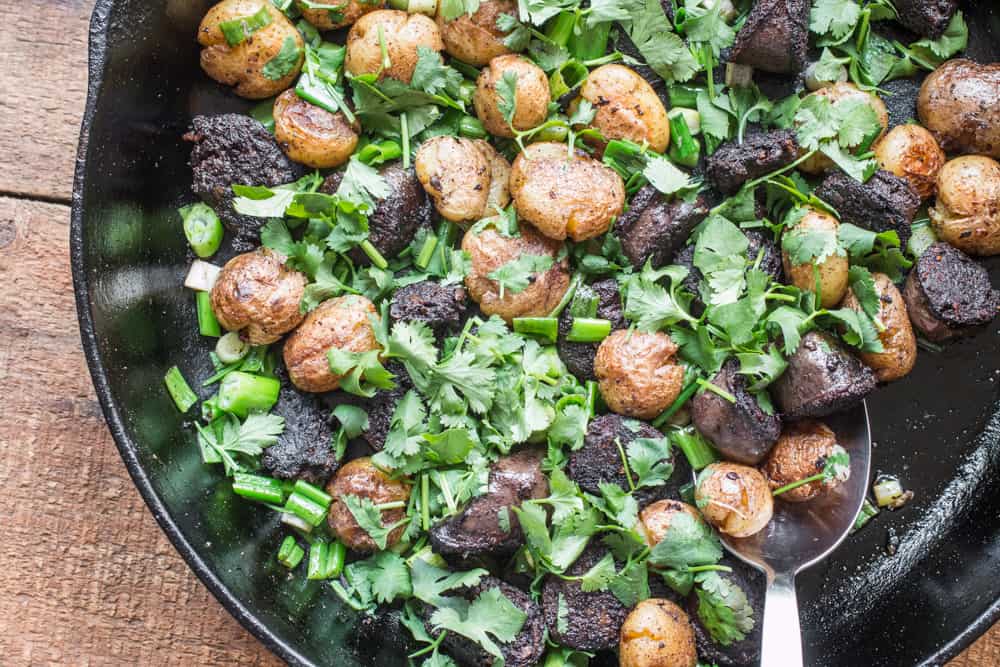 From there, you'd expect lamb or goat blood to taste stronger than cows, but, as far as I'm concerned, they've all been pretty much interchangeable, and I'd be hard-pressed to tell the difference between one or the other.
There's recipes for blood sausage a'plenty online, but not a lot of suggestions for what to do with the sausage after it's made. Blood sausage is a special piece of charcuterie, and you're not going to just throw them onto the grill, fry them up, and eat them on a bun.
Well, some types you could, and that's where things get murky as blood sausage, boudin noir, morcilla, or black pudding as it's known can vary widely from place to place.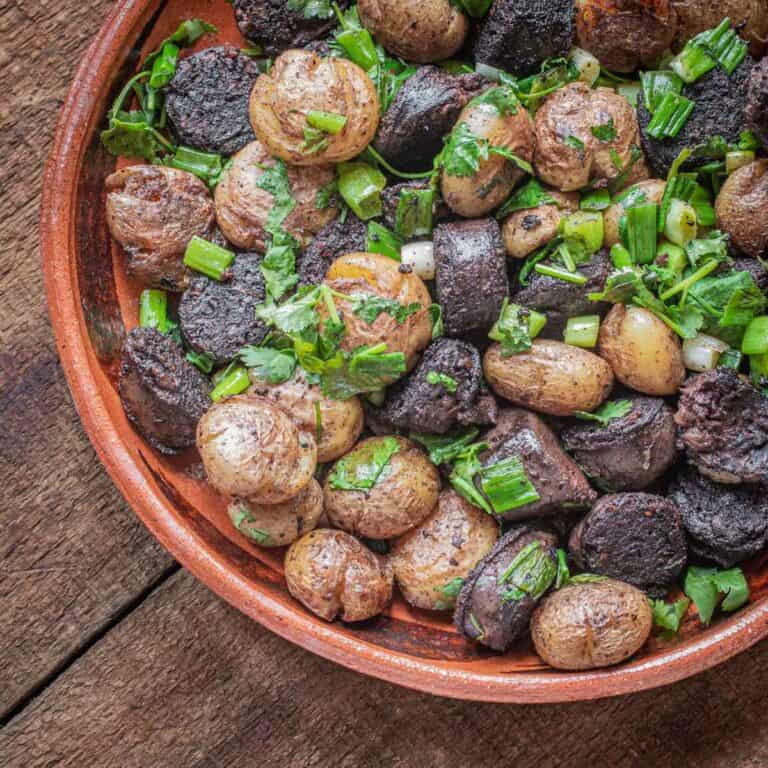 Ideally, you'll poach them, then cut into pieces or coins and fry them crisp. They're bloody delicious, especially fried with potatoes, scallions and herbs, which is classic preparation.
More Bloody Good Recipes
How to Make Homemade Blood Sausage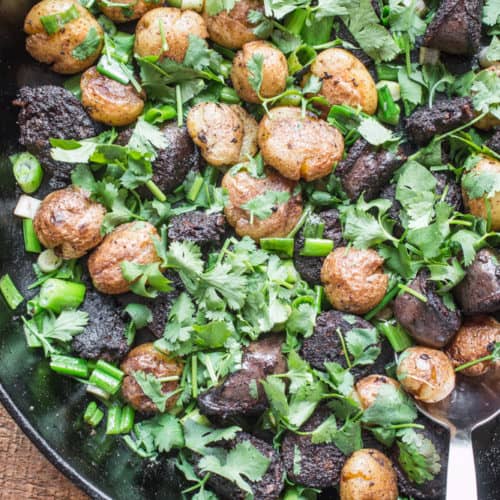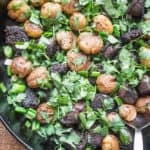 Print Recipe
Fried Blood Sausage Hash
Classic blood sausage and fried potatoes
Equipment
1 10 inch cast iron skillet
Ingredients
8-12

ounces

blood sausage

I used me recipe here

8

oz

small potatoes

I used german butterballs, but fingerlings would be fine too

3

oz

1 bunch scallions, sliced ¼ inch

Handful of chopped parsley or cilantro

¼

cup

lard or cooking oil

Dash

white vinegar

to taste
Instructions
Put the potatoes in a pot, cover with water and season with salt and a dash of the vinegar. Bring the pot to a boil, then turn the heat off and allow to sit 10 minutes.

Remove the potatoes and allow to cool, then cut in half or crush lightly if small to make them easy to brown and crisp.

Cut the blood sausage into 1 inch coins. Heat the lard or oil in a large cast iron or similar skillet until lightly smoking, then add the potatoes and cook until golden and crisp.

Move the potatoes to one side of the pan and add the blood sausage coins, cook until crisp, toss the pan, cook for a few minutes more until the sausages are nicely browned, then turn the heat off, toss in the cilantro and green onions, double check the seasoning for salt, adjust as needed, then serve.
Notes
The vinegar is optional, but helps enhance the crispness of the potatoes (A great tip from author and columnist J Kenji Lopez Alt). 
Nutrition
Serving:
6
oz
|
Calories:
255
kcal
|
Carbohydrates:
10
g
|
Protein:
12
g
|
Fat:
19
g
|
Saturated Fat:
2
g
|
Polyunsaturated Fat:
5
g
|
Monounsaturated Fat:
10
g
|
Trans Fat:
0.3
g
|
Cholesterol:
43
mg
|
Sodium:
340
mg
|
Potassium:
387
mg
|
Fiber:
1
g
|
Sugar:
0.4
g
|
Vitamin A:
44
IU
|
Vitamin C:
12
mg
|
Calcium:
18
mg
|
Iron:
1
mg