When I was a chef at a Southern Italian restaurant, Filippo Caffari, a master butcher from Rome made our sausage: a classic Italian fennel sausage we used in all the recipes.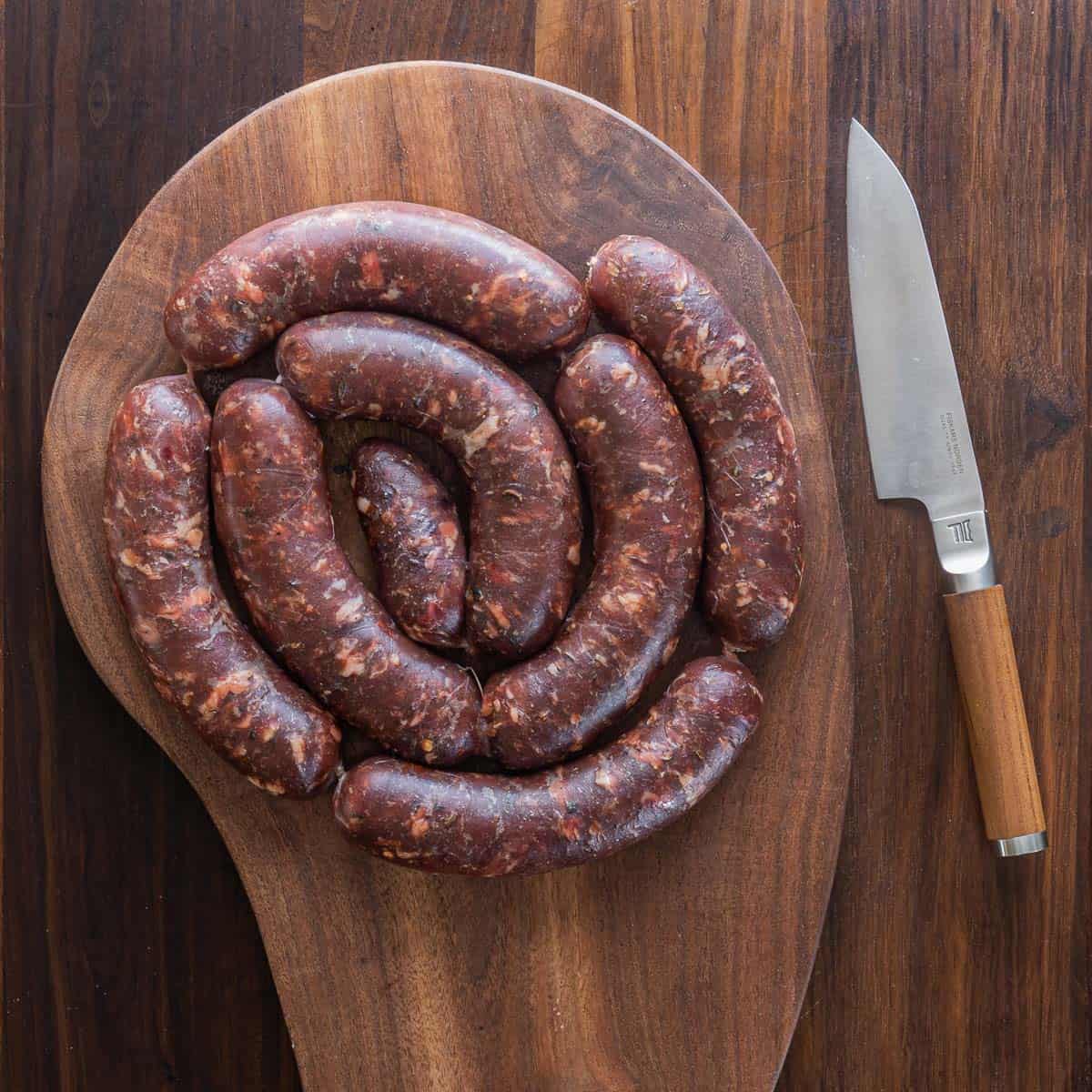 Any meat can be used here, but wild boar (cinghiale) is traditional, and perfect for a number of reasons. Read on and I'll explain how to make it, and what to do with it.
Wild Boar Italian Sausage Ingredients
This is my favorite sausage and is easy to make. You'll need wild boar shoulder or other meat like shanks, fennel seed, black peppercorns, red pepper flakes, and kosher salt. You can use different meats here: pork, lamb, venison and goat all work.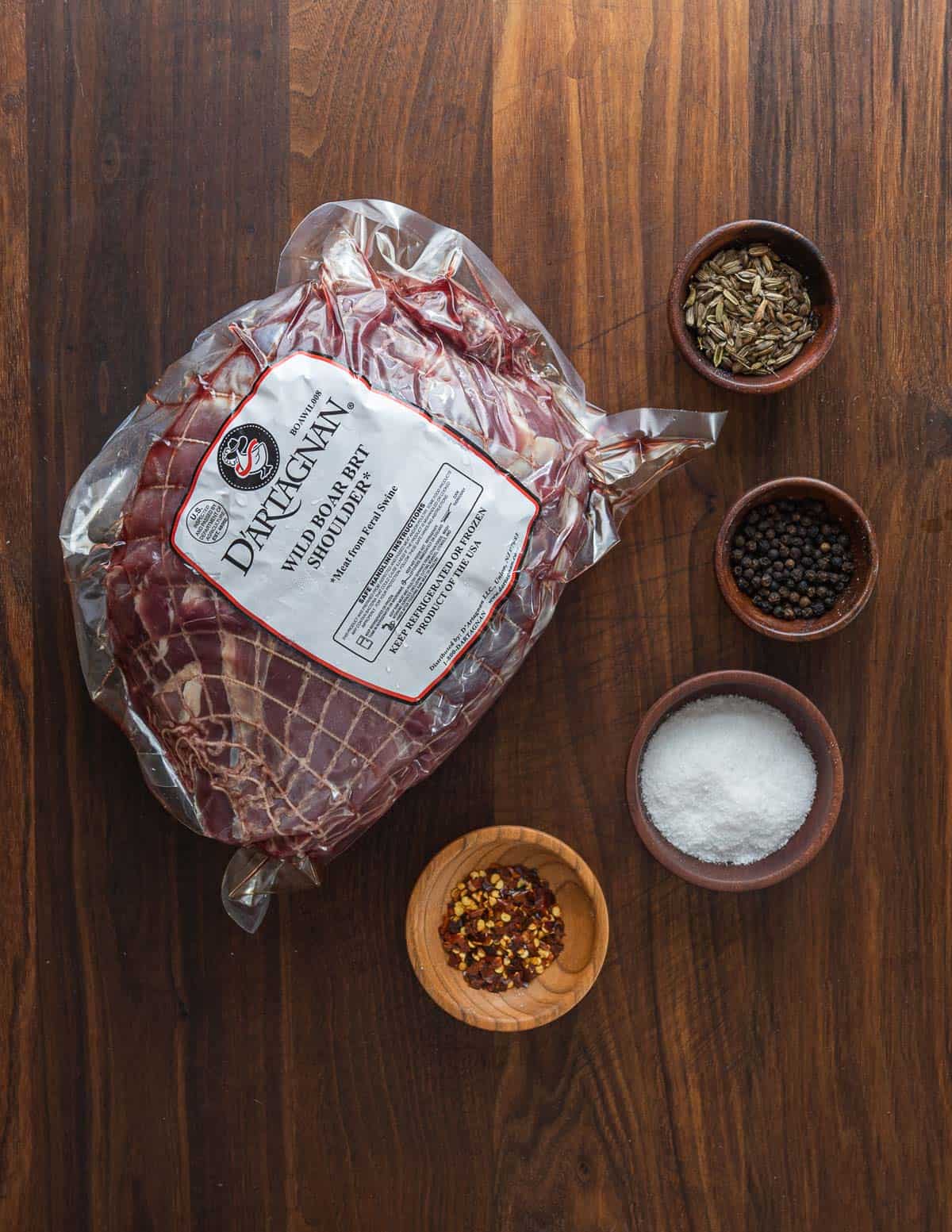 How to Make Wild Boar Sausage
First black pepper and fennel are toasted and lightly crushed. I like to use wild fennel seeds if I can.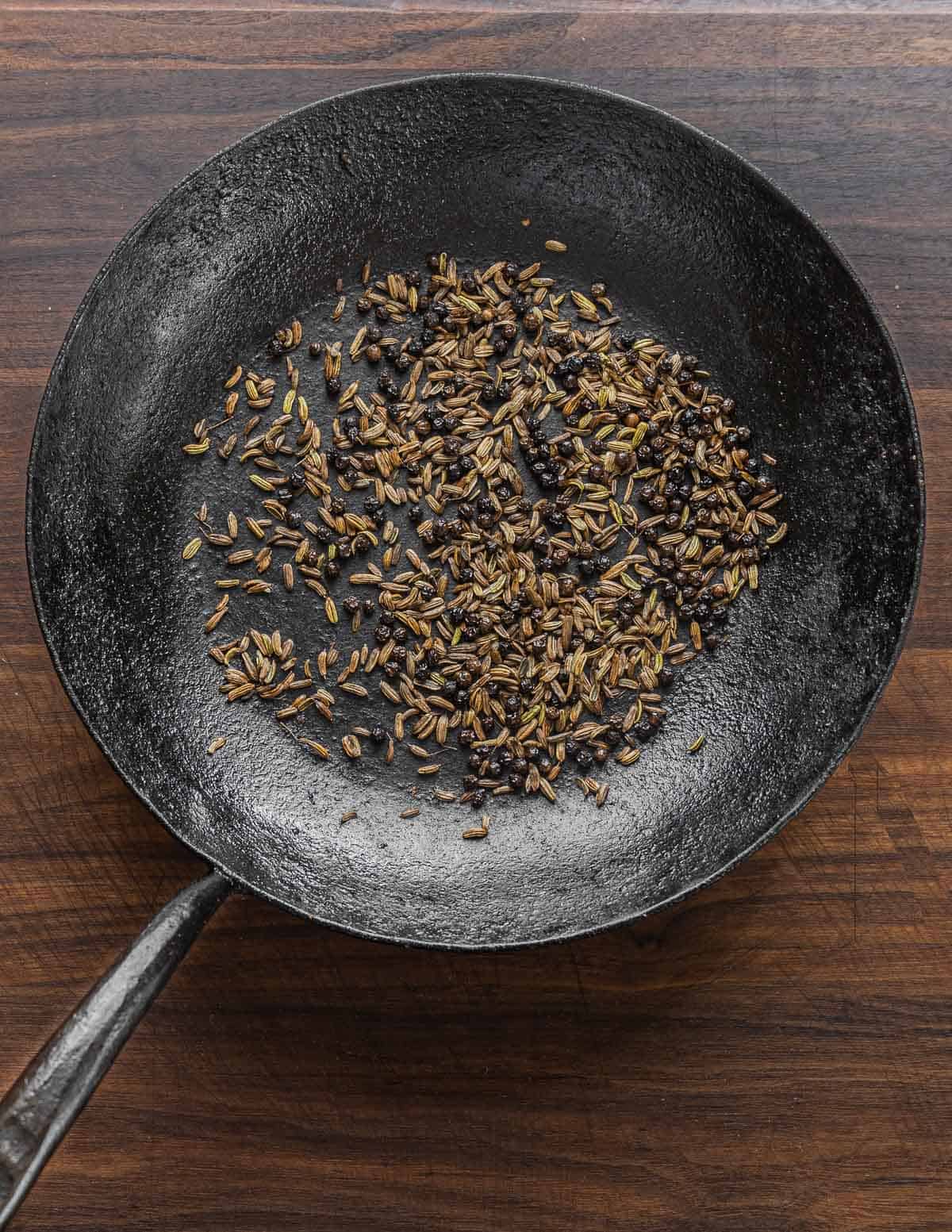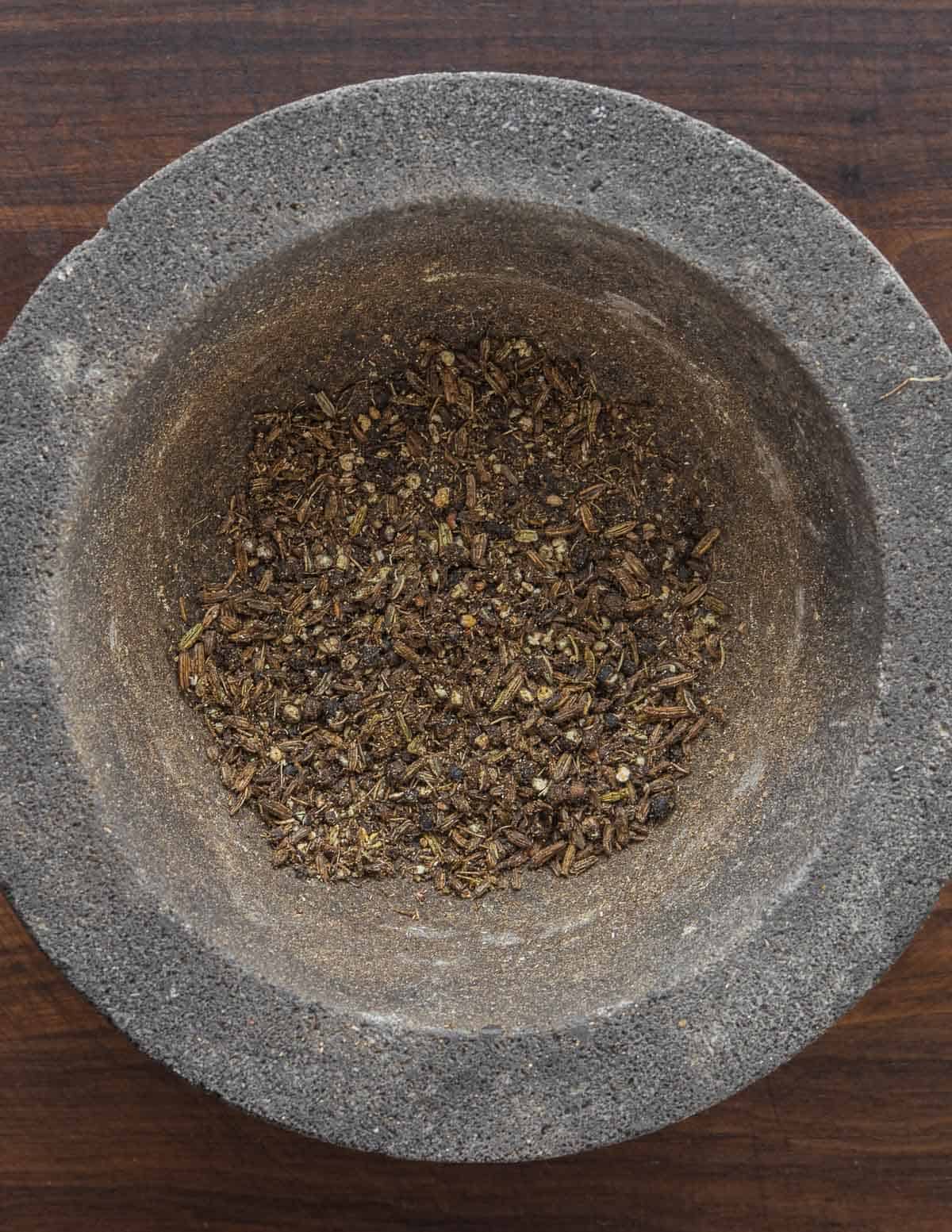 Next the boar meat is cut into cubes that will fit into a meat grinder, mixed with the spices and refrigerated overnight.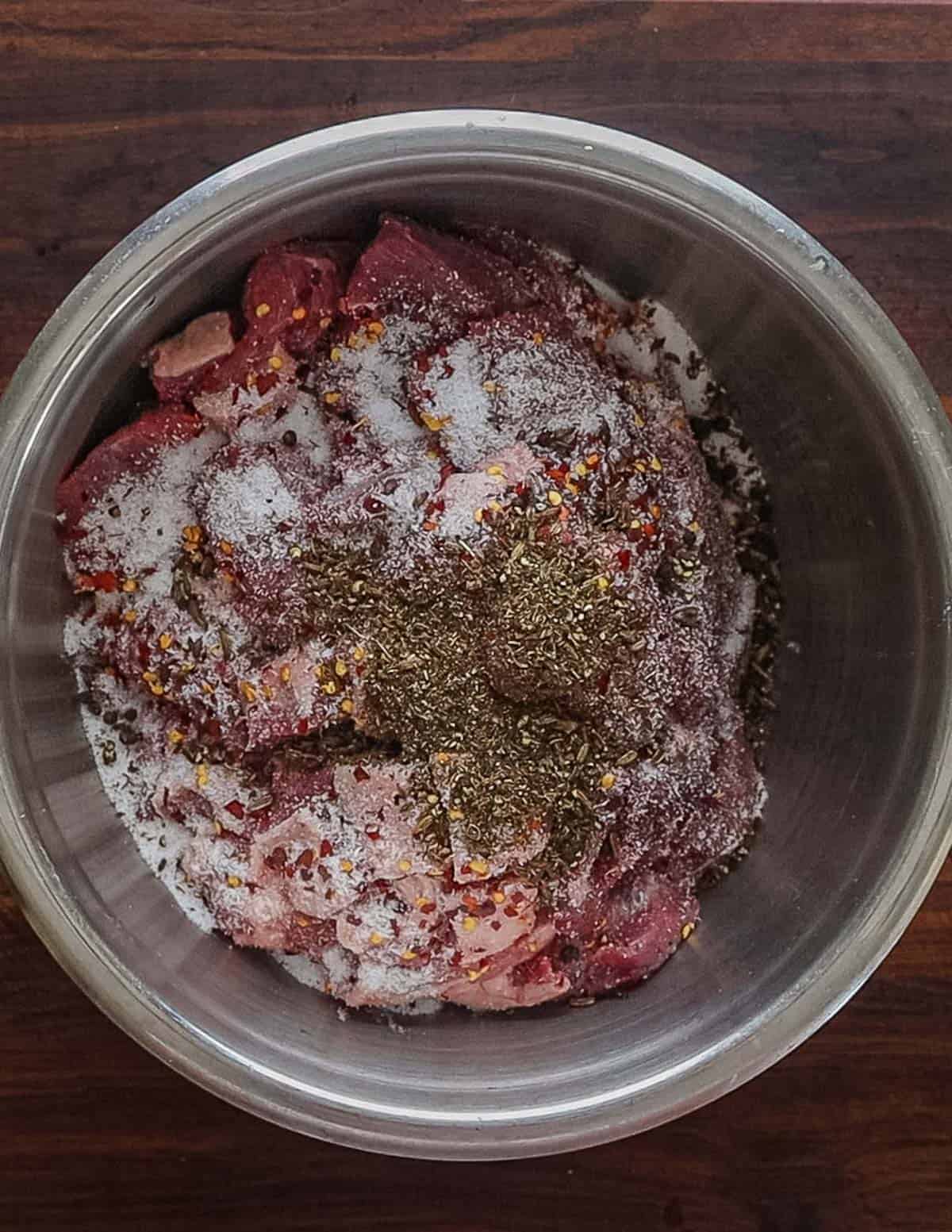 The next day the meat is ground through a coarse die on a meat grinder and packed into hog casings. Twist the sausage into links, then refrigerate uncovered overnight (optional) to dry them out (called forming a pellicle in charcuterie speak). Finally, the sausages are cooked or vacuum sealed and frozen.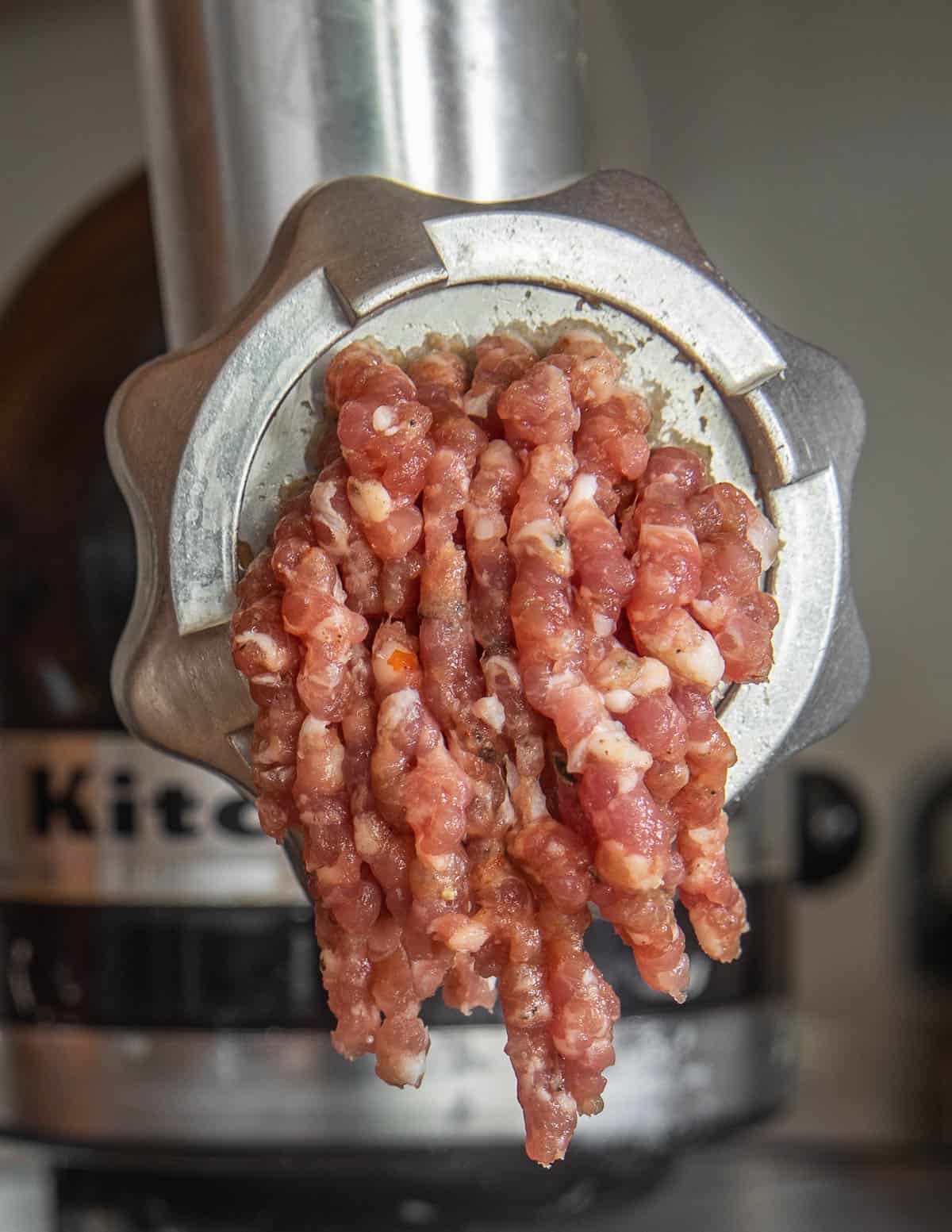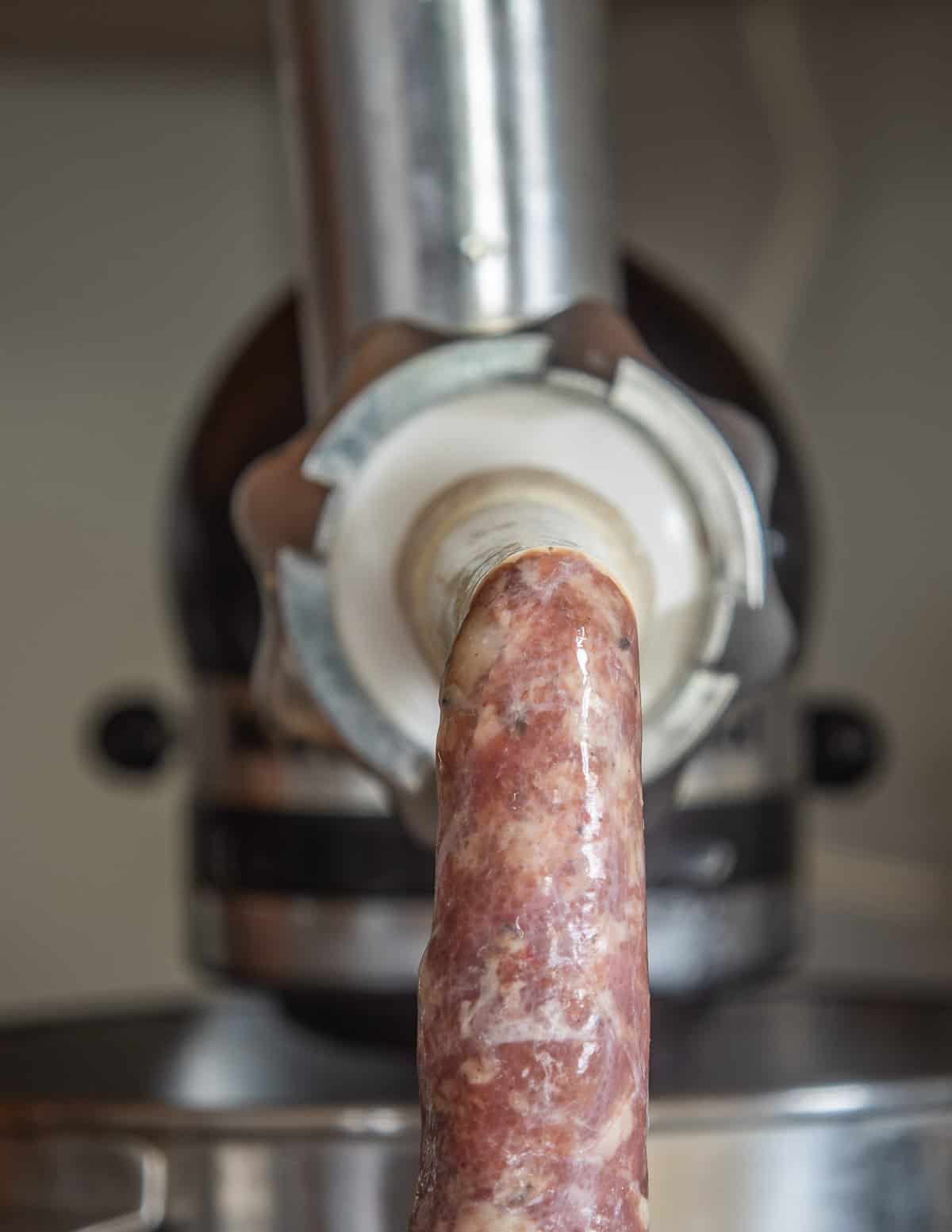 Wild Boar Trichinosis
Trichinosis in wild game has gotten more attention after Steve Rinella and his hunting party got it from eating bear meat. I got my feral pig from D'artagnan. Any wild boar or bear meat sold in the U.S. must be tested for trichinosis, so if you buy it you're fine.
If you hunt wild pigs you'll need to get the meat tested for trichinosis, or assume it's contaminated. It may sound scary, but it's easy to get around as trichinae bacteria are killed at temperatures of 137 F and above. Hank Shaw has a great article on it trichinosis in wild game I recommend reading.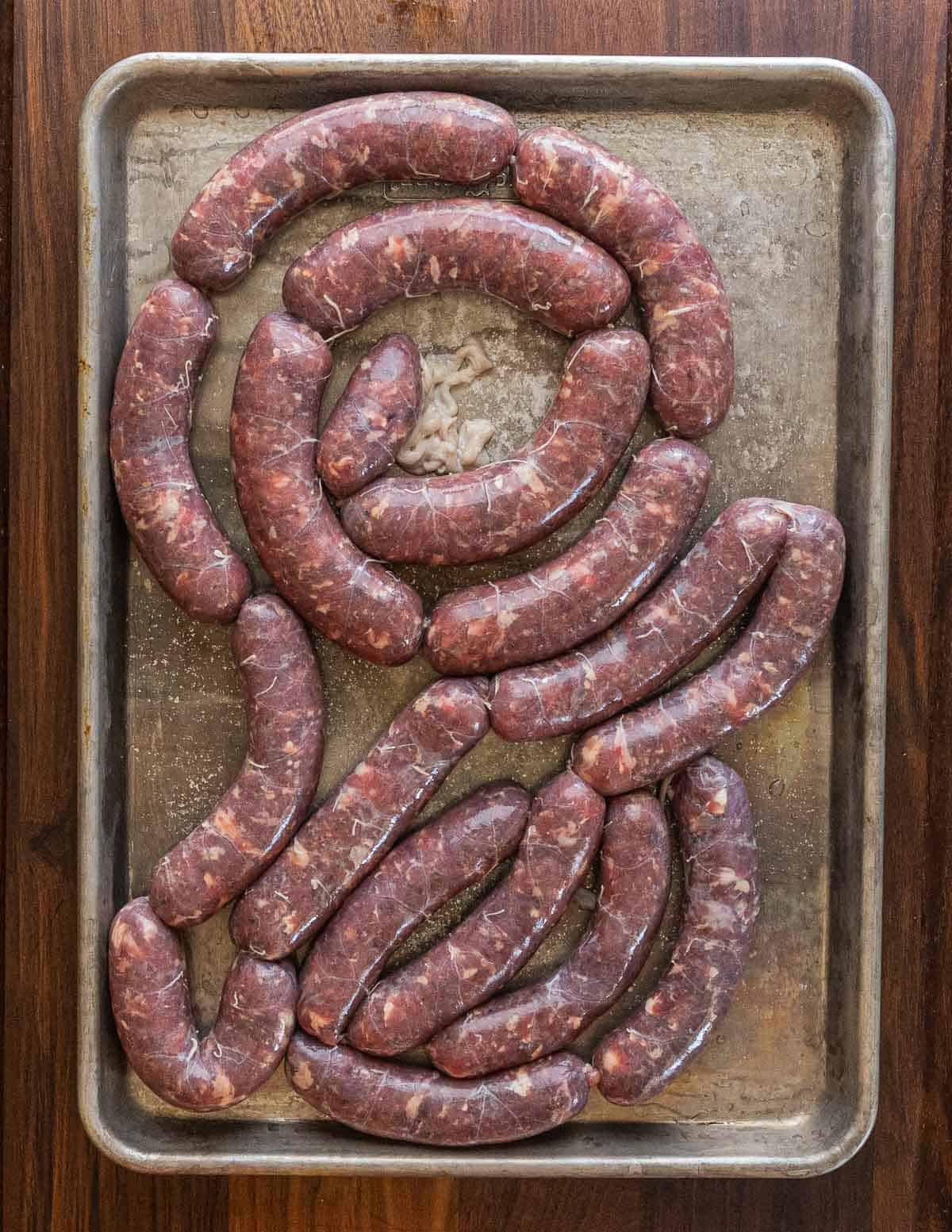 What to do with Wild Boar Sausage
Cooking wild boar sausage in the oven or on a grill can be tricky as it's leaner than pork. This can result in dry, crumbly sausages. But, I have a tried and true method for cooking these that will give you delicious results every time your family will fight over.
I braise the sausages until they're spoon tender in a tomato sauce. Not only does this destroy trichinosis in feral pig sausages, but it also takes care of the variable fat content. Even if your sausage is lean, it will be tender and delicious.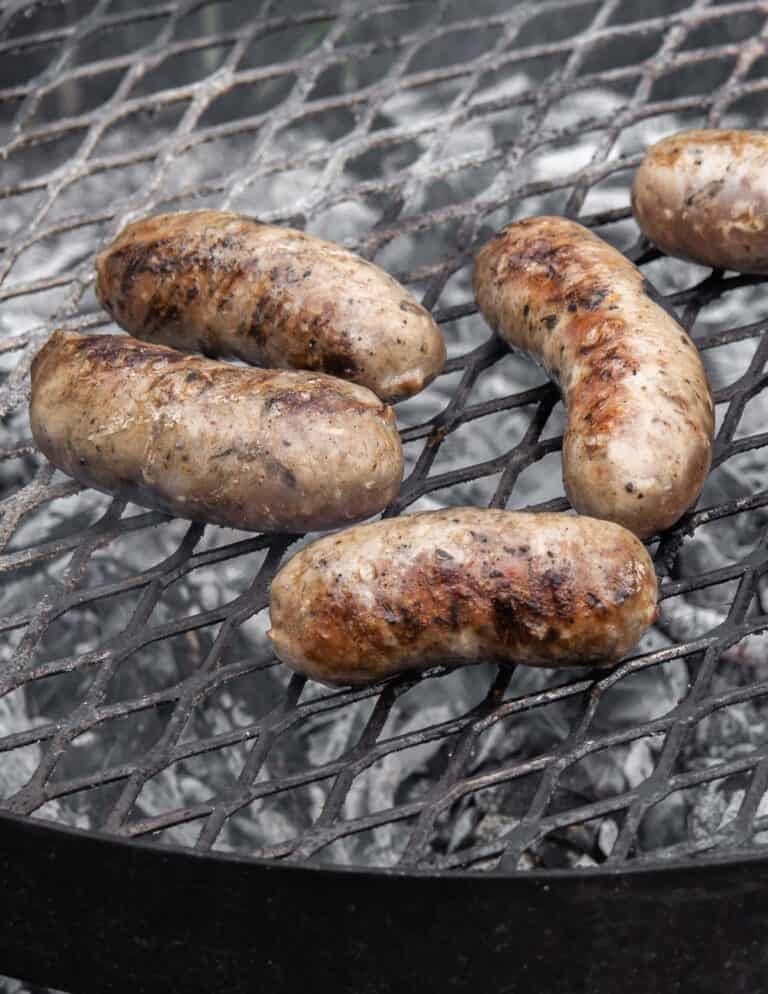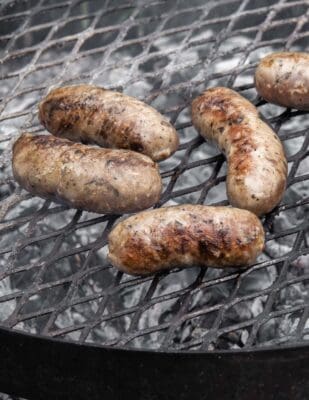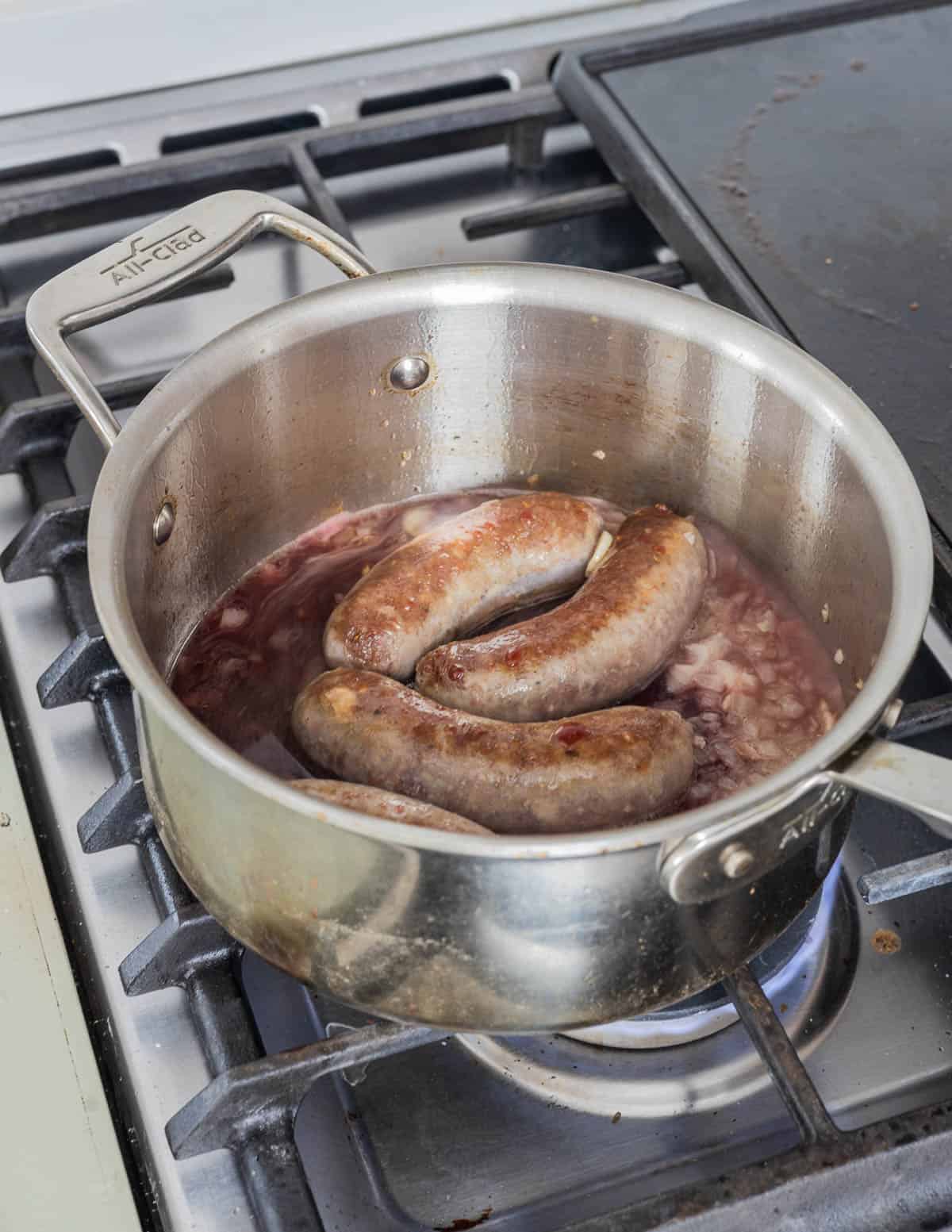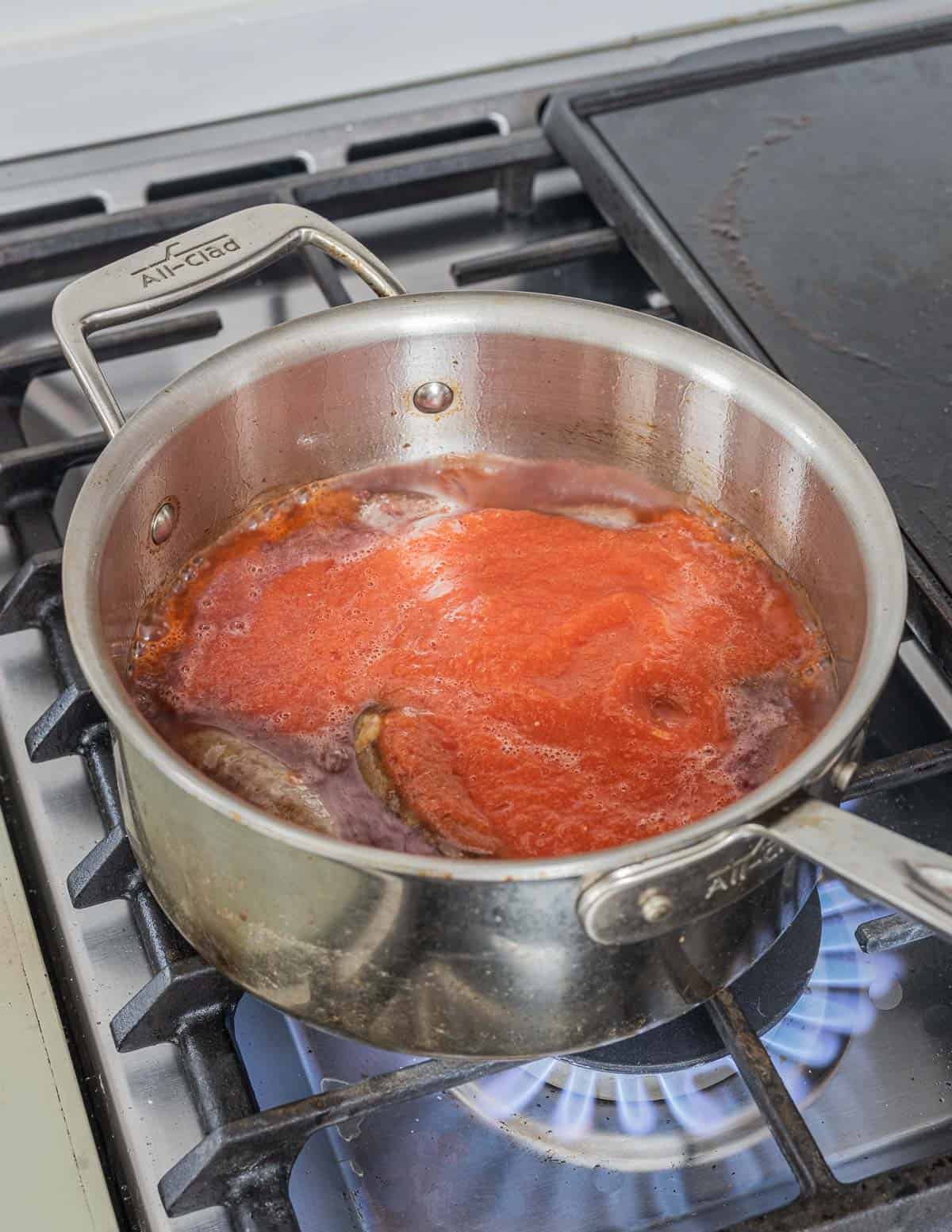 This is one of those recipes you'll make over and over again, and you can do it with any sausage.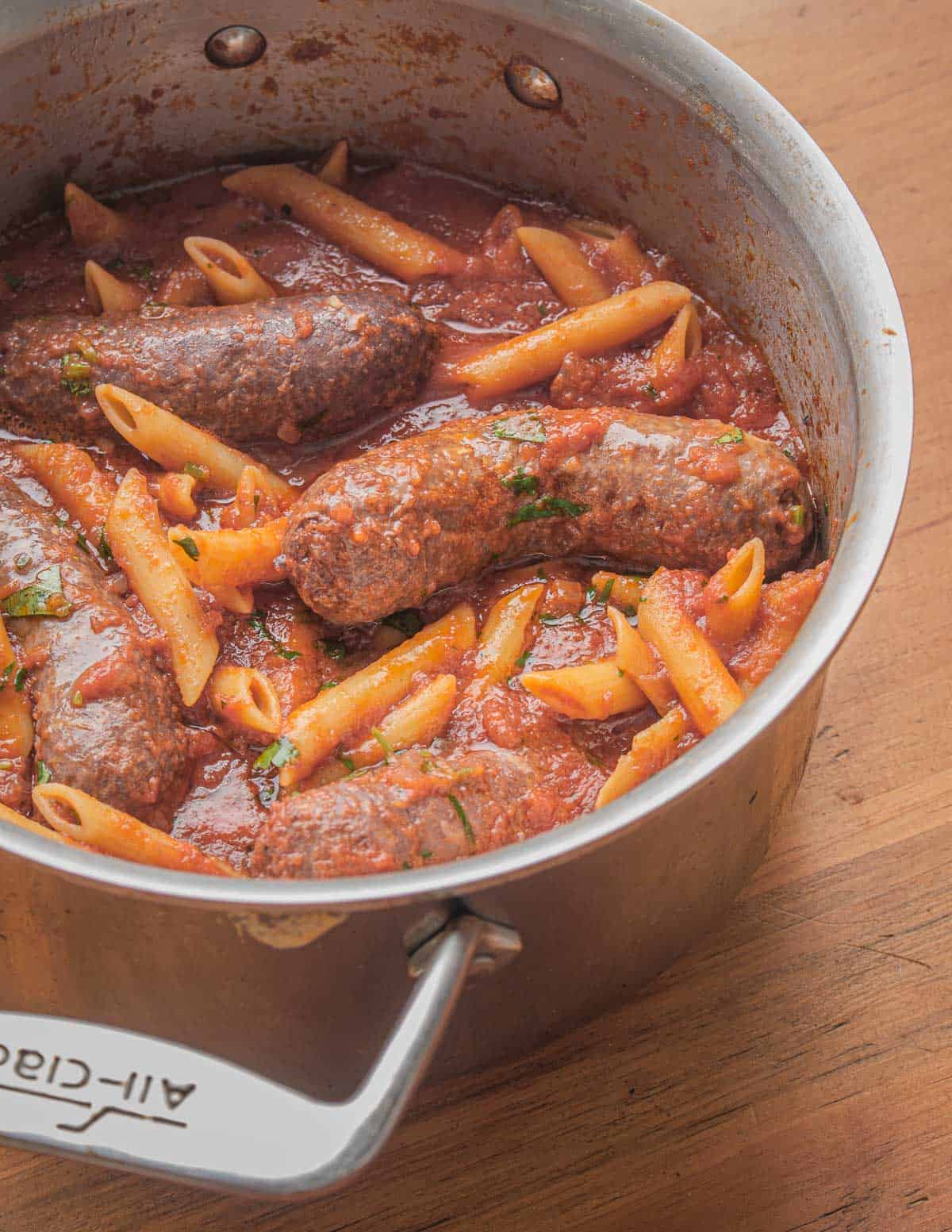 Related Posts
Wild Fennel Seed-Venison Chorizo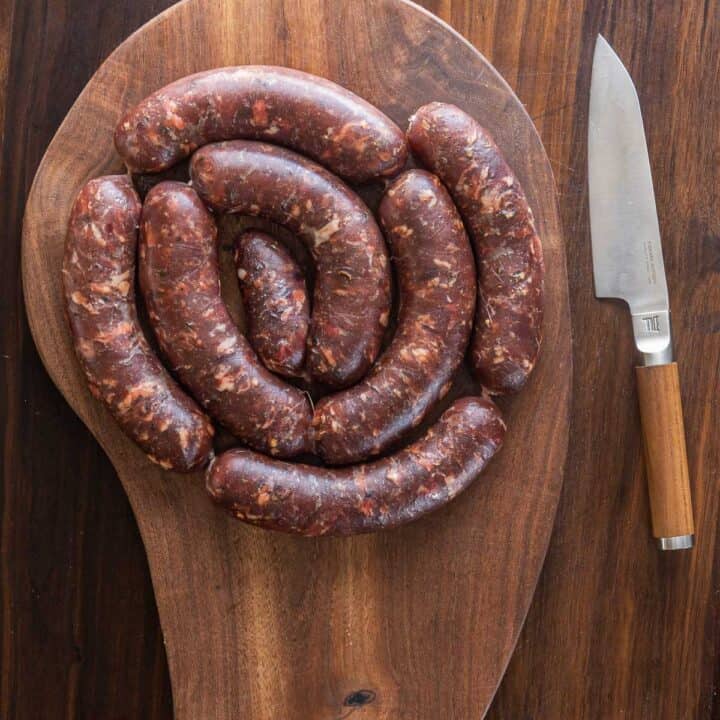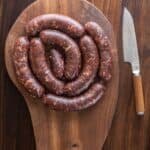 Print Recipe
Wild Boar Sausage
A classic wild boar Italian sausage recipe from a master butcher from Rome. Try it and become a convert. Makes 16 5 oz sausages.
Equipment
1 Meat Grinder

with sausage stuffer attachment

1 large mixing bowl
Ingredients
5

lbs

wild boar shoulder

10

feet

hog casings

rinsed in cold water

22

grams

kosher salt (roughly 2 tablespoons)

1 % salt of the total weight of meat

1.5

tablespoon

fennel seed

1

Tbsp

black peppercorns

preferably Tellicherry

crushed red pepper flakes

or to taste
Instructions
Spices
Toast the spices in a pan for a few minutes until aromatic, then remove to a bowl and cool.

Lightly crush the spices in a mortar and pestle.
Boar meat
Cut the boar meat into large chunks that will fit in a meat grinder, then mix with the fennel and black pepper, salt and crushed red pepper flakes in a large mixing bowl. Cover the bowl with cling film and refrigerate overnight.
Grinding the meat
Soak the casings in cold water to remove excess salt.

Grind the meat through a medium die on a meat grinder.

Pack the meat into casings using the stuffer attachment. Twist the sausage into links of your desired size, then refrigerate overnight, uncovered to dry them out a bit (optional).
Cooking the sausages
To braise the sausages as described in this post, see the recipe notes.
Notes
Braised Boar Sausages 
Puree a 32 oz can of whole peeled tomatoes with 1 cup chopped celery, carrot and onion. Brown 1 lb sausages in a wide pot, add ½ cup red wine, and the tomato sauce. Cook in the oven at 275 F for 1.5 hours or until the sausages are very tender. Skim the fat from the top and discard. A crockpot works too. 
Nutrition
Serving:
1
sausage
|
Calories:
2823
kcal
|
Carbohydrates:
11
g
|
Protein:
490
g
|
Fat:
77
g
|
Saturated Fat:
23
g
|
Polyunsaturated Fat:
11
g
|
Monounsaturated Fat:
30
g
|
Sodium:
398
mg
|
Potassium:
285
mg
|
Fiber:
6
g
|
Sugar:
0.1
g
|
Vitamin A:
67
IU
|
Vitamin C:
2
mg
|
Calcium:
424
mg
|
Iron:
3
mg