I've been making a lot of charcuterie using UMAi DRY casings lately, and, after a month, my first one is done: a Spanish chorizo-style salami recipe made from ground elk and pork flavored with wild fennel seeds.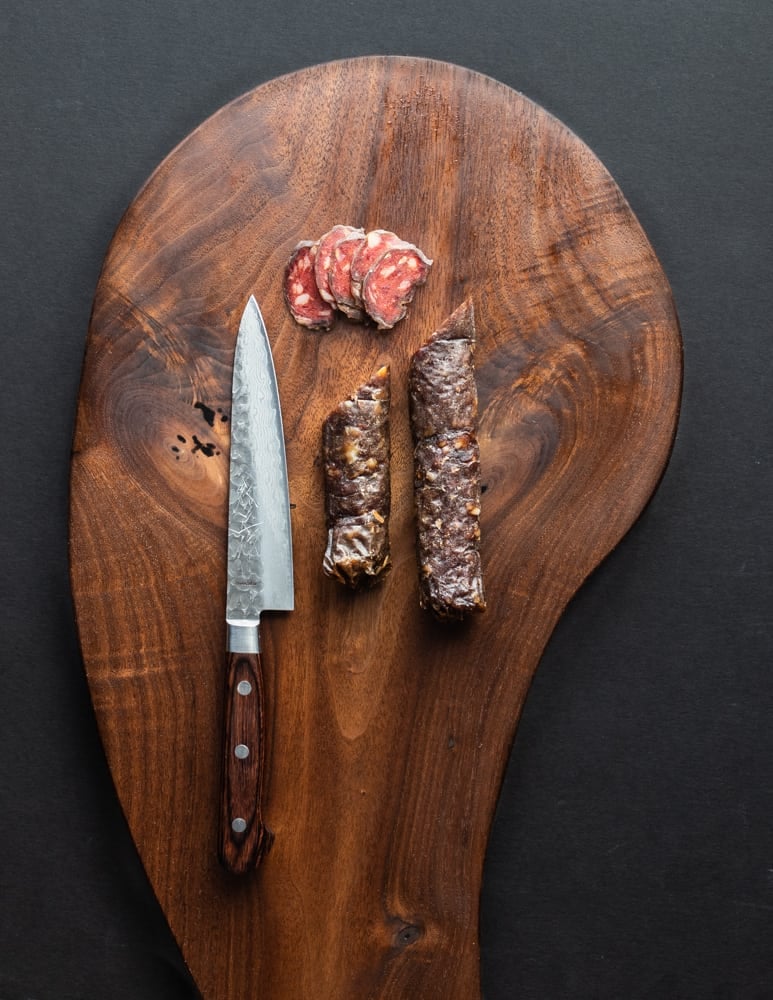 If you're not familiar, this is a dry cured sausage that's very different from lump Mexican chorizo beef or pork shoulder. It's been years since I made salami, but after my first bite of these, It's going to be a regular thing.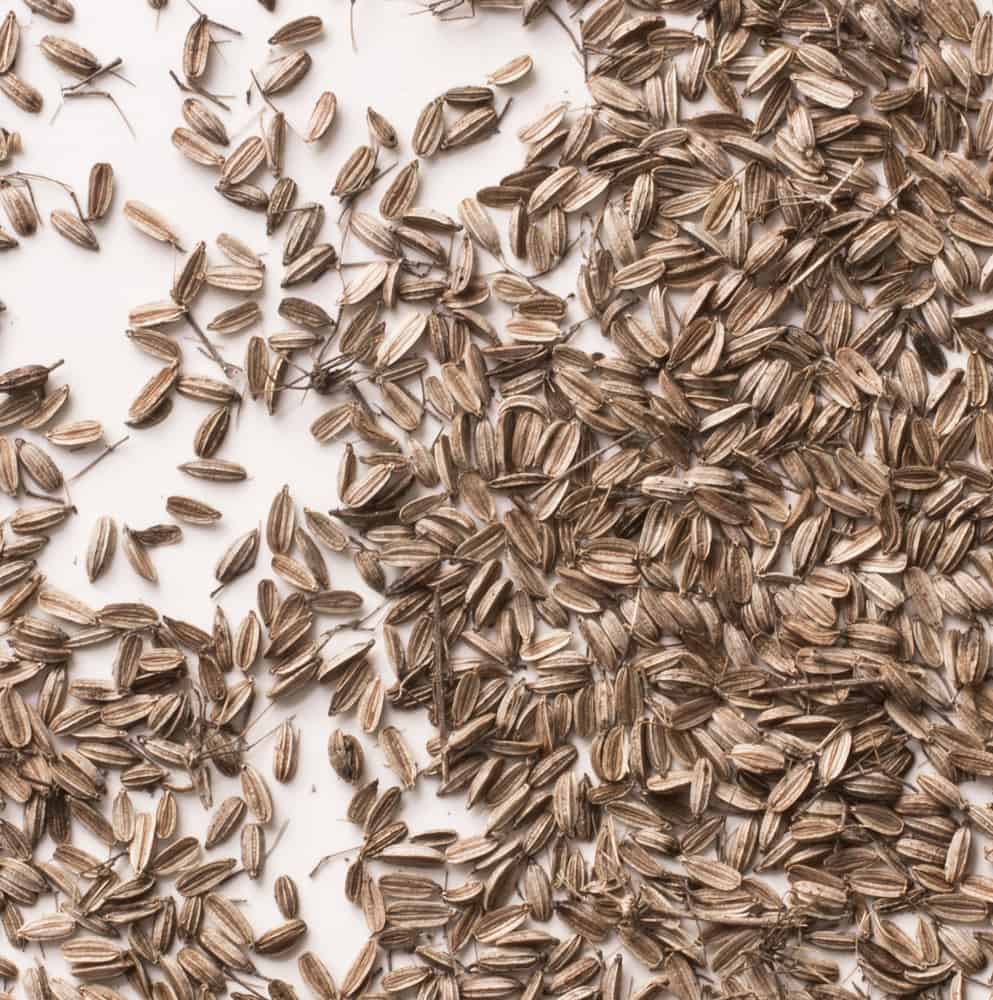 Making salami at home
Making salami at home can be intimidating, and the more you research how people do it at home, the more complicated it can seem. Do I need a dedicated curing chamber? What about humidity controls? What if I do something wrong? Will I die? Generally speaking, salami is pretty safe as it's highly salted, and I think it's good to remember people have been making it in far more primitive conditions than you'll find in most homes.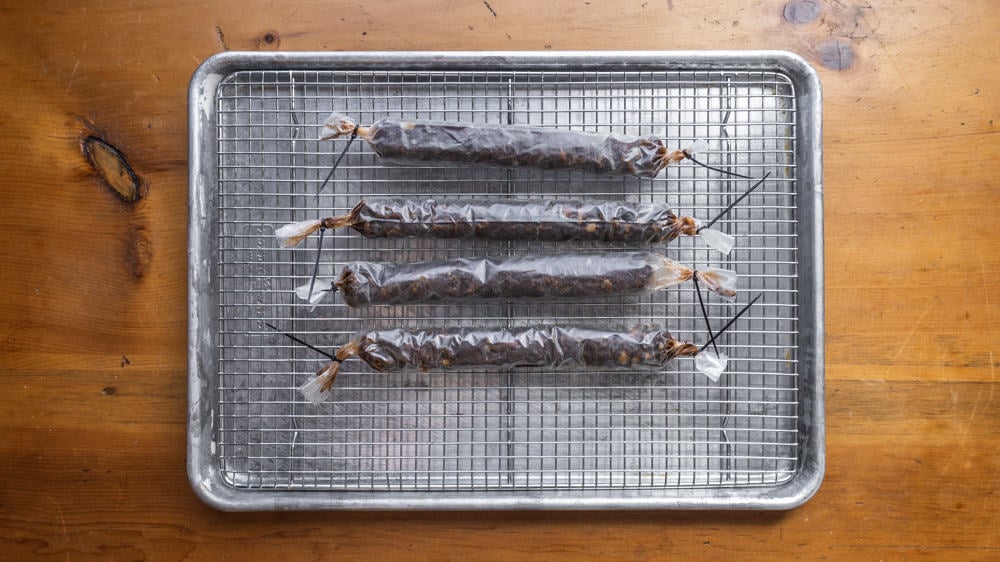 That being said, my friends at UMAi DRY have a fantastic product that makes crafting salami and whole muscle cures at home so easy a child could do it. All you have to do is make your salami mix, and pack it into their breathable membrane casings.
The casings are the same technology used for their dry-aging bags (that also work like a charm) that I've used for aging whole legs of venison, and making cured meats like my venison biltong and salami from pork shoulder. .
Once the meat is packed into the casings, you allow them to ferment for 24 hours at room temperature (a turned off oven works great) then refrigerate them for four weeks, or until they're dry to your liking. It's the easiest salami I've ever made, and I have two more batches in the works that will be done soon. Take a look at the video and you'll see just how easy it is.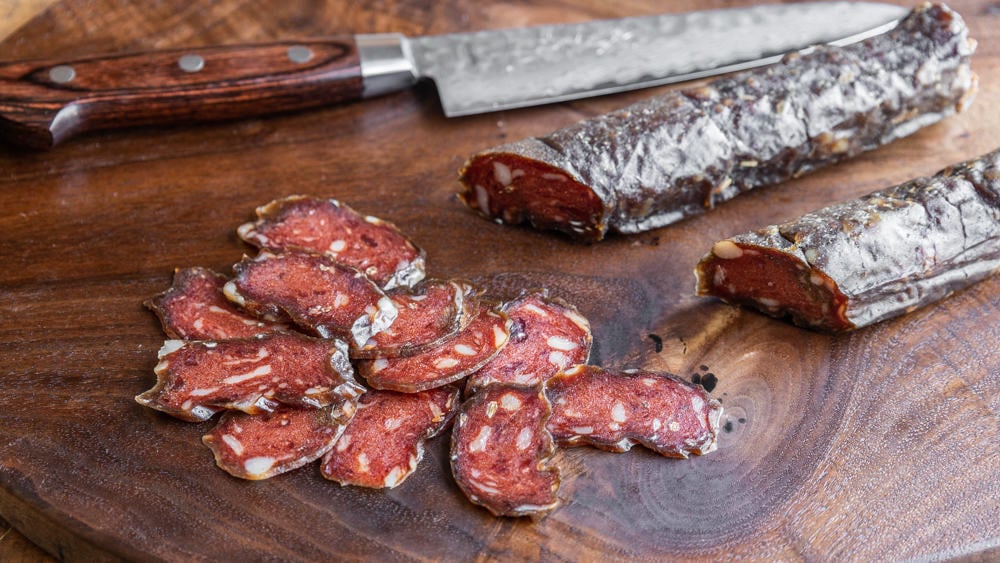 Related Posts on Charcuterie
Lamb, Goat or Venison Prosciutto
References on making charcuterie at home I own
Charcuterie by Micheal Rhulman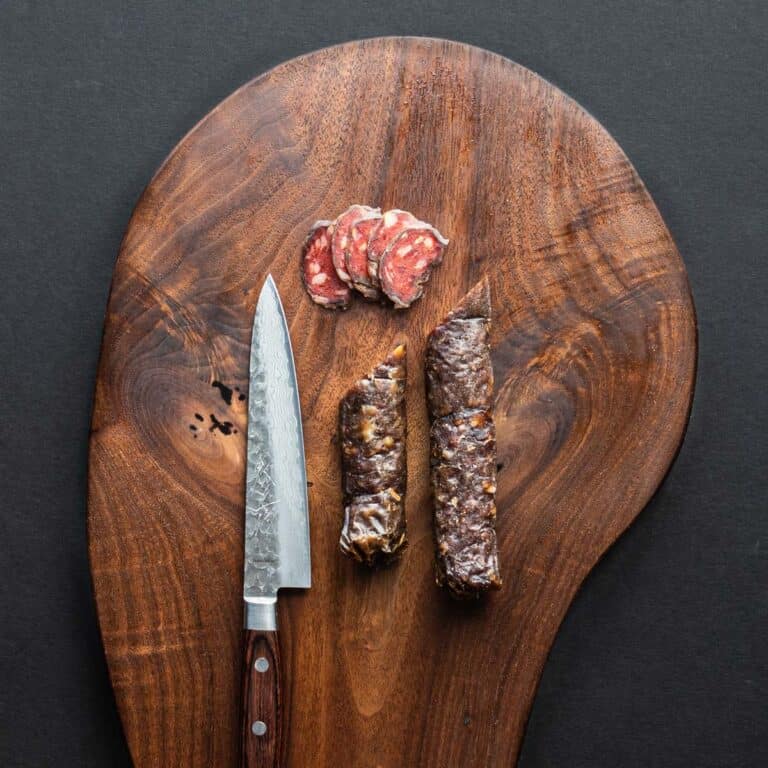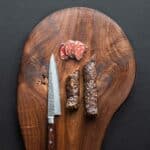 Print Recipe
Wild Fennel Seed Venison Chorizo
Dry cured fermented salami made from elk, spices and wild fennel seed that you can age in your fridge at home.
Ingredients
Meat
4

lbs

lean elk or venison

1

lb

pork fat
Salt and spices
45

g

salt

1

T

black pepper

1

teaspoon

instacure no 2

1.5

T

wild fennel

lightly toasted

1

T

cayenne
Finishing ingredients
¼

cup

dextrose

¼

cup

milk powder

Optional, see note

¼

cup

red wine

¼

cup

paprika

¼

cup

bactoferm mixed with 2 Tablespoons distilled or filtered water
Instructions
Cut the meat and fat into pieces that will go through a meat grinder easily, then chill in the freezer until half-frozen.

Mix the bactoferm with the water and reserve.

Cut the UMAi DRY casings into a foot length, or however long you want your salami to be.

Grind the chilled meat and fat through a ¼ inch die of a meat grinder.

Toast the fennel and pulse a couple times in a spice grinder. Don't grind the fennel to powder, just pulse it 2-3 times as you want to see some whole seeds in the finished product. Mix the meat with the salt and spices by hand, then mix in the finishing ingredients: dextrose, milk powder, the bactoferm slurry, and wine.
Fermentation
Pack the mixture into the UMAi DRY casings, tying off each end with zip ties or butcher's twine. Put the salami on a baking sheet with a rack, then allow to ferment at room temperature for 24 hours, or until you can notice the color of the meat visibly lighten.

For fermenting, putting the salami in a still/turned off oven works fine. If you put the salami in the oven, make sure to put a note on the handle so no one turns it on-that won't be fun for anyone.
Drying and finishing
After 24 hours, remove the salami and place in a fridge for 4 weeks, or until dry to your liking. When the salami are finished, I like to vacuum seal and freeze them until I want to use them, which also refreshes the texture.

Finished, dried salami can be stored in the fridge for a few weeks, or frozen for long-term storage.
Notes
Milk Powder
Milk powder will give you a superior bind and texture on the finished salami, but if you are at all new to making charcuterie or using a meat grinder and sausage stuffer, you may want to skip it as it can make the packing process much more time consuming. Adding milk powder will firm up the meat mixture, and it is much harder to pack into casings.