Ever wondered how to make prosciutto? Or even something similar at home? It's a great piece of pork charcuterie, but a difficult one to make well at home unless you have some serious patience. Read on and I'll explain.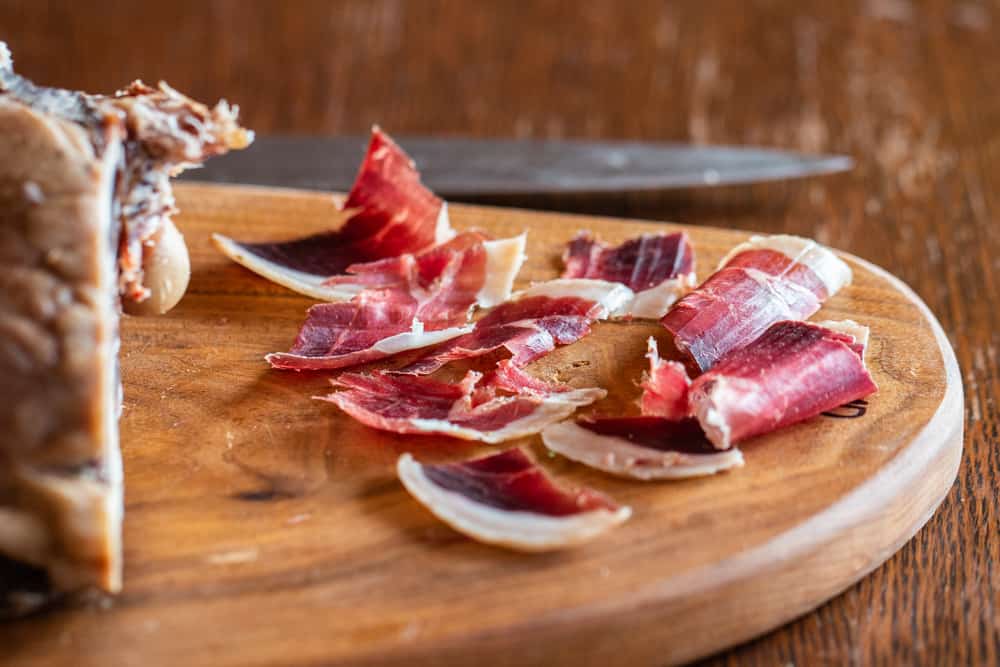 Back at Heartland restaurant in St. Paul when I worked under Chef Lenny Russo, if there was going to be prosciutto on the menu, we made it in house—all of it. Mostly the prosciutti we made were pork, and they took a good 18 months, but sometimes there would be boar too, and we could get away aging those for about 12 months.
I love, love cured meats, especially prosciutto, but I don't have the set up (or the patience) to age anything for 12-18 months right now.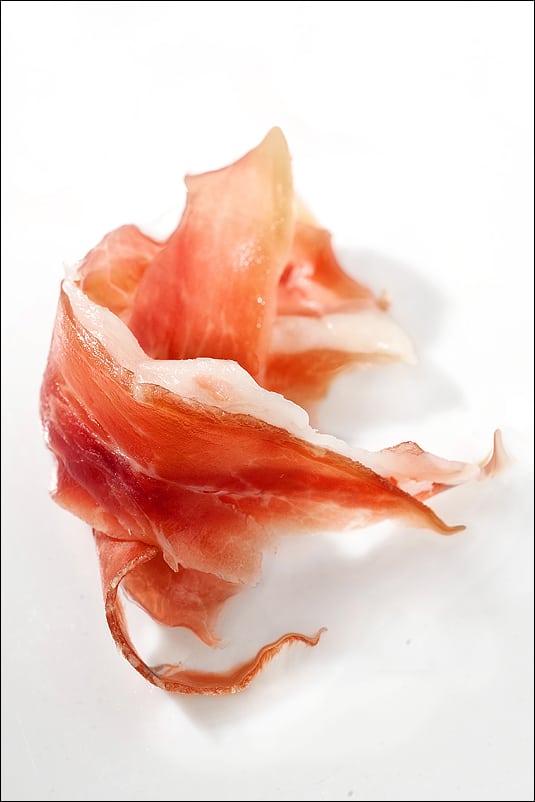 Last year in the summer, while I was doing research for my book, one of the books I was reading had something that made me think differently about the process and if it would be worth doing prosciutto or something similar at home. The book was The Little House Cookbook, inspired by the Laura Ingalls Wilder series, with many of the passages (and recipes where possible) in the book coming directly from the original texts. 
One of the passages (I don't know exactly which book it was from) talked about Pa hanging a pork leg in the chimney for a time to cure it. I don't remember how long the leg was in the chimney, or if it was hung afterword, but I would assume it was. Either way, it changed my tune.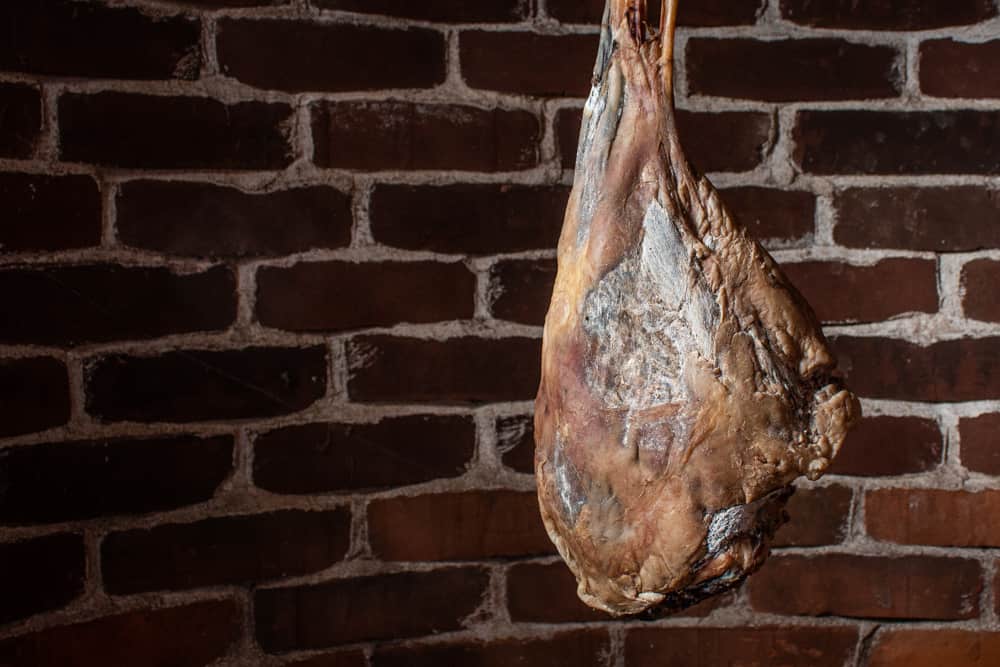 Hanging ham: a seasonal tradition
Curing and hanging meat used to be a seasonal thing. Fall came around, and the animals who'd been around the yard for the growing season would be hard to feed during the winter. Pork would be salted, smoked, to provide food throughout the winter, or, in the case of ham, often aged until Spring, which is one of the reasons people eat ham around Easter.
Sure, typical prosciutto takes a long time, but that's because pork legs are large. Salting, smoking and hanging a leg of lamb, goat, or venison at home would go much quicker, and I thought it would be fun to put one up early in the winter to take down in the spring.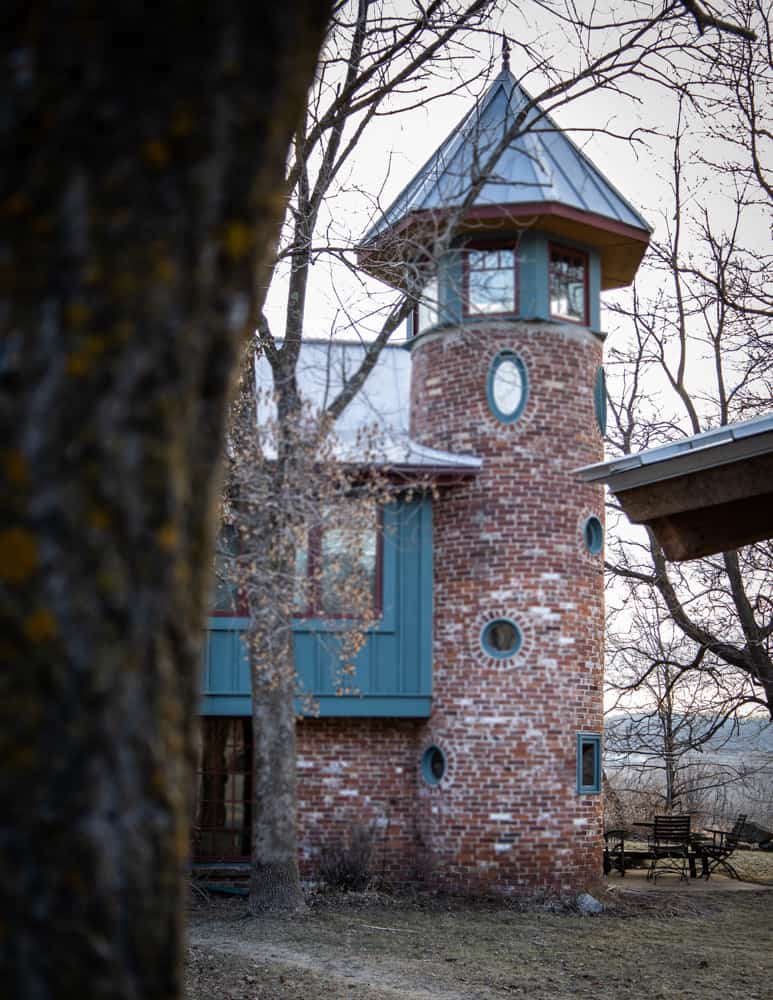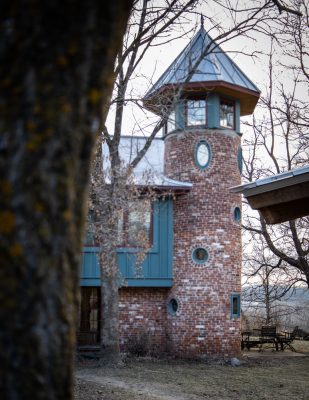 I didn't have a chimney like Pa, but I did have a smoker. And, I also had a secret weapon: a tower connected to the house that stays at roughly the temperature of a fridge during the winter where I knew I could hang a leg of lamb, goat, or deer without it freezing, which would mess up the process.
Prosciutto vs Speck vs Country Ham
Lets get something straight for the sticklers though. Technically, what I wanted to make was more along the lines of American country ham, or speck, one of my favorite cured pork products that hails from the Dolemite mountains in Northeast Italy.
Speck is ridiculously good, and just a couple shavings will bring flavor to all kinds of things, especially if you sweat it in butter. American-style country hams like the famous Smithfield loved by James Beard are very similar, but aren't aged half as long as speck or prosciutto.
Fenalår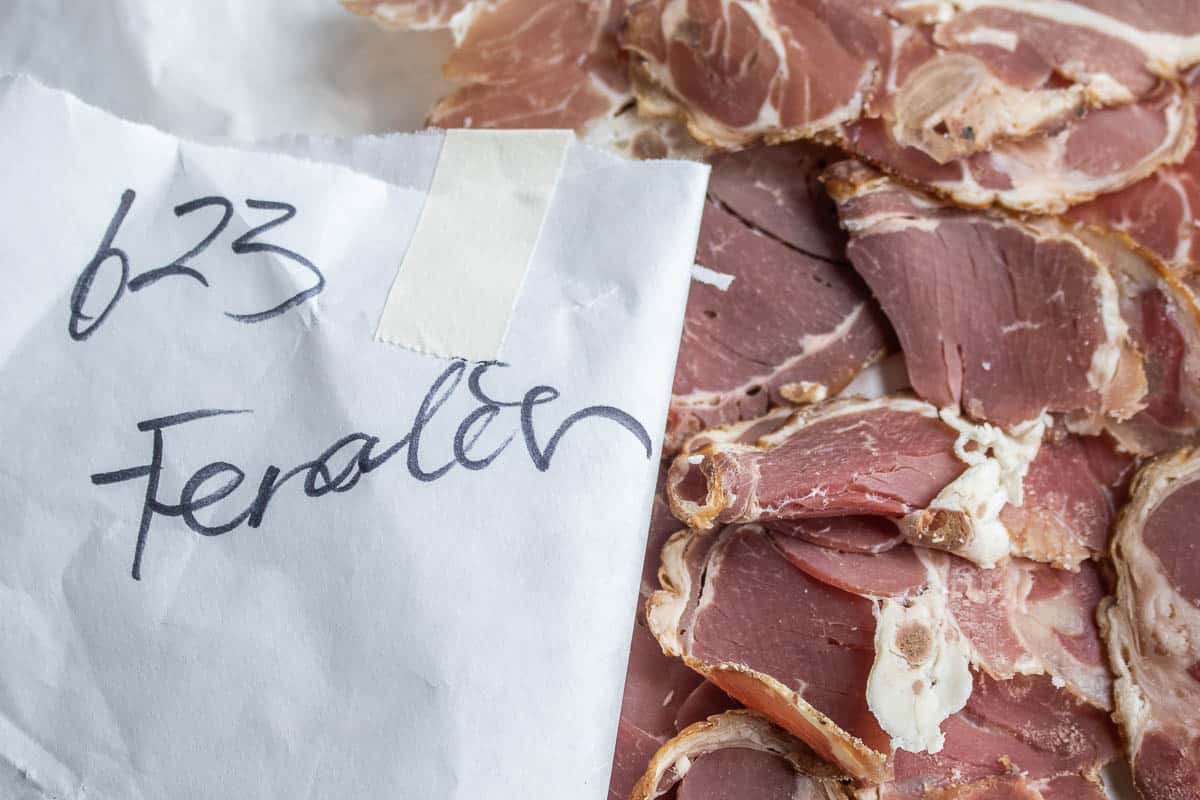 Another analogy here, and, in all honesty probably the closest one to the finished product here is Fenalår, a smoked mutton ham traditionally made by my viking ancestors in Norway.
Just like prosciutto, mutton legs are salted, but then are held in a room with a wood fire to keep them from freezing, which also smokes them in the process. Above is a picture of fenelar I bought, which you can see has obviously been treated with sodium nitrate and cooked, giving it the texture of a common ham. If you're in Minnesota, Ingebretsons is the finest Scandinavian food store we have--they even make their own salted pork trotters and blood sausage!
Salting and Curing
One big question I had to work out was how to apply the salt and initial cure to the leg. There's lots of info and opinions out there, but here's my opinion.
Pink salt or no?
Typically with charcuterie I'm a stickler for using a gram scale to measure out my seasoning and cures. But, I'm pretty sure Pa didn't use a gram scale for his ham, and neither did the Romans or the Gauls before them.
If I'm making terrines, bread and brines, yes, I'll use a scale to measure my salt, but for a rustic, homemade, salt-cured ham, I don't think it's necessary. But, if you're new to curing, you might consider using instacure #2 (sodium nitrate) both for the flavor it adds, and for the added protection from spoilage.
Bactoferm
Bactoferm is a freeze-dried culture used in making salami. This is the bacteria that helps give the white mold to cured meats you see on the outside, giving them mushroomy flavor notes. The culture also helps acidify and jump-start the fermentation process, and it's a good thing to keep in mind if you're new to curing. It's cheap, and a little goes a long way.
Smoked, for a week
After salting, I smoked the ham for an entire week to mimic Pa's chimney. This was at the end of October, when the temperature is only hovering around freezing at night. What I did, was leave it in the smoker with the door propped open, smoking at the lowest possible temperature. All. Day. Long.
During the nights, I left the leg outside, since I knew it wasn't cold enough to give it a hard freeze. Smoking here is interesting to consider for it's preservative qualities. Our ancestors knew, probably intuitively, that smoking helped preserve food, but probably not why.
One of the reasons is probably because smoke creates nitric acid, which helps preserve the meat, and probably helped keep flies away if meat was cured in warmer parts of the year and hung outside.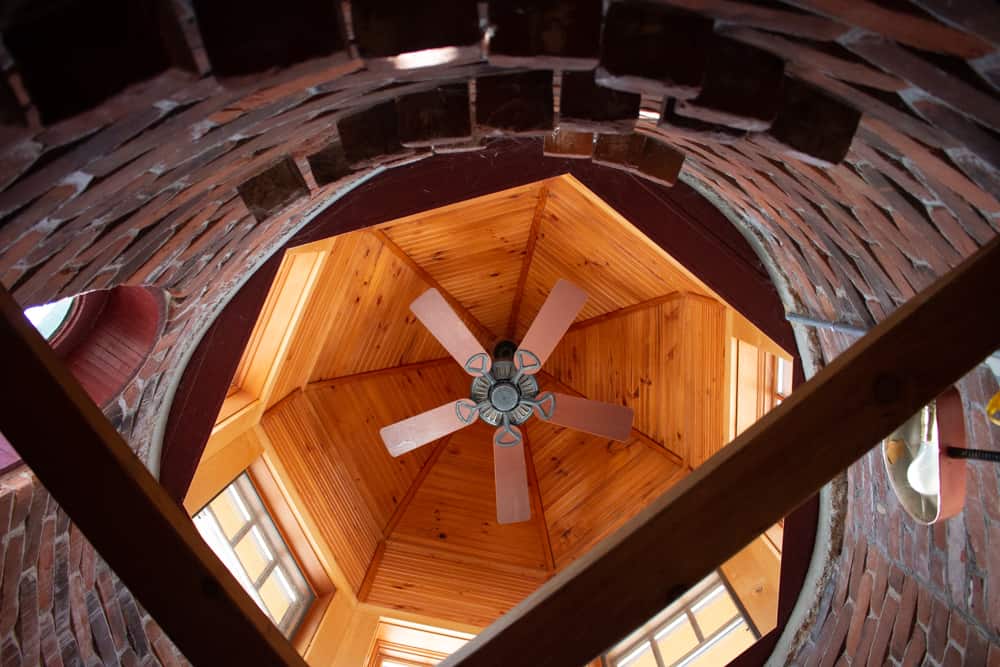 To make sure the smoking wouldn't cook my lamb ham, I set it to smoke with the door propped open and put the probe in the middle of the smoker to test the temperature first. It never got above 45-55F, so that was good enough for me. Sure enough, even after 8 hours of smoking, when I'd reach my hand inside the smoker, the lamb leg was still cool to the touch.
Improvising the week-long smoking
I used a stand-up, vertical smoker, with the leg at the top of the smoker to get it as far away from the heating element as possible. You could probably do something similar with a pellet grill by leaving the door wide open and figuring out a way to prop the leg up to get it away from the heating element. You could also just build a fire and hang the ham nearby/downwind from it, which would do the same thing. It's not an exact science.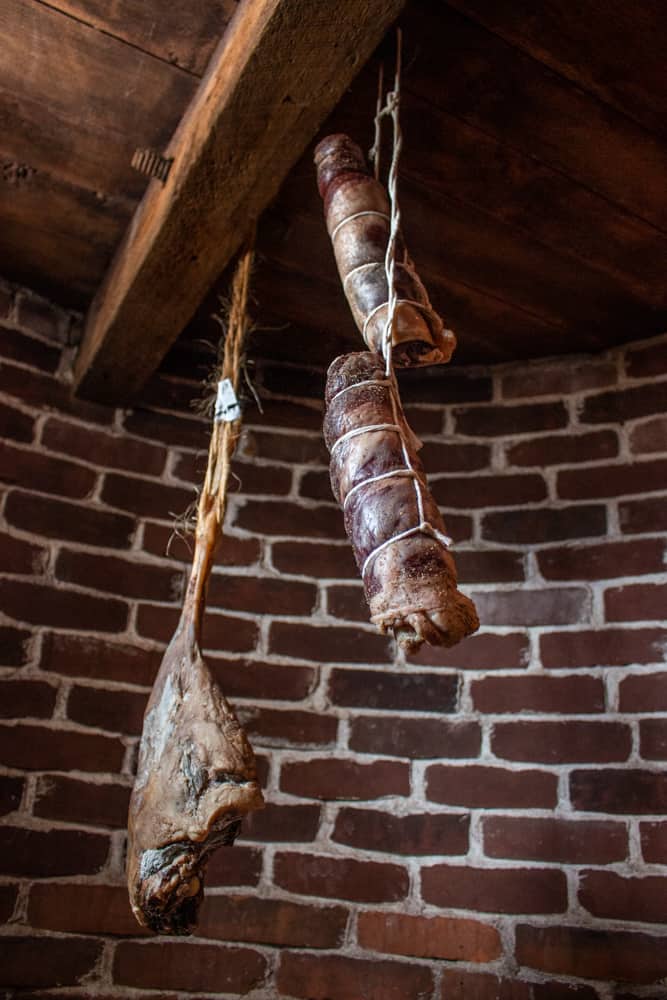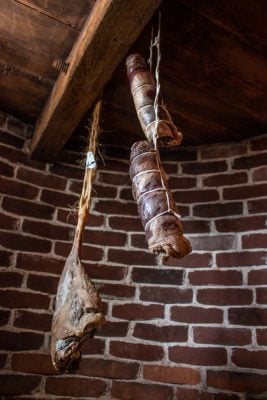 Hanging
After I smoked the salted leg of lamb for a week, I weighed it, then tied it up and stuck it in the tower, checking on it here and there, until it had lost about 30% of it's weight, at about the 3 month mark. I knew this part would be tricky, since I didn't have a way to control my humidity. Pa didn't have a humidifier, so I didn't feel the need to put one in the tower. I wanted to keep it rustic.
Humidity
There's lots of instructions on how to properly age a country ham or prosciutto, starting with a high humidity and decreasing it as time goes on to prevent case hardening. If you really want to make the perfect DIY prosciutto, research that, by all means, just don't let worrying about it stop you from experimenting.
Lamb, goat, and venison hams, as they're going to be skinned first, are all going to get a little dry, and it won't be the end of the world. Remember people have been curing and aging meat in far more "rustic" conditions than the spot in your garage or basement you might use to hang your ham, for a very long time.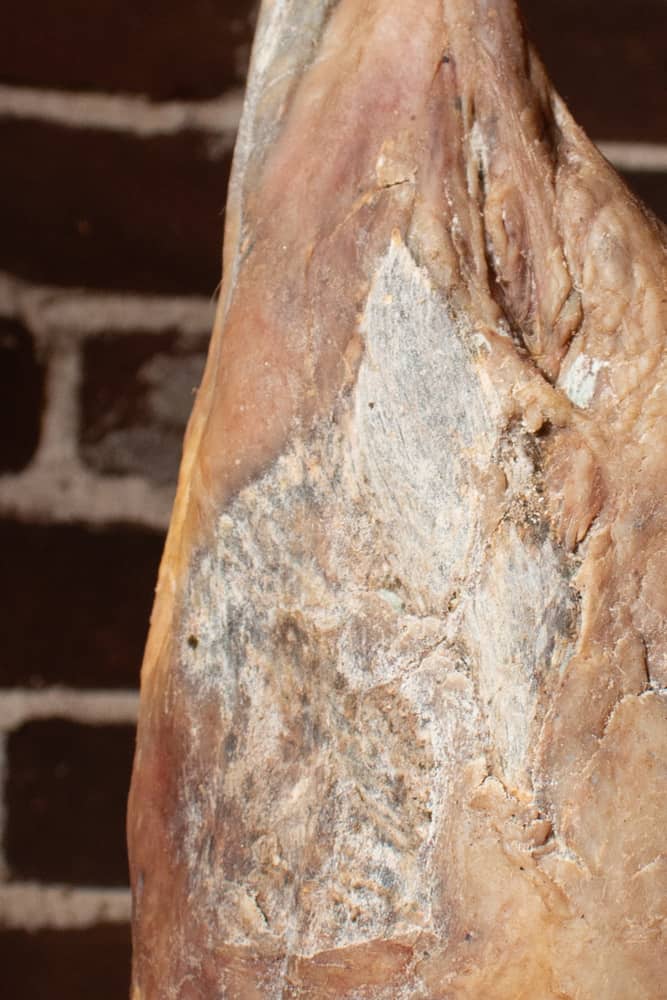 Case Hardening
The nice thing about a leg of pork is that they have the skin on, and that layer of fat protects the meat. I skin all my lamb and deer legs though.
Skinned legs mean you have exposed muscle protein, it that will eventually dry out, giving way to a process called "case hardening" a toughening of the meat that can prevent moisture from evaporating.
I knew I'd probably get some case hardening on my smoked lamb ham, but since I was only planning to age it for 3 months or so until the spring thaw, I figured it wouldn't be too big of an issue, and it wasn't.
After a few months of aging, I took the leg down, trimmed it up, and, portioned it into a few packages so I could mete it out as needed.
The flavor was excellent: smoky, meaty, with plenty of aged funk reminiscent of prosciutto and speck. Is it true homemade prosciutto? No, mine wasn't quite as firm, but it was close--pretty darn good for only 3 months of hanging. Is it about as close as I care to get with no investment or special equipment? Absolutely.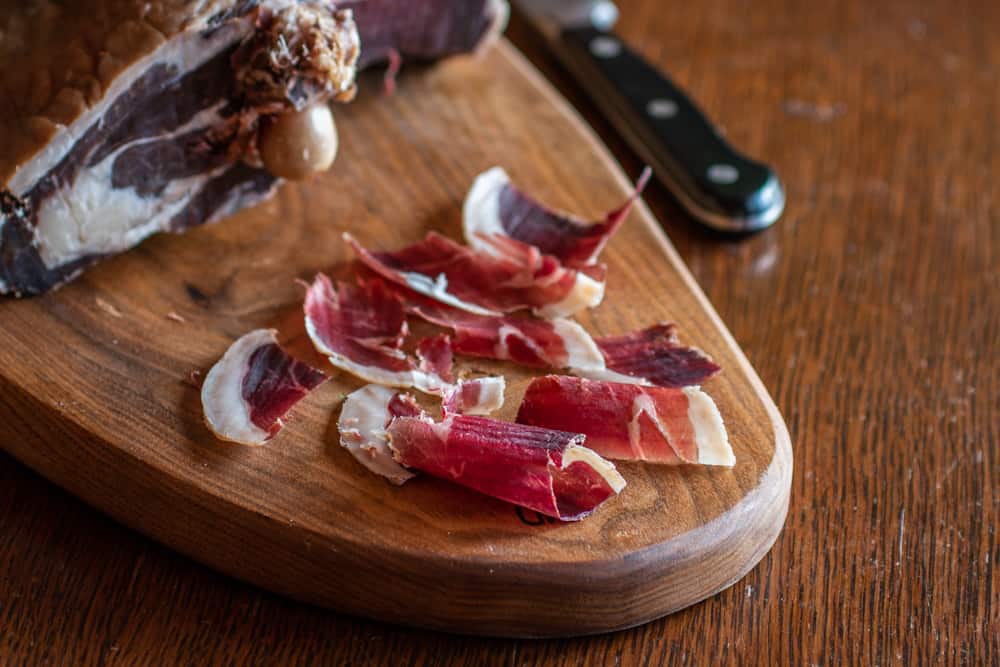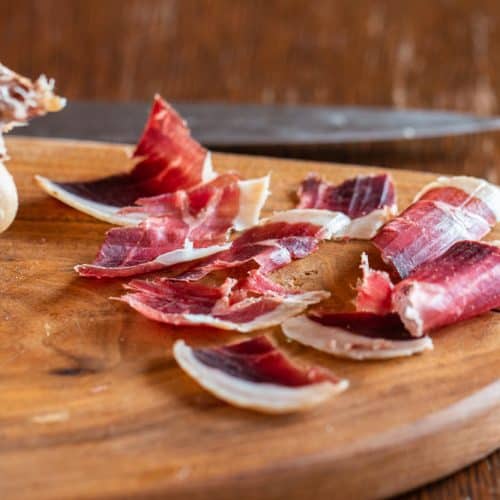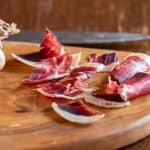 Print Recipe
Smoked Lamb, Goat, or Venison Prosciutto / Country Ham
A relatively simple, DIY, smoked, prosciutto or country-style ham made from a small ruminant leg.
Ingredients
1

large lamb, goat, or venison leg, with shank,

about 6 pounds

1

cup

kosher salt

or 8 teaspoons (40 grams) per pound kosher salt for legs of other sizes. This is more than you need, but you can't really over salt this.

2

Tablespoons

whole black peppercorns

1/16

teaspoon

Bactoferm culture

optional but highly recommended

1

teaspoon

instacure no2

optional, not to be confused with instacure no1.
Instructions
Salting
Grind the peppercorns to the consistency of rough sand and combine with the salt, bactoferm and instacure no2 if using.

Rub the leg well with the salt mix, making sure to mind the ball joint and put extra salt around there. Keep the leg on a tray in a fridge, flipping every other day or so, whenever you can remember.

After two weeks, remove the leg and pat it dry completely.
Optional Smoking
Cold smoke the leg for 1 week, or at least a couple days, trying to keep smoke on it for about 4-8 hours each day, making sure the temperature doesn't get too warm by keeping the door of the smoker open, or a similar arrangement. You can aim for anywhere from approximately 45F-65 F here. This is not an exact science. If you have a way to cold smoke the leg you prefer, do it. The biggest thing to remember is that you don't want it to cook.
Hanging
Weigh the leg, write down the weight on a piece of tape or something similar. Tie the leg up and hang it in a cool, dry place for 3 months that won't freeze, with a temperature somewhere in the range of 40-55F, give or take a few degrees, keeping it cooler in the beginning as much as possible. Attach the tape with the starting weight to the string you used to hang up the leg.

As the leg cures, check on it here and there. If you see anything *other* than white mold a la camembert growing on it, spot treat/rub those parts with a towel wet with white vinegar until it's gone. White mold is normal and desirable.
Finishing and vacuum sealing
After 3 months, or when the leg has lost 25-30 % of it's weight, remove it, carefully cut out the bone, and vacuum seal the entire leg in a bag. Refrigerate the cured leg for 1 week to soften the meat. Save the bones to make really good stock.

After a week, trim off any still very hard portions of the outside crust, vacuum seal large chunks of your ham you can shave thin with a sharp knife.