A rich, hearty stew of lamb flavored with red wine, onions and mushrooms that everyone will love. This lamb neck stew recipe is the perfect way to use lamb neck, shank meat, or shoulder. It's based on my recipe for beef Bourguignon from my first restaurant.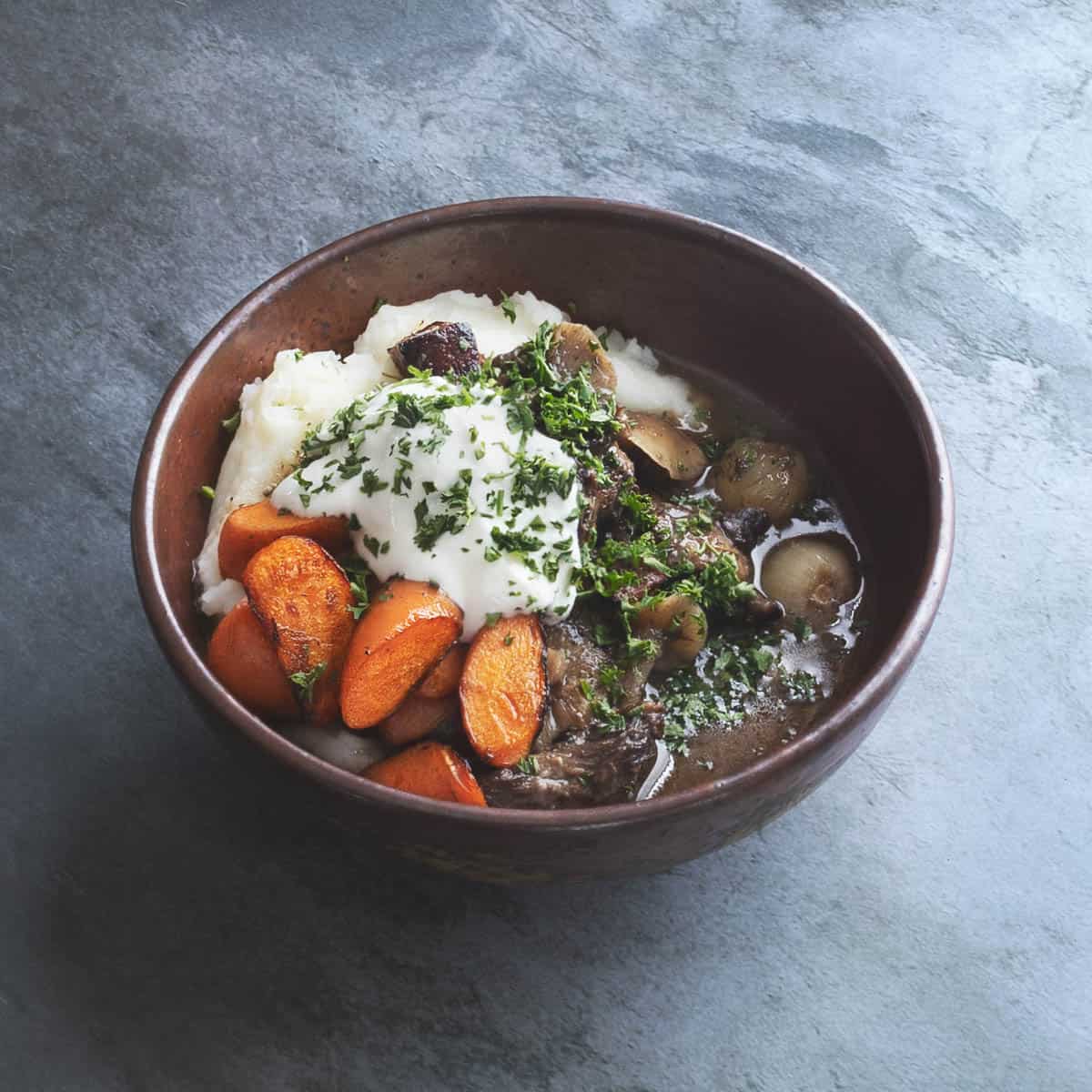 Where To Buy Lamb Neck
I buy grass fed lamb neck from Shepherd Song Farm-a small family run operation in Downing Wisconsin. Their meat is pasture-raised without hormones or antiobiotics, and the animals are allowed to roam and graze as they please.
Since they raise an heirloom meat breed, the meat is mild tasting and there's none of the gaminess you get with New Zealand lamb, which is a by-product of the wool industry.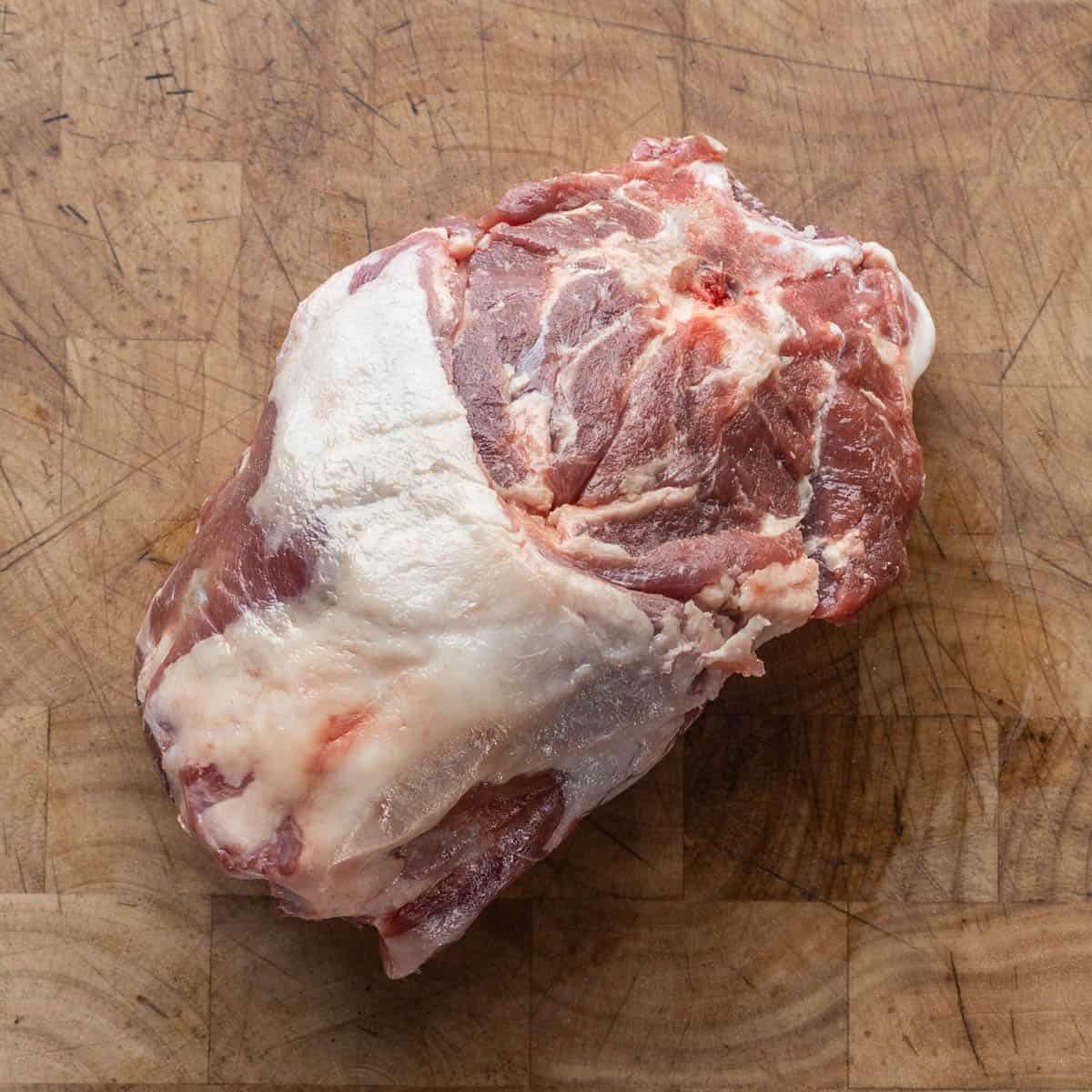 How to Make Lamb Neck Stew
First the lamb meat is marinated in red wine overnight to infuse it with flavor. The next day, the meat is patted dry, seasoned with salt and pepper, and browned well in a heavy pan like a cast iron skillet.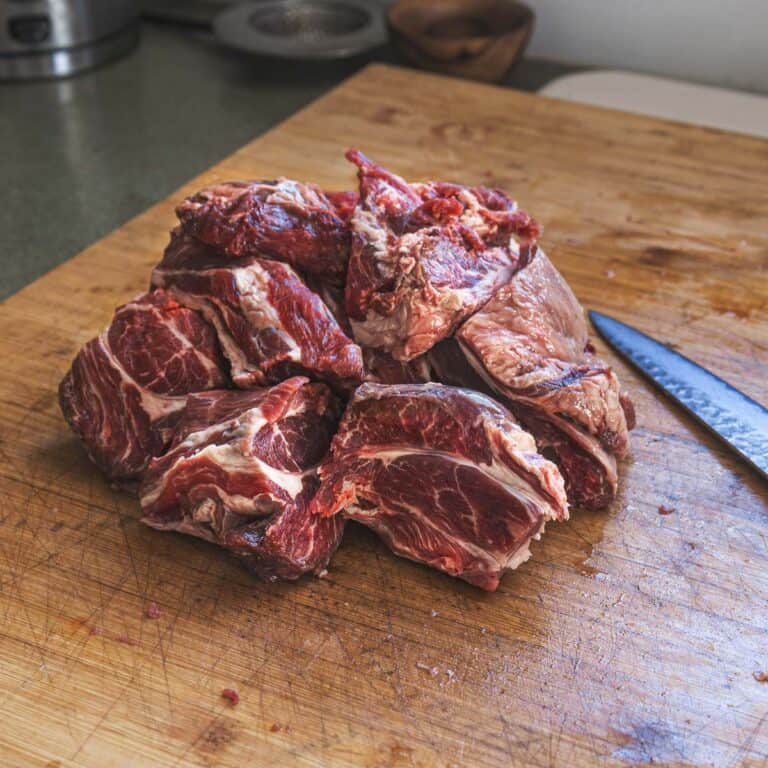 After the meat is browned, you cook some bacon, add the meat and wine to the pot, and cook until tender. About 20 minutes before serving, you peel and cook some pearl onions and mushrooms, adding the to the dish.
How to Make Kneaded Roux (Beurre Manie)
Kneaded roux is the traditional method of thickening stews like this. It makes it easy to control how much flour goes into the recipe and ensures it won't be too thick and gloppy. Mix some flour and butter oil with a fork until a paste forms, then stir it into the stew and cook until thickened.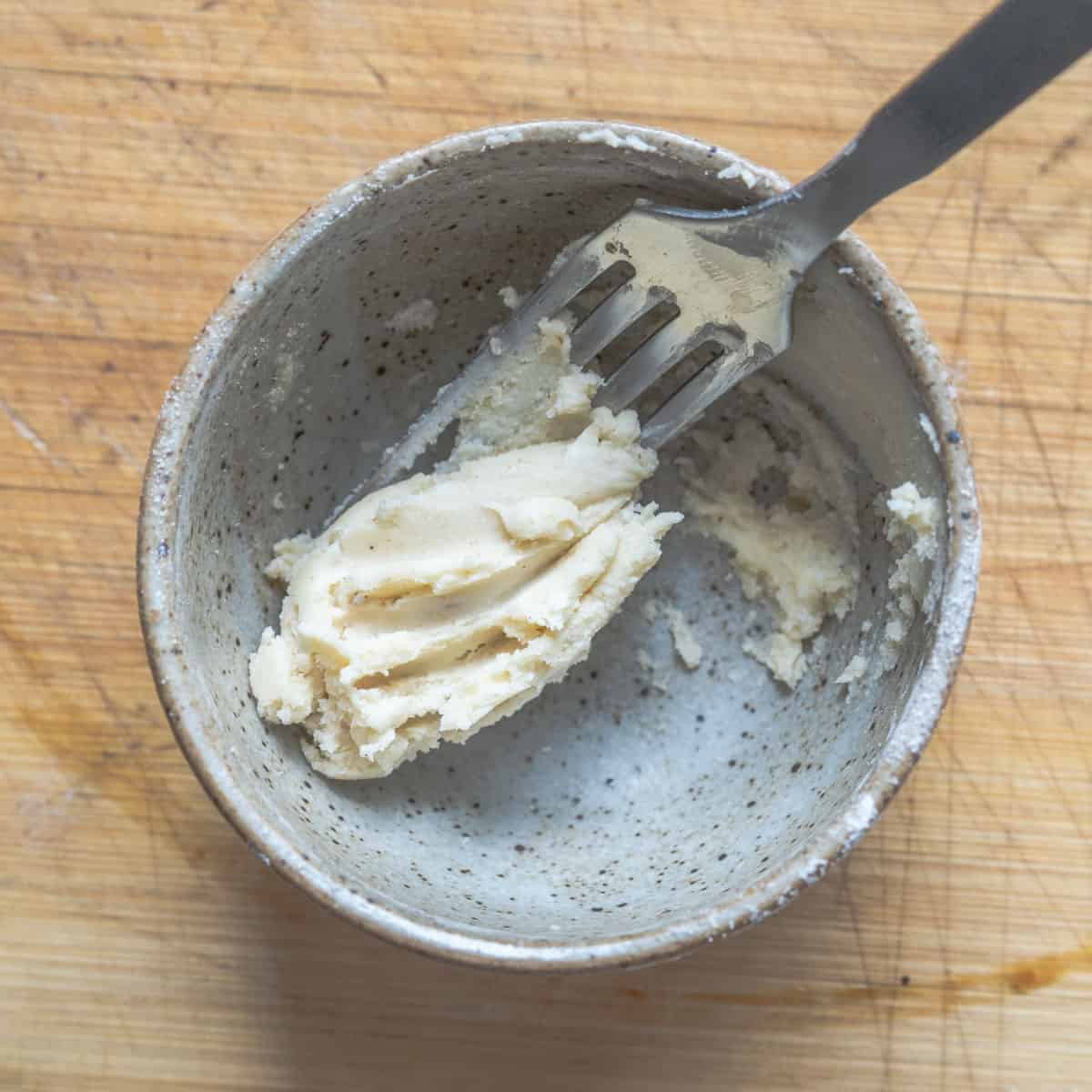 Mushrooms to use
This is a great recipe for wild honey mushrooms, but you can use just about any other mushroom you like. Chanterelle Mushrooms, hen of the woods, and purple laccaria are also good choices. If you can't find wild mushrooms, use shiitakes or, as a last resort, cremini/baby bellas.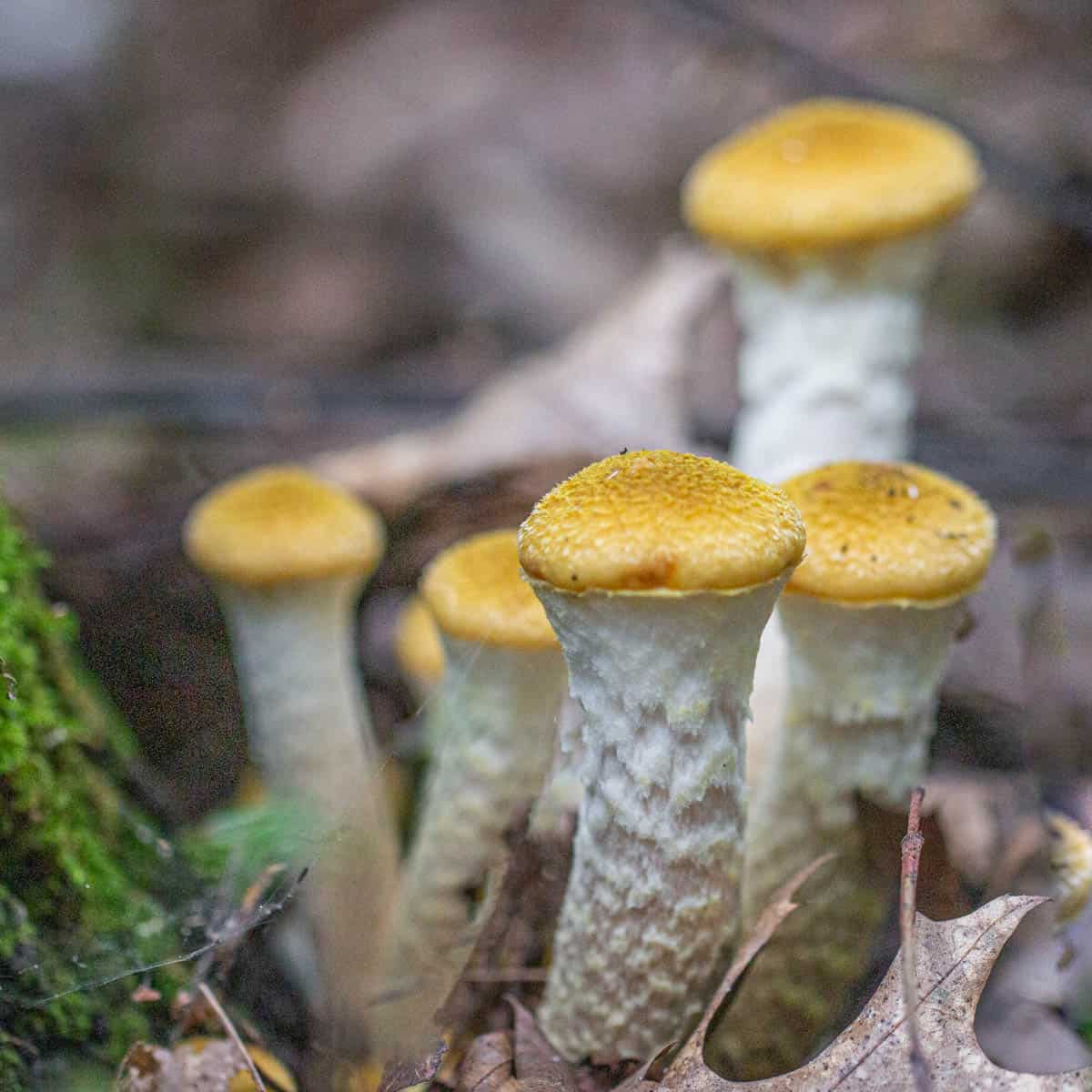 Related Posts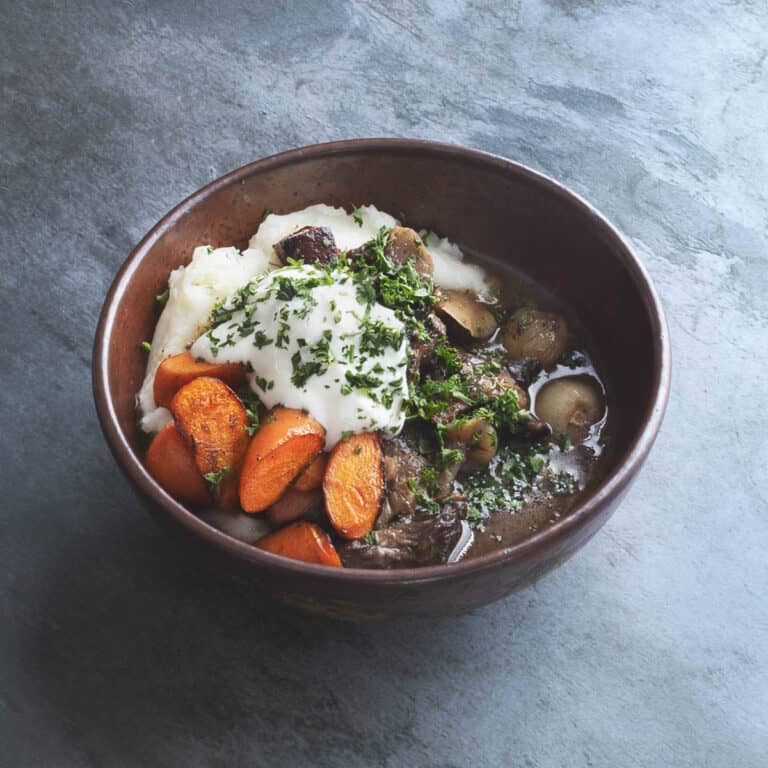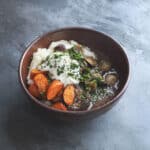 Print Recipe
French Lamb Neck Stew with Mushrooms and Red Wine
A simple variation on Boeuf Bourguignon made with tender lamb neck and mushrooms.
Equipment
Large pan for browning the meat

Dutch oven
Ingredients
2.5

lbs

of lamb neck or shoulder

cut into 3-4 oz pieces

Kosher salt and freshly ground black pepper

2

tablespoon

of cooking or rendered lamb fat

plus more as needed

1

cup

red wine

2

cups

lamb stock

3

oz

lamb bacon or regular bacon

chopped

1

teaspoon

fresh thyme

chopped

1

large clove of garlic

crushed or grated

8

oz

pearl white onions

peeled and trimmed

8

oz

fresh mushrooms

such as honey mushrooms or your favorite variety

1.5

tablespoon

cooking oil

1.5

tablespoon

all purpose flour
Serving
Mashed potatoes or another starch

Roasted carrots or root vegetables
Instructions
Season the meat
Season the lamb meat all over with salt and pepper and let it rest overnight.
Brown the meat
The next day, heat a little oil in a large, heavy pan (such as cast iron). Brown the meat well on all sides on high heat, working in batches and taking your time.

Once the meat has browned, transfer it to a plate and reserve.

In a small bowl, mix the oil or melted fat with the flour until it forms a paste. Reserve until needed.

Preheat the oven to 325 F.
Build the stew
In a wide braising pan (such as a satoir or a dutch oven), render the lamb bacon for a few minutes until it begins to crisp. Drain the fat from the bacon and reserve it for cooking the onions and mushrooms (if desired). Add the garlic to the pan and cook for a minute more.

Add the lamb meat, stock, wine, and thyme to the pan. Bring the mixture to a simmer. Put a lid on the pan and bake for 2-2.5 hours or until the meat is fork-tender.
Peel the onions
About 20 minutes before the meat is done, peel the onions and sauté them in the bacon fat until they start to brown (about 5 minutes). Remove the onions to a bowl to cool. Heat a little more oil in the pan and add the mushrooms, cooking until they have released their juices and are starting to brown.

Remove the pan of lamb meat from the oven and put it on the burner. Skim any fat from the surface and discard it.

Add the flour paste and beat it into the cooking liquid with a fork. Turn the heat up to medium-high and reduce the sauce until it reaches your desired consistency.
Add the mushrooms and onions
Add the mushrooms and onions to the pan and cook until the onions are tender. Taste the sauce and adjust the seasoning with salt and pepper until it tastes good to you.
Serving
Serve with mashed potatoes or another starch, and roasted carrots or root vegetables.
Notes
This can be made with many different cuts of lamb. Neck and shoulder are the best, but shanks or stew meat will work too.
When serving, sometimes I like to garnish it with a little horseradish sour cream, as pictured. 
Nutrition
Calories:
1050
kcal
|
Carbohydrates:
10
g
|
Protein:
54
g
|
Fat:
82
g
|
Saturated Fat:
32
g
|
Polyunsaturated Fat:
9
g
|
Monounsaturated Fat:
35
g
|
Trans Fat:
0.1
g
|
Cholesterol:
221
mg
|
Sodium:
480
mg
|
Potassium:
1014
mg
|
Fiber:
2
g
|
Sugar:
4
g
|
Vitamin A:
10
IU
|
Vitamin C:
6
mg
|
Calcium:
67
mg
|
Iron:
5
mg