A very old specialty of Armenia, aveluk is a beautiful braid of dried wild sorrel (dock / Rumex spp). I was skeptical of dock as an edible plant for years, but once you taste your first bite of aveluk soup you'll be impressed with how much flavor a handful of dried greens can have. Here's how to make it, and what to do with it.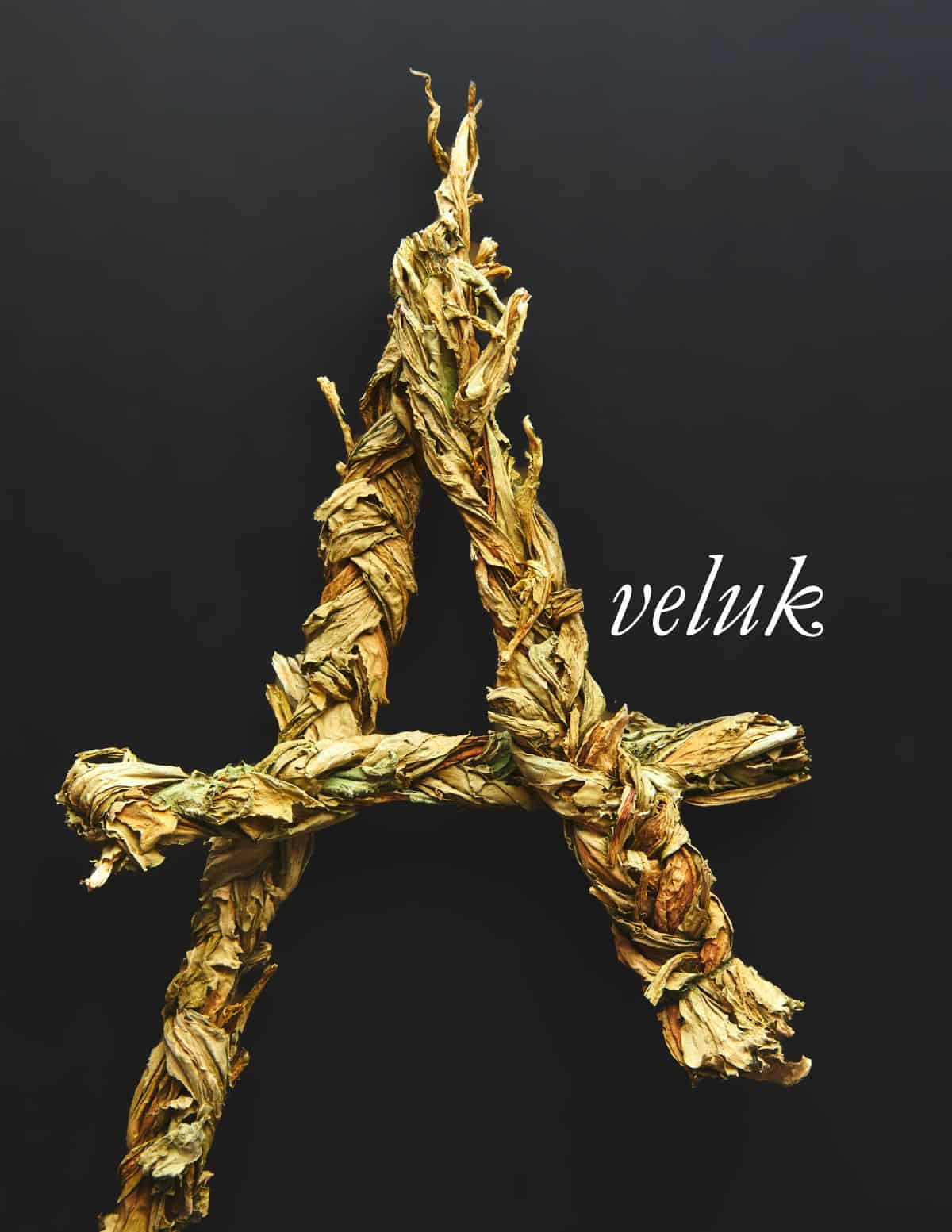 How to Dry Wild Sorrel
Not the sorrel most people will know, dock plants are harvested in the Spring when the leaves are fully formed and long enough to braid. I love braided food, especially prairie turnips (timpsila).
The braided plants are hung to dry in the sun, then stored and used for cooking in the winter in soups, stews and salad. Ramps or wild leek greens, and just about any green long enough to braid can be preserved this way.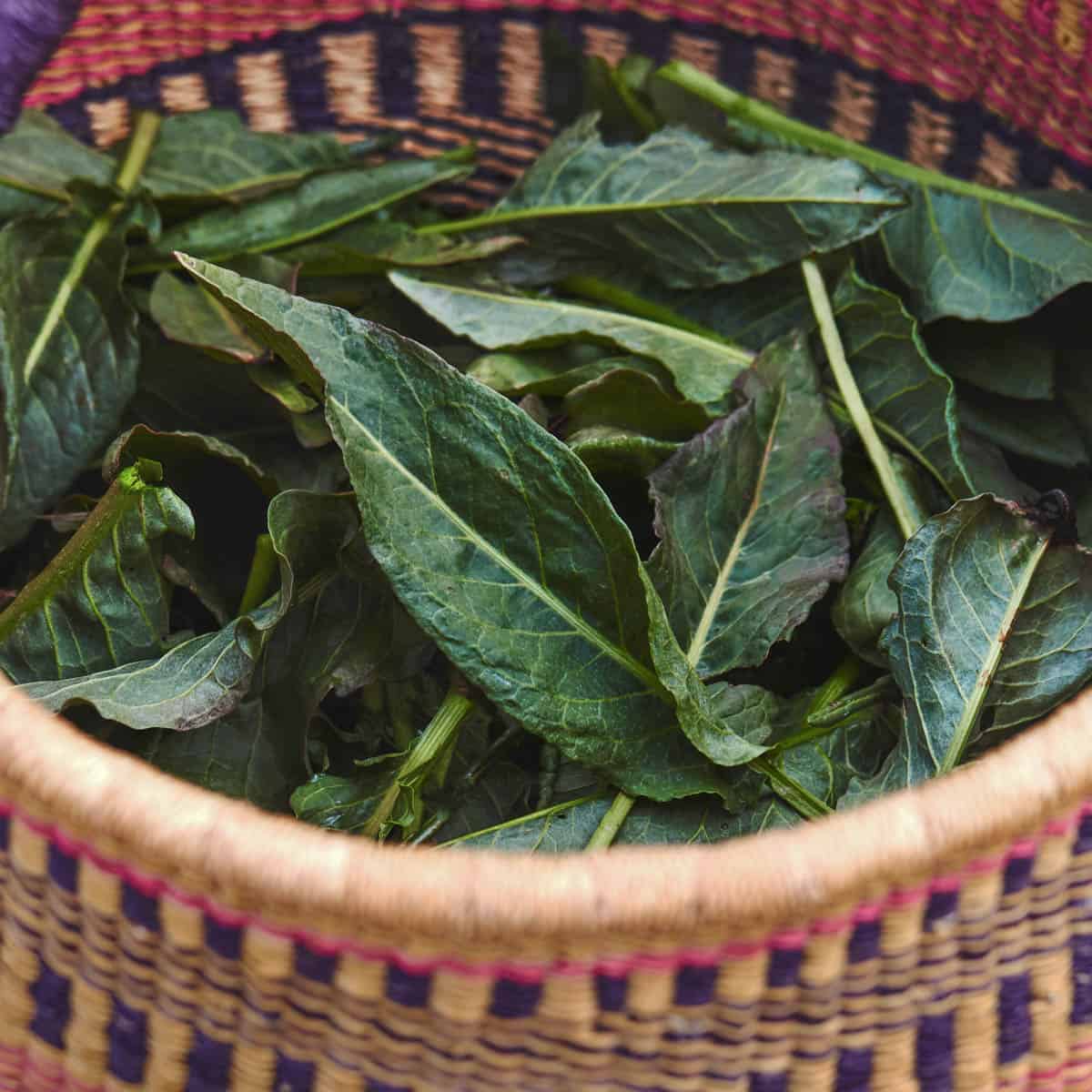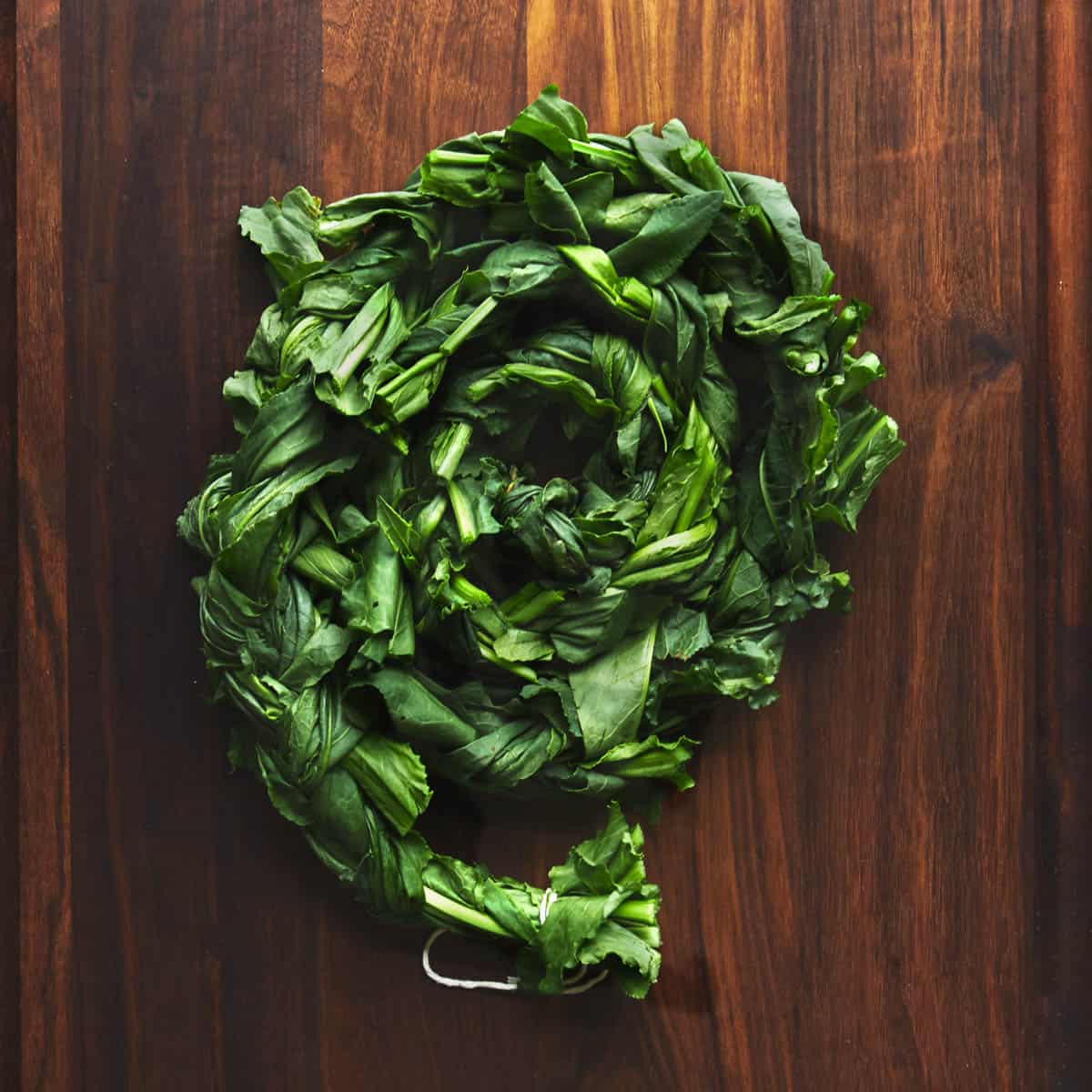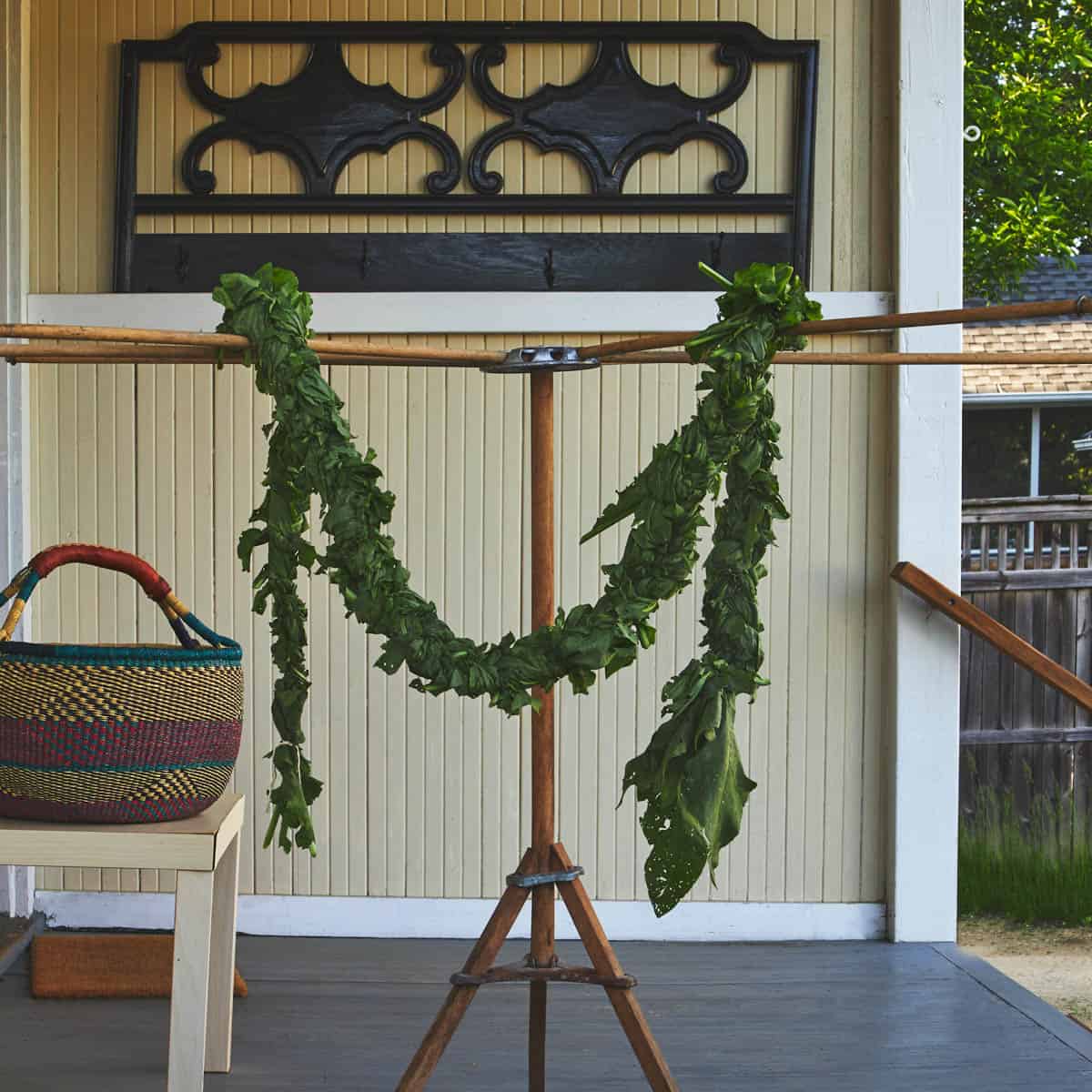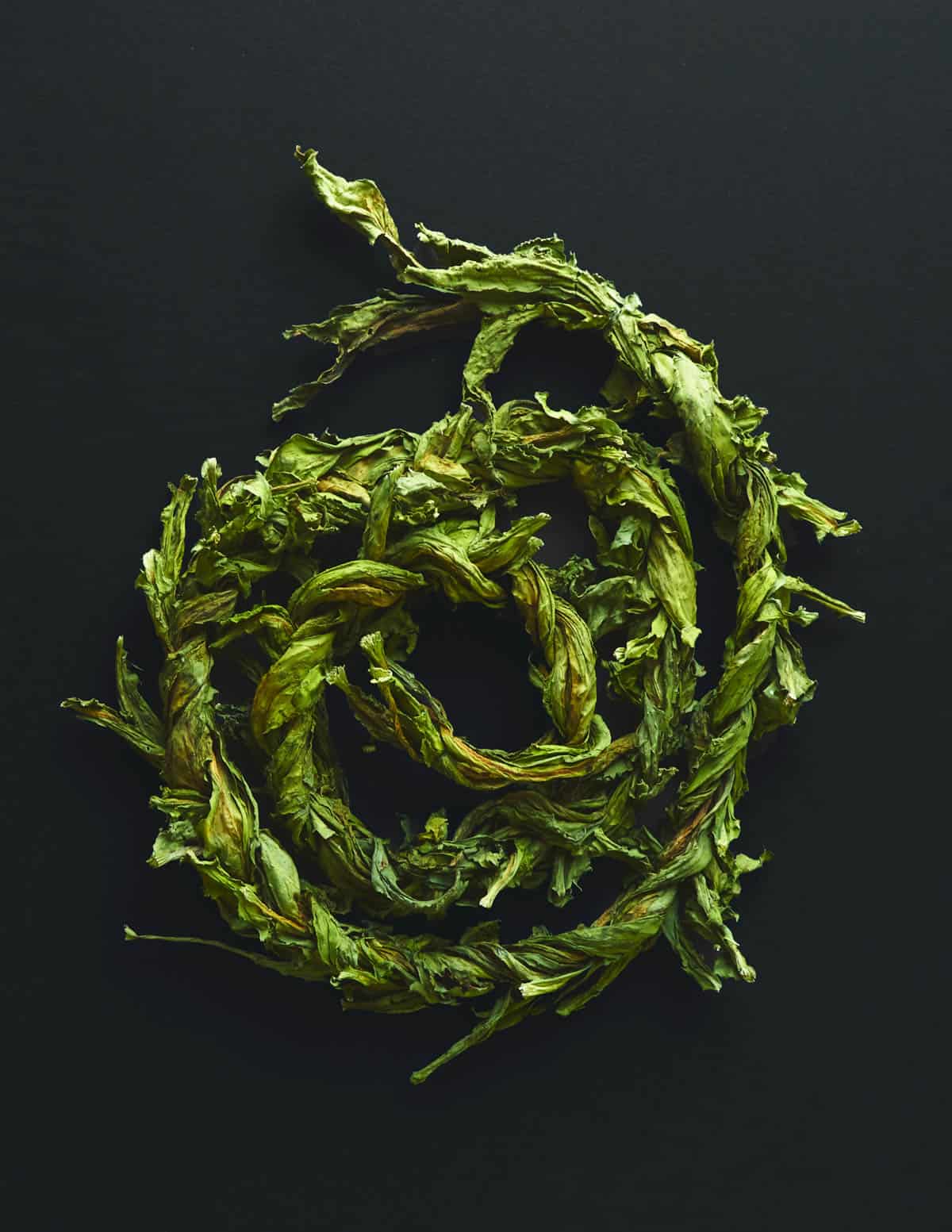 In images of traditional braids, you may see some discoloration that can happen from the greens not being dried quickly. Exposing the greens to sunlight as they dry is one of the secrets to keeping the plants green. I hang my dock in the sun, and move them to the garage after they're mostly dried.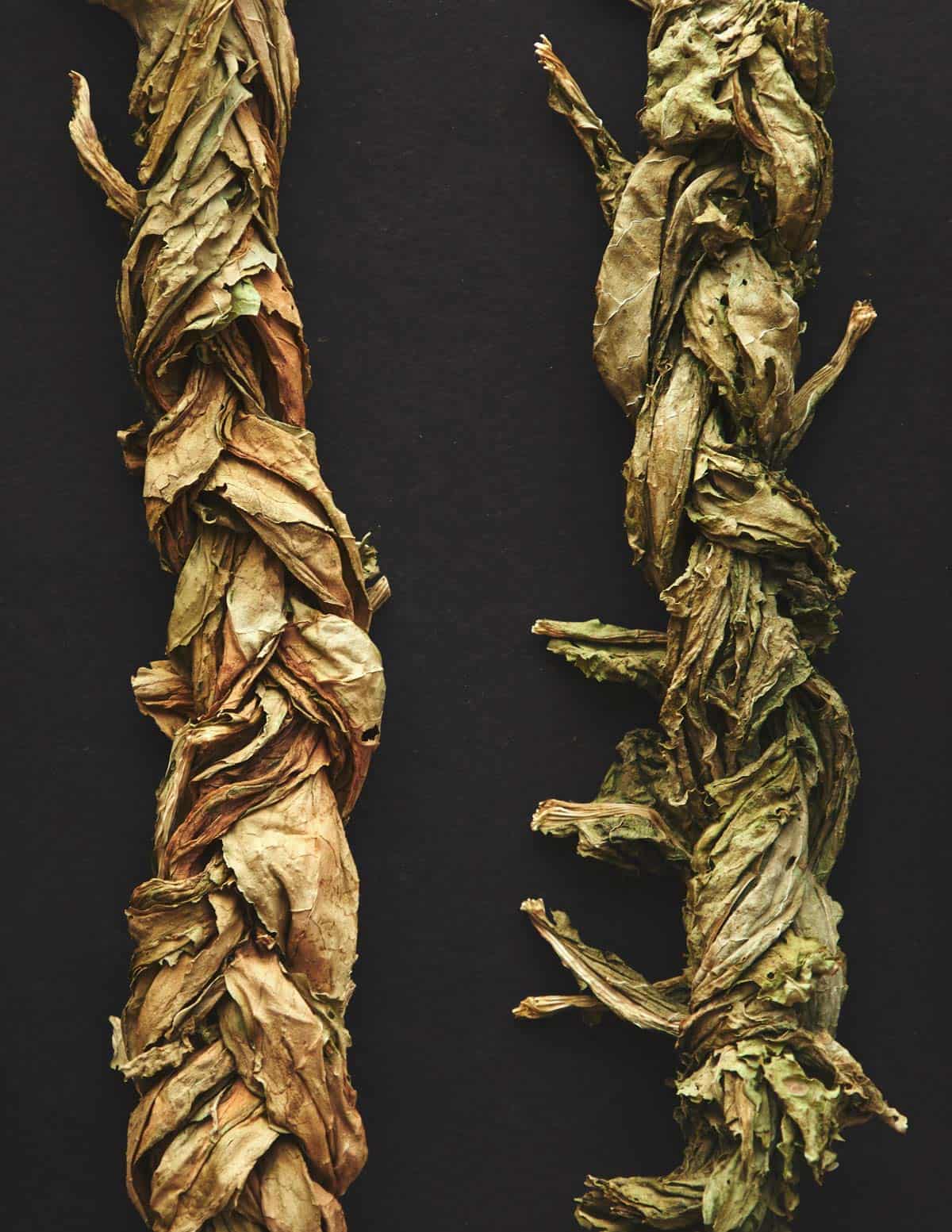 How to Make Aveluk Soup
To make the traditional soup, the greens are cut into pieces with a scissors, then softened in boiling water. The water is discarded and takes nearly all of the bitter, strong flavor of the dried greens with it. After rehydrating, you add the greens to a soup.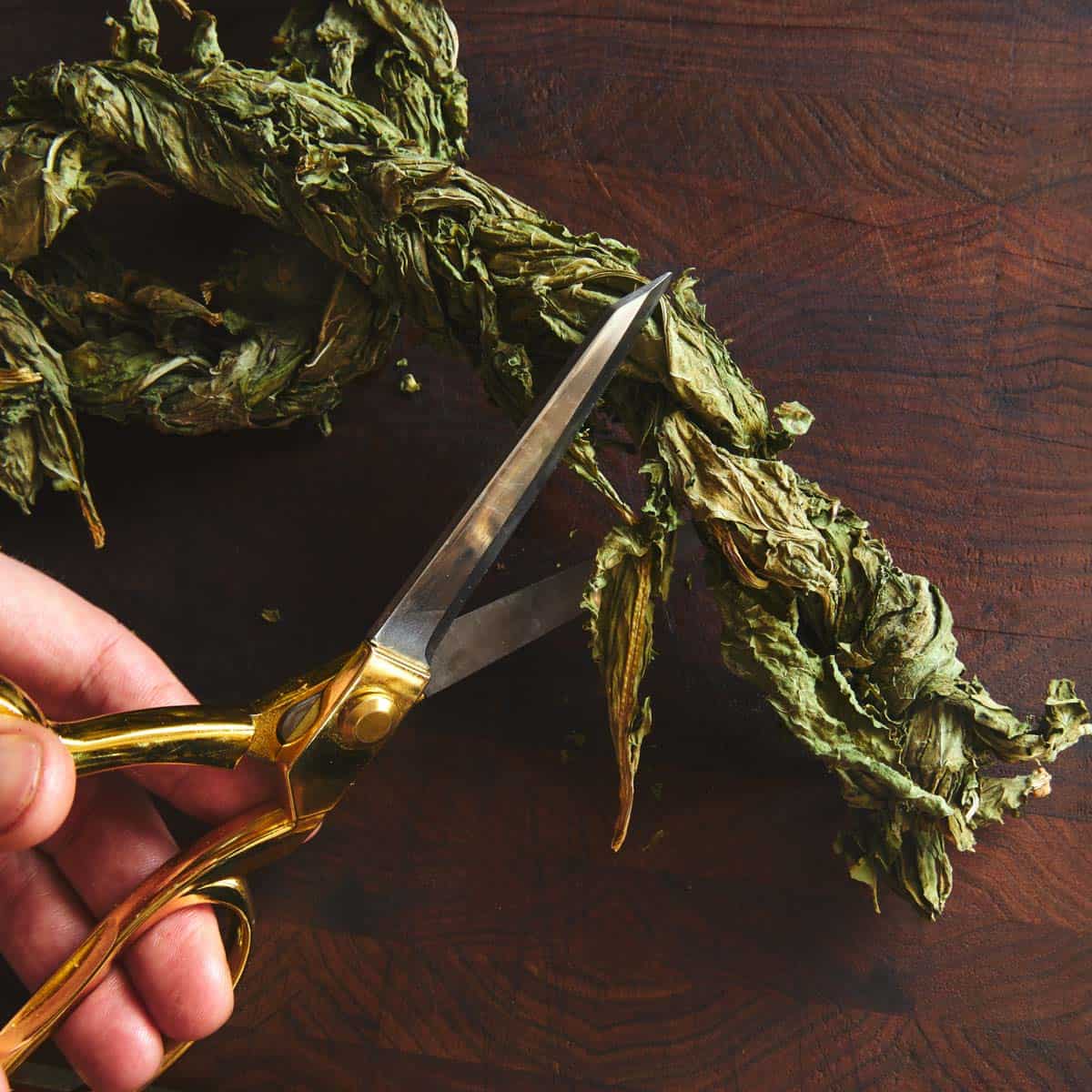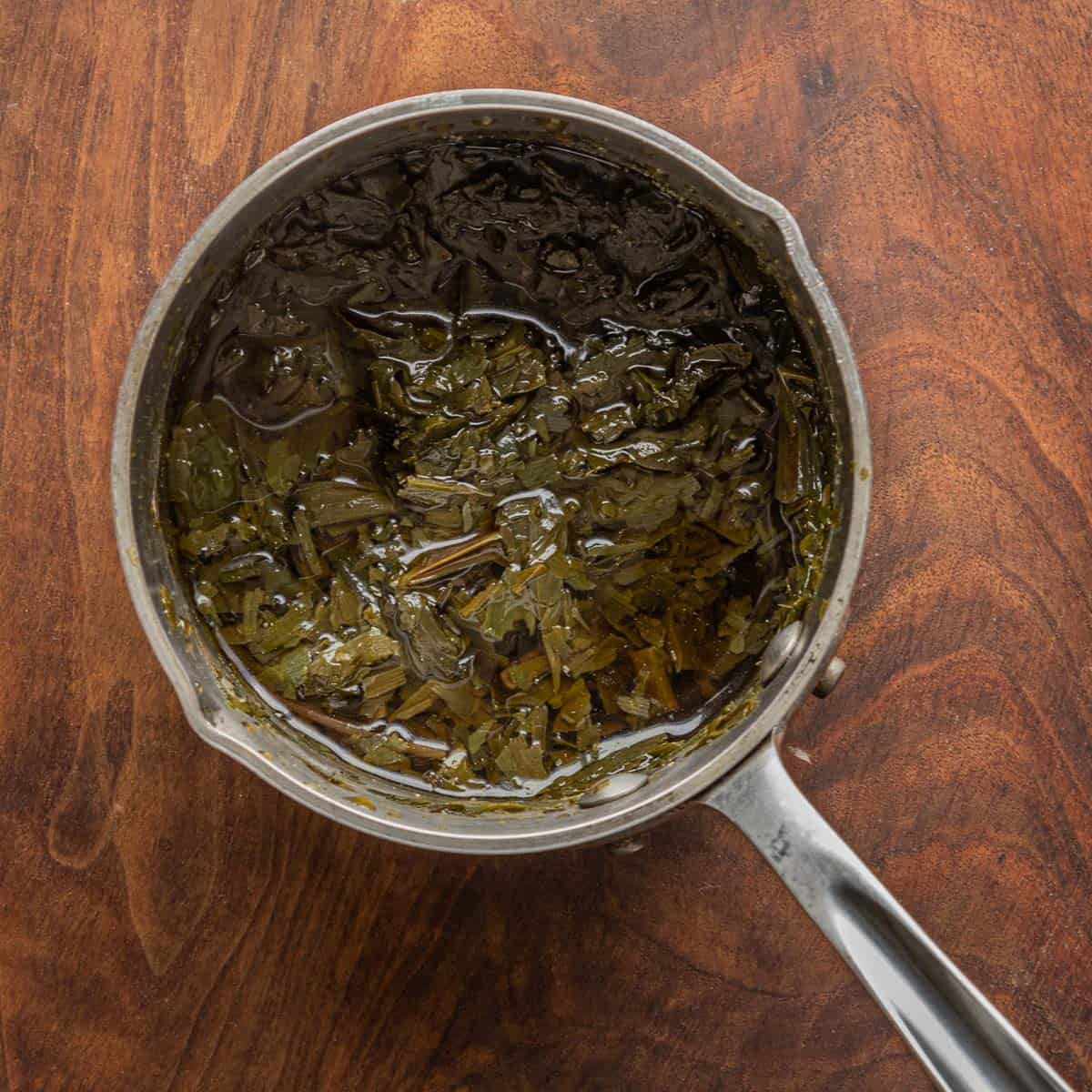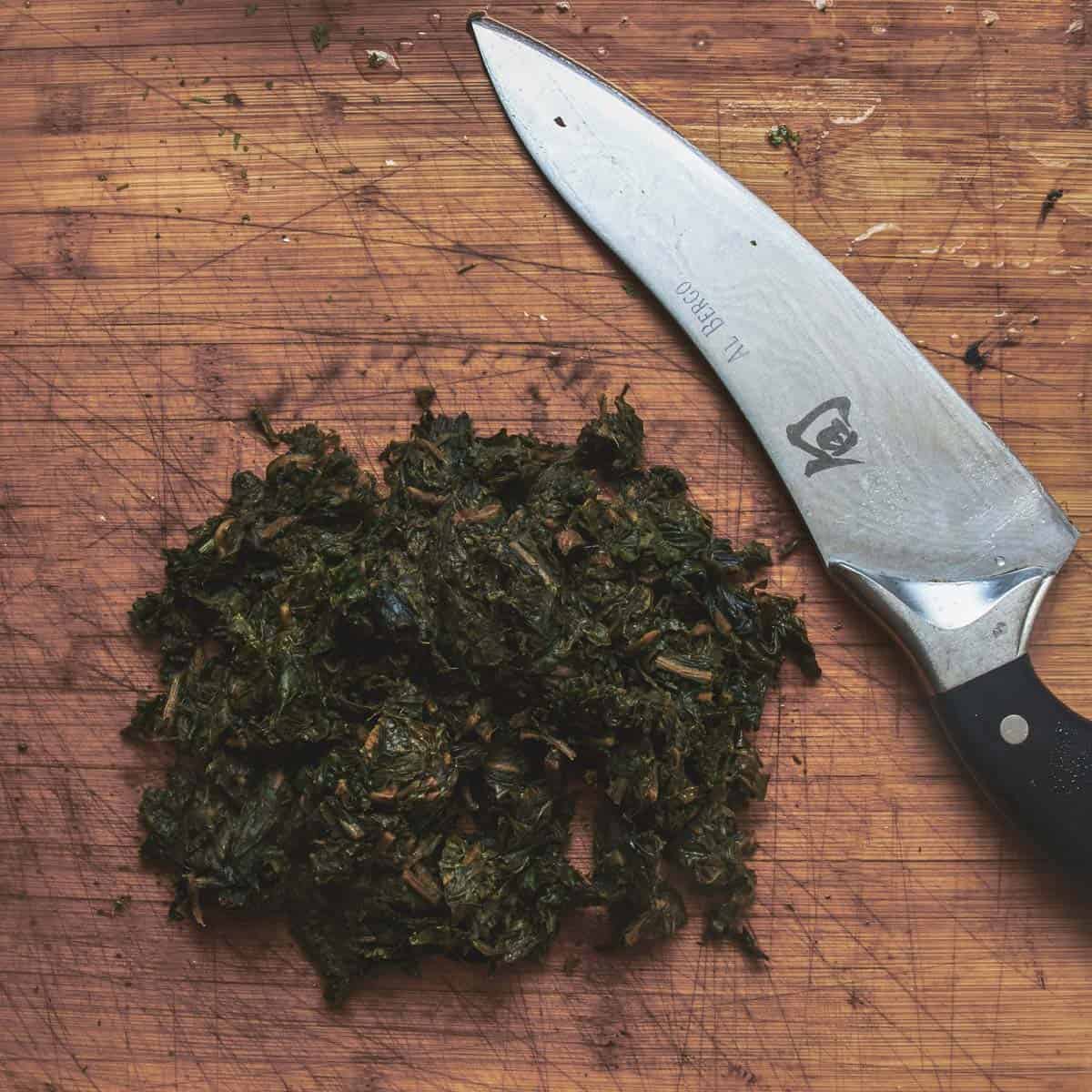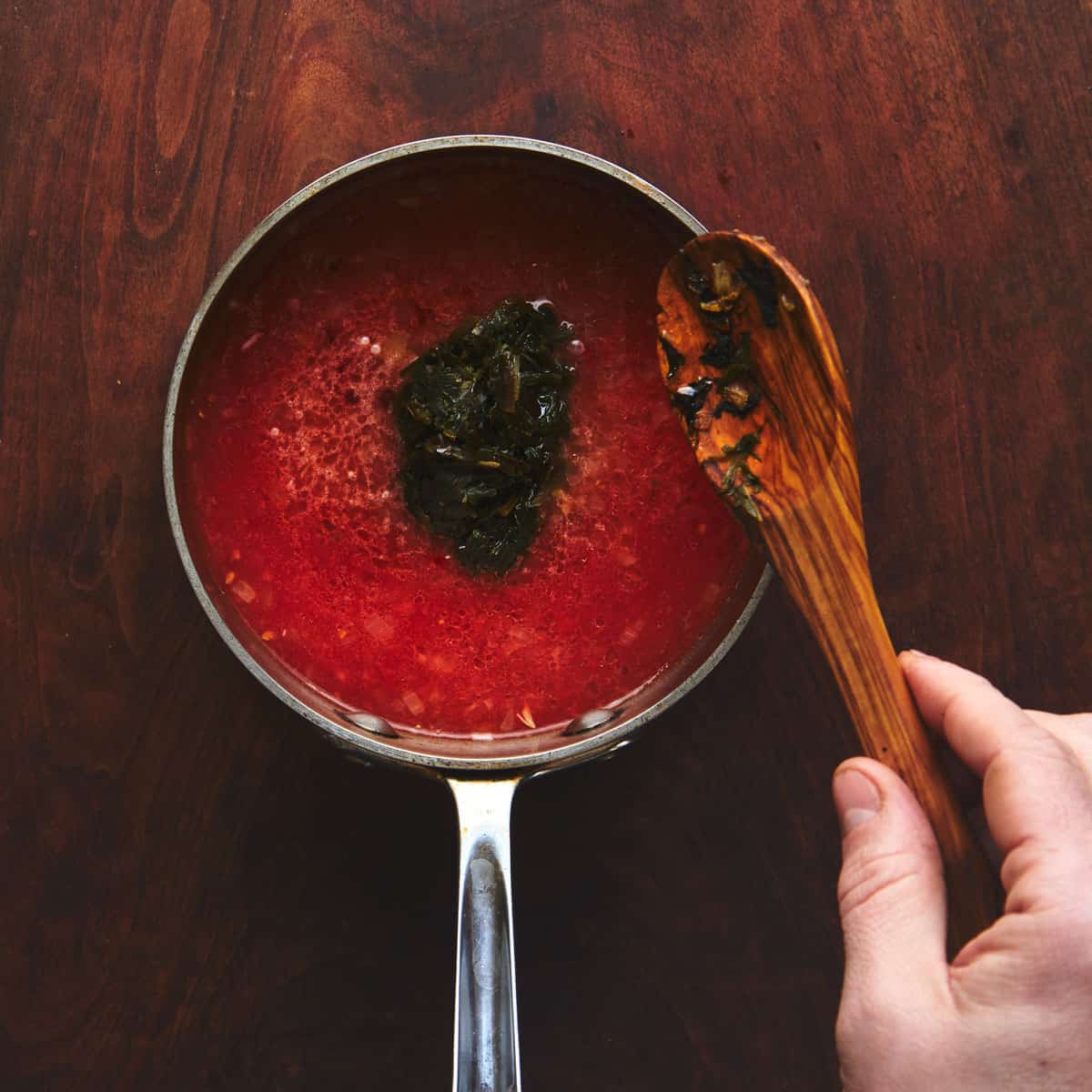 Similar to other meatless dishees around the world using wild plants, a traditional aveluk soup recipe contains a combination of starches, grains or legumes as well as nuts to make it a filling meal. The soup I've prepared for you uses potatoes, chickpeas, and is finished with a handful of nuts. I used black walnuts and shagbark hickory nuts.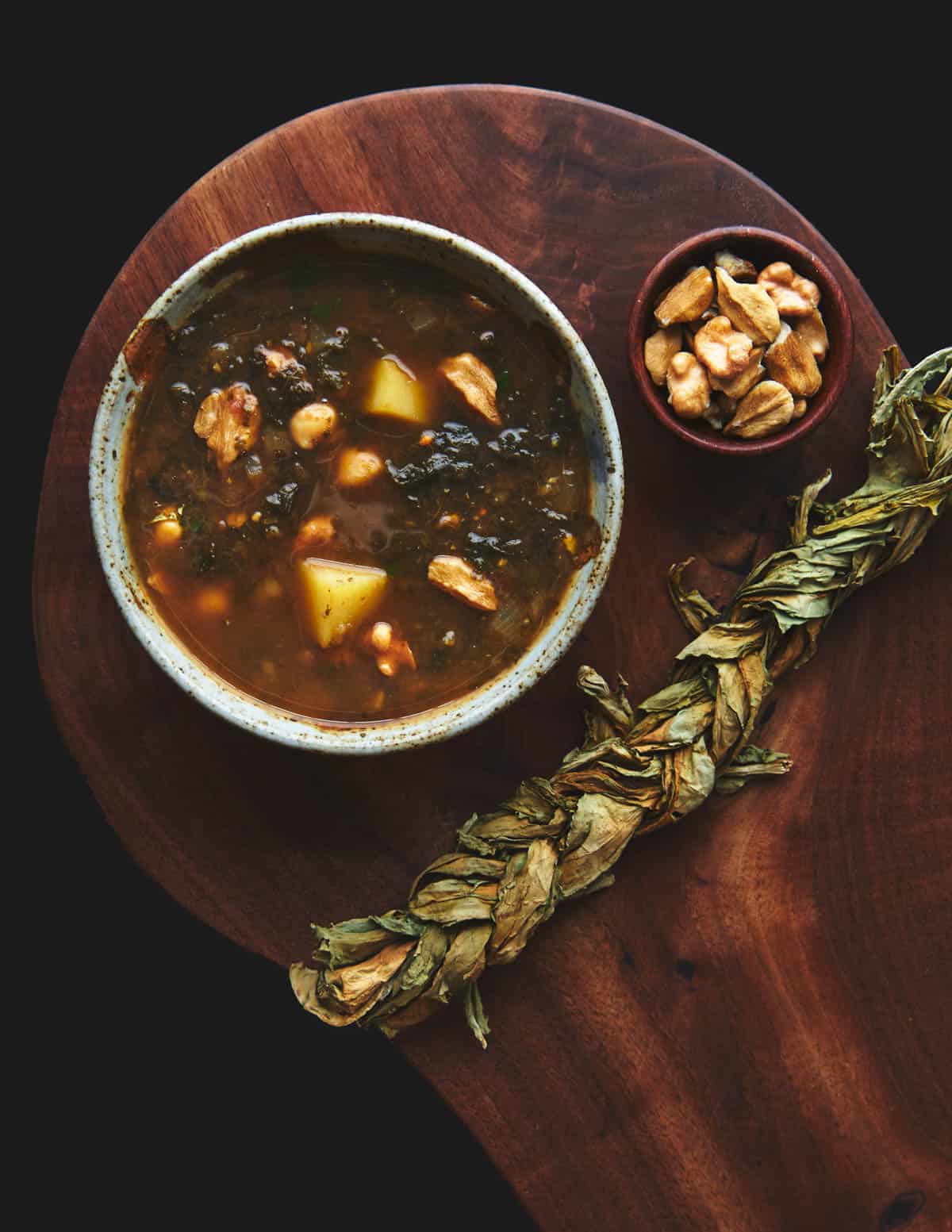 Similar to Georgian culinary traditions, chopped sour plums can be added. Dried American wild plums make a decent substitute.
Other Wild Sorrel Recipes
The dried, braided greens are also used to make an aveluk salad with onions, garlic, hot chili, pomegranate and walnuts. I also make a Mediterranean dock soup with rice and lemon that's a good option for fresh dock plants.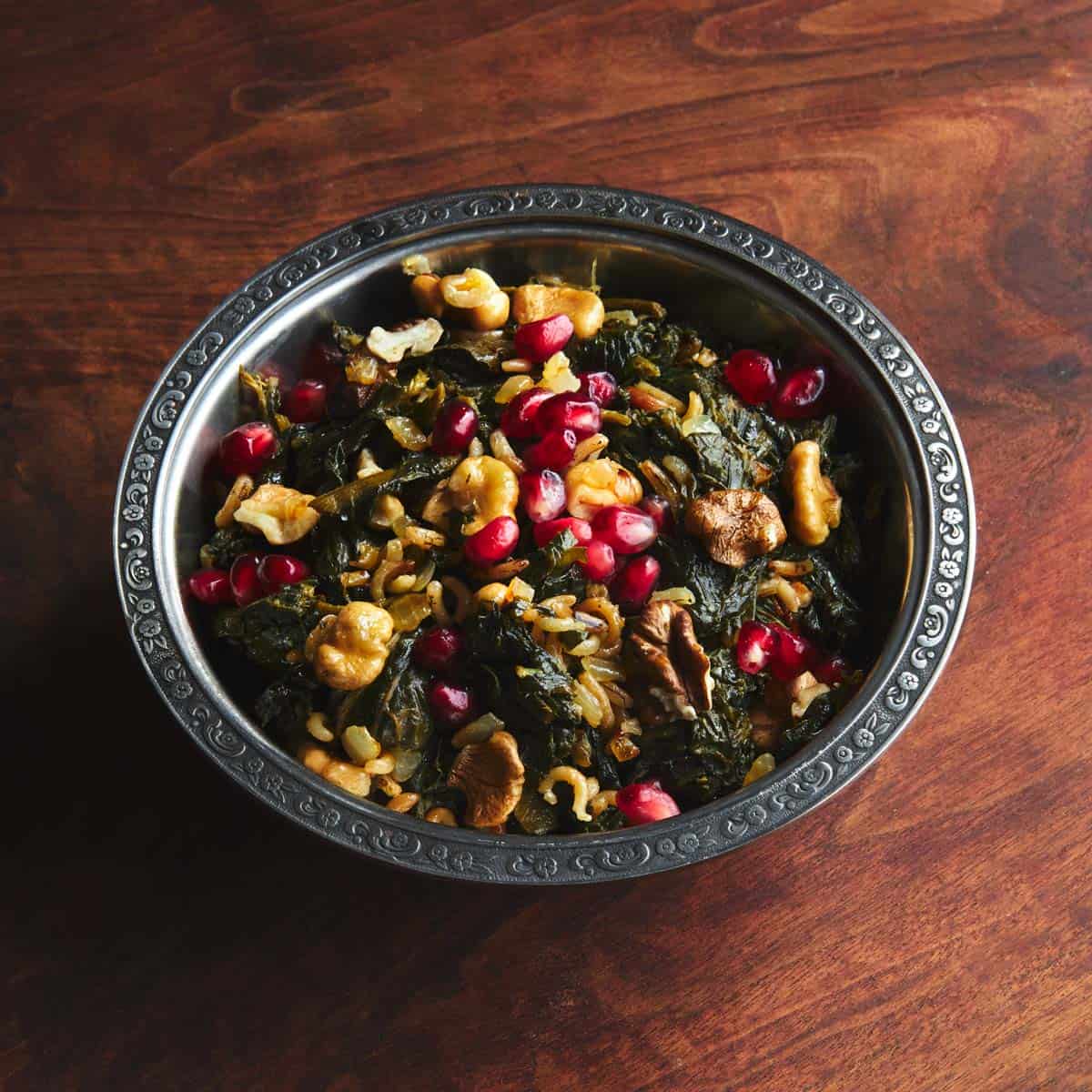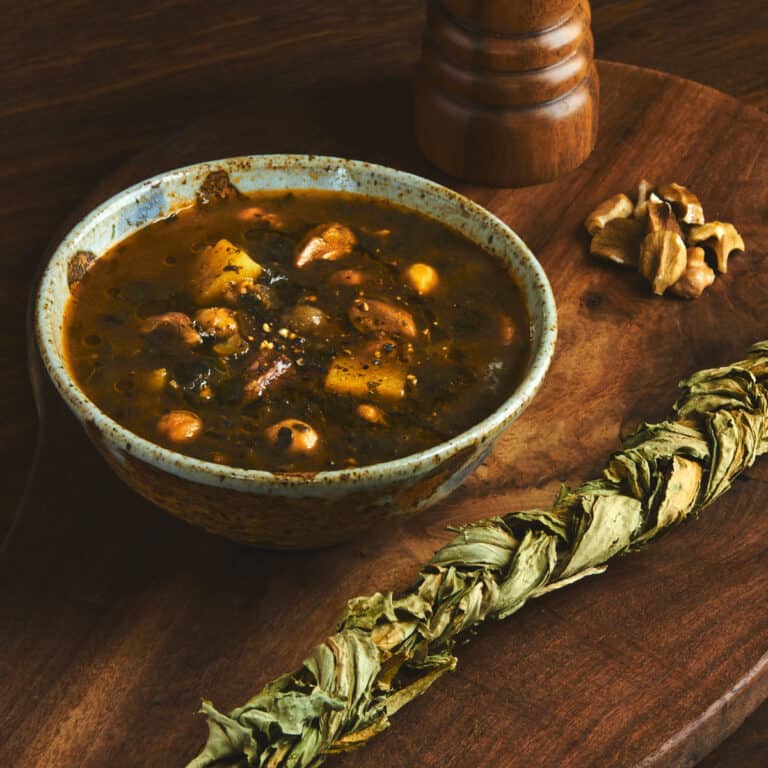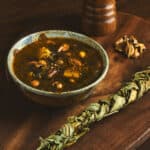 Print Recipe
Aveluk Soup
The traditional Armenian soup of dried, braided wild sorrel with potatoes, chickpeas and spices makes a delicious, filling meal.
Ingredients
1

oz

dried aveluk

3

cups

hot water

5

oz

1 medium yellow onion

diced

2

medium cloves garlic

crushed with the back of a knife and roughly chopped

2

tablespoons

unsalted butter

3.5

cups

chicken stock or vegetable stock

1

cup

pureed

canned whole, peeled tomatoes (or 2 tablespoons tomato paste)

1 12

oz

can chickpeas

8

oz

golden potato

cut into large cubes

Pinch

of crushed red pepper

optional, to taste

Fresh chopped cilantro

to taste (optional)

2

oz

walnuts

broken into bite-sized pieces

1

tablespoon

rice wine vinegar or homemade vinegar

or to taste
Instructions
Cut the dried aveluk into 1 inch pieces with a scissors. Put the dried greens into a container and pour the hot water over them. Allow to cool. Remove the greens and squeeze them dry.

Meanwhile, in a small 3 quart soup pot, sweat the garlic and onion in the butter until translucent. Add the potatoes, tomato and stock and bring to a boil. Turn the heat to low, add the canned chickpeas, along with the chopped greens and crushed red pepper if using. Simmer gently until the potatoes are tender.

Pulse the soup with a hand blender a couple times to break up some of the potatoes and beans. Don't puree the soup, you just want enough potato and beans broken up to thicken it slightly. The texture of the dried greens is an important part of the dish. Add the walnuts and cook two minutes more.

Taste the soup and adjust the seasoning for salt until it tastes good to you. Right before serving, whisk in a dash of homemade vinegar or rice wine vinegar to taste. Serve with extra virgin olive oil and fresh cracked black pepper.
Notes
Aveluk Salad 
To make aveluk salad, take two ounces of dried aveluk and cook in water until tender. Fry three ounces of onions and a chopped clove of garlic in olive oil, then add the greens and cook as you would freshly blanched greens, adding a handful of bulgur or wild rice, pomegranite seeds, chopped walnuts, salt, and crushed red pepper to taste. Serve with a lemon wedge on the side.
Nutrition
Serving:
6
oz
|
Calories:
379
kcal
|
Carbohydrates:
40
g
|
Protein:
15
g
|
Fat:
19
g
|
Saturated Fat:
5
g
|
Polyunsaturated Fat:
8
g
|
Monounsaturated Fat:
4
g
|
Trans Fat:
0.2
g
|
Cholesterol:
21
mg
|
Sodium:
641
mg
|
Potassium:
905
mg
|
Fiber:
8
g
|
Sugar:
8
g
|
Vitamin A:
469
IU
|
Vitamin C:
20
mg
|
Calcium:
123
mg
|
Iron:
3
mg