Do you like Greek dishes like avgolemono? Then you'll like this recipe for dock soup with rice and lemon--they're basically cousins. Dock, or Rumex species are legion across the United States, and, as much as I would like to tell you that I cooked with curly dock for this recipe, I can't be exactly certain.
There are a lot of docks (I've heard around 11 or so) and separating them to species can be difficult even for real hard core professional plant people. The good news is that all docks are edible (they're relatives of sorrel) the bad news, is that they generally have a poor reputation as an edible, which I'll get into.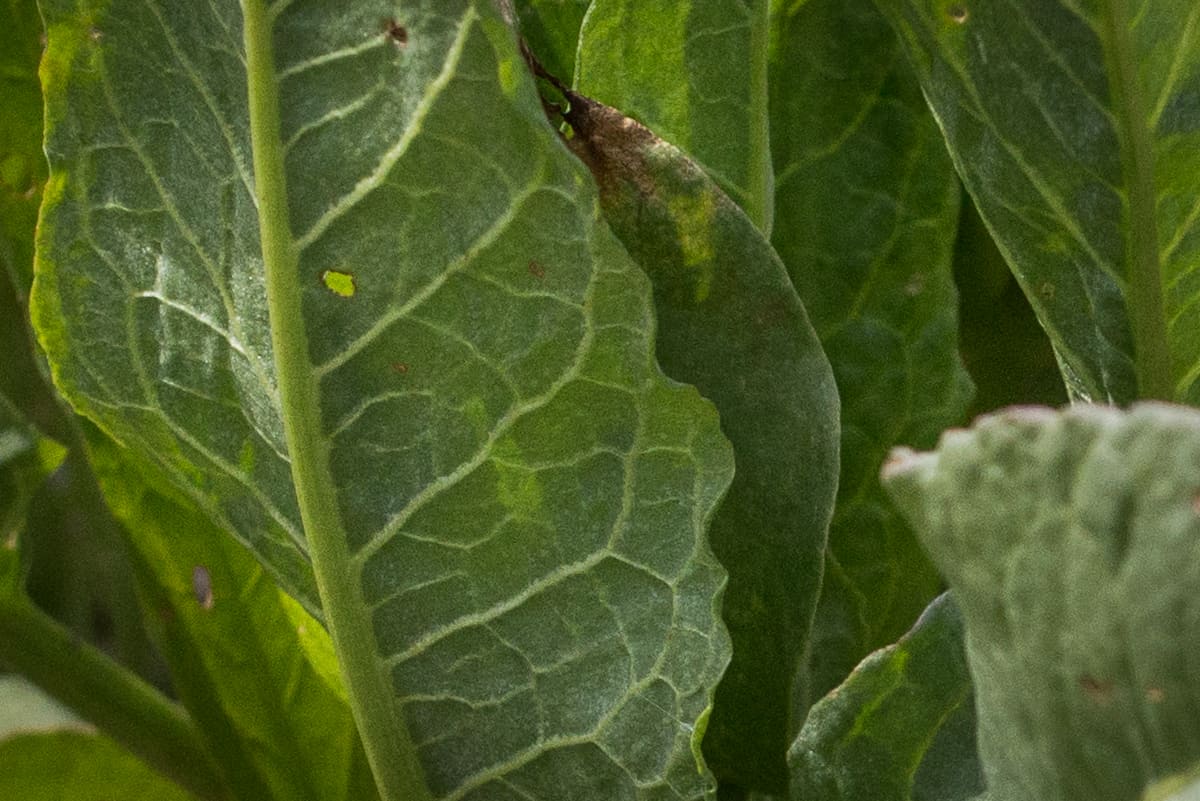 The reason many people don't like them, is that dock, after cooking has a bit of a soft, slippery feel. The greens also break down much faster than others I've cooked, so people that boil their greens with some dock in there might end up with a slippery mess. Some people like green pudding type dishes--I don't. But, docks and all their relatives have been used as food plants by people around the world for a very long time.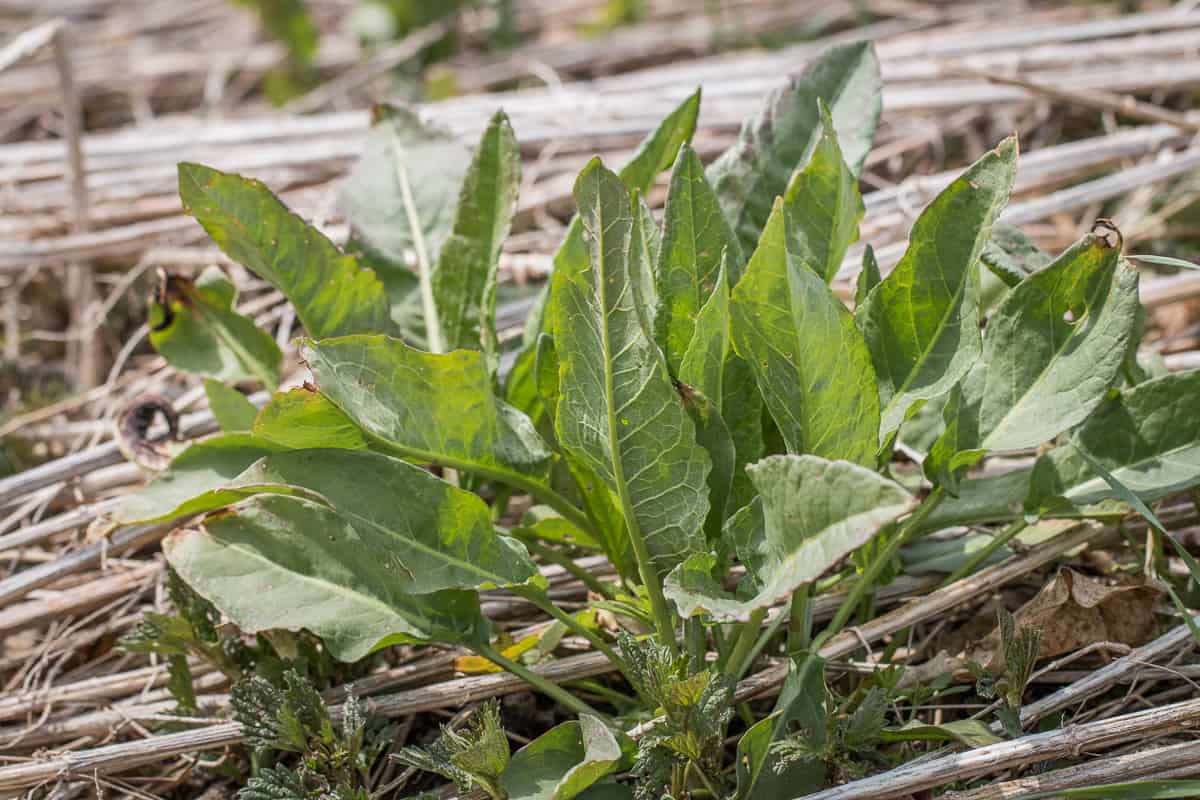 Dock Leaves grow in thick basal rosettes.This soup is a simple version of one I read about in an Italian book I've been translating, and it ends up eating a bit like avgolemono. It's a classic poverty-cuisine style soup.
Meat stock is nice, but not totally necessary, and starch is added in the form of rice to add some body. Add some beaten egg, healthy glugs of good olive oil and a generous drizzle of fresh lemon juice at the end and you have yourself some fine European comfort food.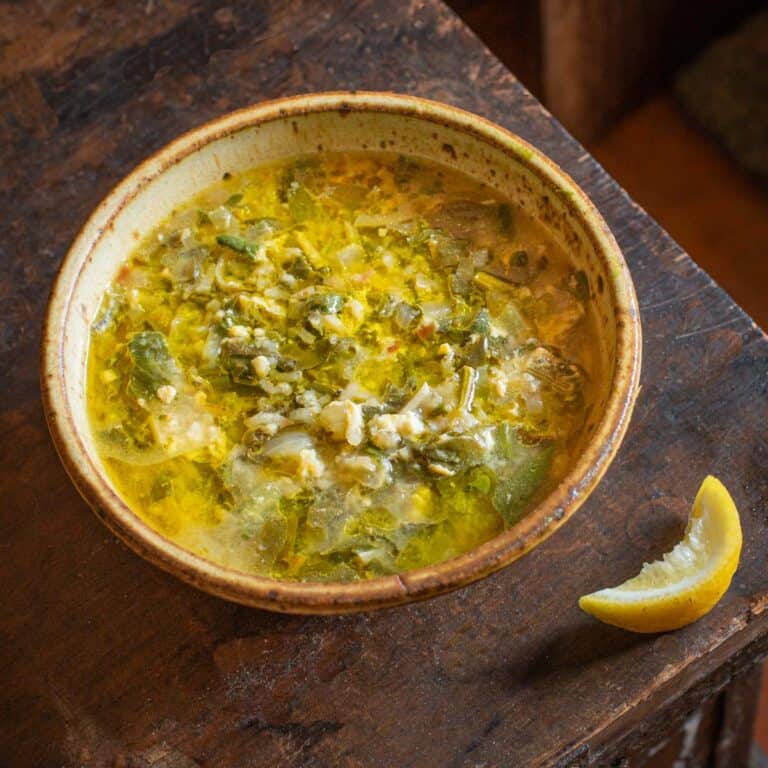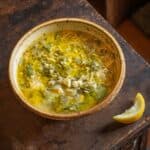 Print Recipe
Mediterranean Dock Soup with Rice and Lemon
A simple Medditeranean style soup with Rumex leaves, rice, egg and lemon. Serves 4.
Ingredients
6

oz

fresh tender dock leaves

washed and cleaned

Kosher salt

to taste

Fresh lemon juice

to taste

4

cups

chicken or vegetable stock

2

tablespoons

extra virgin olive oil

plus more for drizzling to taste

¼

cup

basmati or other long grain rice

1

small yellow onion

1

tablespoon

chopped garlic

1

Tablespoon

Chopped fresh oregano to taste

or ½ Tablespoon wild bee balm

Pinch

of ground cumin
Instructions
Blanch the dock leaves in boiling salted water until just wilted—a few seconds, then cool in cold water, and squeeze out as much water as possible. You should have about ¾ cup.

Meanwhile, toast the rice in a 350 F oven until just golden, then cool, add to a pot with a pinch of salt and ½ cup of water, bring to a simmer and cook, covered until tender.

Coarsely chop the dock leaves in a cross-hatch pattern so there are no long pieces—they need to fit on a spoon.

Sweat the onion and garlic in the oil for 10 minutes on medium heat, or until just barely browning around the edges. Add the stock, dock leaves and oregano, pinch of cumin and bring to a simmer, adjust the seasoning for salt and pepper, then add the rice and simmer on low for 10 minutes or so to let the flavors meld.

Finally, stir in the beaten egg, allow to heat through, and serve garnished with olive oil, black pepper, and plenty of fresh lemon juice. The soup should taste lemony.
Notes
Other slippery greens like mallow, jute mallow, or violets would also be good here. 
Nutrition
Serving:
6
oz
|
Calories:
137
kcal
|
Carbohydrates:
16
g
|
Protein:
2
g
|
Fat:
7
g
|
Saturated Fat:
1
g
|
Polyunsaturated Fat:
1
g
|
Monounsaturated Fat:
5
g
|
Sodium:
944
mg
|
Potassium:
54
mg
|
Fiber:
1
g
|
Sugar:
3
g
|
Vitamin A:
1522
IU
|
Vitamin C:
22
mg
|
Calcium:
10
mg
|
Iron:
1
mg