Forest green, deep and oniony, chefs love a good green oil, and ramp leaf oil is probably the best I've ever had. It's a great way to preserve ramp greens. Most of the time, green oil can be a thoughtless garnish, or lazy drizzle on top of a soup—a little color—nothing more.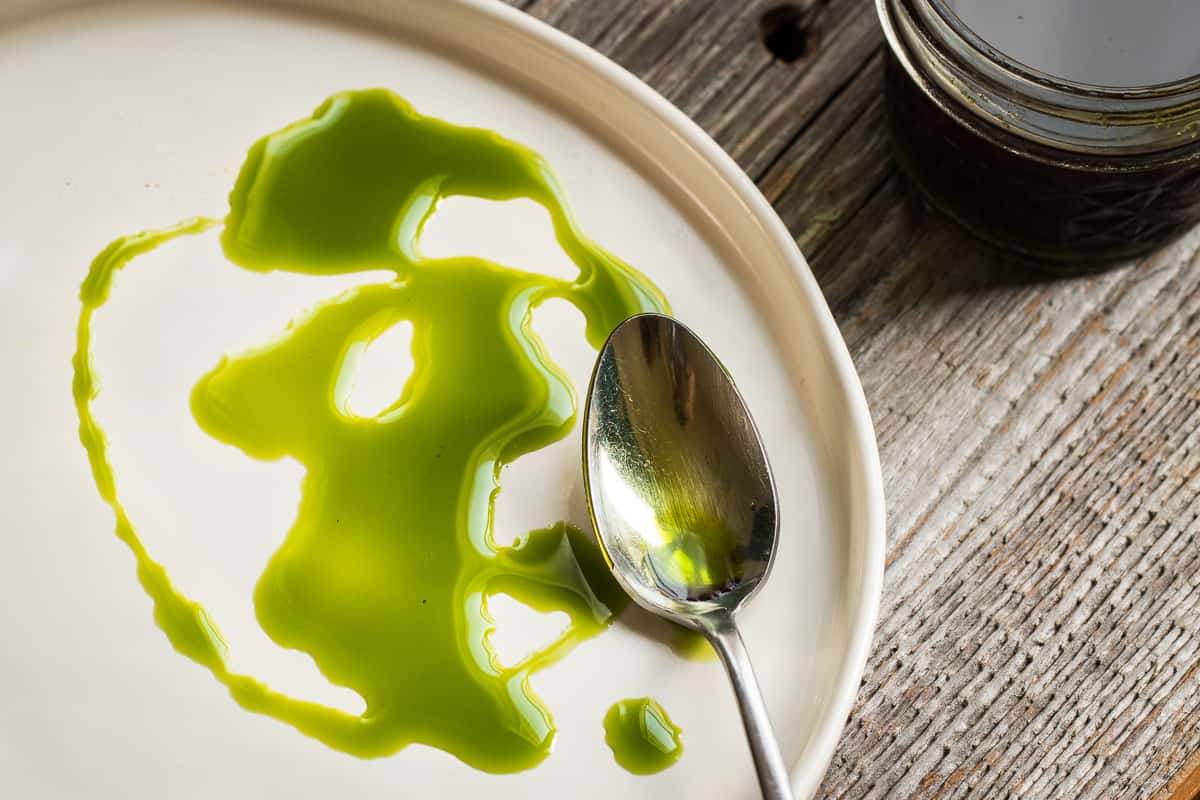 But with a little care, green oil is not only an impressive finish to a plate, especially soup, but it can have great flavor too, especially if it's made with onion things.
For years I instructed cooks to make green oil with mundane things like blanched parsley or chives, and although they look pretty, they don't taste like much. Blanching is good for locking in color, sure, but it also robs the ingredient of some of its flavor.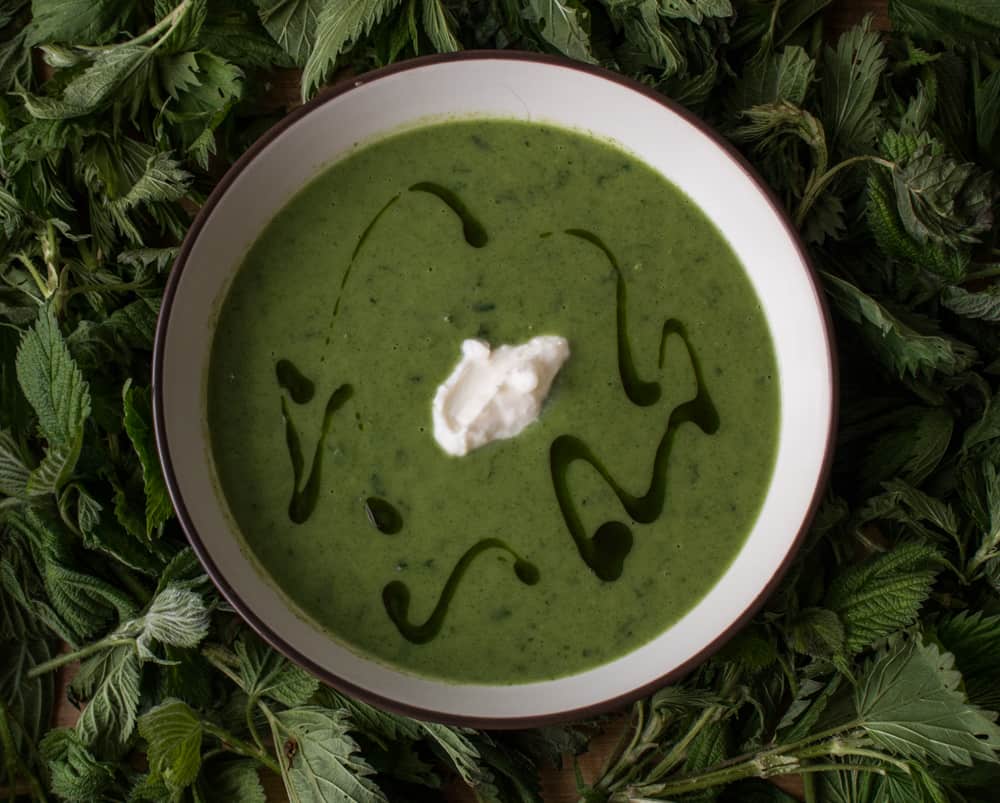 Blanching isn't the only way to impart heat to things though, and blender can do the same thing after a little time, so that's what I do here, and it's the secret to having a green oil that both tastes and looks impressive.
Ramp leaves make one of the best, but any green onion my thing like chives, green garlic, or onion tops will be good too.
When the oil has flavor, all kinds of different possibilities open up, now, not only is the oil beautiful, but you can use it in dishes as a seasoning too. Here's a few examples.
Use Ideas
Anywhere you'd like oniony rampy flavor
Use as a salad dressing, just toss the greens with oil, a dash of lemon or vinegar, salt and pepper
Mix with lemon juice or vinegar and chopped herbs like tarragon or basil for a quick, light vinaigrette
Mix into mayonnaise for an earthy, ramp kick
One of my personal favorites is mixing with reduced, warm cream, salt, pepper, and grated lemon zest, and drizzling over vegetables
Drizzle on soups, especially orange, white, or green
Any dish with orange in it will benefit (see photo)
Safety Note
Since this is something I usually keep around for awhile, it *must* be refrigerated. Under refrigeration it's fine, and will last for up to a month, but do not let it sit out for weeks on end at room temperature, since there may be small particles of ramp leaves and water under the oil.
Without refrigeration, it can invite anaerobic bacteria. Don't let that scare you--just don't be careless--chefs make this all the time.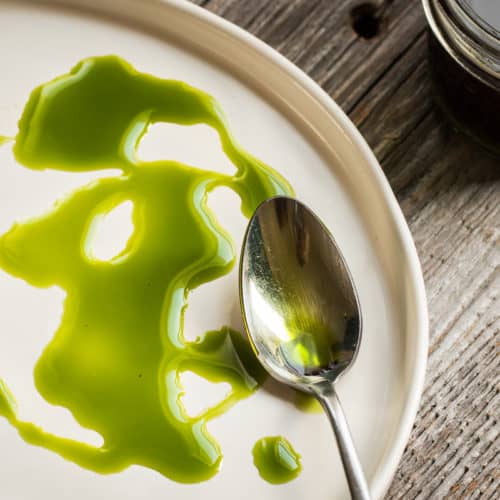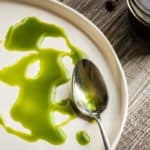 Print Recipe
Ramp Leaf or Onion Top Oil
A rich green oil for imparting onion flavor to just about anything. Any green oniony thing can be used here: green onions, chives, etc. Yield: about ¾ cup
Equipment
A good blender

1 Fine Strainer
Ingredients
6

oz

about 3 cups green wild onion or ramp tops, chopped

1 ¼

cups

mild tasting oil

like grapeseed, sunflower, etc

½

teaspoon

kosher salt
Instructions
Combine all ingredients in a blender (preferably a vitamix) and puree on high for 60 seconds.

Immediately pour the oil into a metal bowl sitting in another metal bowl filled with ice or cold water to chill it. Stir to reduce the heat, then cover and allow to chill overnight.

The next day, strain the oil through cheesecloth, allowing it to drain naturally, and resisting the urge to press or squeeze out any oil, as water particles will pass through and give you a cloudy oil.

Sometimes I allow it to drain overnight in the fridge if I have space, as you would yogurt or cheese. Store the finished oil in the fridge for up to a month.
Notes
You can make this with ramp leaves, but I also make it with just about any green onion part I can find. Spring onions, wild onions, three cornered leeks, nodding onions, walking onions, and wild garlic will all work fine. 
Nutrition
Serving:
1
tablespoon
|
Calories:
253
kcal
|
Carbohydrates:
1
g
|
Protein:
0.3
g
|
Fat:
28
g
|
Saturated Fat:
2
g
|
Polyunsaturated Fat:
8
g
|
Monounsaturated Fat:
18
g
|
Trans Fat:
0.1
g
|
Sodium:
119
mg
|
Potassium:
47
mg
|
Fiber:
0.4
g
|
Sugar:
0.4
g
|
Vitamin A:
170
IU
|
Vitamin C:
3
mg
|
Calcium:
12
mg
|
Iron:
0.3
mg