Everyone loves green noodles--including me, which is why there's at least 3 different variations of them already on this site.
Ramp leaf noodles needed to happen though, but, unlike other green and colored pastas, I had a vision for the noodles to actually taste like the ingredient used to make them, which, to be honest, is just not the case with typical colored pasta.
The noodles may be brilliantly colored and delicious, but it's hard to make anything with butter and parmesan taste bad, and they sure won't taste like whatever you used to make them after you toss a couple other ingredients in there.
Guess what? With ramps, you can actually make a fresh pasta that tastes of ramps. I suspected it could be done since their aroma is so strong, but once I tasted them, I knew I'd hit pay dirt.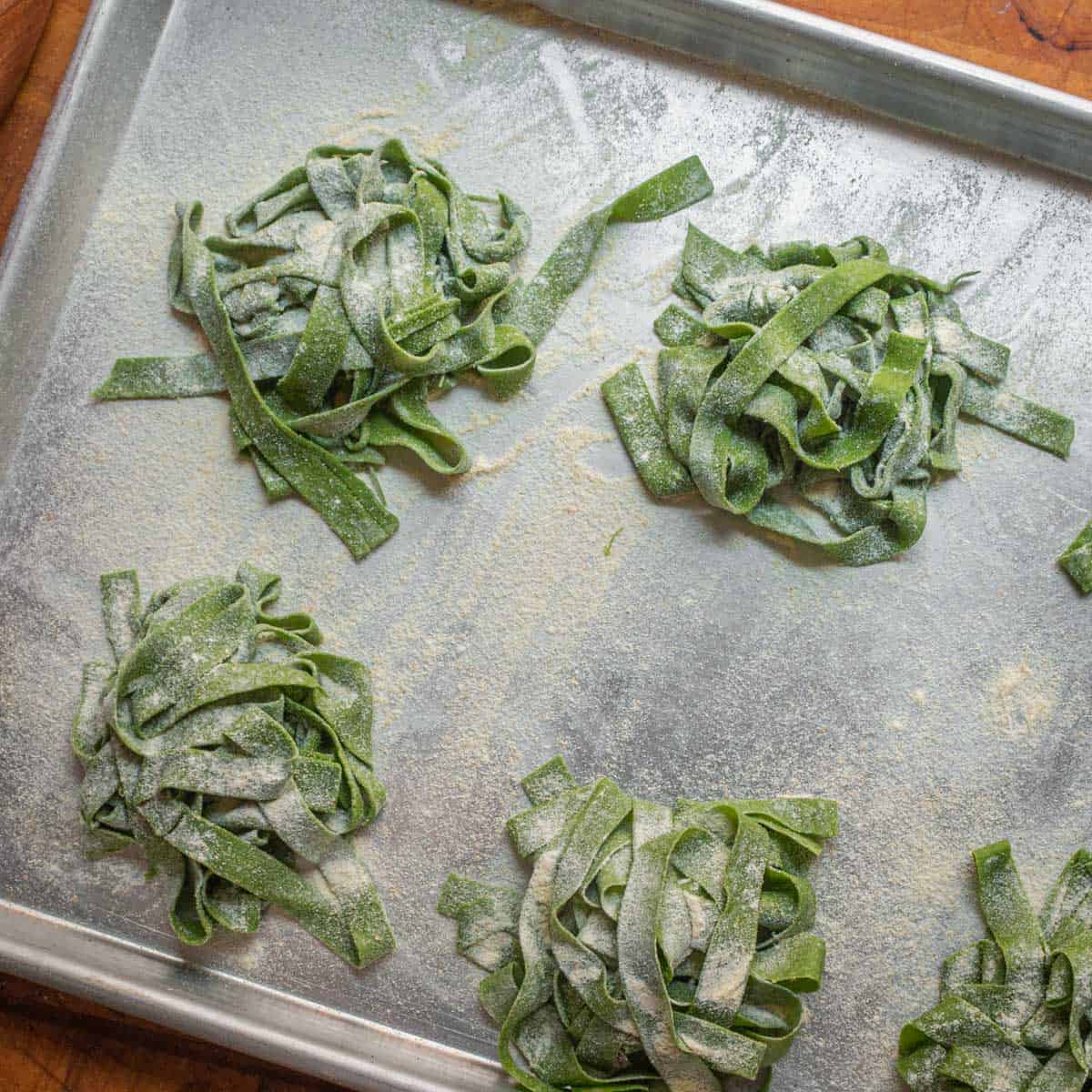 Know ye this: the rampiest ramp pasta is not the simplest pasta to make, and you're going to need a highspeed blender.
Here's the deal. To make fresh pasta that actually tastes like ramp leaves, you're going to need a highspeed blender, or a similar one, and a bunch of egg yolk. A bunch of egg yolks--10 to be exact.
The reason, is that you need to keep the ramps raw to hold their punch, and to do that, you have to puree them raw, and it just won't happen with a food processor.
The good news, is that I already had a basic ramp leaf pasta dough recipe to share here, so, if you don't have a highspeed blender, don't worry--I got you covered.
Really, if you love ramps, and I mean really love them, find a way to make a smooth puree and try the rampiest ramp leaf pasta below after you make the basic one--the flavor will impress you compared to how colored noodles normally taste.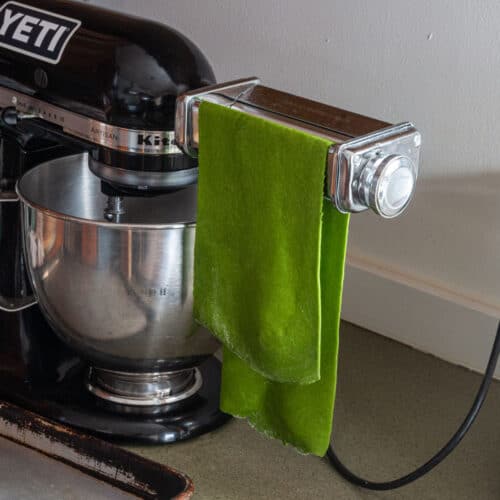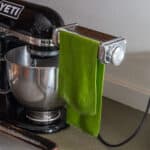 Print Recipe
Easy Ramp Leaf Pasta
Simple green pasta colored with ramp leaves. Serves 4-6
Ingredients
5

egg yolks

2

ounces

fresh ramp leaves

about 2 packed cups chopped

2

cups

all purpose flour

Pinch

of salt

Water

as needed

Semolina flour or cornflour to dust the work surface

as needed (optional)
Instructions
Bring a pot of lightly salted water to a boil. Blanch the ramp leaves for 30 seconds, then refresh in an ice bath and drain. Chop the blanched leaves fine, then puree on high speed in a blender with the eggs until finely pureed.

In the bowl of a stand mixer or by hand, combine the flours, salt, and egg-ramp leaf puree. Mix the ingredients together with a paddle attachment until just combined, then switch to the dough hook and knead for a minute or two. Allow the dough to rest for 30 minutes wrapped in cling film before rolling out.

After cutting, toss the cut pasta in semolina flour or corn flour to prevent sticking. Freeze the pasta or store in the refrigerator for up to 3 days, tossing occasionally with more semolina or cornflour if needed to prevent sticking.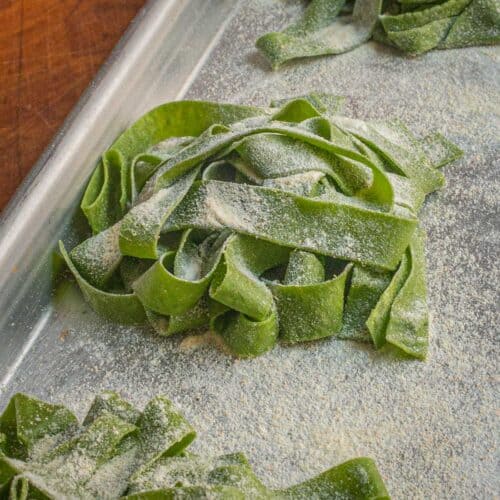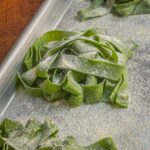 Print Recipe
Rampiest Ramp Leaf Pasta
Ramp leaf pasta dough that actually tastes like ramps Serves 4-6
Equipment
Highspeed Blender, Stand Mixer
Ingredients
6

oz

ramp leaves

6 cups chopped ramp leaves

10

egg yolks

2 ½

cups

flour

¾

teaspoon

salt

Semolina or corn flour, as needed

to prevent sticking
Instructions
Chop the ramp leaves well, then transfer to a highspeed blender and puree with the egg yolks until smooth. If you don't have a highspeed blender, you can use a food processor, but it won't be completely smooth, which is ok, but you'll have some straggler leaves sticking out of the dough.

Resist the urge to add water—eventually the water in the ramp leaves will release. Once the puree is smooth, transfer it to a stand mixer, add the flour and mix with the paddle until just combined, then switch to the dough hook and knead for a minute or two until it becomes a solid mass.

Remove the dough, wrap in cling film and rest for at least 15 minutes before rolling out. Toss the cut noodles with corn flour or semolina to prevent sticking.
More
Ramps: Harvesting, Sustainability, Cooking and Recipes