Ramp leaf pasta that actually tastes like everyone's favorite garlicky onion? You'd better believe it. This ramp pasta recipe is different than most other pasta doughs I make. The secret is in how the wild leek greens are added to the dough. Read on and I'll explain.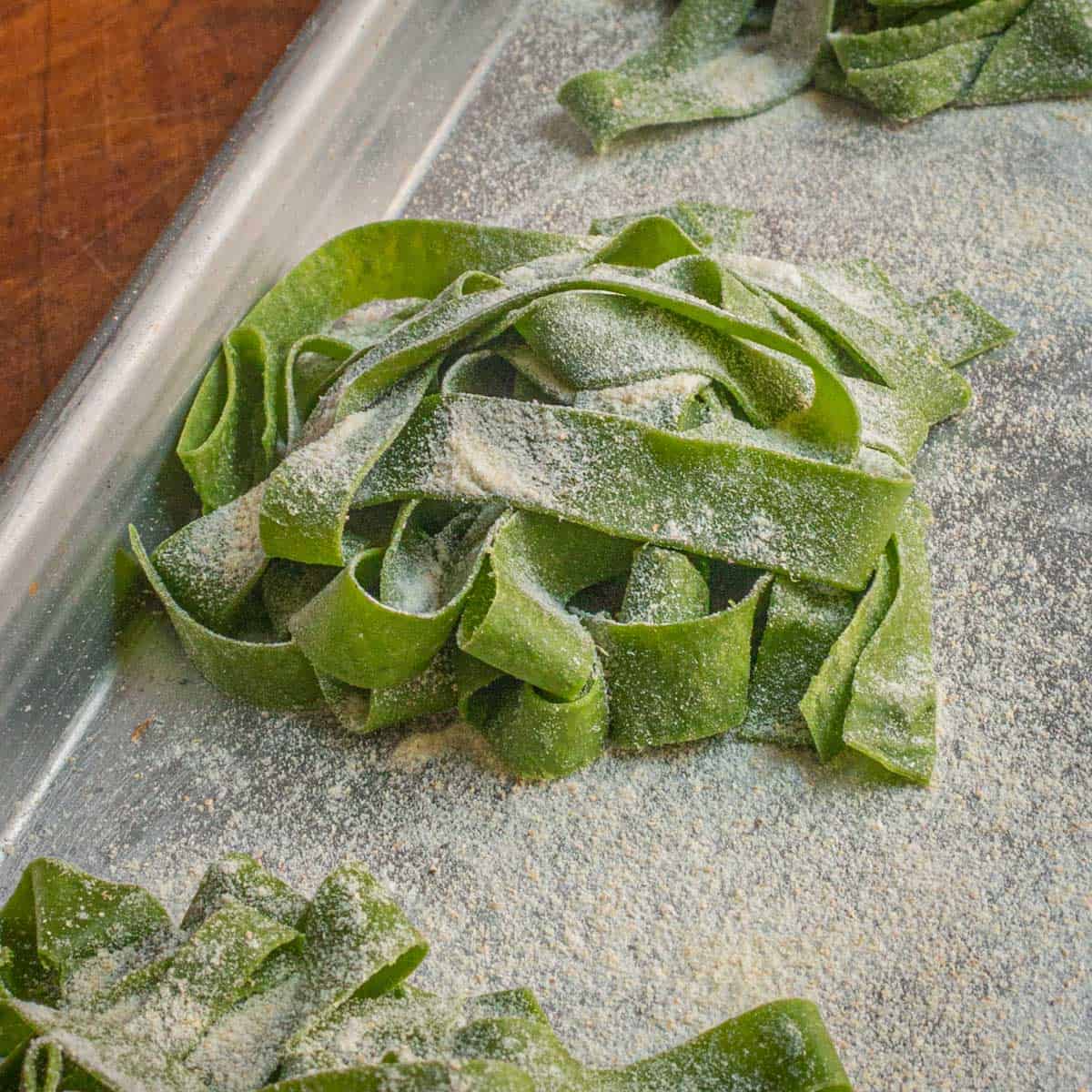 Green pasta is pretty and delicious, but it's hard to make anything with butter and parmesan taste bad. The pasta will never really taste like what's used to make it after cooking, unless you use an herb like basil.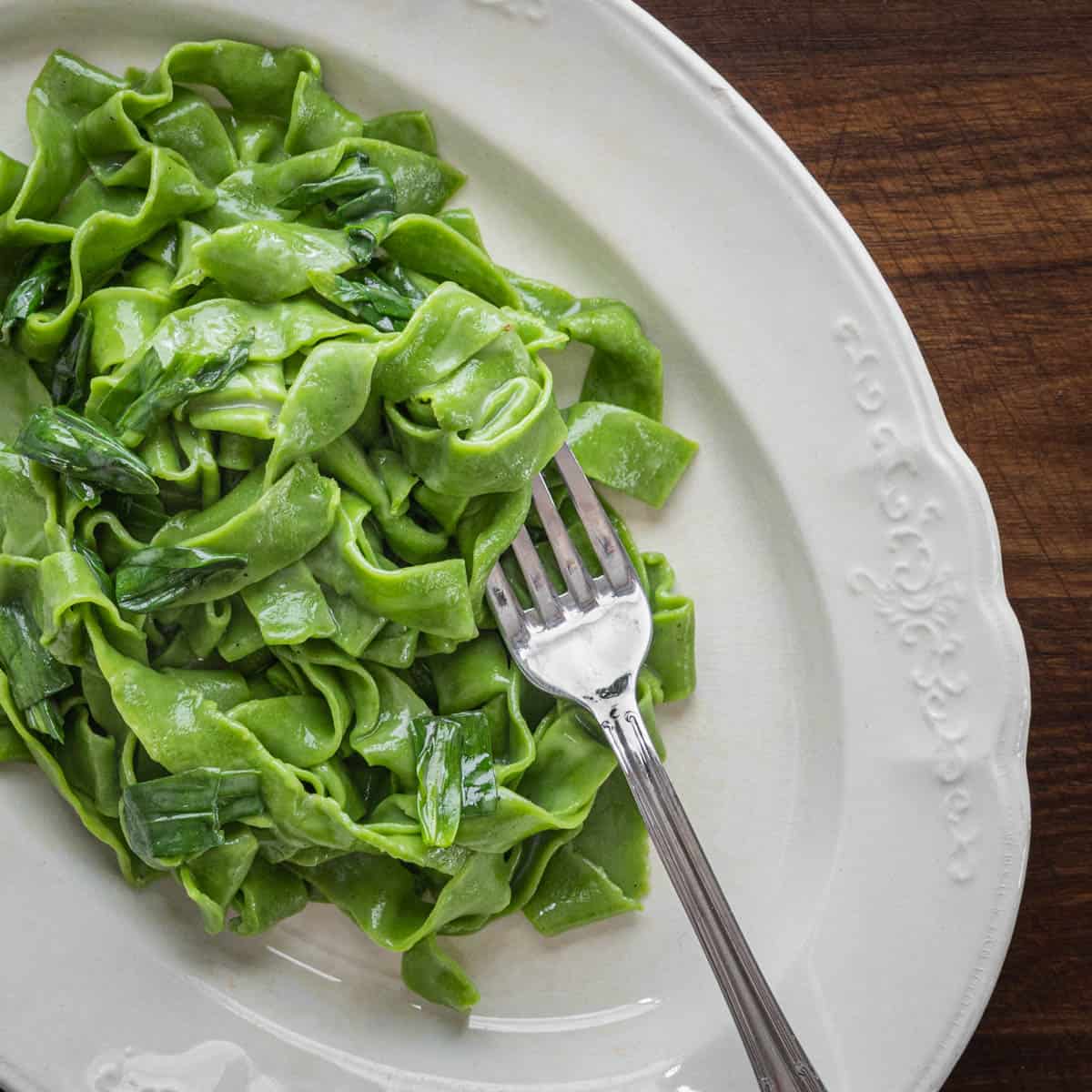 How to Make Ramp Pasta
The rampiest ramp pasta is different from other colored doughs in that you need to keep the ramps raw. To do that, you have to puree them raw, and it will be tough to do in a food processor. A highspeed blender is your best bet here.
To make the pasta dough, you take 5 oz of fresh ramp greens and mix them in a blender with 5 egg yolks and puree to a smooth puree.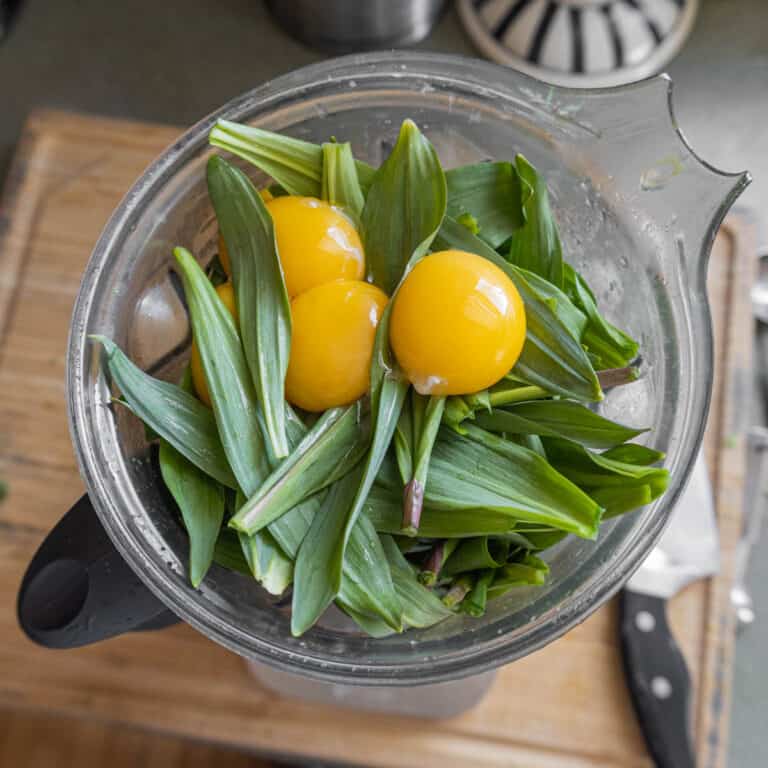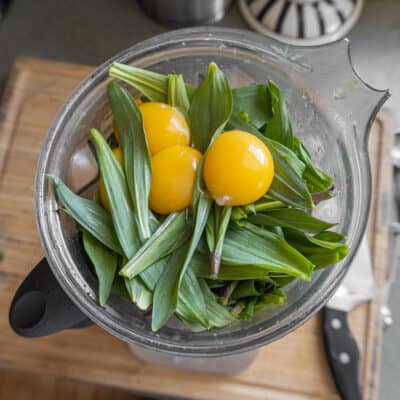 Next you mix the ramp-egg puree into flour and mix in a stand mixer, starting with the paddle attachment and moving to the dough hook to knead it. When the dough is evenly mixed it's wrapped in cling film and refrigerated for 20 minutes to rest before rolling out.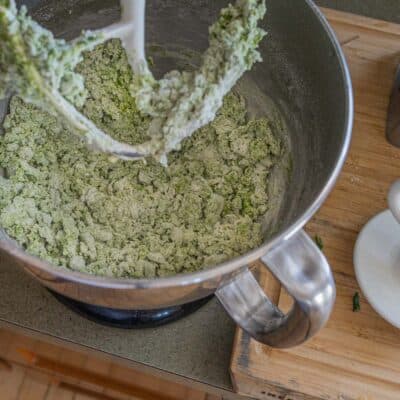 Roll out the dough to the 3rd to last setting on the pasta roller. Flour the sheets of dough and roll them up, then cut into rustic fettucine, pappardelle, fazzoletti, or another shape you like.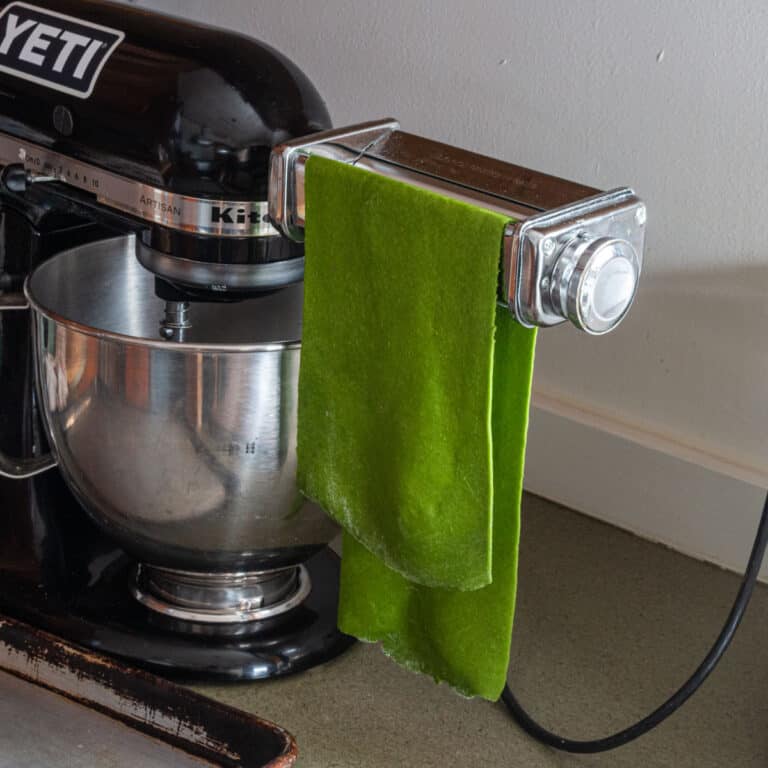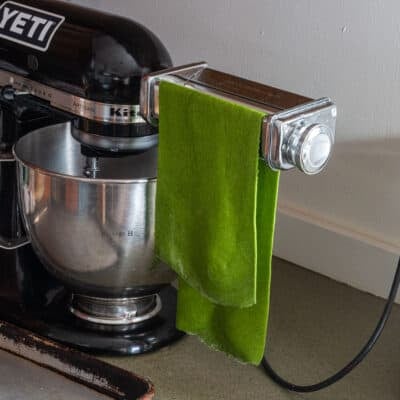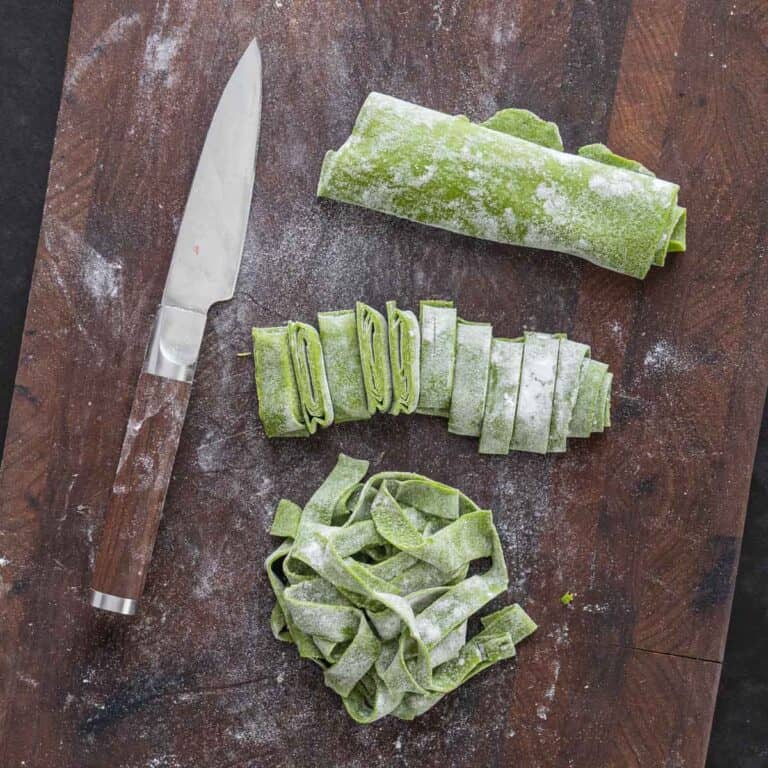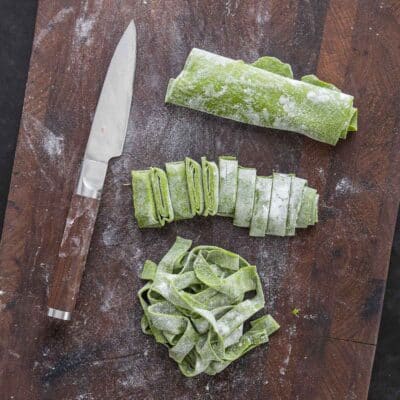 How to Serve Ramp Pasta
To cook the pasta, bring a large pot of salted water to a boil and cook al dente as for fresh noodles. They'll cook very fast and only take a minute or two until the float and are ready to drain.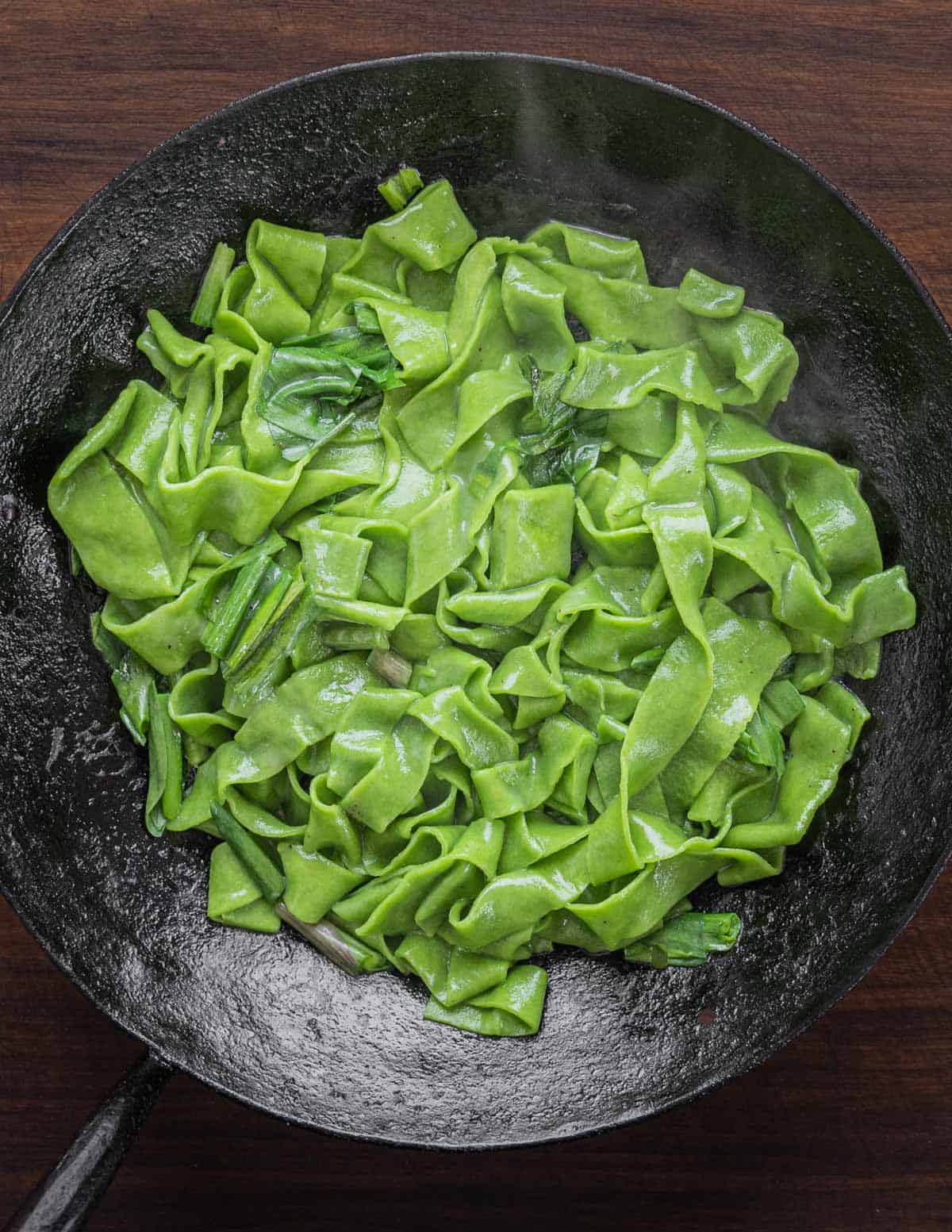 You can serve the noodles by themselves with just butter and parmesan, but they'll be more interesting with some other spring ingredients added to them. Here's a few ideas:
Add sauteed fiddleheads and chopped ramp leaves
The simplest version could be just chopped ramp bulbs and leaves, and parmigiano reggiano or pecorino romano cheese
With morels and ramps
Young nettles, about two inches tall, left whole or roughly chopped
Ramp pesto pasta, or nettle pesto
Use it in my Ramp and Morel Spaghetti
Related Posts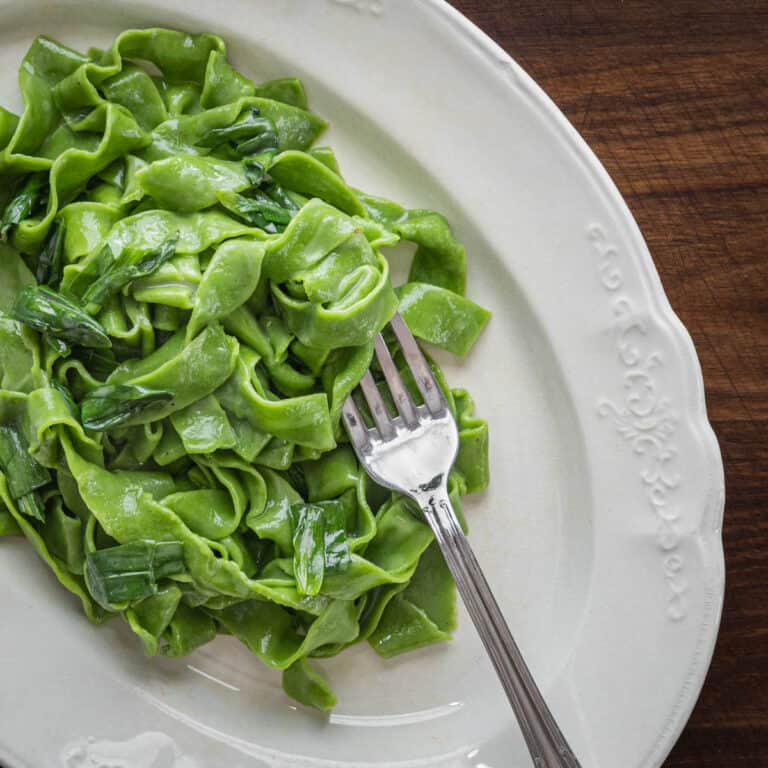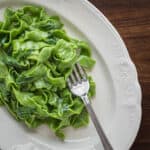 Print Recipe
Ramp Pasta
Green pasta made with ramp leaves that actually tastes like ramps. Use the weight measurements to be the most precise. Serves 4-6
Equipment
Pasta roller

Highspeed blender
Ingredients
5

large

egg yolks

4.5

ounces

fresh ramp leaves

about 4.5 cups of sliced leaves

8

oz

all purpose flour

2 cups of flour

½

teaspoon

kosher salt

flour, semolina or fine cornmeal, for dusting

as needed
Instructions
Roughly chop the ramp leaves and combine in a highspeed blender with the egg yolks. Puree the mixture, ideally using the accelerator attachment-it will take a few seconds.

In the bowl of a stand mixer or by hand, combine the flour and salt. Pour in the ramp puree but don't scrape all of it from the blender. Mix the ingredients together with a paddle attachment until just combined, then squeeze it with your hands to make it stick together.

If the dough seems dry, add a little extra ramp puree.

If the dough seems wet, add a little extra flour until it feels right.

Switch to the dough hook and knead for a minute. Allow the dough to rest for 30 minutes wrapped in cling film before rolling out.

After cutting, toss the cut pasta in semolina flour or fine cornmeal to prevent sticking. Freeze the pasta or store in the refrigerator for up to 3 days, tossing occasionally with more semolina or fine cornmeal if needed to prevent sticking.

To serve the pasta, bring a pot of salted water to a boil, add the pasta and cook for a minute or two until they float. Remove the pasta with a spyder strainer, toss with your favorite spring ingredients, butter or olive oil and plenty of grated parmesan. A simple sauce like pesto works too.
Notes
The pasta will keep in the fridge for 3-4 days before it starts to lose color, and can also be frozen. 
If ramps are unavailable (try a farmers market in Late April or May) you can also use colcots, or green garlic. 
Nutrition
Serving:
2
oz
|
Calories:
304
kcal
|
Carbohydrates:
50
g
|
Protein:
10
g
|
Fat:
7
g
|
Saturated Fat:
2
g
|
Polyunsaturated Fat:
1
g
|
Monounsaturated Fat:
3
g
|
Cholesterol:
243
mg
|
Sodium:
14
mg
|
Potassium:
131
mg
|
Fiber:
2
g
|
Sugar:
1
g
|
Vitamin A:
466
IU
|
Vitamin C:
3
mg
|
Calcium:
49
mg
|
Iron:
4
mg