Pickled ramps are a standard, and one of my favorite way to preserve everyones favorite wild leek: put them in a gimlet, chop them up and add them to stir fry, or my favorite, chop them fine and add to aioli to make the tartar sauce of the gods, the possibilities are endless. Read on and I'll explain the particulars-there's a few things to know.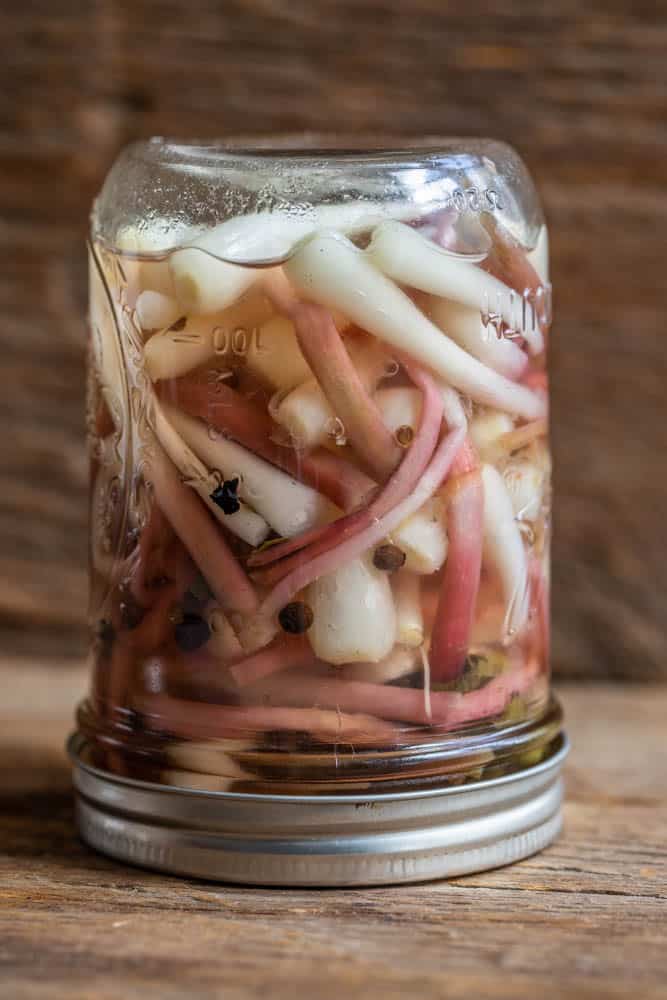 Essentially, this is just a simple sweet pickle recipe, to which you could add various other seasonings. There are a few things to know about pickling ramps though, so I'll touch on them briefly.
Why do pickled ramps turn blue?
What happens is the onion bulb reacts with the vinegar and turns the pickles blue. The blueing doesn't affect the flavor, but it's unsightly. To prevent blueing in your ramp pickles, make sure to use rice wine vinegar. Otherwise you will need to blanch them in some lightly salted water before pickling.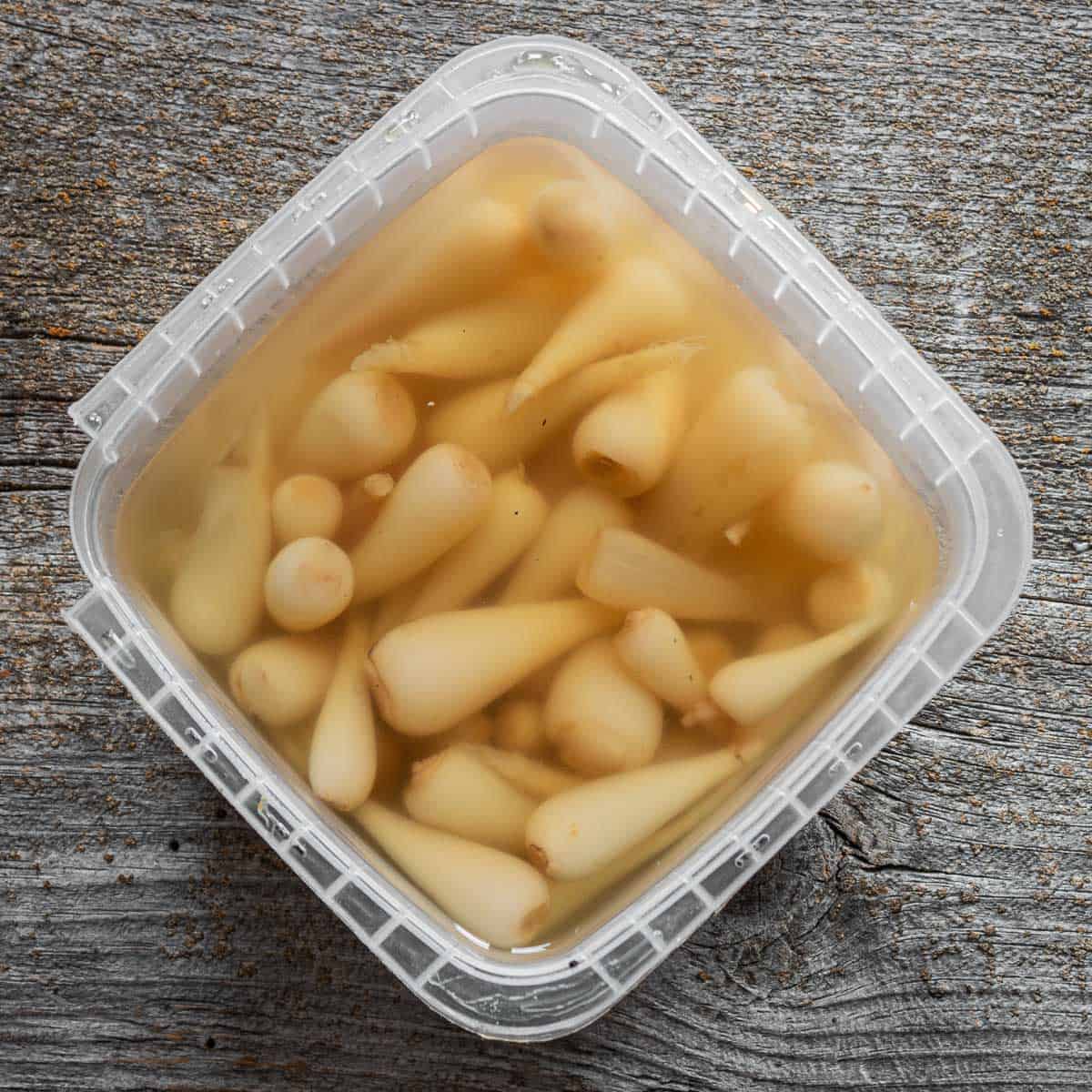 Secondly, ramps are almost like three vegetables in one. You have the leafy green top, the pink stem, and the oniony bulb on the bottom. Each of these parts has different cooking times and properties.
The bulbs and pink stem can be cooked as one for pickling, but the greens should be removed and processed separately, such as in ramp pesto (see a recipe for that here). The greens turn mushy when processed or canned with a hot method, and are better off just pickled cold, like refrigerator pickles.
Older, mature ramps, (see below) especially those whose leaves have died will be a bit fibrous. I like medium-age ramps for pickling the best, but I do often harvest older bulbs while I'm hunting scapes and flowers in the summer if I need them for something. Older bulbs are perfect for cooking down in their liquid into pickled ramp aioli.
Save That Pickle Liquid
Ramp pickling liquid tastes really good, and I like to use it in cooking, especially for making aioli. The method is simple, strain the pickling liquid of spices and herbs, then cook it down to concentrate the flavors a bit.
You'll find that my pickled ramps have a bit less vinegar, sugar and salt than a lot of other recipes, and this is on purpose, since if you cook down typical pickling liquid, it can add too much salt or sugar to whatever you're making.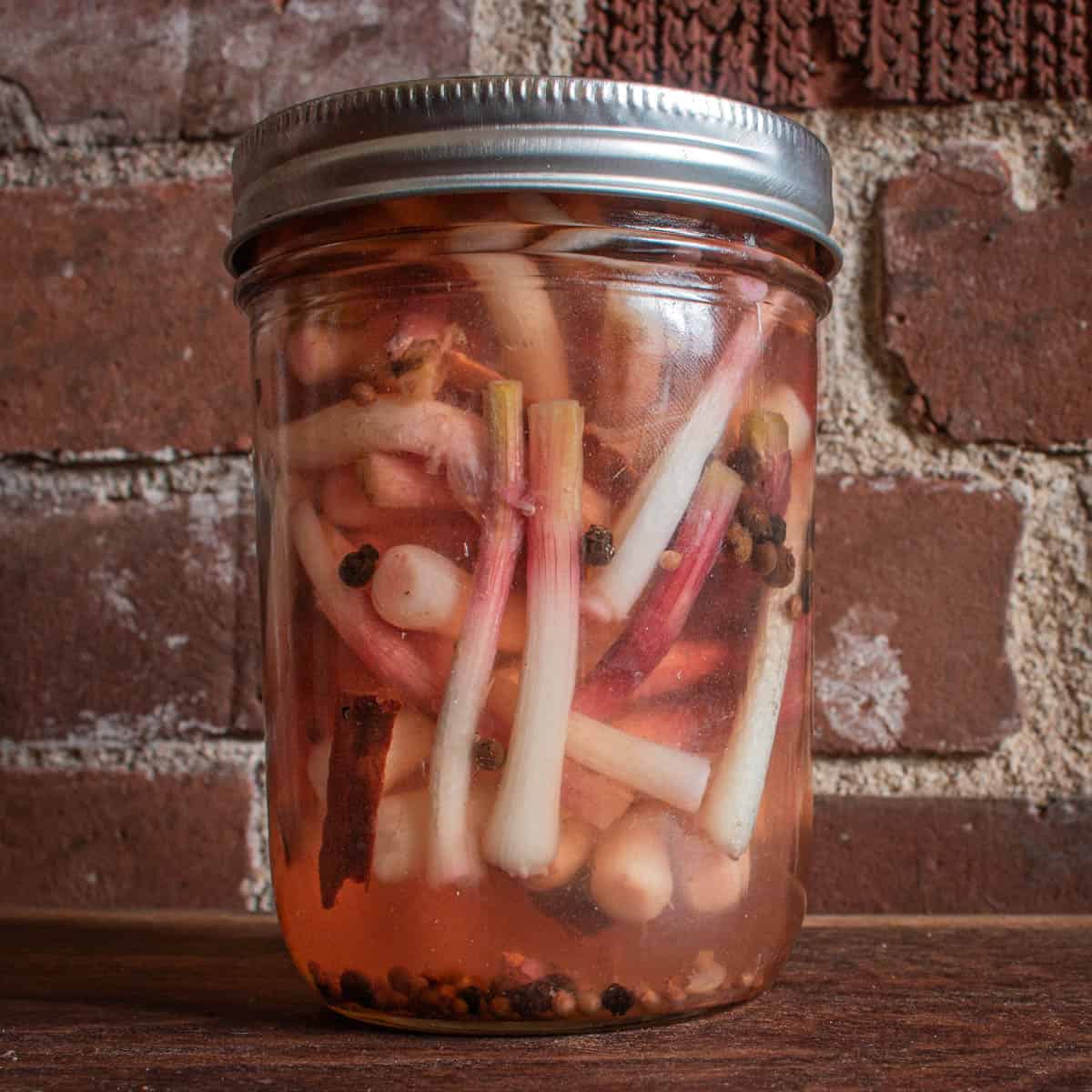 I like to be able to control the levels of salt and sugar, so they're light in this recipe. In the pictures here, you'll see that the spices have been strained out, which makes it easy to just pour off a bit of liquid as I need without having to strain out mustard seeds, etc.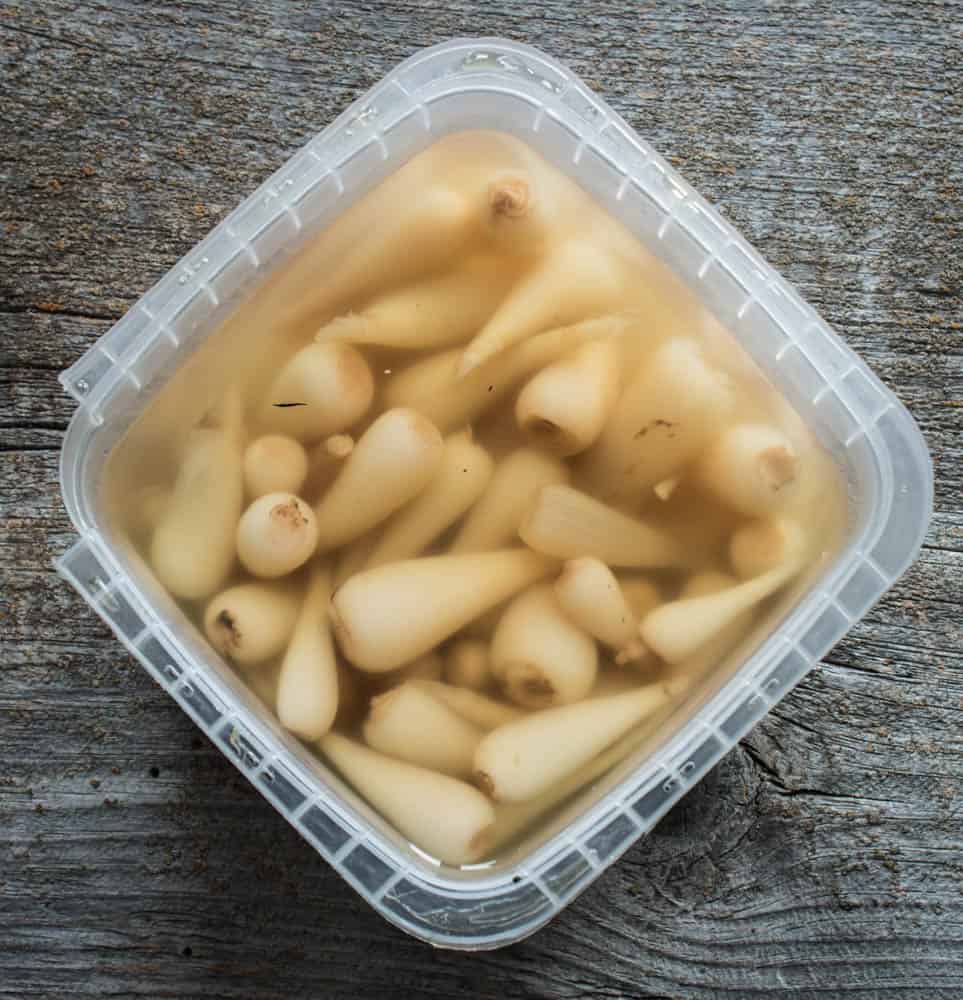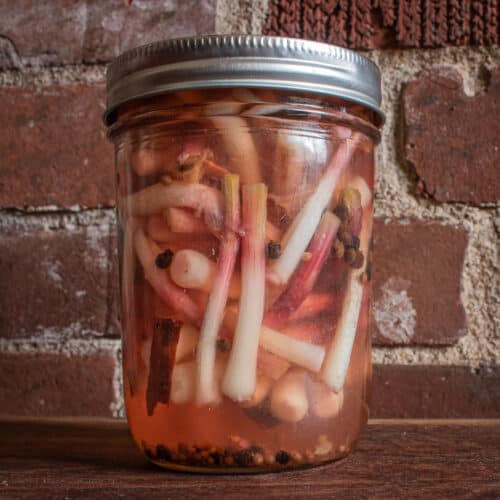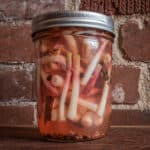 Print Recipe
Basic Pickled Ramps
Yield: 3 pint jars of pickled ramps, depending on size and age.
Ingredients
1

lb

Ramp Bulbs

or as many will fit in 3 pint jars

3

cups

water

1

T

kosher or sea salt

½

Cup

sugar

1.5

cups

rice wine vinegar

see note

2

tablespoons

pickling spice
Instructions
Toast the spices on medium heat in a saute pan until aromatic, then cool and reserve.

Remove the leaf at the part of the stem were it turns red. Leaving the red stems on the ramps ensures you a beautiful pickle liquid with a pink hue. Remove any remaining taproots.

When you have trimmed the leaves, next remove the "condom" from the ramp as we call it-a thin layer of viscous tissue on the outside of the bulb. Remove this, also trimming off the taproot where it connects to the base of the ramp bulb. Save the taproots to plant in your yard.

Save the leaves for another purpose.

Pack the pint jars full of ramp bulbs, leaving ½ inch headspace.

Bring the water, vinegar, salt, sugar and spices to a boil.

Pour the boiling pickle liquid into the jars right up to the brim (you don't have to leave as much room as you won't waterbath can them.

Screw the lids on tight, then turn upside down and allow to cool. After cooling, the ramps will be shelf stable just like if they were water bath canned.

Alternatively, store the ramps covered in their liquid in your fridge, without canning. Provided that the ramps are always completely covered by liquid, they will last pretty much forever, at least until next ramp season.
Notes
Vinegars 
It's important to use rice wine vinegar here. Apple cider vinegar, champagne or white wine vinegar will all make your ramps turn blue. 
Make your own seasoning blends 
This is a bare bones recipe, a basic outline. You can jazz it up to your liking by adding different seasonings. Fresh herbs are the best addition, especially dill, cilantro and or mint. Play around can come up with some combinations you like.
Cooking with pickled ramps 
When I'm cooking with pickled ramps, 99% of the time I chop the bulbs, then cook them down in their pickling liquid to concentrate their flavor before adding them to whatever I'm making, so I take that into consideration. 
Nutrition
Calories:
210
kcal
|
Carbohydrates:
47
g
|
Protein:
3
g
|
Fat:
1
g
|
Saturated Fat:
0.2
g
|
Polyunsaturated Fat:
0.2
g
|
Monounsaturated Fat:
0.1
g
|
Sodium:
42
mg
|
Potassium:
462
mg
|
Fiber:
5
g
|
Sugar:
37
g
|
Vitamin A:
1529
IU
|
Vitamin C:
30
mg
|
Calcium:
150
mg
|
Iron:
3
mg
More