One of the greatest pickles you'll have, knowing how to pickle wild ramps is something every forager should know. The best part is that if you don't have a place to dig ramp bulbs you can pickle ramp leaves and stems as well and they're great. Read on and I'll go over what you need to know.
What are Pickled Ramps?
These are the bulbs of wild leeks harvested in the spring that have been pickled. They're best used for making condiments or using anywhere you want a pickled onion flavor. Leeks harvested at the end of the season will have the biggest bulbs.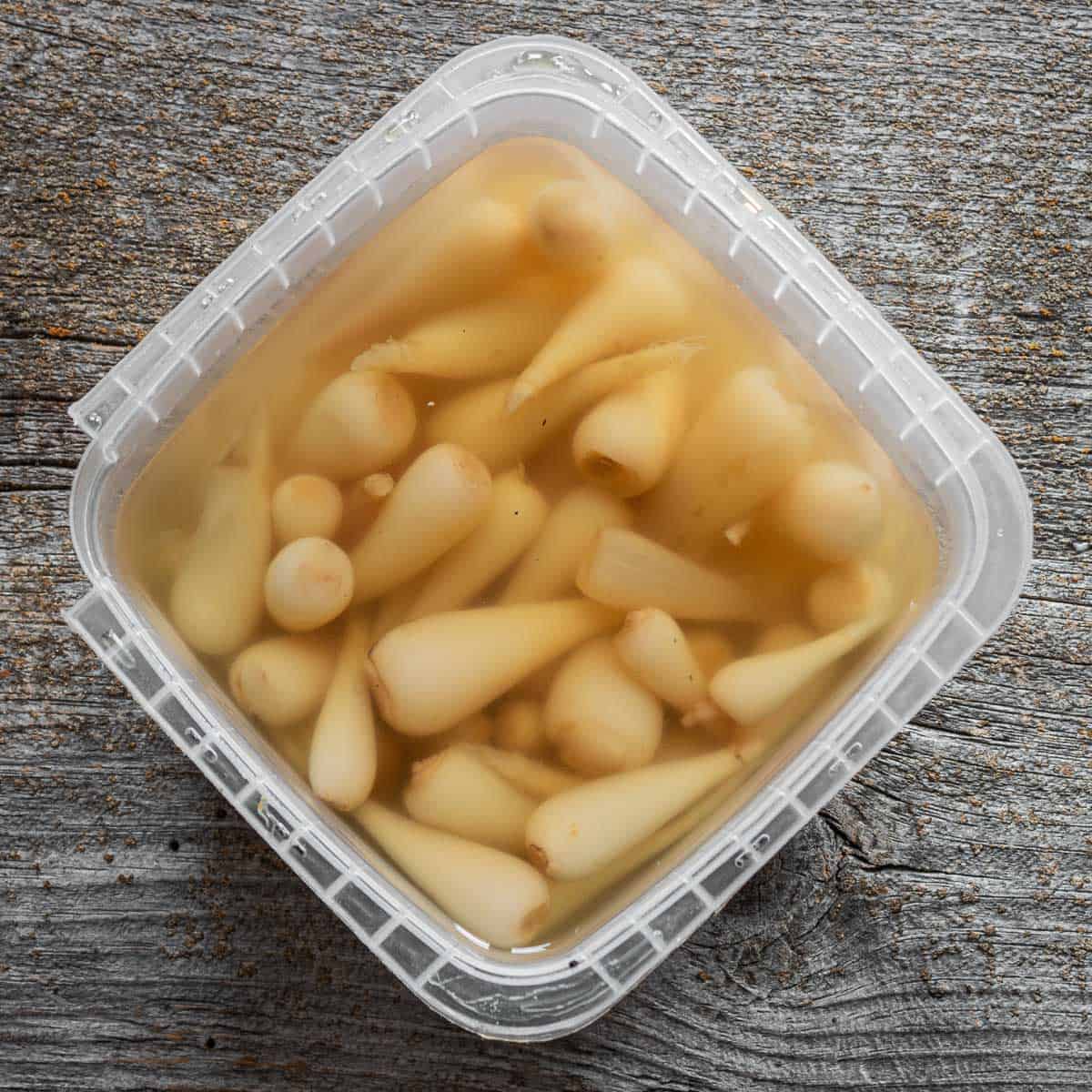 If you don't have fresh ramps you can use green garlic or spring onions.
How to Pickle Ramps
There's a few options here. For all of them, first the ramps are washed and cleaned. If you want, you can pickle ramp leaves too. You can also save the leaves to make ramp pesto.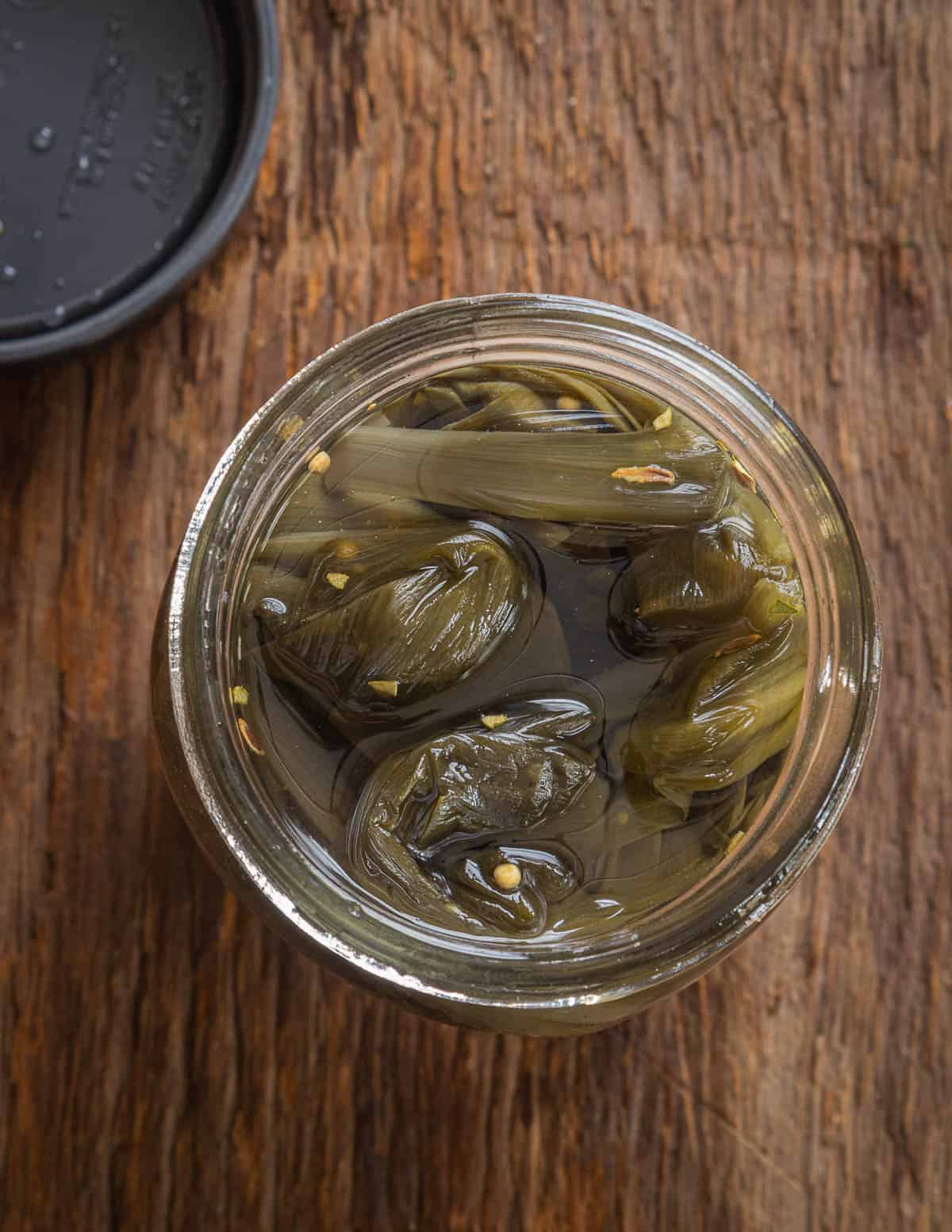 Next you make a pickle brine by boiling water, rice wine vinegar, pickling spices like mustard seeds and red pepper flakes, bay leaves, black peppercorns, sugar and salt.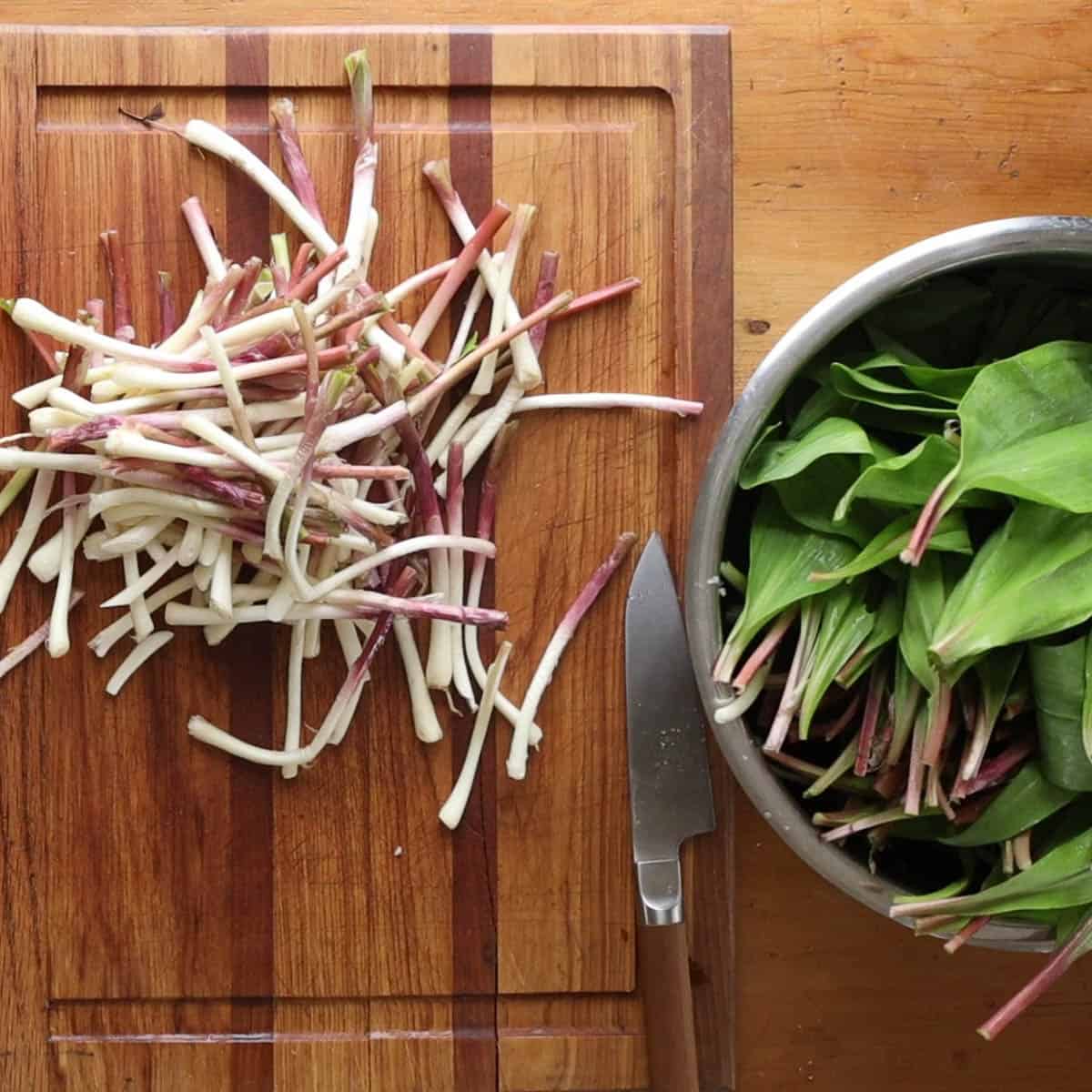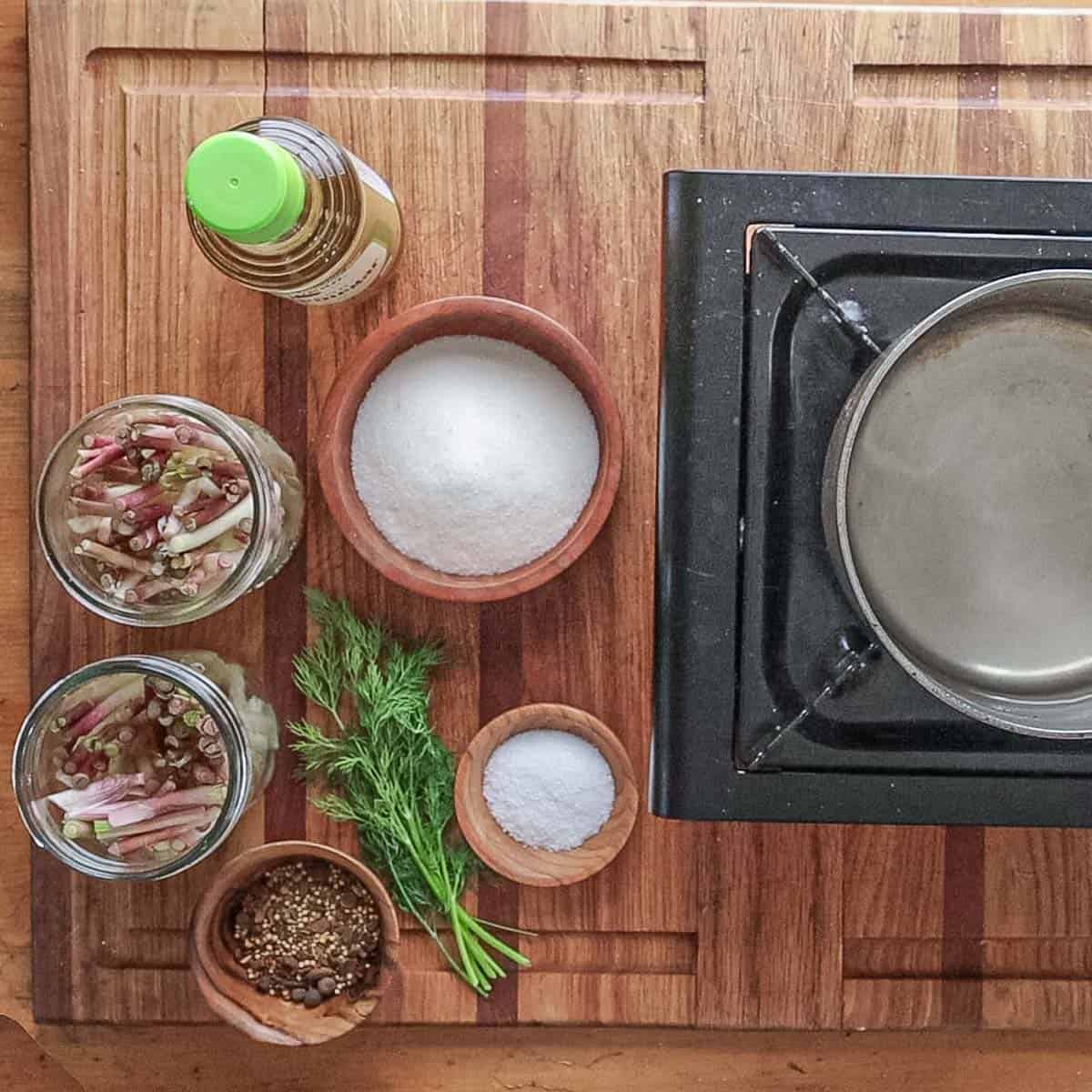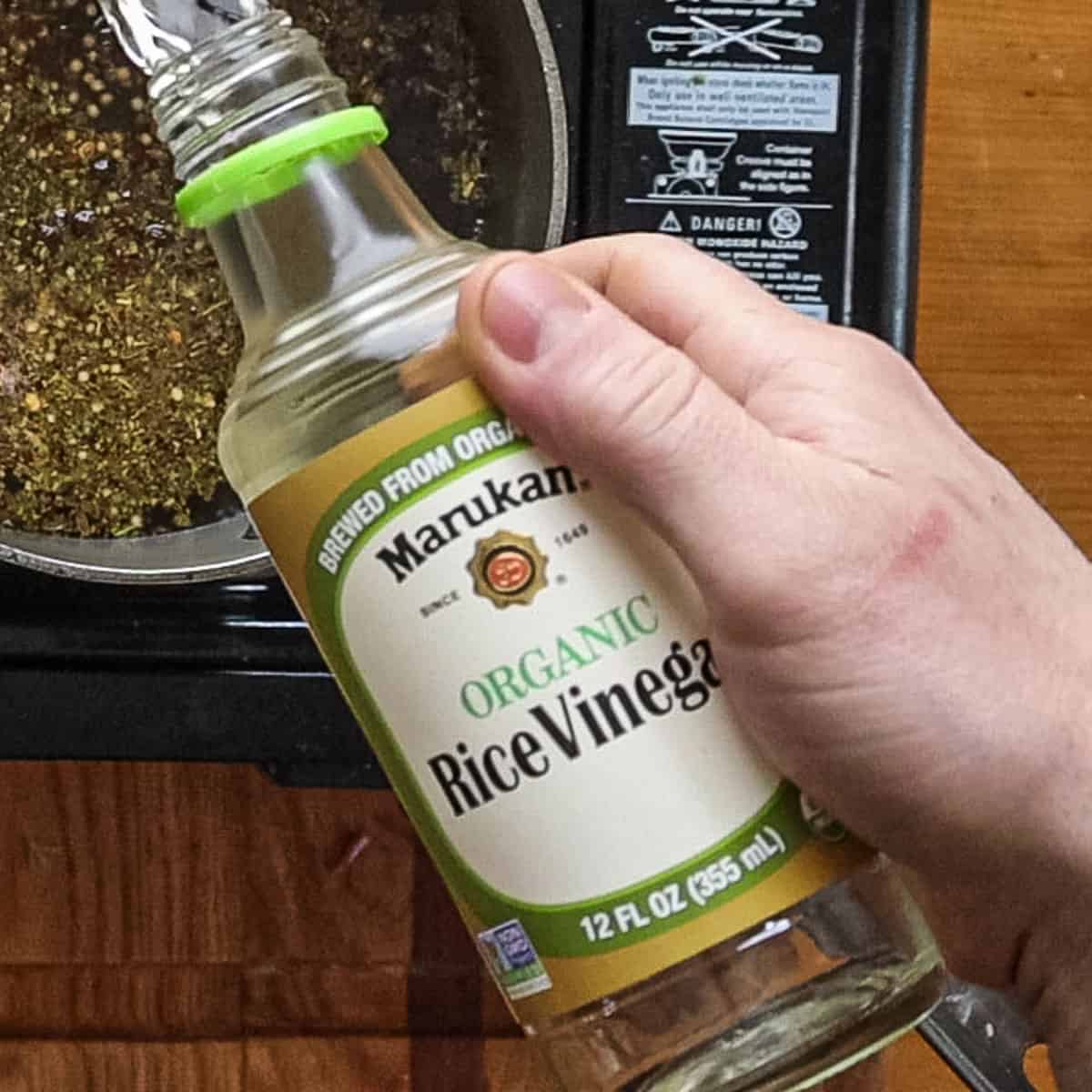 To can pickled ramps to store in a pantry, the bulbs are packed into mason jars, then filled with hot pickling liquid and turned upside down. As they cool the jars seal like canning in a water bath.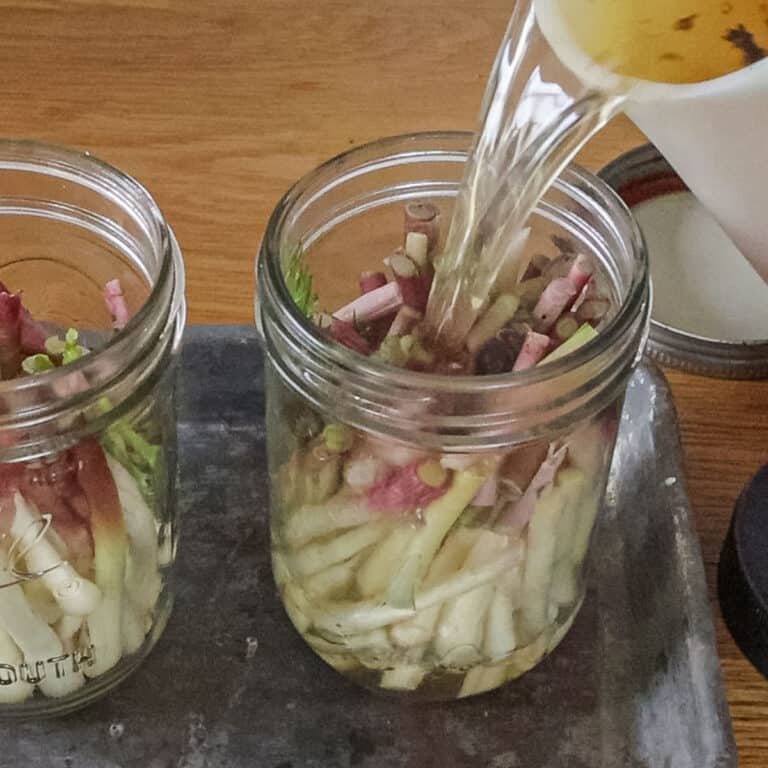 This method isn't approved by the FDA, but it is the only way to keep the ramps crisp unless you store the jars in the fridge. I've used it for many years. If you don't want to do that, use a non-reactive lid and store your pickles in the fridge as shown below.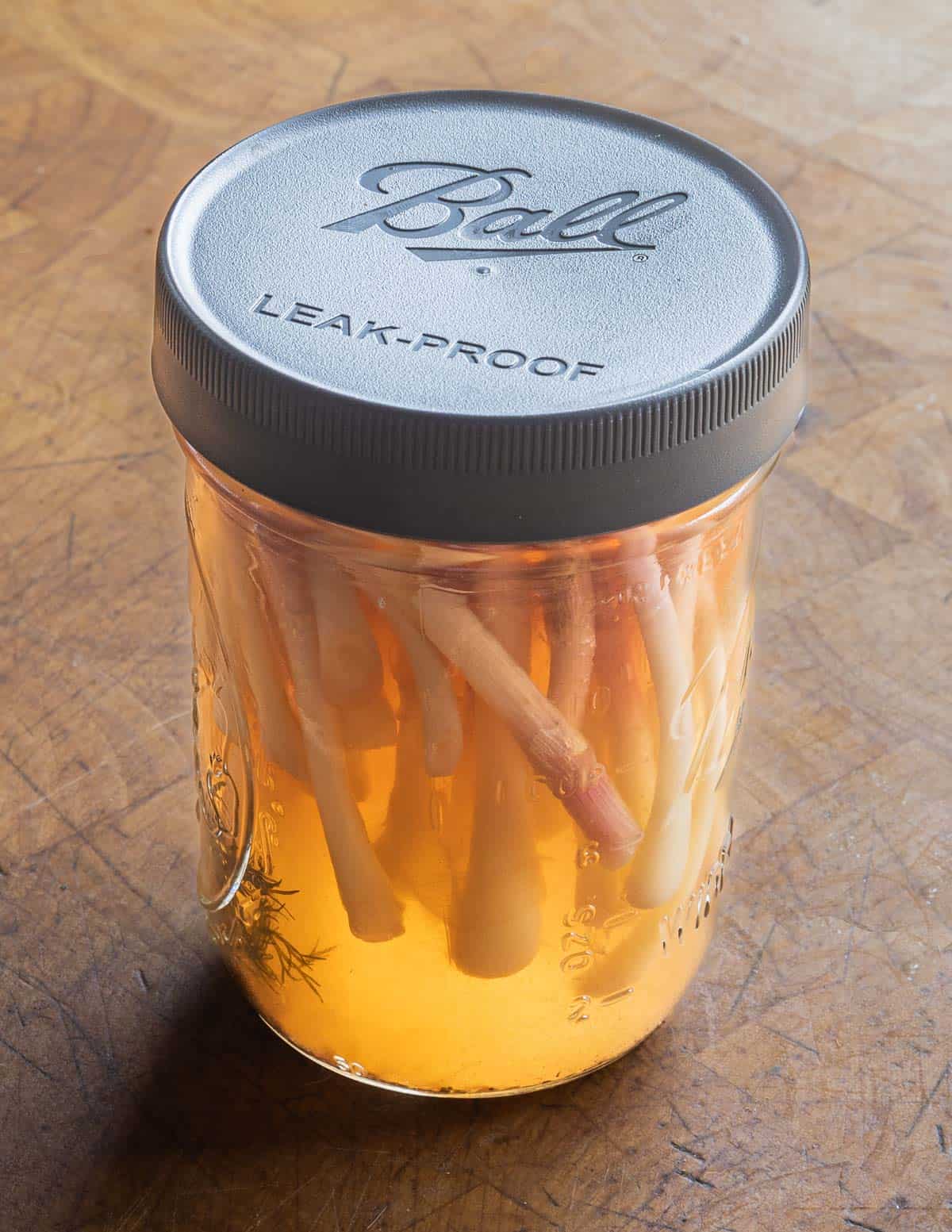 What to do with Pickled Ramps
Lots of recipes describe how to make the pickles, but few explain how to use them. I pickle wild leeks specifically to make condiments like dips and sauces.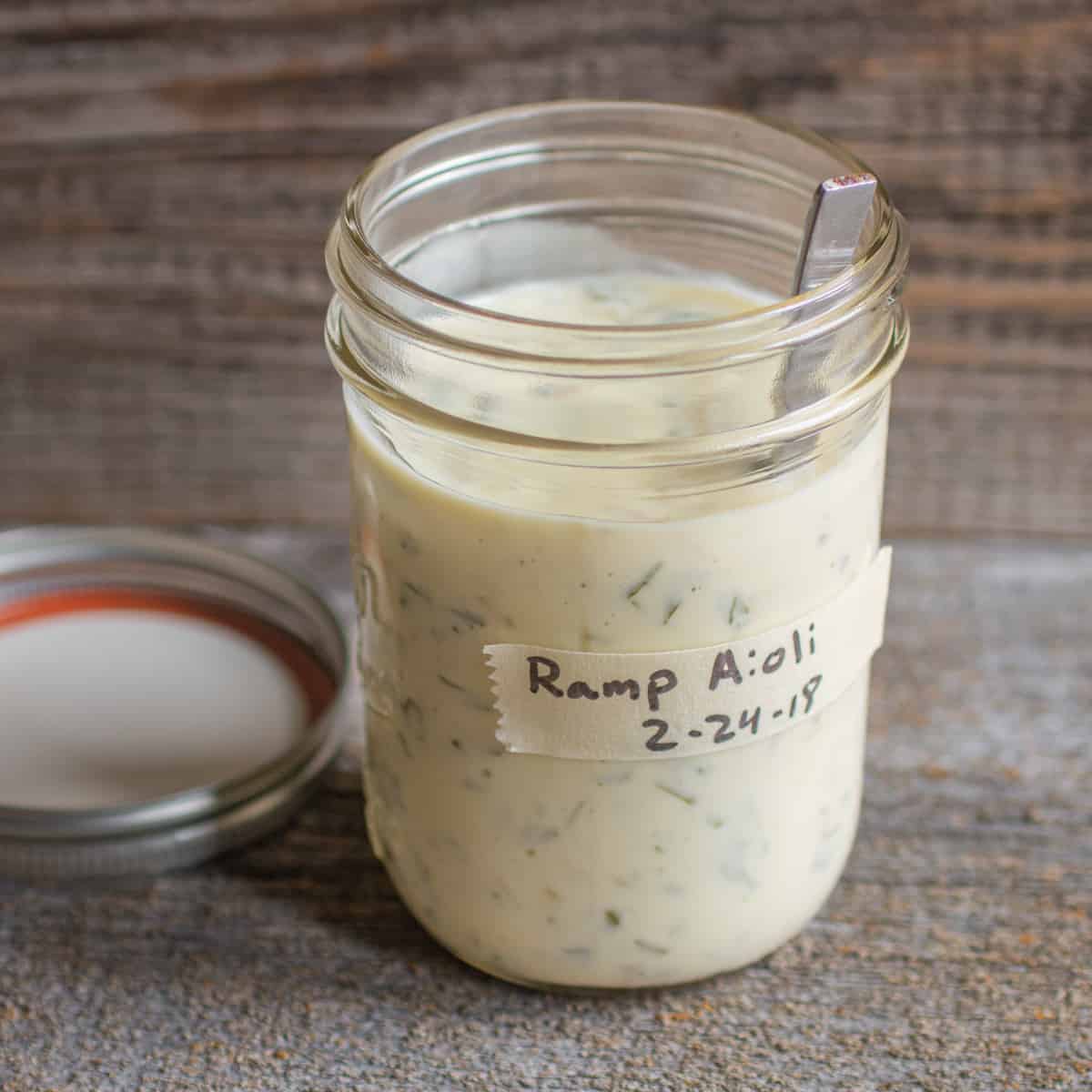 Mayonnaise, sour cream and yogurt based sauces are fantastic, and allow you to use both the pickled bulb and the pickling juice to make things like pickled ramp aioli. Use where you would tartar sauce, like with the fried perch below.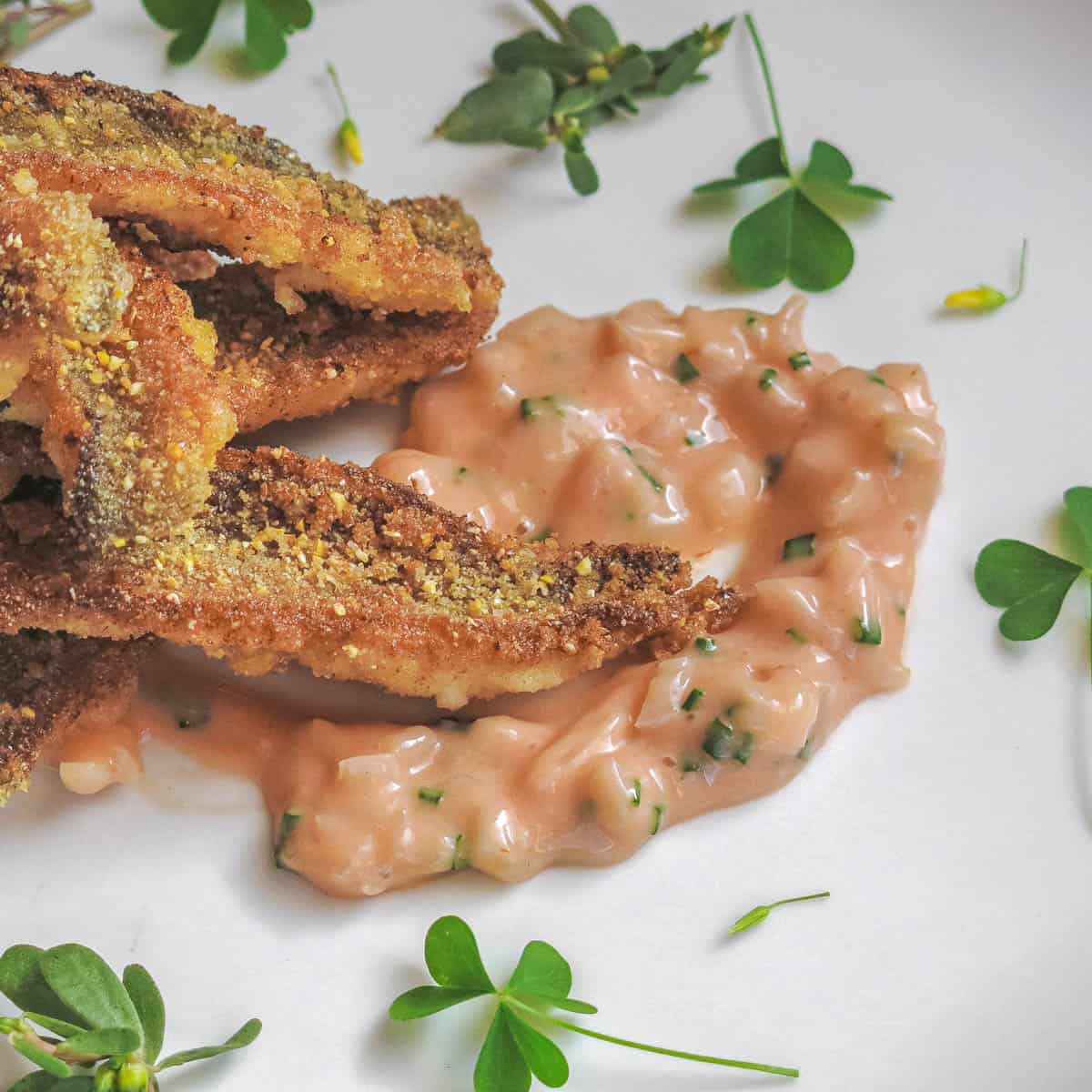 Korean Pickled Onions (Myeongi)
A variation you must try is Myeongi or Korean Pickled onions. My friend Linda Black Elk introduced me to these and I was blown away by how good they are.
It's a soy sauce pickle that's very easy to make and uses the whole plant or just leaves with stems. Put the ramps in a bowl, pour the hot liquid on them, cover the bowl with cling film and cool, then refrigerate as illustrated below.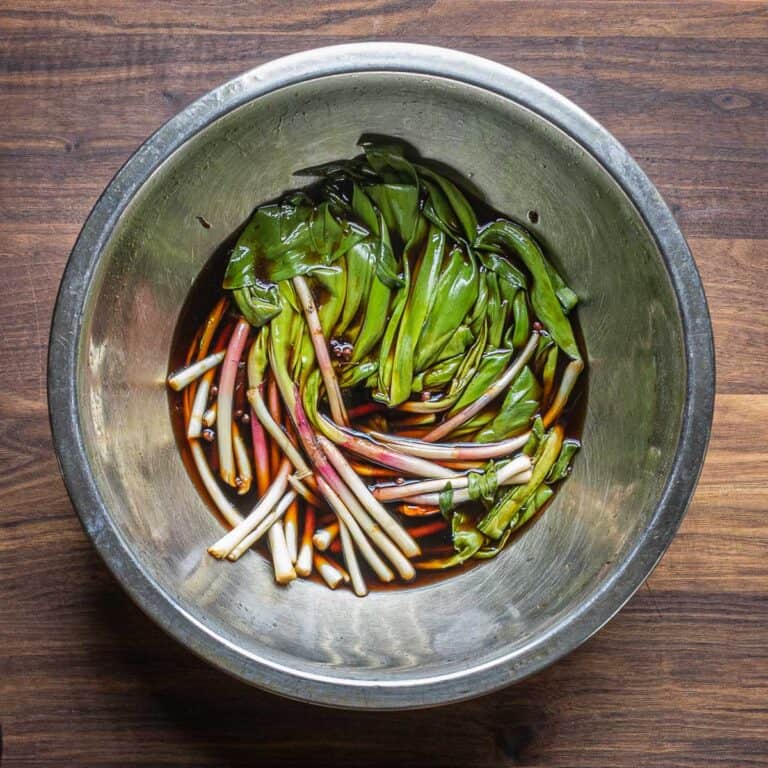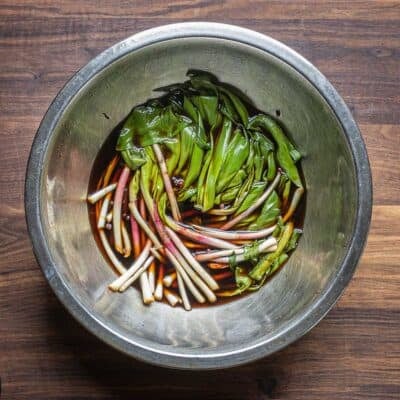 The recipe is described in the notes. It's excellent with rice and fish, pictured below.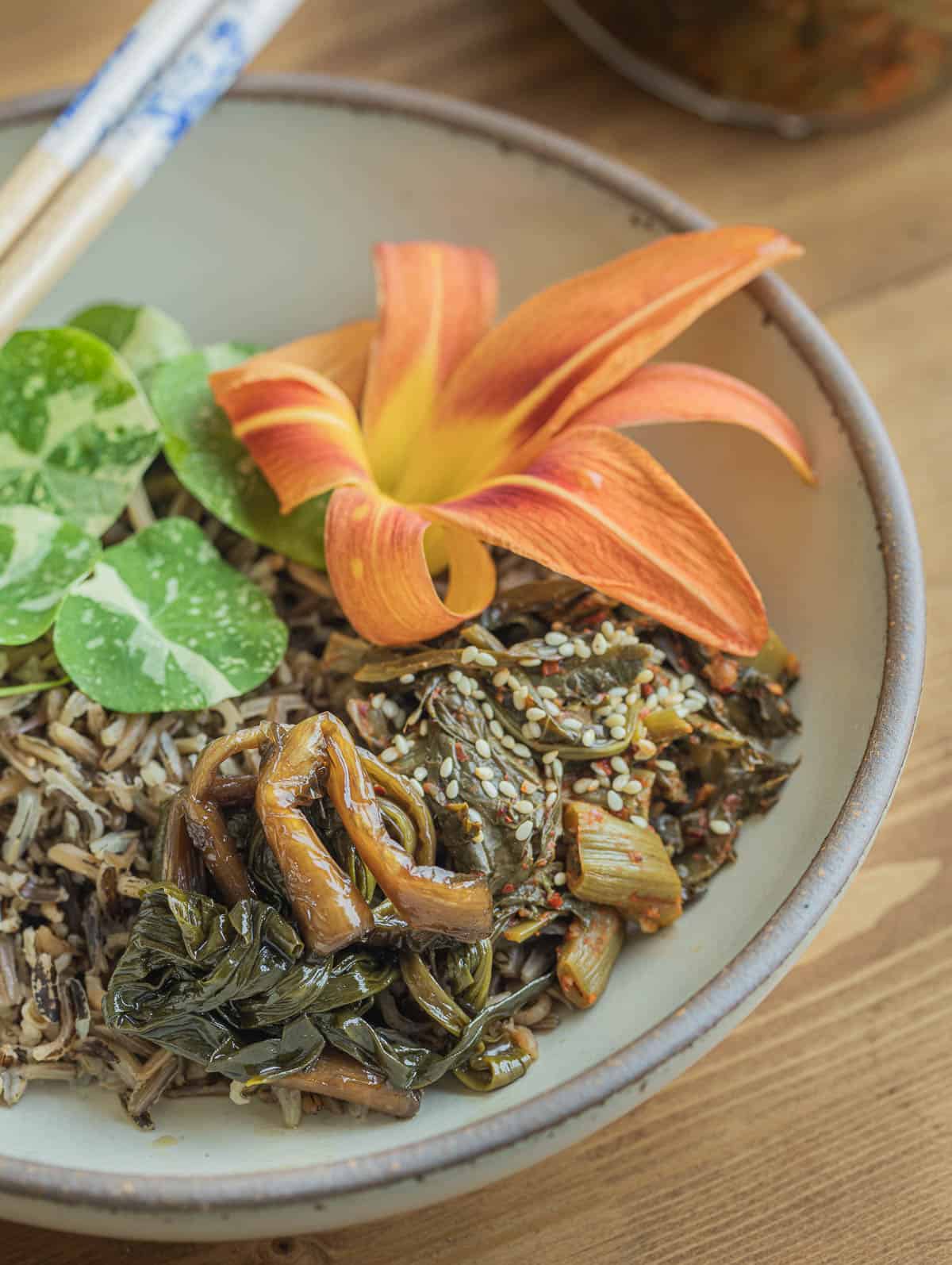 Related Posts
Ramps: Harvesting, Sustainability, Cooking and Recipes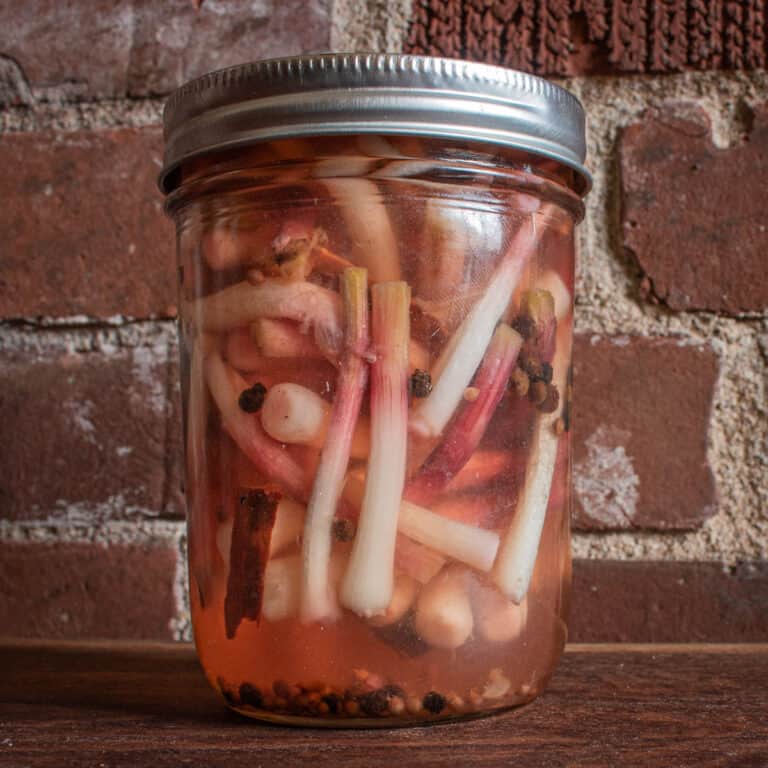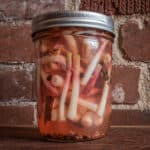 Print Recipe
Pickled Ramps
A simple pickled ramps recipe. Yield: 3 pint jars of pickled ramps, depending on size and age.
Equipment
3 Pint mason jars

2 quart sauce pot
Ingredients
1

lb

Ramp Bulbs

or as many will fit in 3 pint jars.

3

cups

water

1

T

kosher or sea salt

⅓

Cup

sugar

1.5

cups

rice wine vinegar

see note

2

tablespoons

pickling spice
Instructions
Wash and clean the ramps. Remove any remaining taproots from the wild leeks, as well as any dirty, clinging sheath. Remove the leaves and save for another purpose (they can be pickled too). Any healthy taproots can be planted in your yard.

Pack the pint jars full of ramp bulbs, leaving ½ inch headspace. Allow them to come to room temperature.

Bring the water, vinegar, salt, sugar and spices to a boil.

Pour the bring over the ramps in the jars right up to the brim (you don't have to leave as much room as you won't water bath can them). The brine must be boiling hot.

Screw the lids on tight, then turn upside down and allow to cool. After cooling, the ramps will be shelf stable just like if they were water bath canned.

Alternatively, store the ramps covered in their liquid in your fridge, without canning. They'll last a long time, at least until next ramp season.
Notes
Vinegars 
It's important to use rice wine vinegar here. Apple cider vinegar, champagne or white wine vinegar can all make your ramps turn blue. 
Sugar
You can cut the sugar down to ¼ cup if you like, or use a substitute. 
Myeongi (Korean Pickled Onions) 
For the Korean pickled onions, use the following proportions. Put the whole ramps in a bowl, add the hot liquid and wrap the top in cling film to catch steam until wilted, then store in the fridge covered in the liquid. For one pint jar you'll need:
½ cup soy sauce
½ cup water
½ cup rice wine vinegar 
½ cup sugar
6 oz ramps with attached leaves, or just leaves and stems
1 teaspoon Szechuan peppercorns (optional) 
1 small thai chili or equivalent (optional) 
Nutrition
Calories:
210
kcal
|
Carbohydrates:
47
g
|
Protein:
3
g
|
Fat:
1
g
|
Saturated Fat:
0.2
g
|
Polyunsaturated Fat:
0.2
g
|
Monounsaturated Fat:
0.1
g
|
Sodium:
42
mg
|
Potassium:
462
mg
|
Fiber:
5
g
|
Sugar:
37
g
|
Vitamin A:
1529
IU
|
Vitamin C:
30
mg
|
Calcium:
150
mg
|
Iron:
3
mg
How long do pickled ramps last?
Like most pickles, they'll last for a long time as long as the jar is sealed-I've used some that were 2-3 years old. After opening the jars should be refrigerated.
Can you pickle frozen ramps?
Yes, just substitute them in a pickled ramps recipe. They won't be quite as crisp as fresh.
Can you pickle ramp leaves?
Yes. You can do this by pouring hot pickle liquid over them in a bowl, wrapping in cling film until wilted, then transferring to a jar. You can also use cold pickle liquid to preserve the texture. Do not process them in a water bath or they'll be mushy.
Why did my pickled ramps turn blue?

This has to do with the vinegar. Apple cider vinegar, white vinegar, and white wine vinegar will cause pickled garlic and wild leek bulbs to discolor. If you use rice wine vinegar it won't be an issue.