Wondering what to make with pickled ramps? One of the best things I used to make every year in my restaurants was pickled ramp aioli, also known as tartar sauce of the gods. Read on and I'll explain how to make it, and what to do with it.
99% of the time when I crack open a jar of pickled ramps, or dip into a cambro of pickles in a restaurant fridge I'm not going to slice them and put them on a plate raw, or sprinkle them on something, or toss them on a salad.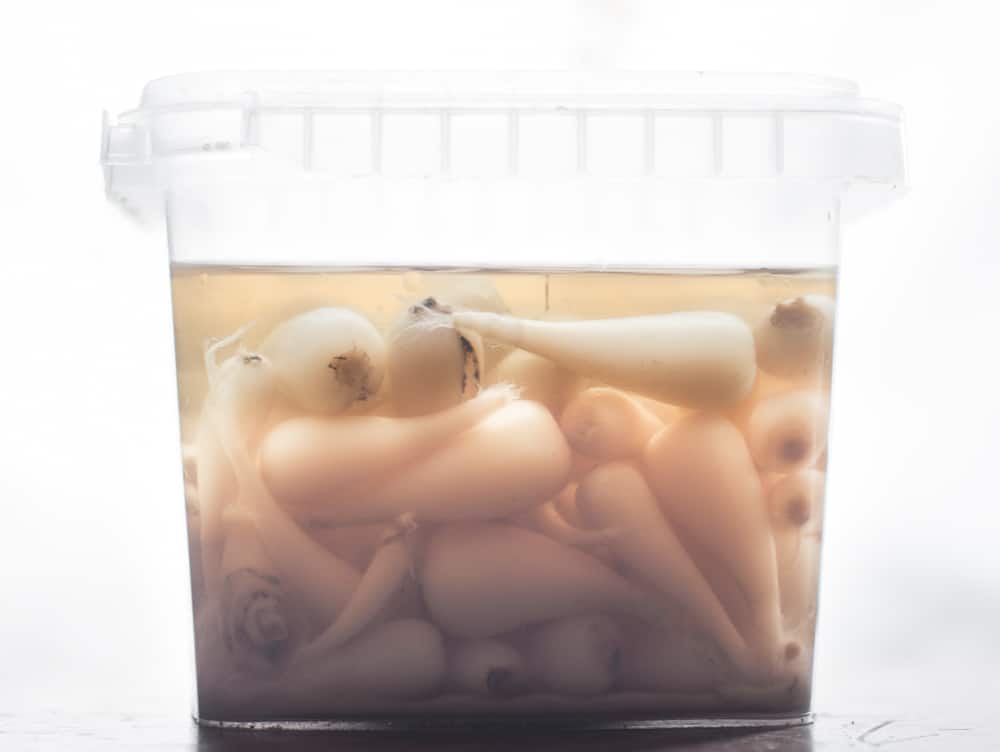 To stretch the ramps, I mix them with a few other ingredients to make an aioli, what you end up, in my opinion tastes a bit like pickled ramp tartar sauce, fit for the gods. You can use it interchangeably wherever you'd use a nice, sharp mayonnaise based condiment, especially with fried or roasted fish or chicken.
Late season ramps have big bulbs and can be tougher than younger ramps, if I'm using them, I'll make sure to chop them pretty small. It's a condiment that tastes like concentrated, creamy pickled ramps, a little sweet, a little sour, a bit salty, but most of all: rampy to the max.
The importance of stretching ramps
At the beginning of the season, you're going to pay about 10$ a lb wholesale in the Midwest, 13-15$/lb if you order out of state or buy from a coop.
I can usually get 7$ a lb at the end of the season when the ramps are fat and huge, as well as stringy, which means they need to be chopped fine. When the ramps are younger and at their best you're going to pay for them.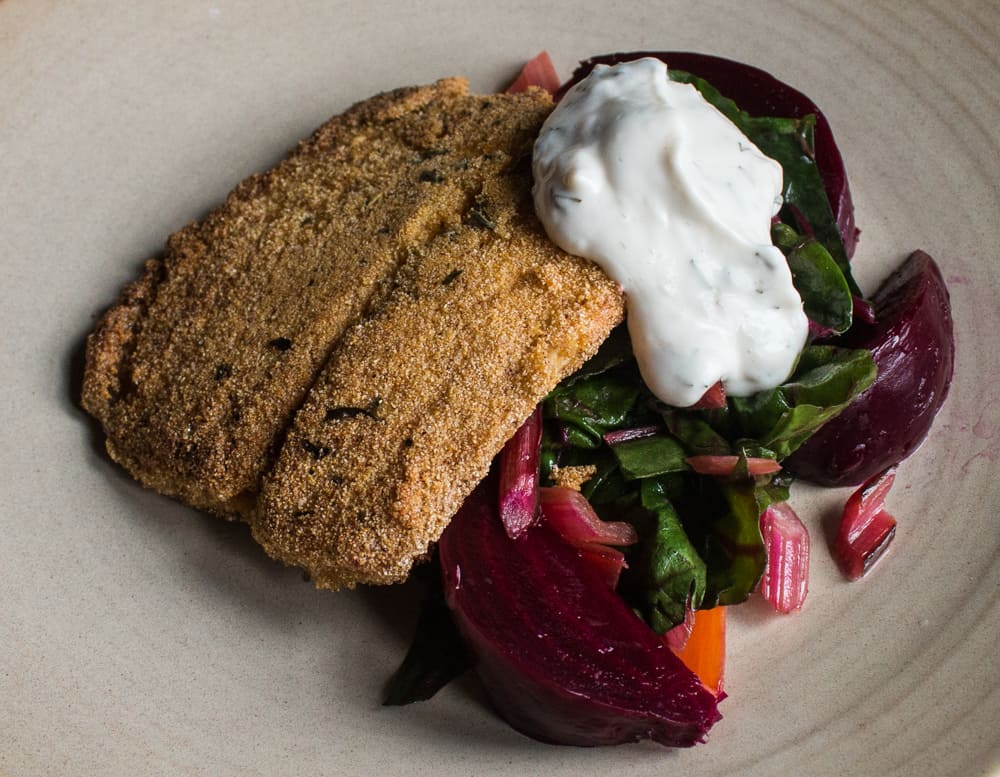 The real cost of putting pickled ramps on a plate is much higher than whatever you pay outright though, not least of all, remember the leaves are where most of the weight is. After trimming the leaves you're left with less 50% yield by weight. Of course you can use the leaves for plenty of things, but they're not quite as punchy as the bulbs.
That means the price of those pickled ramps bulbs just went up, to be conservative and allow some profit from using the leaves we could say 20$/lb, and that's on the low end. I don't care what kind of food you're buying or what dinner you're planning, 20$ a lb for anything is expensive.
The Importance of Ramp Pickling Liquid
The secret to pickled ramps is all in their pickling liquid. It's their essence with a concentrated ramp flavor. For pickled ramp aioli and flavored sour creams, I always cook down the pickling liquid a bit and then add it to the finished product to boost the flavor.
But, most pickle recipes contain a ton of sugar and/or vinegar, reducing the liquid down can protect against the finished product being overly vinegar-y, as the potency of vinegar is subdued by heat, but too much sugar or salt can be ruin your aioli, fast, which is why I developed a pickled ramp recipe made especially for reducing down. To see that, go to Pickled Ramps.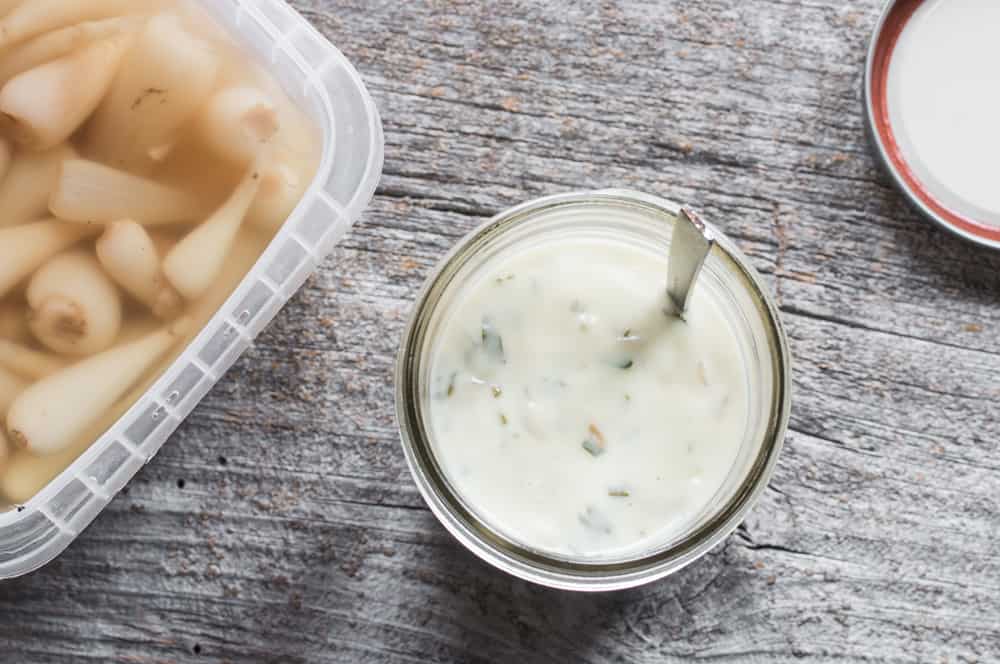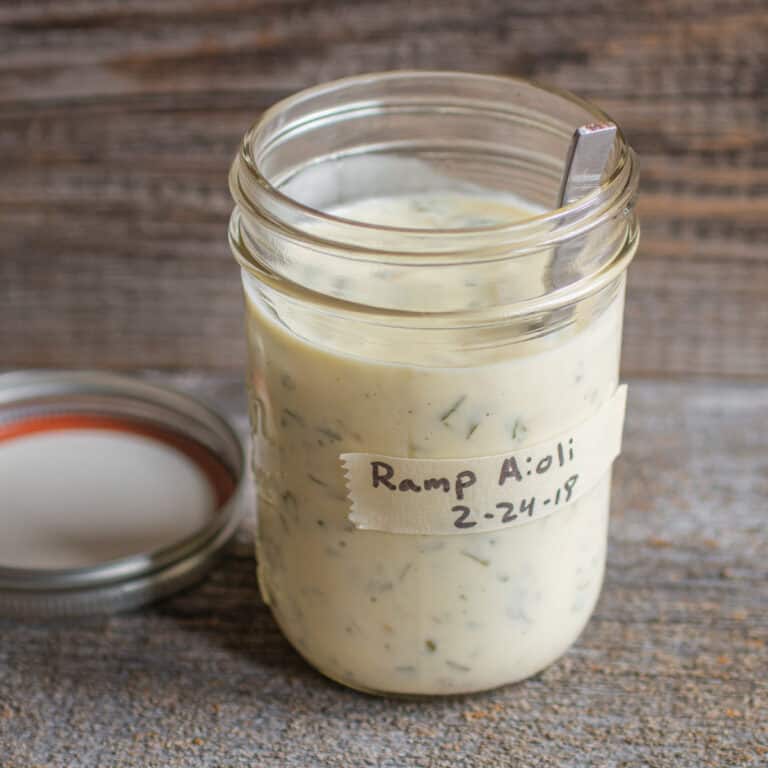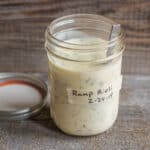 Print Recipe
Pickled Ramp Aioli
Creamy and deliciously ramp pickled ramp aioli. Possibly the best thing you can make with pickled ramps. Makes 2 cups.
Equipment
1 8 inch saute pan

1 small mixing bowl
Ingredients
½

cup

chopped pickled ramps and 1 cup reserved ramp pickling liquid

or use ½ pint jar of pickled ramps

1

tablespoon

each chopped tarragon, cilantro and chives

or ½ tablespoon chopped fresh dill (optional)

2

cups

thick mayonnaise

preferably homemade, but high quality store bought mayonnaise or heavy duty restaurant mayo will work.
Instructions
Cook the ramp pickling liquid down until only about ¼ cup remains, do not allow the liquid to caramelize or scorch.

Tasting as you go, gradually add the syrup-y pickle liquid to the mayo, since your pickle liquid may be slightly different than mine, you want to be double sure to add it to taste, to avoid over-salting or sugaring the finished product.

Afterwords, fold in the herbs and chopped pickled ramps.

The end result should taste a bit like tartar sauce, double check one last time before transfering to a lableled container and refrigerating until needed.

The ramp aioli will keep for two weeks under refrigeration, longer if you use pre-prepared mayonnaise since it uses pastuerized egg product.
Notes
In restaurant scenarios, I pickle ramps in very large batches which means I often end up with extra pickling liquid. At home, you can just take a pint or half pint jar of pickled ramps, chop the bulbs, cook the liquid down, add the chopped ramps to some mayo, and season to taste with the reduced pickling liquid and herbs. 
Nutrition
Serving:
2
Tablespoons
|
Calories:
282
kcal
|
Carbohydrates:
0.5
g
|
Protein:
1
g
|
Fat:
15
g
|
Saturated Fat:
7
g
|
Polyunsaturated Fat:
10
g
|
Monounsaturated Fat:
9
g
|
Trans Fat:
0.1
g
|
Cholesterol:
24
mg
|
Sodium:
428
mg
|
Potassium:
21
mg
|
Fiber:
0.1
g
|
Sugar:
0.4
g
|
Vitamin A:
53
IU
|
Vitamin C:
0.2
mg
|
Calcium:
9
mg
|
Iron:
0.1
mg
More