Grilled spring ramps are a tradition for me, and it's one of the best ways to cook wild leeks like a vegetable, If you have access to land where you can dig them. If you love the taste of lightly charred, sweet, smoky onions like I do, you'll love them.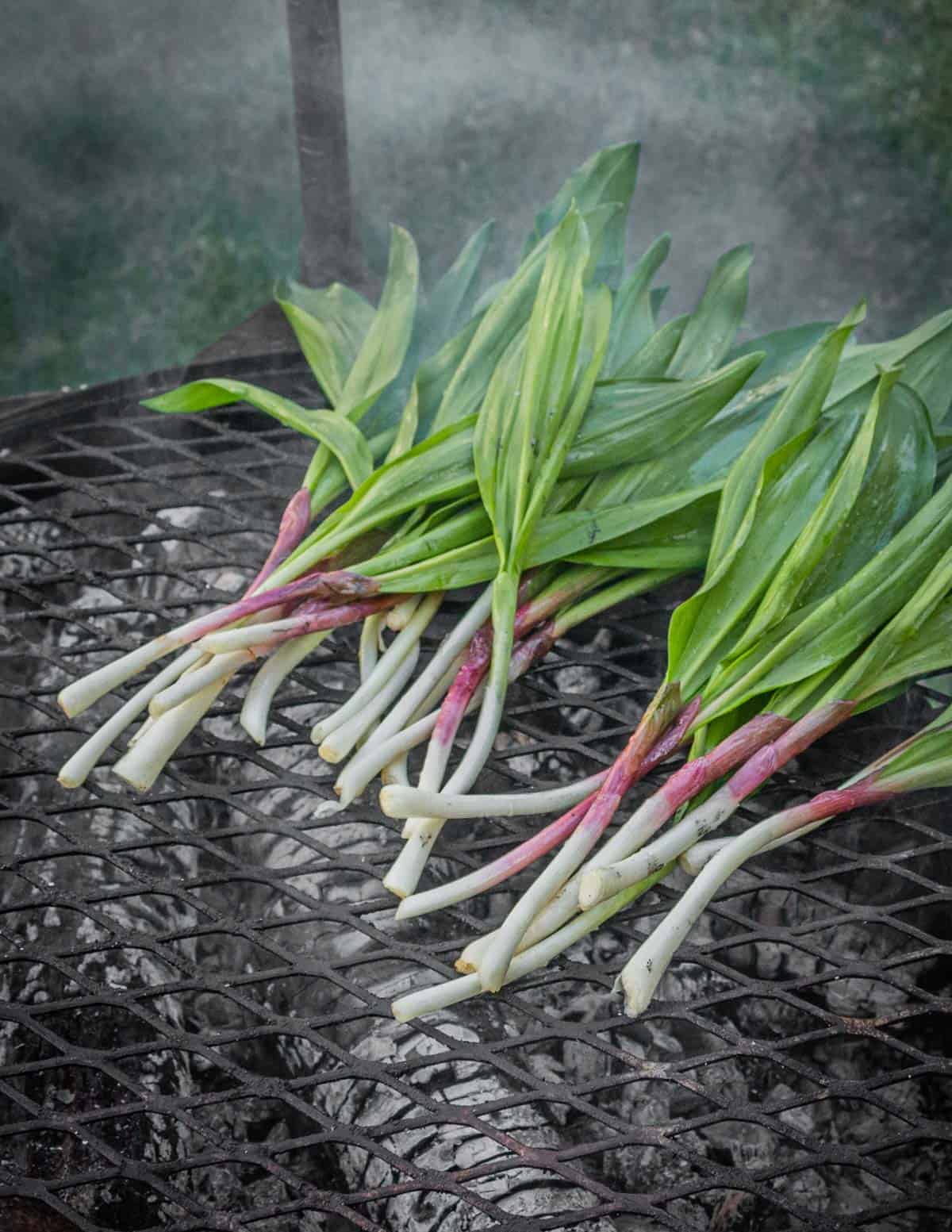 Harvesting Ramps
Every year there's discussion about how, when, and if you should harvest ramps, especially if you're digging ramp bulbs. You have a few options here. The first option is digging and thinning colonies.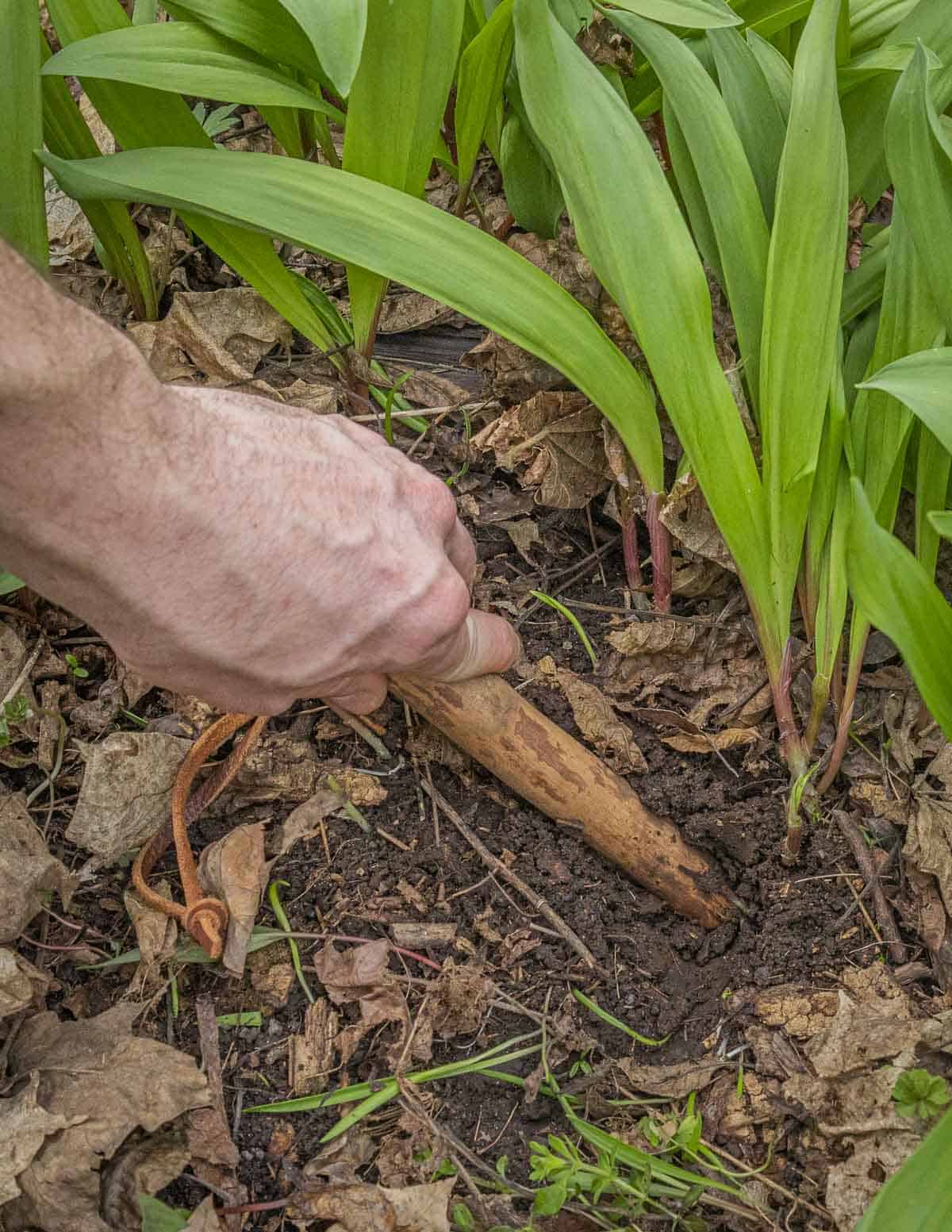 Above: digging a single wild leek using a digging stick.
The second is called the "Cherokee method" and results in slightly less bulb/stem portion. Both methods require you to have access to public land in most places for the harvesting to be legal.
Digging and Thinning
To thin the plants, you gently uproot a colony or individual leeks with a shovel or another tool and pick a couple out, putting the rest of the colony back to continue growing and replacing the disturbed soil.
Below: digging one or two leeks from a colony and replacing disturbed soil.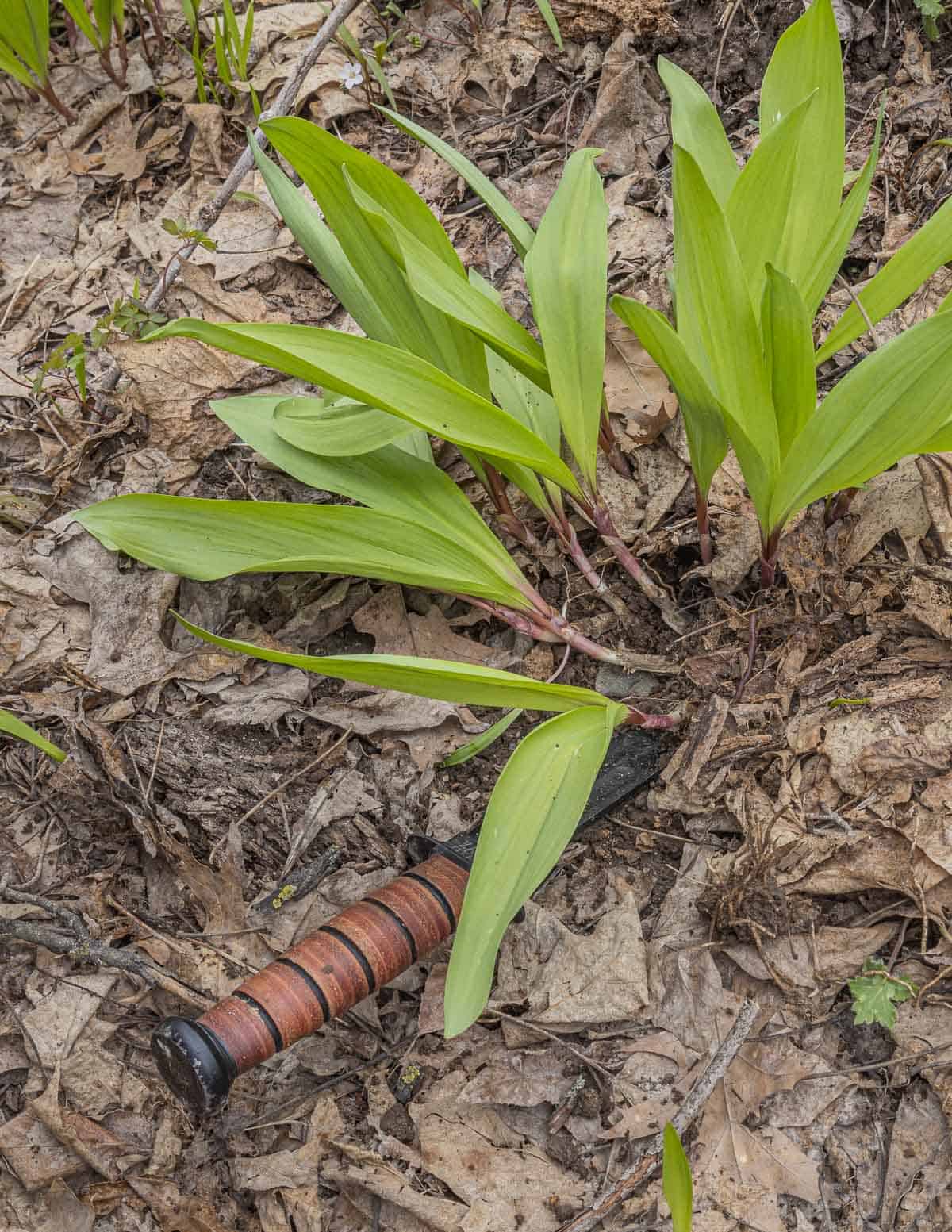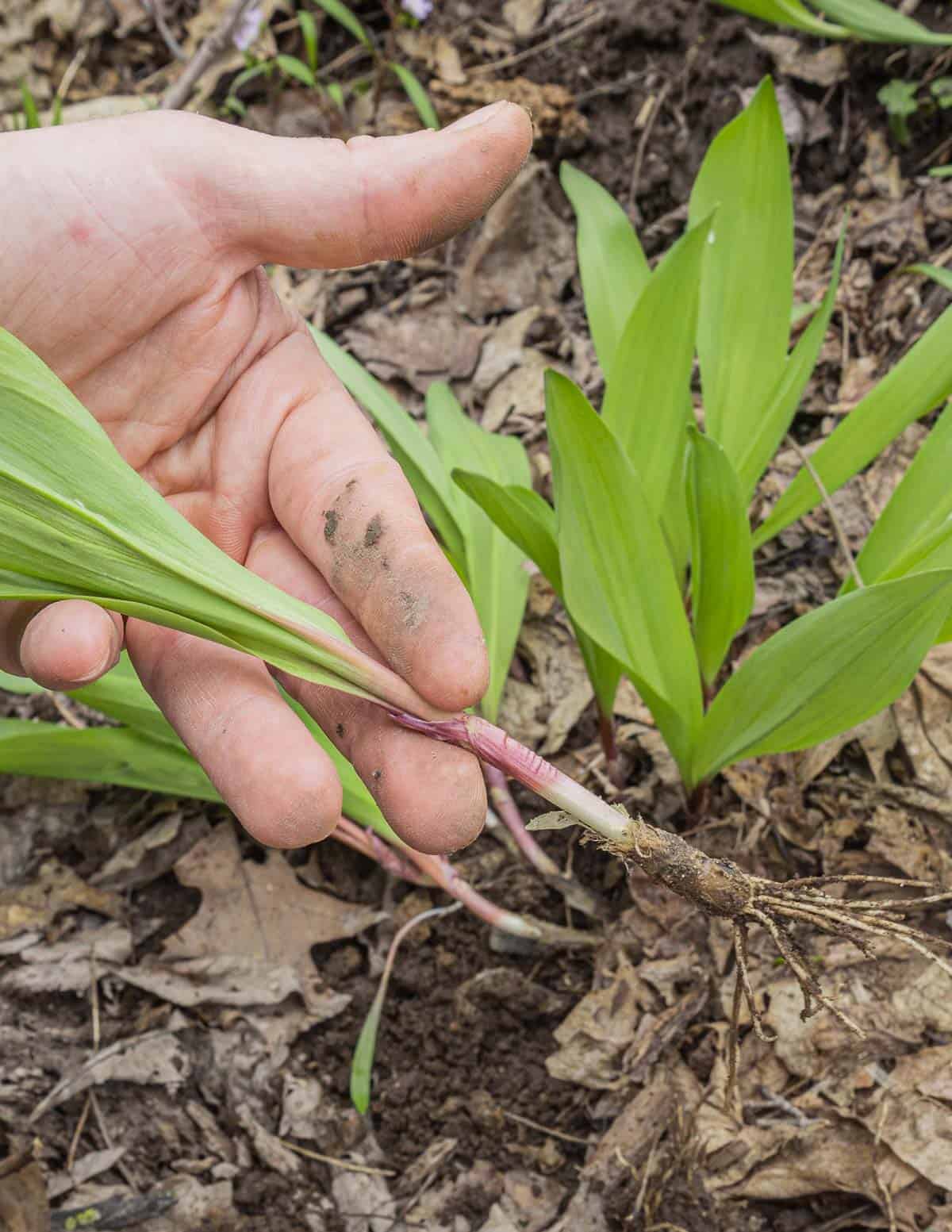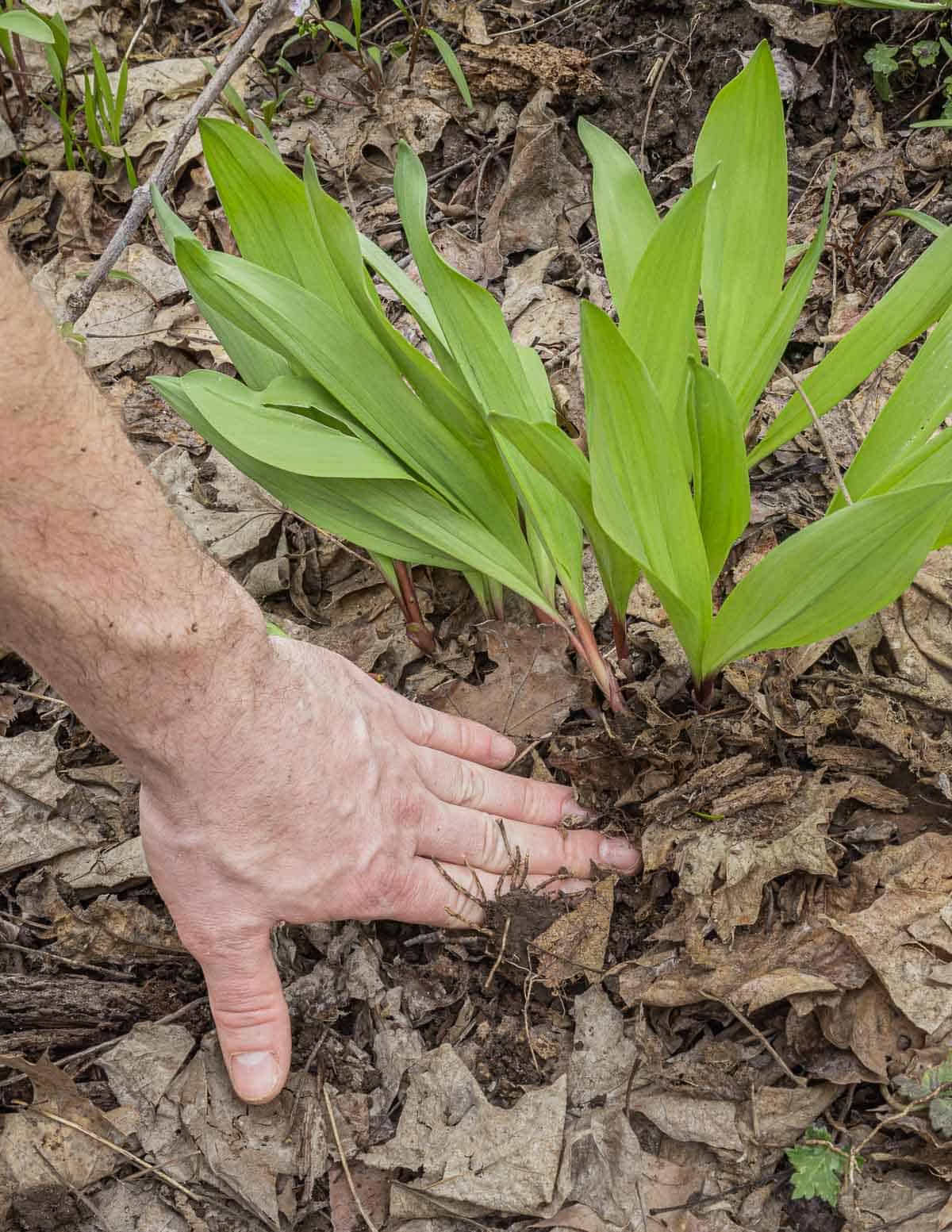 If I find seed heads nearby I try to remember to spread the seeds too as I work. If I don't have a shovel I may use a flat knife or my digging stick.
Below: ramp seed head, I've seen some with up to 50 seeds each on a good year.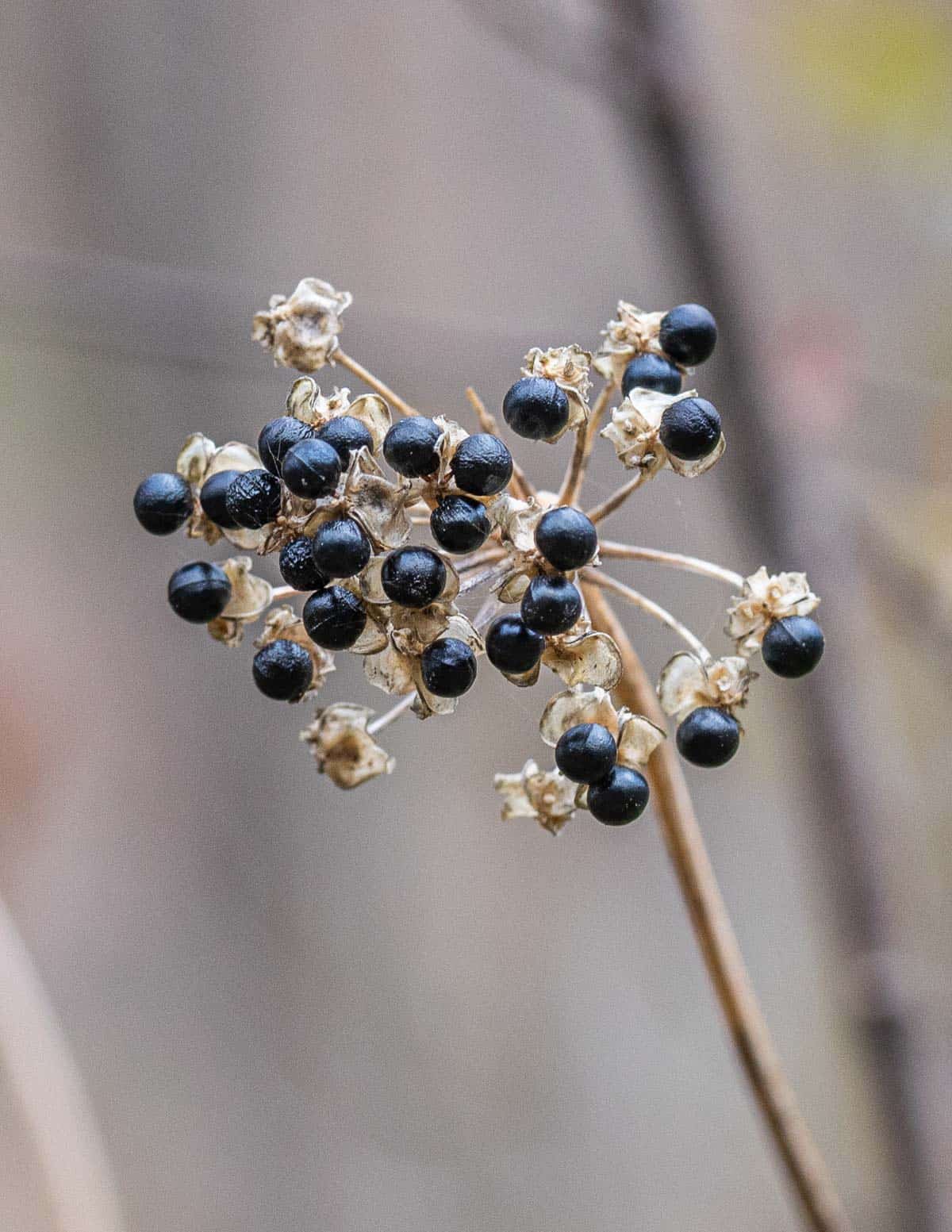 Cherokee Method
The Cherokee method is a compromise between digging and only taking leaves. As the name implies, it's a traditional method of harvesting attributed to the Cherokee.
To do it you push a knife into the soil at an angle to cut the bulb above the roots. The roots stay in the ground to continue growing.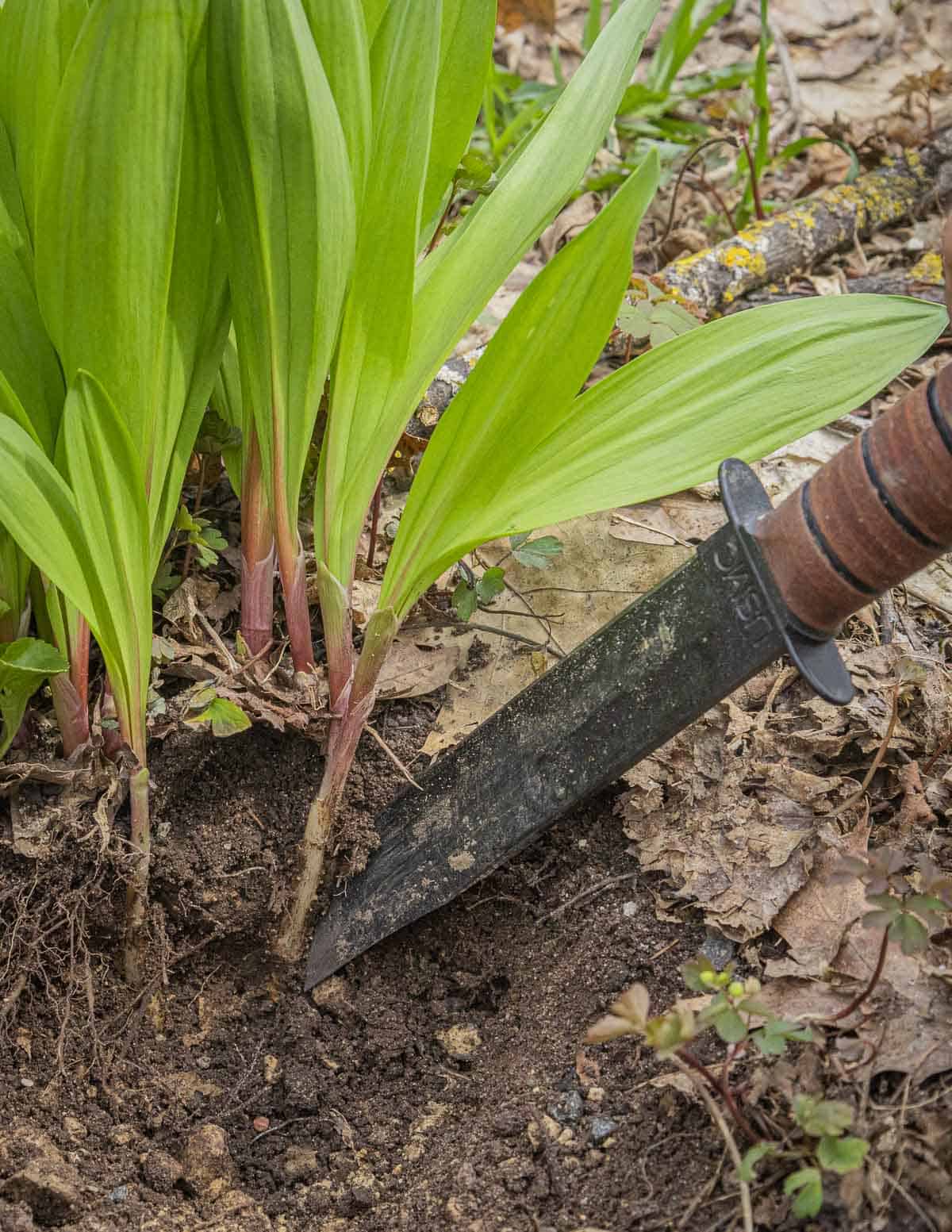 Above: exposing the bulb and cutting diagonally with a knife to leaves the roots in the ground. Below: what my wild leeks usually look like using the Cherokee method.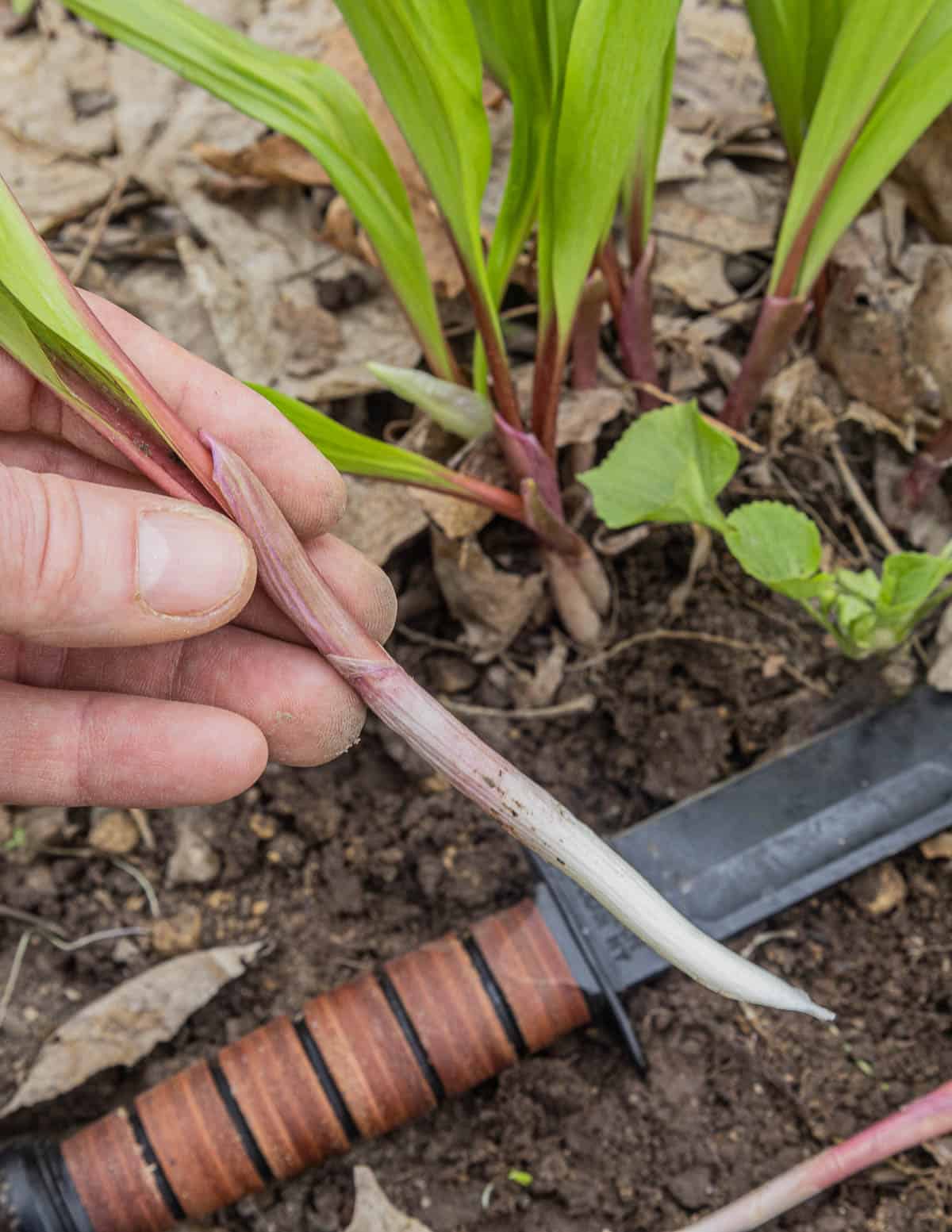 You won't get as much bulb with this method, but it's a good one to know and share. As above, I remove only a couple plants per colony.
How to Clean Ramps
After harvesting the ends are trimmed and cleaned then the ramps are washed, dried, wrapped in an absorbent towel and refrigerated. I prefer to clean them outside to avoid getting dirt in my kitchen drain.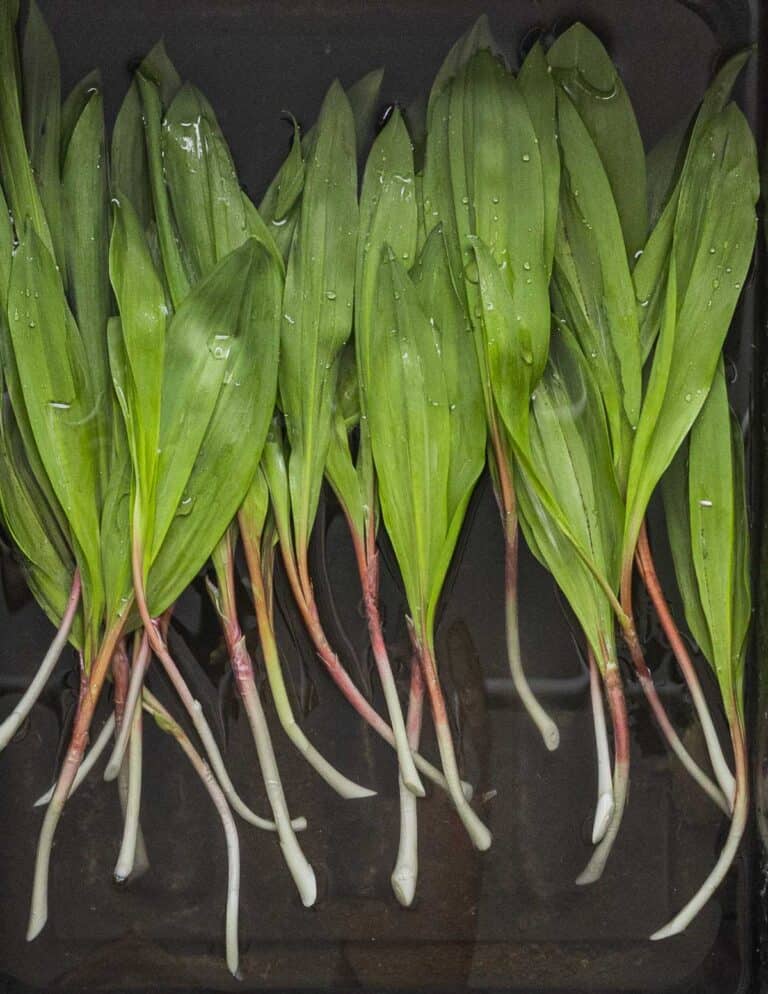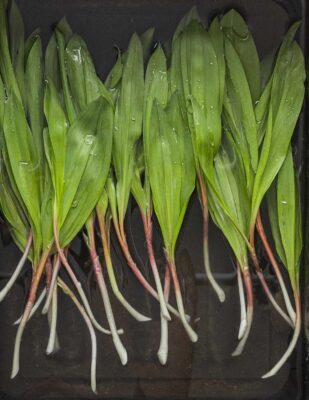 How to Make Grilled Ramps
I like a wood fire to grill the ramps but you can cook them on a griddle or in a grill pan too. Toss the ramps with oil and a pinch of salt, and grill.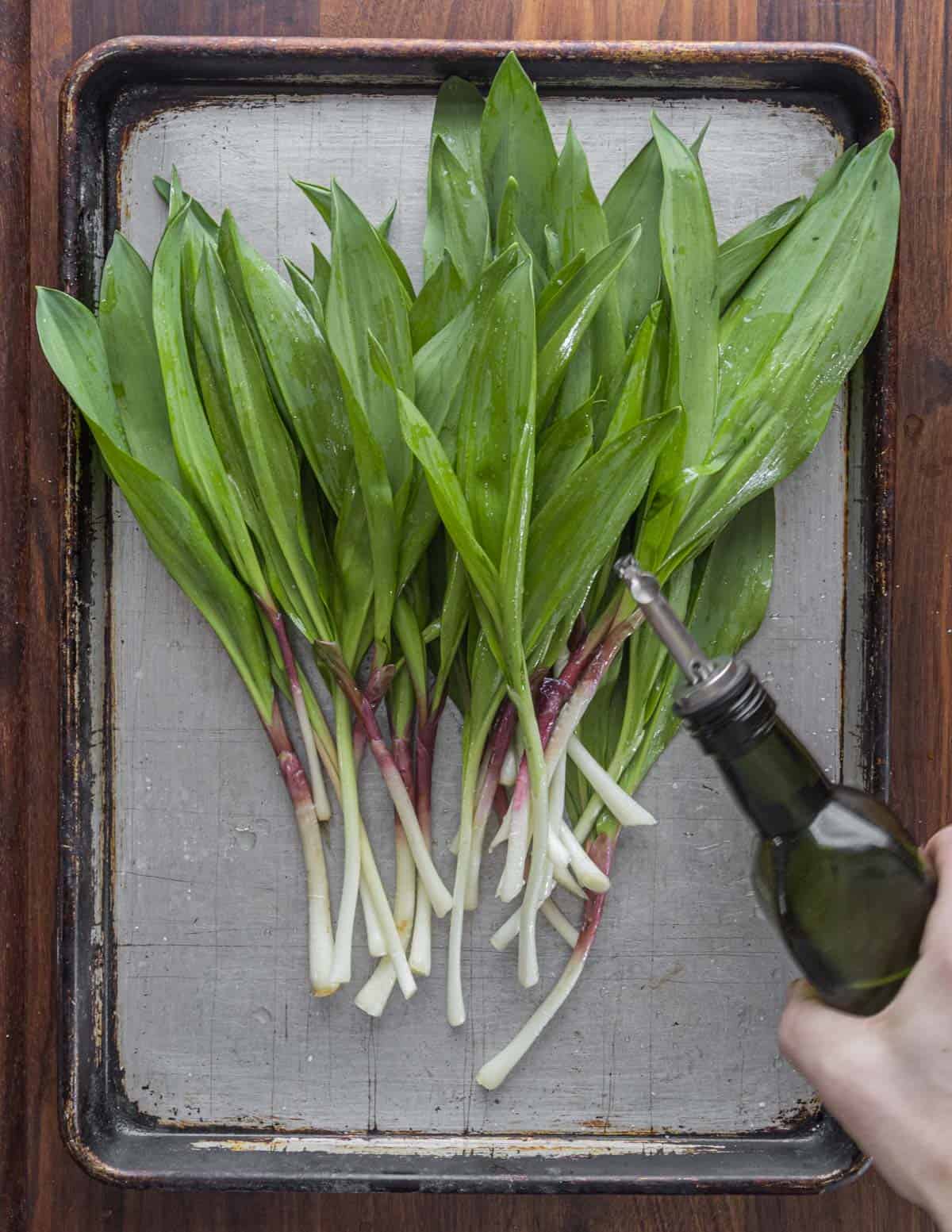 Above: seasoning ramps with oil and salt before grilling.
If your ramps are very young, you can tie them in 3oz bundles with butchers twine to make them easier to handle and prevent them from falling through grill grates.
The ramps are lightly oiled and seasoned with salt, then the bulb portion is grilled over coals until lightly charred and just cooked through. If your ramps are the size of scallions you just toss them on the grill.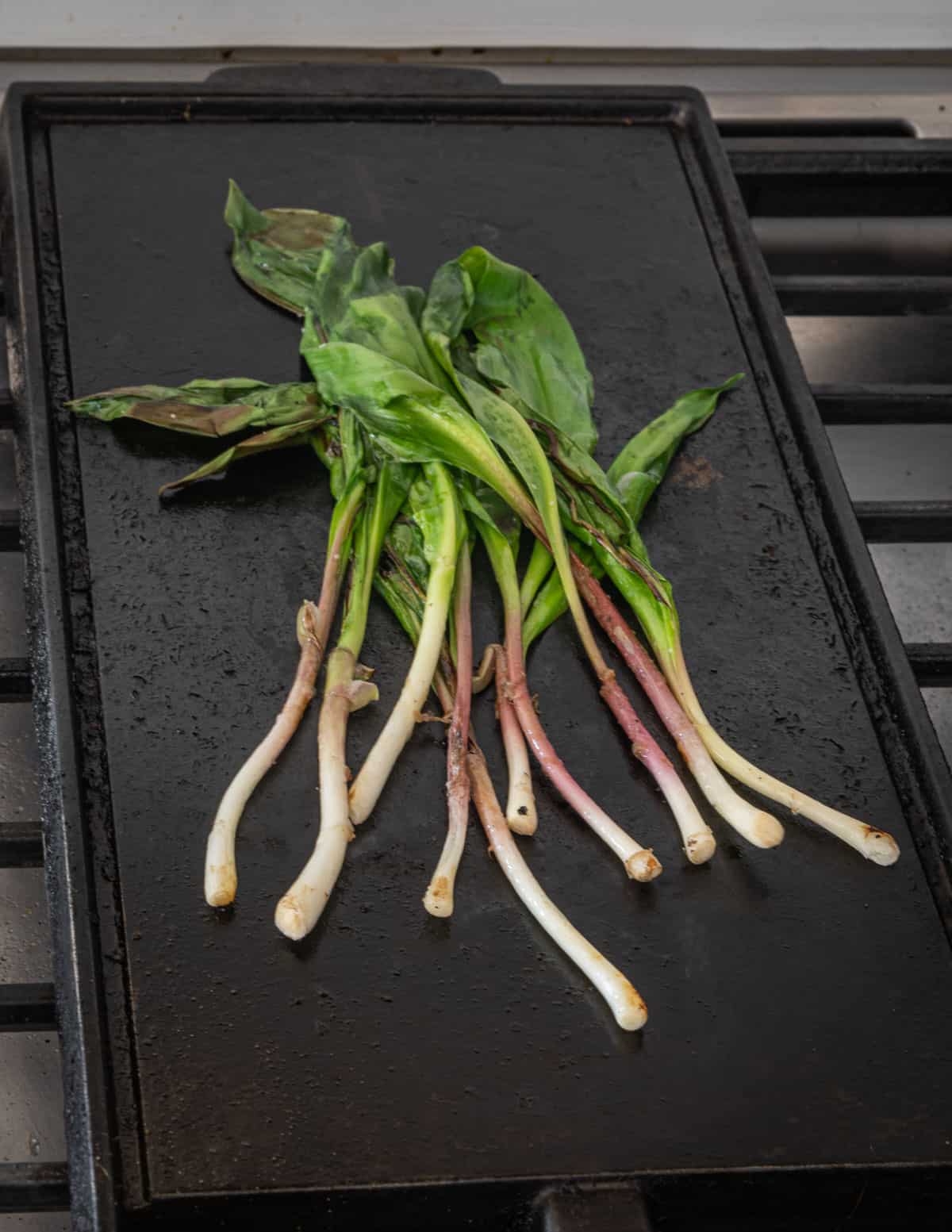 Above: cook wild leeks on a griddle if you don't want to build a fire.
Since the wild leek greens take much less time to cook it's also important to cook the bulb portion first. I often leave the leafy portion off the side of the grill.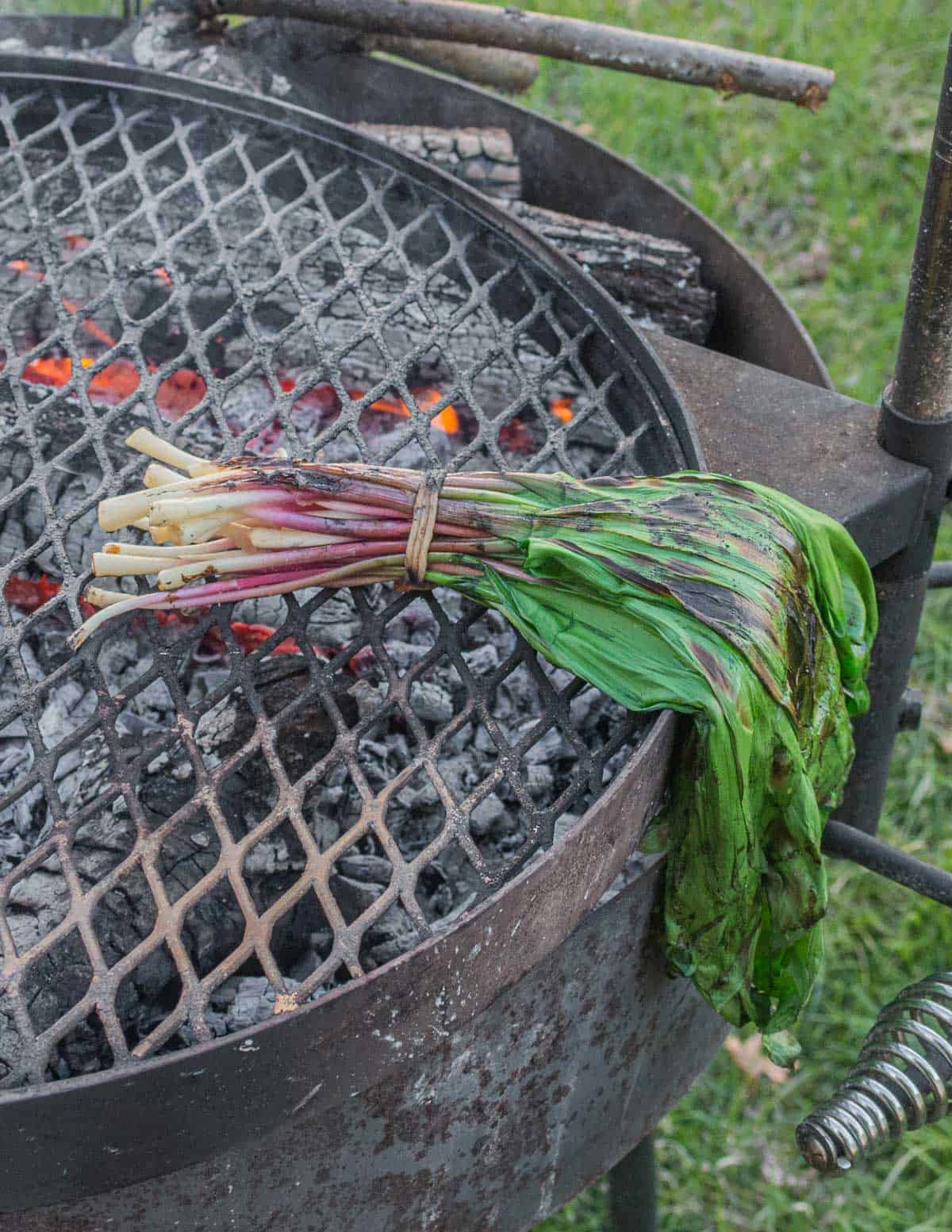 Above: hanging the wild leek greens over the side of the grill to prevent overcooking.
Chef's Tips
Think of wild ramps as having two different cooking times. The bulb and stem take longer to cook than the ramp greens.
It's important to watch the ramps closely as they can burn quickly. You want to cook ramps over coals, not a visible fire which will cover them in black soot and zinc oxide which tastes like kerosine.
I don't recommend making roasted ramps as they can dry out.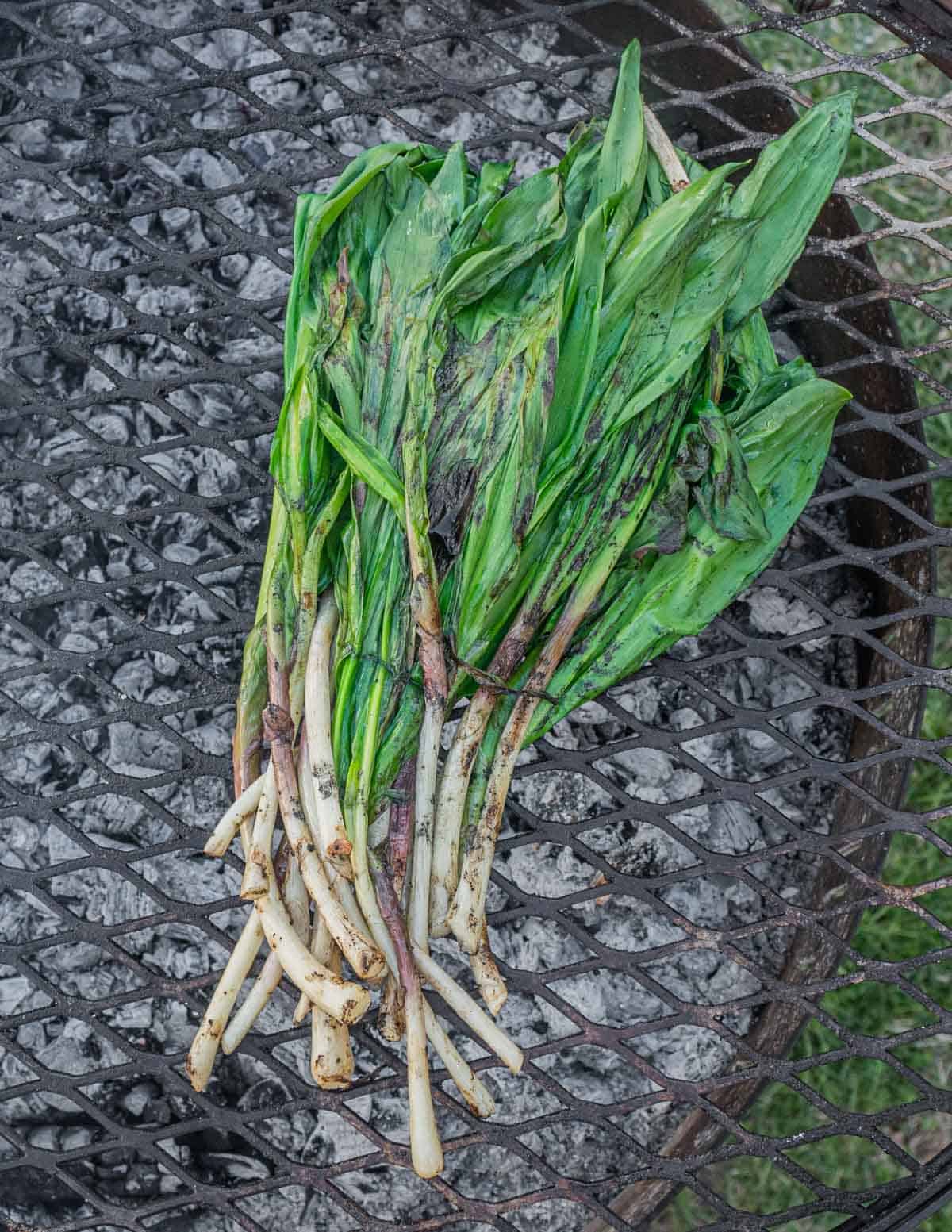 Above: the leeks should be roughly charred and just cooked through.
How to Serve Grilled Ramps
These can be served in many ways. They love Asian flavors and pair well as a side dish with sweet, spicy and or sour flavors. You don't need a knife and fork to eat them-just twirl them on a fork.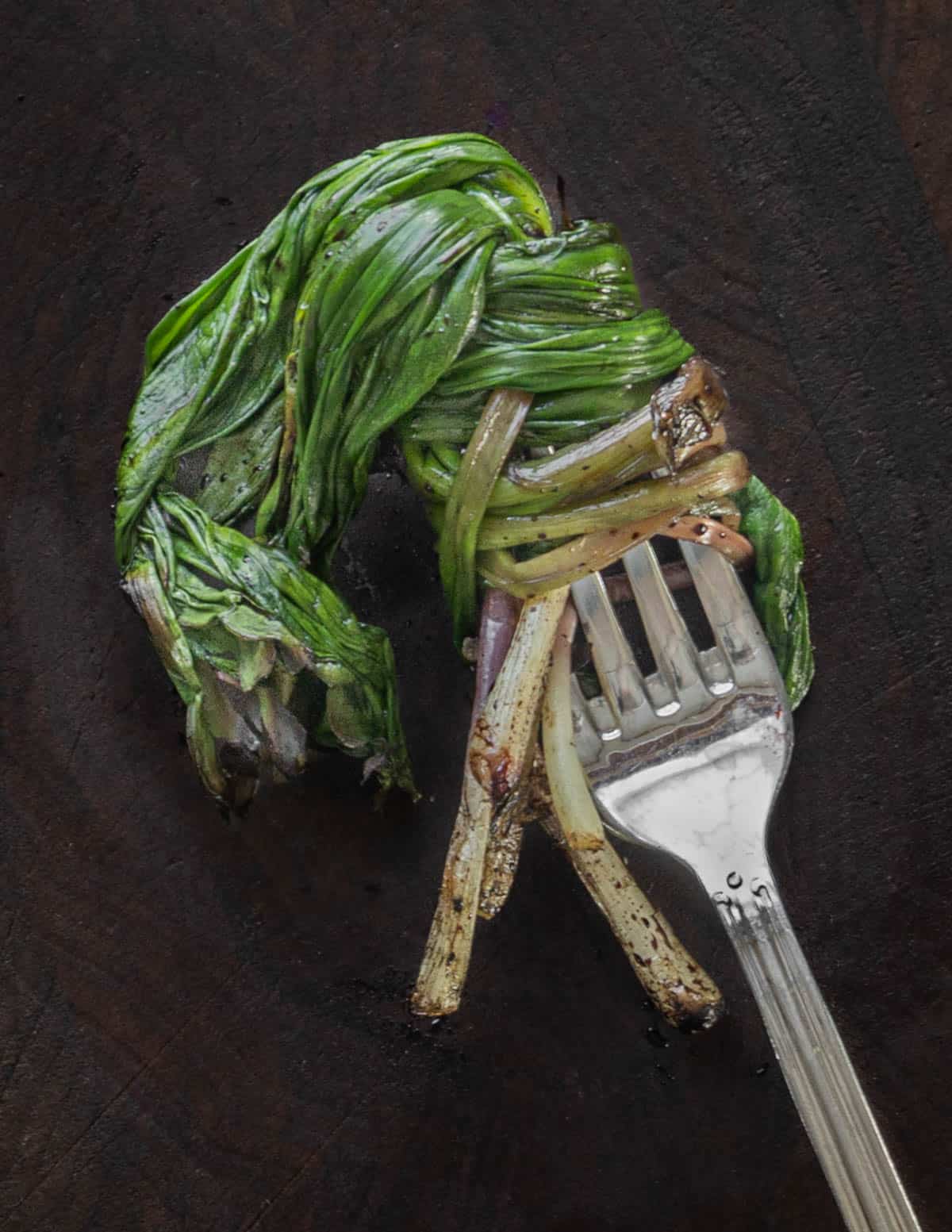 Here's a few other ideas for how you might serve them.
Grilled ramps with spicy harissa aioli. Take some harissa pasta and whisk it into mayonnaise to taste. Add a splash of lemon juice and spread it on the plate with an offset spatula to make a bed for the leeks.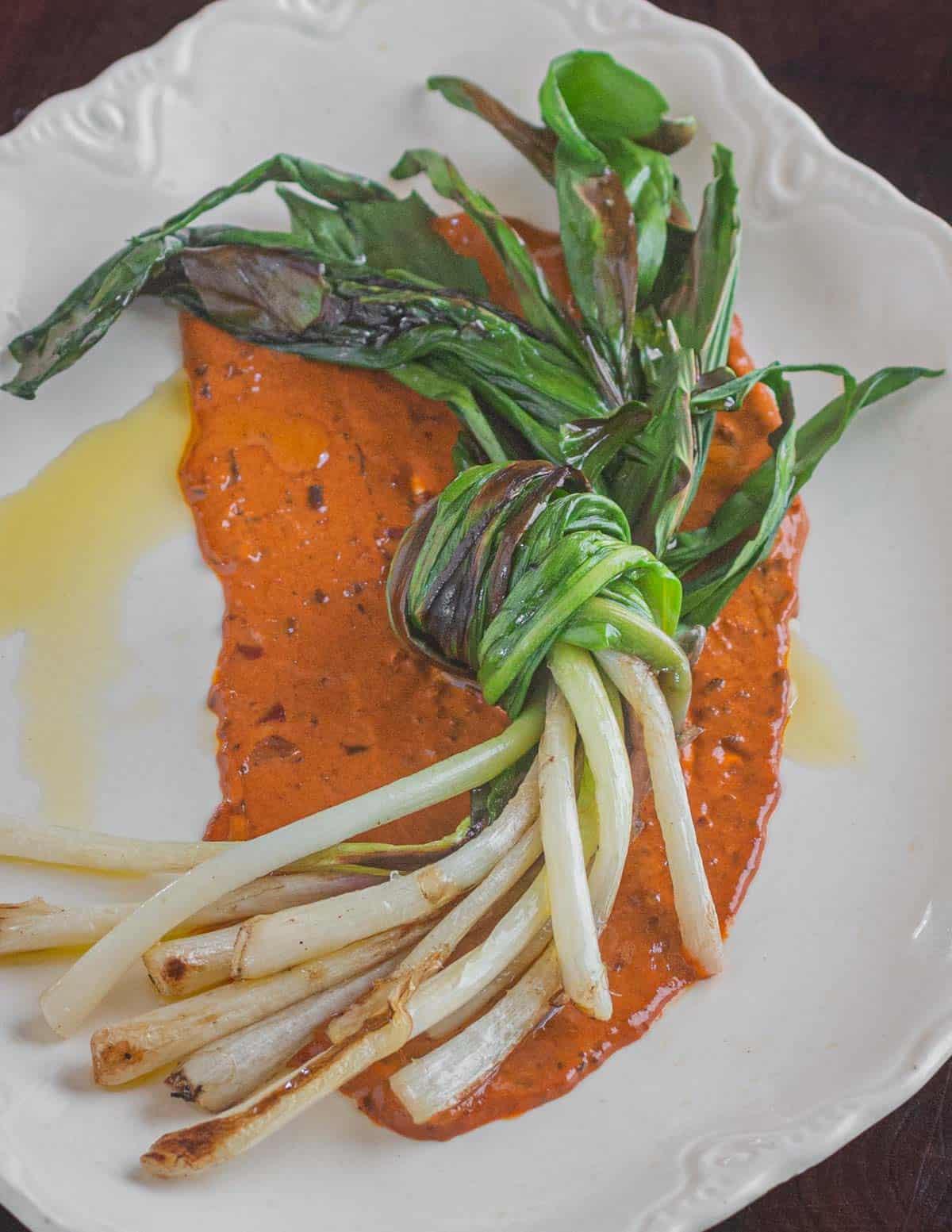 Grilled Ramp Agrodolce. Sweet and sour wild leeks with a wild fruit sauce are an homage to my old Chef Lenny Russo. Take some of my sweet and sour cherry, berry or grape syrup, warm it up with a splash of wine and golden raisins and reduce until just thickened. Spoon the sauce over the grilled leeks.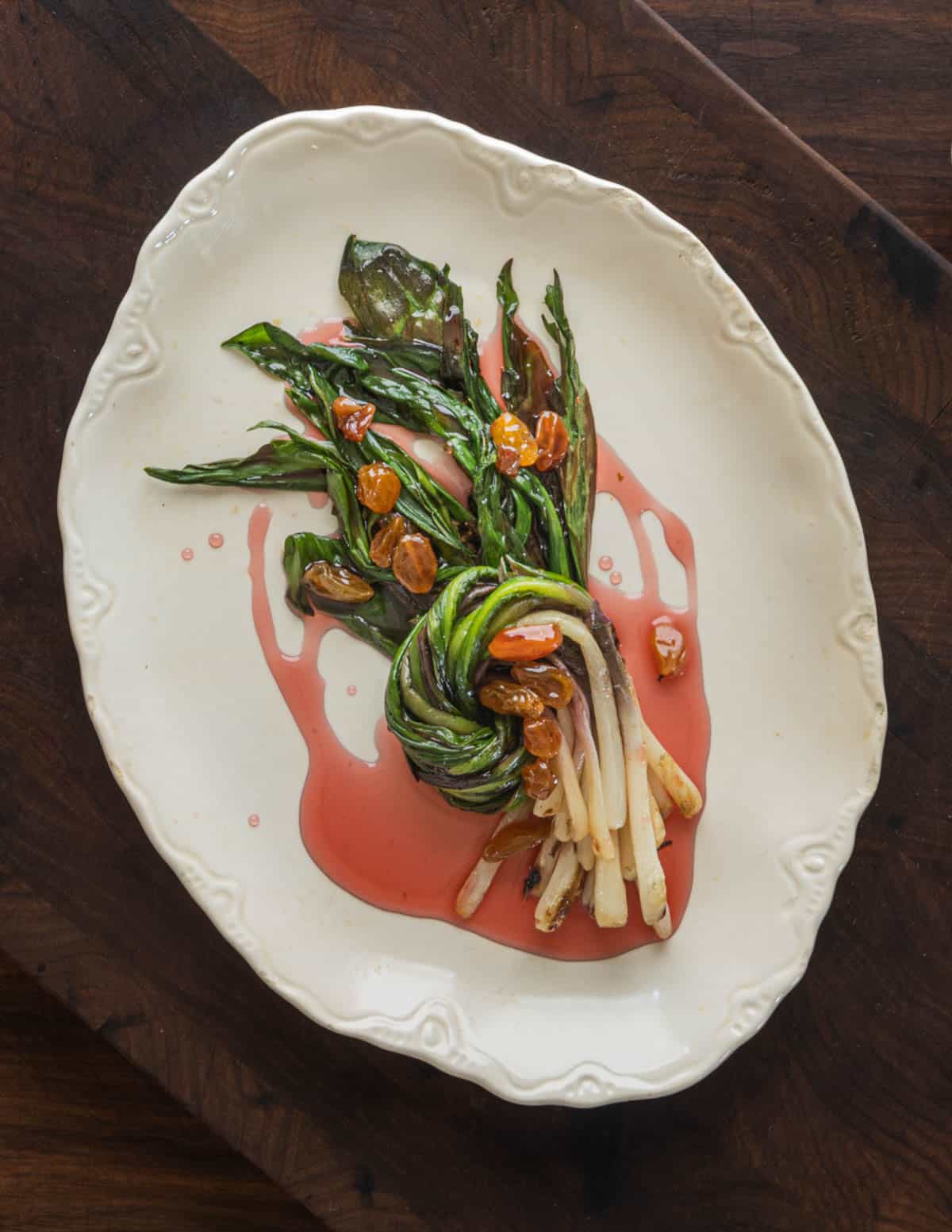 As a side dish. Grilled wild leeks love meat. Pictured below is a deckle steak with charred ramps and a sauce of sand cherry syrup, beef stock and butter.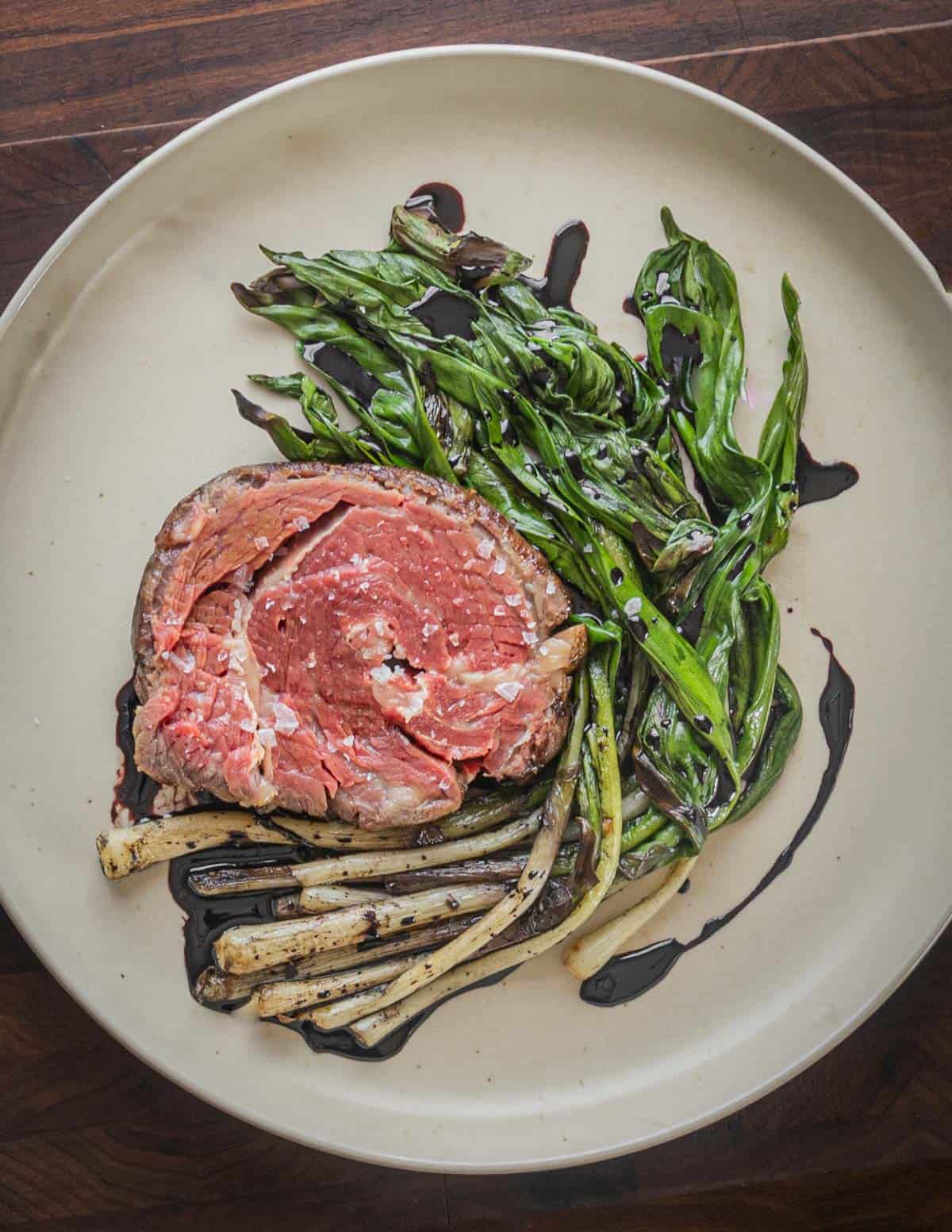 Related Posts
Cheremsha: Fermented Ramp Greens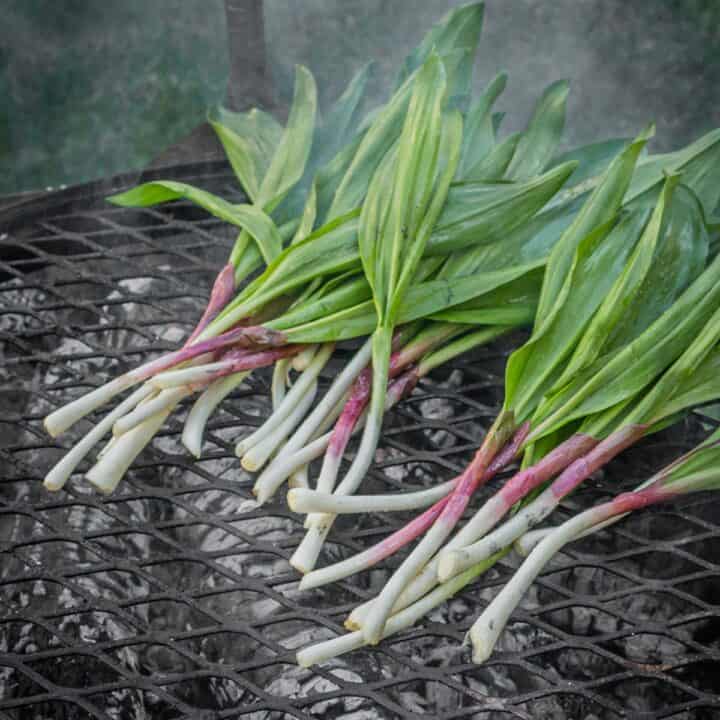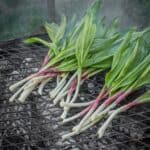 Print Recipe
Grilled Ramps
Grilling is one of the best ways to cook ramps as a vegetable. They make a great side dish or part of a larger meal.
Equipment
1 grill or griddle

preferably wood fire
Ingredients
8

oz

fresh ramps

1

drizzle

of cooking oil

such as grapeseed, roughly 2 teaspoons

¼

teaspoon

kosher salt

to taste
Instructions
Wash and clean the ramps and remove any roots if present. Dry the ramps by wrapping in an absorbent towel and refrigerating until needed.

Prepare a wood fire and build a nice bed of coals. You can also throw them on a flat top grill or a griddle.

Toss the ramps with oil, salt and pepper.

Put the ramps on the grill perpendicular to the grill grate (if applicable) with the bulb portion over the hot coals. Mind the leaves and make sure they don't burn or carbonize and char. If the ramps are young enough they can be cooked quickly as you would a scallion.

Remove the ramps to a tray, season with a pinch of salt and pepper to taste and serve as a side dish or part of a larger meal.
Notes
If your ramps are very young they can be tied in a bundle like asparagus. Only tie 3-4 oz bundles to ensure even cooking. 
Serve the grilled ramps as-is with salt, pepper, extra virgin olive oil and a drizzle of lemon juice, or serve with a spicy sauce like chili crisp, or a sweet and sour sauce like my wild fruit gastrique. 
Another great variation is grilled ramps and asparagus. 
Nutrition
Serving:
2
oz
|
Calories:
37
kcal
|
Carbohydrates:
8
g
|
Protein:
1
g
|
Fat:
0.3
g
|
Saturated Fat:
0.02
g
|
Polyunsaturated Fat:
0.1
g
|
Monounsaturated Fat:
0.2
g
|
Sodium:
145
mg
|
Potassium:
0.03
mg
|
Fiber:
1
g
|
Sugar:
2
g
|
Vitamin A:
964
IU
|
Vitamin C:
7
mg
|
Calcium:
34
mg
|
Iron:
1
mg