Pan-roasted chicken with morel sauce is a crowd-favorite for morel season, and a great tutorial on how to serve a whole chicken. The recipe I adapted from Jacques Pepin.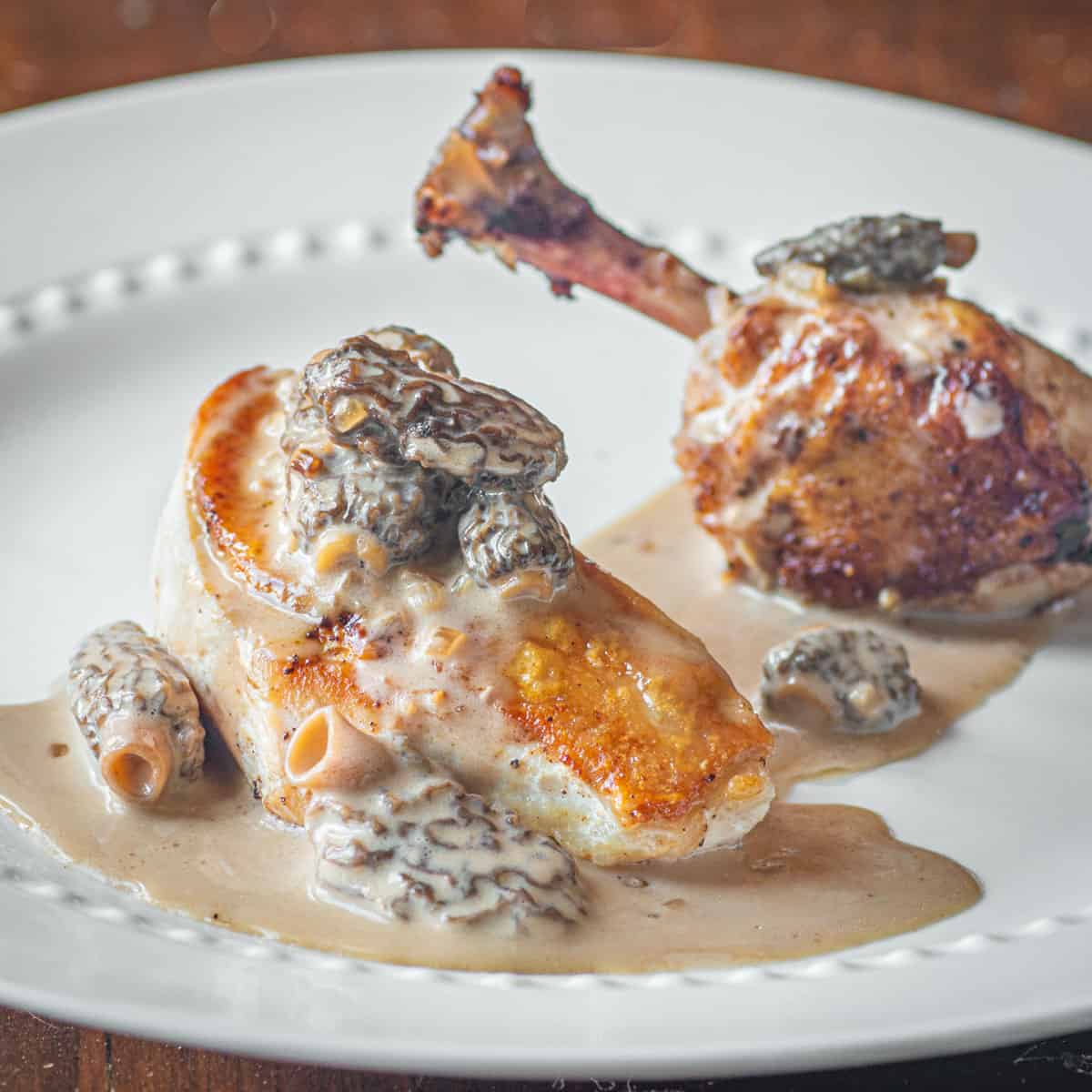 Pepin's books were especially useful to me as a young cook because instead of just being recipe porn, like is more common today, his early books (La Technique and La Methode) focused on a methodical, tutorial based approach. There's golden nuggets of technique hidden in the pages of those old books.
During the past winter, I was flipping through La Methode and I came across a recipe for chicken with morel sauce. It was a really simple recipe, but there were a few things about it that I thought would be great to share with you via a slightly updated version.
Most importantly, Pepin uses the whole chicken, a game changing idea for 2017 when plenty of people still think chicken is composed of giant, skinless, boneless breasts.
Cutting a whole chicken into 4 entree portions
To cook a whole chicken well is part of what I want to share with you here, as well as the basic morel sauce.
There's a number of different parts of the bird: leg, thigh, and breast, and each part cooks at a different rate due to varying amounts of fat, bone, and light or dark meat each part is made up of. Sure you can just throw all the pieces in the pan at the same time, but the breasts will be overcooked long before the legs are done.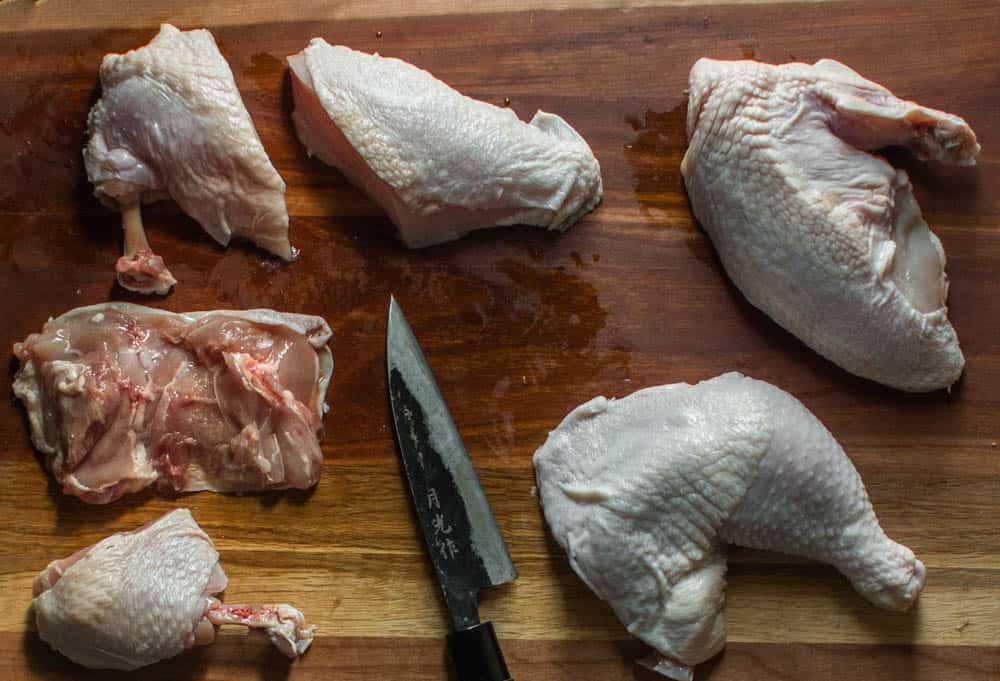 The other nice part about using the whole bird is when you're done, you end up with 8 pieces of meat, so for a dinner with 4 people, everyone gets 2 pieces: one light and one dark. Chicken is so much more than just skinless breasts.
Use dried or fresh morels
Moving to the morels, Pepin uses dried morels in the original recipe, likely because the availability of the fresh at the time was probably slim to none.
Interestingly, he re-hydrates the morels and discards their soaking liquid, something I would never do if I'm going to make a sauce with dried morels. Either way, know that you can easily substitute dried mushrooms here, but, it won't be quite the same.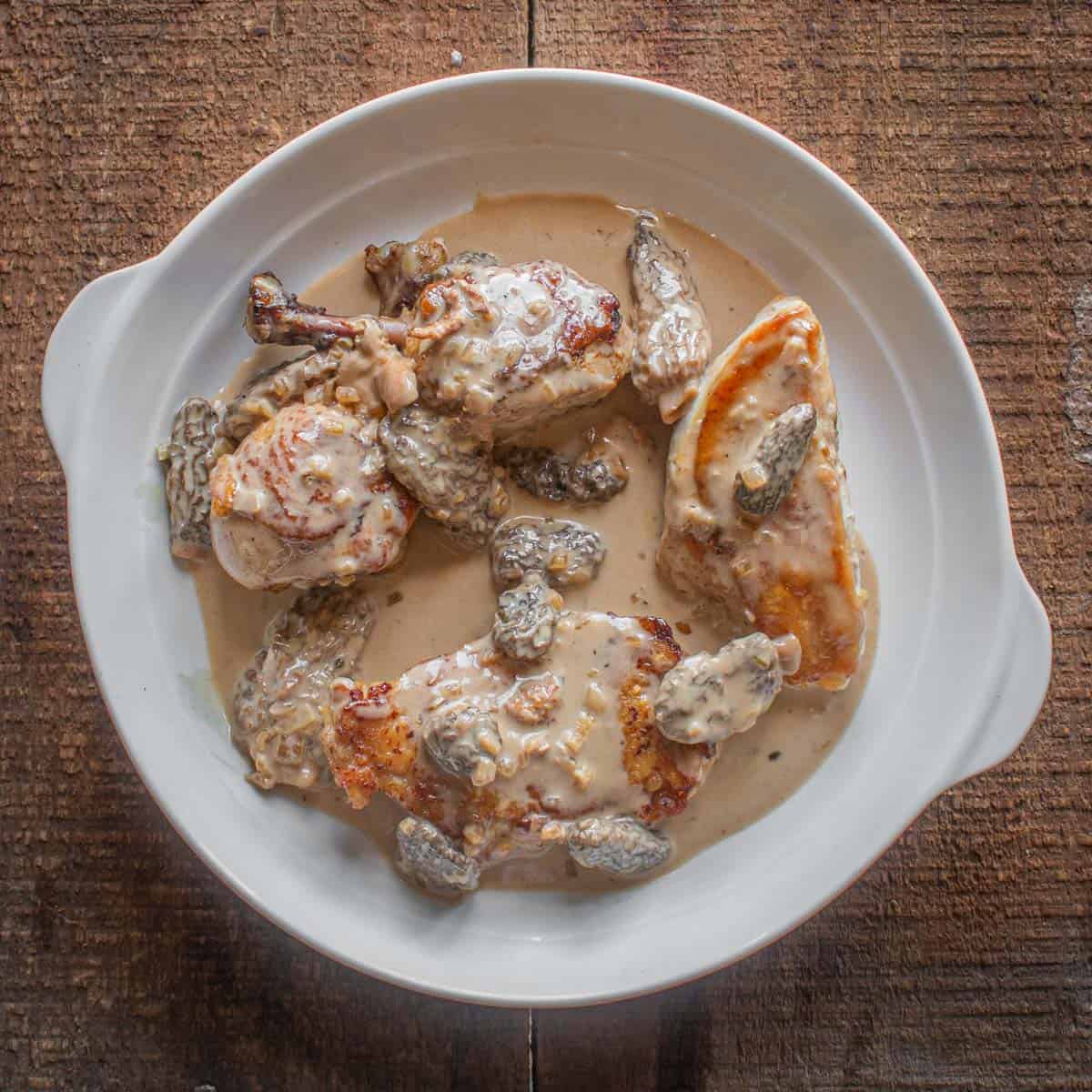 Keep those morels whole, if you can
Another important technique portion of the recipe here is how I prepare and trim the morels for cooking. I often see people slice morels in half, or cut them into slices or rings, which is totally fine, especially if your morels are very large like they can be in the Midwest.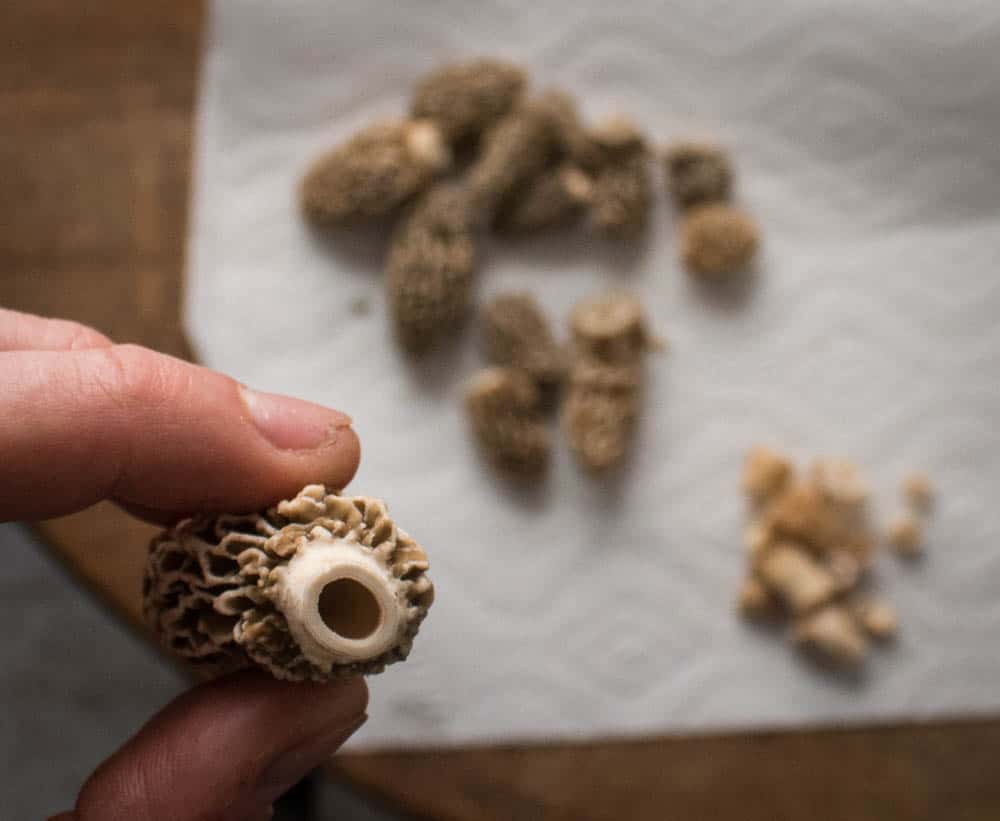 For me, one of the ways I enjoy eating morels the most is leaving them whole. It takes a little careful trimming and inspecting, but you're rewarded with hollow little morel mouthfuls that get sauce soaked inside of the mushroom cavity, which is a lot more fun to eat than cutting them into pieces.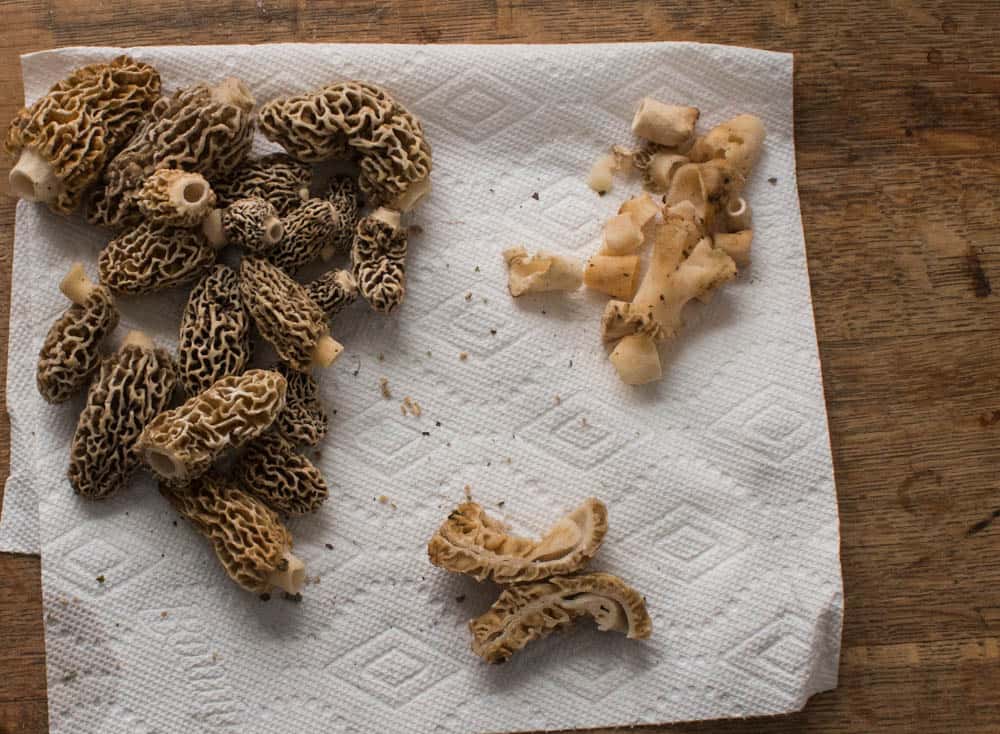 Lastly, the recipe, as with a lot of classic French cuisine, relies on some heavily reduced stock for building the sauce, also known as glace. You may have heard the term demi-glace before, but remember that demi means half, in this case half reduced.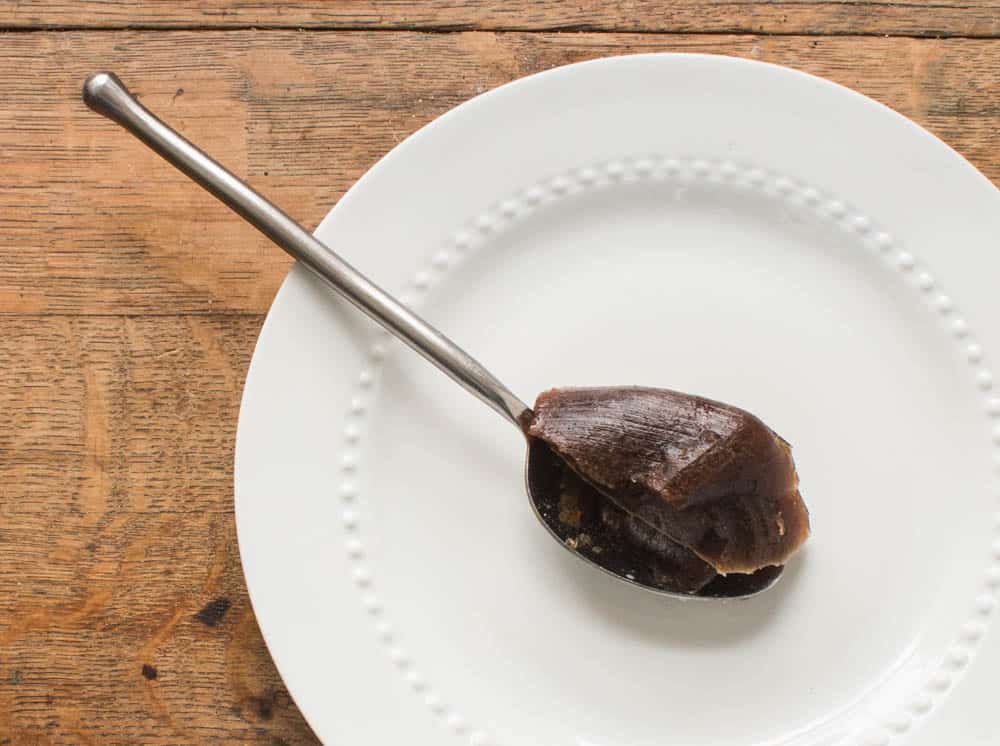 Using reduced stock / glace
True glace de viande (literally meat glaze) is reduced demi glace, which takes a long time to make, but is not a problem if you have a day off at home with a little free time since all you need to do is reduce homemade stock down to it's essence.
If you don't keep a little stock of demi in your freezer, (I like to portion it in ice cube trays for easy use and then put the cubes in a freezer bag).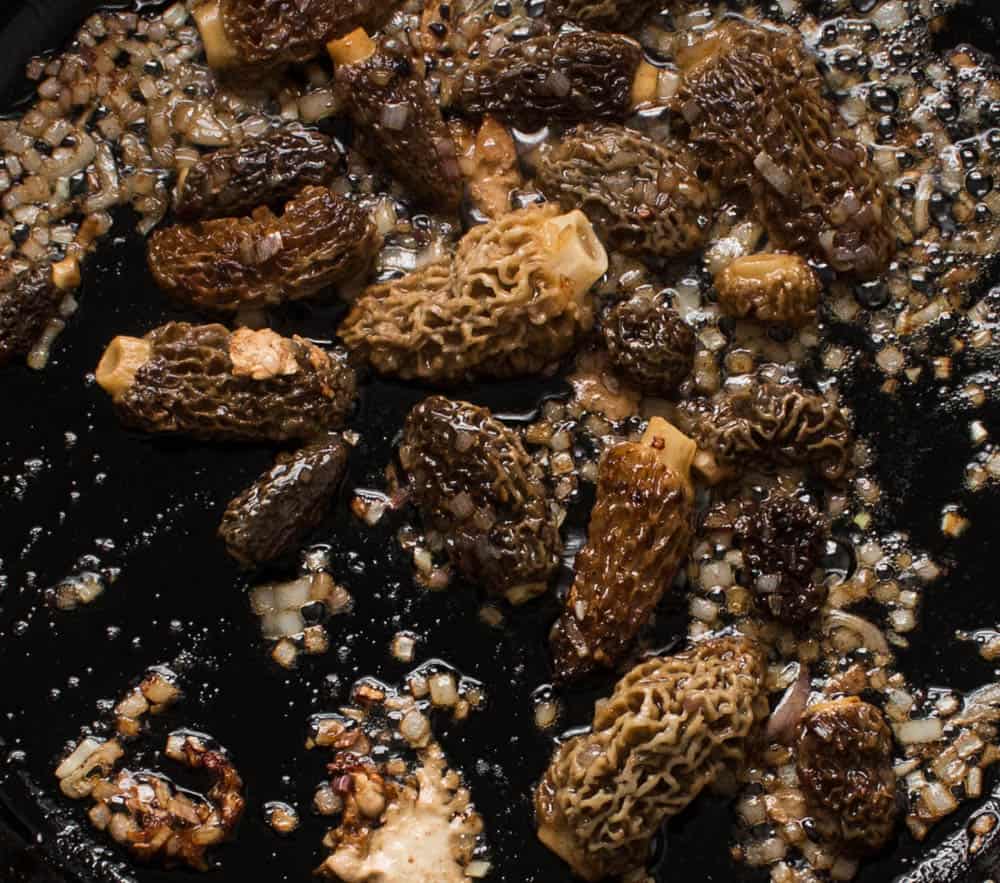 You can make a good stock out of the chicken carcass the day before and reduce the stock gradually down to ½ up or so, which will be a decent approximation of the real thing, or you can just reduce a little chicken stock, it will still taste ok.
Do not reach for Knorr demi-glace, powdered bouillons or pre-prepared demis, 99% of them will leave you with an overly salty, off-tasting sauce. If you must, D'artagnan makes a decent demi that you can order.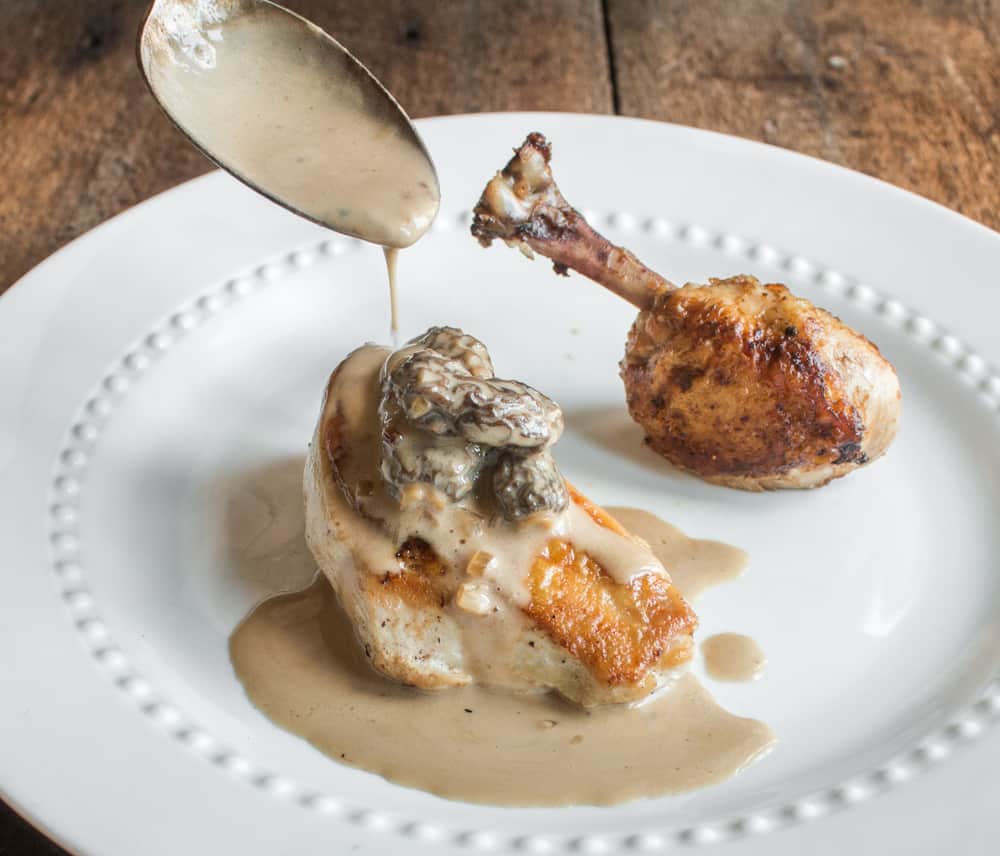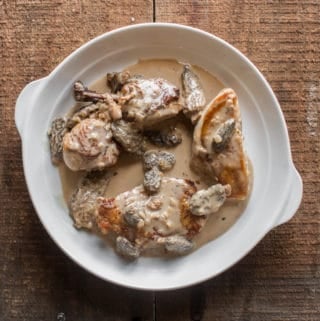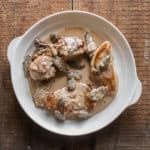 Print Recipe
Pan Roasted Chicken with Morel Mushroom Sauce
Roast chicken pieces with morel mushrooms sauce inspired by Jacques Pepin
Equipment
Heavy 12 inch saute pan or braising dish
Ingredients
1

whole chicken

roughly 3 lbs preferably organic, quartered, breasts cut in half, thighs de-boned and legs frenched, carcass reserved for stock or soup (see pictures above)

8

ounces

fresh morel mushrooms

4

tablespoons

unsalted butter

2

teaspoons

fresh chopped thyme

¼

cup

shallot

diced ¼ inch

¼

cup

dry sherry

highest quality you feel like buying

¼

cup

dry white wine

¼

cup

demi-glace

or very rich, reduced meat stock

½

cup

heavy cream

Kosher salt and fresh ground black pepper
Instructions
Chicken
A few hours before cooking, season the chicken with salt, pepper and thyme and leave in the refrigerator uncovered, turning them over once in a while to allow the skin to dry out, which will make browning them go quicker. (This step is optional but it works like a charm, try it with other meats too).

Clean the morels by trimming the stems, leaving ¼ inch so that you can peer inside the mushrooms preferably leaving them whole if they're only a few inches tall. If your morels are large, cut them in half or into large pieces. Swish the morels in a sink of cold water, then wrap in towels to weep excess water they've absorbed.

Melt half of the butter on medium heat in a heavy cast iron pan or another heavy bottomed pan. Place the legs in the pan first and cook slowly until browned. Next, add the breast pieces with the bone to the pan skin side down and cook until crisp, followed by the other halves of the breast and lastly the thighs, which you've removed the bone from and will cook the quickest.

Make sure the butter doesn't burn, the pan should only be on medium heat. Cooking the chicken slowly like this takes time on the stove, so be patient, you can also bake them in the oven for a bit if you like.

When the chicken is cooked, remove it from the pan and allow to rest in an oven on the warm setting, alternately you can flash the pieces of chicken in a hot oven before plating.
Pan Sauce
Add the rest of the butter to the pan along with the shallots and cook for a few minutes, add the morels and cook until they're juices have evaporated and the pan is nearly dry. De-glaze the pan with the wine, reduce by half, then add the sherry to the pan and reduce by half. Add the demi-glace to the pan, then the cream, and reduce until the sauce coats the back of a spoon.
Plating
Season the morel sauce to taste with salt, then plate the dish by putting two pieces of chicken (one light meat and one dark, and one piece with a bone preferably) on each plate, then nap with the morels and their sauce and serve immediately. Alternately the chicken can be served family style by putting the chicken in a casserole dish and pouring the sauce and morels over the top.
Notes
You can make this sauce with fresh or dried morels. If you make it with dried, you'll end up with a much richer sauce. It's a good thing to make in the winter when you have dried mushrooms, or to celebrate the return of morels in the spring. 
Nutrition
Serving:
2
Pieces
|
Calories:
704
kcal
|
Carbohydrates:
11
g
|
Protein:
43
g
|
Fat:
52
g
|
Saturated Fat:
22
g
|
Polyunsaturated Fat:
7
g
|
Monounsaturated Fat:
18
g
|
Trans Fat:
1
g
|
Cholesterol:
207
mg
|
Sodium:
454
mg
|
Potassium:
695
mg
|
Fiber:
2
g
|
Sugar:
4
g
|
Vitamin A:
1054
IU
|
Vitamin C:
4
mg
|
Calcium:
76
mg
|
Iron:
9
mg
More