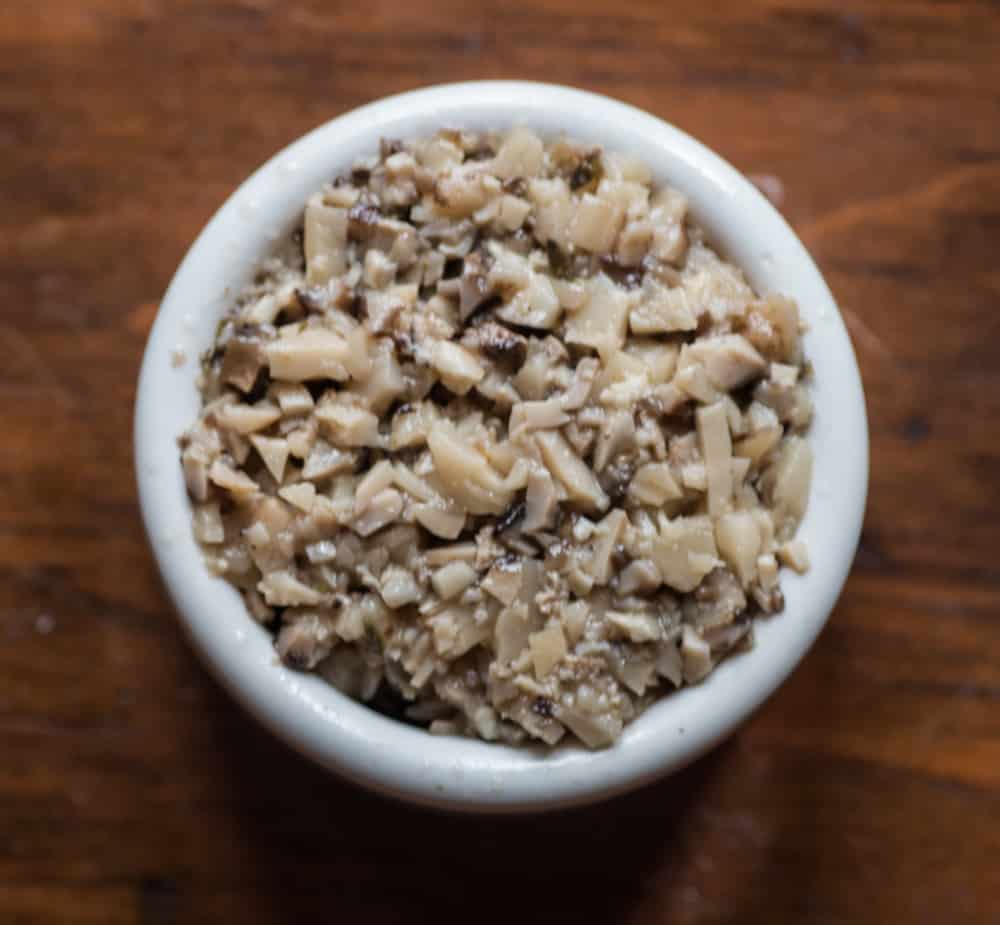 It's springtime again, and with it comes the onslaught of Dryad Saddle, a.k.a Pheasant Back mushrooms here in Minnesota. With so many fresh ingredients available at once, I often preserve things to make sure everything gets used and to save time and shelf life of stuff I've worked so hard to pick.
This preserve I made specifically for the dryad saddles, which require a little different treatment than your average polypore, but nothing too crazy. It's basically just a mushroom duxelles recipe with some tweaks here and there to ensure an end result that people who aren't familiar with dryad saddles will like.
With a typical duxelles, you finely chop the mushrooms, but since dryad saddles are more first than many other mushrooms, I shave them paper thin on a mandoline first, then mince them afterwords.
Don't have a mandoline? Get one, they'll pay off in spades, and you can do all kinds of things with them. My favorite, and pretty much the restaurant standard is the Benriner.
Sounds great, but how do I use it?
After you've made the relish, you can do all sorts of things with it. Here's a few ways I'd use it:
Warmed up with some vegetable stock and a good knob of butter, simmer until lightly thickened, then finish with fresh chives and spoon over cooked white-fleshed fish like a butter sauce, trout would be ideal here.
Mixed with some chopped herbs and a small amount of breadcrumbs it would make an excellent stuffing for fish or chicken.
Slice some scallions or ramps, then mix with the relish, a little extra oil and use as a cold garnish for fish or chicken, again, white fleshed fish would be my favorite.
The relish is also a garnish for vegetables too, mix a little oil in to loosen it, some chopped fresh herbs like dill, chives, tarragon or parsley (or all of them) and maybe a shot of vinegar or lemon to make a thick, but spoon-able dressing. It would be great drizzled on top of thin slices of cucumber and tomato, or even something even simpler like slices of gently cooked, high quality potatoes to highlight the flavor of the mushrooms.
Made into the vegetable dressing above, it would be great spooned on top of some poached or grilled asparagus, maybe with a few fiddleheads mixed in.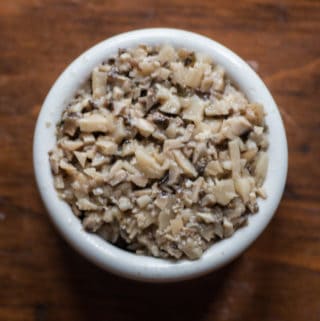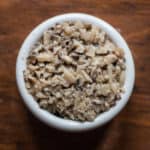 Print Recipe
Dryad Saddle or Pheasant Back Mushroom Relish
Yield: about 2 cups of mushroom preserves 
Ingredients
2

lbs

small

whole young dryad saddle mushrooms

¼

cup

finely diced shallot

¼

cup

flavorless oil

like grapeseed or canola, don't use extra virgin or lard unless you plan on warming up the relish before serving, since the fat will solidify under refrigeration

1.5

teaspoons

kosher salt

or more to taste

½

cup

water

¼

cup

champagne vinegar
Instructions
Inspect the dryad saddles and make sure they're clean. Using a paring knife, gently scrape off the pores (optional, but I recommend it). Holding the mushrooms by the first stem, shave the dryad saddles as thin as possible on a mandoline, discarding any tough stem pieces, then mince as fine as you can stand with a large chef knife.

In a wide pan with high sides, like a cast iron skillet (10-12 inches would be great) gently heat the oil and shallot until translucent.

Add the mushrooms, thyme and bay, and heat on medium until the mushrooms start to give up their juice. Add the water and cook for a few minutes more. Make sure the pan stays wet, you don't want it to dry out.

Once the mushrooms are hot throughout and have wilted/given up their juice, add the vinegar, then season to taste with the salt.

Continue cooking the mushrooms slowly until most of the liquid is gone, you want about ¼ cup or so remaining to keep them juicy.

Double check the seasoning for salt and pepper, adjust as needed, then cool.

Finally, put the conserve into a labeled, dated container and refrigerate. If you will be keeping the conserve for more than a few weeks, make sure to put a layer of oil on top of the mushrooms so they're not exposed to air.
Notes
This is just like duxelles, but with a touch of vinegar instead of the sherry. The vinegar in the recipe makes it more of a preserve too, since the PH is lowered, so it will also last a lot longer than duxelles and doesn't need to be frozen. If you want to keep it in the fridge for more than a week or two, press the mushrooms down in the contianer and cover with a thin layer of oil to stop oxygen (and therefore bacteria) from getting in. I've kept this in the fridge for 6-8 months with no problem, but you could also freeze some if space is an issue. 
More
Dryad's Saddle or Pheasant Back Mushroom