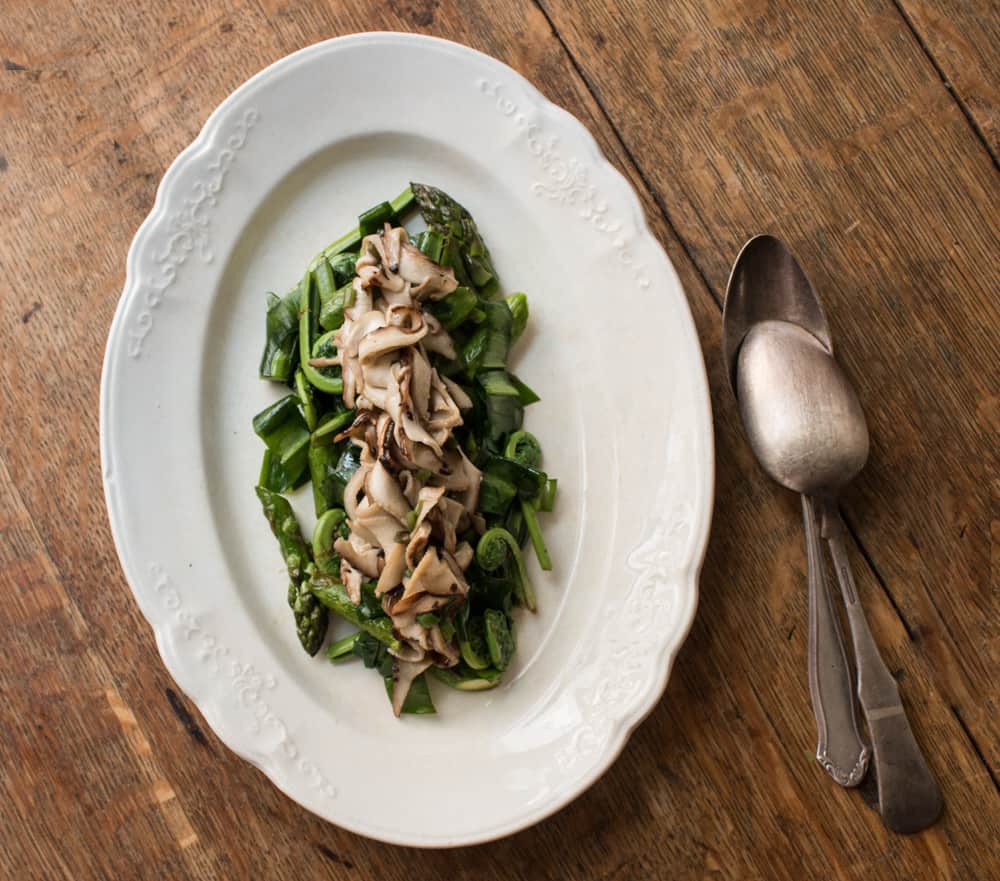 This week I've been working on a side that evokes spring and also happens to be a great way to use those dryad saddles/pheasant back mushrooms that come up with abandon in the Spring.
I was in the kitchen wondering what to do with some fiddleheads Hidden Stream Farm brought me, and I wound up putting on a simple dish of fiddles and asparagus, both cooked on the grill and finished with some ramp leaves, a little duo of shoots, if you will.
I had the same ingredients at home and thought they'd be a good vehicle to showcase my favorite way to cook dryad saddle mushrooms: shaved paper thin on a mandoline and warmed up until they wilt with something from the onion family.
On the day I shot this, the onion was a handful of ramps, but a good sub would be green spring onions (different from scallions) or even better: green garlic.
If you read "sauteed asparagus and fiddleheads with mushrooms" on a menu, you might think of a one-pan dish, with everything tossed together, or maybe whole spears and fiddles, which is how I was serving it.
As I was watched some people share the dish though (which I envisioned for 1-2 people) I noticed that they had to stop and slice the asparagus, which made for what I thought was some awkward sharing at the table. No one said anything, and everyone raved about the dish, but that doesn't mean it couldn't be improved on, logistically speaking.
Cutting the asparagus on the oblique, or roll cut, gives a nice shape, and also make the dish easier to scoop and share at the table. I'm really happy with the simplicity of it, and I'm going to keep it in rotation for a while.
As far as the dryad saddles, shaving them paper thin on a mandoline will change how you think of these, if they're something you've taken the time to pick, bring home, cook, and toss in the garbage like so many of us have that hunt mushrooms.
Just make sure you're dryad saddles are reasonably young, see more about that in my post here. When slicing on the mandolin, I like to hold them by the stem, since once you start slicing into it, if it's too tough, it will catch naturally on the blade and tell you to stop.
Using two pans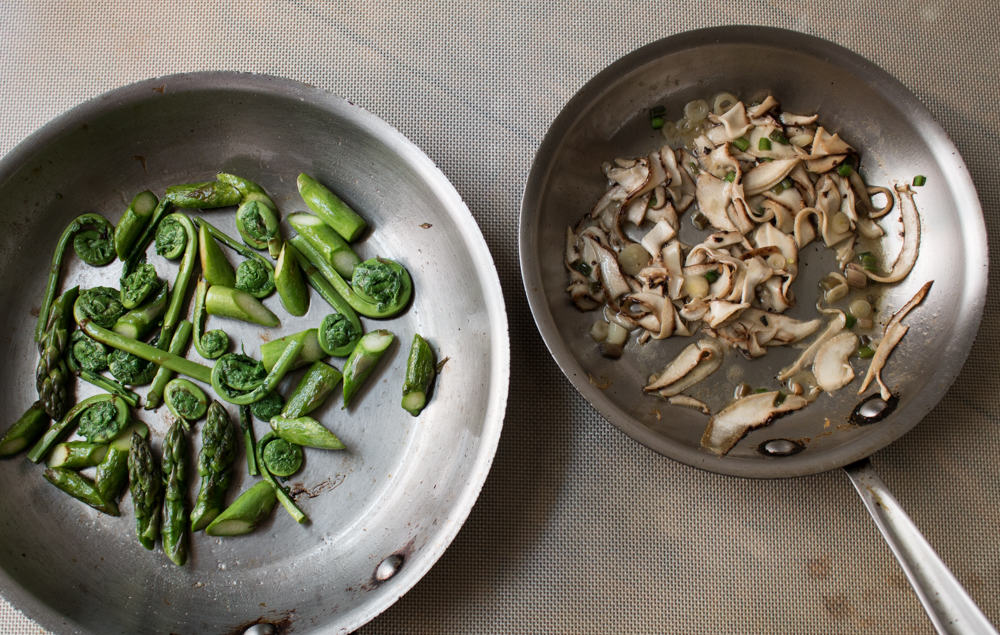 Using two separate pans helps to highlight each ingredient. The asparagus and fiddles blend perfectly together, but I prefer the dryad saddles cooked by themselves (with a touch of oniony something) since I think the flavor is better when they stew in their own juices.
If you cooked everything together in the same pan, it wouldn't be the same dish at all, it's funny how such a simple thing can change how a dish tastes.
After cooking, the dryad saddles are spooned with their juices on top of the asparagus and fiddles, making it so the flavors blend in your mouth as you chew, instead of in the pan.
The taste of the fiddles and the dryad saddles together is great-they're both earthy, a little funky, and a special flavor of spring not a lot of people will get to taste.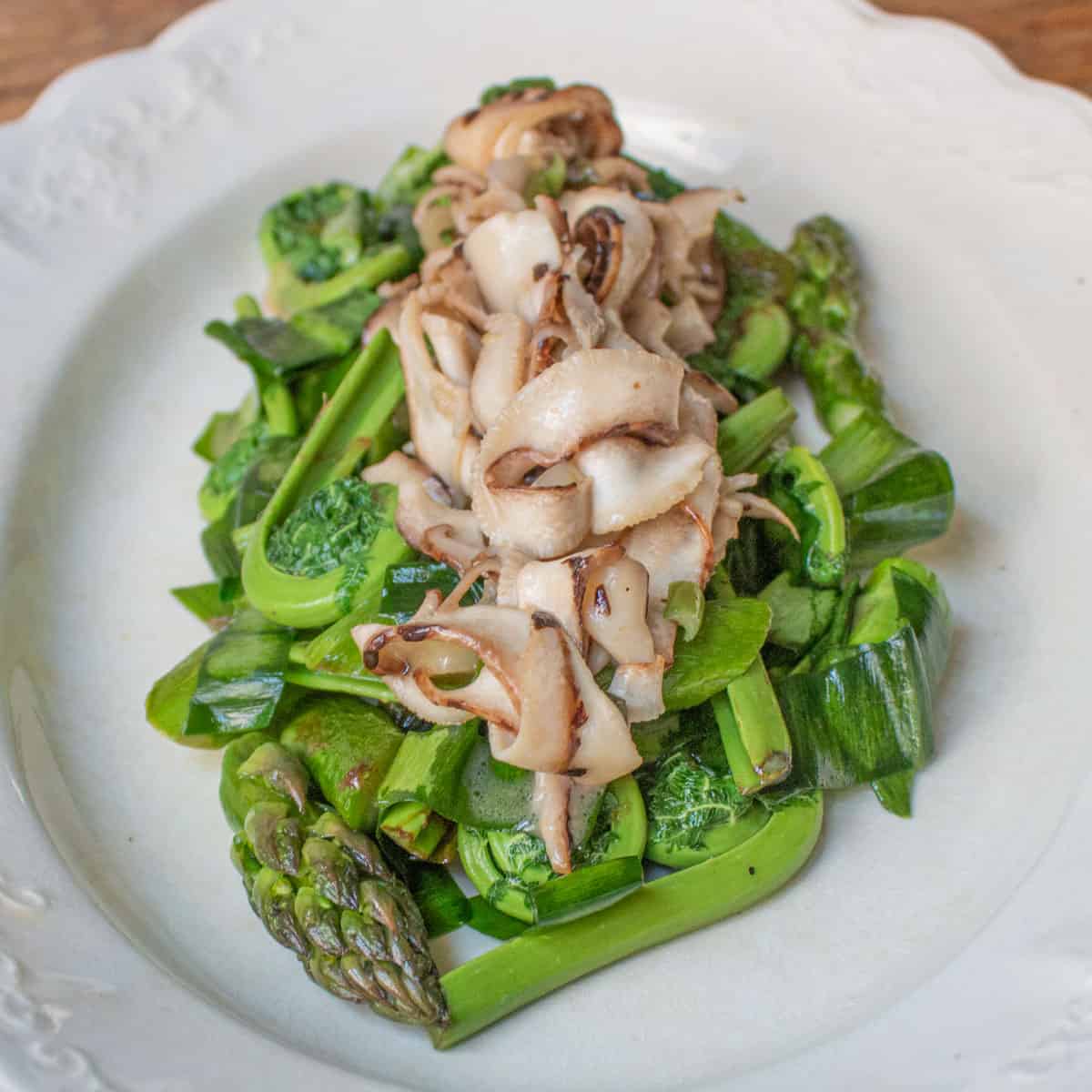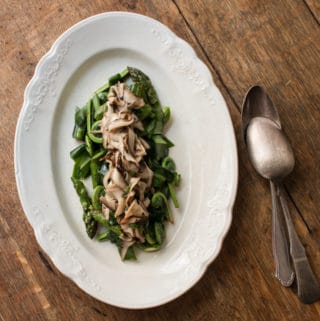 Print Recipe
Asparagus and Fiddleheads with Shaved Dryad Saddle
Quick-cooked asparagus with fiddleheads and dryad saddle mushrooms
Ingredients
4

large spears of asparagus

cut on the oblique

3

small ramps

leaves sliced ½ inch, stem sliced ¼ inch

½

cup

fiddlehead ferns (a couple handfuls)

stems trimmed to 2-3 inches in length

1

cup

dryad saddle mushrooms

pores scraped and shaved on a mandoline, loosely packed

2

tablespoons

unsalted butter or light bodied lard

like duck or chicken fat

Kosher salt

to taste

Fresh lemon juice

to taste (optional)
Instructions
Heat equal parts of the oil in an 8 inch saute pan and a 6 inch saute pan. Add the asparagus to one pan, cook for a minutes or two and lightly brown on medium heat, then add the fiddleheads and cook for 3 minutes more, stirring occasionally and seasoning.

Meanwhile, sweat the ramp bulbs in the small saute pan a tablespoon of butter and the shaved dryad saddle, season to taste and cook on medium low, until they're cooked, wilted and steaming. The mushrooms should stew in their own liquid with the ramps, but not color.

When the fiddleheads and asparagus are hot throughout, and the mushrooms are wilted and have released their water, toss the asparagus with the ramp leaves quickly just to wilt, double check the seasoning of both pans, adjust as needed, then mound the asparagus on a warmed serving dish, top with a line of the dryad saddle mushrooms and serve immediately, with a squeeze of fresh lemon on the side if you want.
More