What can you do with asparagus ends? Use them to make soup. A creamy asparagus soup made from woody asparagus stems was the first lunch special I ran as a line cook. If you have asparagus and don't want to compost the woody stalks, this (and variations of it) is the best recipe I have for you.
How to Use Asparagus Ends
Asparagus ends are tricky to cook with. They're stringy and fibrous, so the best thing to do is to cook them in liquid to make asparagus stock. Long, slow cooking will give the most flavor, but mutes the green color.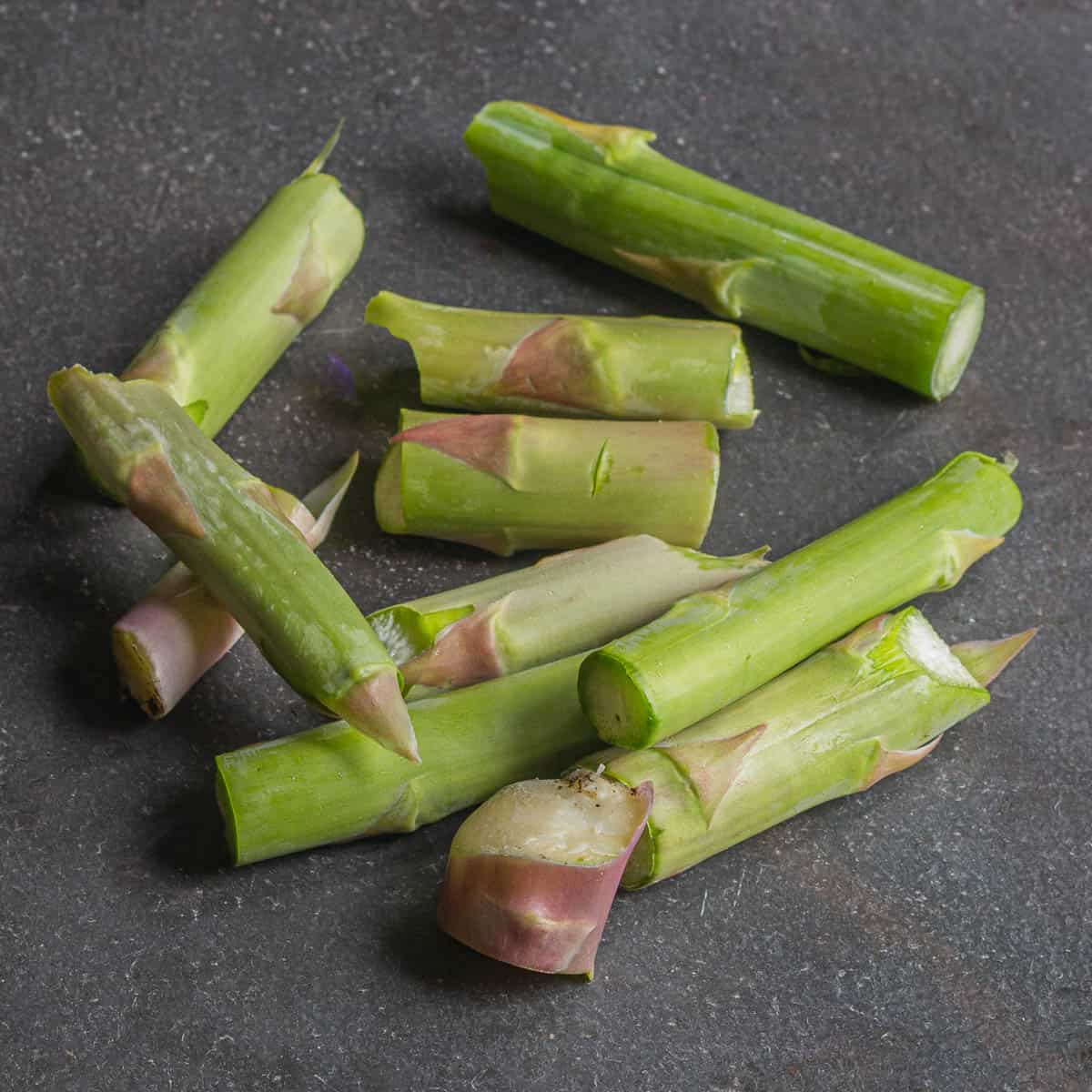 Above: woody ends leftover from asparagus spears.
A great trick for cooking them into soups and stocks is to grind them in a food processor before cooking which makes them easier to manage. Herbs can be pureeing at the end to refresh the bright green color.
How to Make Asparagus Soup From Ends
First you dice celery, onion and leek and blend in a food processor, adding the chopped asparagus stems. Processing helps the vegetables cook faster, and makes it easier to puree.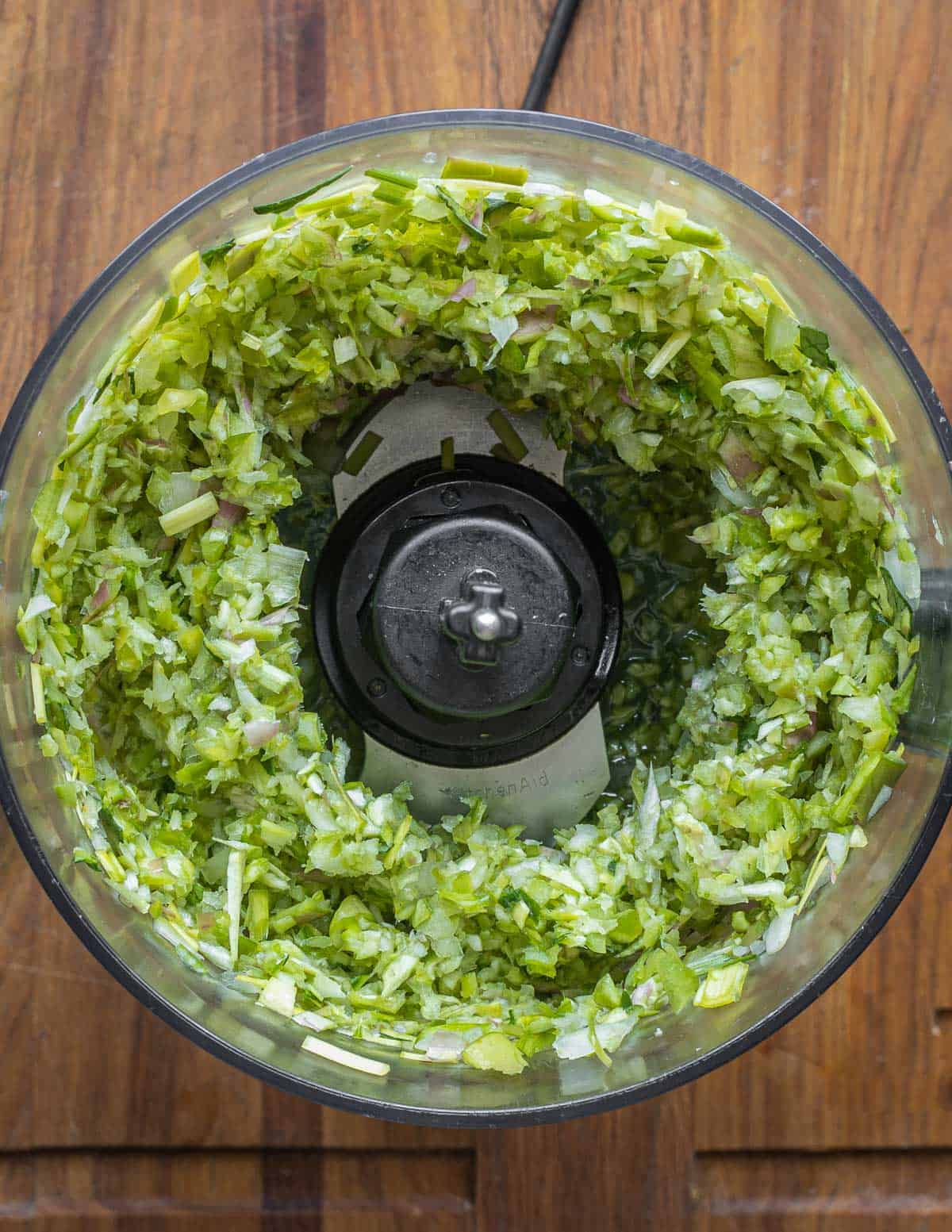 The vegetables are cooked in butter, then rice is added to gently thicken it (just like how I make Wild Garlic Soup). Next, you add chicken or vegetable stock and simmer until the rice is tender.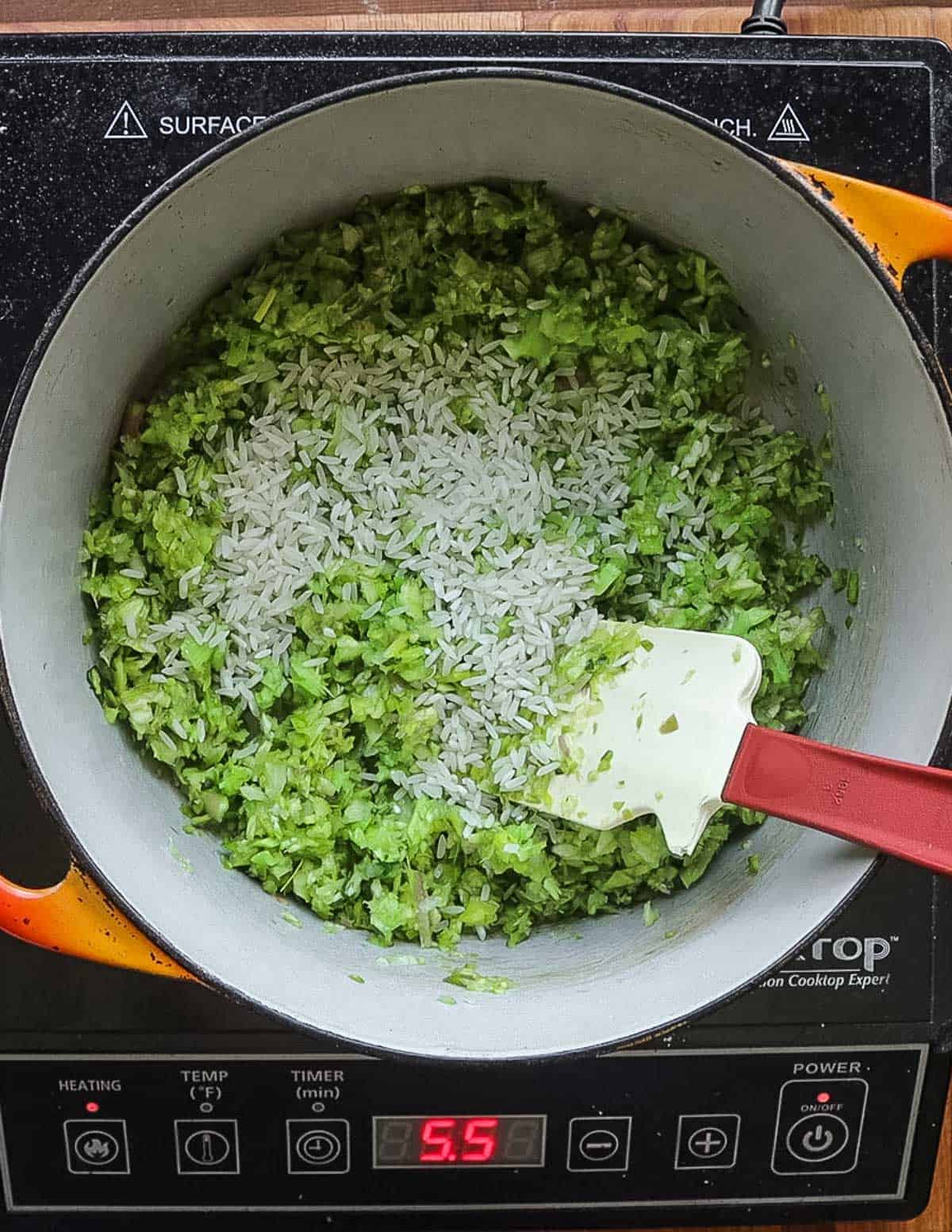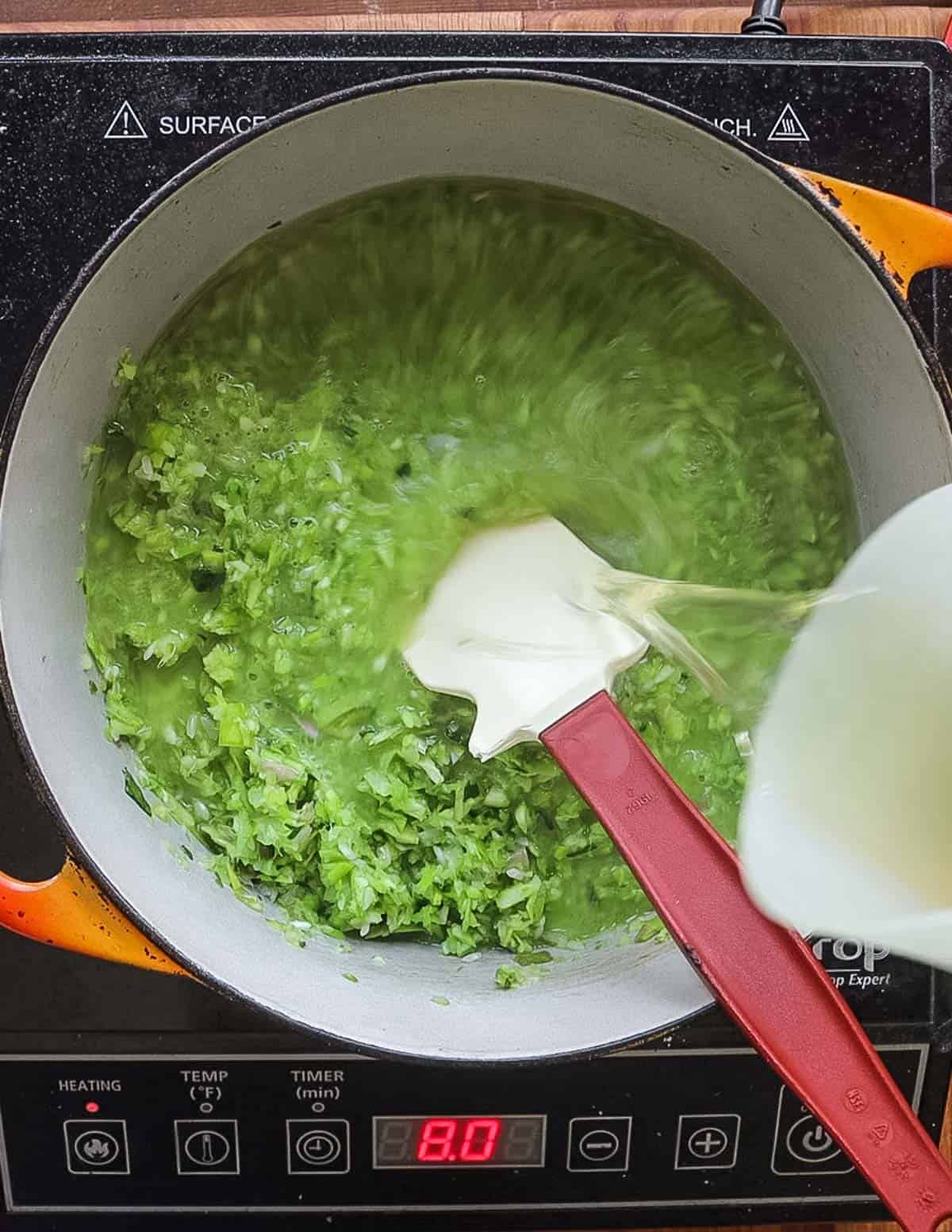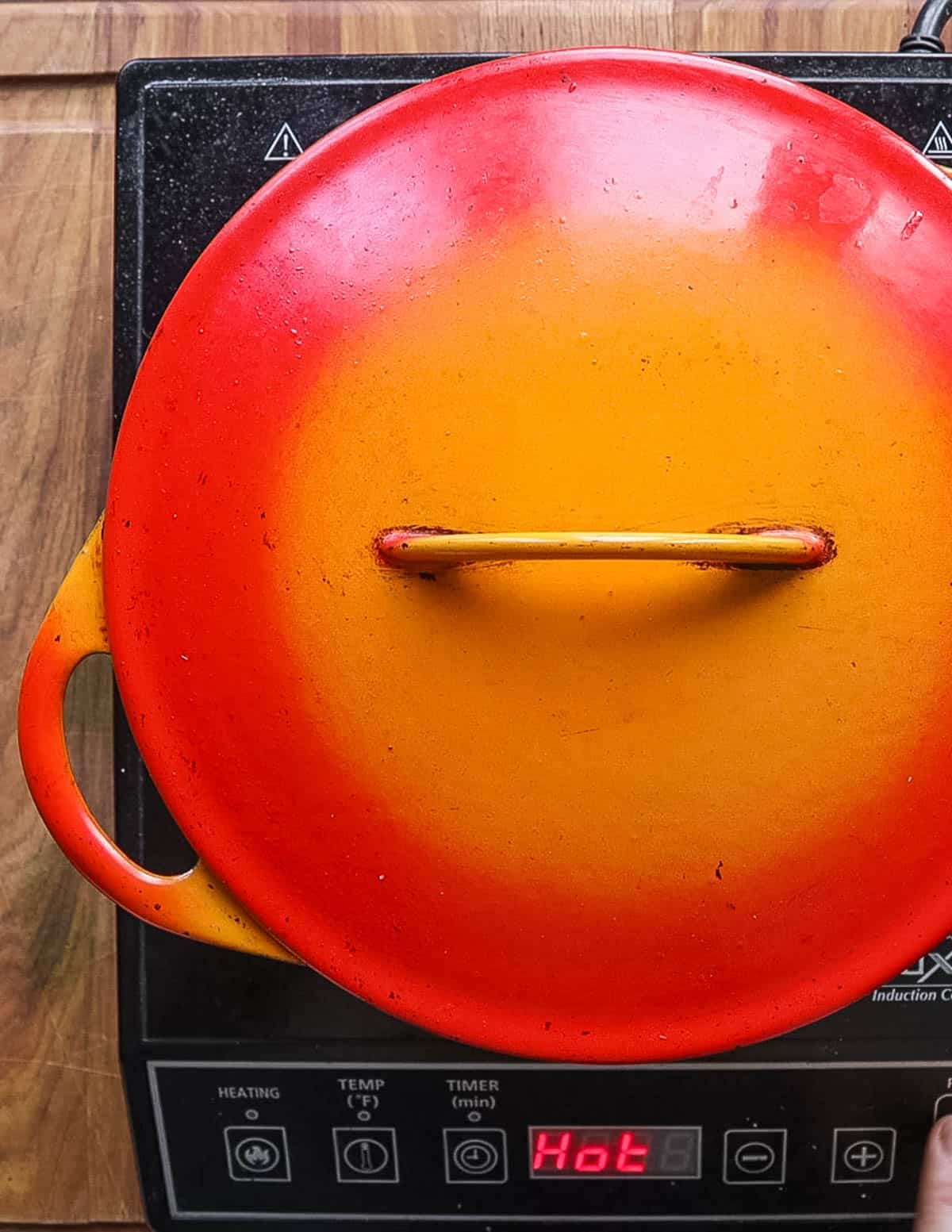 Finally, then the soup is pureed with a small amount of cream in a blender, along with blanched parsley or herbs to refresh the color.
While pureeing, I also add oil to the blender, which reduces friction on the blades and helps get the soup as smooth as possible. Adding oil at the end of blending is one of my best tips for making silky smooth purees.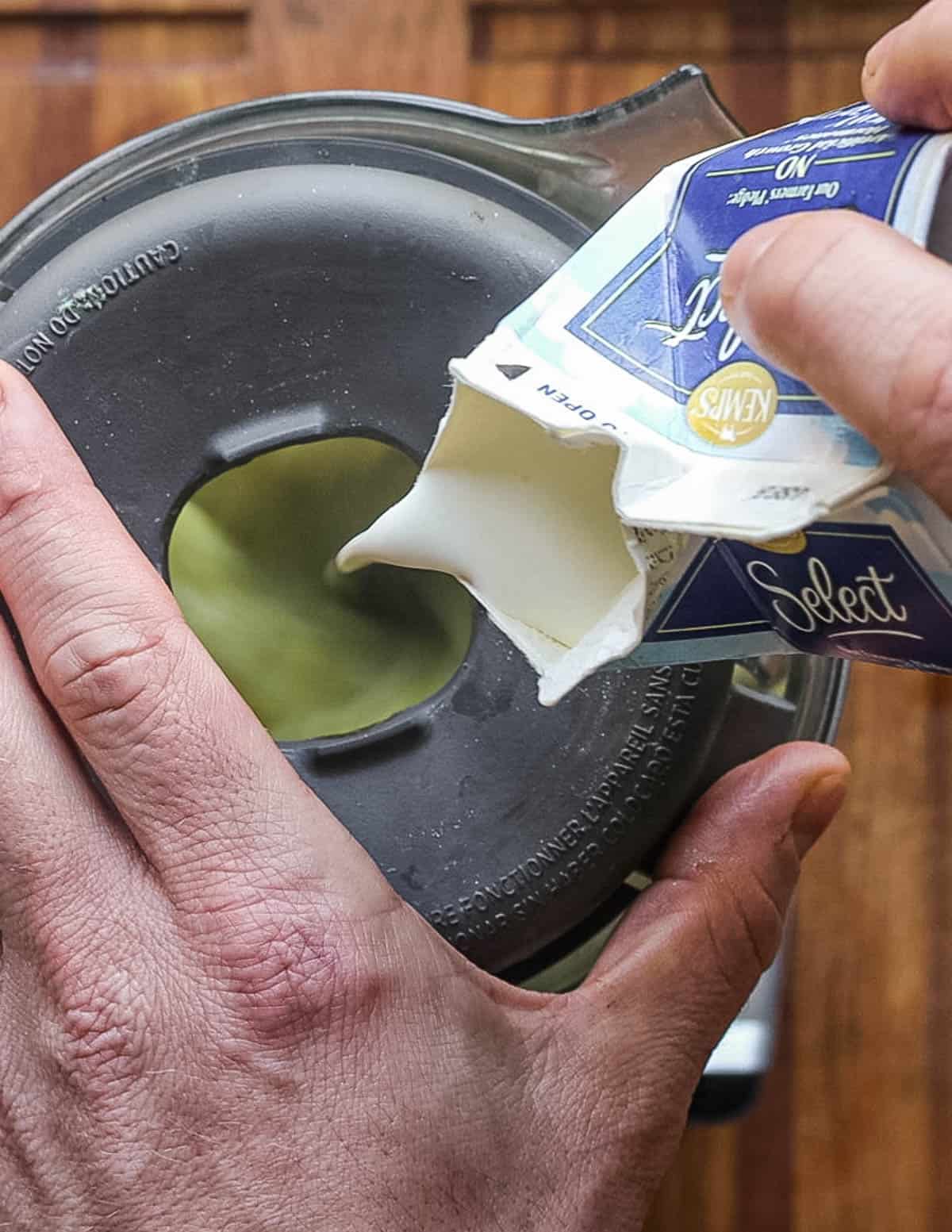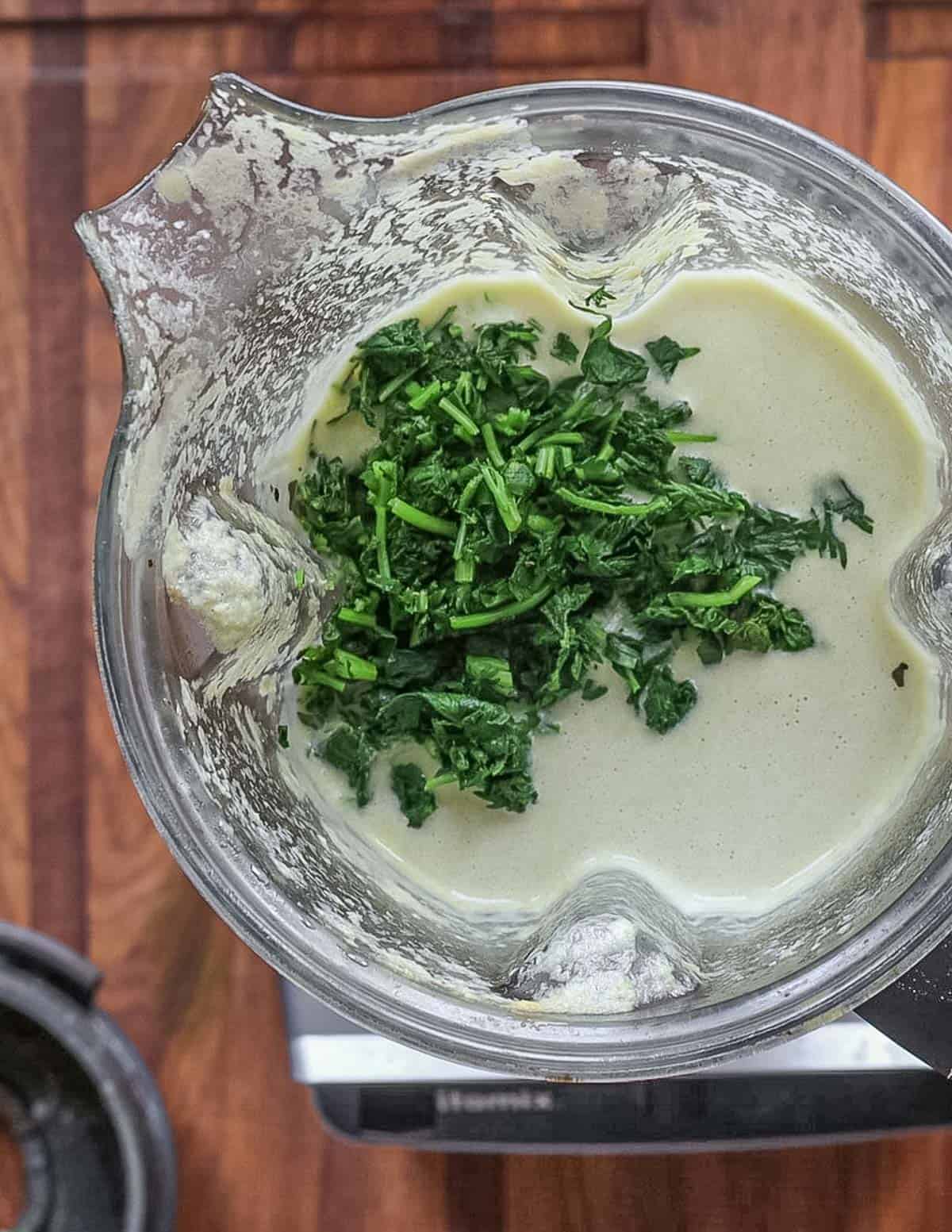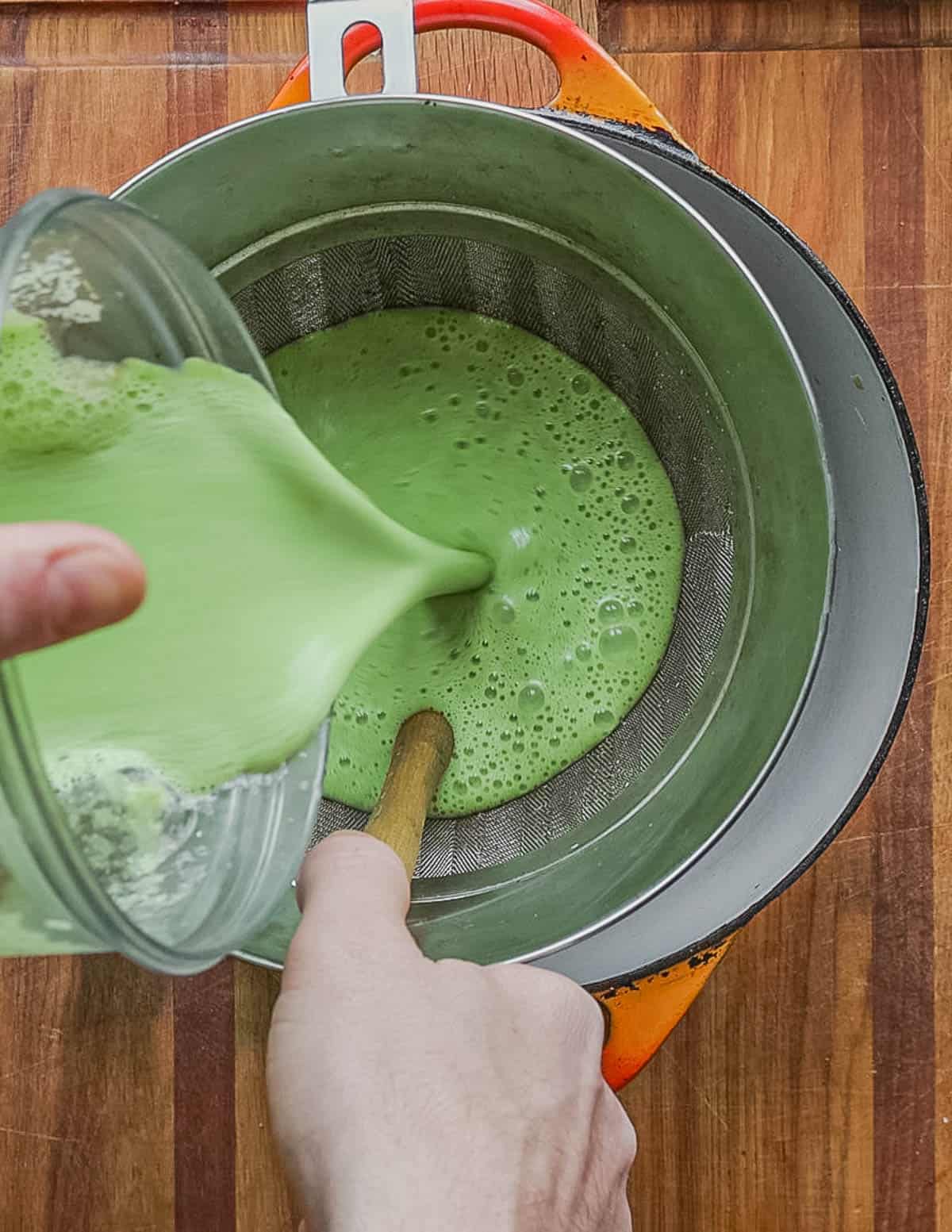 To serve, you can spoon warm vegetables in a bowl and pour the soup over it or sip it from a mug.
This is a flexible soup. Here's a few variations worth mentioning you can make depending on the weather and guests.
Vegan Asparagus Soup
Instead of adding cream, use all extra virgin olive oil while pureeing before straining to make it vegan. Starting the soup with coconut oil and adding a handful of sweet peas and fresh mint is delicious.
Below: vegan asparagus soup from 2013 at Heartland Restaurant.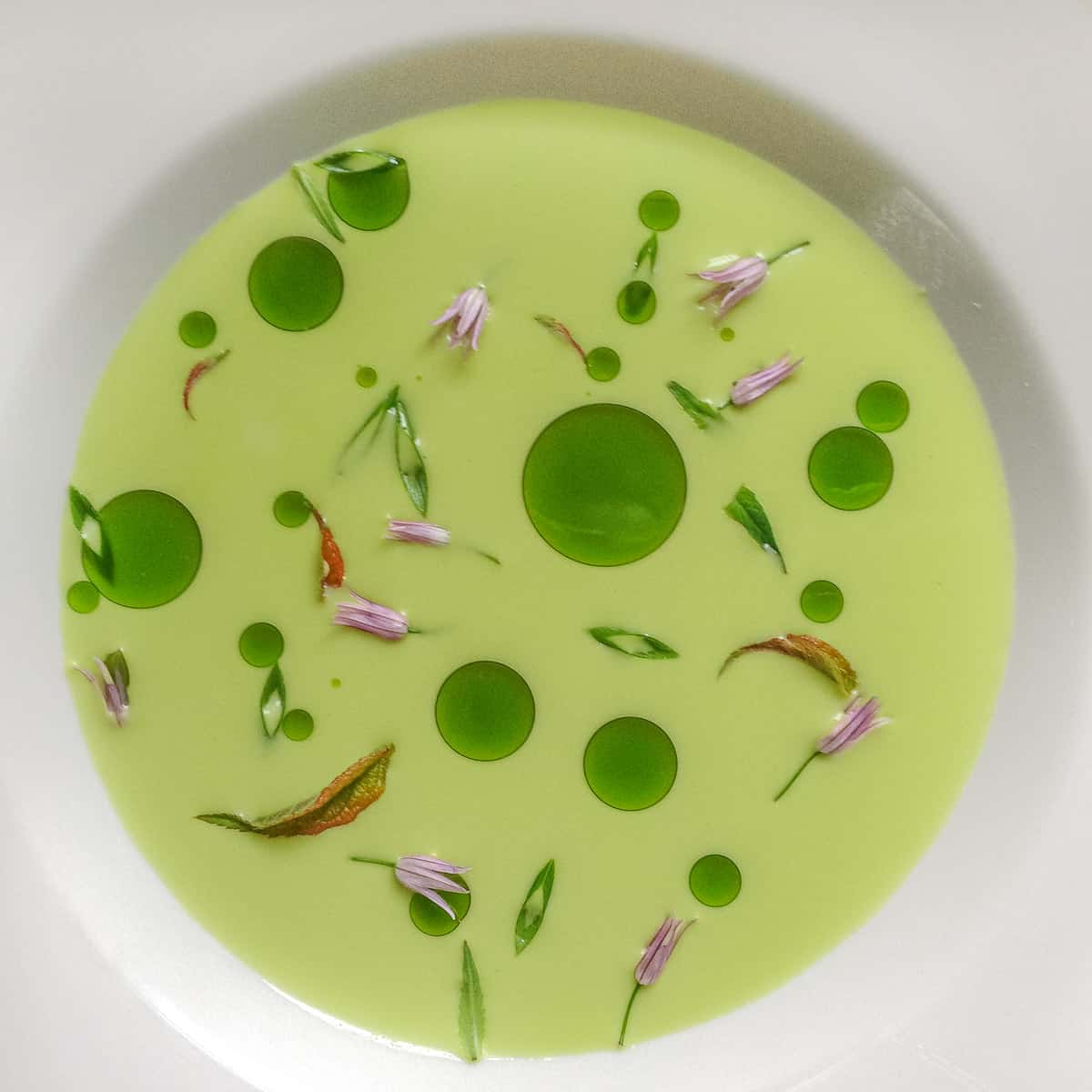 Cold Asparagus Soup
May can be a hot month. If it's hot outside, I'll serve a cold asparagus soup, garnishing bowls with a salad of cooked, chilled green vegetables and herbs. Make sure to add plenty of herbs like mint, basil, parsley or tarragon to the vegetables.
Chef's Tips
Create your own "white mirepoix" from leek, celery, fennel, parsnip, onion, shallot, garlic, etc.
Cooking whole, or only coarsely chopped woody ends of asparagus can clog the blade of your blender.
Puree fresh blanched parsley and herbs like tarragon or basil to brighten the green color and add different flavors.
The first asparagus stalks soup I made I didn't strain. Servers called it "dental floss soup". Don't make the same mistake.
Drink the soup from a mug, or add spoonfuls of cooked peas, fava beans, fiddleheads, or a mix of green vegetables at the end for a more filling meal.
This is a good recipe for leftover asparagus, preferably steamed or blanched.
A sprinkle of very finely diced meyer lemon zest is incredible if you serve the soup cool.
Make sure there's no sand hidden underneath the triangular leaf sheaths (bracts) which is common in sandy soil and can ruin the soup.
Related Posts
Sauteed Asparagus and Mushrooms
Baptisia: A Wild Asparagus Look-Alike
Phesant Back-Spring Vegetable Soup
Fiddlehead Soup with Vegetables and Pesto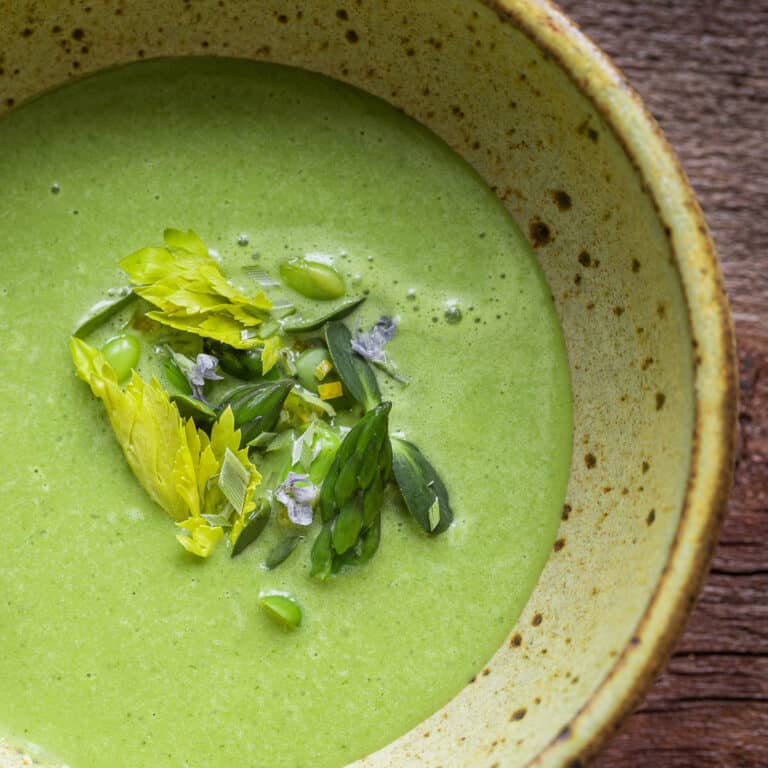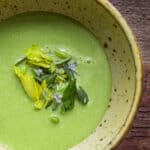 Print Recipe
Asparagus Ends Soup
A simple, creamy asparagus soup is the only asparagus ends recipe you'll need, and a fun way to make something delicious from food waste.
Equipment
1 Strainer

preferably a chinois

1 Blender

1 soup pot or Dutch oven
Ingredients
1½

pounds

asparagus ends, roughly chopped

5

cups

chicken or vegetable stock

3

ounces

diced onion (1 small onion)

3

ounces

leek or fennel, washed, cleaned, and chopped

3

ounces

celery, chopped

2

tablespoons

mild olive oil plus ½ cup

(you can use half evoo half cooking oil)

5

tablespoons

white rice

(soaked in cool water for 10 minutes and rinsed.)

½

cup

dry white wine

½

cup

heavy cream

Kosher salt and fresh ground white pepper, to taste

2

oz

1 bunch Italian parsley leaves

Sour cream thinned with a splash of cream

See note

Small blanched vegetables

See note
Instructions
Hold the parsley by the stems and dip into boiling water, or pour boiling water over them from a steam kettle to wilt. Cool, then cut the leaves off, discarding the stems and reserve.

Wash and clean the asparagus if needed. Chop the asparagus ends into pieces, then pureée in a food processor with the onion, leek and celery.

Sweat the vegetable mixture in 2 tablespoons of oil, then add the rice, deglaze with the wine and reduce by half. Add the chicken stock and bring to a brisk simmer.

Cook for 15-20 minutes on low heat, covered, until the rice is tender.

Working carefully in batches with a blender or an immersion blender, pureé the soup with the cream.

Gradually pour in the remaining oil to reduce the friction of the blades and make a velvety-smooth pureé.

Pass the soup through a fine strainer, season to taste with salt and white pepper until it tastes good to you.

Puree a few cups of the soup with the parsley or other herbs, straining it back into the soup to refresh the color. Immediately pour the soup into a metal bowl, place in a sink of cold water and cool, whisking occasionally.

To serve, reheat gently over low heat, stirring frequently. Pour into pre-warmed bowls and garnish each serving with a drizzle of sour cream and a decorative sprinkle of freshly blanched vegetables.
Notes
How to serve asparagus ends soup 
Add quickly blanched, warm vegetables such as asparagus tips, fava beans, peas, chopped nettles or other green vegetables. Season them to taste with salt, extra virgin olive oil and herbs.

For a dramatic presentation, pour the soup at the table into each bowl onto the vegetables. 

You can also drizzle the soup with sour cream flavored with lightly toasted celery seeds and grated lemon zest.

The soup can also be served from a mug and sipped if you don't add vegetables. Make sure to drizzle some olive oil on the top for a pretty garnish that adds flavor. 
For the most intense color, chill the soup before pureeing with the blanched herbs. 
Nutrition
Calories:
328
kcal
|
Carbohydrates:
32
g
|
Protein:
7
g
|
Fat:
18
g
|
Saturated Fat:
7
g
|
Polyunsaturated Fat:
3
g
|
Monounsaturated Fat:
7
g
|
Trans Fat:
0.03
g
|
Cholesterol:
34
mg
|
Sodium:
1211
mg
|
Potassium:
539
mg
|
Fiber:
5
g
|
Sugar:
9
g
|
Vitamin A:
2799
IU
|
Vitamin C:
14
mg
|
Calcium:
94
mg
|
Iron:
4
mg