Here's a great recipe to celebrate some of the young growing plants of spring: a simple, brothy soup made from green garlic or wild onions, pheasant back mushrooms, a spring shoot/vegetable of your choice (I used fiddleheads and elm samaras) wild rice or another grain, and a little meat broth or whatever you have on hand.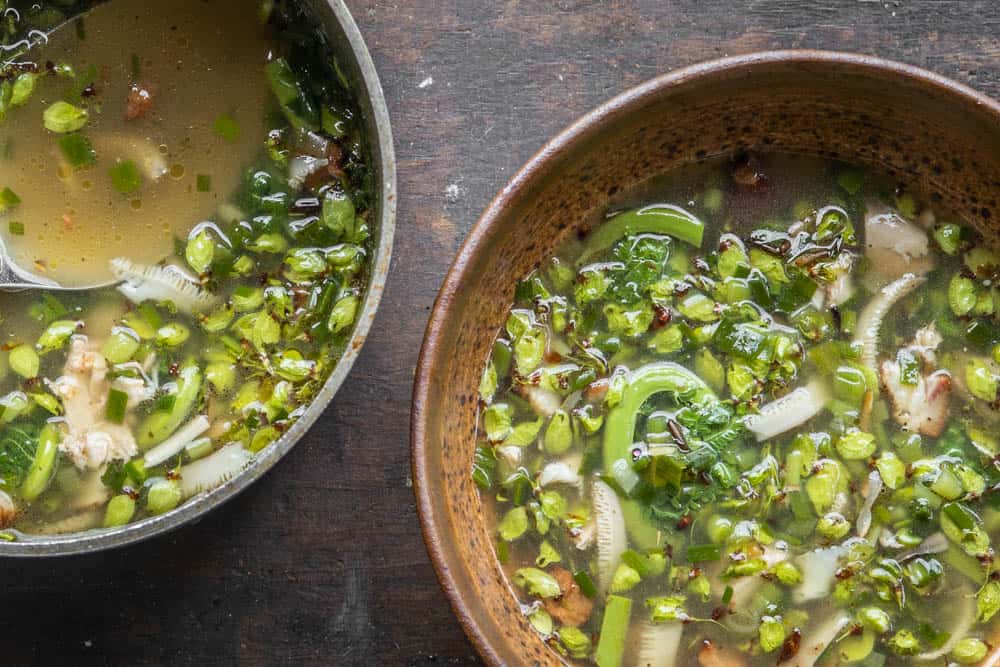 The soup itself is easy and comes together quickly (assuming you have some good homemade broth). It's a good example of the sort of things I used to make after stepping into the walk-in cooler and seeing what I could scrape together for a quick lunch soup or daily special.
It's really grandma cooking at it's finest: a bit of this, a bit of that, a couple leftovers and some broth made from meat scraps coming together to be a restaurant quality dish.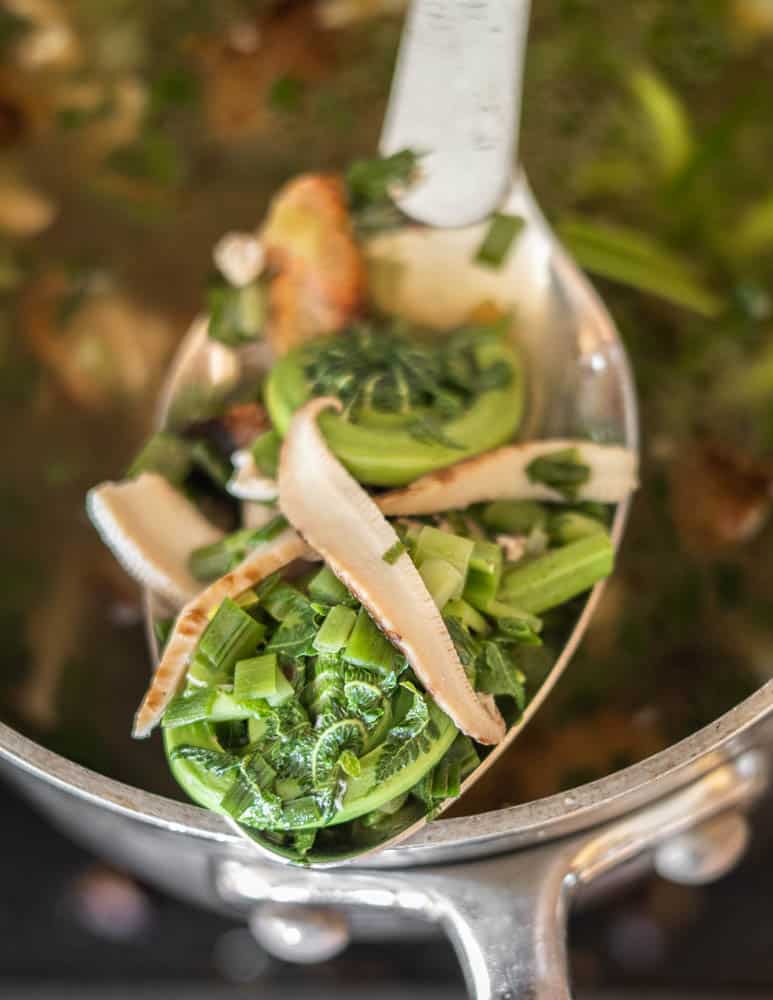 The ingredients I use here are just examples, you should feel free to use what you have available. Here's a quick breakdown of the ingredients and things you could substitute.
Green Garlic
Feral garlic is all around the property on the farm where I live, but ramp leaves and bulbs, or other mild tasting onion greens like spring onions combined with a clove or two of garlic for extra punch would be just fine here. The key is to use more than you think, as there are no other aromatics here like carrots or celery, it's important to use a good amount (start with 1.5 cups for the proportions listed).
A Spring Vegetable
I used fiddleheads since I had some on hand and love them in soup, but other "vegetable-y) things like wood nettle shoots, solomon seal shoots, or even something smaller like spring beauty or hop shoots cut into 1 inch pieces could work.
Pheasant Backs
Pheasant backs, always abundant and available, are wonderful for soup, whereas morels, at least to me, are a little too precious for something like this where their flavor might fade into the background combined with other things.
Young enokitake / Flammulina velutipes or early chicken of the woods mushrooms would work too. An important thing to remember with the pheasant backs here is that their flavor mellows when they're sweated before the broth is added.
If you add the broth and then add the mushrooms, you will get more of their raw cucumber aroma in the finished broth, which, to me, is not ideal, at least here.
Elm Samaras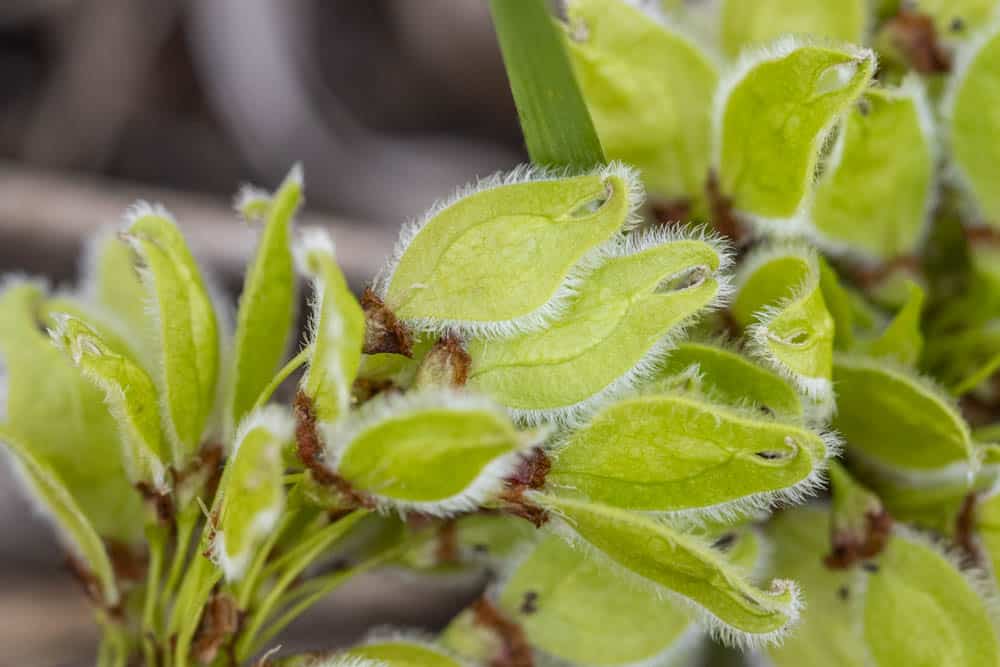 This is a great place to use a few handfuls of young, tender elm samaras, which, although nice and perfectly fine in salad, can be used with a heavier hand here to act more like the tree vegetable they are. Tossed in at the last minute or two of cooking they turn bright green, and will melt into the soup beautifully.
A Finishing garnish
For the best flavor, you want to finish this with something at the end. It could be lemon juice and olive oil (pictured) but an even better pop of flavor will come from a dollop of ramp pesto, a drizzle of ramp oil and lemon juice, or, for a very special soup, melt 2 tablespoons of ramp butter in a pan or microwave until sizzling and spoon it, piping hot and sputtering onto each bowl just before serving.
Pouring hot butter on a soup might sound odd, but it's traditional in the caucuses and some of the surrounding area like Azerbaijan and Turkey. Try it.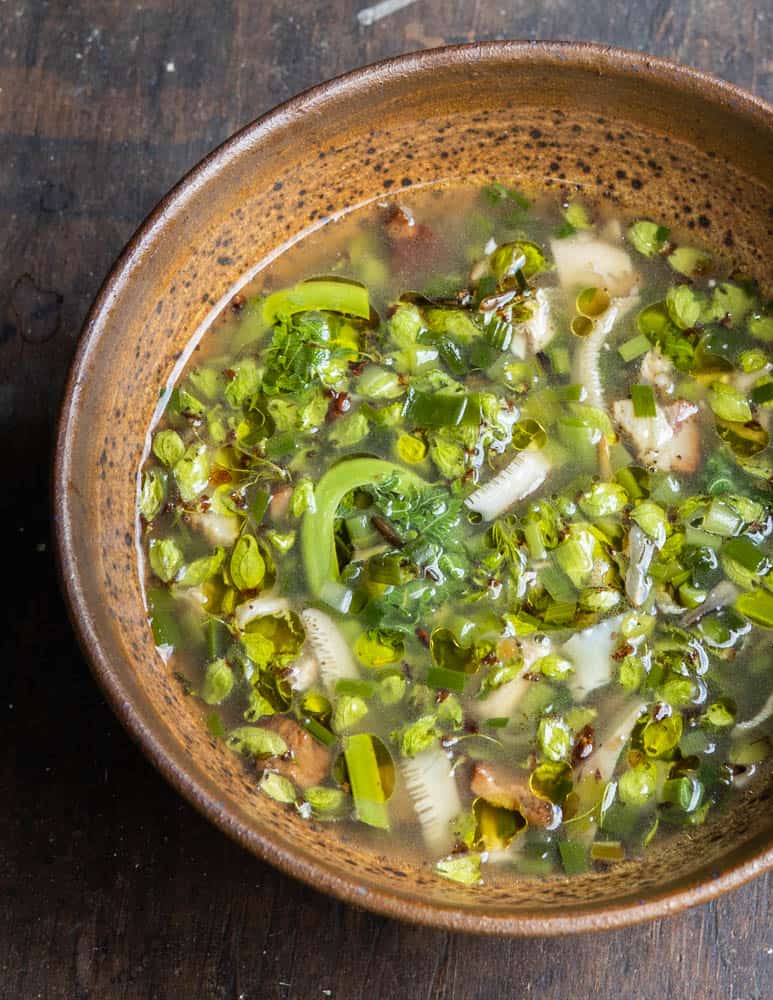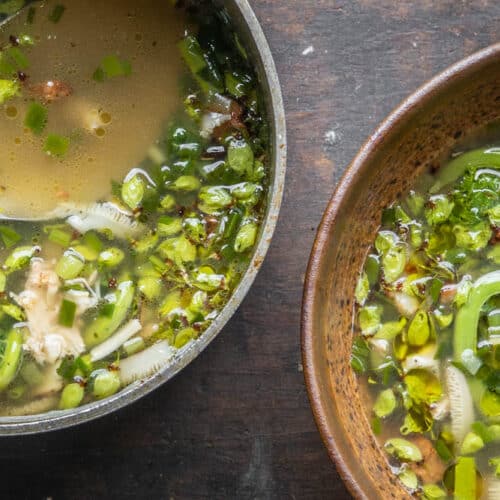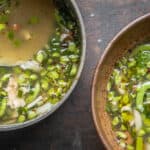 Print Recipe
Pheasant Back Broth with Green Garlic, Fiddleheads, and Elm Samaras
A simple spring soup made with pheasant back mushrooms, wild spring vegetables, and wild onions or garlic. Adjust the ingredients to what you have on hand.
Ingredients
Soup
5

cups

turkey stock

A handful or two of leftover turkey

if available

2

oz

bacon

1

cup

½ oz elm samaras

4.5

oz

1.5 cups sliced green garlic

4

oz

two cups pheasant back mushroom tender edges, thinly sliced about 1 inch long

3

oz

ostrich fern fiddleheads and tender stems

½

cup

cooked wild rice

optional

Good pinch of ramp spice
Finishing garnish (pick one)
EVOO and lemon juice

ramp pesto, or hot melted ramp butter
Instructions
Blanch the fiddleheads for 2 minutes, then drain, allow to cool, and cut the stems into pieces that will fit on a spoon.

Slice the bacon into ½ inch pieces and render out the fat in a small soup pot.

Add the green garlic and sweat for a minute or two.

Add the mushrooms and cook until wilted, a few minutes more. Add the broth, ramp spice if using and bring the mixture to a simmer.

Add the fiddleheads, leftover turkey if using, and wild rice, cook for a few minutes more, adjust the seasoning for salt and pepper and adjust until it tastes good to you.

Finally, stir in the elm samaras, turn the heat off, and ladle the soup into bowls, garnishing with the oil and lemon, pesto, or sizzling ramp butter.
More