Stinging nettles are one of the finest wild greens you can use to make soup, and there's plenty of recipes out there. Some are good, some are ok but this is my favorite nettle soup recipe of all time.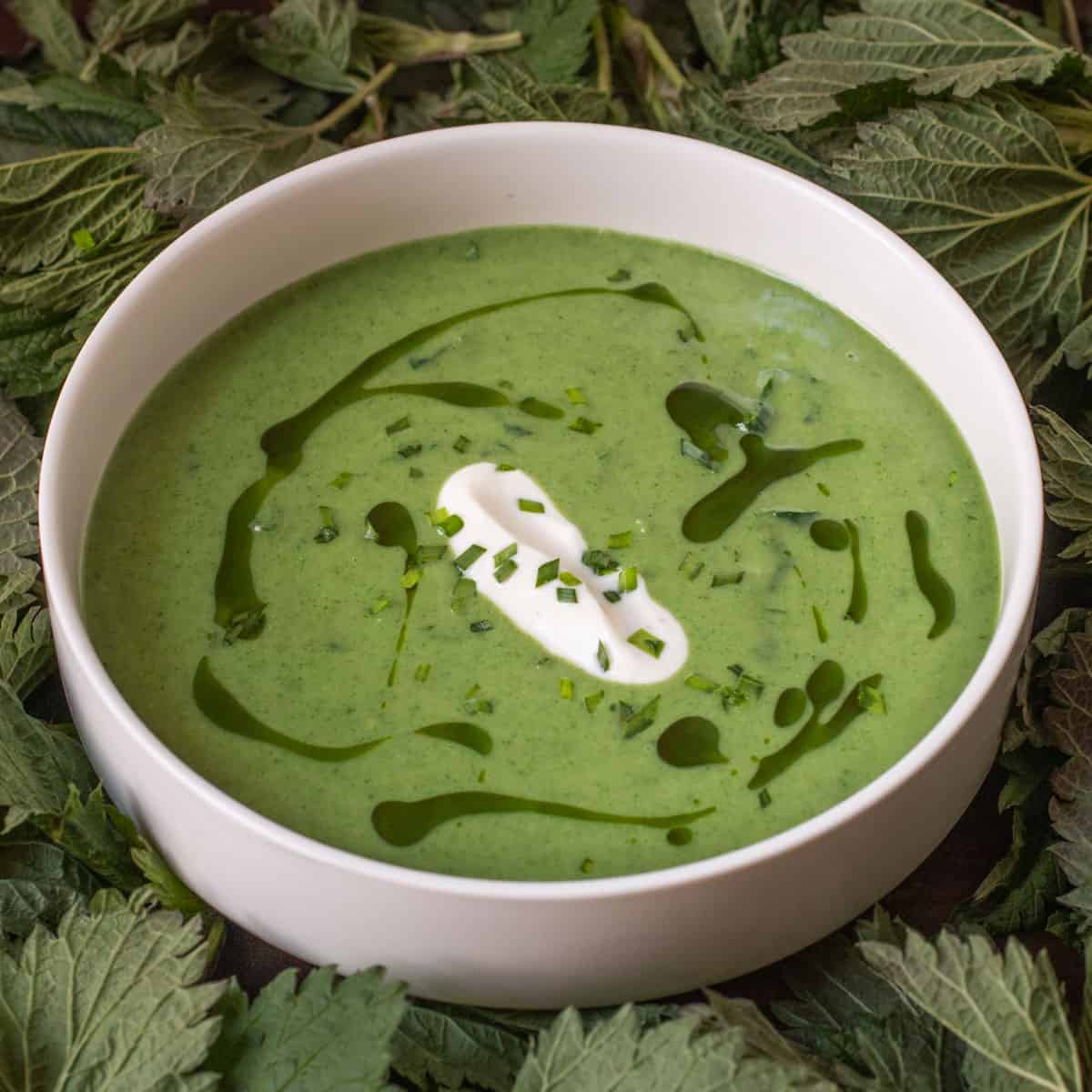 I originally developed the recipe for a dinner I billed at $1000 per person for a group of CEOs. To my surprise, instead of the truffles and foie gras, everyone agreed it was the highlight of the meal.
Why this recipe works
Most nettle soup recipes call for blanching and shocking the nettles in ice water, then squeezing them dry. Blanching, while necessary for some things, isn't necessary for many greens, and the water leeches out flavor from them.
Steaming the nettles quickly, then allowing them to cool, spread out on a tray, will have a stronger flavor as nothing is lost to water. That said, you can get a great result from either blanched or steamed nettles here.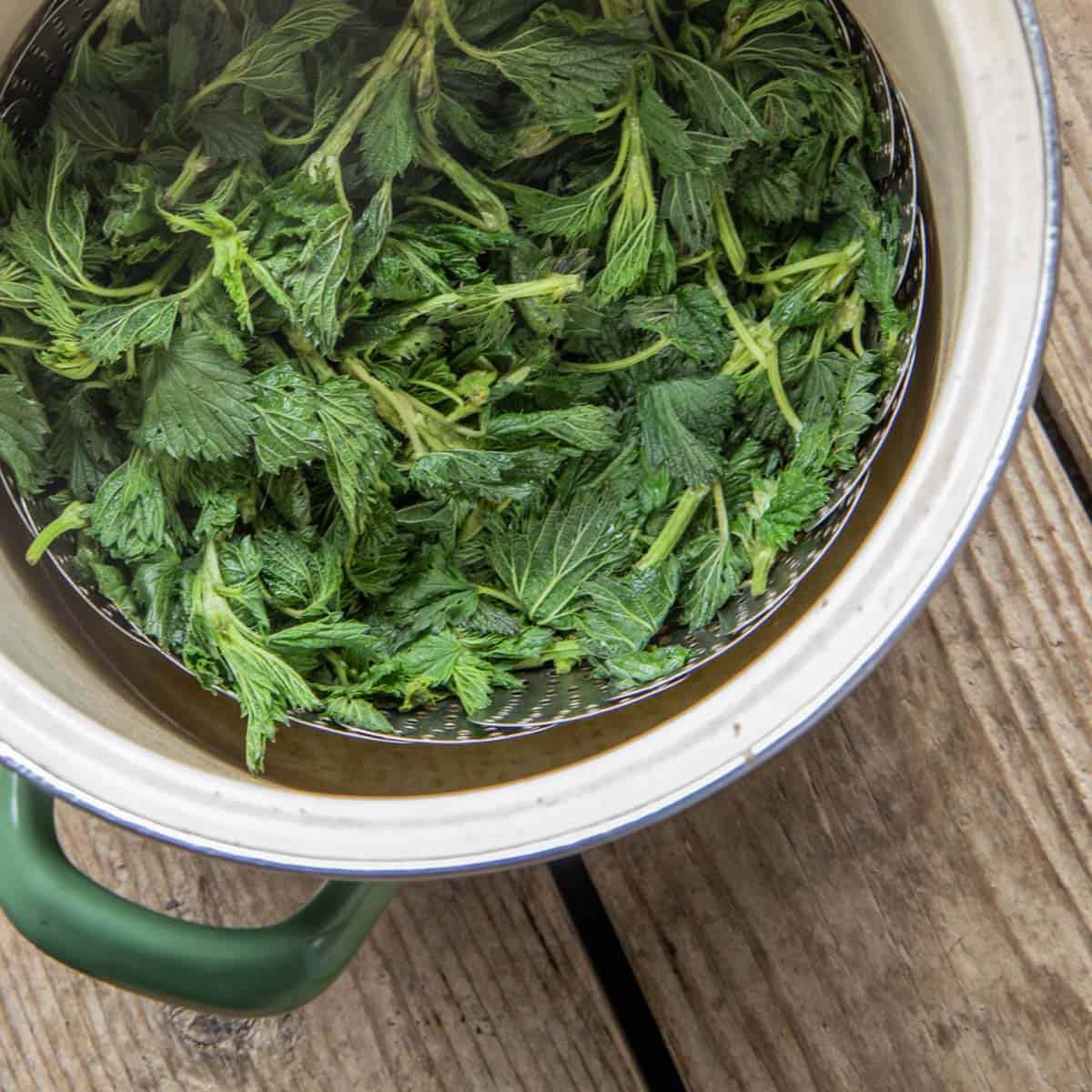 The other key is how it's thickened. I add boiled potatoes to the soup, instead of raw potatoes. Cooking potatoes in water before adding to the soup brings the flavor of the nettle to the front. It also removes some of the potato starch that can get overpowering and gummy tasting in pureed soups. Here's a walkthrough of how to make the soup.
How to Make Stinging Nettle Soup
First you steam your nettles, cool, chop ⅓ of them and reserve. To build the soup, you sweat a white mirepoix of celery, leeks and onions in butter. When the vegetables are tender, you add chicken stock and boiled potatoes.
After the soup comes to a simmer, you puree it in a blender with ⅔ of the nettles, add ing the cream and chopped nettles afterward. Finally, the soup is cooled in a metal bowl in a sink of cold water (if not served right away) and reheated gently to serve. The images below illustrate the process.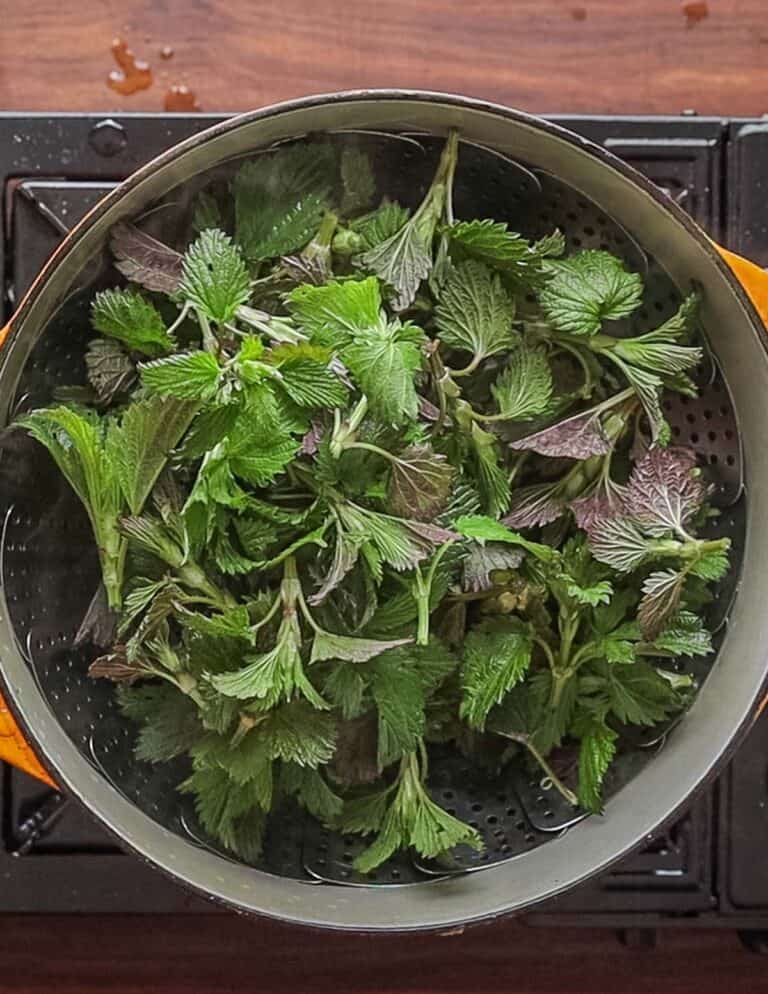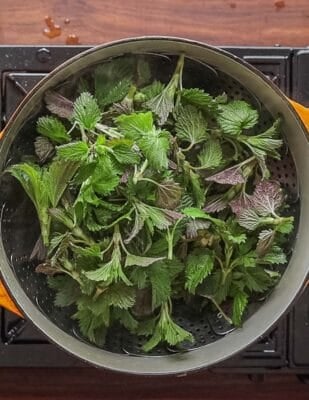 More nettle soup recipes
There's variations of this from around the world. Here's a few of my favorites:
Nettle Varieties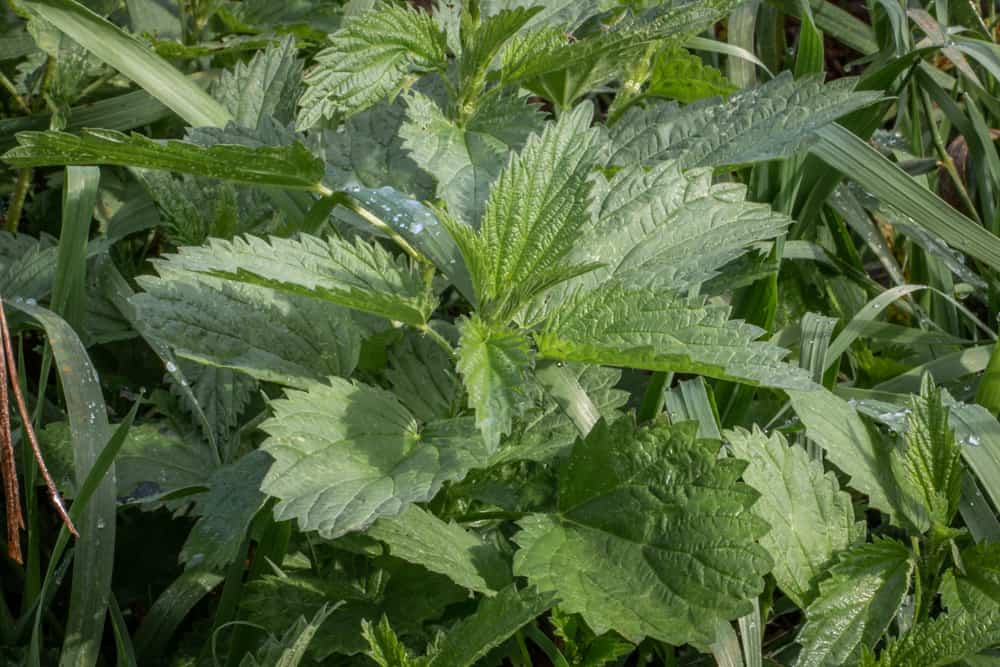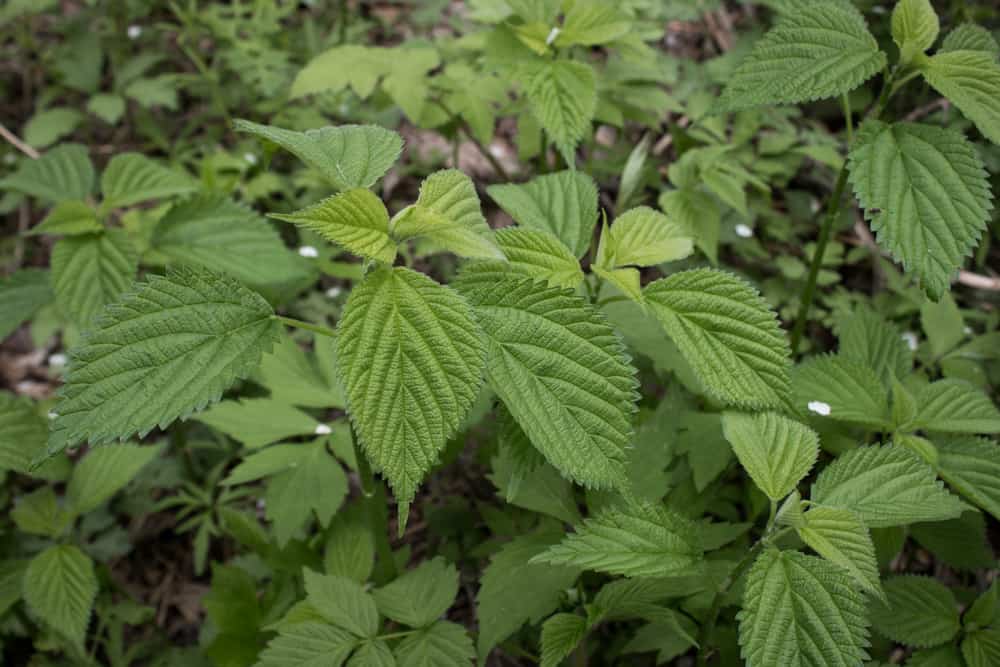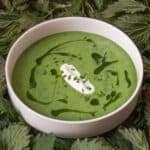 Print Recipe
Classic Stinging Nettle Soup
A rich, ultra nettley stinging nettle soup made with nettles, stock, vegetables, potato, and a splash of cream.
Ingredients
Soup
4

cups

chicken stock

½

cup

heavy cream

2

cups

diced

peeled russet potato, roughly 1 large potato

2

cups

diced leeks

2

medium sized shallots

diced small

1

small yellow onion

diced

3

tablespoons

unsalted butter

1

cup

diced celery

Kosher salt

to taste

White pepper

to taste

8

oz

stinging nettles

or roughly half a paper grocery bag full This should yield about 1 heaping packed cup after blanching, shocking and mincing.
Finishing and serving
Crème fraiche

chopped dill or mint

chopped hard boiled egg

optional

extra virgin olive oil

to garnish
Instructions
Nettles
Harvest fresh nettles in the spring about 4-5 inches tall. *see note

Wash the nettles in a sink of cold water, then dry them.

Working in batches in a large pot fitted with a steamer basket, steam the nettles until completely wilted. This should take about 2 minutes. Cool the nettles.

Squeeze the nettles of excess water, chop finely and reserve. If you're more comfortable blanching nettles, that's fine. To blanch them put 2-3 quarts of water in a large pot, along with 2 tablespoons of salt and bring to a boil.

Cook the nettle leaves and stems for 30 seconds, then remove to a tray, spread them out and cool naturally. Chop the nettles fine and reserve.
Building the soup
Sweat the celery, potato, onion, shallot and leek on medium heat for 5 minutes. Add the chicken stock and bring the mixture to a simmer. Cook on medium-low until the vegetables are tender, about 15 minutes.

Add ¾ of the nettles and puree the soup a blender or with an immersion blender. Work in batches if you need. Pour the pureed soup into a pot (preferably metal as it cools faster). Chill in a sink of cold water or in a bowl with ice water.

Add the rest of the finely chopped, reserved nettles back to the soup as a garnish. Finally, whisk in the cream to loosen it. The flavor and color will improve as it sits.
Finishing
Assess the consistency, if you prefer your soup more thin, add a splash of stock or water until it looks good to you.

Double check the seasoning for salt and pepper, whisking to make sure the salt is completely dissolved before adding more. Serve, or transfer to a container and refrigerate for up to 3 days. The flavor will be at it's peak if it's made the night before.
Serving
Serve the soup ladles into warm bowls, garnished with spoonfuls of creme fraiche and the oil, if using.
Notes
Harvesting 
If the nettles are young I may not wear thick gloves, but I always do with older plants as the stinger intensifies as nettles grow. You can also harvest nettle tops in early summer, or buy them at a farmers market.
Nutrition
Serving:
8
oz
|
Calories:
223
kcal
|
Carbohydrates:
9
g
|
Protein:
12
g
|
Fat:
16
g
|
Saturated Fat:
9
g
|
Polyunsaturated Fat:
1
g
|
Monounsaturated Fat:
4
g
|
Trans Fat:
0.2
g
|
Cholesterol:
63
mg
|
Sodium:
731
mg
|
Potassium:
215
mg
|
Fiber:
0.3
g
|
Sugar:
5
g
|
Vitamin A:
472
IU
|
Vitamin C:
2
mg
|
Calcium:
24
mg
|
Iron:
1
mg
What does nettle soup taste like?
Common stinging nettles have a unique taste that's reminiscent of spinach and salt water, with a sort of oceanic flavor. Wood nettles have a rich perfume that reminds some people of apple blossoms.
Is nettle soup good for you?
Nettles are a nutrient dense plant rich in iron and other vitamins and minerals. They're also an organic wild plant raised without chemicals and pesticides as they're foraged.
Does nettle soup sting?
No, cooking, dehydrating, or crushing nettles breaks the spines filled with formic acid and renders them harmless. After cooking they're no different from spinach.
Can you freeze nettle soup?
Nettle soup freezes very well and is a great way to preserve nettles as they will be chewy and tough frozen without pureeing into a soup.