Common stinging nettles are one of the most widely eaten wild plants around the world, and all it takes to unlock some new ideas for cooking with them is often a name, in the case of this Italian Nettle soup recipe, that's the word ortiche, an obvious cousin to the Latin name Urtica.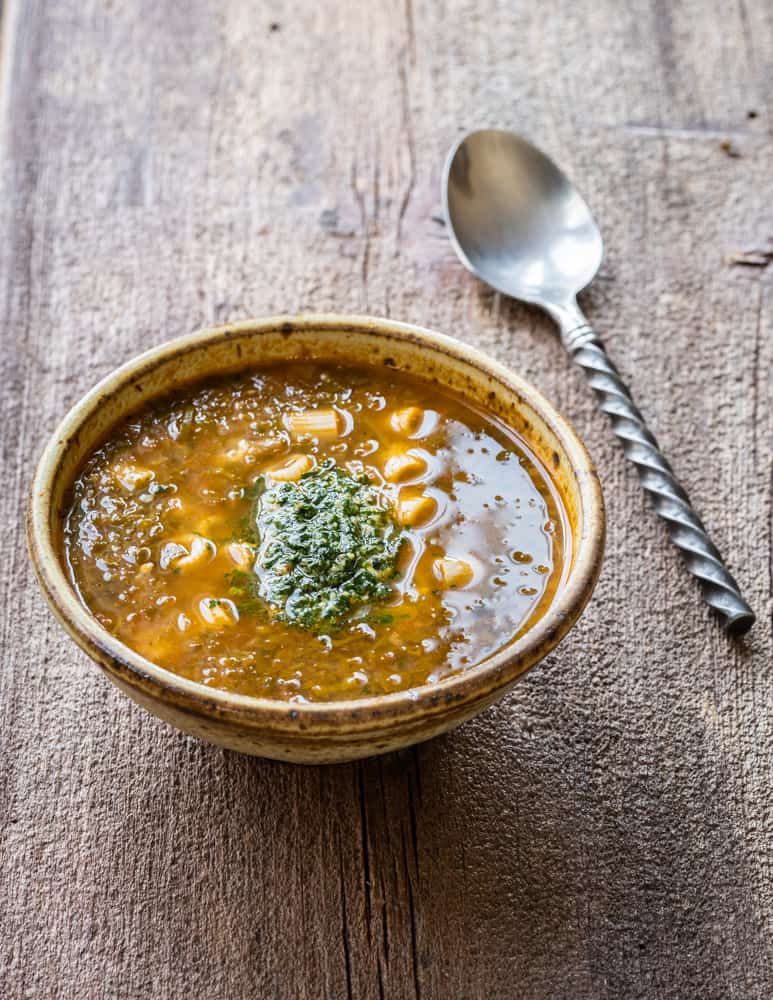 Do a quick google search for "zuppa ortiche" and you'll get all kinds of ideas for how people in Italy who enjoy nettles might use them. If you're in North America, you could also make this with our native wood nettle / Laportea canadensis-a delicious edible cousin to stinging nettles.
I have a couple books on wild plants from Italy, in Italian that I consulted for inspiration and historical examples while I was writing my book, and I knew I had to have a version of zuppa ortiche after seeing lots of different recipes for it that all had a similar style.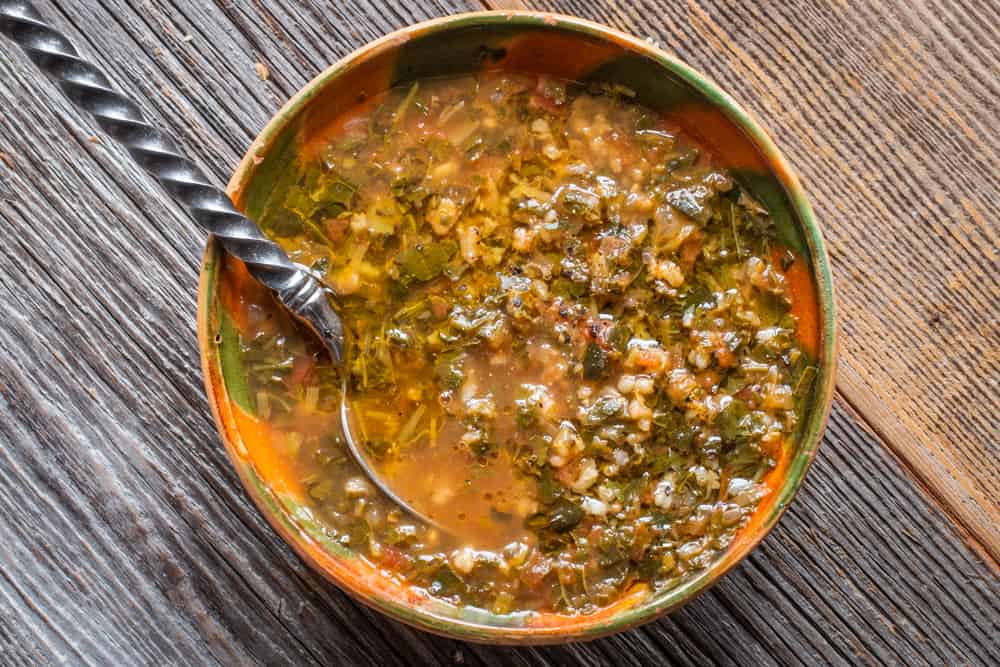 As I often do, I looked at a bunch of different recipes for the same thing, compared some quantities and ingredients, made a rough average of them including outlier ingredients, and made a basic recipe. If you're wondering how an Italian nettle soup might differ from some of the other nettle soups on this site, here's the things that stick out to me I made sure to pay attention to.
Common characteristics of zuppa ortiche
Most of the Italian nettle soups are coarsely pureed, or passed through a food mill, which means they shouldn't be completely smooth and the nettle leaves should have some texture. In other words, they're rustic.
Tomatoes seem to be omnipresent in all zuppa ortiche recipes I've seen, much different from say, Scandinavian nettle soups that almost always have cream.
Starch is typically included (I can only assume to give the soup some weight) typically rice or pasta is added after the soup is pureed-I've given proportions below that will work with either, just make sure to use small pasta like rings or something small that can fit on a spoon if you choose pasta.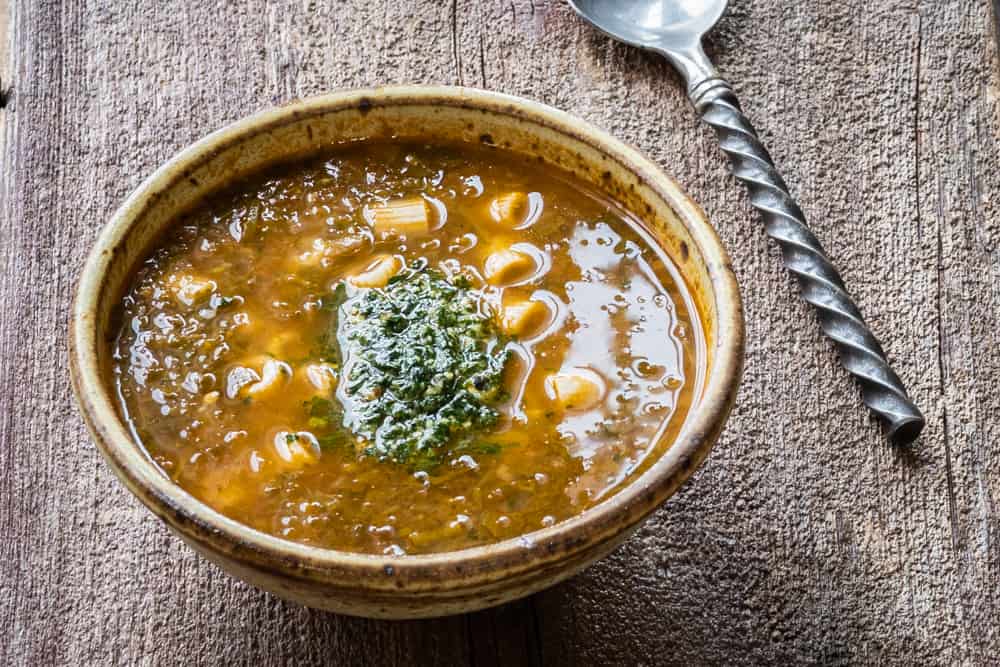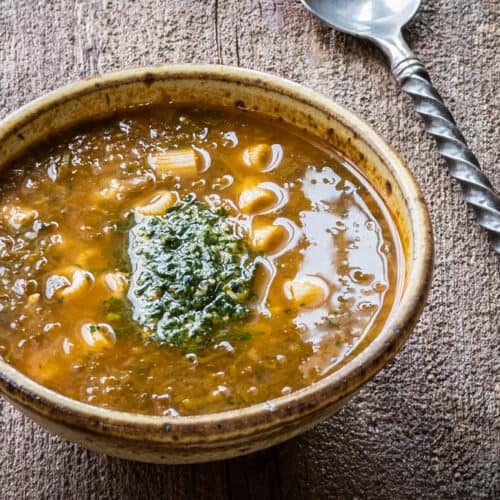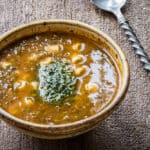 Print Recipe
Zuppa di Ortiche (Italian Nettle Soup)
A simple Italian nettle soup inspired by versions of zuppa ortiche I've tried. Cooked with tomatoes, rice, and stock, any greens will taste great, and it's a refreshing break from creamed, pureéed soups. Pass the olive oil, crusty bread, black pepper, and parmesan Parmesan at the table. You can add either rice or cooked pasta to the finished soup.
Ingredients
Soup
1

tablespoon

(two medium cloves) thinly sliced garlic

¼

cup

olive oil, or lard

3

ounces

diced leek, or one 1 small leek

4

ounces

diced yellow onion, or one 1 small onion

Pinch

of dried chili or crushed red pepper

1

can

15.5 ounces chopped peeled tomatoes

¾

pounds

fresh nettles, or about 1½ packed cups blanched or frozen nettles

Kosher salt and fresh-ground black pepper

to taste

6

cups

meat stock, such as chicken

Kosher salt and fresh ground black pepper

to taste

1½

cups

cooked rice or small pasta
Serving suggestions
Extra-virgin olive oil

lemon wedges

grated high-quality parmesan, to garnish

Spoonfuls of pesto, to garnish

optional
Instructions
Sweat the garlic in the oil over low heat, just until just light brown, but not burned.

Add the leeks and onions and cook for a few minutes more, until translucent. Add the chili, tomatoes, chili, nettles, ½ teaspoon of salt, and the stock, then bring to a simmer and cook for 5- to 10 minutes.

Turn off the heat and pulse the mixture with a hand blender until almost smooth.

Cook the soup, covered, for another 15- to 20 minutes, or until the greens are tender.

Add the rice or pasta, taste and correct the seasoning for salt and pepper as needed, then serve with a generous pour of good olive oil and lemon and pesto if using.
More