I've been in love with researching traditional uses of nettles (ortigas in Spanish) around the world, and soup is one of the standbys that seem to be omnipresent wherever nettles are eaten.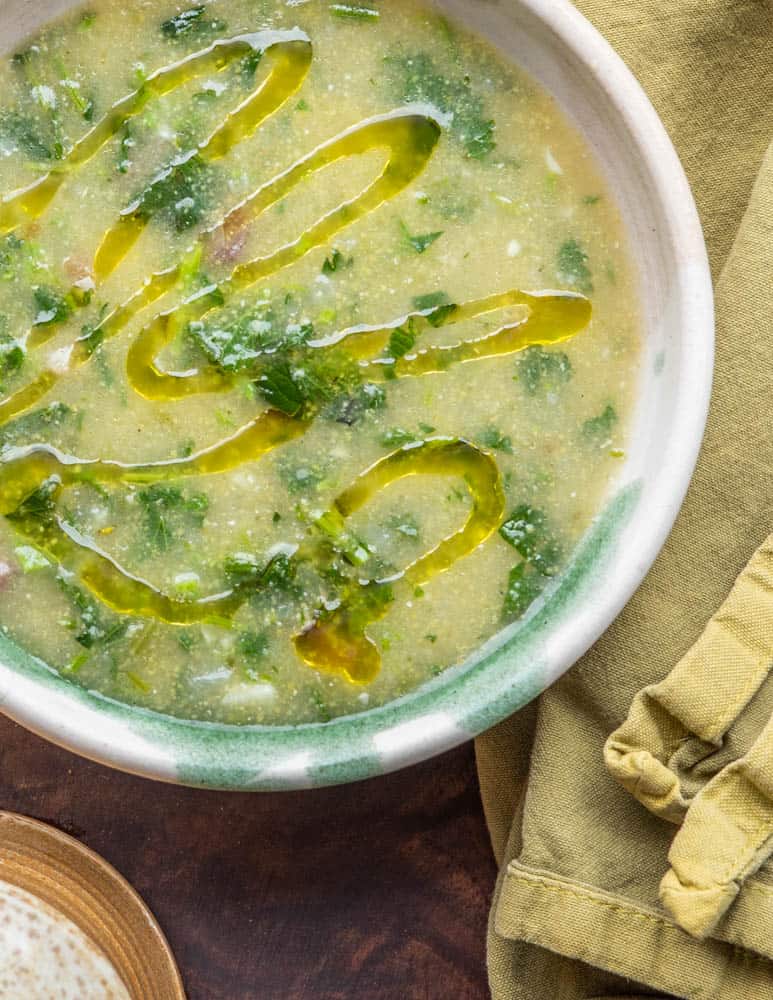 This delicious Spanish nettle soup scented with Jamon Serrano and thickened with cornmeal is a bit different than others I've come across, and can make for a nice variation if you're used to having your nettle soup pureed.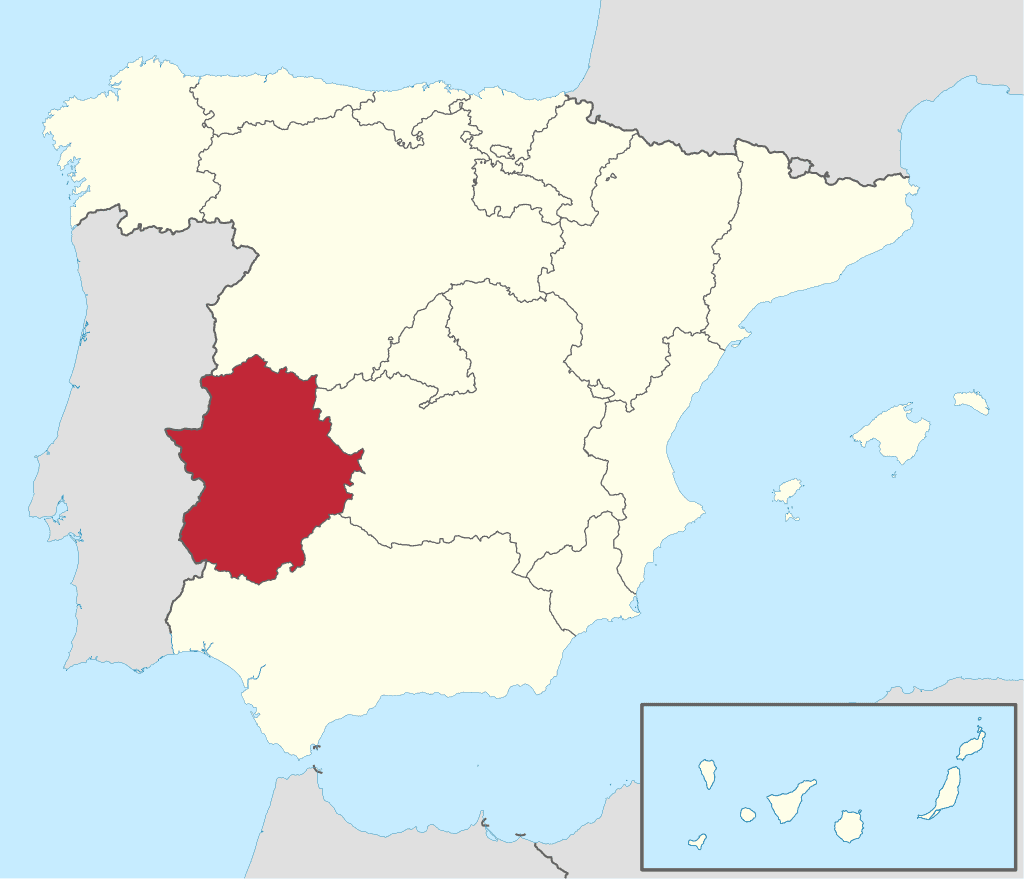 I don't know exactly where I got the inspiration for it, since sometimes my notes can be a bit of a jumble, but it was probably one of my scientific books on ethnobotanical uses of plants in the Mediterranean and surrounding areas.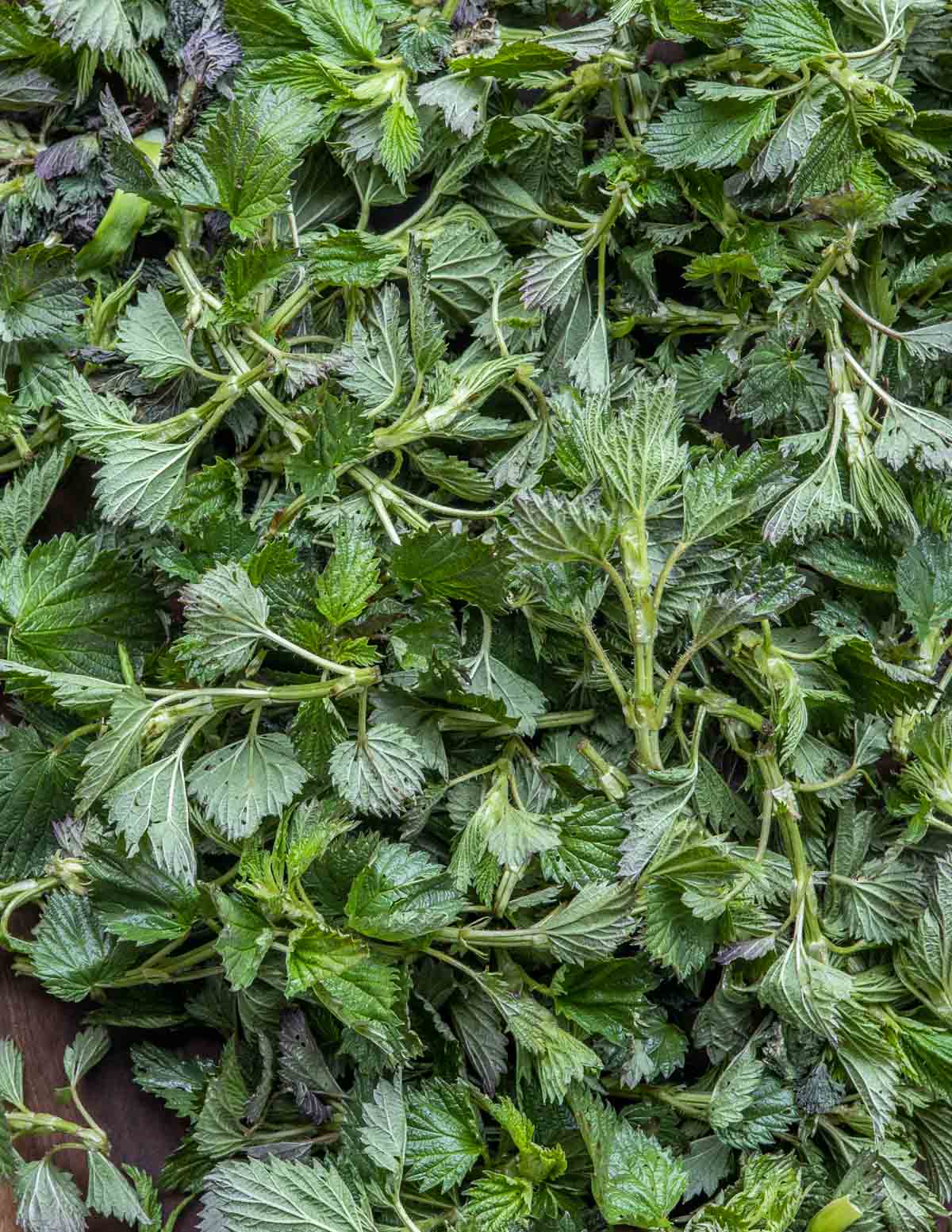 Either way, my notes were very clear: it is a soup made with freshly chopped or sliced nettles, water, onion, and, the kicker that made me really want to try it: Jamon Serrano.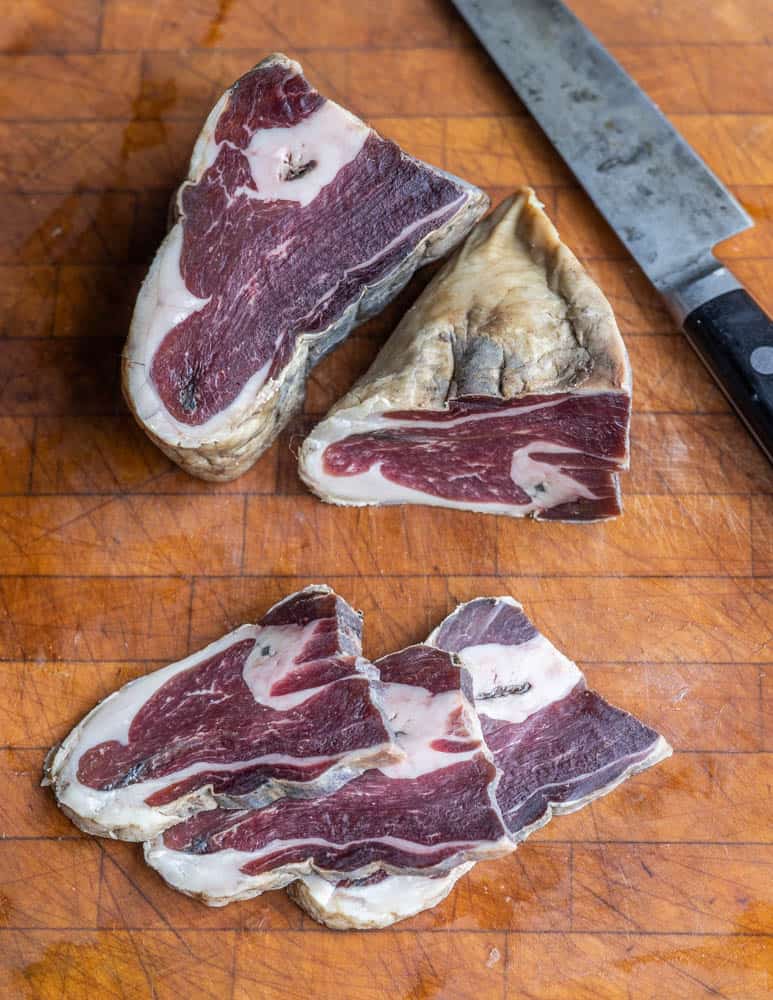 Iberico Ham
Jamon Serrano is the Spanish equivalent of prosciutto, basically, salted, dry-cured ham. Similar versions of it are made in different places around the world, but Jamon Serrano, and especially the Iberico de Bellota made from the Pata Negra.
These are the black footed pigs that feast on acorns in the forest, is especially prized, and expensive (some of the legs are wrapped in gold leaf before shipping). One of my favorite purveyors, Great Ciao, carries the creme de la creme Iberico ham from a company called Fermin, here's a brief snippet:
"At Great Ciao we carry a few ibérico products from FERMIN. The Serrano, which is 75% ibérico, and the ibérico de bellota, which is 100% ibérico. The ibérico bellota is also the famous acorn finished ibérico pig. This means that the pigs begin the montanera (finishing period), between September and February, with an entry weight of between 180 and 200 pounds, and replace at least 50% of their entry weight on a diet of acorns and grasses. This diet changes the oleic acid content of their fat. The higher the content of oleic acid the better the product is for long curing. The fat somehow combines both a rich nuttiness with clean, almost olive oil like, mouth feel.
The fat structure, the quantity of fat and distribution of the fat allows for less salt in the cure, a longer cure, and adds complexity to the final product. The hams are cured for an average of 36 months and are air-cured, taking advantage of the mountain climate surrounding the plant, located in the Las Batuecas Natural Park."
Unfortunately, I didn't have any Iberico ham, but I did have my homemade smoked lamb country ham, which is probably more along the lines of Fenalår, a Scandinavian smoked mutton ham. It ended up being a good problem to have.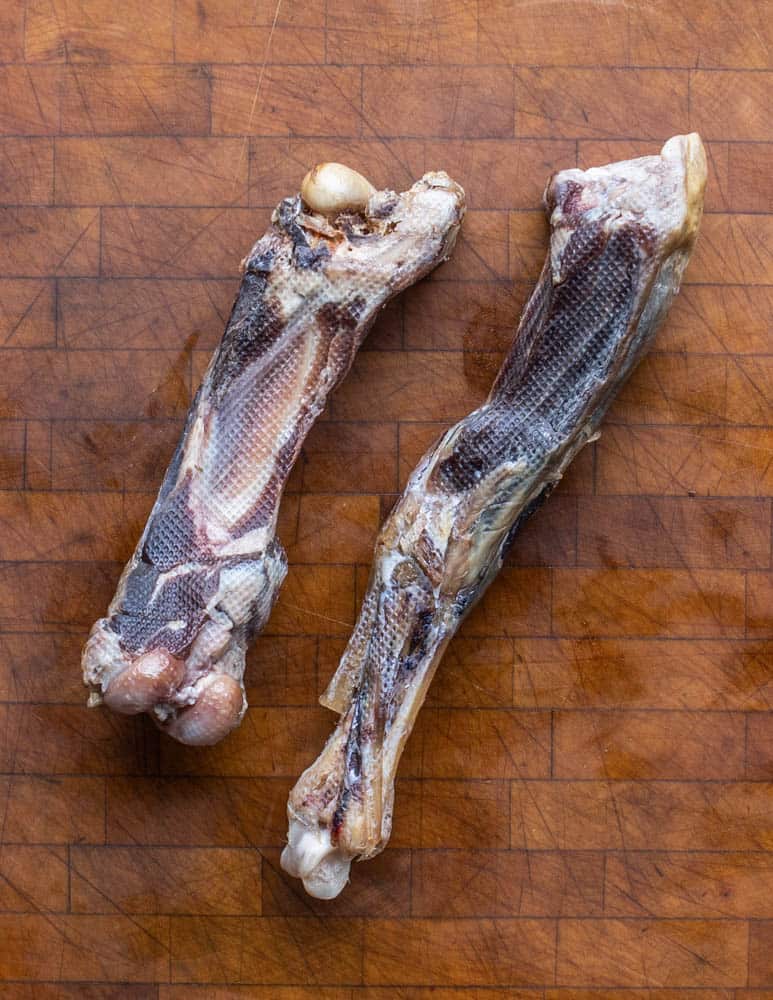 The gentle saltiness the ham adds is a wonderful backdrop for the nettles and cornmeal. I also make broth from the bones of my cured meats, a trick I picked up from working with La Quercia prosciutti-I used to buy prosciutto bones from them just to make broth. Prosciutto bone broth is a nectar of the gods, and even if you don't have any nettles, it's worth trying if you can beg a bone from someone.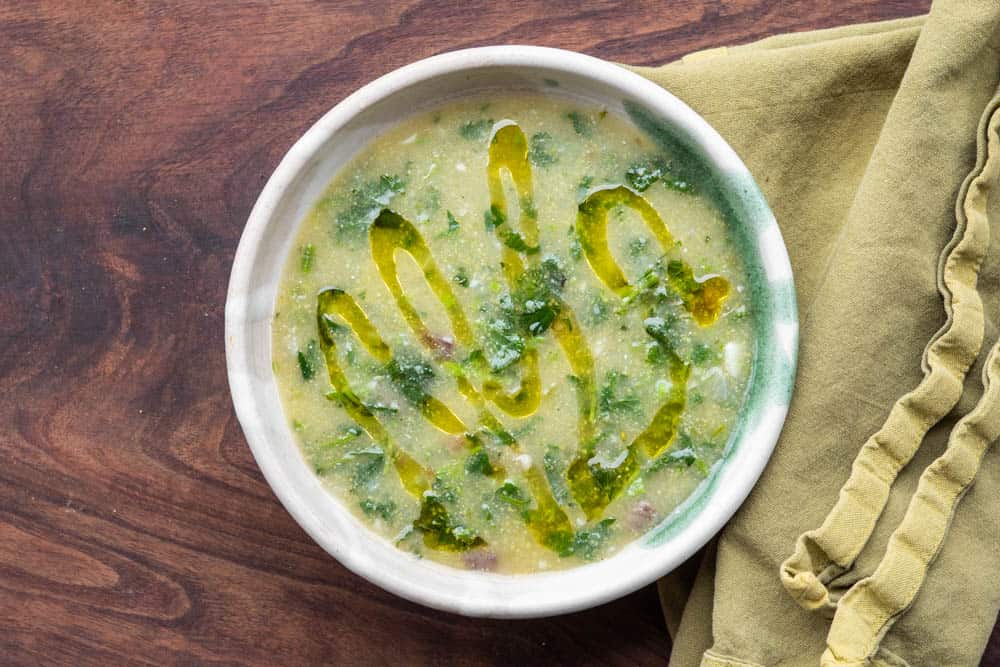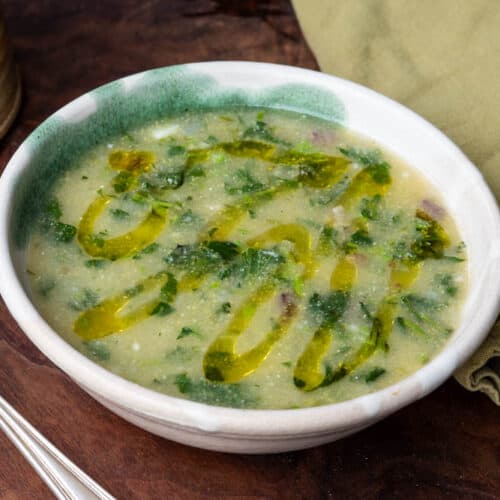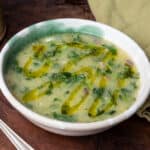 Print Recipe
Sopa de Ortiga from Extramadura
A simple nettle soup scented with Serrano ham from the Extramadura region of Spain. Serves 4 as an appetizer
Ingredients
2

oz

each celery and onion (1.5 stalks of celery and ½ a small onion

½

oz

garlic

2 large cloves

3

oz

Jamon serrano

prosciutto or ham, finely diced (¼ inch)

2

tablespoons

unsalted butter

¼

cup

dry white wine

4

cups

ham or prosciutto stock

cooled

¼

cup

plus 2 tablespoons fine cornmeal

3

oz

fresh young nettles

Fresh cracked black pepper

to taste

Extra virgin olive oil

for garnishing, preferably Spanish
Instructions
Mix the stock and corn meal, whisk, and reserve.

Mince the celery, garlic and onion, then sweat in a 2 quart sauce pot with the ham and butter slowly for 10 minutes. Add the wine and cook off for a minute.

Whisk the stock-cornmeal mixture, then pour into the pot, bring to a simmer, and cook for 15 minutes or until the cornmeal is tender, stirring occasionally to prevent clumping,

Meanwhile, using gloves if your scared of nettles, or if the nettles are large, or using scissors, cut the nettles into small pieces. I like to ball the nettles up, slice them, then rotate the ball 180 degrees and cut the other way for a rough dice. Add the nettles to the pot, stir, then cook for 5-10 minutes more on low heat.

Taste the soup and adjust as needed (it should not need much salt, especially if you used ham or prosciutto broth.

Ladle 1 cup of the soup into small bowls or soup cups and pass the olive oil and fresh pepper at the table.

After cooling, the soup will tighten, refresh it with a splash of water to restore it's consistency.
Notes
Many different greens can be used here, such as wood nettles or lambs quarters. 
Nutrition
Calories:
464
kcal
|
Carbohydrates:
4
g
|
Protein:
38
g
|
Fat:
31
g
|
Saturated Fat:
12
g
|
Polyunsaturated Fat:
3
g
|
Monounsaturated Fat:
13
g
|
Trans Fat:
0.2
g
|
Cholesterol:
113
mg
|
Sodium:
2094
mg
|
Potassium:
535
mg
|
Fiber:
2
g
|
Sugar:
0.4
g
|
Vitamin A:
666
IU
|
Vitamin C:
2
mg
|
Calcium:
127
mg
|
Iron:
2
mg