Today, I have for you one of the best stinging nettle recipes I've tasted to date. Turkish nettles? Oh yes.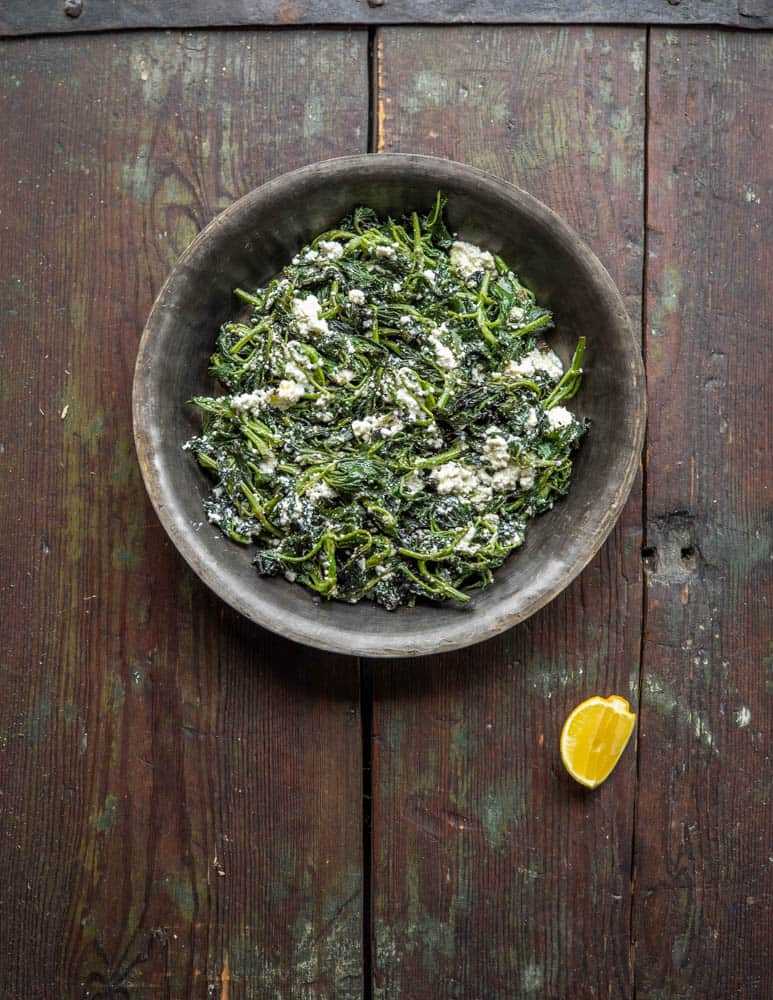 I'm unsure of the exact species of nettle that might be cooked in the Middle East, as there's a number of nettle genera eaten around the world, like the giant Nepali nettle (Girardinia diversifolia which, is also an important crop used to make textiles to this day).
My educated guess is that Urtica pilulifera (Roman nettle) is used here as I've seen it in ethnobotanical accounts of the region, and Isirgan is also a regional name for the plant.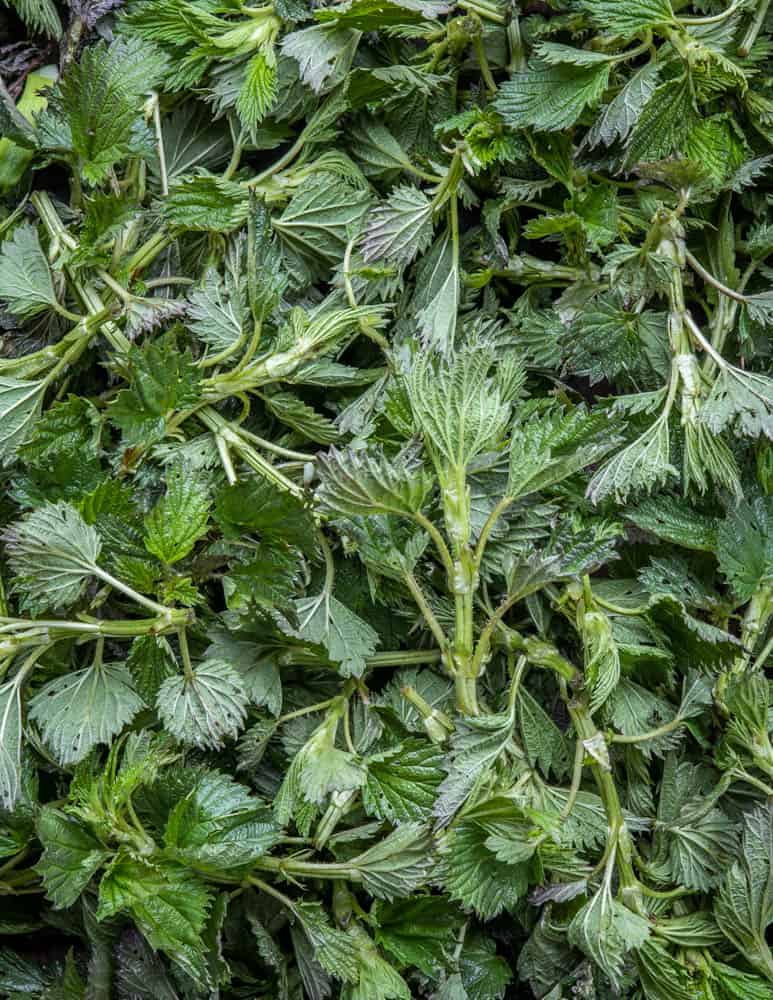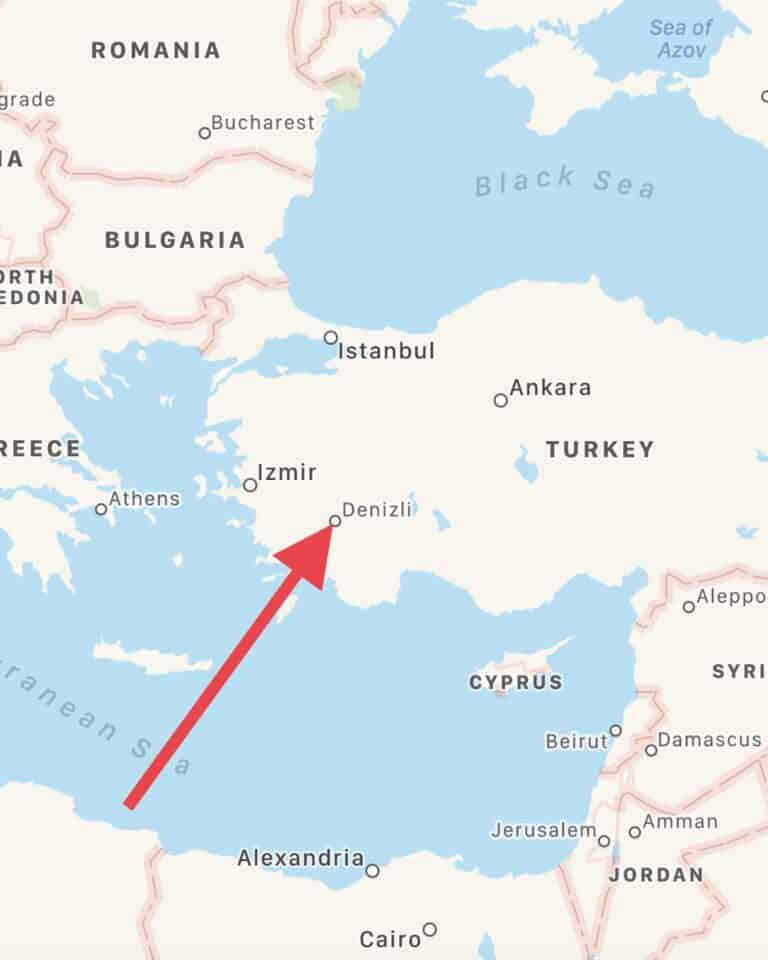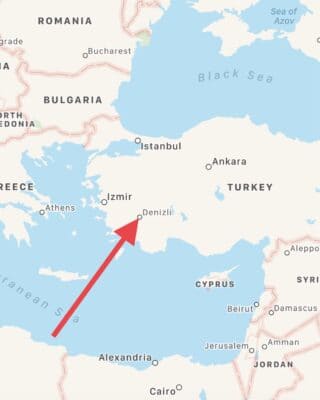 I do know the colloquial name for nettles of the region though, which is ısırgan, and, when combined with the regional curd cheese called lor, as far as I can tell, might be described as: Isirgan Otu Salatasi (nettle salad) Isirgan Buğulaması (steamed nettles) or the longer Lor Isirgan Otu Salatasi (nettle salad with curd/cheese).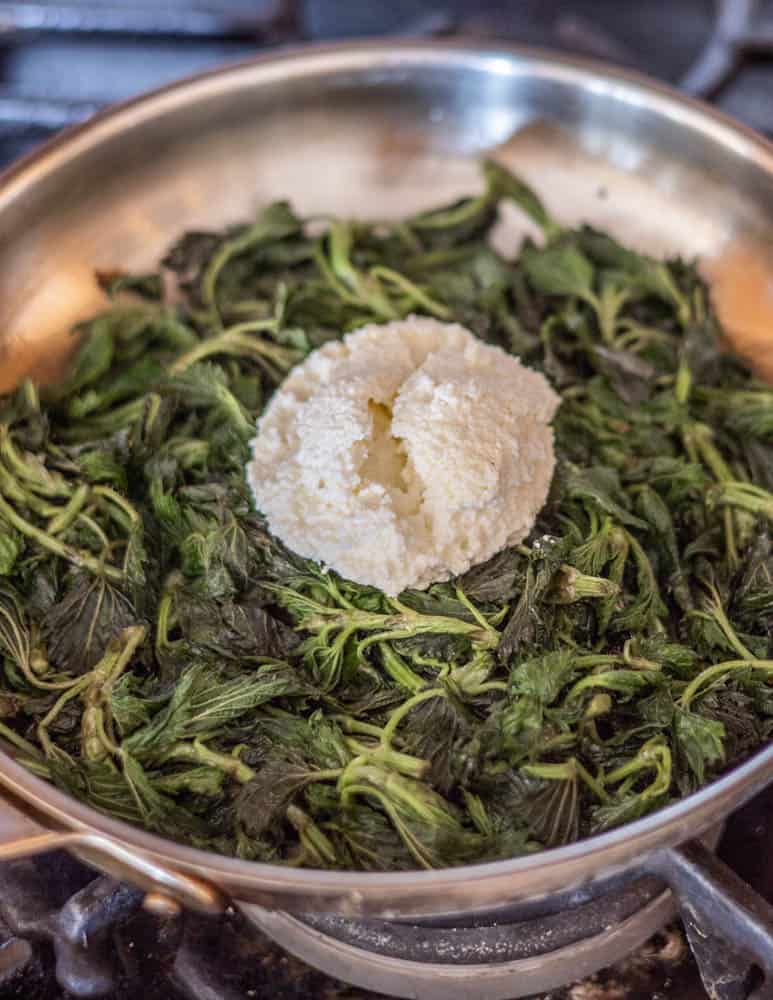 Whatever you call it, it's a novel, delicious way to have nettles. Interestingly enough, there's a number of Turkish websites that appear to suggest serving nettle salads with cheese and a few garnishes where the nettles are literally raw.
Maybe there's something lost in translation there (chime in if you can clarify) but I don't suggest experimenting with eating a salad of raw nettles, however young, unless you want to teach someone a lesson.
Steaming Nettles
The hidden gem you should squirrel away here is hidden a bit in the recipe: the nettles are steamed. Most of the time when nettles are cooked, people recommend blanching them to denature the stingers, after which the nettles are cooked a second time.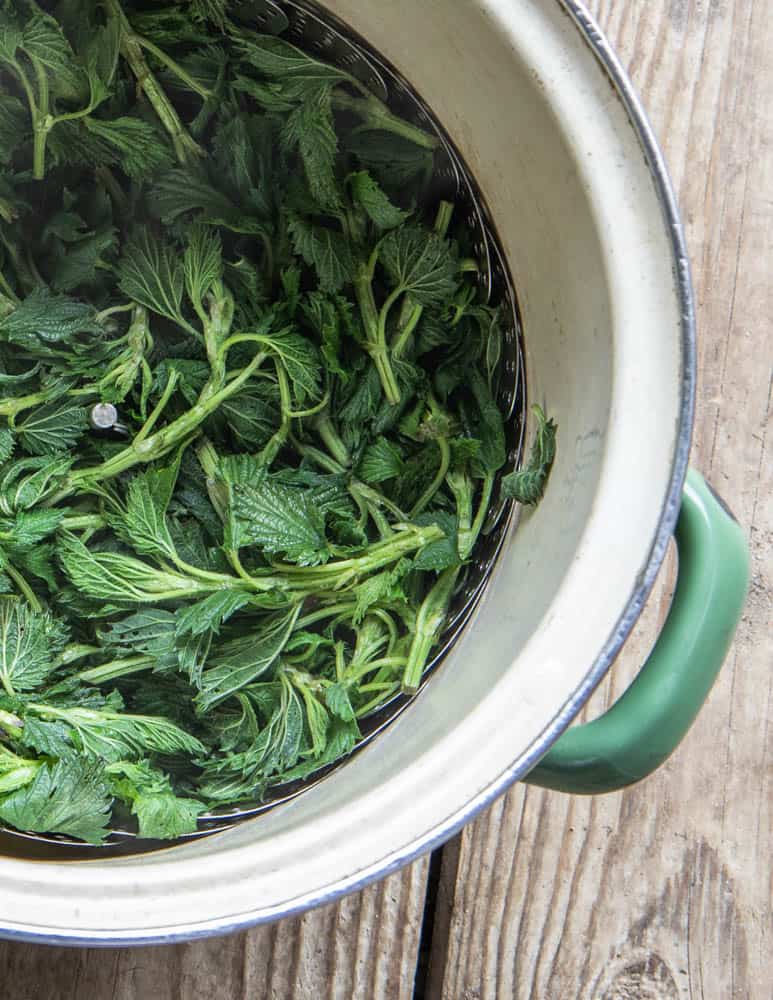 Blanching nettles is is tried and true, but anyone who's done it will know that the leftover blanching water is a deep green—a clue that blanching removes more from the nettles than their sting.
Steamed nettles, like you might expect, taste more of themselves. With Urtica dioica/common nettles, this is a chlorophyll green flavor so strong and concentrated it tastes nearly aquatic.
If you've ever pureed nettles into a soup, you may know the flavor. I crave the strong, assertive flavor of nettles, but if you have children (or a partner with a childish palette) you could blanch them here to calm the flavor and the dish wouldn't suffer for it.
The way that the steamed nettles mingle with the mild cheese and olive oil scented with garlic is just magic, and a dash of crushed red pepper flakes is welcome too. Give it a try with your next basket.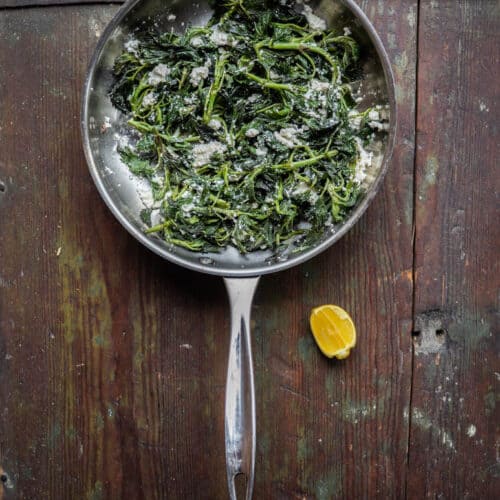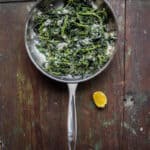 Print Recipe
Turkish Nettles (Isirgan Buğulaması)
A traditional salad of steamed nettles mixed with garlic-scented oil and curd cheese from the town of Denizli and the surrounding region of Turkey.
Equipment
1 Steamer basket

1 10 inch saute pan
Ingredients
8

oz

fresh young nettles*

3

large cloves garlic

½

cup

high quality ricotta cheese

(Calabro brand is the best I've had. The texture is soft like chevre, not grainy like most others)

Kosher salt and fresh ground black pepper

Pinch

crushed red pepper flakes

optional

3

tablespoons

extra virgin olive oil

plus more for serving

Fresh lemon wedges for serving

optional
Instructions
Submerge the nettles in a sink of cold water, then allow to drain in a colander. Put a steamer basket in a tall pasta pot, and fill with water (roughly 2-3 cups) until it almost touches the bottom of the steamer basket.

Put the lid on the pot and heat on high until the water is boiling and the pot is ready, then add the nettles, handling them with tongs if you're scared of their sting*, put the lid on the pot and set a timer for two minutes.

After three minutes, taste a nettle to make sure you like the texture (older nettles, or those with a higher proportion of stem may take longer, and preferences can vary).

Meanwhile, crush the garlic cloves with the back of a knife, then heat in a 10 inch saute pan or similar with the oil on medium for at least 10 minutes, swirling the pan occasionally until the garlic is toasty browned on all sides, but not burnt.

Remove the garlic and discard, thanking it for it's service.

Add the nettles straight from the steaming pot to the oil. If the pan is very hot be careful so you don't splash yourself. The nettles added en-masse here will cool the pan down very quickly, so don't worry about violent splatters too much.

Stir the nettles to coat with the oil, seasoning with a pinch of salt and pepper and the pepper flakes, if using. Add the cheese and fold it in. You're not sautéing the nettles here-just combine them with the cheese and warm it up.

The cheese should not be aggressively mixed, part of the character of it (high quality ricotta especially) is the texture of the small curds.

Heat until the contents of the pan are just hot throughout, double check the seasoning for salt and pepper and adjust until it tastes good to you. Serve warm or room temperature.

Pass extra virgin olive oil and lemon wedges at the table, if using.
Notes
The size 
Fresh young nettles about 4 inches long are perfect here. If you're nettles are older consider roughly chopping them after steaming to make for easier eating. 
The sting 
The sting of Utrica dioica is not bad when they're young but will increase with age, and some species (wood nettle / Laportea canadensis) have a much more intense sting that others.
Nutrition
Serving:
4
oz
|
Calories:
233
kcal
|
Carbohydrates:
8
g
|
Protein:
3
g
|
Fat:
21
g
|
Saturated Fat:
3
g
|
Polyunsaturated Fat:
2
g
|
Monounsaturated Fat:
15
g
|
Sodium:
5
mg
|
Potassium:
379
mg
|
Fiber:
8
g
|
Sugar:
0.3
g
|
Vitamin A:
2280
IU
|
Calcium:
546
mg
|
Iron:
2
mg
More