Walnut ketchup is an old sauce from a time when the word ketchup or catsup referred to anything but a sauce made from tomatoes. It tastes a bit like steak sauce, but it's made from unripe, green walnuts instead of a mix of spices.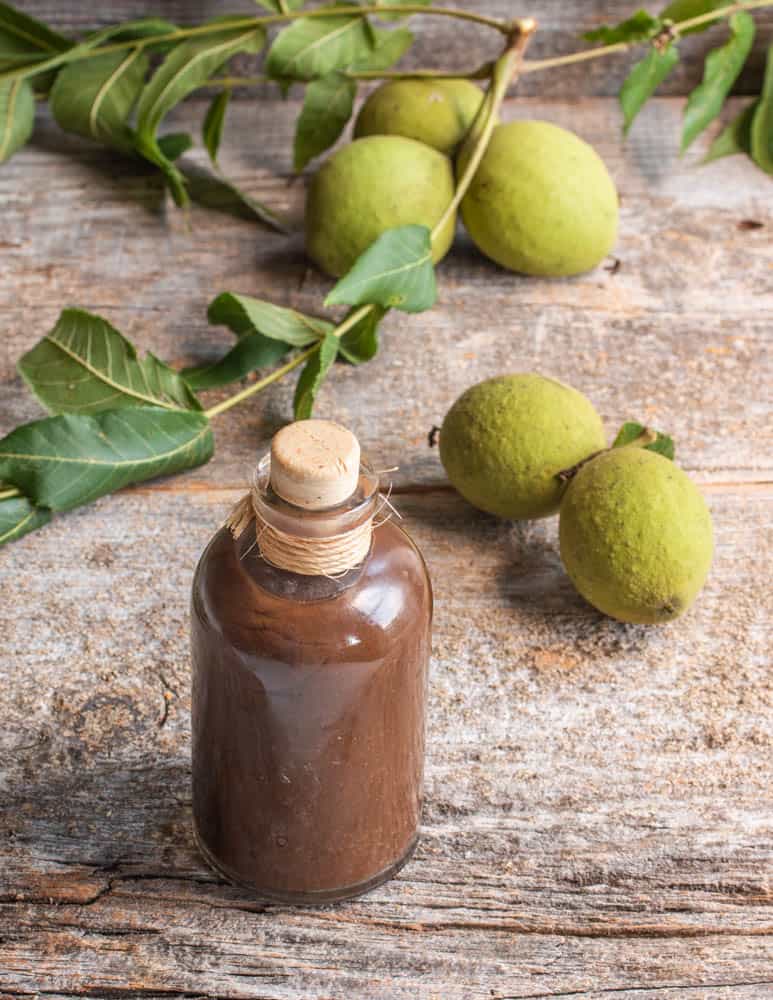 Originally a British recipe, the sauce is still made and sold in bottles to this day, along with other sauces of the same name (mushroom ketchup, for example). Interestingly, I see more recipes for walnut ketchup in books detailing cooking from the 19th century in the United States.
I'd wager that the sauce may have been more popular there that it was originally in Britain, but that's just speculation. One thing that's not up for debate, is that the sauce traveled to the United States through British immigrants.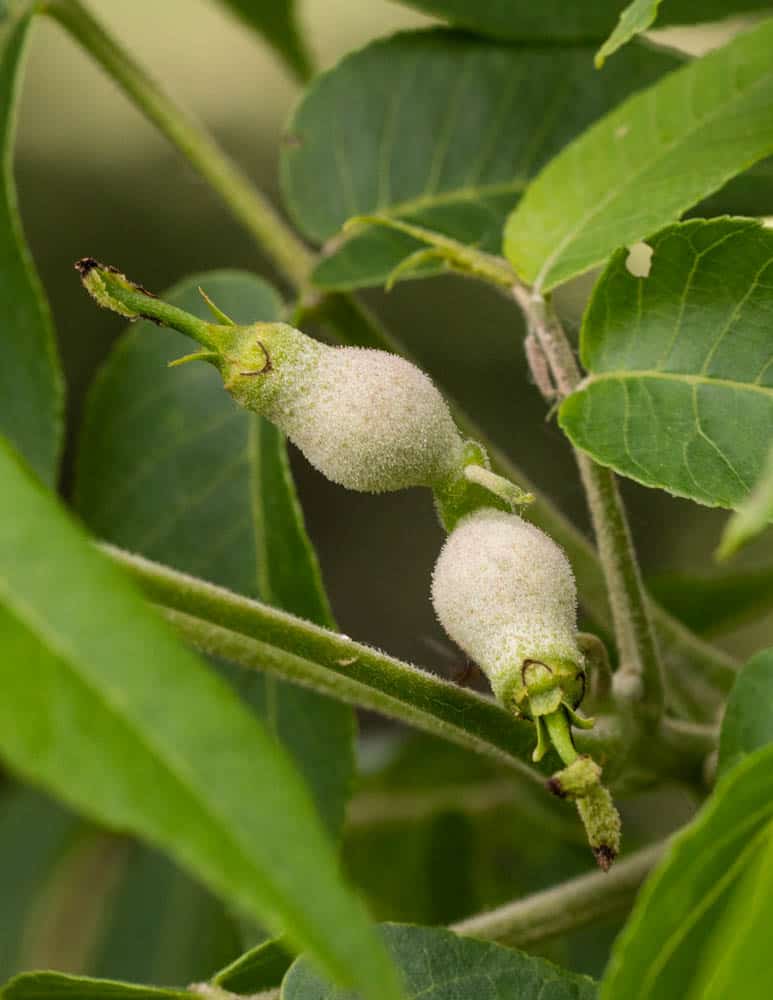 Given the thrifty nature of the time, It makes sense that the sauce would catch on in North America, as black walnut trees are widespread, and, generally speaking, most people in the United States can probably get access to black walnut trees with a short drive.
Traditional Methods
Like a lot of traditional recipes, there seems to be as many ways to make ketchup from walnuts as there are stars in the sky. Good Housekeeping in Old Virginia, one of my favorite 19th century cookbooks, lists at least 3 or 4, with all of them being very different. Here's some examples.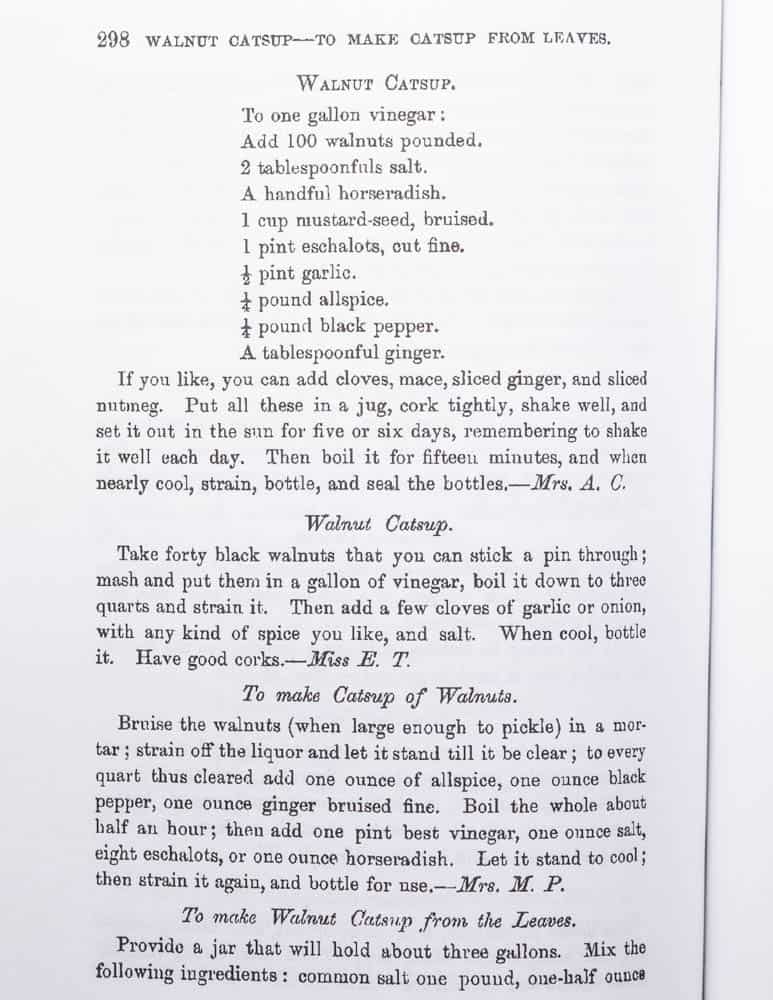 Looking at the recipes you can see there's some big differences in the way the sauce was made. I've made variations of all of the recipes listed above. The most difficult was by far the third recipe that calls for "bruising the walnuts" and straining off their "liquor".
Let me tell you, there's not a lot of juice in a black walnut, and bruising/crushing them hard enough to remove any liquid at all turns into a black mess that will stain your hands and anything around it for weeks to come.
All of the traditional recipes I've recreated yield a sauce that's thin, and similar to Worcestershire. If that sounds good to you (it is good) make a note to try them.
The recipe I share in this post is thicker, making it easier to use as a sauce for most people. That being said, using some traditional walnut ketchup in places where you'd typically add Worcestershire works well.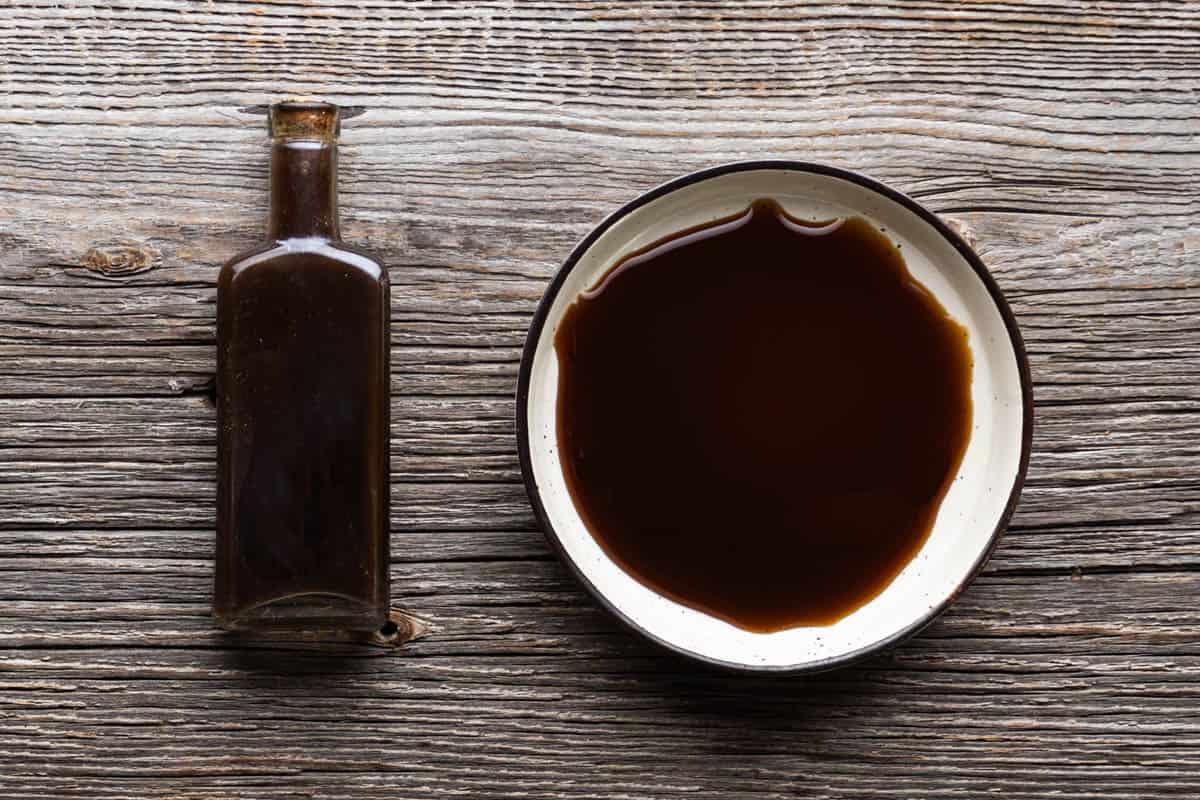 Making a modern recipe
The key with this for me was all about finding how to control the extreme tannins of black walnuts, while coaxing out their natural citrus flavor and ending up with a finished product that was jet-black.
Some recipes recommend repeated soaking, and draining (leaching) but this made a final product that lacked color and came out grey-off-green: not attractive.
The soaking leaches out tannins, and is useful, but repeated soaking and draining also leached out the natural citrus flavor of the walnuts I wanted to capture. So, after about 5-6 batches, 500 or so passive hours of work, and a good 120 walnuts, I developed a hybrid method, and it scores high on every note.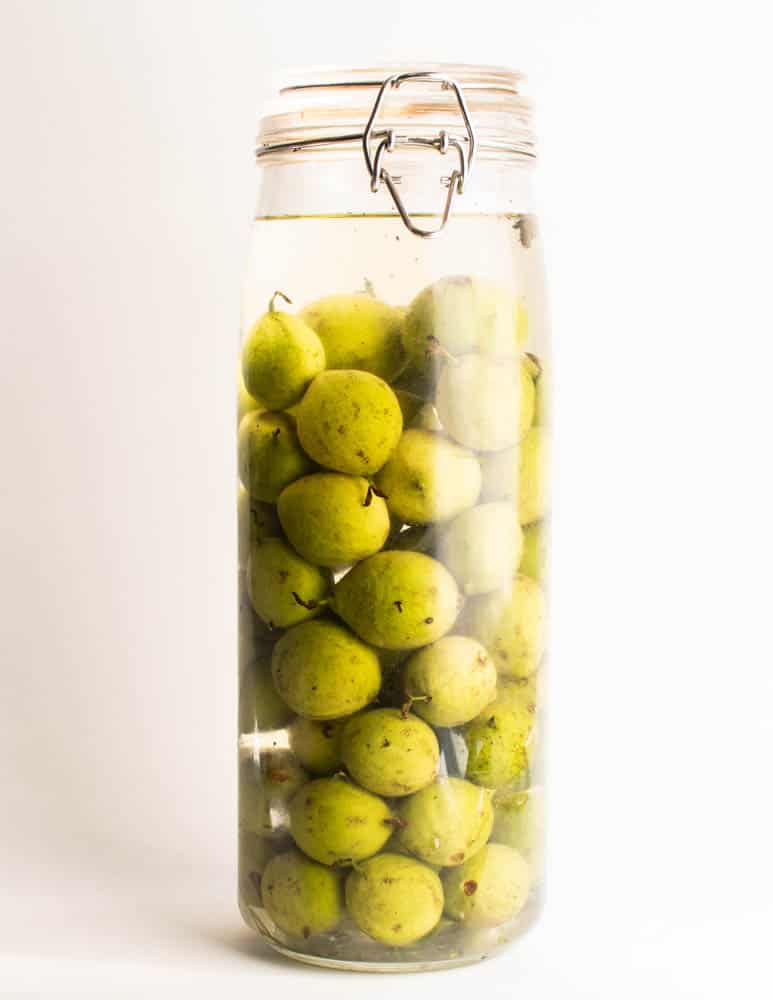 In my version the walnuts are soaked, but the water is only discarded at the end of 7 days, so that the citrus aroma continues to penetrate the walnuts as they naturally ferment in the water, but enough soaking liquid is discarded to noticeably soften the tannins we associate so strongly with black walnuts in things like vin de noix and nocino.
To fix the grey-green color, after leaching, the walnuts are left out for 24 hours, which oxidizes and blackens them, which in turn lends the jet hue to the finished sauce.
The end result is a condiment that tastes a bit like black walnuts smell, although the aroma will fade into it's own thing over time.
The journey to victory, as well as the epic fruit fly battle of emanating from multiple gallon jars of fermenting walnuts, during the peak of summer, was one of the more difficult projects I've done.
How to use
Once you've made your sauce, you might wonder what the best ways to use it are. I like to tell people to think of it like steak sauce, but not just for steak. It's a tart, spiced, aromatic condiment you can use in small amounts to spice things up-and you don't have to use it all by itself, especially if you find the flavor a little strong for you. Here's a few ideas.
Dash some walnut ketchup on top of fried potatoes. I have one friend who even puts it on his potato chips.
It's a good sauce for proteins, especially beef and pork. Fish can work too, but I like to warm the sauce up a bit and whisk in some butter to smooth it out.
Dashed on grilled or roasted vegetables.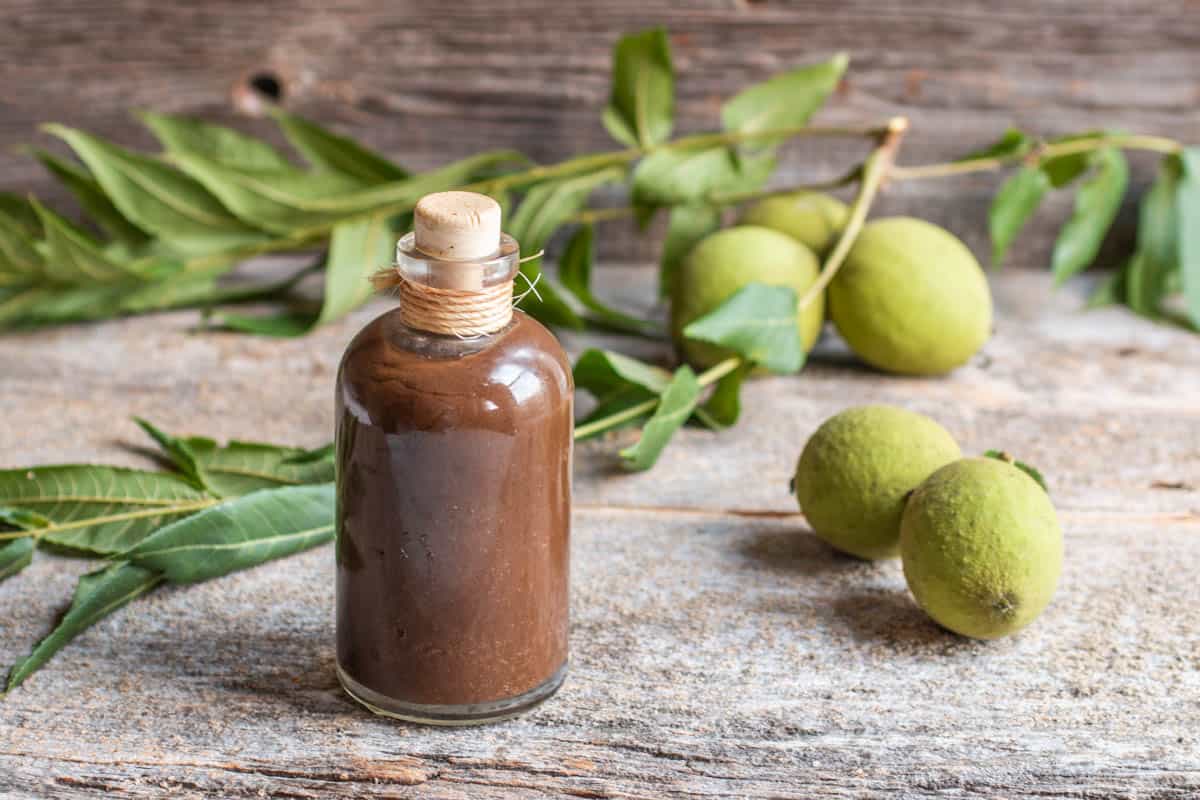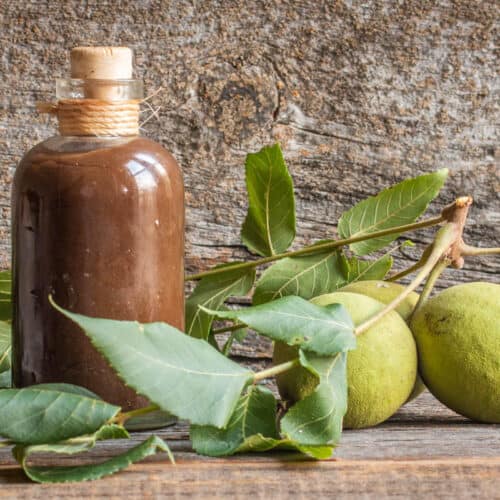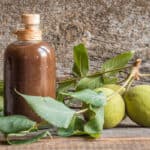 Print Recipe
Black Walnut Ketchup / Catsup
An old-time sauce made from green, unripe walnuts. It tastes a bit like steak sauce. Yield: about 4 cups
Equipment
1 Blender

1 Non-reactive container for fermenting

like an old glass pickle jar
Ingredients
1

lb

young black walnuts or butternuts

3

cups

apple cider vinegar

1

cup

red wine

60

grams

4.5 Tablespoons kosher salt

1

oz

¼ cup chopped fresh horseradish

1

medium onion (1 cup chopped)

1

large clove of garlic, crushed

1

oz

¼ cup chopped fresh ginger

½

tablespoon

each: whole allspice and cloves

1

Tablespoon

black peppercorns

2

oz

anchovies in oil, rinsed

optional but recommended

¼

teaspoon

xanthum gum
Instructions
Soak the walnuts in water for 7 days, without changing the water. The walnuts will ferment naturally. After 7 days, drain the walnuts, crack them, and spread out on a tray until they oxidize and turn black, about 24 hours.

Toast the peppercorns, allspice and cloves in a pan, then grind to a fine powder.

Chop the walnuts coarsely, then transfer to a saucepan with the remaining ingredients except the xanthum gum, bring to a simmer and cook for 15 minutes, covered, until the onions are soft. Transfer the mixture to a highspeed blender, puree, strain, then combine with the xanthum gum and puree again to thicken.

Store the ketchup in a glass jar in the refrigerator. For long term storage, hot pack by pour boiling hot ketchup into a mason jar, screwing on the lid, and turning upside down, allowing to cool and seal. Alternately the ketchup can be canned in mason jars using a water bath.
Notes
How to use 
Black walnut ketchup is a sort of all-purpose condiment. Try putting it in a bottle you can shake from, and trying it on things like roasted potatoes, grilled meat and fish, and roasted vegetables. Some people use it like Worcestershire sauce. 
Nutrition
Serving:
1
Tablespoon
|
Calories:
214
kcal
|
Carbohydrates:
10
g
|
Protein:
6
g
|
Fat:
16
g
|
Saturated Fat:
2
g
|
Polyunsaturated Fat:
3
g
|
Monounsaturated Fat:
10
g
|
Cholesterol:
2
mg
|
Sodium:
1569
mg
|
Potassium:
275
mg
|
Fiber:
3
g
|
Sugar:
1
g
|
Vitamin A:
11
IU
|
Vitamin C:
1
mg
|
Calcium:
38
mg
|
Iron:
2
mg
More
Related