Ever wondered how to cook a green walnut, or what you can make with them? Or maybe you're like me, and you see them plopping on the ground every year, but didn't ever imagine they could be food.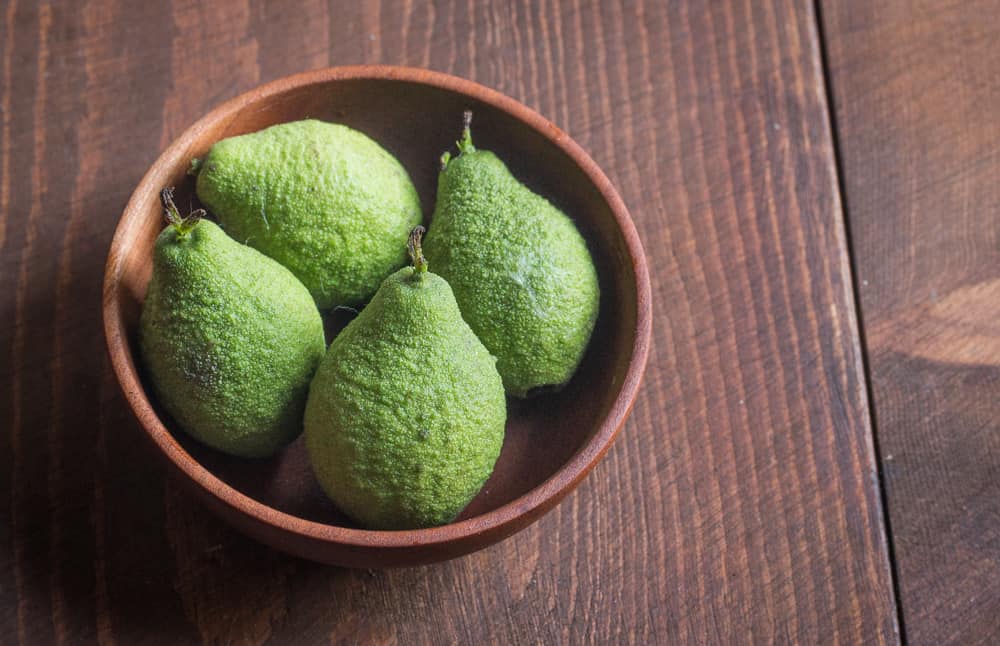 Green walnuts (young, unripe walnuts harvested before the shells have formed) are a traditional food in a number of places around the world and one of the most interesting things I've cooked with.
At first glance, it might seem strange (or awful if you taste them raw) to think about using unripe nuts as an ingredient, but it's real, and I have plenty of fun examples of interesting things you can make with them inspired by traditional recipes. In this post I'm going to cover the basics: how and when to harvest them, as well as some of the things you can use them for.
Types of nuts you can use
I cook unripe black walnuts (Juglans nigra) exclusively, but some traditional European recipes call for English walnuts. I assume they can be cooked interchangeably, but I've only worked with black walnuts myself.
Unripe hickory nuts and pecans, as well as butternuts (which I have used) can probably be used in a similar way, although the aroma of green hickory and pecans I've smelled isn't as intense as black walnuts or butternuts. For the best results, use black walnuts or butternuts.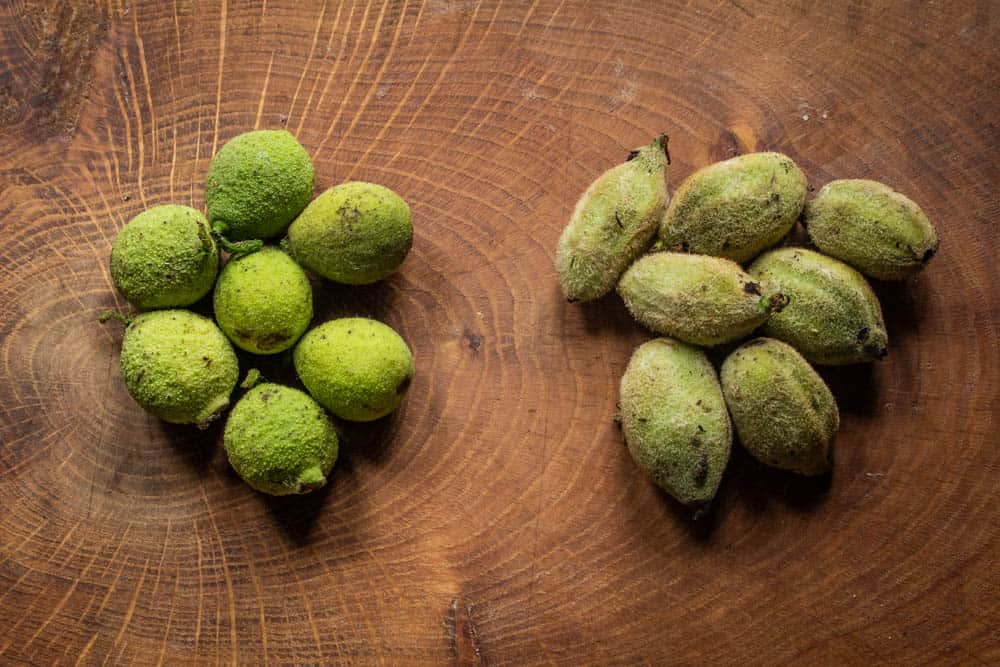 Harvesting
You're looking for meristematic (young) that you will harvest directly from the tree before the shell forms. While it can be tempting, don't harvest green nuts directly from the ground- those have been rejected by the tree and are not good for eating. Look for nuts about the size of a small ping-pong ball, although sizes can vary a bit depending on the individual tree and time of year.
Look for green nuts that are easy to cut
An easy way to tell if a nut has started to form the shell inside is by piercing the green nuts with a paring knife-if you hit resistance, you're too late-try again next year. Cut open a few, especially if you're harvesting from different trees.
If the shell has started to form, you will know. Nuts that are starting to form shells but are still green can be used to make nocino, vin de noix, and infusions as the nuts are discarded after their flavor has been extracted.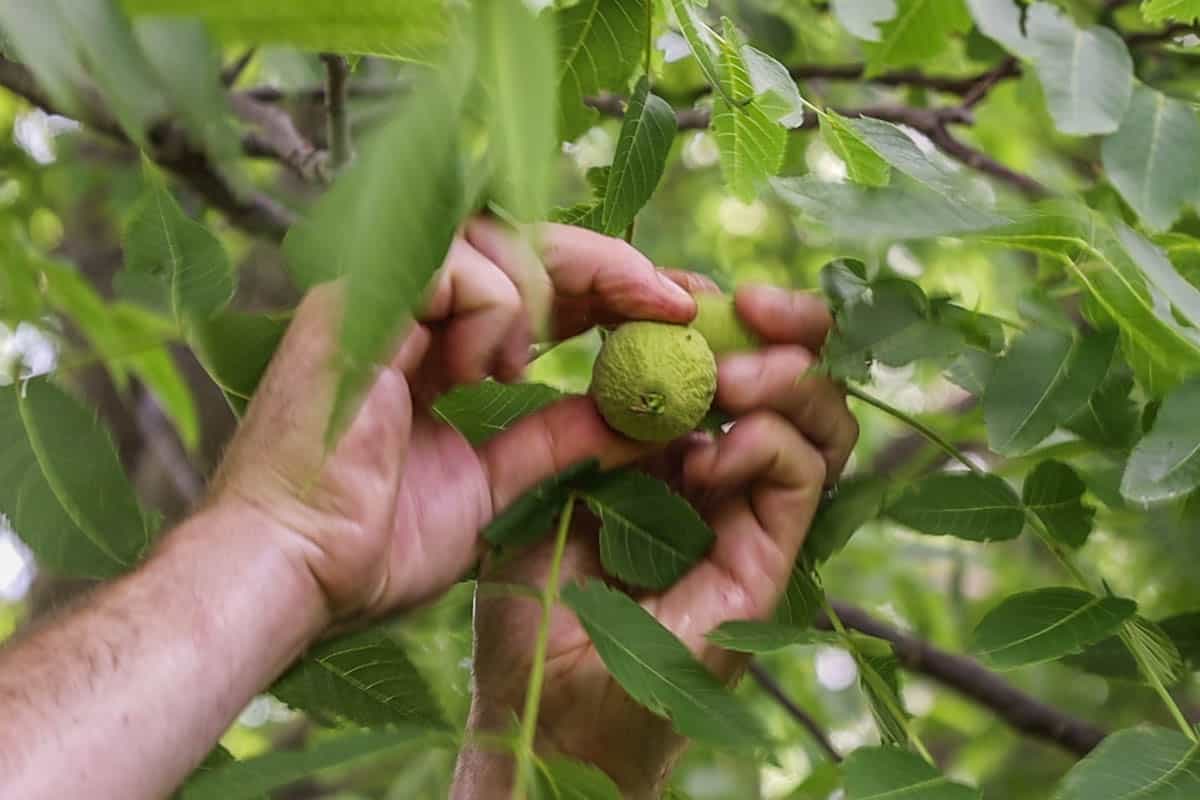 There's a window for harvesting the perfect unripe nut (typically mid-June here in the Midwest where I am) and, depending on what you want to do with them, it can be longer or shorter.
Small nuts can be processing into sauces and and liquors like nocino, larger unripe nuts are the best for making the traditional black walnut jam / preserves-one of my favorites.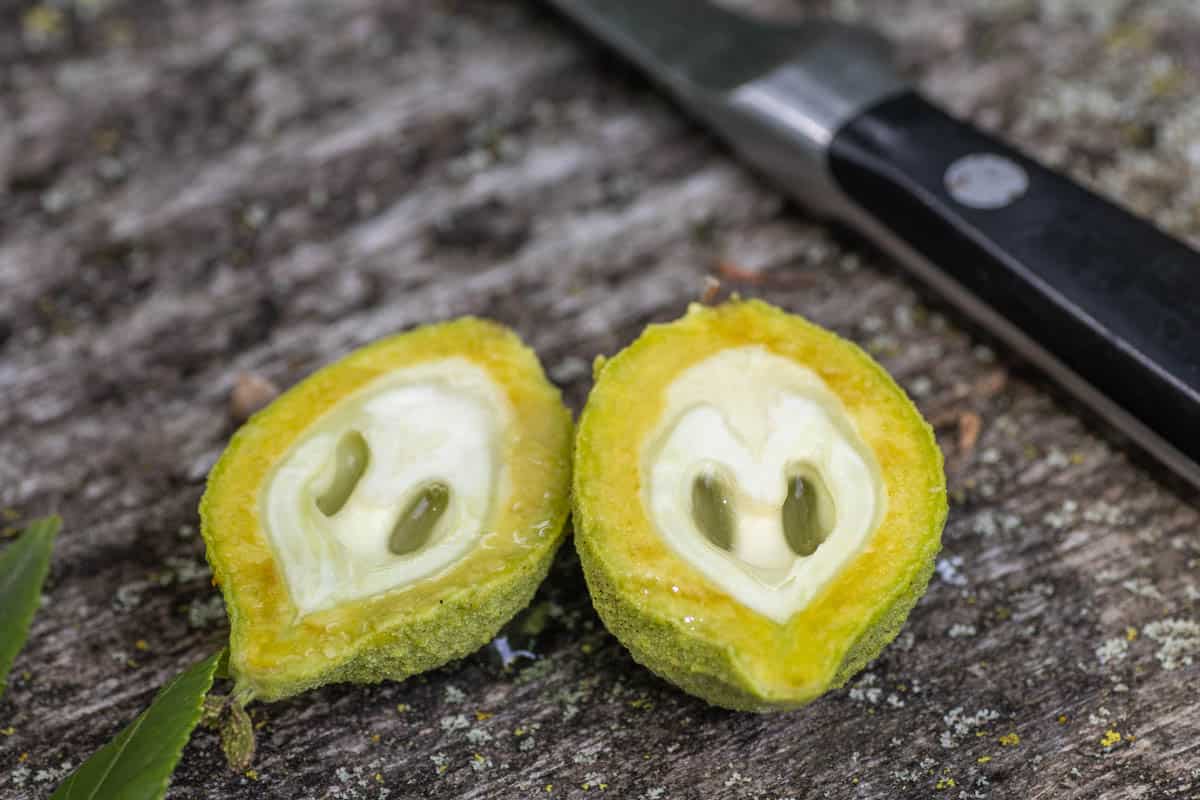 Storing Green Walnuts
After the walnut are harvested I usually refrigerate or keep them as cool as possible. Over time they'll start to discolor and lose their bright green color, but, in a pinch, for a short period of time, they can be stored at room temperature.
I once stored 300 pounds of green walnuts in a garage for three days before the distillery could pick them up to make nocino from them and didn't notice a large issue. I kept the nuts in laundry bins for extra air-flow and it seemed to help. You could probably freeze green walnuts, but I never have as I harvest relatively small amounts and process them quickly.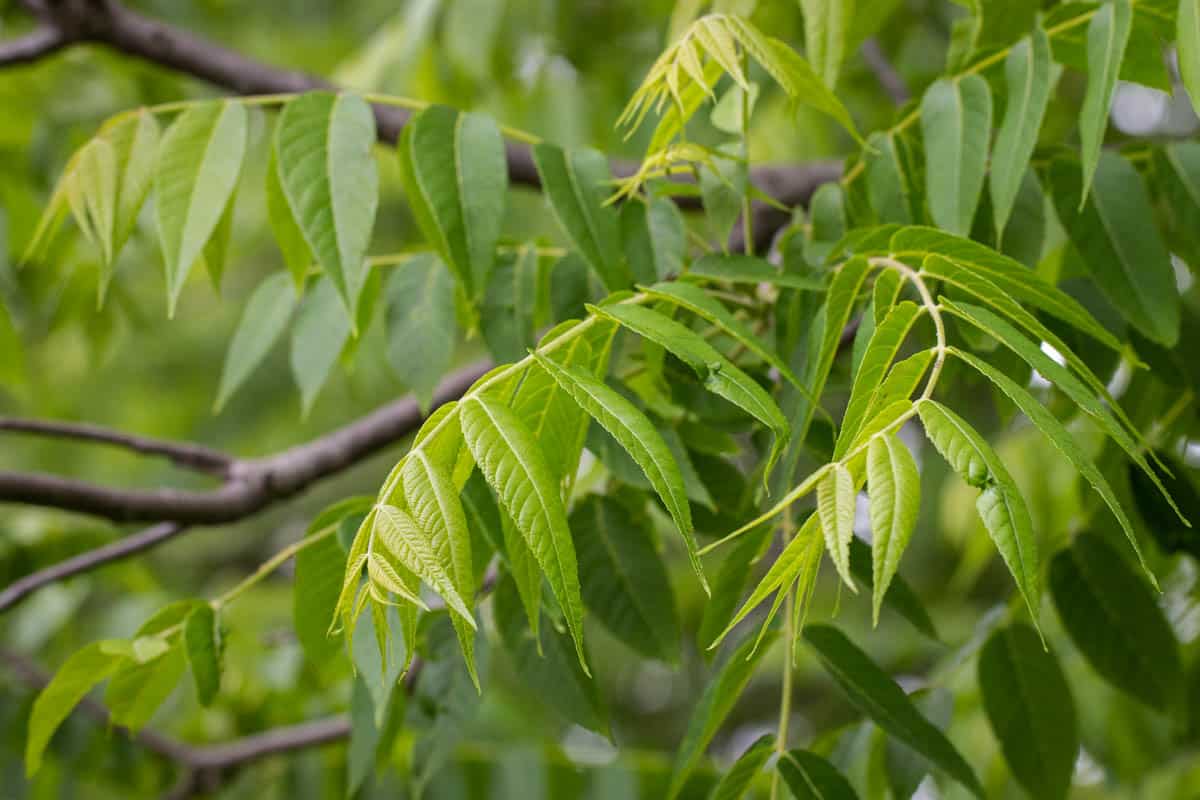 Sustainability
Harvesting black walnuts and the leaves of the tree is one of the most sustainable things I know of. During a mast year, I've seen single trees drop multiple hundreds of nuts. As only so many trees can be supported in a certain area, taking the small amount needed for most green walnut recipes doesn't constitute any sort of tangible threat to black walnut trees.
Squirrels harvest walnuts for food too, but they're so adept and harvesting and caching them that I doubt humans could ever compete with them.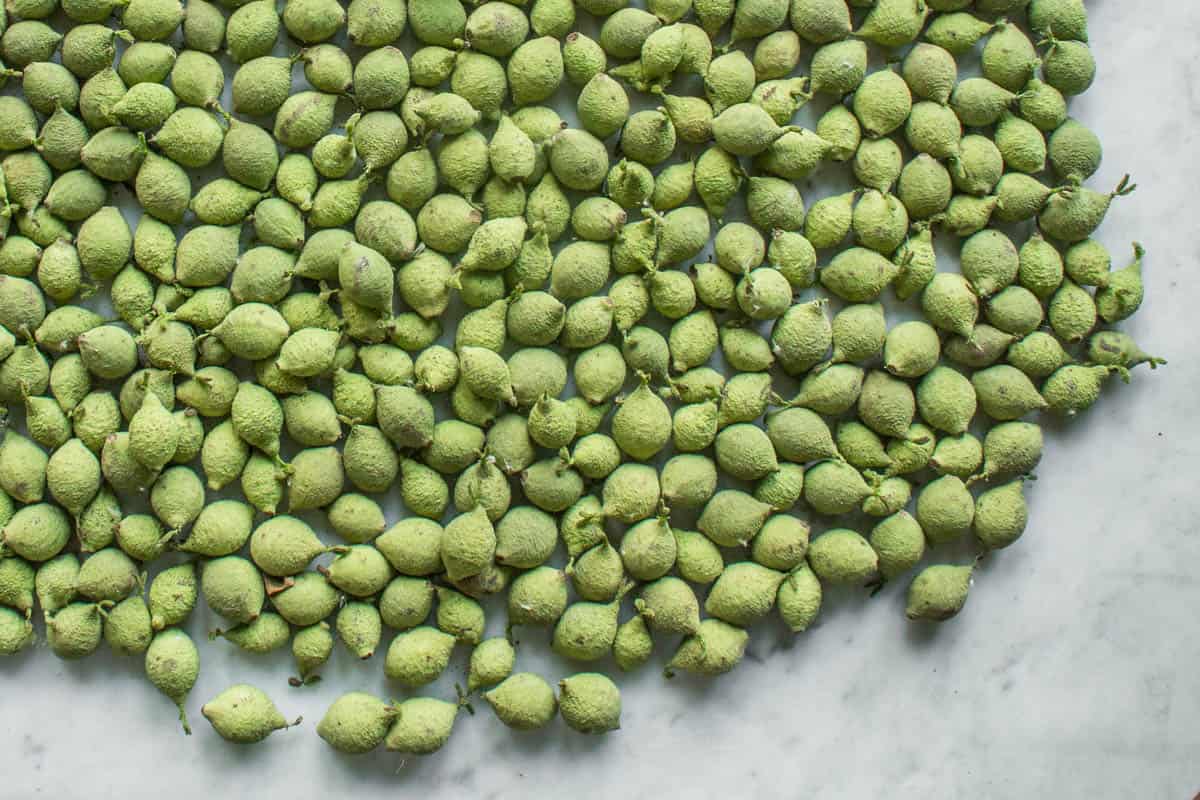 Cooking with Green Walnut Leaves
Unripe black walnuts aren't the only part of the tree that has traditional uses. The young leaves of the tree (and they must be young or they won't have a strong aroma) also have a place in traditional cooking, and I have a number of references to them being used to make piquant sauces from early American cook books.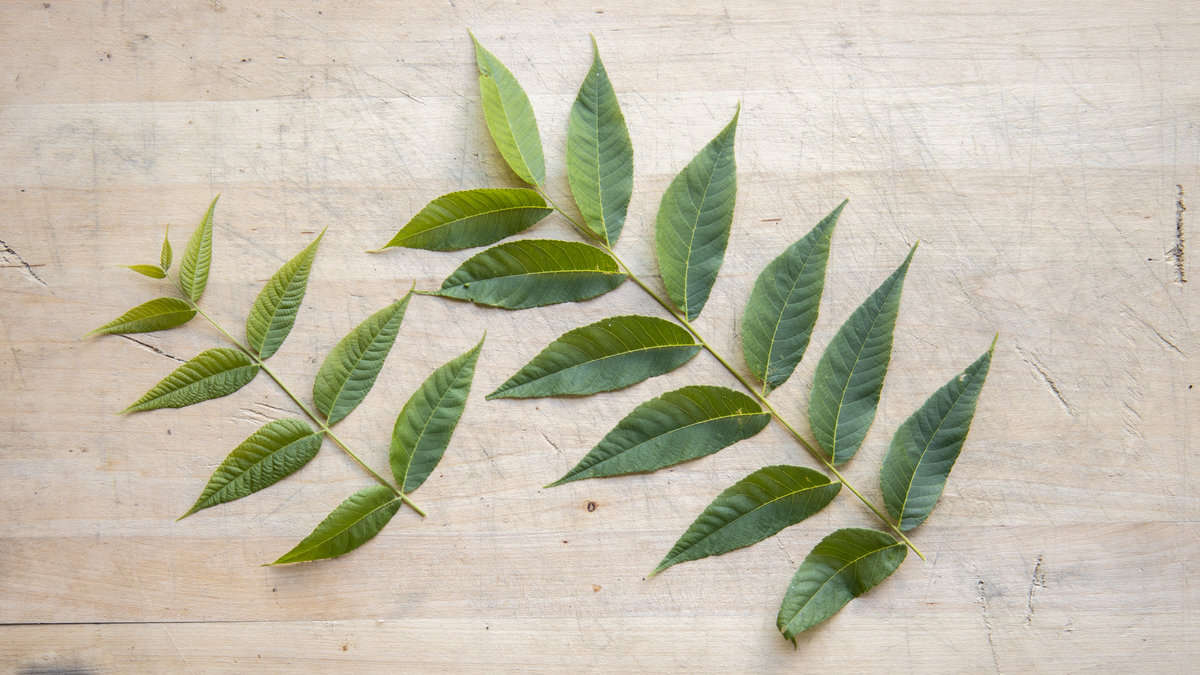 Processing Green Walnuts
Just like with ripe walnuts, green walnuts will stain anything and everything black (the mature husks are also used as a dye). To get around the staining issue, I harvest and process them wearing gloves. If you don't wear gloves, your hands will look like crypt-keeper hands, with the stains remaining up to a few weeks. You've been warned!
Peeling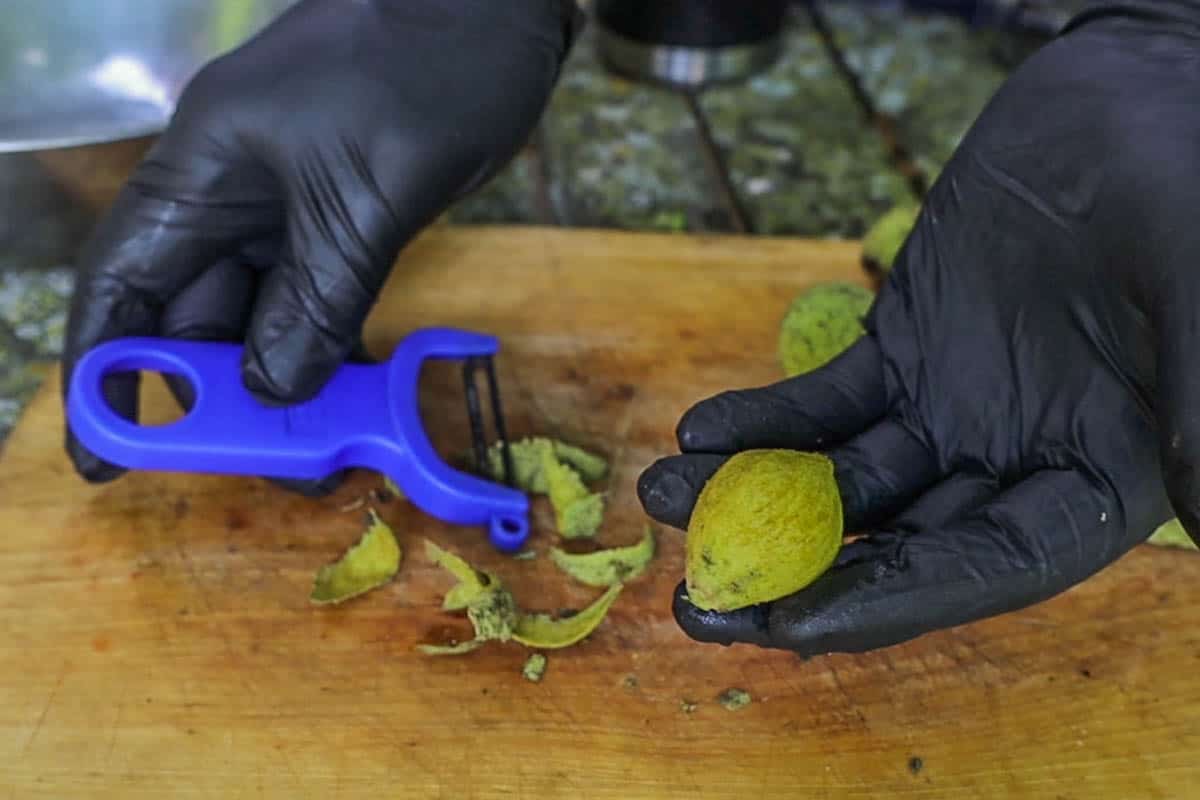 Some recipes call for peeling or paring the unripe nuts. Using a paring knife takes some talent, and most household vegetable peelers aren't good enough. Kuhn Rikon peelers are a standby in professional kitchens and are the best tool I've found for peeling unripe walnuts for making walnut jam/preserves.
Soaking
Many recipes, (sans liquors and infusions) will instruct you to soak your unripe nuts in water for a period of time before proceeding with the rest of the recipe, similar to soaking liver or organ meat in water for a period of time before cooking. Some of the compounds in the nuts, especially tannins and bitterness, are water-soluble, meaning that the longer they're soaked, the more mild the flavor of the finished product can be. It's easy, but it takes some time.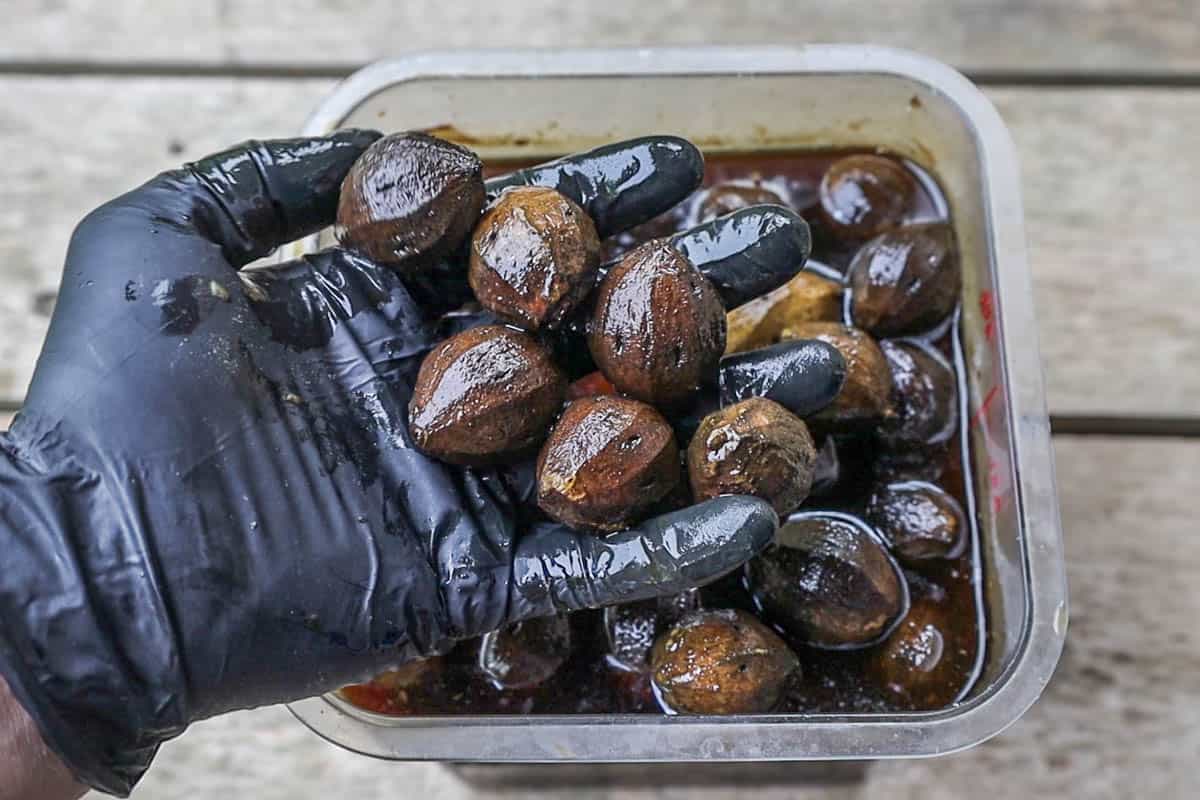 Green Walnut Recipes
There's a surprising amount of traditional recipes-here's all I know of so far. If you have any to add, please leaves a comment. Links to the recipes I have are at the bottom of the post.
Walnut Ketchup
A sort of sour, punchy sauce reminiscent of steak sauce, walnut ketchup is one of the more well-known condiments made from the unripe nuts. There's also recipes for walnut ketchup that call for only the leaves.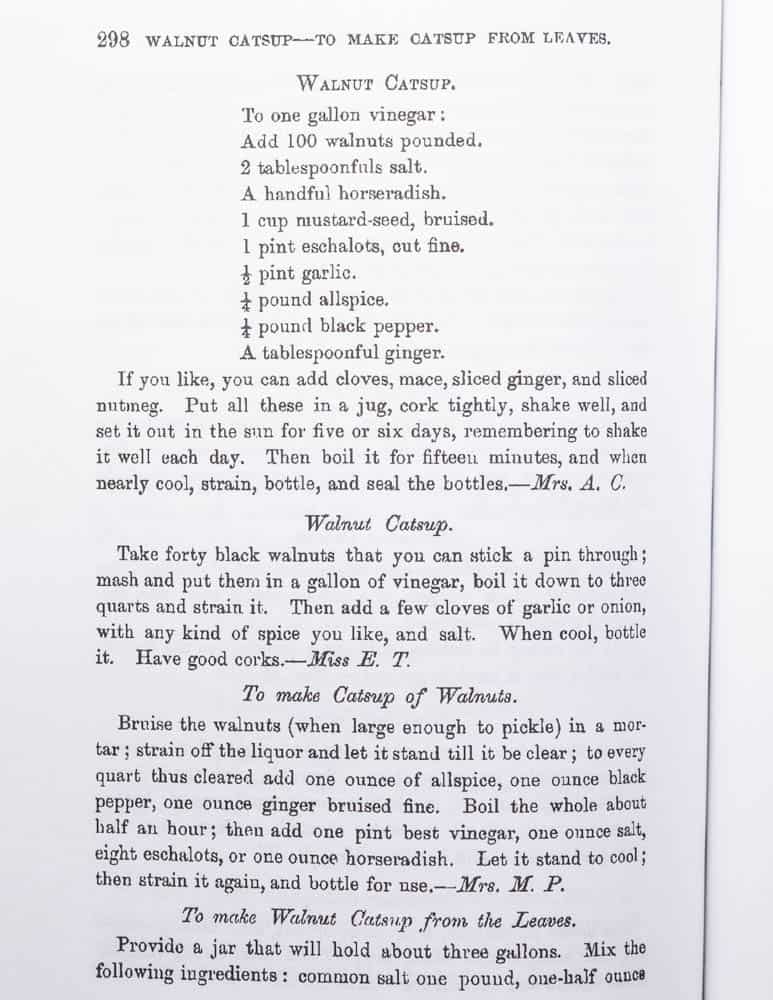 There's lots of variations in the recipes, with some calling for pounding the nuts and squeezing out the juice (I had no success with that) and some just using crushed green nuts to infuse a liquid. My favorite version uses chopped, cooked nuts, with the whole mixture getting pureed into a sauce to finish. The finished product reminds me of steak sauce.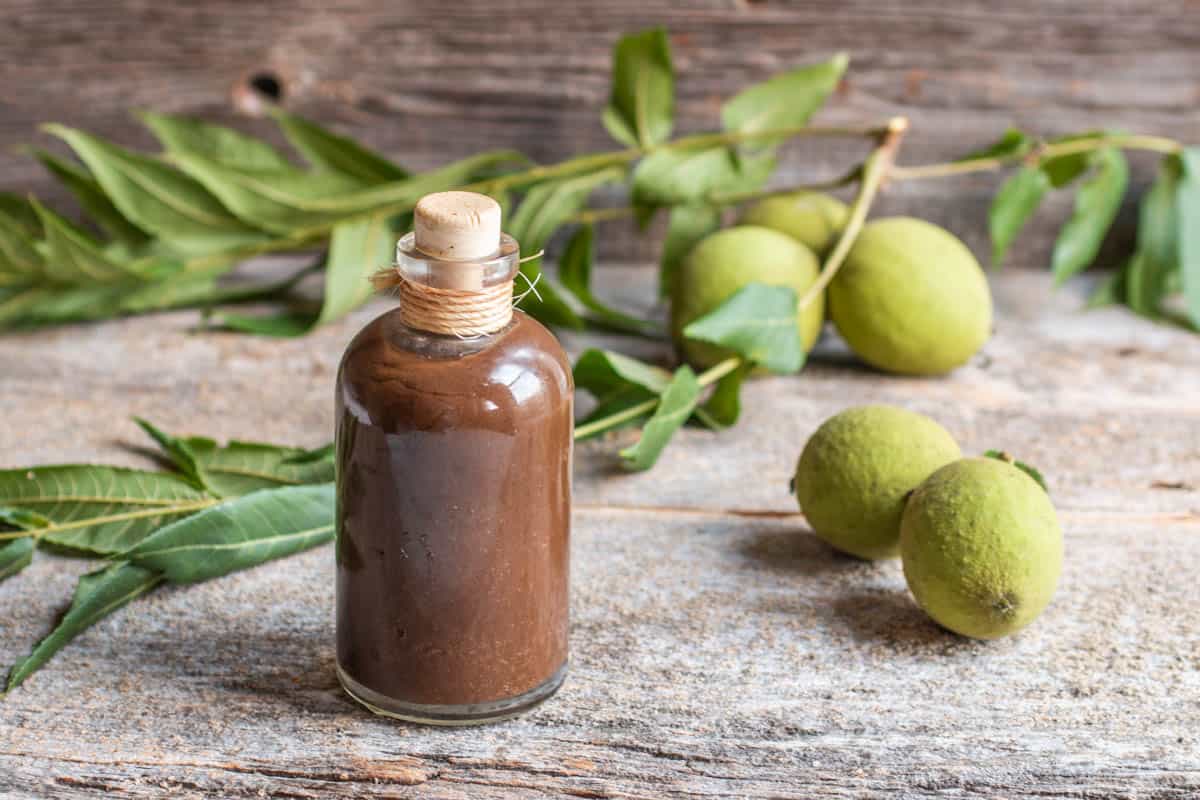 Pickles
Walnut pickles are an English thing I've never understood. The nuts are cut into slices, soaked in water to calm them for a while, then boiled in pickling liquid. I find the texture unpleasant and I don't recommend them personally, but they're a thing.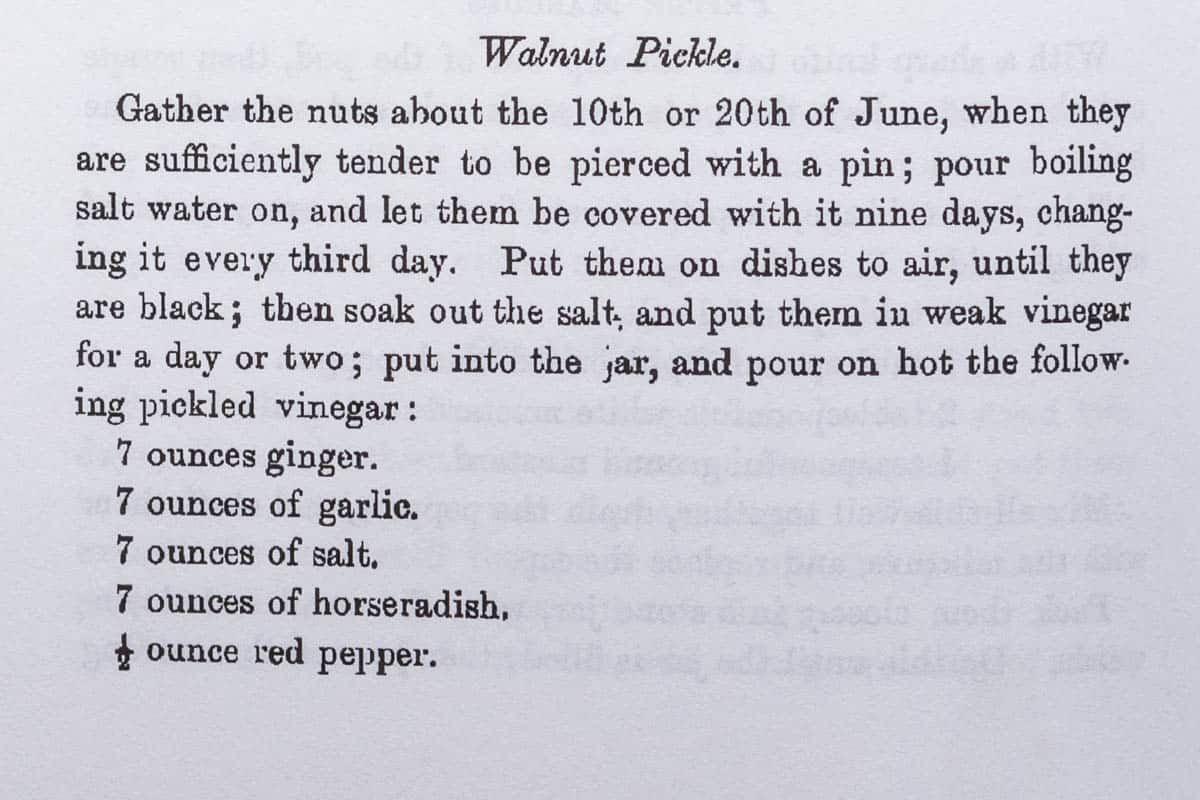 Bay Sauce
Bay sauce is one of the more interesting things here as it doesn't use the unripe nuts. Essentially, it's a thin, heavily seasoned sauce infused with horseradish, onions, salt, and young walnut leaves.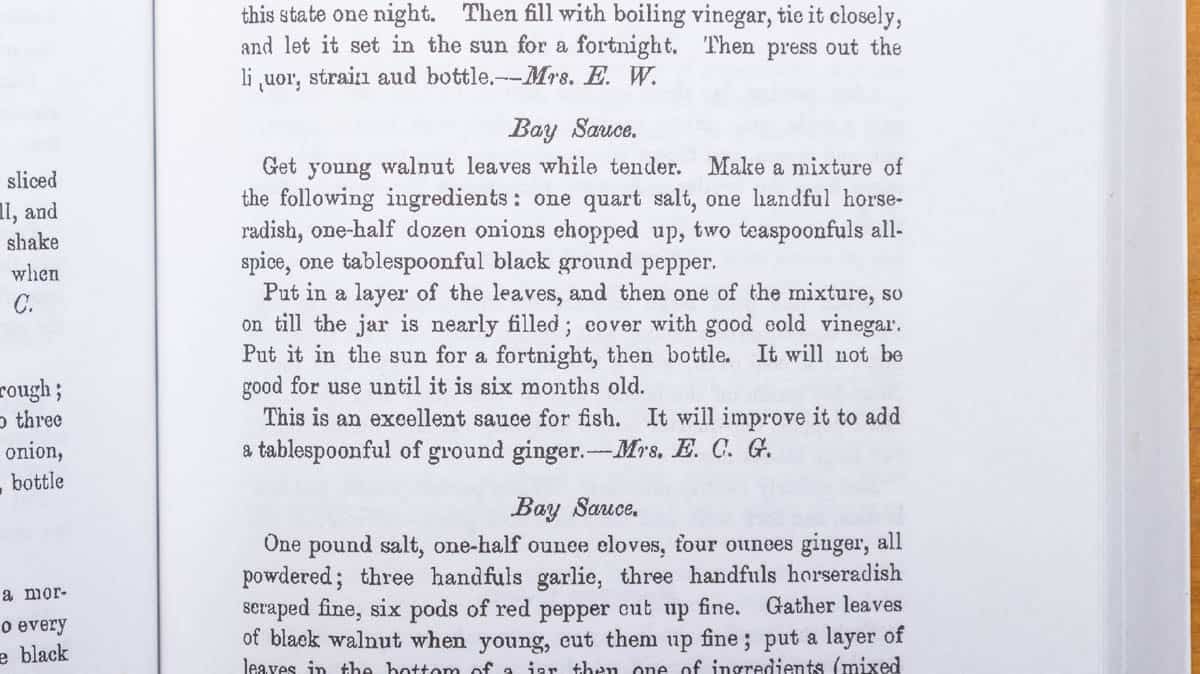 It tastes like a rich infused vinegar-great with fish or added to sauces and dressings. The age of the leaves is important here, and only very young, bright green spring leaves should be used as older leaves lose their aroma as they grow.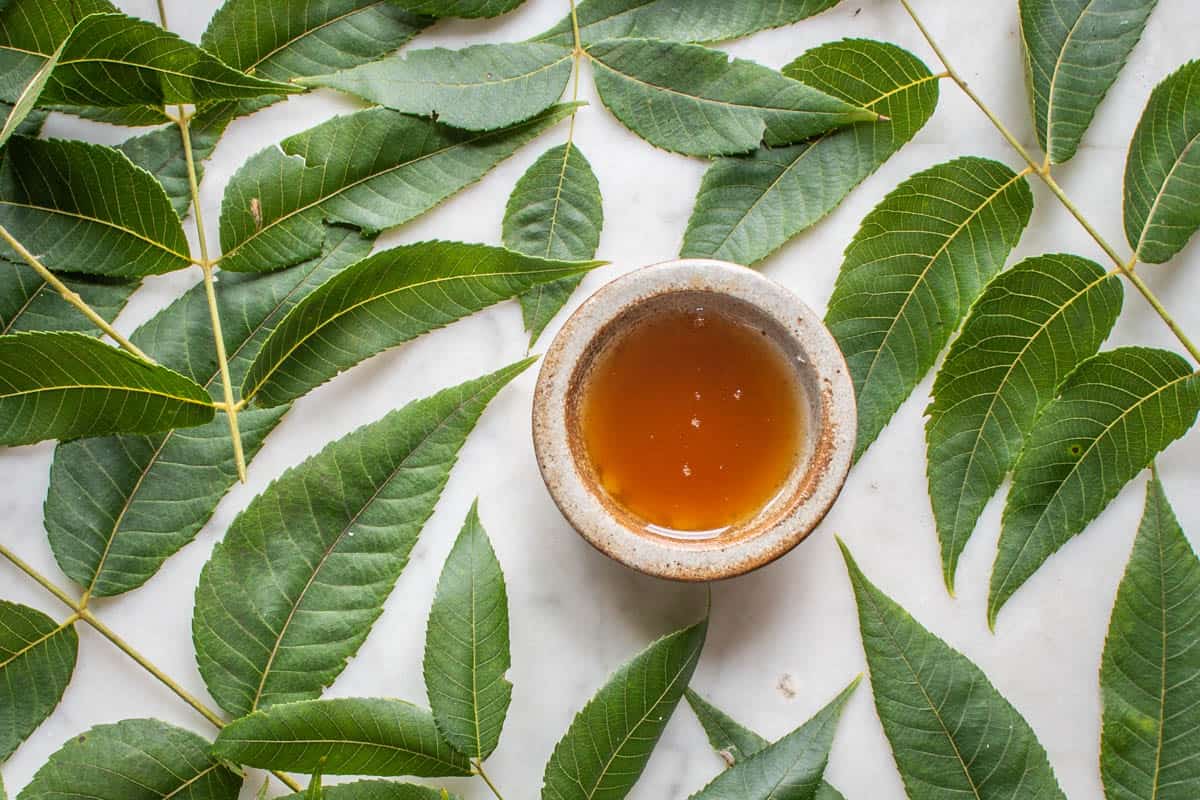 Walnut Jam
One of my all-time favorite preserves. This isn't jam in the sense most will think of in the United States, rather, it's a preserve of young nuts simmered in syrup. The nuts are peeled before cooking, pierced with a fork (or similar tool), soaked in water for a period of time, then simmered in heavy syrup flavored with lemon and vanilla and stored, jarred, in a pantry.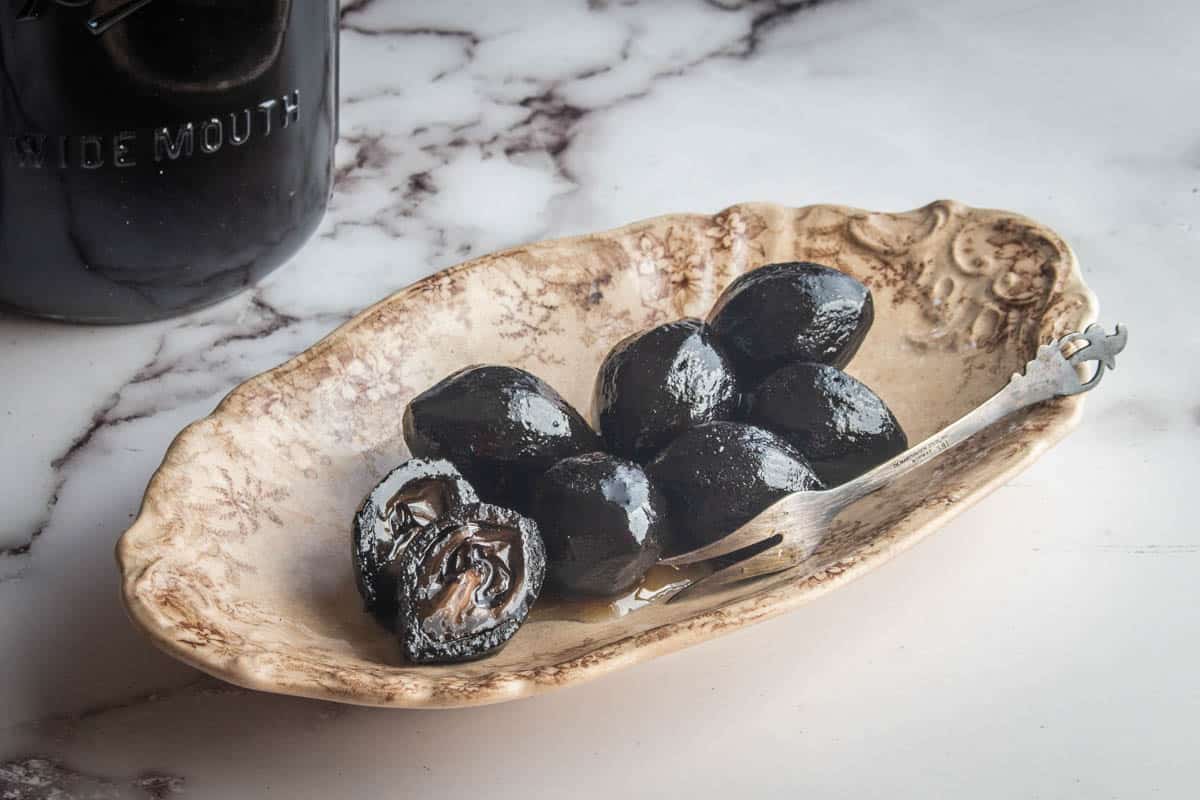 The nuts turn black during the process and look like dark jewels, they're eaten whole, or cut into pieces as pictured above. I like to serve them after dinner with cheese and a small glass of sherry. The texture of the unripe nuts inside the pared husk is the best part: soft and tender, reminding me of cheese or bone marrow. It's a fascinating use of the entire green nut.
The preserves are probably most well known in the caucuses and Armenia, but I've also seen Greek recipes for them, where the preserves go by the name Karitho Glikko.
Molasses
Not a traditional recipe to my knowledge, green walnut molasses is something I made as an experiment. I was inspired to try making a syrup similar to Italian mugolio or pine cone syrup where you take unripe walnuts, cut them in half, and mix with twice their volume of good (brown or non-white) sugar and leave at room temperature.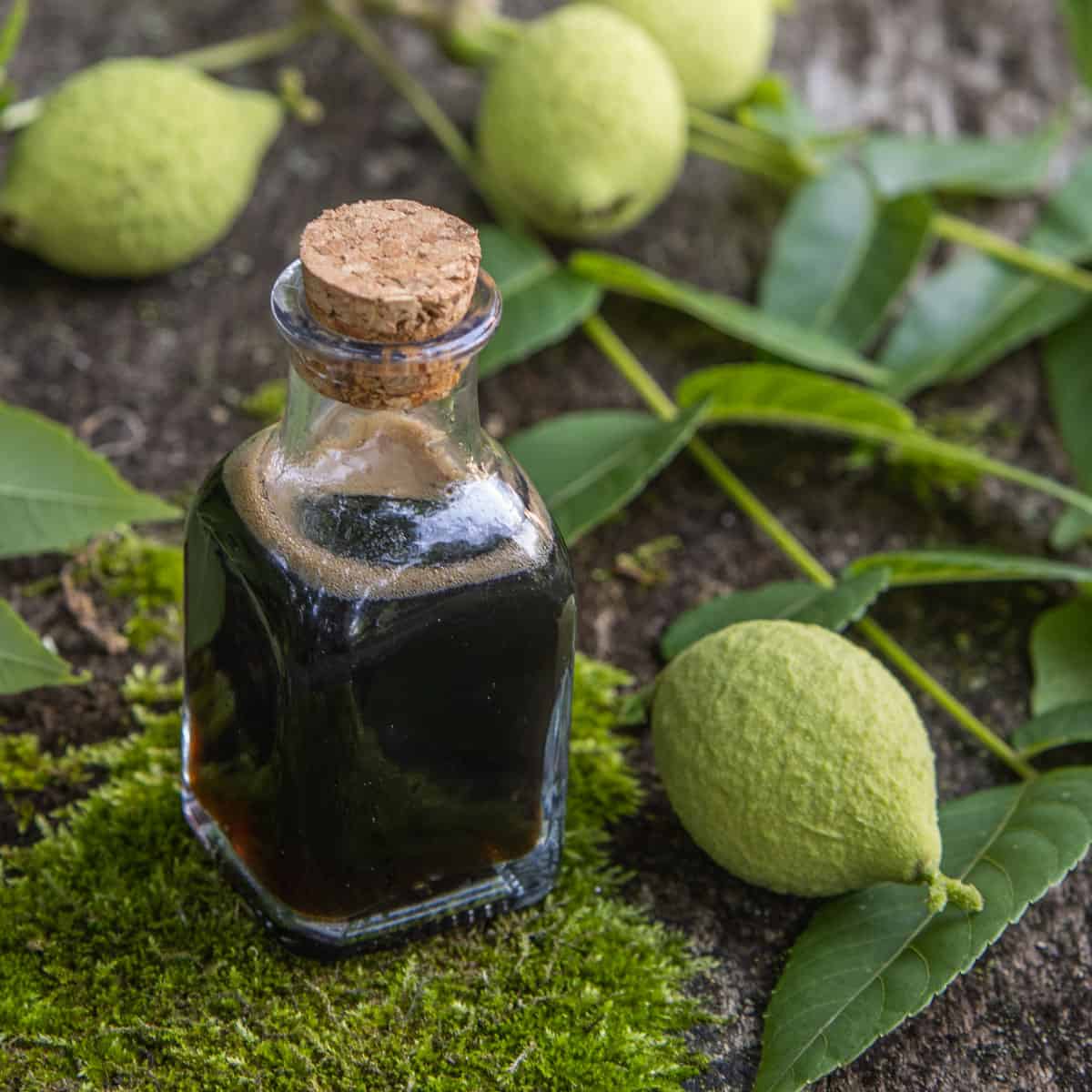 Over time, the walnuts release liquid into the sugar, which causes the mixture to ferment and dissolve most of the sugar.
After a couple weeks, you bring the whole thing to a simmer, strain and discard the nuts, and jar the syrup, which can be used in baking, or as a replacement for other sweeteners, although it will still have some tannins. I like to use it in drinks where some bitterness will be welcome, as well as in baking. I may use it in small amounts like maple.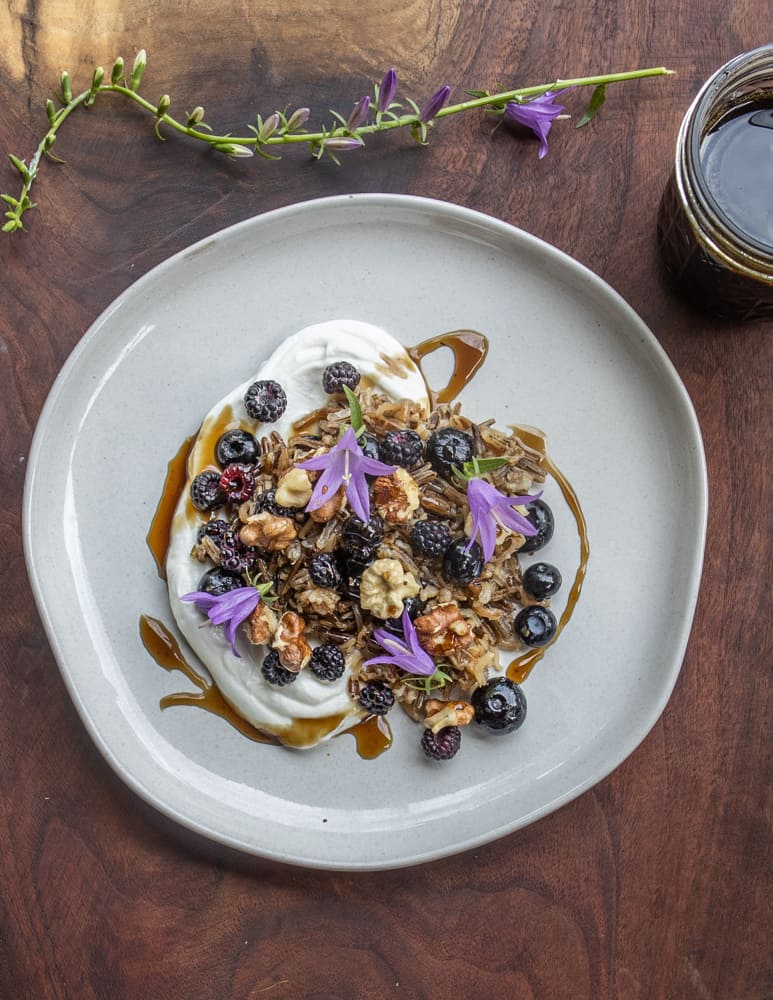 Breakfast: wild rice, black caps, yogurt, walnut molasses and fresh cracked black walnuts.
Green Walnut Liquors and Infusions
One of the most popular traditional uses of unripe walnuts is in liquors and infusions. So far, I know of three, but I can only assume there's more. If you know any others I'm not aware of, please leave a comment.
Nocino
Nocino, an Italian liquor made from infusing cut young walnuts in everclear or another flavorless spirit like vodka, is probably the most well-known. It takes a long time to mellow, and is usually ready in about 6-8 months.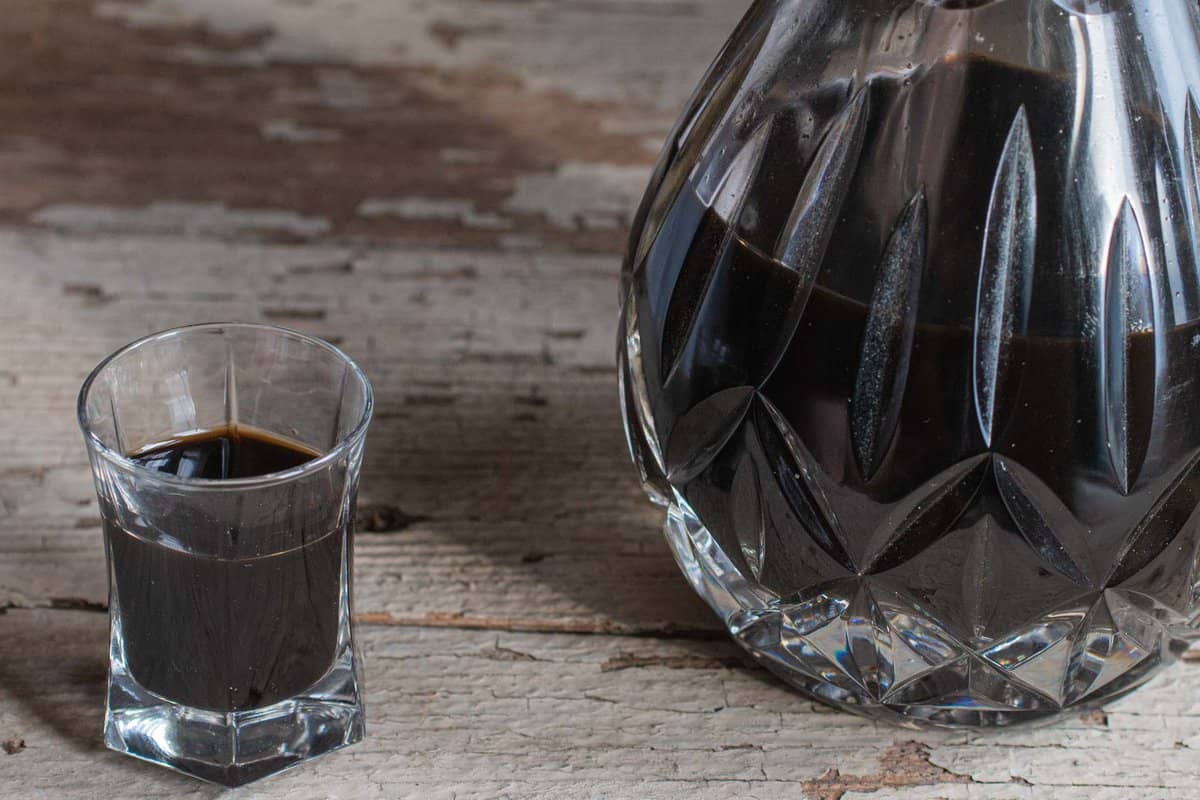 Vin de Noix
Essentially the French cousin of Italian Nocino, vin de noix is a milder drink made from red wine fortified with brandy, using a smaller amount of unripe walnut than nocino. I prefer it over nocino, personally.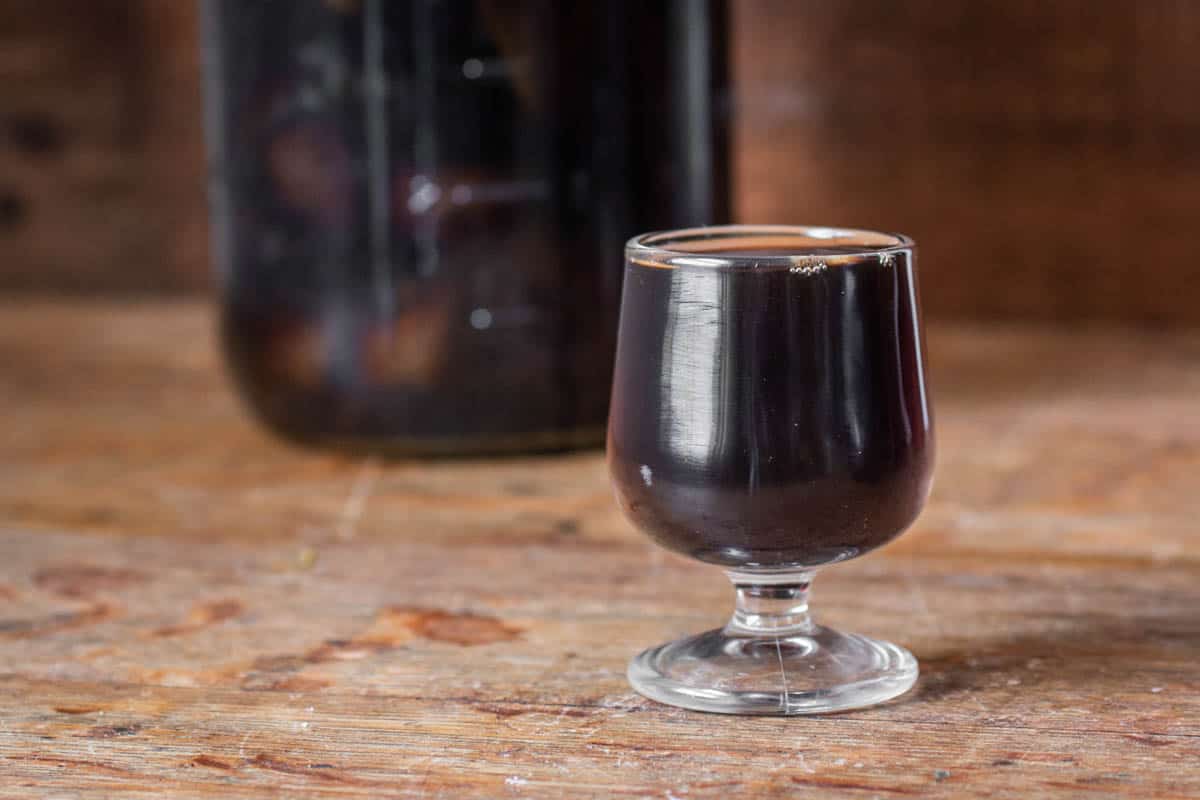 Ratafia
Ratafia is the Spanish equivalent of nocino and vin de noix. Unlike the others, Ratafia includes a number of aromatic ingredients and spices. The finished products I've tasted friends have brought to me or sent from Spain are reminiscent of Jägermeister.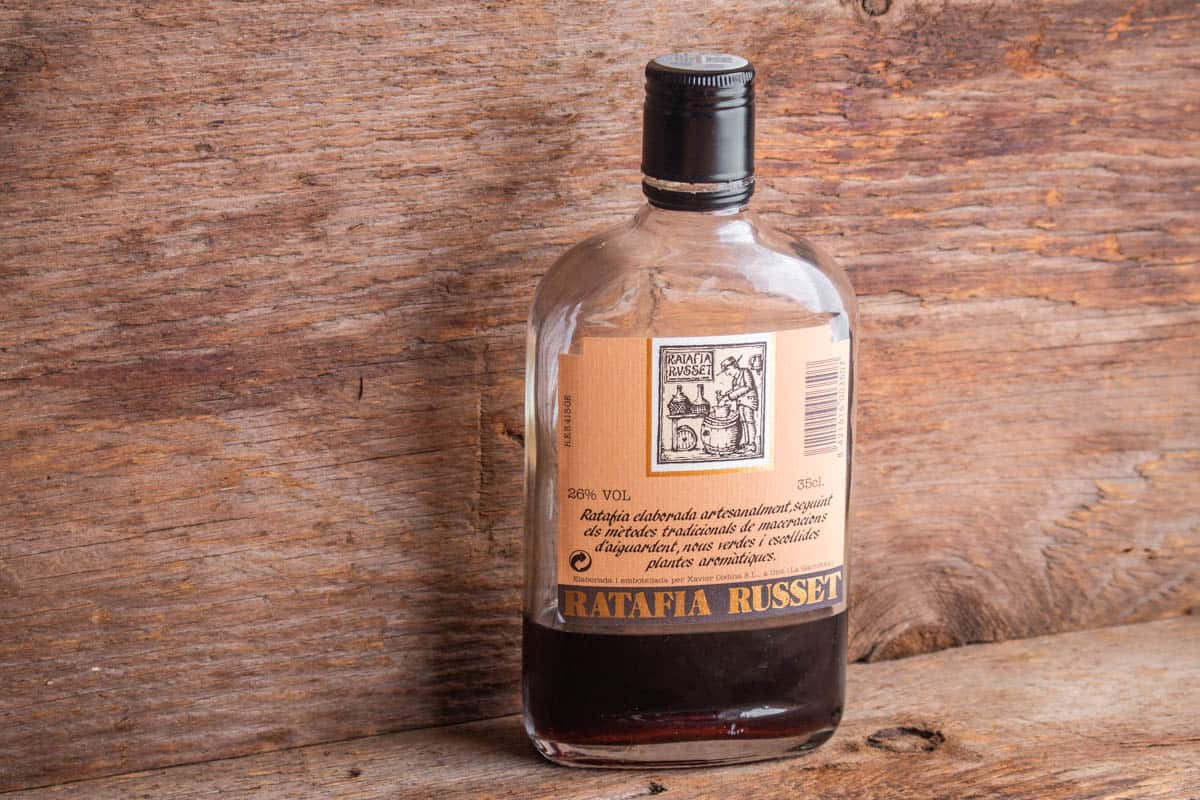 I hope you've enjoyed learning about a few ways you can cook with green walnuts. If you have anything to add, or, especially any other traditional preparations you don't see here, please leave a comment. I love adding new things to the list.
Green Walnut Recipes
Nocino, The Black Walnut Liquor
Related