A spring green pudding made from wild greens, allium leaves and barley flour is an old recipe from times when a household might have had just one pot. To me, it's the sort of cooking that evokes ancient stone farmhouses with roaring fires heating a joint of game.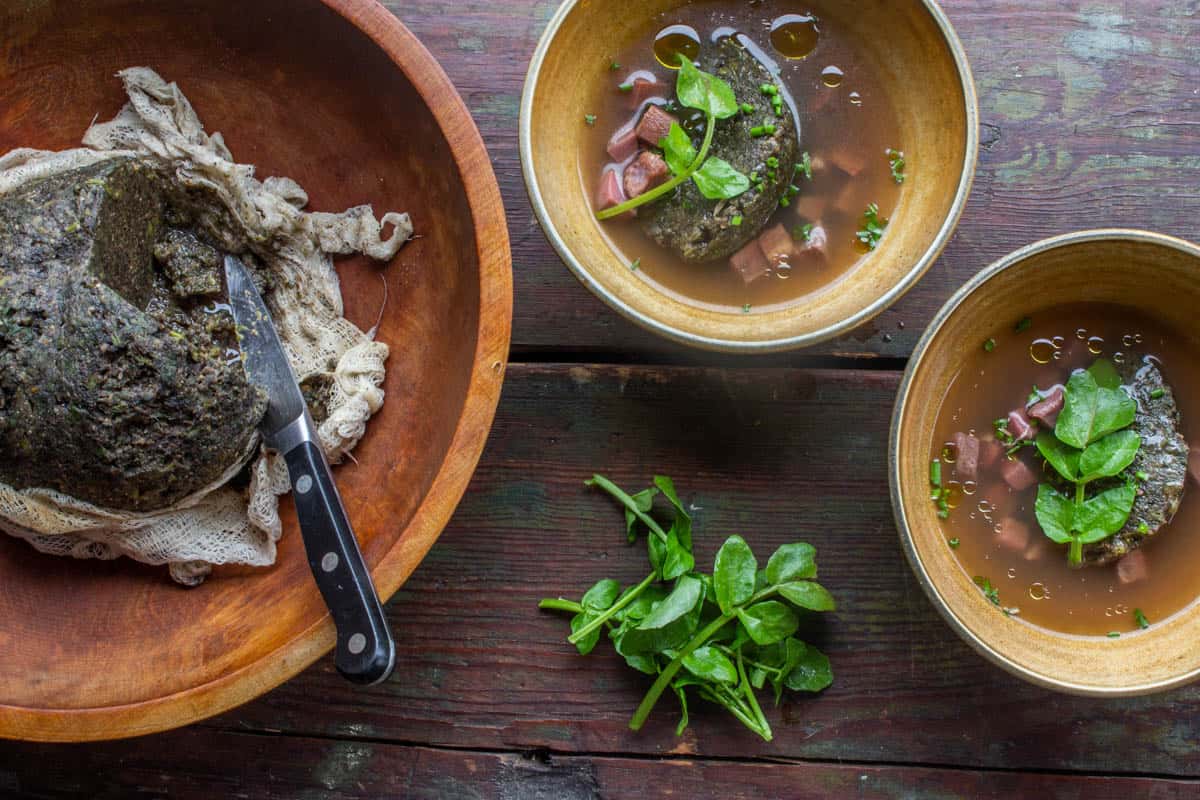 As an American who grew up with two-toned plastic pudding cups in the lunchroom, the words "savory pudding" bring up mixed feelings for me. As some of you will know, in Britain a pudding is something completely different, and could mean anything from a sort of sweet, boiled fruit cake served with hard sauce to black pudding/blood sausage.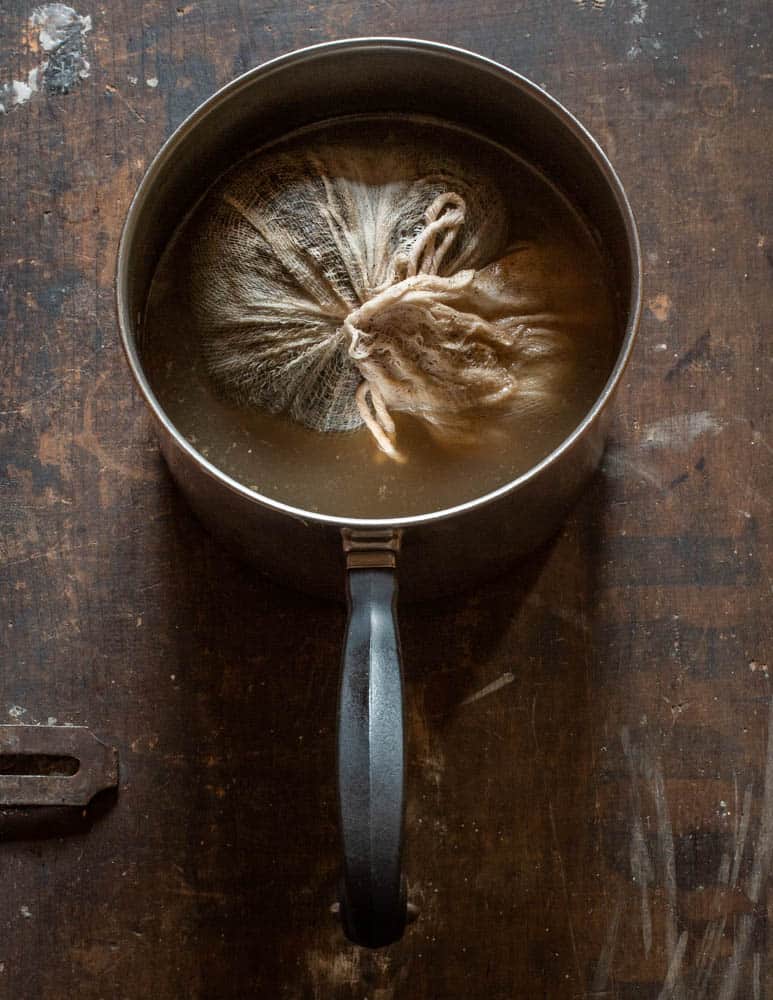 There's a decent amount of account online of people recreating nettle pudding specifically, and a bunch of claims that it's the oldest recipe in the world. If it is or isn't, I can't tell you (I doubt it, as most of the recipes use a cup measure) but I do know nettles are an ancient food. What really mattered to me was seeing if I could make a version of it that would be something I'd like to eat. It turned out better than I expected.
It's easy to put together, and makes for a fun experiment if you like traditional cooking methods. Take some wild greens and ramp or onion leaves, wash and dry them and chop fine, then in some barley, oat, or a similar flour, and salt. Some of the recipes I've seen include meat, but I omit it here to make it easier to adapt for vegetarians.
I also add an egg to help bind it, since I use a bit more greens than I've seen in other variations, but it'll set without it too. When it's all mixed together, you wrap everything up in a ball with cheesecloth, tying it to a spoon you can suspend over a pot so the ball is submerged in stock, and simmer it for a couple hours.
After the pudding's cooked, you cut into wedges and serve with some of the cooking liquid. It's a fun way to eat greens as a starch, especially if you want to use a couple strong tasting ones like dandelions or garlic mustard.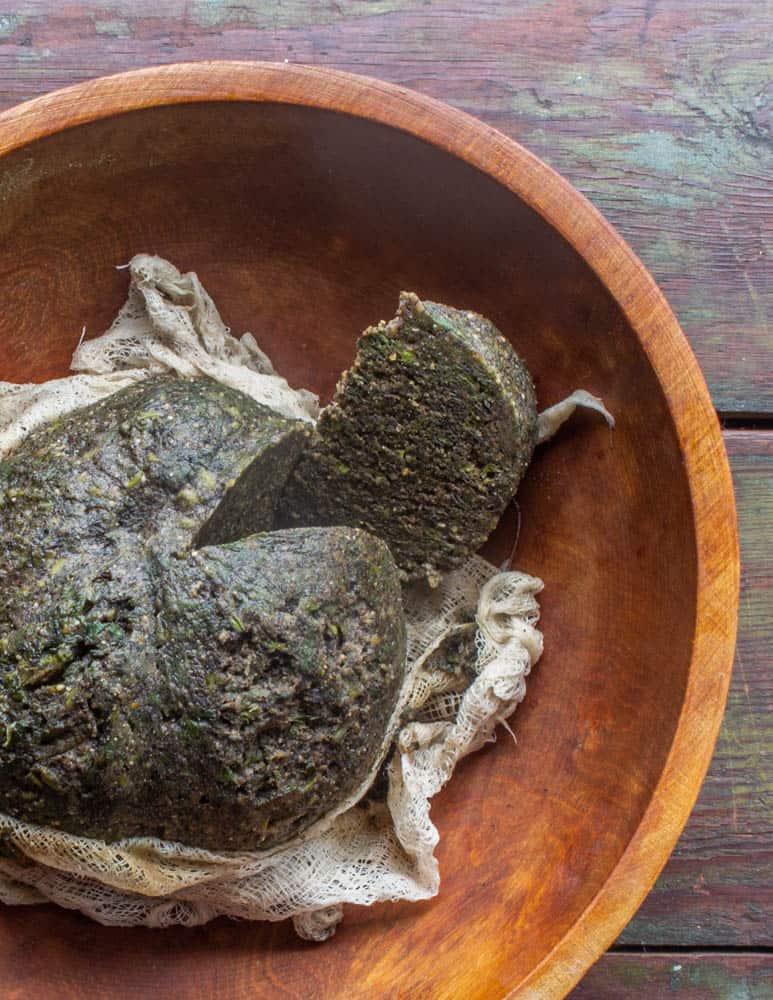 It makes for a good side dish, first course, or, with some sauteed mushrooms or extra wilted greens, a vegetarian main course, served with a ladle of the cooking broth. The texture's surprisingly meaty, and, formed into a log you could probably get away with call it plant sausage. In the images here I had it for lunch, with a handful of ham and some extra watercress, but just a thread of good olive oil and grated parm is good too.
A few spring greens I might use
Dames rocket
Dandelions
Nettles
Watercress
Wild onion or ramp leaves
Waterleaf
Cow parsnip leaves (in small amounts-these should be blanched before chopping)
Garlic mustard (in small amounts)
Flours
As you don't need gluten here, you can make versions using all kinds of different flours, just don't use white flour as it's not very interesting. Here's some that will work. Buckwheat will give it even more of a meaty texture.
Buckwheat
Wild rice
Oat
Barley
Millet
Acorn (up to ⅓ of the total weight of flour)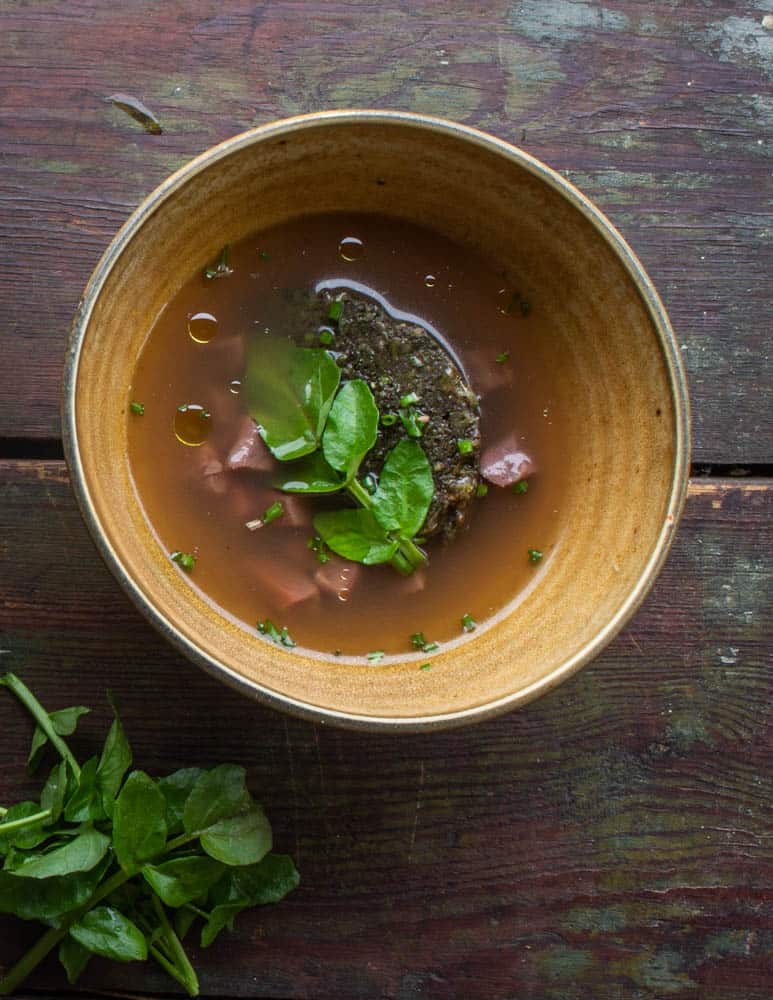 Print Recipe
Stinging Nettle Pudding
An English-style pudding made with foraged greens, wild onion greens and barley or other flour simmered in broth. Serve it as a side dish or a vegetarian main course.
Ingredients
6

ounces

(170 g) assorted wild greens, finely chopped

2

ounces

(55 g) wild onion leaves, ramp leaves, or green onions tops (optional)

1

teaspoon

salt

1

cup

115 g low-gluten flour, such as barley, oat, wild rice, or buckwheat

1

large egg

optional

1

teaspoon

baking powder

1

tablespoon

water

6

cups

stock, such as chicken or mushroom

the exact amount can vary a bit depending on the size of your pan
For Serving
Good-tasting oil

like such as EVOO, Smude's sunflower, or a nut oil

Freshly grated parmesan Parmesan cheese

optional

Fresh-cracked black pepper
Instructions
Wash the greens and onion leaves, then dry well. Grasp all of the greens on a large cutting board, and shred them finely with a large knife, then mound the greens back together, rotate 90 degrees, and shred again. Finely chop all of the greens, then combine with the remaining ingredients and allow to rest for a few minutes to allow let the salt to draw moisture from the greens.

In a medium saucepan, bring 6 cups or so of stock to a simmer. Form the dumpling into a ball as well as you can, then wrap it in cheesecloth to help it hold its shape. Use more cheesecloth than you think you'll need, tying it around a wooden spoon or a similar utensil to suspend the dumpling in the cooking liquid.

Simmer gently for up to 2 hours, or until tender, then remove the dumpling, unwrap it, slice it into wedges, and serve with the broth it cooked in, topping each bowl with a drizzle of good- tasting oil. Pass the Parmesan and pepper at the table.

Variations

Four cups of finely minced greens like such as parsley, spinach, and kale can be substituted for the wild greens and wild onion leaves. You can make your own blend of greens using whatever's available to you.
Related Posts