A decadent nettle soup topped with hot wild onion butter and pickled chanterelle mushrooms. Inspired by a traditional Turkish nettle soup.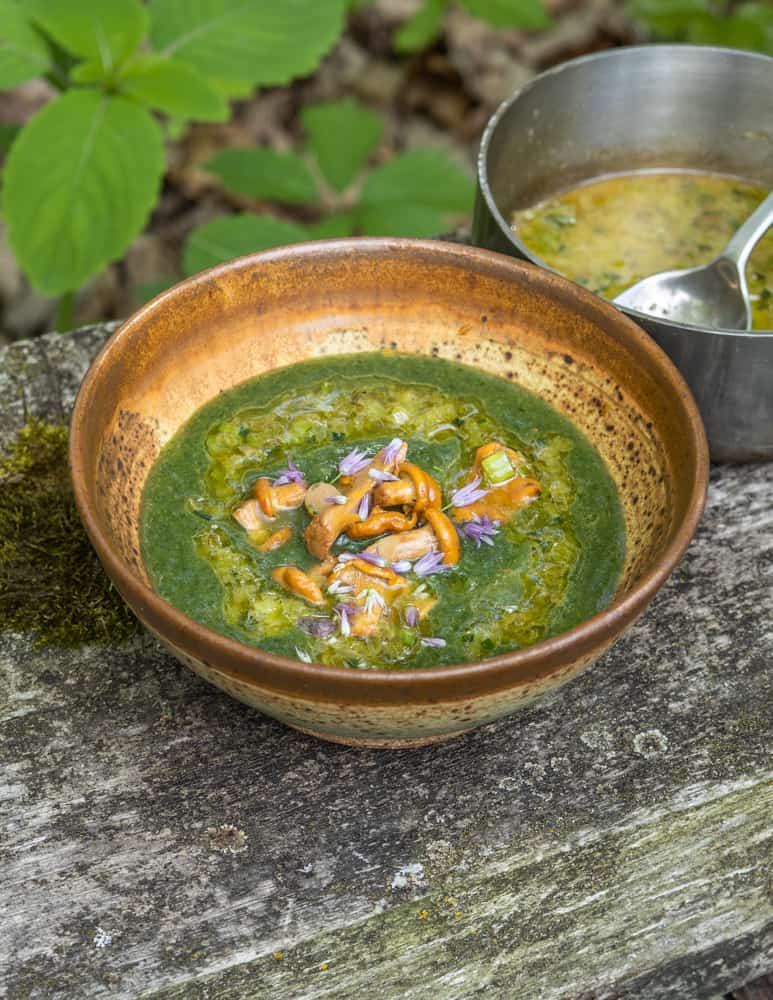 A few years ago I had the pleasure of having dinner at my friend, Author and food writer Stephen Hoffman's house. We started the dinner with the visual and interactive French classic eclade de moules (mussels cooked in pine needles) moved onto a nice salad with anchovy dressing, and a dish of slow-cooked halibut with cherry tomatoes made by Eric Eastman. What I remember most about the evening though, was the bowl of wood nettle soup.
Wood nettles (Laportea canadensis) don't get nearly as much play as their cousin, the common stinging nettle (Urtica dioica) and it's a shame, because they're crazy delicious, with a very different flavor than typical nettles.
Besides having a different flavor (it's more floral, where common nettles I describe as saline, or oceanic) wood nettles are also special in that they're indigenous to North America, making them not nearly as widely available as common nettles. I like to think of them as one of the special treats I get for dealing with Midwestern winters.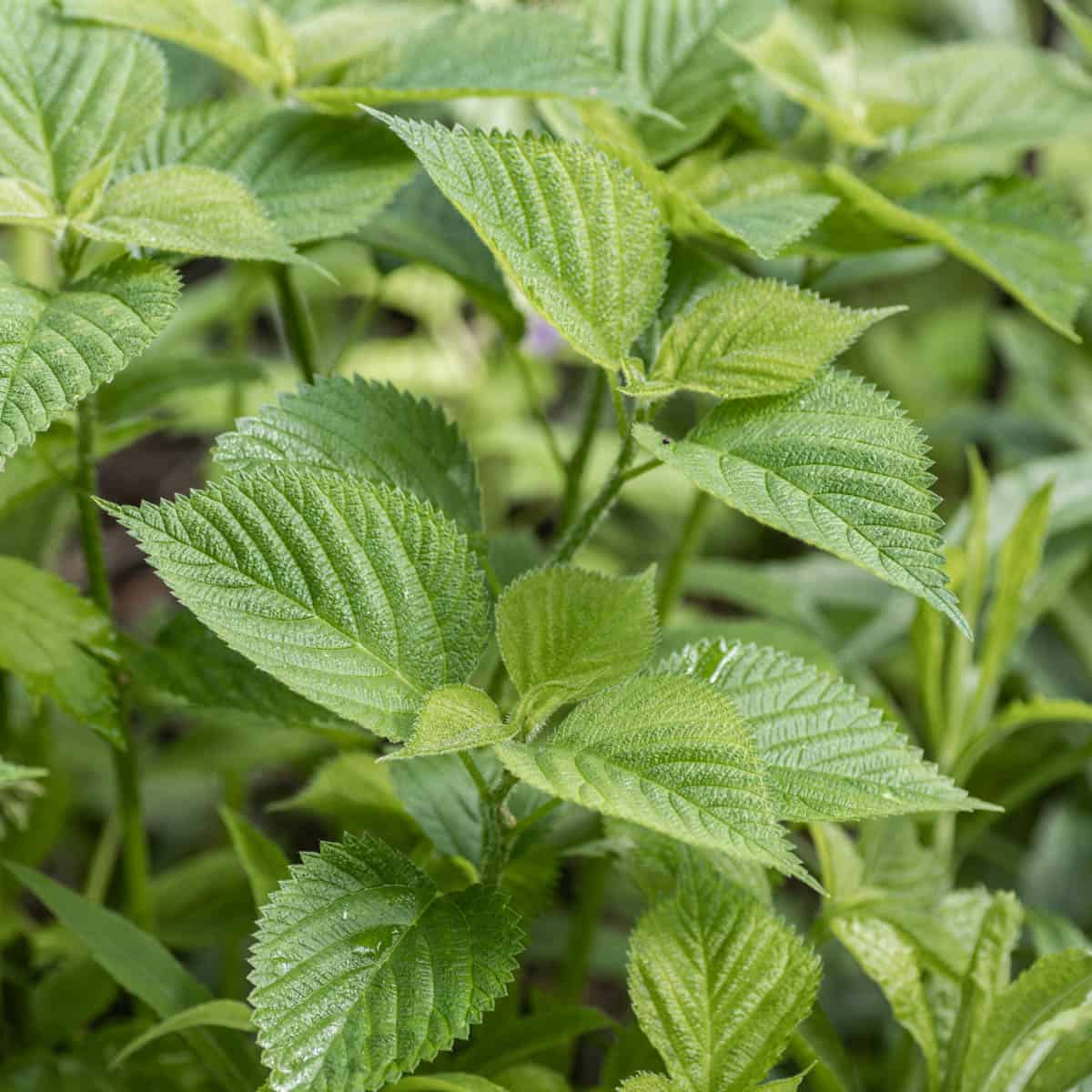 The wood nettle soup Steve made was really good, and really simple. Some mirepoix, a potato, fresh wood nettles, and chicken stock. It was kind of half-pureed, with some of the tiny pieces of mirepoix still visible. I liked the rustic style, and had to make sure to put up a version of it here.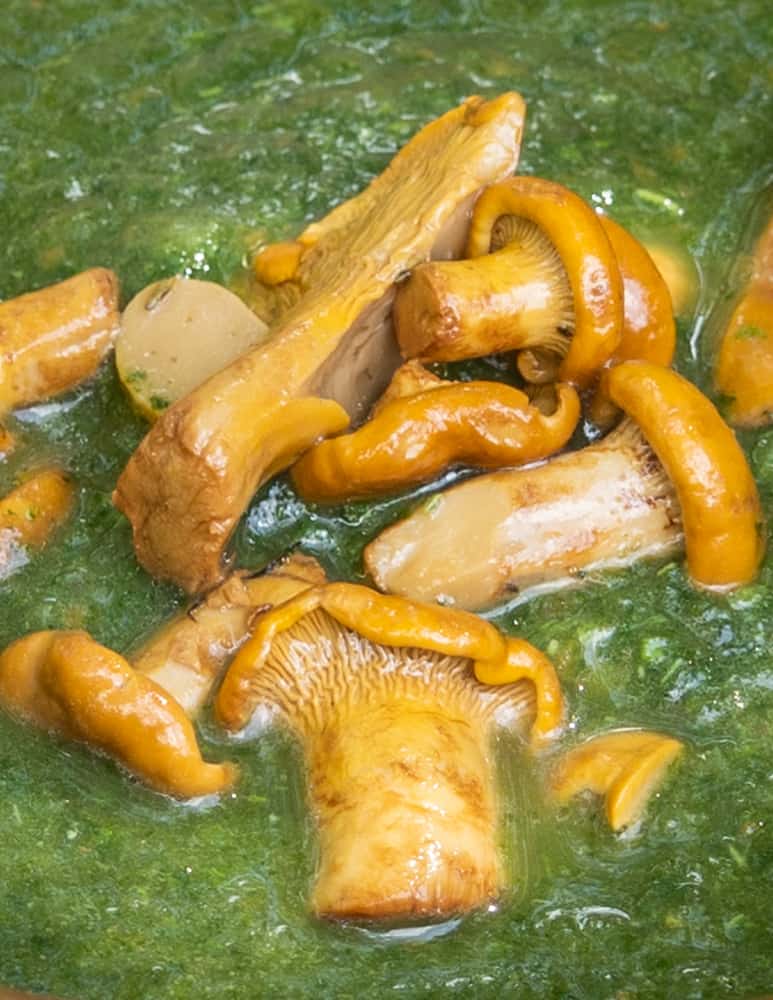 The magic of the butter in soup
You can make the simple nettle soup recipe by itself, but the garnishes here (wild ramp butter and pickled chanterelles) really take it from a good soup to a fantastic one. The onion butter is particularly interesting. While I was reading a book on Turkish cooking, I noticed that for a couple of their nettle soups, butter is added at the end of cooking as a flavoring.
The butter technique is a little counter-intuitive compared to Western culinary standards, but it's a fantastic way to quickly dress up a soup. Traditionally only regular butter is used, but I usually have ramp and wild onion or ramp leaf butter on hand so it was a no-brainer to add some. You can use the butter trick for many soups made with wild greens. Try it and be changed.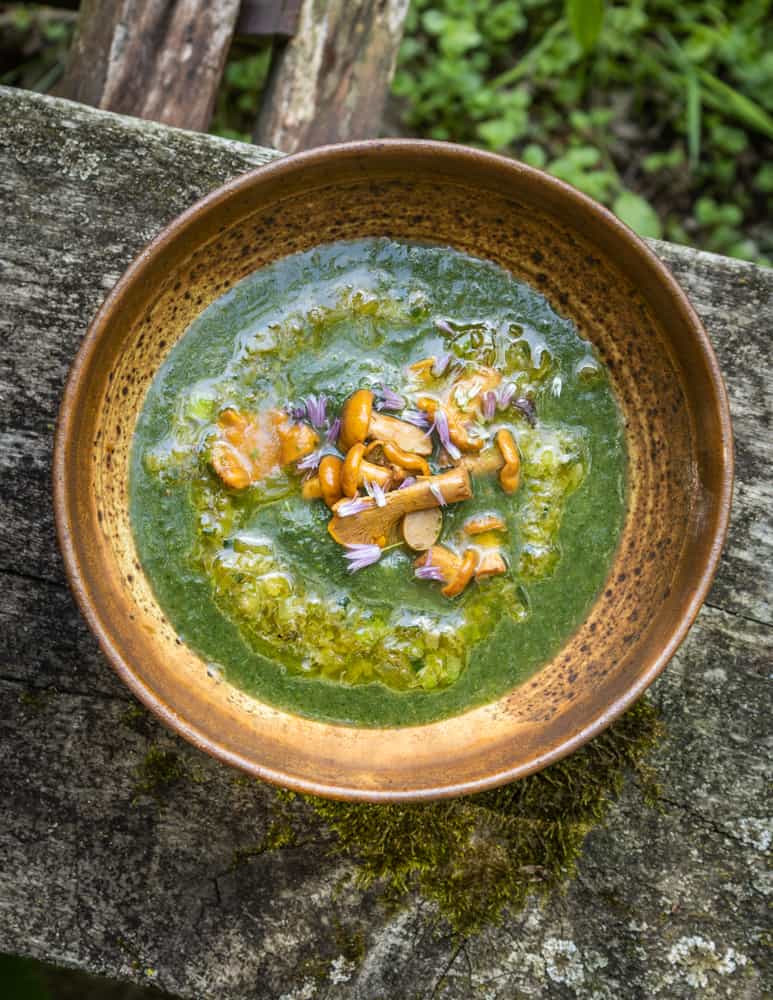 More
Forager's Guide to Wood Nettles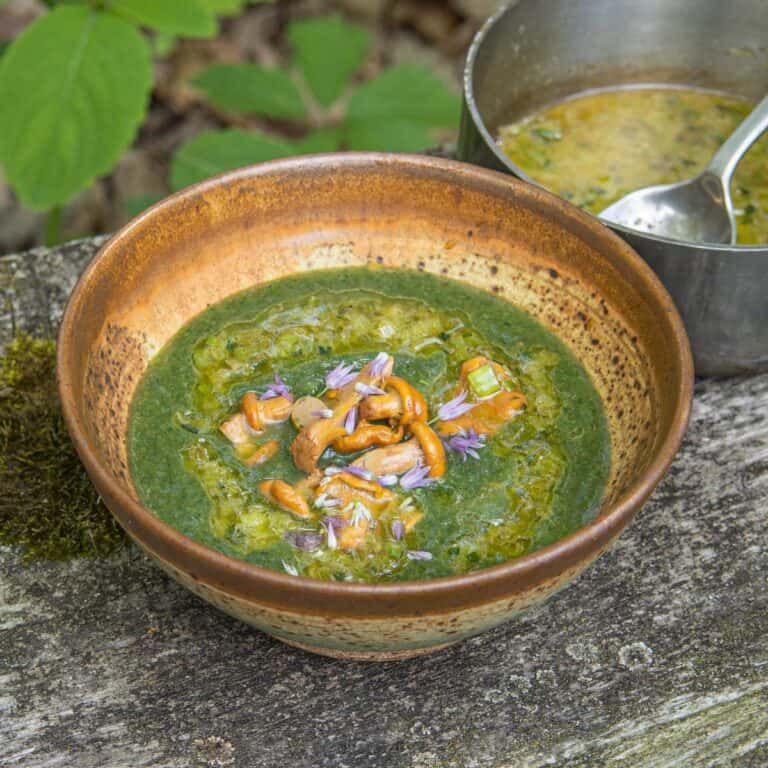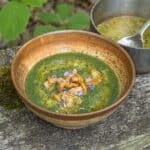 Print Recipe
Isirgan Corbasi, with Mushrooms and Wild Onion Butter
A simple soup of wood nettles and mirepoix, finished with wild onion butter and pickled chanterelle mushrooms.
Ingredients
Soup

6

oz

peeled russet potatoes

6

oz

wood nettles

1

small carrot

3oz

1

small onion

4oz

1

rib celery

2oz

2

tablespoons

unsalted butter or cooking oil

4

cups

chicken stock

1

cup

chopped peeled tomatoes

optional

½

cup

dry white wine

Kosher salt and fresh ground black pepper
Instructions
Nettle soup
Wash and clean the nettles, then prepare a large pasta pot with a steaming basket. Steam the nettles, covered, for five minutes, or until thoroughly wilted. Remove the nettles to a tray to cool, then wring them dry and chop roughly to make sure there's no long stems.

Meanwhile, chop the carrot onion and celery and sweat in the butter in a soup pot. Add the potatoes and sweat for a few minutes more.

Add the wine, tomatoes and stock and bring the mixture to a simmer, covered, until the potatoes are tender.

Add the nettles and heat through, then puree the soup with a handblender-it should not be perfectly pureed. Adjust the consistency of the soup if needed, adding a little stock if it looks too thick. Adjust the seasoning for salt and pepper until it tastes good to you.
Serving
Heat the butter until sizzling in a very small pot or pan. Ladle the soup while it's quite hot into serving bowls, garnish with a few preserved mushrooms, and spoon the hot butter over the top of each bowl of soup along with the chive flowers if using, and serve.
Notes
Any variety of nettle can be used here. 
Nutrition
Serving:
6
oz
|
Calories:
229
kcal
|
Carbohydrates:
24
g
|
Protein:
9
g
|
Fat:
9
g
|
Saturated Fat:
4
g
|
Polyunsaturated Fat:
1
g
|
Monounsaturated Fat:
3
g
|
Trans Fat:
0.2
g
|
Cholesterol:
22
mg
|
Sodium:
362
mg
|
Potassium:
688
mg
|
Fiber:
5
g
|
Sugar:
6
g
|
Vitamin A:
3591
IU
|
Vitamin C:
12
mg
|
Calcium:
233
mg
|
Iron:
2
mg