Ramp salt is a foragers classic anyone can make at home. It's one of the easiest wild food recipes to make, especially for beginning foragers. You'll need a food processor, a dehydrator, and something to spread a paste of ramp leaves on like a silicone baking sheet. Read on and I'll explain the basic process and what you can do with it.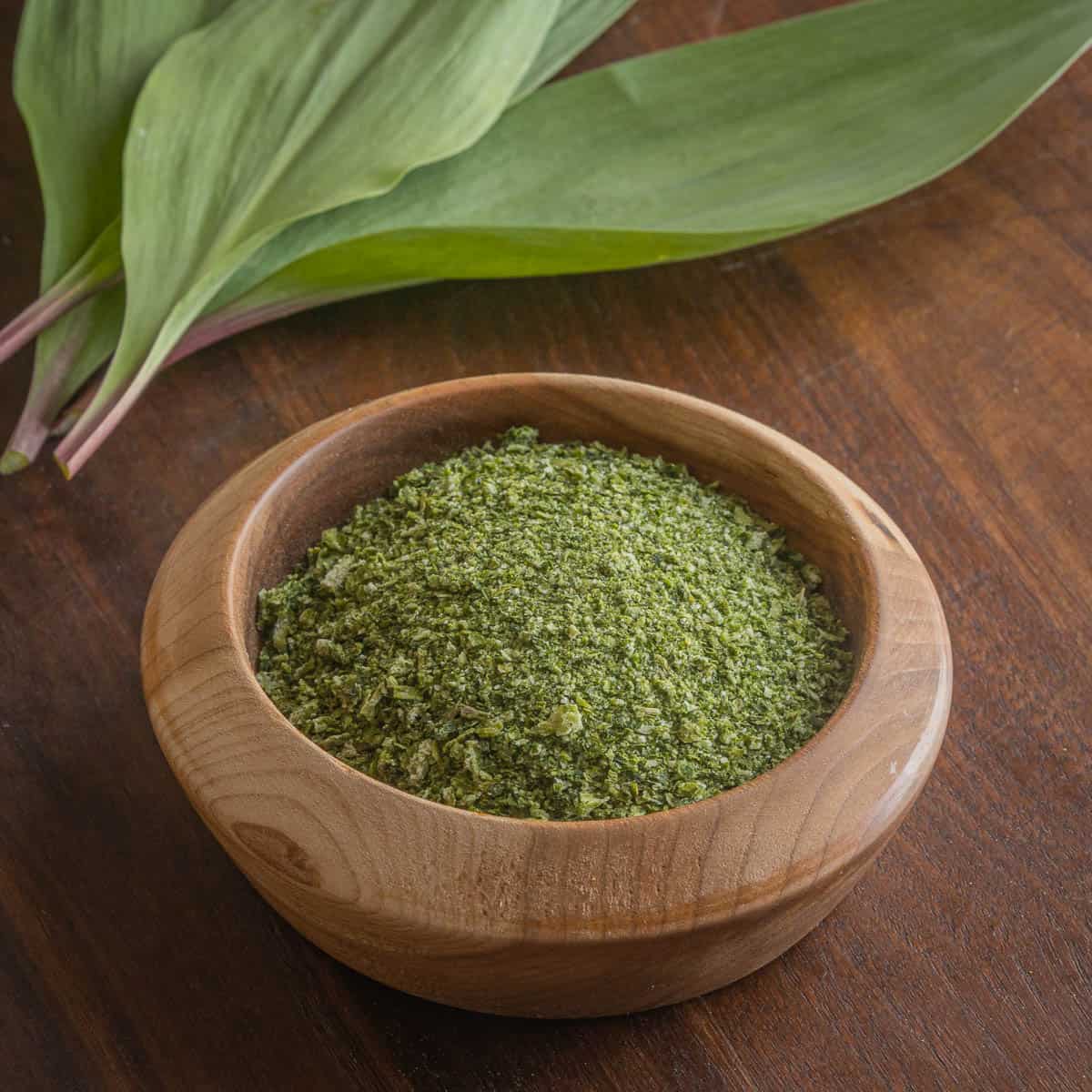 What is Ramp Salt?
Ramp salt is a flavored salt infused with taste and aroma of fresh ramp leaves. It's easy to make at home with a dehydrator or in the oven and can be used as a finishing sprinkle on different dishes. It's a good entry-level way to preserve ramps.
You can use many different allium greens here. Allium tricoccum is pictured, but Allium burdickii and many others can be used. If you're in Europe, you can make ramson salt with Allium ursinum (bear garlic).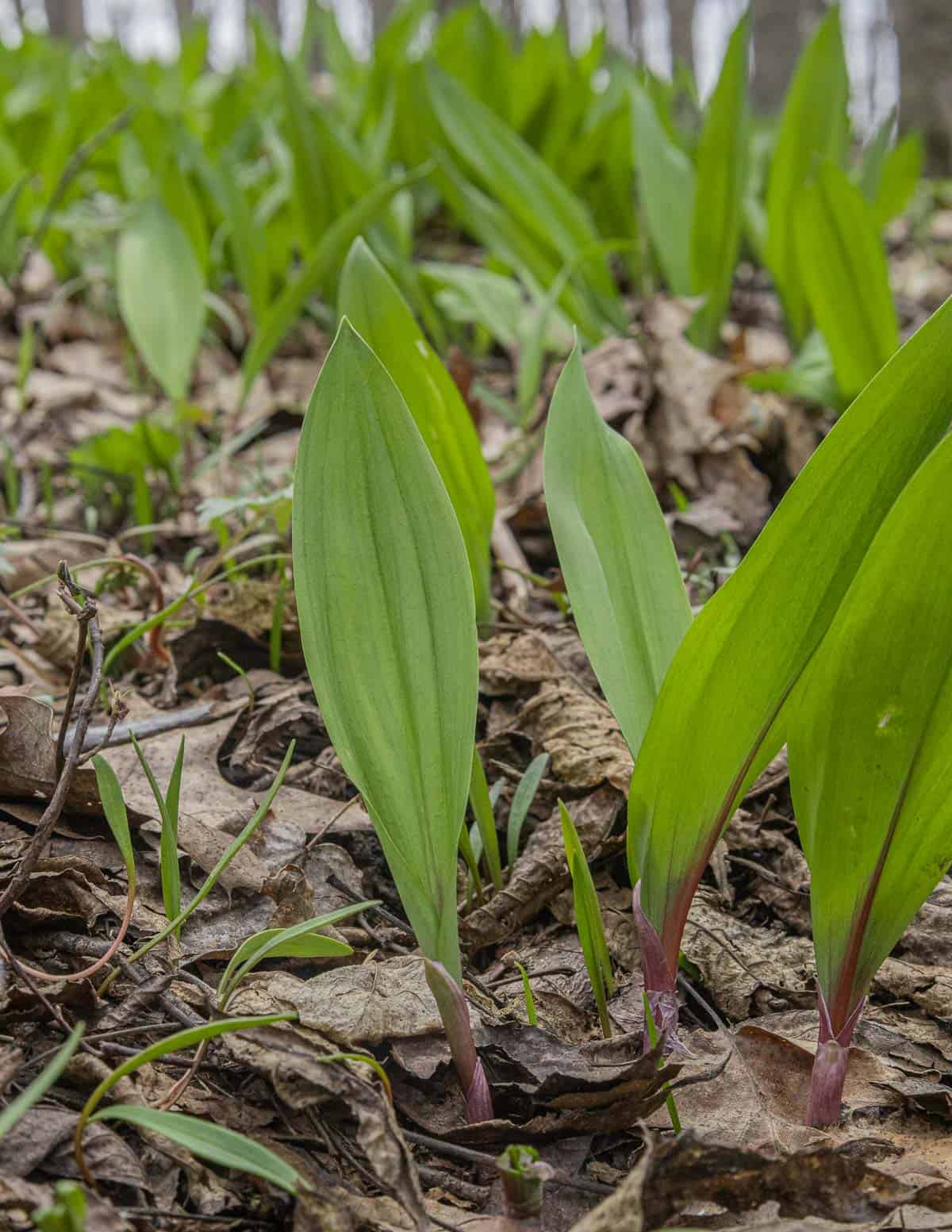 How to Make Ramp Salt
To make ramp salt, you harvest fresh wild leek leaves, wash and dry them, and weigh them on a scale. After weighing, you slice the leaves and process them to a paste with a specific amount of salt.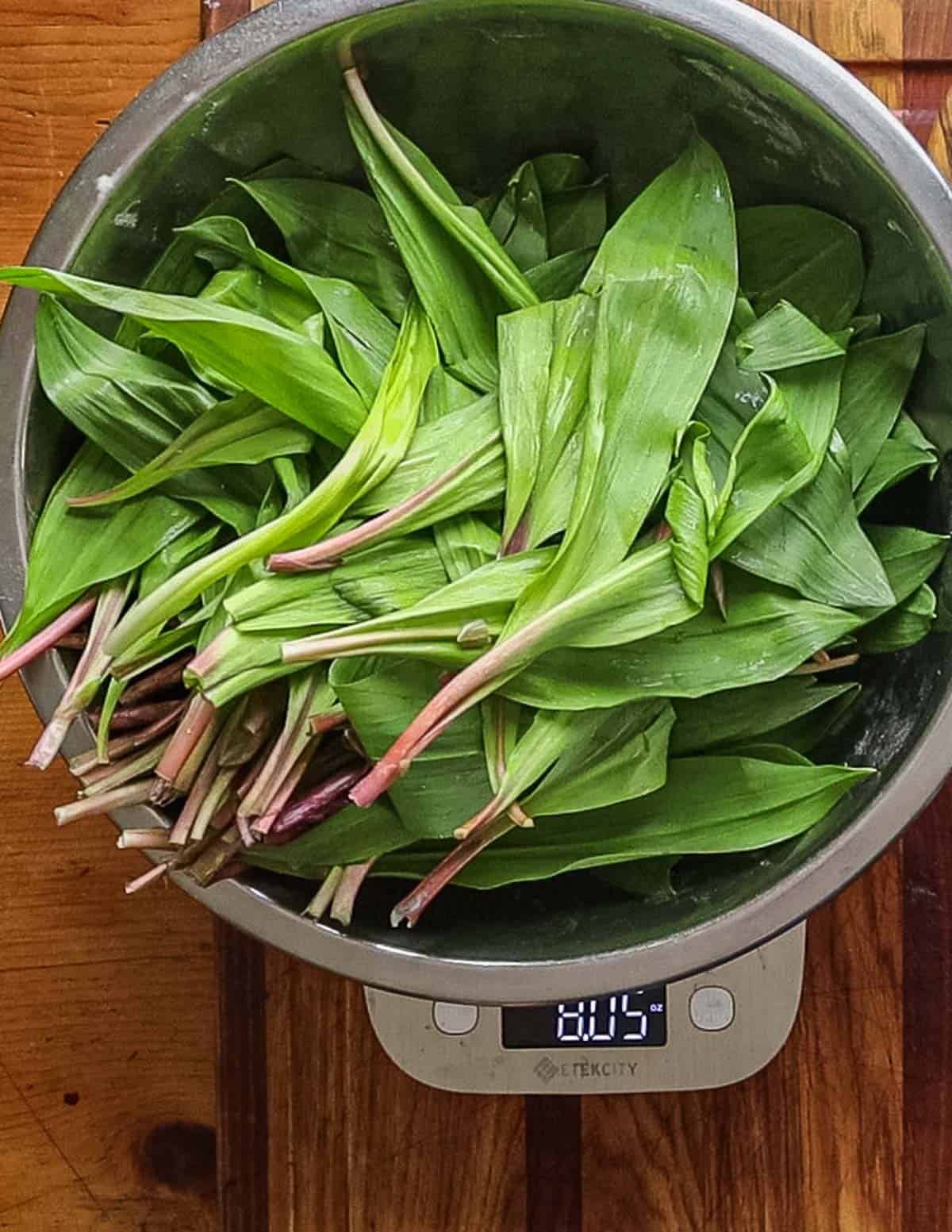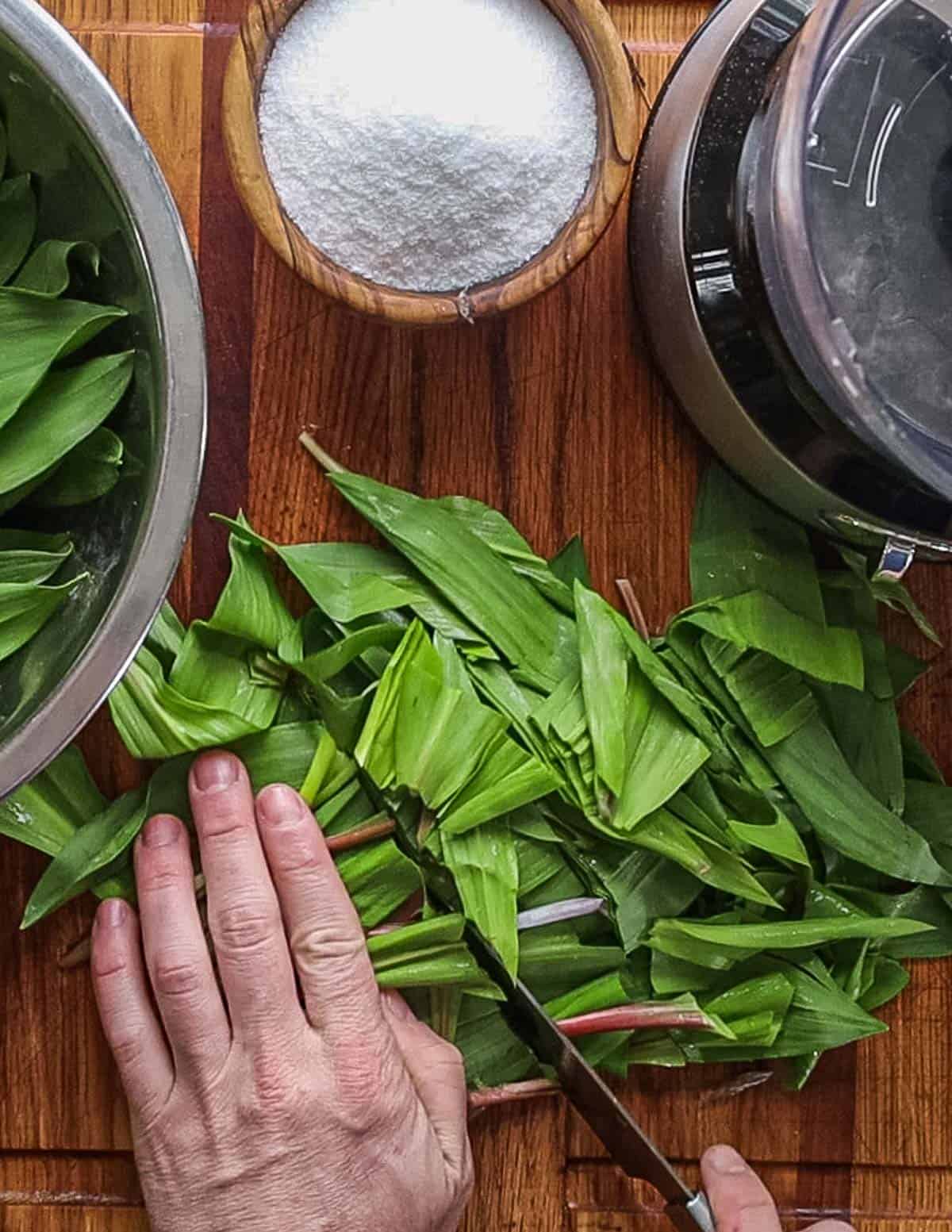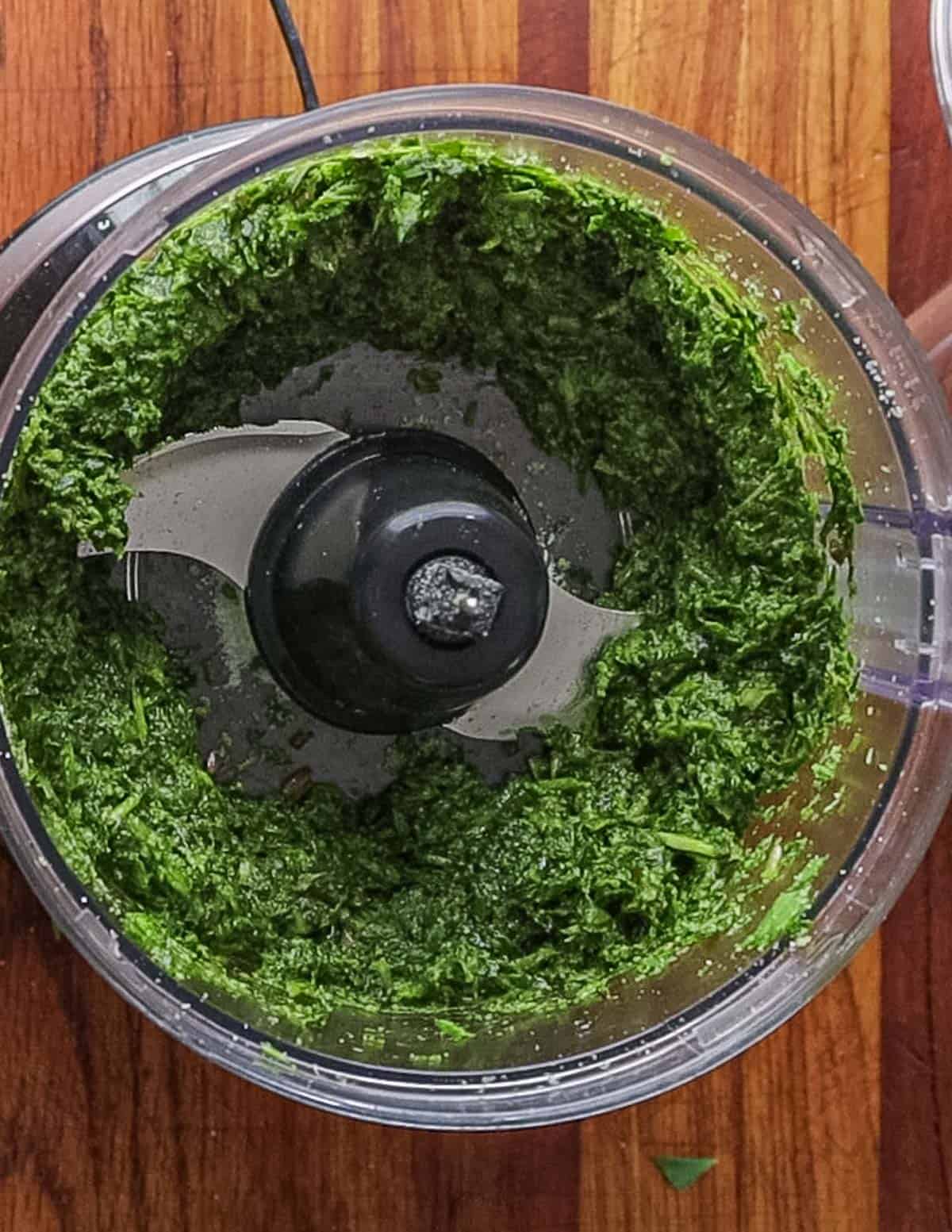 The paste is spread on a silicone sheet or parchment paper and dehydrated. The juices of the ramps infuse into the salt as it dries. Halfway through the drying process, the sheet of dried ramp salt is flipped to encourage even dehydration.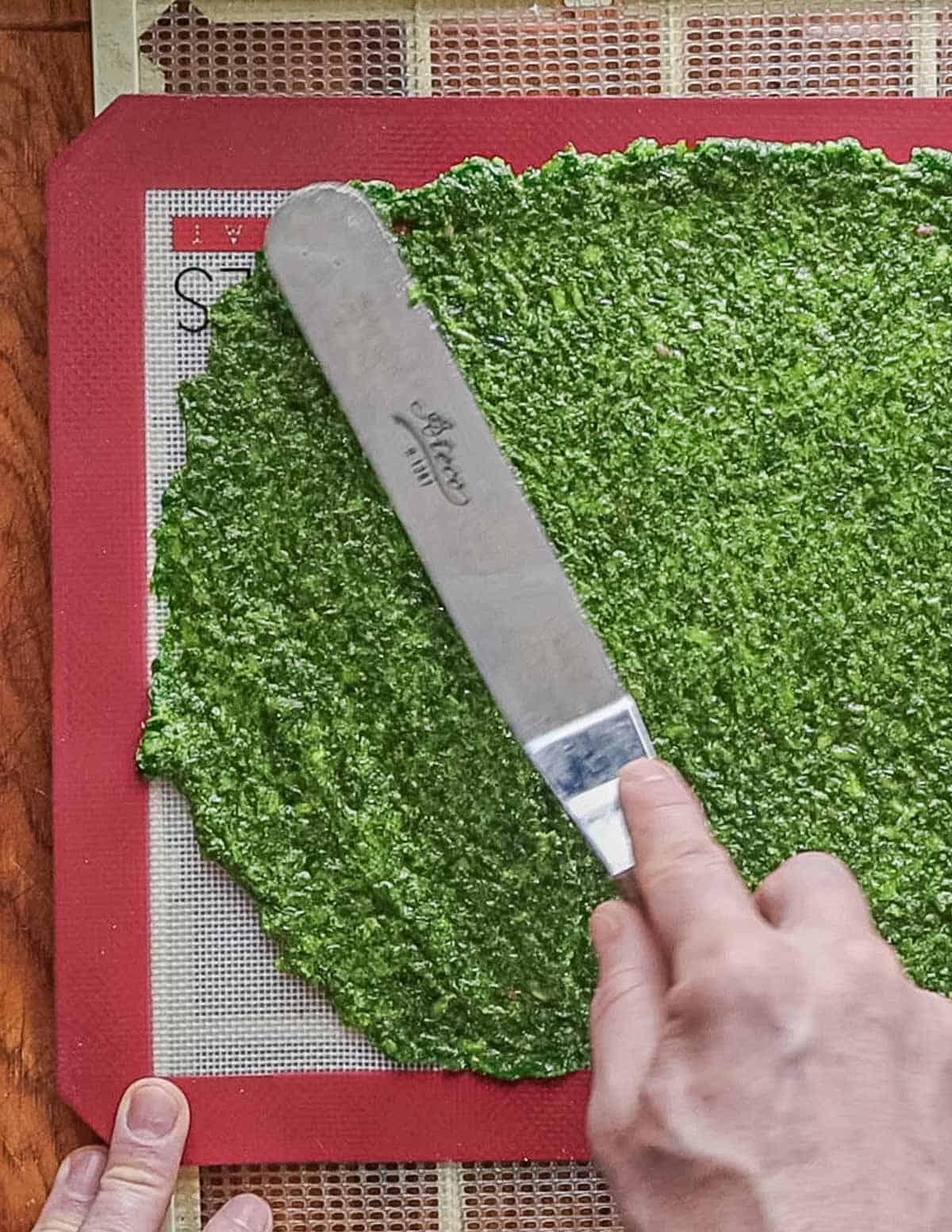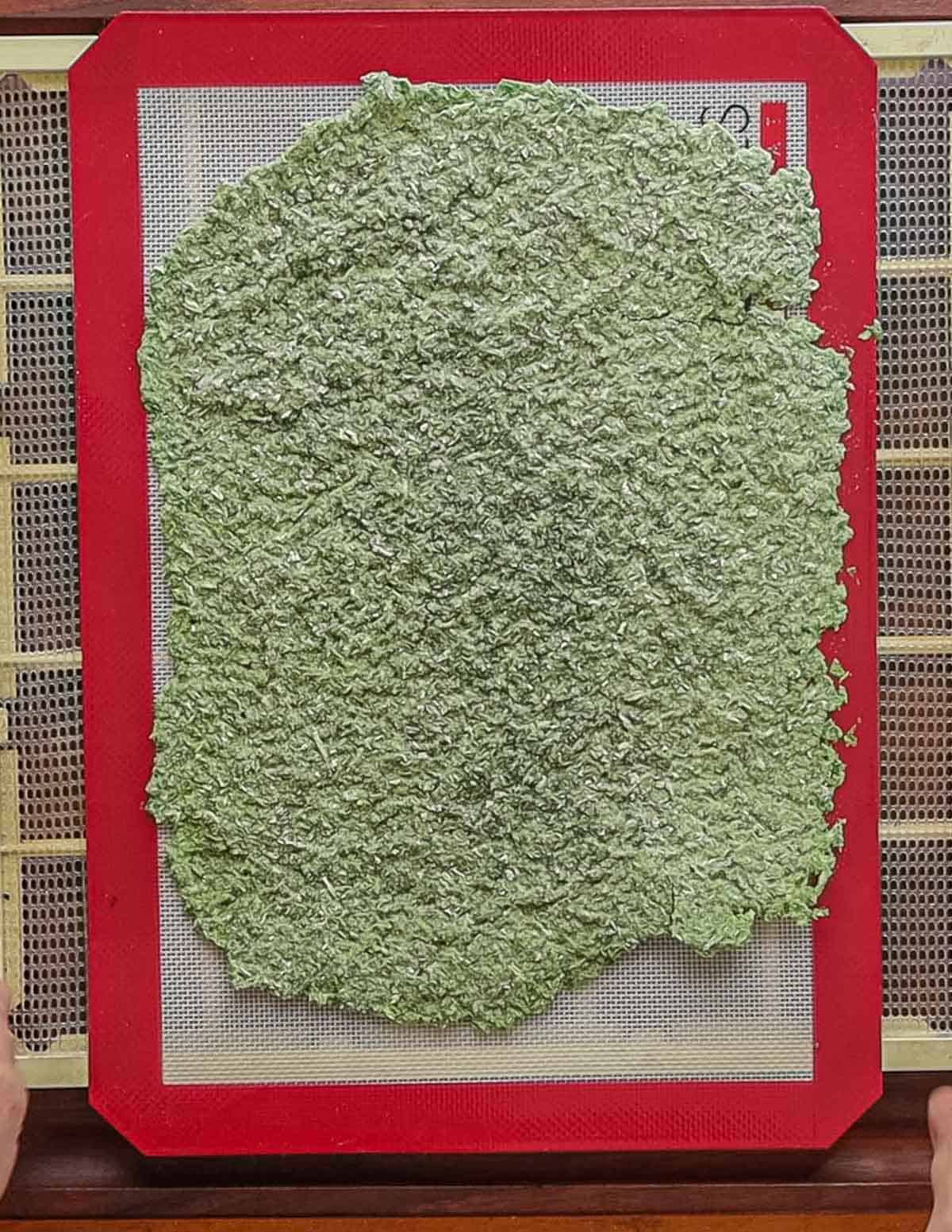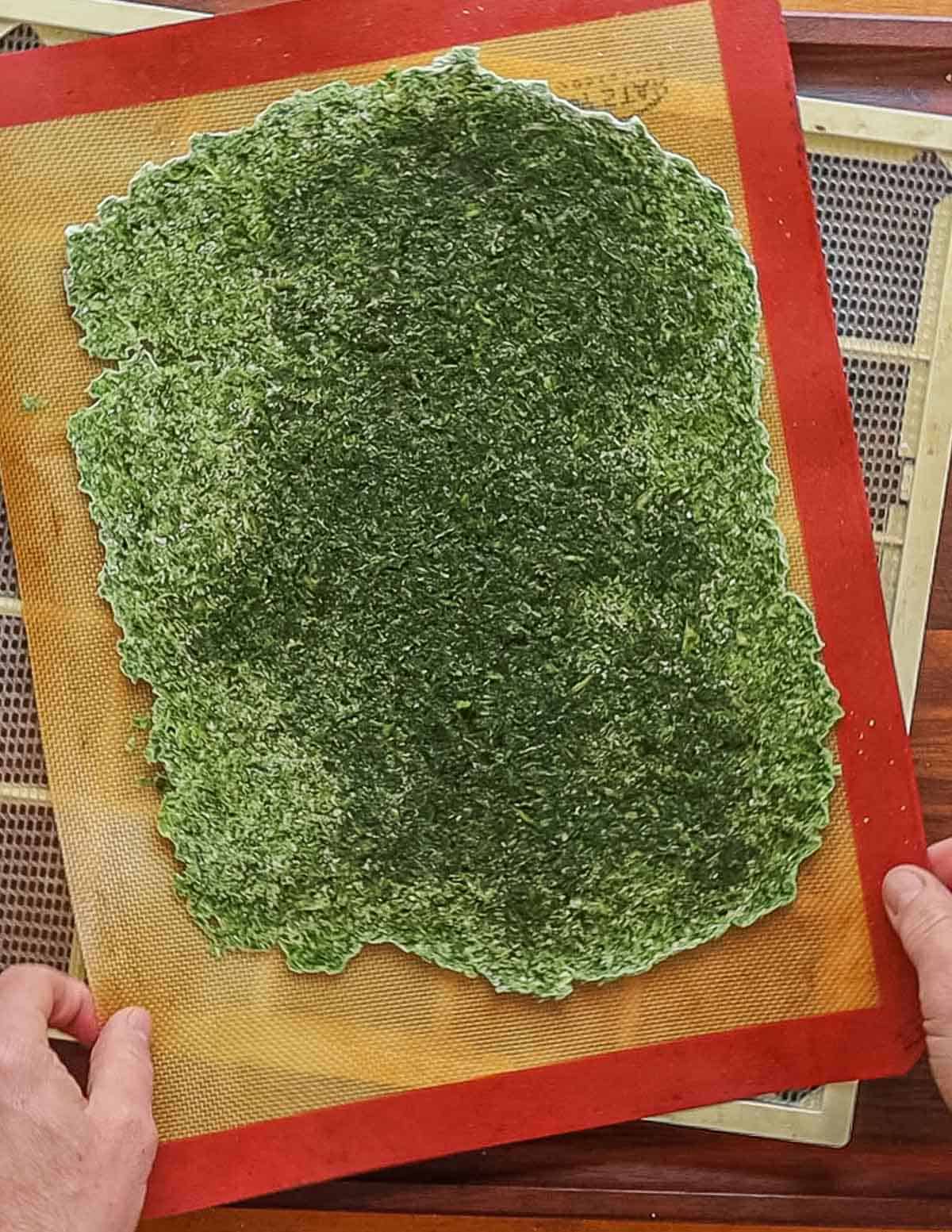 After the ramp salt is bone-dry and brittle, it's gently crushed in a mortar and pestle and stored in a jar until it's ready to use.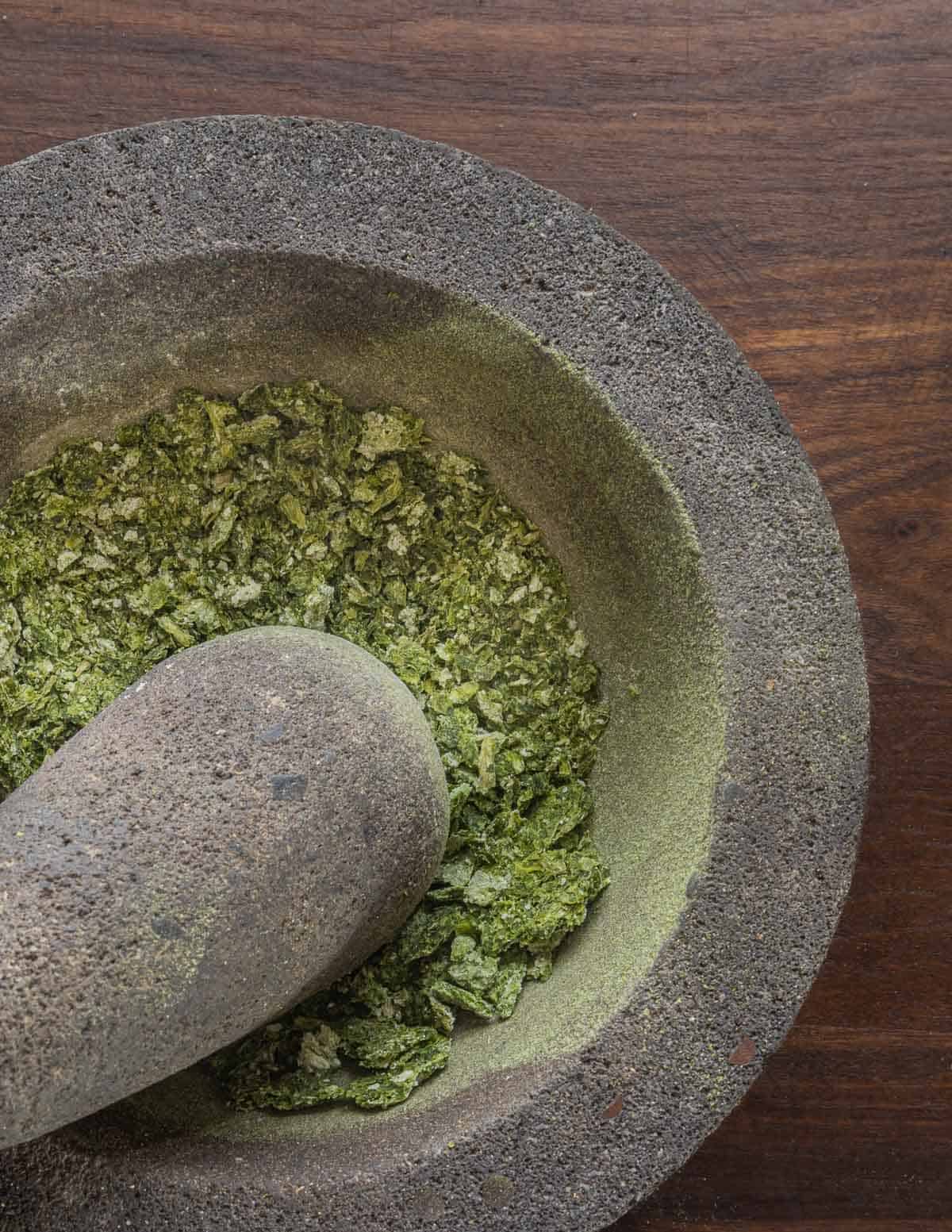 How to Use Ramp Salt
Think of ramp salt as a finishing salt you can add to different dishes at the last minute. I like a sprinkle on eggs and roasted potatoes, as well as using it to finish fish and steaks like you would other finishing salts. It's also great used to finish homemade hash browns.
Chef's Tips
Some ramp salt recipes tell you to just mix dried ramps with salt-this doesn't work and will not give you anything special.
It's important to use the low setting (100F) in order to keep the light green color and flavor of the ramps. Since the salt is dehydrated for multiple days, using a higher heat setting can change the flavor.
For a deeper depth of flavor, you can ferment ramp leaves, add extra salt and then puree and dehydrate. I explain how to do this in the recipe notes.
You might be tempted to grind the salt in a spice grinder-don't do that. You want some texture here, and you'll get more flavor from it if the salt is slightly coarse.
If you don't want to make your own, many places have ramp salt for sale online and it can also be found at farmers markets sometimes. But, you should know most of the salts I've tried aren't very good.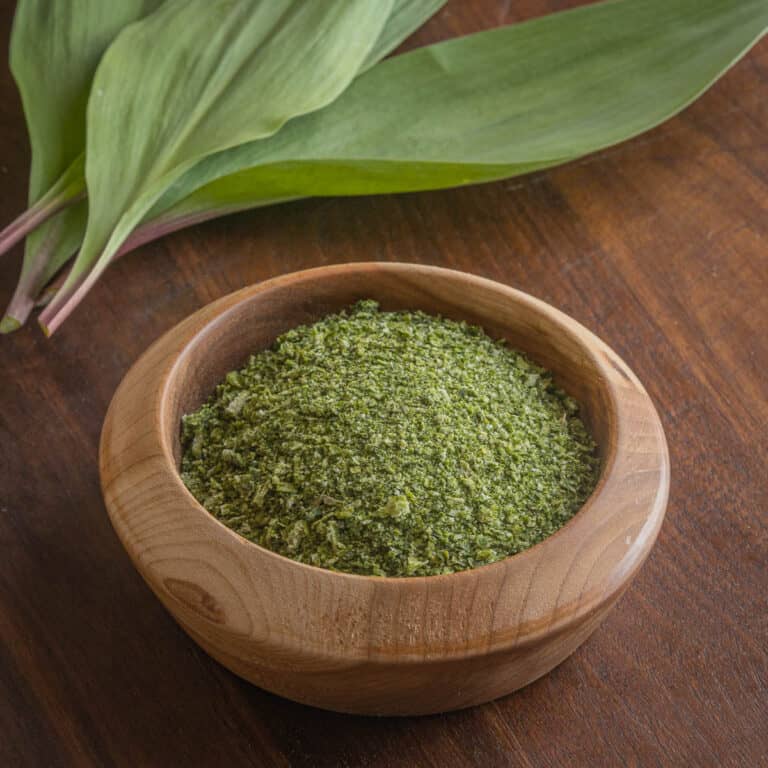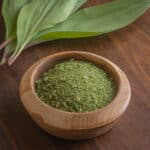 Print Recipe
Ramp Salt
A finishing salt infused with the flavor and aroma of fresh ramp leaves. Makes about 1 cup.
Equipment
1 mortar and pestle

1 Food processor

1 Dehydrator
Ingredients
8

oz

fresh ramp leaves

3

oz

kosher salt
Instructions
Wash and dry the ramp leaves, then weigh out 8 oz of them (roughly 8 cups sliced leaves).

Working in batches if needed, put the leaves in a food processor with the salt and process to a rough, spreadable paste.

Spread the ramp paste onto a silicone baking mat on a dehydrator tray, or use a sheet of parchment.

Dehydrate the ramp salt at 100 F (low setting) in a dehydrator, flipping the sheet of salt over to encourage even dehydration after 24-36 hours. Continue dehydrating until the salt is cracker dry, about 24 hours more.

Break the green salt into pieces and crush in a mortar and pestle to break it up. It should be slightly coarse. Since the salt content is lower than finishing salt, you can use more of it on finished dishes.

Store the finished salt in a jar in the refrigerator for the best flavor. Room temp is ok, but the flavor will soften with time.
Notes
Fermented Ramp Salt 
Mix 8 oz sliced ramp leaves with 6 grams of kosher salt. Vacuum seal in a bag and allow to sit at room temperature for 2 weeks. Open the bag and transfer the juicy, stinky ramp leaves to a food processor. Add 50 more grams of salt and process to a spreadable paste, then proceed as for regular ramp salt. 
Nutrition
Serving:
0.25
teaspoon
|
Calories:
3
kcal
|
Carbohydrates:
1
g
|
Protein:
0.2
g
|
Fat:
0.02
g
|
Saturated Fat:
0.003
g
|
Polyunsaturated Fat:
0.01
g
|
Monounsaturated Fat:
0.002
g
|
Sodium:
1320
mg
|
Potassium:
25
mg
|
Fiber:
0.2
g
|
Sugar:
0.2
g
|
Vitamin A:
90
IU
|
Vitamin C:
2
mg
|
Calcium:
7
mg
|
Iron:
0.1
mg