Morel pasta with ramps that tastes like Spring in a bowl, this dish from my old chef will be one of your favorite morel recipes.
Just about every year I try to get out and hunt a few morels with my old chef, friend and mentor Chef Andy Lilja. We usually try to get permission to hunt some land near Frontenac Minnesota that produces morels, but hadn't been back to the honey hole for a few years.
This year we were back, after a hiatus due to a misunderstanding with a certain cousin, and a few large trout removals from the stream near where the elm-studded woods are. As luck would have it, the morels were there, and, they were glorious-those big Midwestern blonde morels.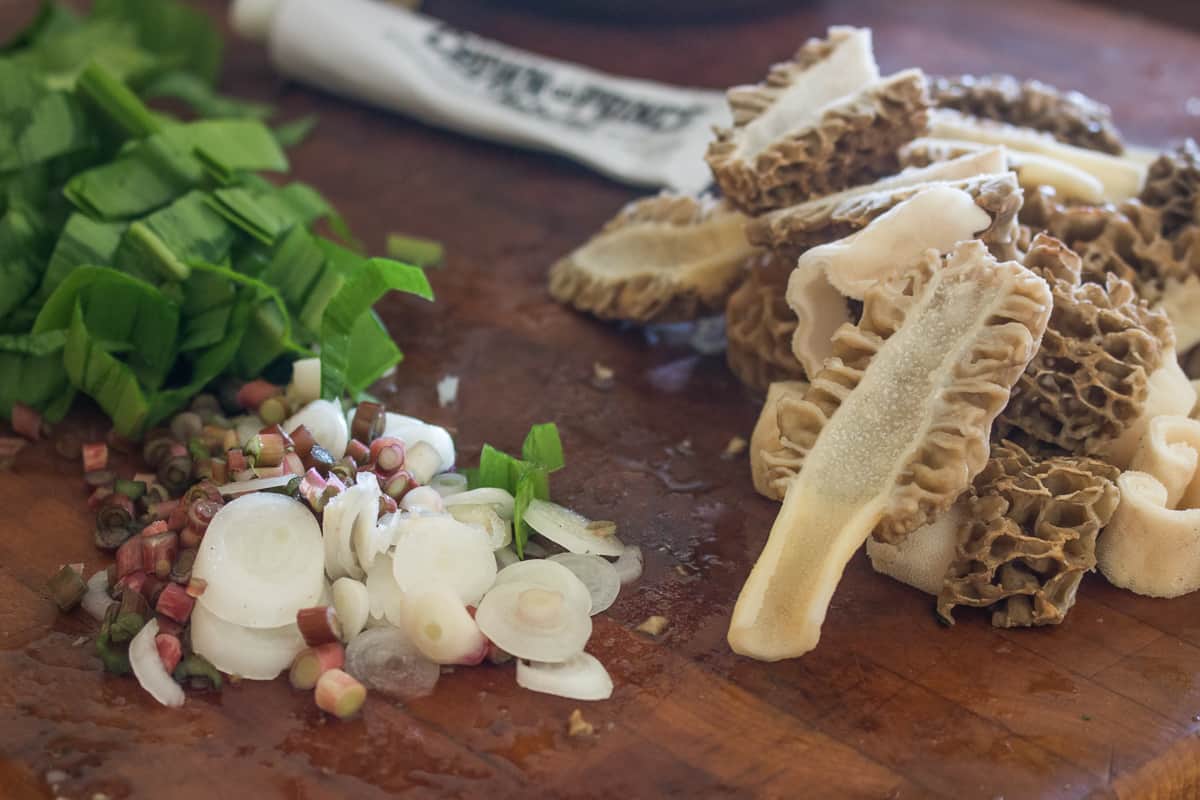 After our hunt, we sat around and shot the breeze over a few beers, talked about the current restaurant climate (horrible due to the coronavirus) and of course, what we planned to make with our haul. Both Andy and I cut our teeth in nice Italian restaurants, and share a penchant for a good bowl of pasta, so morel and ramp spaghetti was on the menu.
Later that evening, I got a text from him outlining the recipe he made, and it sounded so good that I had to make the same thing when I got back. It's really simple, and a great example of what a chef wants to eat after a day of hunting morels.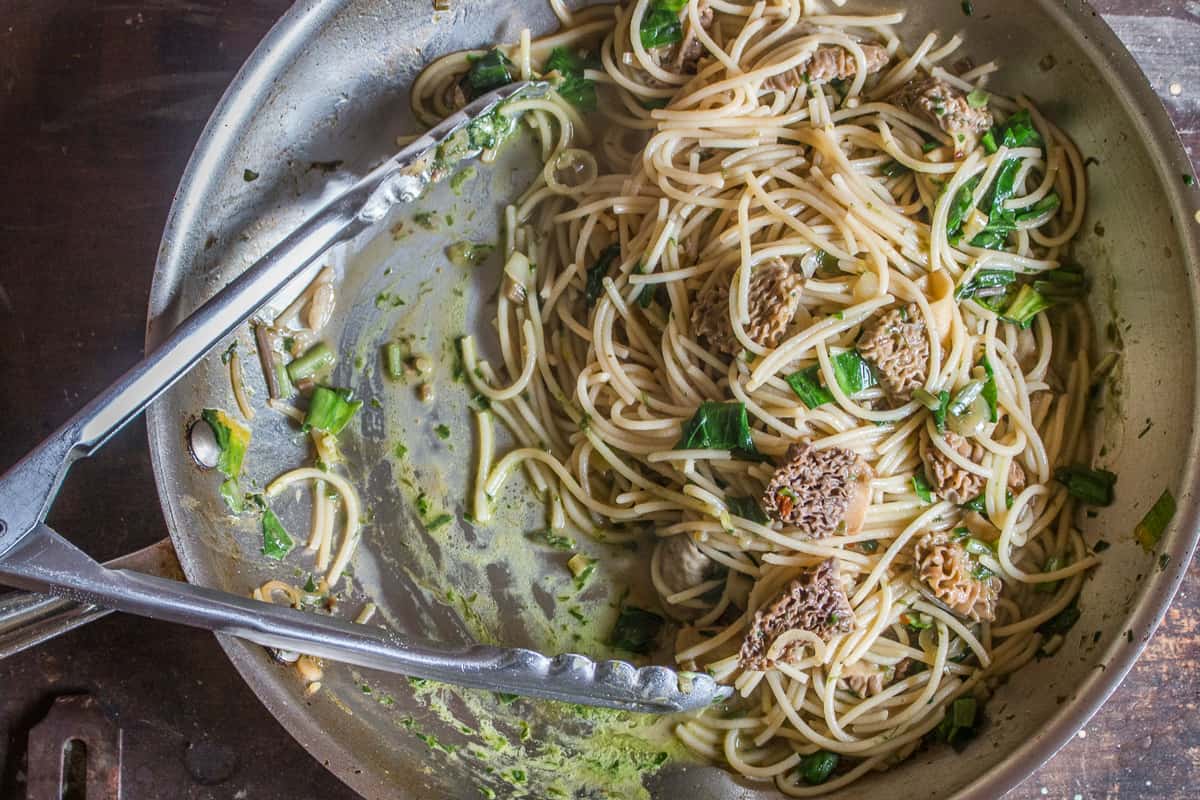 The secret is in a couple special ingredients, that, while optional, definitely push a simple bowl of spaghetti into the "last meal" category of foodstuffs. First, a little anchovy.
Yep. Not a lot, just enough to give the dish a little funk. Second is ramp leaf butter, although if you only have a couple ramps, you can add those and you'll still have a great meal. Keep it in your back pocket for the next time you have some ramps and morels together, and want to celebrate the season.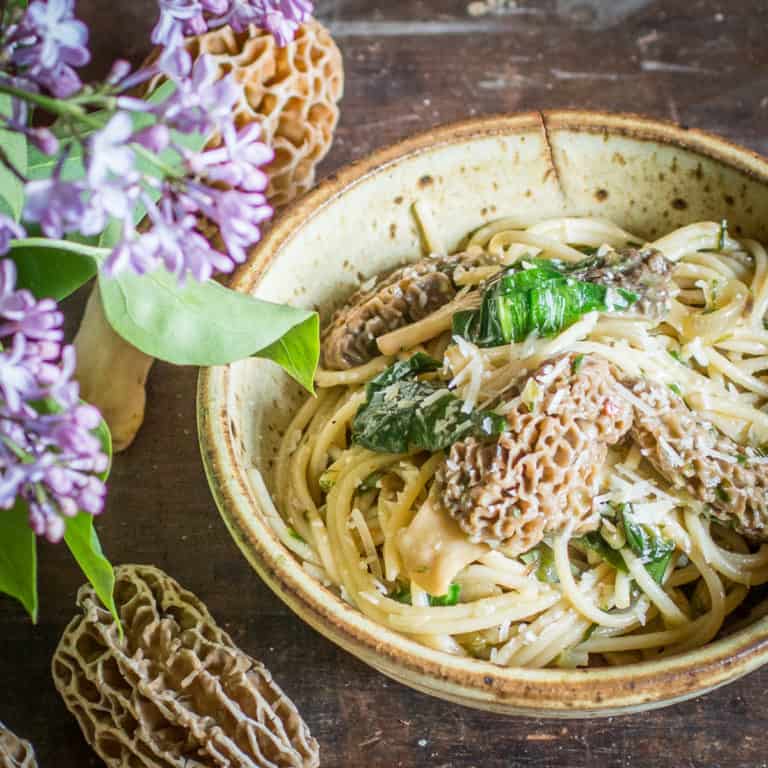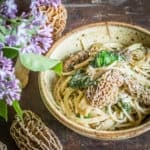 Print Recipe
Ramp and Morel Spaghetti
Spaghetti with morel mushrooms, ramps, white wine and butter
Equipment
1 10 inch saute pan

1 2 quart pasta pot
Ingredients
4-8

ounces

fresh morels

depending on availability

1

teaspoon

anchovy paste or a couple filets optional

Pinch

of crushed red pepper flakes

¼

cup

dry white wine

½

cup

chicken or other stock

Kosher salt

to taste, plus more for the water

3-4

Tablespoons

grated parmesan

4-5

large ramps

bulbs and leaves sliced, reserved separately

3

tablespoons

ramp leaf butter or unsalted butter

1

tablespoon

olive or other cooking oil for sweating the morels and ramps
Instructions
If the morels are very large, halve them, small morels can be trimmed, rinsed, and added whole if clean. Rinse the morels in water to remove any detritus, then dry on towels.

Afterwords, cut the morels into roughly 2 inch pieces and reserve.

Sweat the morels and ramps in the tablespoon of cooking oil, season with a pinch of salt, then add the anchovy paste stir and cook for a minute more. If the pan gets dry, add another glug of oil.

When the pan starts to color around the edges, deglaze with the wine, cook down by half, then add the stock and cook down a bit more.

Meanwhile, cook the pasta in salted water, drain, and add to the pan with the morels and ramps.

Add the chili, reserved ramp leaves and the ramp leaf butter if using, then reduce a bit more to concentrate the sauce, turning the pasta over with tongs to coat with the sauce.

Double check the seasoning for salt, adjust as needed, toss in half the parmesan, divide between 2 heated bowls and serve with the extra parmesan on the side.
Nutrition
Calories:
520
kcal
|
Carbohydrates:
17
g
|
Protein:
14
g
|
Fat:
41
g
|
Saturated Fat:
25
g
|
Polyunsaturated Fat:
2
g
|
Monounsaturated Fat:
11
g
|
Trans Fat:
1
g
|
Cholesterol:
112
mg
|
Sodium:
693
mg
|
Potassium:
837
mg
|
Fiber:
4
g
|
Sugar:
4
g
|
Vitamin A:
1664
IU
|
Vitamin C:
9
mg
|
Calcium:
249
mg
|
Iron:
15
mg
More